Nobody wants to die alone. That is one of life's more basic truths. We all hope there is going to be a familiar hand to hold and a pair of eyes that witnessed our lives looking into us as we drift off to meet our maker. That feels like the basics of marriage. Well that and a permanent booty call.
That's why a lot of people turn to a trusted friend to maybe one day be a love interest. It's always good to have a fail-safe and a back up. And the older you get the more the chase becomes too much run through, so why not make it easy? It's like... "hey so and so... you wanna get hitched by this date, in case?"
BAM! Instant I Do.
Redditor u/shansnewone wanted the betrothed out there to tell us about their relationship successes and fails, by asking:
Couples who got married on the basis: "if we're both not married by (x) years old, we'll marry each other" how did things work out?
I am out of options. Unless all of my prior fail safes current relationships don't pan out, I'm going to the grave alone. I'm too tired to look, or too lazy. Potato/potatoe... let's see who has better luck.
Decades Later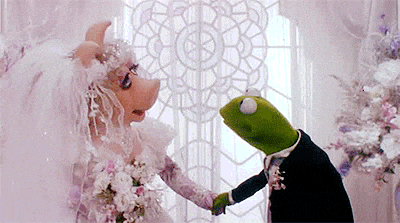 just married love GIF
Giphy
"Yep, worked out pretty well. We've known each other for close to 30 years now and jokingly said something similar years ago. Anyway, we got married almost 6 years ago and pretty happy with the situation."
BFF
"We were best friends for a long time in high school, I was really into her but the feeling wasn't mutual. I told her if we were single 5 years from now I could see us getting together and getting married. I moved across the country and we mostly lost touch for a couple years, but then almost exactly five years after I'd said that, we reconnected and I told here I was miserable where I was."
"She had just moved to a new city, I moved in with her, and we got together pretty quick. In two weeks, that'll have been six years ago. We just bought a house and our daughter's first birthday is next month. It was rocky at first, since we were both escaping miserable situations and living in a studio apartment, but everything worked out and I live with my best friend."
- drmwve
She said yes...
"Funny enough, there was a girl I liked in High School, but I was 17 and she was 15. She asked me out but I said no because I just got a girlfriend, but I was interested in her and I told her. She said if I'm single by the time I'm 25, can we get married? I was like yeah sure. I asked her when she was 25 if she was single. She said yes. Reminded her about our agreement and she said "I'm only really dating girls right now." So yeah."
Jumped the gun a little...
"I made this arrangement with my best friend from college. We spent so much time together, people thought we were dating and it led to some strife in many of my possible relationships because they saw her as a threat. But that wasn't the nature of our relationship. Strictly friends, I had interest in her one time but was quickly friendzoned and didn't try to make any advances. She never held interest in me."
"One night, close to the end of college, we went out and grabbed some beer at a local place and were transparent that we could see ourselves getting married to one another. We made an agreement that if, by the age of 30 pr 35 (I can't remember now), we were both single, we would get married. After college, we went our separate ways—I continued with school, she got a job."
"We talked inconsistently (maybe once every few months?) for about 2 years. I happened to be in her city one day in 2020 and we grabbed coffee. We talked a little more after that, then things REALLY picked up here in the last few months. We're engaged, getting married in March. Jumped the gun a little, but dammit this is the best decision and relationship I've ever been in."
In the End...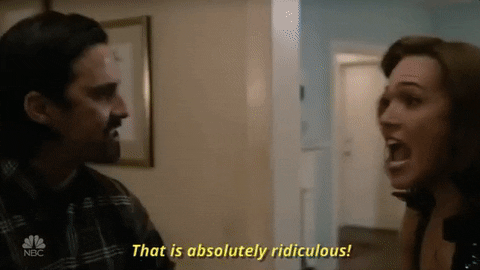 This Is Absolutely Ridiculous Mandy Moore GIF by This Is Us
Giphy
"Couple I knew both thought very highly of themselves and thought they could do better than the other person. They're now together and miserable."
- PCB4lyfe
Well those sound pleasant enough. Well, most of them do. But hey, when you gotta go with what's in front of you, you can't beg. Maybe others had it better.
Cheers to Us...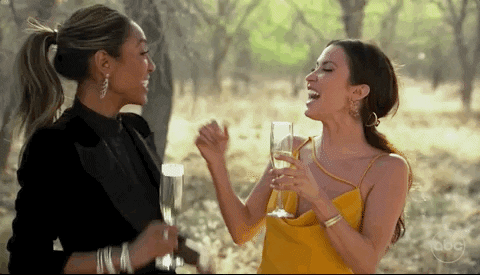 Season 17 Cheers GIF by The Bachelorette
Giphy
"Had an agreement. Both were married far before the date. Did however go out for drinks to celebrate the fact that we were both happily married!"
- Zulias
Finally
"I know a couple who were best friends but dating other people for about 15 years. No one was surprised when they finally started dating and got married, but they didn't have an agreement like you mention. They just finally got over the idea that love had to start with romance rather than friendship."
What happens... happens...
"My best friend dated this chick through high school. They broke up to go to separate colleges, dated other people obviously. Got back in town after graduating, got back together, got married. That was like 19 years and 3 kids ago. He was telling me they never would've lasted a year if they didn't separate for the 4 years of college."
- meh35m
This is a date?!
"My husband and I were friends. I said ,"if you don't have a date on Valentine's Day, why don't you come over and we can drink/ hang out." ( it was senior year of college… this was everyone's past time on non football days or club nights) Valentines came, and we both had nothing to do. He came over with beer AND yellow/red flowers."
"He offered to take me to dinner. I turned around and looked at my roommate like," huh?! Ooohhhhh... This is a date?!" I accepted the flowers and the 6 pack, got changed and 3 days later I just knew he was the one I wanted to annoy for a lifetime. We were swimming in the Jupiter inlet and I said "I think we should get married" he said "Yep. Sounds like a plan."
"That's all it took… friends + valentines + trajectory change = 2 kids, 2 careers, 6 moves, 1 serous illness. We survived together as a team, and It will be 25 years together in February. Man, I got it right and I couldn't even think of anyone better a fit for me. It's been AWESOME!!!"
Let's Party...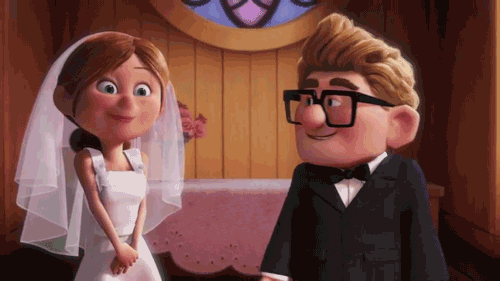 Marriage Love GIF
Giphy
"In my case i had good friend studying together abroad who had boyfriend."
"I told her to call me when she's free. Two years later she came to work to my city she was already free. She called me and we went to a party where after an hour or two we decided to be together and we are for 10 years."
I'm comforted by a lot of this. Maybe I'll meet some new back ups. And then love will overcome. Anybody free for a chat? ;)
Want to "know" more? Never miss another big, odd, funny, or heartbreaking moment again. Sign up for the Knowable newsletter here.
Keep reading...
Show less
No matter how much we express our gratitude for another trip around the sun, let's face it, there's nothing fabulous about getting old.
Once you hit the legal drinking age, there's not much to look forward to other than being handed the coveted AARP card, which rewards you with various benefits and discounts just for reaching 50. Whoop-dee-doo.

Before you know it, you wake up one day and your joints start to make all kinds of crackles and pops (and hopefully no snaps) as you get out of bed.
That doesn't mean the various stages of life in between have their own minor drawbacks.

Curious to hear about strangers and their experiences on this planet, blue_pookie asked:
"What sucks about being your age?"
Looks fade, but not unless we can help it.
Triple Threat
"I have acne, wrinkles, and grey hair at the same time."
​Undesirable Genetics
"I'm 21. I have hooded eyes, so I raise my eyebrows to be able to see and also look less angry. I didn't think the constant eyebrow raise would give me wrinkles for whatever reason. So now I have a deep wrinkle on my forehead that sucks all my foundation in and creases so it's more Visible. No matter how little I use or how diluted it is or how primed my skin is. Then I have acne too. And a lot of redness in my face. So if I wear foundation or concealer to cover that redness, I'm stuck embracing my wrinkle or smoothing my makeup every 5 minutes so my skin matches all over. It's a hassle. Paired with dark eye bags from insomnia and masculine features, genetics did not do me well as a woman."
When you're no longer in your twenties, these descriptions might be relatable.
Stubborn Aches

"Starting to realise some of the aches and pains I have now will be with me on the day I die."
Closer To Retirement
"Everything hurts. I'm a 55 year old firefighter. Closing in on retirement though!"
The Time Left
"The road ahead of me is shorter than the road behind. My brain still believes that my body can do certain things, but my body keeps on proving that my brain is living in the past. The damage that I inflicted on my body being a competitive athlete is coming back to haunt me."
Things unrealized before suddenly hit these Redditors like a semi-truck
Celebrity
"Every new famous person is younger than me and makes me feel like sh*t everytime."
"Relatable. When I was 16 I used to read about famous people who were around 21 and think I still have 5 years left. Now it's hard to accept that people younger than me are far more successful than I will ever be."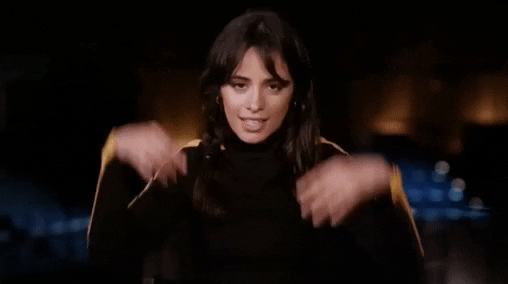 Camila Cabello GIF by iHeartRadio
Giphy
Maintaining Friendships
"I've found I'm getting to the age that's hard to keep in touch with friends."
In A Blink of An Eye

"Being 41 and realizing this went really fast. Way too fast."
Applying Learned Lessons
"First i am realising i made a couple of mistakes in the past which led to my current situation. Then i also realise that its not to late to change my current situation since i have enough time left. THEN i realise i am too set in my thoughts to change."
– kaluabox

Optics
"Watching the people around me become successful adults while I'm just sitting here, feeling like an absolute child."
Message For A Younger Generation
"50. Knowing my life is more than half over. Looking back at years that I squandered thinking there's always time. I stayed with a woman I shouldn't have. Boom! 7 years gone. After the divorce I drank away a few years. Messed my career up a bit. Stalled it and now, at 50 I'm struggling again while my friends are talking early retirement. I keep telling myself, 'I have three wonderful kids. I got remarried to a woman who stuck by me getting sober. I'm doing what I love.' But it haunts me. I feel like I'm just going to tread water until something kills me eventually."
"Young people here…don't waste your time. Life is short."
Although there is something to be said for acquiring wisdom through life experiences, the harsh reality is, you're that much closer to being six feet under.
It's a cruel fact of life, but it is also a reminder to be our fully realized selves while we're still partying on this planet.
Just remember that—while getting old sucks—that train already left the station, and we may as well enjoy the precious journey as we ramble on towards our inevitable last stop.
Keep reading...
Show less
Aging is a sneaky process. Most of us don't realize how old we've gotten until we find we are no longer able to do things the way we used to with ease when we were younger.

We try and hold on to our youth by the skin of our teeth, but even then, our willingness decreases as the years go by.
Sure, it's depressing, but you know what? Aging happens to all of us, and no one is getting out of here alive.
Aiming to feel less lonely in our aging bodies, Redditor Couch_Licker inquired of strangers on the internet:
"What gets worse with age?"
Physical consequences of aging is one of the cruelest things in life.
Watch Your Hyde
"Your skin. Take care of it. Skin cancer sucks."
What The Body Does With Food
"Digestive system."
"Every meal is followed by a poop."
Fighting Gravity
"Bending over to pick a quarter off the ground. Hurts your back, gut and your fingers don't work. That's why there is change all over my floor. ;)"
After A Wild Night
"Hangovers for sure."
"At 18 I could go heavily drink and feel damn near 100% the next day. Now I get horrid mental and physical effects. Probably should quit drinking all together."
When our senses gradually start to fail us, it's yet another reminder of our brief mortality.
Look, See
"eyesight."
"Make sure you get your eye dilated every year and check for cataracts."
See, Hear
"My hearing is on the decline. I don't think it'll go completely, but I did get hearing aids last year."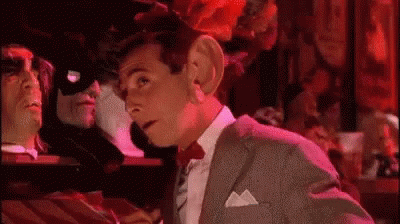 Deaf GIF by memecandy
Giphy
The degeneration of certain abilities as we get older is too much to bear.

Staying Above Water
"My ability to cope. I'm just burnt out all the time."
"I feel the same. Aside from my family and friends, I have no care for anyone or anything anymore. Nothing phases me but that's not a good thing IMO. I feel very apathetic towards everything, I'm tired all the time and just want to lay down."
Counting Sheep

"The ability to sleep through the night."
– dabuku1

"Used to be a world champion sleeper and now 5-6 straight hours is huge. Pretty much wide awake every night at 3am."
Putting Up With People
"Humanity.... The older I get the less I want to deal with people."
Maintaining Friendships
"Friendship - making new friends after your 20s becomes a big struggle, and the newer friendships just aren't the same. You can literally run out of 'lifelong friends' due to death, disease, people growing apart, etc."
– cowanon7

I found as I'm getting older my patience and tolerance for certain things have gotten worse.
Waiting in line at the grocery store while someone fumbles with their payment option, or getting antsy when the food I ordered at the restaurant is taking way too long are things that never bothered me ten years ago.
I"m not curmudgeonly by any means, at least not yet. Besides, I'm not that old.
But to all the cranky elders I grew up with who complained about poor service or lack of efficiency, I get it now, and I hear you.

Keep reading...
Show less
It's all fun and games until someone gets hurt. Yeah, yeah.
I was known for my horseplaying, rough-housing, and all that other playful combating with friends. I was wrestling with a buddy of mine and chased after him until I felt a shooting pain up through my right leg.
I discovered I tore my hamstring.
It was at that moment I realized, "I'm too old for this." It was a painful lesson, and I'm thankful my hyperness didn't lead to a more serious injury.

Curious to hear about the experiences of strangers who grew up too fast, Redditor sluuurpyy asked:

"What's the most favorite thing you had to give up because you grew too old for it?"
Adrenaline Rush
There is only so much our aging hearts – or any other body parts – can take.
Rogue Knee
"Running. One of my knees decided it was too old for it without consulting the rest of me, unfortunately :("
Thrills
"Roller coasters. I can't ride them any more, because I have a bad back and last time I went to Busch Gardens I got whiplash from riding all of the coasters. Threw out my back at Disney when I rode 'The Mummy Returns'. Shame too, coasters are one of the only things that make me feel truly alive."
Staying Grounded
"Climbing trees. I'm finally tall enough to cover some ground."
– w11j7b

Comforts
Being around a plushy environment we created for ourselves was something that provided a sense of safety – as well as expressing our creativity.
Kid Astronaut
"A card board box I'd sit in and had drawn, in my mind, the controls of a rocket ship inside it."
"I'd sneak food from the kitchen to eat because I was sure I'd get hungry on my journey and being so far away. It wasn't an option to shout down to Mum for food."
"I used to sit in it and my imagination did the rest."
"Oh if you could only see the places I've been, the journey's I've taken and the adventures I've had."
"50+yrs old now and I still remember back to those places I've been and seen."
Stuffed Animals
"My Whinnie the Pooh teddy bear. I wish I kept it."
"I have a bunny plush (named Bunny lmao) that I've had for almost 28 years. He's in absolute shreds, barely holding together with the strength of hope and dreams. But I still sleep with him every night."
In The Closet
"I used to love sleeping in my closet as a kid. Nestled in their under a bunch of hanging clothes, in a pile of pillows, blankets, and stuffed animals was the most comfy, secure, cave like feeling ever. So dark too. Mmm those were the days!"
Sweet Tooth
"Binge eating candy. It was fun as a kid, but buying my own to binge eat is kind of depressing. Also, if I kept doing it I would eventually develop serious health issues."
Social Behavior
Ever find yourself increasingly opting to stay in and have a date night with Netflix?
Yeah, it's called aging and not having the energy to go out and have a social life after working all day.
Boo
"Trick or treating. Last time I went I was 15."
"I did dress up, but still the looks on people's faces when they opened the door told me it was time to stop."
– Okorela

All-Nighters
"Staying up super late/all night and still being able to function the day after."
"Man, I went back to school in my mid/late twenties. I pulled ONE all nighter, then I learned how to budget my time. I think I traded in that ability in exchange for my bachelor's. I used to pull one bi-weekly, sometimes multiple days in a row, but not anymore. I'm 33 now and think I'd probably just die around noon on day 2."
Human Company
"Always having a close friend around. The older you get, the less and less time people have to be around you with families and work. People want to destress during the week, not entertain company. Probably was the hardest thing to come to terms with. Especially since I live alone. But I got a dog, he's my best friend I wouldn't trade him for the world."
– MhrisCac

Sonic Blast
"Rock concerts. I started having to deal with hearing damage in my mid-20s."
The painful reality of growing up and adulting is something many of us have grappled with.
And there comes a time when we must leave our stuffed animal-embracing, roller coaster-riding, and rough-housing selves behind.
That doesn't mean we stop having fun.
I'm still a kid at heart who now knows better than to run around like a crazy person and snap their legs in half.

Keep reading...
Show less
Does it ever feel like life is getting harder and our bodies are aching in places that never hurt before?

Let's face it. Getting old sucks.

But when you realize that life is short, you start to focus on getting the most out of the time you have left.
Because you never know if tomorrow will come.
That's when we learn to accept things as they are instead of wasting time and energy trying to fight them.
Curious about what people learned with age, Redditor _Odalie asked strangers on the internet:

"What have you grown to accept as you've gotten older?"
The responses included ignoring the people who are backstabbing you, and accepting the fact that it's okay if you don't reach unrealistic goals.
One response even discouraged people to avoid purchasing a lousy product.
Do any of the following resonate with your life experience?
Put The Work In Now
"To have a happy adulthood you have to face the demons of your childhood."
– biliblob

"Yup you you gotta learn to create the best version of yourself .. which takes a lifetime but is the best project."
Not Knowing
"Ignorance is bliss."
– brodil

Especially In 2020
"Life is just one tough a** day after the next."
This Hurts
"Life is pain. I used to let little aches and pains limit what I do. Then I realized that I'll always be in pain and I can't waste my life waiting around to heal. I have a sh**ty ankle and knee and a torn periformus that gives sciatic pain. I've got arthritis in my dominant hand and tendonitis in my wrist and elbow. It doesn't stop me from jogging and mt biking. I'm not good at either but it is fulfilling."
Gossip
"People are going to talk sh*t about you no matter what you do so might as well do what you want."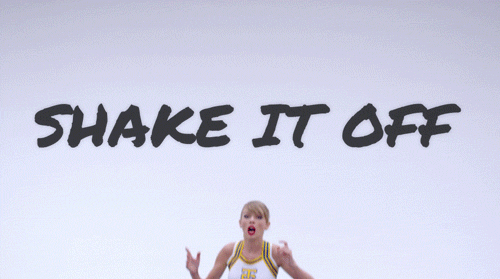 shake it off taylor swift GIF
Giphy
It's Okay If You're Not Right For The Part
"Sometimes a career you romanticized for years is actually not right for you. That's okay. Better to know now rather than later. Thought I wanted to be a lawyer but realized that I cannot afford schooling and that I really don't have the work ethic for it. I'll apply my skills elsewhere."
– genjen97

Material Things
"I got kicked out of my house when I was 23. I could only bring a few things with me. I learned to let go of objects and that memories were all in my head, not only on pictures."
They Suck
"Stay away from bissell."
"Apparently per their customer service the brush roller is a wear item and breaks every 2-3 months, forcing you to replace it."
"I have a hoover I have had for 20 years and maybe changed the belt in it twice? Get out of here with that wear item bullsh*t."
Getting Approval
"Not everyone's going to like what you say or do and not everyone's going to appreciate you. And that's okay."
"If you're going to wager all of your happiness on how others perceive you, then you're going to have a bad time."
Follow Your Own Timeline
"Success is achieved at one's own pace and by one's own definition."
Keep reading...
Show less