People need to stop throwing out unwanted advice.
And when it is requested, think before you speak.
People with mental disorders don't need everyone telling them they have a fix like "exercise" or "herbal supplements."
Redditor Gold-Ad-2827 asked:
"People with mental disorders: What do you hate being told the most?"
I hated being told to just smile. You smile and go away.
Duh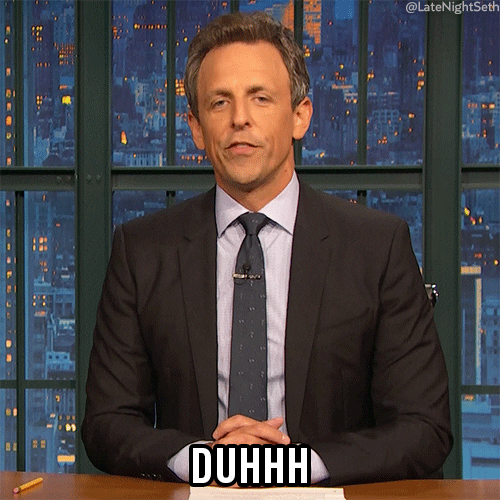 seth meyers GIF by Late Night with Seth Meyers
Giphy
"It's all in your head. Where else would it?! My colon?"
glorified_throwaway
Don't Minimize
"Everybody goes through that."
rukasu83
"This saying makes my blood boil. Or the 'I was that age once too ya know' yeah no sh*t you were that age once. And just because you were that age once doesn't mean we have the same experience."
MasterOfRNoSleep
"They try to minimize it."
Previous_Ad7725
Stellar Advice
"You're worried? Just stop."
"You're sad? Just don't be."
"You're compulsively binge eating? Eat less."
"Thanks for that stellar advice."
CrayolaSocks
"Or even better, 'Just do it!' As if ADHD paralysis can be stopped with a can-do attitude."
HumanityIsACesspool
"physical health"
"I get so frustrated when people treat the idea of 'holistic medicine' as some kind of woo. How does it escape so many people that the body works holistically? Even a lot of doctors seem to ignore this. It's very frustrating when you have 2 or 3 or 4 illnesses that are all affecting each other, and your 'physical health' is held distinct from your mental health, and nothing anyone is doing to treat you works because no one's looking at the whole system."
"I just got a lecture from a psychiatrist I am seeing about nutrition, and he apologized to me for doing so but I told him, 'No, I appreciate it. Do it for all your patients.' because it told me he's trying to look at the whole picture and actually fix what's wrong. It gave me faith in him."
TheLastKirin
Relax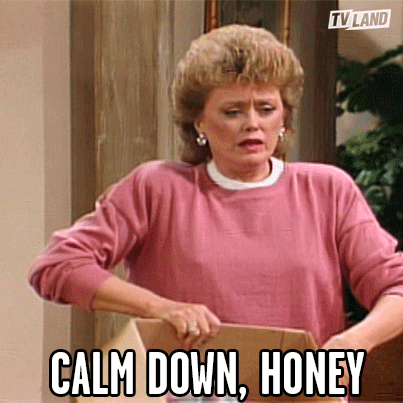 Calm Down Golden Girls GIF by TV Land
Giphy
"You need to calm down."
sorceress__stoned
"Never is the history of calm down has calm down ever caused anyone to calm down."
LBIdockrat
Calm down. I hate that one. You calm down.
Tips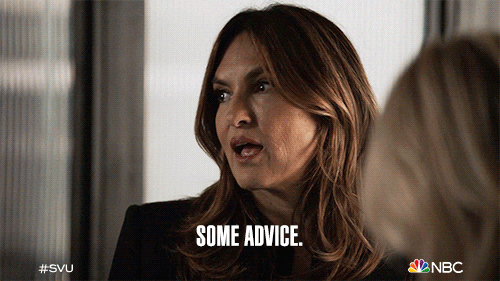 Season 23 Reaction GIF by Law & Order
Giphy
"When they try to give me tips on what to do, like bruh as if I didn't already try that."
Mediocre_Ad8282
The Standard
"You don't look sad. No crap... that's so I can avoid having this conversation. Also depression isn't 'being sad' like people think."
allgamerprogram
"God, I hate this. It's because saying 'I'm depressed' has been standard for people expressing that they're slightly unhappy about something dumb like not getting enough croutons on their salad or some crap. Now that's just what everyone assumes you mean when you say you have depression."
NilPill
Be Faster
"'Stop being lazy.'"
LadyBirdLadyBirdLady
"'Lazy' is when you don't want to do anything at all. 'Executive disfunction' is when you can do everything at all, but that one easy quick thing that you do want to do just makes you and your brain freeze completely days ahead. I'm tired of people not understand that even when I explain and look at me like I'm bullshitting instead."
_Varien_
Ways to Cope
"Maybe you should try praying harder. I did, He prescribed medication."
Ms_Schuesher
"Praying is a way to cope for a lot of people, I think. That's totally fine, but insisting on praying in lieu of getting real help or actually addressing the issue is when it is not only unhelpful, but dangerously detrimental."
TheFrustrated
"Religious people will bypass everyone's cultures, identity, views, and feelings just to be right and make a point. it's disgusting. I read somewhere that real so called Christianity is all wrong. The real faith is from the Aramaic history and all the meanings were misinterpreted and the stories and all were made up by Catholics wanting to control their people. Yuck."
RisingPhoenix5271
'contamination'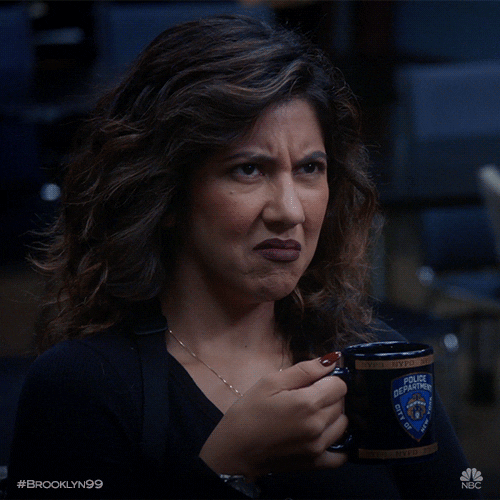 Disgusted Season 6 GIF by Brooklyn Nine-Nine
Giphy
"As someone with OCD with a lot of attention to 'contamination', having someone try to explain contradictions in why I'm doing something that is technically unclean when I wouldn't do something that is technically clean due to OCD. There are a few doorknobs that I will not touch no matter how much you clean them in front of me and I know it makes no sense, if it made sense I wouldn't have OCD i'd just be cleanly."
Zoooples
Stop trying to be an armchair therapist. Be empathetic to people first.
Keep reading...
Show less
Successful people who come from humble beginnings usually don't forget where they came from.
But some of those who were already born into privilege and wealth may claim to be compassionate towards people who are financially disadvantaged.
But unless they've lived the experience as someone from the lower class or have a deep understanding of what life is like on the other side, the wealthy will never understand what it's like to be poor.

Curious to hear about interactinos with the affluent from strangers online, Redditor Salazard260 asked:

"Poor people of reddit, what's the most comically out of touch 'advice' you've been given by someone wealthier?"
When it comes to working normal jobs, rich people just don't understand.
Easier Said Than Done
"A mom to my mom, a single mother with three kids: 'you should just stop working if you are so stressed about it.'"
–eccegallo
Not Helpful
"Sounds like a psychologist I went and saw once, spent the hour talking about how much pressure I felt being the sole source of income in the house, to be told 'sounds like your job is stressing you out, you should quit!' When I asked how I'd pay the bills his response was 'I can help you apply for a new job, I'm really good at job applications, I've got every job I applied for! - yeah mate I don't think that's going to help. Never went back."
– LazerTRex

Acceptable Wage
"Not really advice, but one of my high school friends came from a rich family. But because he wasn't really that motivated in life, his parents encouraged him to find a summer job."
"He was going to go job-hunting at the mall, working in retail. I asked him how much he wanted to earn. He said, 'Not too much. $40 per hour should be a good start.' This was in the early 2000s."
"It reminds me of the Arrested Development scene where Lucille thinks a banana costs $10."
– buckyhermit
When it comes to renting an apartment, these are not the people who should be weighing in with their thoughts to help.
Clueless About Rent
"I had a boss at the time tell me it cant be more than 800 bucks for rent in the DC area when I asked for a pay raise. The minimum rent I could find at the time was closer to 1800."
– Worst_Choice

Let's Start With Step 1
"That I need to buy several apartments and rent them out. Unfortunately, he did not tell me where to get money to buy several apartments."
– blezmalfoy
When it comes to family and financials, we're all not the same.
That's Not How That Works
"I remember when I was at high school and I mentioned to someone that I'd like a gaming PC but couldn't afford it, he said 'can you not just ask your parents for the money?'"
"I said no because there was nothing left over after bills and groceries."
"Yeah, but if you ask realllllyyyyy nicely, couldn't they give you the money?"
"Like what goddamn money? The money for the food we eat? The money for our electricity bill? Sure, no doubt my family are happy to suffer just so I can have a piece of tech I don't need."
– pizdec-unicorn

Ignorance Is Bliss
"I had a friend like that and one time pulled out a pen and paper and did my family's financials roughly in front of them. I showed income, taxes, utilities, insurance, groceries, gas, car payments, loan payments, etc and then showed how little was left over and then said that some of that needs to go into savings/retirement just in case. I then asked them 'so where is that money I ask my parents for coming from?'"
"He sat there dumbfounded for a bit, I think one: that I knew all this off the top of my head (the recession made me hyper aware of financials) and two: it started sink in how ignorant he was about money in general, and how good he had it. He wasn't a bad dude, and wasn't one of those who thinks money was infinite, but I guess didn't realize how much 100 bucks was to a lot of people."
– chikenjoe17

The Other Way Around
"'Just have your parents give you the money'.... B*tch, I support my parents."
– ExistingPosition5742

Going Nowhere Fast
"I had a buddy in college that asked me to drive him to the next town over. He had a car but his parents said he was spending to much in the gas card. His solution was to bum a ride but told me it wasn't fair for him to pay me for gas out of his allowance because I had a job."
"I'm still stunned by the mental gymnastics that dude went through to justify his behavior."
– Pencilowner

Crazy Ex-Girlfriend

"After dumping me my long-tine girlfriend would occasionally reach out with her crazy rants."
"One of them was I should just dump my parents somewhere, as in literally dropping them off on some corner, and let them fend for themselves."
"I dodged a rocket not marrying her."
– OfficePsycho
The rich could afford many luxuries that are unattainable for the rest of us, and good for them.
But when it comes to offering any kind of wisdom or suggestion to improve our financial standing in life, money can't buy them respect when they are completely out of touch.
Keep reading...
Show less
Being a teenager comes with several ups and downs.
Perhaps the biggest downside of one's teenage years, is the looming reality of adulthood being just around the corner.
That the time when you can no longer depend on your parents as a safety net, and must eventually start supporting yourself is fast approaching.
Of course, most teenagers will choose to ignore this reality, and cherish each moment of their vanishing youth.
As a result, they might not react too kindly when being faced with certain information, if they're even willing to hear it.
Redditor Slight_Weight_7053 was curious to hear all the things modern teenagers are either not ready, or unwilling to hear, leading them to ask:
"What are teens today not ready to hear?"
Adulthood Has A Way Of Sneaking Up On You...

"In 15 years you're going to think the kids have gone too far and they're going to think you're old-fashioned."- neat_machine
Think Carefully About Your Texting Habits
"That d*ck pic you sent, got screenshot and sent to 5 other people."- boxoffingernails
You Will Always Be You
"You won't 'feel' different when you're older, or have kids."
"You'll just be you, it's weird."- Poshspicer
You Won't Always Seem Cool...
"Everything you do as a teenager will be cringe to your children."- divinetrackies
"Your parents were hip and cool before they had to pay your bills and feed you and buy you the cool clothes so you can impress the friends you'll forget about in 10 years."- Azuras_Star8
Be Aware Of Your Surroundings!
"To the ones who ride the public bus in my city, specifically: nobody else wants to hear whatever TikTok you're watching."
"Buy some headphones."- EmiliusReturns
Don't Underestimate The Importance Of School

"School has a system in place to keep you from falling behind, life doesn't."- Corey854
It's Worth Waiting For The Right Person
"It's okay to be a virgin at 18."- projectdissociate
Don't Always Feel Compelled To Provoke

"Being controversial isn't the same as being interesting."- HezFez238
Everybody Makes Mistakes...
"Just because you f*cked up does NOT mean you're a f*ckup."- Mr_Murder1
It's understandable why teenagers aren't ready to hear any of this information.
Mainly because most of them aren't ready for adulthood, and all it has in store.
Though ten or so years from now, they'll likely be extremely grateful to have been told all of this, as they'll possibly tell their own children...
Keep reading...
Show less
There's no question that therapy is one of the most helpful treatment methods with regard to emotional hardship, trauma, or mental health. A licensed therapist is full of good advice.
They can show you some smaller forms of therapy you can implement, defense mechanisms you can use, or even tell you what you need to hear.
A therapist once asked my friend, "Is there data to support that fear?" It is now the question of the day every day at work. Therapists can be brilliant!
Redditors have seen this firsthand, and they are ready to share what they learned.
Redditor SugarMumma asked:
"What was the best advice you got from your therapist?"
Setting Boundaries
"Setting boundaries will upset the person who crosses/needs them set the most."
– wrongreasons2242
"Bingo. Resistance to boundaries or annoyance them is a solid red flag."
– SiliconPenguin
You Are Only Responsible For Yourself
"You are not responsible for what other people do."
– Doodle-Cactus
"Similarly, you are not responsible for how someone is going to feel."
"Meaning, "if I tell my girlfriend that it bothers me that she leaves the dishes unwashed, she'll be mad at me. And I don't want her to be mad, so I'll just not say anything"
"You're not responsible for her reaction to your honest good faith communication. You need to communicate it anyway and let her feel how she's going to feel. Don't "decide" for her."
– sevencoves
"If I'm not the problem, there is no solution."
"That one saved my life."
– marvelousteat
Love Heals
"She got me to realize how many defense mechanisms I had constructed to defend the little kid inside of me who wanted love and acceptance. Whether that be judging myself and trying to get ahead of other peoples' criticism, or lashing out defensively at perceived slights."
"She was a good therapist, so she got me to come to those conclusions myself."
– mjknlr
Writing Also Heals
"The greatest thing a therapist ever told me to do was to keep a journal. I thought he was crazy at first but it's incredibly therapeutic to write your day and thoughts down."
"I also like to go back and read previous entities and see how far I've come from certain situations and such."
– Starlight_City45
"I've been journaling for a year, yeah it's not easy on some days but let me tell you... It helps! Really helps to unclutter the clutter in my head. I have a journal app with prompts. Makes me think about my feelings which really helps and takes me through steps to feel better if at all I'm feeling negative feelings."
– noir-Blossom
Examine Your Role
"Just because your feelings are hurt doesn't mean you're right. I didn't listen in the moment, but I think about that almost a decade later."
– mbane_800
"Yep. Stop and consider how you have contributed in this"
– pineapplewin
Making It Work
"Anxiety will never go away, but you can learn to manage it."
– Present-Tension9924
"I think the takeaway from this is to try not to get into a mindset of 'waiting until you're better' to move forward in life. It's more like hey, this is who I am, let's figure out how to make it work."
– baywchrome
Does The Data Back It Up?
"If you catch yourself making assumptions about a person's actions or intentions, ask yourself, "Where is the evidence for this?""
– philwatanabe
15 Minutes of Infamous Tasks
"Take at least 15min of your day every day to do something you don't want to do, but that needs to be done. Like cleaning your room, paying bills ect. It won't be as hard to begin with it if you tell yourself you can stop after 15 minutes. Often times you will do more than that just because you tricked yourself into starting. And at the end of the day, you won't feel like you wasted your time because you achieved something."
– firedexo
Don't Get Dragged Into Drama
"Not your circus, not your monkeys."
– chrisbe2e9
"F*ck this is such a good one to keep in mind though"
– Few-Background2498
Therapy is not a magic solution, but therapists are here to help, and sometimes, their advice may even save a life.
Keep reading...
Show less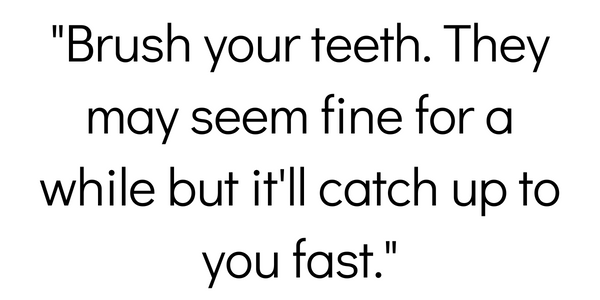 One's teenage years are almost guaranteed to come with ups and downs.
With adulthood fast approaching, many spend those years enjoying their vanishing youth and living life to the fullest.
All the while undergoing significant physical and emotional change.
So, it's natural that everyone looks back on several fond memories of being a teenager, along with things we try to forget, or wish we handled differently.
As a result, we can't help but wish we could go back and give advice to our younger selves.
Redditor alexjuby211 was curious to hear what people believed to be the best advice offered to any teenagers today, leading them to ask:
"What are some great tips for teenagers?"
Don't underestimate a sparkling smile.

"Brush your teeth."
"They may seem fine for a while but It'll catch up to you fast."- DonttouchmethereUwU
Just be yourself!
"The coolest thing you can do is stop trying to be cool."- fortwenie
You have a lot to look forward to.
"Remember that 'right now' is not forever."
"The teenage years are just one small chapter in the book of your life!"- lovealert911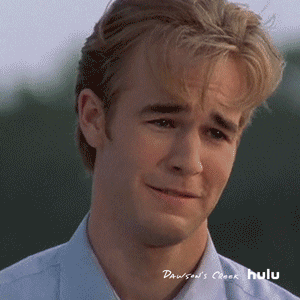 Dawsons Creek Crying Dawson GIF by HULU
Giphy
Ramen will get old very quickly...

"Learn to cook."- Catscratchingcats
Put Yourself First
​"Invest in you."
"Not someone else."
"I should clarify."
'I'm not talking about money."
"I'm talking about investing time and energy into yourself."
"Learn and understand yourself."
"Love yourself."
"This is so important for teenagers."
"I've been there."
"I know it's difficult growing up and I can't imagine how much more difficult it is in the age of social media."
"Your own mental, emotional, and physical health should be at the top of your priority list."- PBandJellyJesus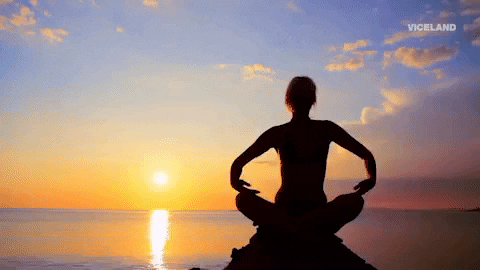 Chill Reaction GIF by MOST EXPENSIVEST
Giphy
Keep your friends close

"Figure out who your good friends are and try to keep in contact."- radpandaparty
Don't enable bullies.
"Stand up to bullies."
"Even if you're not the one being picked on."
"I regret not doing more for kids that really struggled in school."
'Reading Reddit posts made me realize how terrible school can be when you're alone or bullied.'- knovit
Be open, but selective.

"Say no to peer pressure but say yes to more experiences."- Becauseitstuesday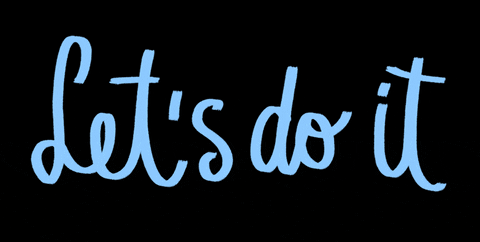 Do It Life GIF by Denyse®
Giphy
Take it in stride
"Don't be afraid of rejection."
"Take it in stride and keep on trying."
"Don't be like me and intentionally emotionally cripple yourself for life."- Picard2331
All teenagers are bound to make some mistakes that they will regret five or so years later.
Which might even include not listening to their elders.
Any other tips to share? Let us know in the comments below?
Keep reading...
Show less