When you're young, it's easy to think you've got plenty of time to responsibly live your life and learn essential life skills. This is especially true in your 20s.
In your 20s, you're just out of school, working on advancing yourself career-wise, and you want to just enjoy your youth. While there's nothing wrong with that -- you should enjoy your youth -- you have to start some life planning as well.
By the time you get to 30, you'll realize you're too late to the party on things like getting your degree, living a financially healthy life, and, according to Redditors, dental care. Use your 20s to have fun, but make sure you also take advantage of being young. Sometimes, your youth is the exact right time to start good habits.
This is probably the philosophy behind Redditor give_me_wings101 question:
"What's that one thing people in their 20s should definitely do before turning 30?"
Dental Care
"TAKE CARE OF YOUR TEETH"
"Always. Rule number one of all time. Please please PLEASE take care of your teeth."
"I don't care how old you are/will be etc."
– Leading_Funny5802
Time to Quit
"If you smoke cigarettes - quit. It's all sh*ts-n-giggles when you're in your 20s, but it'll catch up to you way quicker than you think. If you quit now your body still has time to heal much of the damage that has been done to it."
– YouWillGiveMeTP
Do It While You're Young
"This, though I was going to say "lose weight.""
"The change in your metabolism from the 20's to the 30's makes it much, much harder to do."
– FearGunner
People Go and Come
"Realize that your friend group from your early 20s will most likely look completely different by your later 20s and into your 30s and that's ok."
– forman98
Expect The Plan To Go Wrong
"Life plans don't really work for 90% of people. Especially nowadays. Basically we're all stumbling along trying to figure sh*t out as we go."
"I'm a cook/restaurant manager now. Studied economics and politics at uni. Lol. Pretty happy though. Life is strange."
– No_Belt3011
In A Rich Man's World
"Become financially literate"
– Historical-Major1832
Educate Yourself
"Go back to school if you are wondering if you should.. I went back at 28, graduated at 33, as a 40 year old I am patting my 28 year old self on the back."
– tangoshukudai
Protect Yourself
"Wear sunscreen! Wrinkles suck and melanomas kill."
– LunaGloria
Keep On Moving
"Exercise."
"My doctor told me most people don't fix their bodies in their 30s and then it becomes unfixable when they get to their 40s and on."
– ImGoingToSayOneThing
30 Years Young
"Stop yourself from saying you are "so old" now."
"And continue to hit pause on that thought in your 30s. Consider that you're simply grown instead. You've still got plenty of time to actually get old, no need to rush it. You can put that off longer than you think."
– dark_blue_7
That last one is some great advice. Yes, you should use your 20s to start your life planning, but never count yourself out because you think you're too "old" either.
Every age has it's pitfalls and perks. You've just got to figure out what they are so you can reap the benefits and avoid the drawbacks.
Want to "know" more?
Sign up for the Knowable newsletter here.

Never miss another big, odd, funny or heartbreaking moment again.
Keep reading...
Show less
Sometimes I sit around and wish I could go back and deliver a message to my younger self.
I think about ways I could encourage her or people I would help her avoid. I think about the people I'd tell her to wait for.
I think about the years of crap medical care we could avoid.
And then I remember 13-year-old me didn't listen to anybody anyway. Me and my Sony Sports Walkman had better things to do than listen to some time traveler.
Reddit user KiwiPangolin asked:

"You meet your 13 year old self, but you can only tell them 3 words. What do you say and why?"
They say humans really only want health, wealth, and happiness ...
Turns out Reddit is not only much more hopeful about their 13-year-old selves than I am, but the answers pretty much all fell into one of those categories. Happiness won by a mile, though.
Warning: Unexpected Feels Trips Ahead.
Health - Your Teeth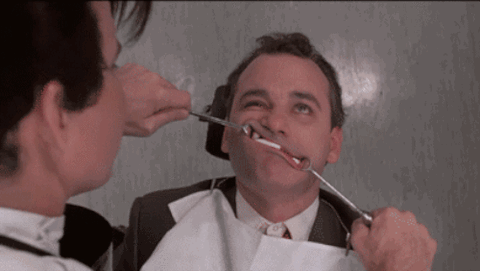 Dentist GIF
Giphy
"Brush your teeth."
- mynameisusama
"My teeth feel so much better since I started flossing after every meal a couple years ago."
"I floss after every meal I eat at home and it's a huge improvement."
- Zerilentix
"Can I show them my teeth as well? My 13 year old self wouldn't give a feck what my 30 year old self says unless I give physical examples. My teeth are, unfortunately, great examples of why."
- Andminus
Health - Don't
" 'Don't smoke, dumbass' "
"I smoked from 14 to 30. I tried quitting about 12 times and it never took."
"Then I talked to my doctor and she had me try a medication. After two or three weeks I didn't want to smoke. I finished the full two months prescription and have been nicotine free for six years."
"Don't give up. It is possible to quit, you just need to keep trying until you find what's right for you."
"Even if you can't quit completely, just try smoking less often."
- chef_in_va
"I told my Dad not to smoke every single day growing up."
"I used to throw fits when I was a kid because I knew how bad it was for him and I had watched my grandmother die from it at 64."
"He's made it to 73, but he virtually immobile due to COPD."
- AKSupplyLife
Wealth - Invest
"Invest Amazon 2003"
- uncaringbear
"Ah yes, because 13 year old who just hears an adult stranger saying 'invest amazon 2003' is totally going to start investing their pocket money in that."
- FartingBob
"You heavily invest in the Amazon rainforest only to have 70% of it destroyed by 2030."
"You are destitute."
- captaingigglesworth
Wealth - A Little Slap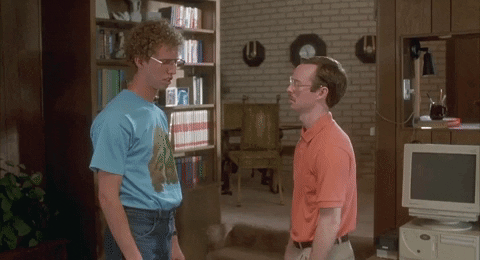 Big Brother Fight GIF by 20th Century Fox Home Entertainment
Giphy
" 'No student loans.' "
"Then I'd slap myself to drive the point home."
- TravelingGleeman87
"And for me, a double slap—'Don't ever co-sign!!' "
- Sarcastic_babs
Happiness - Jeff
"DON'T MARRY JEFF"
- AlmostAlwaysADR
"This is mine too, and it's the same name. Jeff is a prick."
- noimneverserious
"I seriously dislike every person I've met named Jeff. It's incredible."
"My born again Christian uncle, a co-worker at a movie theater who was a close friend and then stabbed me in the back, a co-worker I had about two years ago who was so f*cking annoying and incompetent... all Jeff."
"I don't hate a lot of people but that's three people I do. Like 90 percent of people I hate are named Jeff."
- catsinspace
"Must be a Jeff thing. My 3 words would be 'Don't date Jeff' "
- [Reddit]
Happiness - 5 Years To Make A Difference
"Here's what I'd do: first I'd show young-me my college ID pic that I took at 18 years old. I'm 23 now, so the image looks enough like me and enough like him for him to understand and believe who I am."
"Then I'd shout slowly but as loud as I can:"
" 'Dad pancan 2017' "

"Hopefully he'd look up what 'pancan' is, and see that it refers to pancreatic cancer."
"2017 is the year he got diagnosed with stage 4, he died 2 years later, but if we had checked even earlier we might've detected it sooner and at a smaller stage, he may have survived."
"I was 13 in 2012 so I'd have 5 years to make a difference if I got that message to myself."
"Hope I was smart enough at 13 where if this scenario had occurred I could've done something about it. If not, well… at least I'd know how much time I had left with him."
"Definitely could've appreciated him more, he was the best dad in the goddamn world."

- Philander_Chase
Happiness - Talk About It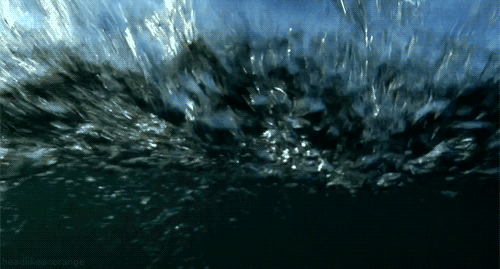 water sea GIF
Giphy
"Talk about drowning."
"When I was 12, I almost died in a rip tide on a trip with a friends family."
"The family I was with told my parents it was nothing (afraid of lawsuit perhaps) but told me that they had told my parents the whole story."
"Basically, the lifeguard saved me at the last minute, and the rip tides were so bad the beach was shut down for days afterwards."
"My parents never knew a life guard had to save me and were told I got scared and over reacted."
"The ptsd from almost dying (I had given up and was dying when the lifeguard reached me) led to depression and drug use as a teen."
"If my parents had known I truly gave up and thought I was dying and was ok with it, they would have gotten me therapy and my whole life would have been different."
- sassycatastrophe
Happiness - 30s Rock
" 'Wait two decades.' "
"She struggled with suicidal thoughts in her later teenage years and when her baby was first born."
"Knowing that The Good Sh*t (tm) happens when she's in her 30s should keep her going... and hopeful."

- insertcaffeine
"Mine was '30's are AWESOME!' "
"My childhood and teenage years were good. My late 20s were the hardest years you can imagine."
"My life didn't truly start until my 30's. And I'm sure to tell as many teenagers as I can!"

- iluvcuppycakes

"35 here, and this is the truest thing."
"I was a young teen mom who struggled and struggled… just one thing after another, homeless for a short time, broke, domestic violence, etc, etc… until my 30s."
"Finally got to finish school, I don't literally have to work 7 days a week while trying to be a good mom, and I've found a great 'balance' "
"I've been looking for something my entire life. Not anymore."
"I'm able to prioritize being healthy and I've overcome the negative body issues (thinking I'm fat no matter what), but I'm still young enough to look and feel good."
"In all honesty, my 30s are the best times of my life, so far."
"I have time to listen and enjoy my kids, support their hobbies, businesses, and dreams. I finally own a home. I can finally go on vacations. 30s rock for me."
- Embarrassed-Tap9458
Happiness - Kimmy
" 'Yes Kimmy California.' "
"My sister wanted to move to California near where I was living."
"My life was really complicated at the time and I actively discouraged it. My marriage was a mess and I was afraid it would make it worse."
"She stayed where she was. About a year later she was killed by a drunk driver."
"My marriage ended."
"I would do literally anything to still have my sister here."
"Maybe that message to 13 year old me would make sense when it came up later and I would know to say yes when she asked about moving."
- purplecrazypants2
Happiness - Choose Art (?)
" 'Choose Art School.' "
"My entire college career was based on:"
" 'This will let me earn $X. Do business, do CS, do Cybersec. It'll impress dad and the family. Artists starve and money = happiness anyways.' "
"Made really good money in the business world before graduating and realised how little my degree helped me."
"All I wanted to do was animation for other people and that's all I ever dream about."
"Should have done what I wanted to do instead of being a people-pleaser for so many years."
- Bryans-Ghost
"I did go to art school, and I was going to tell myself the exact opposite:"
" 'No art school!' "
"I wish I had done something practical like CS because it sucks to be financially unstable."
- lacksleepdna
So what would YOU tell your 13 -year-old self?
And do you think you'd have listened anyway?
Want to know more?
Sign up for the Knowable newsletter here.

Never miss another big, odd, funny or heartbreaking moment again.
Keep reading...
Show less
Life is full of obstacles and challenges. Sometimes you find a way to succeed on your own. Other times, you need a little help.
The help isn't physical. The people you need can't always be there in person, but their wisdom is always with you.
You've been given advice, and that's all you really need to succeed.
Some advice is sound from the start. Other pieces of advice sound strange at first but turn out to be amazing once you're put in a situation that relies on that weird advice.
That's probably what Redditor memereda_vanwolf was thinking when they asked:
"what is the weirdest advice you have heard that is strangely effective??"
When It Gets To Be Too Much
""Do you understand, that if you try to endlessly stack bricks, no matter how perfect you do it, they will fall over?""
"My boss told me this after I burned-out. Just says that no matter how well you plan your work, too much is too much."
– IsabellaCps
Sit Still, Look Competent
""If you sit quietly while everyone else F*CKS UP, you're going to win big!" - John Oliver. I've gotten multiple jobs and school opportunities by just doing my work and not being a loud moron."
– Redqueenhypo
From The Corner Of Your Eye
"If looking for something in a low light environment, try to use your peripheral vision."
"I read about it in an old WWII manual about aerial combat at night. It has something to do with how eyes work."
"It has helped me many times over the years. For finding stuff in a darkened room, or outside in a field at night, not aerial combat."
– BMLortz
Need Something To Do?
"One time the guy who came to fix my refrigerator told me "If you don't know what to do, drink some water". It's actually surprisingly solid advice."
– FearlessLingonberry
If You Have Good Acting Skills
"From my 7 year old daughter…I still laugh about it today."
"If you're ever in an awkward situation with someone or need that to just go away- you could always pretend to choke on something. I don't know where this came from but it's funny AND it works. You just run away to get a glass of water."
– Typical-me-
Do You Really Want It?
"If you want to buy something, wait 24 hours and if you still want to buy it afterwards then buy it. This has really cut my impulse buying down and has made saving money extremely easy."
– ThaMuffMango
Don't Send Too Early
"When writing an e-mail, leave the recipient field until last."
– Ocsttiac
Eye Of The Beholder
"Honestly I had self image issues until I heard someone say, "I'm not ugly, I'm just not my type" which I'll always remember. Everyone's someone's type damnit."
– mossybeard
Like Magic!
"A coworker told me that when someone has the hiccups you tell them "you're not a fish.""
"The amount of times this has worked has convinced me she's a witch. I have texted her at least a half-dozen times whenever it worked."
"At one point while I had the hiccups and asked a friend to tell me I'm not a fish. Worked. F*cking sorcery."
– sinisterSoup
You'll Need It Eventually
"A wise man once tole me: Buy a plunger before you need a plunger"
– BigT2190
Yes, some of this is very weird, but it seems to have positive effects on the people who listened. I definitely want to know how that one person figured out telling someone "You are not a fish" gets rid of hiccups.
And I'm totally ready to try pretending to choke to get away from the myriad of awkward situations I find myself in.
Want to "know" more?

Sign up for the Knowable newsletter here.

Never miss another big, odd, funny or heartbreaking moment again.
Keep reading...
Show less
Most people have become conditioned to invoke cliches when consoling or encouraging others.

While their intentions are good, sometimes the words of wisdom friends throw around are so hackneyed, that the person feeling dejected over their circumstances is better off without them.
Do they truly mean what they say as it applies to the situation, or do they just want them to "get over it?"
It depends on the situation, of course, but many of us are keen to identify the fake niceties.

Curious to hear from strangers online, Redditor Noiv3rn asked:

"What life advice can just f'k off?"
When it comes to bullies, some people think confronting the issue head on is always best.
Ignorance Is A Miss
"If you just ignore, they will go away."
– whaldener
Lesson For Bullies
"School is prison rules. Hurt your bully. Make them scared of you."
"You land one really solid punch, and take the punishment the school gives you. Whatever suspension or whatever you have to deal with is worth getting your bullies to lay off."
– coleosis1414

Not About Winning
"My dad told me to fight back with everything I have, while paying for karate lessons for me. When I told him I didn't think I could win the fight because my bully was so much bigger, he said 'You don't have to win. You just have to be more trouble than you're worth.'"
– Incongruent

Love makes people do crazy things, said a famous person recently. Crazy things shouldn't involve pain, however.
Tainted Love
"'He's only picking on you because he likes you.' It's not advice, just promoting an unhealthy relationship dynamic. Pisses me off."
– Merely-Zero

Shove With Love
"Yeah I got pushed off the monkey bars and cracked my head open in second grade by some little boy who kept bothering me."
"When I returned to school the next day with a stitched up head, the teacher told me 'He just does that because he secretly likes you. That's how boys show it.' I believed her. :("
– Munich11

Unqualified Therapist
"literally my therapist when I was in middle school said that this guy was bullying me because he liked me. No, the kid was just an absolute a**hole."
"So glad that therapist is no longer in business, she messed me up as well as my mom, pinning my ADHD on her as if i didn't have it, it was all her fault for raising me badly."
– Blundering_Dragon

Not all rules or advice apply.
Flaws Of Authenticity
"Be yourself, and don't compromise for anyone."
"No. Sometimes you suck and need to improve."
– flash17k

Easy For Them To Say
"Any advice given by people who clearly lack personal experience to be grounded in reality."
"Rich people saying 'money doesn't buy happiness'. Pretty people saying 'looks don't matter'. People who've been handed everything saying 'you need to work hard for things'. Politicians saying 'cheaters never prosper.'"
– sketchysketchist

It's Written In The Stars
"Everything happens for a reason"
"Doesn't mean it's a good reason..."
– Abigale_Munroe

Live To Work
"Any advice that encourages people to spend every waking minute grinding, and to sacrifice sleep/rest to increase those minutes. I don't get up at 5am, I don't work until 11pm, I don't log on when I'm not working that day. I work my 40 hours a week and any time outside of that is my own time, otherwise what the f**k am I working for at all?"
– BaseballFuryThurman
Level Playing Field
"We all get the same 24 hours".
– Throwaway_Tenderloin
"Yeah this is bullsh*t. Jeff Bezos doesn't have the same 24 hours I have, and I daresay he never did."
– Salarian_American
Dated Perspective
"College is the only way to open successful doors in life. A fun thing most old people say (half the time never went or finished college themselves) while thinking you can still buy penny candy today."
– _BluLeaf

Any time I hear someone tell me "if it's meant to be it will be," oftentimes it ends up meaning that it will never be.
Did I lose out on the audition because it just wasn't meant to be? No, there were other hopefuls in the room better suited for the role than myself, but I've landed jobs where I put in the work and was better prepared than most.
For me, relying on fate is just lazy. Luck helps, sure.
But, in my experience, I believe that applying yourself and making more of an effort gets you noticed most endeavors.

Want to "know" more?
Sign up for the Knowable newsletter here.

Never miss another big, odd, funny or heartbreaking moment again.
Keep reading...
Show less
There has got to be a way to save the world.
We are on a collision course to destruction, y'all.
But we can change that. We can fix this mess.
If we really want to.
When you break it down, the answers are staring us in the face.
Let's start with denouncing greed.
Greed is bad.
Spread the wealth and continue...
Redditor P4intsplatter wanted everyone to listen up and start being smarter, because it's actually easy. They asked:
"What simple rule would fix the world, if everyone actually followed it?"
Stop being stupid would be my first guest. There is a lot of stupid. And don't smack people. (Cough Cough)
Bodacious...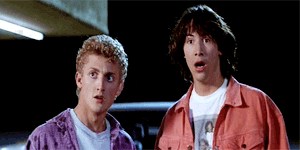 surprised keanu reeves GIF
Giphy
"Be excellent to each other."
pnotar
"…and party on, dudes!!!"
Theformat420
Communities
"I read somewhere that if you want to change the world, you have to change the community, to change the community change your relationships, and to change your relationships change yourself."
cagibaxii
"And this saying is why I believe in the necessity of shame, accountability and consequences. Without those, one can't even change themselves. In fact, the worst of them goes unpruned and unchecked. That makes them worse, which makes their relationships worse, which makes the community worse."
thatswhatshesaidxx
Elsa Says...
"'Let go or be dragged' and old zen proverb I heard at a meditation class. Really changed the way I let myself worry about things."
civagigi
"When you can't let go of an issue - whether that's being upset over an injustice, or obsessed over a possibility- if you don't 'let go' then it may take over your life and prevent you from being happy."
clayxa
Save the World
"Don't leave plastic laying around."
TheDarkSoulHunter
"Or just stop using so much of it in the first place."
SailorSpoon11
"There is no simple rule in existence that could change the world. Multiple that can make it vastly better though."
Ill_Ratio_5682
STRIKE!!
"Forget it, Dude. Let's go bowling."
Bonhomme7h
"Great to be the owner of bowling places then."
Crazy-yzarC
Bowling. Bowling always helps. Bowling and karaoke. Try it...
Dirty $$$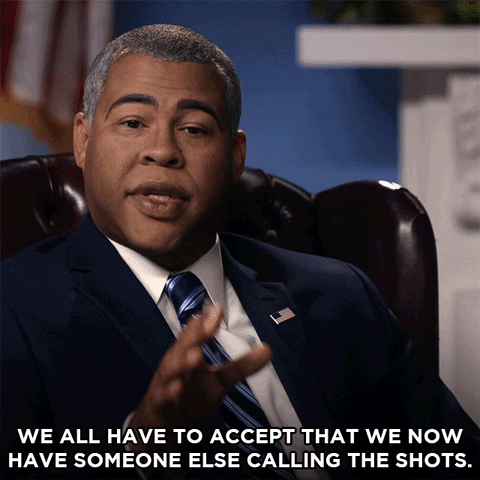 Angry The Daily Show GIF by Comedy Central
Giphy
"Keeping money out of politics."
-domi-
"If we taught critical thinking skills in school, money in politics wouldn't be nearly as effective."
AmericanScream
Good Behavior
"Treats others how you want to be treated."
AlbanyGuy1973
"Doesn't work: Some people WANT to be treated like crap (masochism). Others are incapable of treating everyone like the king or queen they think they are."
P4intsplatter
"This one is bad. Treat others how you think they want to be treated would be an improvement, although it relies on you being pretty good with empathy and stuff."
Quinlov
Upset with someone?
"Any clear communication. People cant read minds so one must use communication. Upset with someone? Talk to them about it, come up with a way to resolve the issue. Pulling away from people cause of a tough time in life, let them know you're going through stuff."
"Try to minimize the potential for a loss in translation so that all sides are understanding each other as much as possible. If theres a roadblock in communication, take a step back and think about how you're viewing it vs them and how you can better understand each others sides."
dalcer
Turn Correctly!
"Use your turn signal(s) properly."
futilelord
"I live in northern Wyoming and it's the same way here. There's about a 50% chance that a person will use their turn signal, almost everybody is driving a massive vehicle, tailgating is the norm now, nobody knows what a safe following distance is anymore, stop lights and stop signs are viewed as suggestions, and the cops don't do anything about it. Driving used to be fun but now it feels more like you're playing with your life every time you go out."
Minmach-123
Be a Light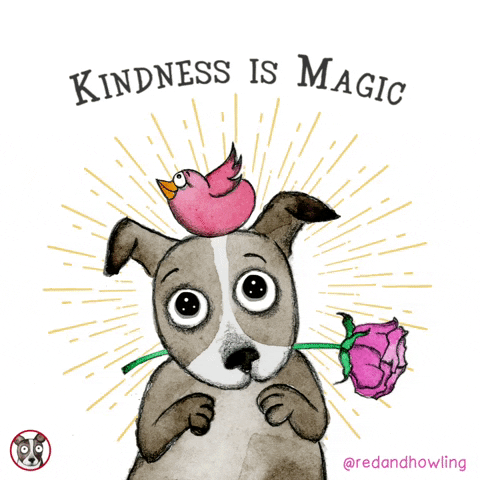 Be Kind Animation GIF by Red & Howling
Giphy
"Be generous and humble. Being generous and kind encourages us to perceive others in a more positive light and fosters a sense of community. Humility teaches you to improve and make a positive impact on the world."
SuvenPan
Not Renewable
"Don't use more resources than what the earth is capable of renewing."
DeathSpiral321
"Yea it's like the debate on fur coats vs those made from polyester, fur coats when properly sourced are much more sustainable."
"With furs, we run the risk of over killing animals and harming ecosystems. That being said, they are biodegradable and if properly maintained, can last much longer. Polyester made clothing however, emits a lot of pollution during its production and takes much longer/doesn't biodegrade nearly as well."
Boomerang
"Do unto others as you would have them do unto you."
Black-Shoe
"Better hope you never run into a masochist."
EmperorG
Hush Up
"If you are not educated on the subject, sit down and stfu. Let the experts with years of education and experience talk."
Ch3m1cal420
"The problem here is that there are topics where the real experts aren't scientists but the people who experience it. These often are overlooked."
otaku_ftm_aspie_blue
Hey Neighbor
"TOLERANCE! and the good neighbor policy you stay on your side of the fence and don't bother me and I'll do the same. Got it."
Last-Voice-Of-Reason
"Deep thinking"
"Be kind to each other. Period."
NoBSforGma
"Deep thinking."
"These are not questions that can be answered easily or quickly. (Except that one for the addict because that usually leads to.... death.)"
"If everyone was kind to each other, there would be no murders, no starvation, no wars. Can you improve on that? Children would not be abused, women would not be raped. Just think about it."
Let me Live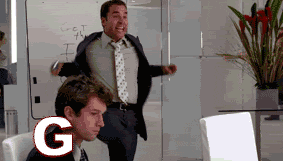 go away gtfo GIF
Giphy
"Mind your own business/live and let live."
advicemovingon
"The problem with that is the decisions you make effect others in society in some cases. Should I be able to drive whatever speed I want and not stop at stop lights even though I might kill some innocent bystander along the way?"
Farmer_j0e00
reducing the discrepancy...
"You can only earn within 1 std deviation of the average income, level out income. This just came into my head, so not sure if it would work... maybe 2 std deviations. But reducing the discrepancy between the rich and poor would do a lot."
istcmg
"Hate it. As it stands in the realm of human attraction if you're a 5'3" ugly guy you're about 1,000 std devs below average. However you can work your arse off and be competent and successful and make some of that up by also being many std devs above average financial success."
"Even if you do that, you're not as well off as someone born tall and good looking: it's still the consolation prize because unlike them you had to work for it, and you'll know anyone in a relationship with you is there grudgingly and would really like someone else more. Who the hell are you to take that small grain of hope of some kind of decent life away?"
zipporah-the-third
Stay Calm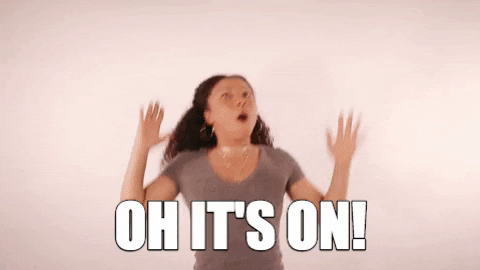 Game On Fighting GIF by Shalita Grant
Giphy
"Simple, the non-aggression principle. You don't do, initiate or threat any harm unto others, unless acting in true self defense."
ufrag
Energy Save
"The lights should be off but the others are actually on as a result of energy protection. You wouldn't want the surge of industrial power on and off like that. It's actually more efficient to leave them on as most models now require less energy to keep consistent temperatures than to surge and cover a wider range of returning to the desired temperature. The lights thing does need to go. Light pollution is problematic."
-Sairax-
What have we learned? Be better, it's really that simple.
Want to "know" more?
Sign up for the Knowable newsletter here.
Never miss another big, odd, funny or heartbreaking moment again.

Keep reading...
Show less