Did anyone else almost exclusively eat McNuggets when they were a kid? Or was I just the biggest picky eater of all time? Regardless, it's very rare that I voluntarily go to McD's and get some nuggets as an adult. Did I outgrow it? Or did my tastebuds change?
I'm not the only one experiencing the phenomenon of outgrowing childhood foods. Here are just a few examples. Specter6272 asked:
What is a food you no longer enjoy as an adult?
Oftentimes when we make mistakes as a kid, it's because we truly do not know better in that situation. Everything is a learning experience, whether we ask for it or not. But as an adult, there are some things we think about in our childhoods that make us cringe.
The mistakes we make as a child can be regrettable. Tiny222 asked:
What is the worst thing you did as a kid, and still feel guilty about?

​It's best to not beat yourself up about things you did in the past, but sometimes it's hard not to.
​Thank goodness he recovered.
"My friend and I discovered that a lighter and spray paint creates a flame thrower.
Anyway, I accidentally burned the side of my friend's face. He's recovered just fine but I'll never forget how loud my dad yelled at me when his mom came knocking on the door."
​She definitely knew.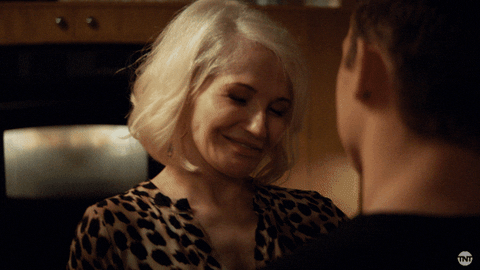 season 3 hug GIF by Animal Kingdom on TNT
Giphy
"Stole a quartz rock from my grandmother. I had one very similar and was convinced it was mine and that I had left it there. She told me it wasn't mine, gave me a hug and a kiss. And, as a six year old, I just fixated that it was mine. And I'm 99% sure it wasn't. Nothing is ever 100% but yeah. My grandmother, who did nothing but love me and shower me with love, affection, and attention, did not deserve to get her knickknack stolen by me.
By the time I was a teenager, it totally ate me up. I never confessed and I wished I had. After she died, I had a dream where she came back to see me and the first thing I did was cry and apologize."
​I'm sure the pigeon forgives you. 
"I once threw a rock at a pigeon. I didn't mean to hit him - I just wanted to see him fly off. He was pretty.
I hit the pigeon. I still feel bad about that."
We don't always understand as a kid.
"I have a mentally ill family member and as a kid I could never make sense of it or why my parents weren't doing more. It was difficult to deal with and I remember one day when I was like 7/8 years old I blamed my mom for it, raised my voice at her and everything.
Almost 15 years down the line I still feel very guilty about it. I don't remember exactly what I said but I can very clearly remember the look on my moms face."
​We all make mistakes when we're young, and sometimes we think they are unforgivable.
​Pickle head will be avenged.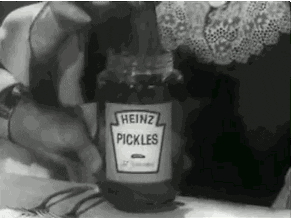 pickle GIF
Giphy
​​"My siblings and I called the only other kid at our bus stop "pickle head" because he always wore a green beanie. We were relentless, too, and teased the f*ck out of him. One day he tried wearing a different beanie (red one) and we ramped things up calling him "tomato head".
It's been almost 2 decades and I still don't know what the poor kid's actual name was."
​This is heartbreaking.
"Wrote sh*t like 'I hate you. You're the worst mummy ever and I hope you die. Have a terrible day' etc. all over my birthday card to my mum because she said I couldn't go out to play on my bike before we went out for dinner. She died a month later from a sudden brain aneurysm.
8 year old me knew it wasn't my fault and I hadn't meant what I'd said in a temper but I felt bad for wishing it on her all the same and cursed the horrible timing. I feel sad that we never got the chance to talk about it as adults and laugh about it together."
​At least they learned their lesson.
"I shot a bird when I was 5. My mom forced me to watch it die. That had a lasting impression and I became a huge animal lover."
"Reminds me of my cousin and I running around with a BB gun and we finally hit a bird and ran over excited to find it. It just suffocated slowly and we stood there bawling. Now he's killed humans so I guess it had a different effect on each of us."

​Luckily, usually when we mess up as a child, we almost immediately learn our lesson. Sometimes being an impressionable kid is a good thing.
​At least it didn't have money in it.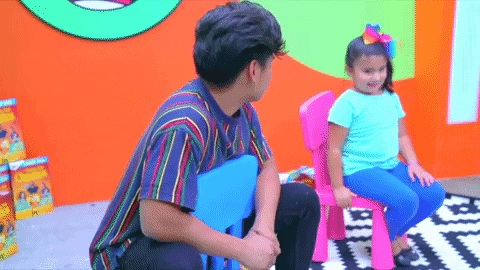 youtube kids GIF by Guava Juice
Giphy
"I stole from a friend of mine.
A while back Burger King had a line of toys with its meals and one of the "toys" was a wallet. I do not remember what the branding was, but I remember it being really really cool.
So one day I'm visiting a friend of mine and I see in his room that he has the wallet. I was insanely jealous so when he wasn't looking I took everything out of it, hid the contents around his room, and pocketed the wallet. I then spent the rest of the day hanging out and playing and at the end of the day left with my new prize."
Poor Knight Rider.
​"A poor large Irish family on my street gave one of their sons a black trans-am model car as his only present at Xmas. They told him it was from Knight Rider, his favourite show. It wasn't, but it was a cool model. Not a small one, but a decent sized effort with opening doors and the like. A good present basically.
We, although mainly me, then told him (on Xmas day) it wasn't Knight Rider. He was really young, like 7, while we were about 12. He got upset and insisted it was Knight Rider. We then told him to prove it. By throwing it, a lot, at the floor, wall etc. Knight Rider was bullet proof so it shouldn't get damaged...
In the end the model was scratched, dented, and doors and wheels were either hanging on by a thread or had fallen off. He was dead upset, and his family gave him hell. Always cringe and feel terrible for being a git at the time. I wasnt really a nasty kid but that was one time I deeply regretted being a bit of a sh*t just to get giggles from my friends."
It's kind of Lego's fault, tbh.
'When I was 8 I studiously watched how my dad filled out checks. So, when the moment struck, I Stole a check from my parents check book, crossed off their names and wrote mine, wrote it out for 80 dollars to Lego, signed my name, and fired it off in the mail with a order form for a giant Lego semi complete with warthog fighter plane.
I forgot all about it until a few weeks later it actually showed up.
What's astounding is that they not only accepted this TOTALLY fraudulent check, but mailed the item off.
Of course my parents were furious. My mom found out when the bank called, laughing. So what did she do? She contacted the police and staged things, took me down there and scared the sh*t out of me. They talked to me about stuff like JV, theft. Then my mom took me to meet the bank manager and I learned about fraud and how it could put me in prison.
What's killer is that Lego customer service tried to laugh it off, but they refunded my mom obviously. But holy hell, the worst part was my dad and mom, for the next for months, to years, would frisk me in check out lines. It was pretty extreme but we'll, I'm no thief and I now work in the fraud department at a bank!"
​If you're like these people and have a memory from something you did as a child that makes you cringe, do your best to forgive yourself. Kids are dumb, and you were dumb too.
Luckily, as we grow up, we learn from our mistakes. That's the beauty of becoming an adult.
Raise your hands--who had an emo phase in the 2000s? I know I did, as did a lot of people around me. All of us heard "It's just a phase" from our parents at some point, but when you're a kid, life as we know it seems so permanent.
Of course, most of the time, it was "just a phase". And looking back, those phases are regrettable, to say the least. Here are some prime examples of that.
SirGergoyFriendman asked:
What was your biggest/most regrettable "It's not a phase, mom. It's my life." that, in fact, turned out to be just a phase and not your life?
The enthusiasm of a young person can lead to some unexpected changes that parents are just not ready for.​
Hi, Wheeljack!​
"I was VERY into The Transformers when I was a wee lad in the 1980s. One day, I decided to change my name to the name of my favorite Autobot. My name was lame, and I wanted an awesome Transformer name. And I was VERY insistent that my parents only call me by my new name. Calling me by my 'old' name would cause a big fat tantrum on my part."
"So for the better part of a week, my poor parents had to call me Wheeljack."
​Very 2008.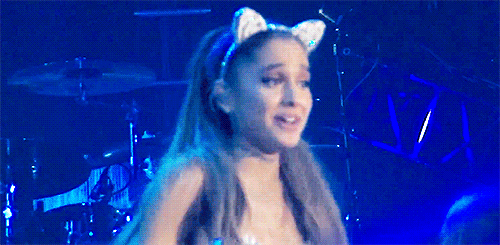 Ariana Grande Shrug GIF
Giphy
"My cat-ear phase. I wore cat ears every single day. Everywhere. I had like 20 pairs of them. Now everyone thinks I'm a furry."
"I find that very cute and wouldn't have thought you'd be furry. Even if you'd had cat mittens. I think my suspicions would have started if you moved a bit like a cat, displayed catlike grooming habits or got a cat mask."
​Not gonna lie, that car sounds cool.
"I went to a car show once as a teen, and the only newer car there was some chick's PT cruiser. It was hot glittery pink, and at the time I was obsessed. I insisted that one day I would have a hot pink car, with pink seats, pink dash, pink carpets, etc. I was pretty heavily goth at the time, so my parents just rolled their eyes."
These phases can often lead to some very strange fashion choices.​
​That's commitment.
"When I was a teenager (early 00s), I was waiting for my mother to pick me up and was wearing one of those sh!tty sports wristwatches. It was itching me so I took it off for a second, but then she arrived and because I was struggling to get it back on my wrist, I looped it around the equally sh!tty chain I had around my neck in a rush to get out the door."
"My mom asked me about it in the car, and I told her this was my new style and I planned to wear it like that every day. She rolled her eyes."
"I wore that watch on a chain around my neck every single day for 3 years or so. There are even professional family photos where I'm wearing it because I refused to take it off."
"One day, the chain broke and I lost the watch. I was in high school at that point anyway and it was a major lady repellent, so... phase over."
Not everyone can be Eminem.​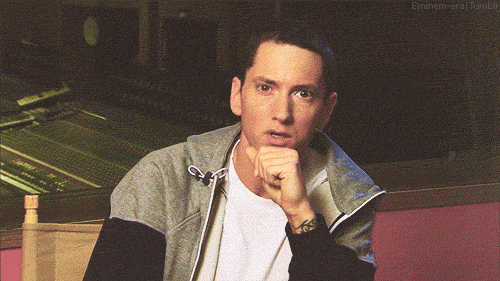 slim shady eminem GIF
Giphy
"Baggy pants, being a rapper someday and being a professional skater."
"When I was about 14 and Eminem was starting to blow up I bought myself a keyboard with a synthesizer. It cost like $200 which was all the money I had saved up. It finally came (this was way before amazon prime and such) and I tried rapping."
"My sister told me "you're effing horrible" and I gave up right then and there."
​This should be a sin.
"I used to button the top buttons of polo shirts."
"I must say, this is probably the worst one I've read."
"Cheaper than a chastity belt."

Reddit Users Share Their Best 'It's A Small World After All' Experience
Looking back at our regrettable choices, all we can do is cringe.
​An optimistic look at bad tattoos.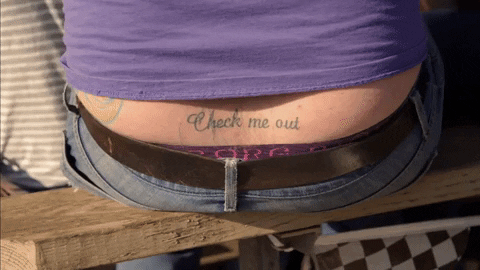 check me out season 3 GIF by Portlandia
Giphy
"Being a tattooer. Regrettable because of those poor people who have my awful doodles on their bodies."
"Take heart! My favorite tattoo is the one I drunkenly got my buddy to do in his living room one year during March Madness! It's dumb and frankly mediocre? But such a good story and has such good associations I smile every time I see it."
​RIP Fredro's.
"My friend and I decided we were going to open a bar in Jamaica with exotic snakes in glass cages in the walls at each booth. We convinced ourselves it would be amazing for at least two years in college. It was going to be called Fredro's."
"My entire family made fun of me for it. Once we got out of college, we realized it was not feasible and joined the office grind. We're also two white guys with no ties to Jamaica."
Talk about cringey.
"I wore a top hat with an anime pin on it for around a year. Met one of my current best friends while wearing it, idk how he could bear to speak to me after that."
My weirdest phase was probably when I insisted on wearing knee-high rainbow socks to school every day. But honestly, I don't regret it. I rocked those socks, and I wish I still have a pair.
To all the people out there cringing over their past selves, remember that you were just a kid, and to be easy on yourselves. After all, we've all been there
Keep reading...
Show less
According to Gen-Z, Millennials are just old people who can't perfect a middle part and have a weird obsession with Harry Potter. As a 26 year old, I may as well be dead to them. In fact, I find myself doing a lot of "old people things", like getting excited about new socks, and unironically listening to the oldies station on Spotify.
It's true, a lot of elder millennials are slowly approaching middle-age. But we're all crawling closer and closer to the grave every day. Too dark? Sorry, that's the 2008 emo inside me coming out. Millennial probs, am I right?
U/naxxfish asked: Millennials: What was the most middle aged thing you caught youself saying recently?

​You ever say something out loud, and then immediately make the realization that you're old? Yeah, me neither.
Everyone under my age is a kid to me.
Calling a 21 year-old guy a "kid".
Started calling my coworkers kiddo (they're 19, I'm 30), realized I'm too old for this job.
Relatable.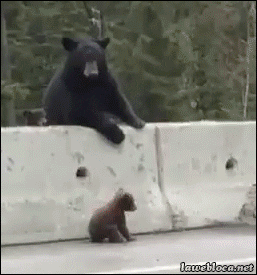 bear cub GIF
Giphy
I dislike bar and grill places, they're far too loud
I like to plan my errands starting with the furthest place so everything else is on the way home
I have a preferred tax preparer
I have a preferred mechanic
I have more than one measuring tape— one for upstairs and one for downstairs and I complain when my family doesn't put them back where they belong
I feel a strong urge to feed younger adults and make sure they're doing okay. Wife has assured me that I have "mama bear" energy and requested that I "stop adopting every young adult that looks slightly stressed"
Awkward....
I was eating lunch with a coworker last week and she was complaining about the weird clothes her parents wore in high school. Jincos, wallet chains like 4 ft long, some other stuff, but as I'm listening to her I realize that she's describing my high school experience so I ask her, how old are your parents?
"Ugh they're 40!"
....I'm 37, turning 38 in two weeks.
After I told her that we both got really quiet and changed the subject.
Someone, please help me. I'm not ready for this.
​Millennial problems call for millennial solutions. Because we have back problems too.
Kids can't relate.
Had a riveting conversation with some friends about the best office chairs for lumbar support.
I was in the car with an old friend recently and we were just chatting about various things. I turned to him and said "could you imagine some poor kid if they were in the backseat listening to this conversation?"
We were talking about how we love when we find cities that don't have metered parking in their downtown area.
​Sober or just sleepy?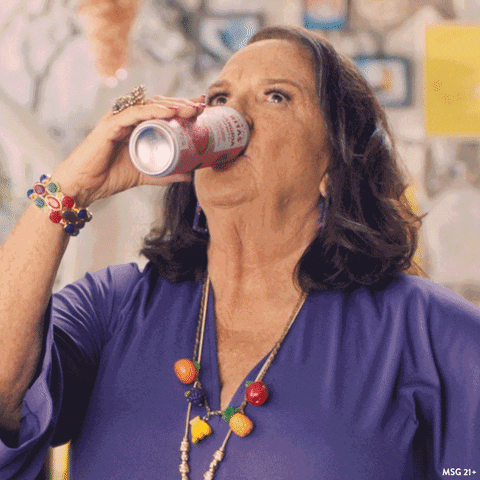 drinks drinking GIF by RITAS
Giphy
My housemate: you want a drink?
Me: Nah, man. I haven't had a drink in... six months maybe? More?
My housemate: You stopped drinking?
Me: I'm not SOBER or anything, it's just that alcohol makes me sleepy.
Seems like back pain is a universal struggle.
"No, I'm okay. It just takes my back a little while to loosen up in the morning."
I'm going to pass on some wisdom from 50. Exercise your core. I had a bad back for decades. If I'd start doing crunches the pain would go away and I was more limber. The best shape I was in was at 45. I ended up in brain rehab for 4 months. Since they can't really do anything for the brain but test if you're getting better, I spent my mornings in a balance class and core class. That 1.5 hrs 4 days a week was the best thing to ever happen. 5 years later I've lost most of the gains but when things feel bad I start to exercise my core.

Use it or lose it. Being stiff and sore at any age sucks. It doesn't take long to do some crunches once a day before getting out of bed but the results are amazing.
And, invest in massages. I spent thousands in a couple months after years of abusing my body. The difference was worth every penny. I thought my elbows were shot. Nope, mostly upper back tension.
​Good advice!
In a conversation with a friend "I managed to find a really good knife block recently..."
If you value your knives, don't use a block. It will ruin the edges of your knives. Instead buy a magnetic knife strip.
Body aches and deals on mundane household items. That pretty much sums up millennials. #adulting, right?
Mr. Moneybags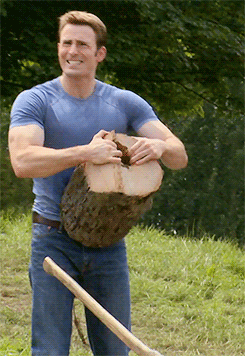 captain america lumber GIF
Giphy
While at Home Depot: "oh yeah that's some good lumber".
Wow, check out Mr. Moneybags here, buying lumber (at these prices)
​Every. Single. Day.
I slept wrong and haven't been able to turn my head for three days.
I slept wrong a week ago and theres still a kink in my neck.
​Not the dad groan!
That classic "dad groan" when standing up.
I like to exaggerate it so it sounds like I'm making a joke rather than actually struggling.
That's how it starts, exaggerating to be a little funny. Really just to entertain yourself. Then it becomes habit and you don't know when it actually became real, but now it feels like you need to shift a mountain just to get up. And you've gotta get up, because something always needs doing.

Millennial culture is rooted in being "relatable". So it's no surprise that most Millennials experience similar problems. Hey, more to meme about, right?
Take care of your backs, fellow Millennials.
Keep reading...
Show less
In the words of every millennial who was once on Tumblr, adulting is hard. I've been a legal adult for nine years now, and I still don't fully understand taxes. I just let TurboTax do its thing and hope for the best. They REALLY need to teach that sh*t in schools.
But I'm not the only adult who still feels like a child! I think a lot of us can relate to that. And to be honest, we can be very unprepared for what life throws at us.
U/cracksandcrevices asked: What is an adult problem that nobody prepared you for?

The worst part is the cruel awakening that we actually have to, you know, do stuff on our own.
Choosing things is hard.
Having to not only make important decisions by myself (I expected that much) but also having to do so in a timely fashion uninhibited by indecision.
Having to make decisions is such a big thing for me. Intellectually, of course I knew I'd have to make decisions. I just want ready too make them without knowing the consequences and at the speed of life.
Errands eat up sooo much time.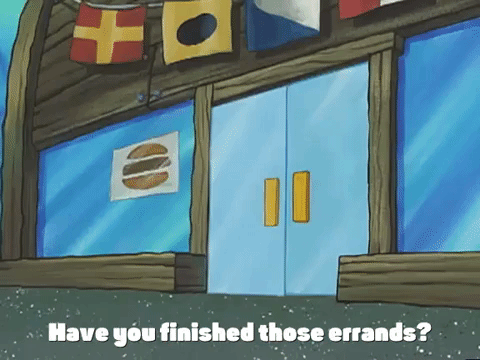 season 2 your shoe's untied GIF by SpongeBob SquarePants
Giphy
How much time you spend just doing stuff.
"Oh need to replace my tire and that's over by the store, so while I replace the tire I can do some errands and I'll save time and be home in no time" three hours later "Okay just one more errand before I head home"
Also how putting off a small task just a couple days in a row can quickly amount to a longer chore/responsibility later. "Eh I can just leave this in the sink, get to it later before bed" x 2 days "Why is this grime caked onto this plate still I've been scrubbing for 10 minutes straight!"
That's what delivery is for.
Being sick and having to care for yourself. Like when you were younger your parents would get the medicine, or the medicine cabinet would just be stocked all the time, etc. But here I am with a cold having to build up the energy to go to the supermarket to buy some asprin and throat lozenges all by myself.
Underwear gnomes are the true pests.
The endless cleaning. I had chores when I was a kid, but I had zero clue how much actual work went into keeping house. I cleaned my house this morning and by midweek it'll be a war zone of pet hair, crumbs, and dust. I don't even have kids wtf it's like the underpants gnomes show up when I'm asleep and mess my house up.
Reddit Users Share Their Best 'It's A Small World After All' Experience
Another sh*tty thing is the crushing loneliness that comes with adulthood. Why didn't they tell us that we would have no friends after the age of 25?
The only thing I miss about school.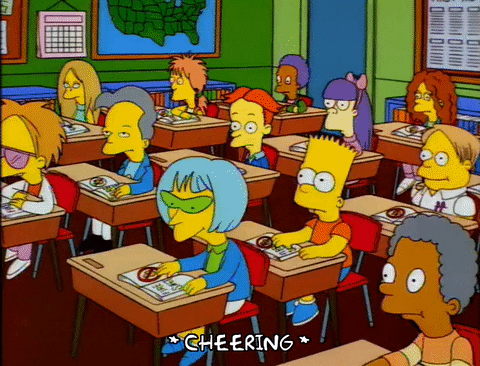 motivating bart simpson GIF
Giphy
A lack of community. Growing up you have your elementary school. Each day you see your friends and participate in activities together. Sometimes they move away and sometimes you do, but it largely stays the same through high school and middle school. Flash forward to adulthood and you're just alone. You want to make friends IRL, but have no idea how to go about doing it without seeming creepy, desperate, or god knows what.
This is really hard when you are not overtly religious so you cannot join a religious community. My friend and I talk about this from time to time, it's arguably the hardest thing to deal with in life. It gets worse the longer you live, as you know you are outliving your generation.
The reason why I have cats.
You can go days on end without having to speak to a single person, at first it's a dream come true, after about 2 months you start talking to your toaster to pad the silence while waiting for your toast.
I literally haven't spoken to someone beyond saying thank you/no when buying groceries in months. At first it felt kind of freeing and now it's just kinda sad.
Ditto on this advice.
The inevitably of your parents dying. My dad just passed away and I'm 25...no one could have prepared me I guess.
I feel you. Mine passed away back in August when I was 28. There's nothing you can do to prepare for it, and I'm afraid I have no magic words to make it better. Just know you're not alone. I'll never say it gets "better," but it eventually starts to suck less and your hard days get a little less frequent. I'm so, so sorry.
​The sad fact is, you have to start fending for yourself with no one to help you. And that's terrifying.
Saving money is hard for this reason alone.
Basic home maintenance: when to change air filters, smoke alarm batteries, timing of lawn care, how often do you clean the gutters, are you supposed to clean under the stove, what is edging, how do you recycle, how to change locks, etc.
Not to mention the random costs that spring up. Trying to save up money? Good for you. Except your sink just sprung a leak so you need to pay a plumber to fix that. Now you can save money agai... Nope, car needs servicing. Okay, your can definitely save money now.... Wait, that leaky sink sprouted mold so now your bathroom needs to be gutted and redone.
We are all Squidward.
Being absolutely exhausted most of the time. I never thought I'd be the 'I hate everyone' guy. But I am and everyone can f*ck off.
We all become Squidward after hitting a certain age.
You either die a SpongeBob or live long enough to become a Squidward.

Me? I'm Patrick. F*ck your rat race.
​You know what's the one thing I wasn't prepared for when I became an adult? Being an adult. This sh*t is overrated.
​This is such a scam.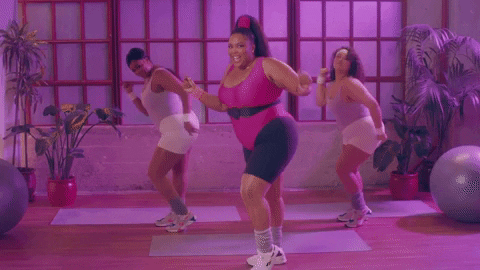 Work Out Exercise GIF by Lizzo
Giphy
You can EASILY eat 1000 calories in ten minutes but it takes 1 hour of vigorous exercise to burn off..
Financial literacy is SO important.
Retirement. Saving and investing over many years. Start as soon as you can. Luckily I have paid off my primary residence and own investment property as well as a diversified portfolio with some good bets as in BTC DOGE and FMCC these last 3 will moon real soon. Good luck and happy travels in your investment career. Start early! Do your own due diligence before investing. Learn as much as you can along the way. Your financial freedom depends on it.
​There really needs to be parenting classes.
Caring for your first baby. If you have experienced relatives or friends who can help, great, but we did not.
A colleague in a similar situation a while later said to me, "12 years of school, 4 years of college, and never once any lessons on the most important responsibility we will ever have!"
Yup.
YUP.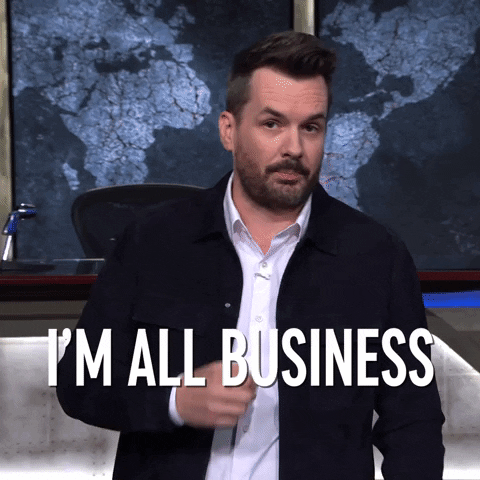 Comedy Central Lol GIF by The Jim Jefferies Show
Giphy
Realizing that so many people in the professional world are totally without scruples - totally dishonest, greedy, immoral and just out for themselves. What's more, they have absolutely no remorse about it.
We all secretly still feel like kids.
I'm 55, and am beginning to have grey hair and lines in my face. I'm amazed at how old I look, and physically, I'm a wreck (!), but inside, I'm still the Goth/Punk young woman of my twenties.
In fact, I'm mostly invisible to everyone in their twenties, which is something I've only recently understood. It's a mixed blessing.
As someone who has lost a parent, I can tell you that sometimes you will never be prepared for certain events in your adult life. Everyone's experience is different, and sometimes adulthood just means figuring it out for yourself.
You got this, grown-ups of the internet. I believe in you