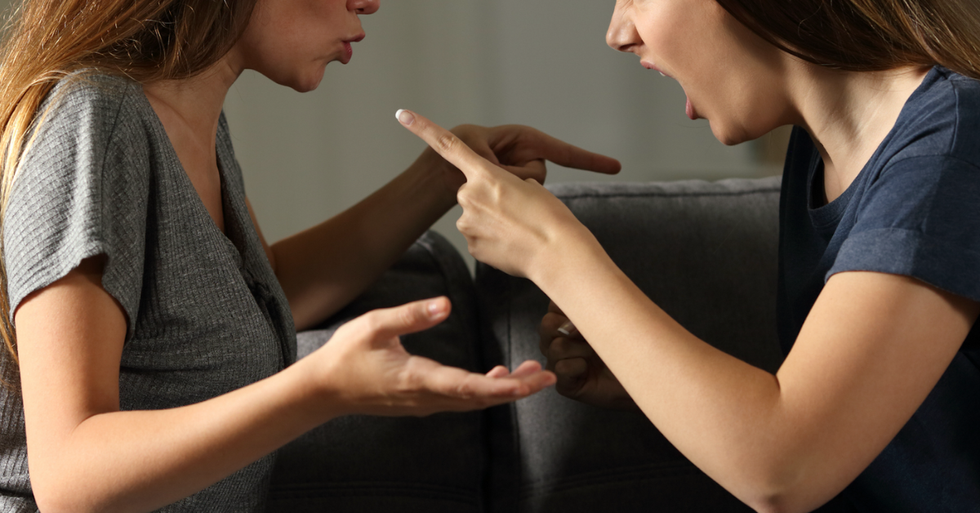 No matter how old we get, we'll unlikely stop being scolded by our parents as long as they are alive. And even though we aren't technically under their care, being scolded by one's parents doesn't get any easier the older we get. In certain circumstances, should they be expressing their disappointment or disapproval of our […]
More
As teenagers, most ambitious pre-adolescents looked forward to life beyond high school where the freedom for them to live their lives without the supervision of parents or guardians awaited them.
But when they barreled through phases of teen angst, obtaining driver's licenses, and finally being able to see an R-rated movie without sneaking into one, nothing could really prepare them for adulting.
Being told how to be an adult is one thing. Navigating through adulthood on your own, however, can be a very sobering experience.

Curious to hear of the trials and tribulations from strangers online, Redditor bathtub_seizure asked:

"What is an adult problem you were not prepared for?"
First, there are the responsibilities.
Finding Work
"The utter soul crushing search for a job."
– MaxTheSoccerDog

Series Of Unfortunate Events

"Same. I was out of work for years due to severe illness, then spent 8 months looking for any job possible but getting rejected everytime. I finally got 2 interviews lined up in April then coronavirus hit and they got cancelled! I cannot catch a break..."
– tickleapicl
Better Than The Alternative
"Not being able to leave a job you hate because you might just become homeless without it."
– Go_J

Then comes the pain and suffering.
People Come And Go
"Losing people. Loved ones passing away is the hardest. Then there's the nasty breakdown of personal relationships, family relationships and friendships. Then there's the sad drifting apart that happens when life takes you on a different path to a person you were once really close to."
– BlackCaaaaat
You're On Your Own, Kid
"Realizing that not even your parents have all the answers. And finally understanding that they were just figuring it out as they went just like we are."
"Not having an all knowing figure to give you the answers to all your problems is the pits and I hate it."
"Edit: just wanted to add that I agree figuring stuff out for yourself is rewarding and fun, but some things you really dont want to figure out for yourself, or cant figure out. And for those things it's nice to have someone to point you in the right direction."
– Snow_Da_92
The Physical Limitations Set In
"Pain."
"Arthritis is f'king horrible and early onset autoimmune arthritis is worse than just having an ache in one or two joints. I hurt all the time, everywhere, and everyone just assumes you're faking it or you're a pill popper. I am not going to live another 20 years with this pain like my dad did."
– porcelina99

Pain Doesn't Discriminate
"I don't have arthritis but I do have other issues that I end up having to use a cane for sometimes at 28 years old and I get the "you're too young for that" a lot, it drives me up a wall. Like, thanks, you've cured me, I hadn't considered I may be too young for this! If only I'd known it was that easy!"
– tarotwitchneona

Sleepless Nights
"Not being able to sleep due to stress. Yet here I lay, exhausted but wide awake."
"When I was younger I could sleep anytime, anywhere."
– JonnyWax

There are a slew of responsibilities these Redditors never saw coming.
Basic Adulting
"Being able to not cook the same meal everyday while balancing hundreds of other tasks. I will always admire my mom for how she was able to cook, have a clean house, work 43 hours and help her children do homework all while taking time to work out at the end of everyday."
"I could mention other common problems like money management and common tasks that I haven't mastered, but what really hit me like a train was the actual transition of adulthood. Im talking about having to make my own appointments and having to keep tabs on myself instead of handing every single document to my mom. I realized how unorganized I was when I found my birth certificate in the same drawer where i have junk receipts."
– IrisNalvo

Role Reversal
"Dealing with your parents acting like children."
– rchaw

Being The Host
"Having a presentable place, and debating myself on why it matters. It always frustrated me when my parents had a guest over and we had to deep clean the whole house. Like if it's my close friend of 8 years visiting, why do I care what they care about my cleanliness? And yet, every time people are over I find myself cleaning the apartment up for some reason."
– slothbarns7

Didn't we all feel invincible as youngsters?
I was rambunctious, physically active, and I hardly ever felt like I was going to run out of steam.
Yet, here we are. I can barely get up out of bed without hearing a snap, crackle, and pop from all of my joints.
I was cognizant of the eventual physical breakdown of my body taunting me from the distant horizon. But nothing could prepare me for the velocity at which this phase of my life would arrive and slap me hard in the face.
Life can be so cruel.

Keep reading...
Show less
When we're kids, being an adult and getting to do whatever we want often seems like the bestest, most awesome thing we could imagine.
But not everything is better as an adult.
Jobs, responsibilities, and that weird back pain you always seem to get when you sit at your desk too long are just part of getting older. A lot of things that were awesome as a kid just don't hit the same as an adult either.
Redditor Athompson9866 asked:
"What was f'king awesome as a kid, but sucks as an adult?"
Get out!
"People coming to your house to visit and stay a few days."
- macaronsforeveryone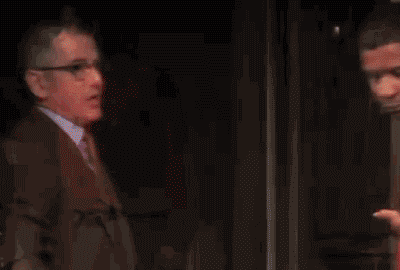 Giphy
Luxury Bones
"Losing a tooth"
- Content-Discussion56
"Oh yes! Can you imagine running around showing your family: 'Look! I lost a tooth! Doesn't it make me look adorable?'"
"And when you are a kid, a lost tooth makes you money. $ As an adult, it costs you way more than all the money the tooth fairy ever gave you."
- 4ninawells
It's All Junk
"Getting mail. I remember everyday begging my parents if I got mail. (I had pen pals). I got so excited when something came for me. Now I dread going to the mailbox because all that will be there are bills."
- Slowmechanic180
"Always bills 😞"
- Athompson9866
"And junk scams or advertisements"
- bsEEmsCE
Doughboys Cost How Much?!
"The State Fair. Especially now that I have to pay for everything."
- Lala6699
"My parents took us to Disney World for a week as kids. I went for 4 days with my husband a few years ago and wanted to go home with how expensive everything was. I went home and thanked my parents for that trip."
- jetsqueak
"'2 slices of pizza and 2 sodas? That'll be $35 please.' —The County Fair"
- oiwefoiwhef
Get In, Get Out
"Going to the mall. I used to like browsing stores, but now I just want to get what I need and go."
- JumpyBomber
"I mean, most malls are also depressing vistas of empty storefronts bookended by a department store on life support these days"
- negativeyoda
"There used to be fun things at the mall. An arcade, stores with stuff in them to look at... now it's empty except for maybe a drug store and a grocery store."
- arvy_p
World Go Spinny
"Spinning in circles."
"I try to do that now while holding my little one and I do about two spins before I'm lightheaded and dizzy as a drunk."
- lamacake
"Turning my head too fast makes me dizzy and nauseated lol"
- Athompson9866
"I was soooo surprised by this as an adult! Spinning and rollercoasters are fun as a child. I tried that as an adult with my kids and felt like I was going to die. The dizziness takes so much longer to go away and you feel terrible the whole time."
- AgeOfJace
"Staying awake till 2 in the morning as a teen/young adult: 'Yea baby!! the possibilities are ENDLESS!!'"
"Staying awake till 2 in the morning as a 40-something: 'This is gonna hurt in the morning'"
- Significant_Map122
"My circadian rhythm is set so firmly that I know I'm still gonna wake up at 7 am no matter how late I try to stay up so I hate staying up past 1 am. I'm usually in bed by like 9:30pm these days just cause I'd rather get comfortable and play a game on my phone until I get sleepy."
"I'm 38 with the sleep schedule of a 4 year old but I don't care."
- JoeyJoJo_Junior
All Pain, All The Time
"No Pain! I could fall down, scrap my knee and cry for like 1 minute and then get back up and ride a bike, or play tag or whatever. Now, I fall down... I am staying down and may need Life Alert! I have to take advil, put my knee up with Ice, and complain to my wife how painful it is for the next week. That is if I am lucky and didn't break the whole thing."
- Ekecede
"So I'm like into jogging now and I wished I got into it when I was younger. After a run, I felt this weird pain, like a bruise, on the back of my right foot. Long story short, it's Haglund's deformity. I googled it and it said, 'it's a common injury that occurs to middle aged people who runs.'"
"I don't know what hurts more, my foot or my self esteem when I realize now I'm middle-aged."
- mymymissmai
🎶 Summer Breeze Makes Me Feel ... Blah
"Summer. When you're a kid, it's three months of freedom from school. When you're an adult, you still have to go to work, but now it's sweltering hot and you're sweating your balls off all day, every day."
- chadthundertalk
"This is the answer I was looking for. It's even harder if you are a working parent - trying to give your kid that super awesome summer while trying to keep your job. That balance between 'I want to come play at the park with you' and 'I really don't want to lose my job' is hard."
- kennedar_1984
Sick Days
"Staying home on a sick day."
"As a kid it was a huge victory, got to stay in bed all day, watch TV, and having a parent tend to your every need. Then as an adult you're just thinking about the work you're gonna have to make up for and how you hope you don't need to go to a doctor."
- -eDgAR-
"Hehe, now there's WFH so you can be sick AND still work! Got COVID? Well, we have to get this proposal out today and you have a laptop, right?"
- Thunderhorse74
Adulthood definitely isn't the sunshine and roses most of us thought it was going to be when we were little, that's for sure.
Keep reading...
Show less
Many of us really related to characters in cartoons and Disney movies as kids, especially the main characters, but how relatable they seem changes as we get older and have more life experience.
Ariel's desire for freedom and control over her own life makes total sense when you're a kid and adults are in charge of your life, but she starts to seem kind of irresponsible once you realize that she put her whole family in jeopardy just to get what she wanted.
Meanwhile, some of the other characters, especially authority figures, start to make a heck of a lot more sense when you experience being truly responsible for other people.
Redditor kaizen1989 asked:
"Which cartoon character becomes more relatable,the older you get?"
Party Poopers
"The overly cautious fun suckers in any Disney movie."
"Zazu from The Lion King, Sebastian from The Little Mermaid, and Bagheera from Jungle Book come to mind."
- SheenzMe
"Zazu has a line where he's complaining to Simba, 'The sooner we get to the watering hole, the sooner we can leave!'"
"Do I now identify with Zazu on a spiritual level rather than just childishly thinking he's a killjoy?"
"Yes."
- poppyfairy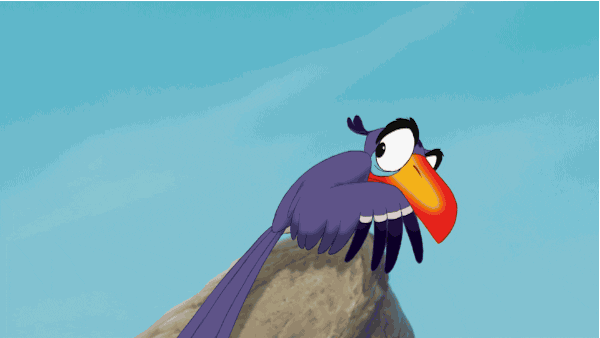 Giphy
We're All Depressed
​"Eeyore. I'm tired, depressed and grey most of the time."
- Striking-Ferret8216
"And yet, when people are depending on you, you try to help. (Eeyore is my favorite character)"
- Gen-Jinjur
We all have annoying coworkers
"Benson from regular show. After becoming a supervisor/manager, you start to realize how much the little things employees do add up and make you absolutely hate your life"
- ostrichual
"The clip where benson has a breakdown when Mordecai and Rigby spent all night inside an arcade. When he said how this job is all he has left. That sh*t hit me nowadays…."
- Dinobob
Propane and Propane Accessories
"Definitely Hank Hill. Especially now that I have to listen to a guy I know talk about conspiracy theories all the time. I've even got my own damn Dale."
- AstroWorldSecurity
"I love that clip of Hank finally getting fed up and calling out Dale's BS. Maybe it will give you some peace."
- TheRavenSayeth
"Dale you giblet head, we live in Texas!"
- Daikataro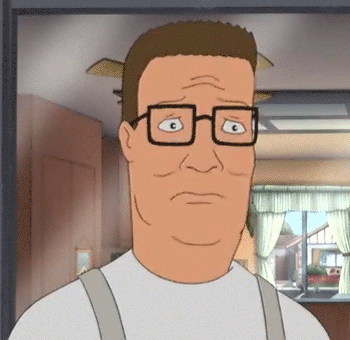 Hank Hill Smh GIF
Giphy
"Everything Has a Beginning and an End"
"Jet Black from Cowboy Bebop."
- Prank_Owl
"The absolute exhaustion in his every syllable"
- puttyarrobro
"Lol he's only 35."
- NoThxBtch
"35 going on 50. Seriously though, Jet was an 'old soul' at 35."
- Orome2
Totally Misunderstood
"The Grinch. He just wanted to chill with his dog in peace and quiet."
- -eDgAR-
"'The grinch didn't hate Christmas, he hated people. And that is fair. -Jim Carrey (paraphrased)"
- plz2meatyu
"I have told my wife this. They ostracized him as a child and basically made him an outcast. Why? He looked different. He was a nice kid who just wanted to fit in. He is mercilessly picked on until he is old enough to live on his own. He is so mentally destroyed that he lives in a cave filled with trash because that's what he feels his self worth is. No one has ever been nice to him. He is suspicious when Cindy Lou tries to be nice to him. He wants to rejoin society, I think, but had no reason to believe it'll be a good experience. He hates Whoville and all the residents because they've treated him awful his whole life. Why do they get to have a merry Christmas, screw them. But it's the grinch, and not that town, that is the villain."
- RoccoTaco_Dog
Every Parent Ever
"Stu Pickles"
- TrickBoom414
"The chocolate pudding scene rings true to this day."
- SomwhatCharmedLife
"'Why on earth are you making chocolate pudding?' 'Because I've lost control of my life.'"
- Brain_lessV2
Sweet Solitude Shouldn't Be Too Much To Ask
"Shrek. F**k outta my swamp, I just want to enjoy my solitude with my wife."
- Onomatopaella
Ohana
"Nani from Lilo and Stitch."
- jestagoon
"Every time I think about how hard Nani had it, I remember the shelf of surfing trophies in her room. Girl could have probably made some cash as a pro surfer but had to shift to a more stable job as a waitress because that's what Lilo needed."
- Threspian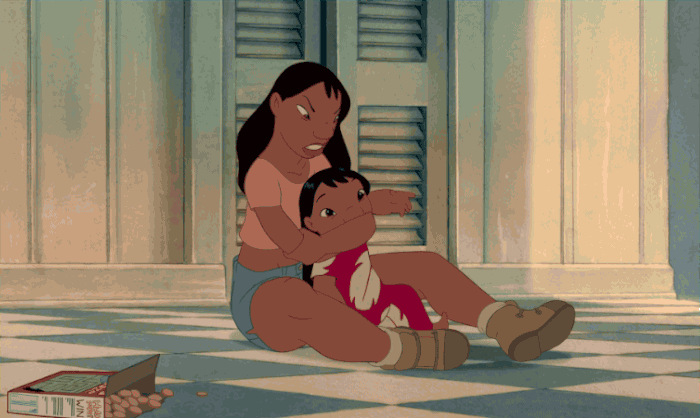 lilo and stitch lol GIF by Disney
Giphy
Maybe He Had a Point
"King Triton from the little mermaid—yes, he overreacted by destroying her stuff, but like. He did also have a point for being upset with Ariel's irresponsibility and sneaking out."
- ctortan
"Plus he had spent his time and magic hiding the Atlanteans and their world. she's just like 'f**kkkk it I'm horrrrnnnyyyyy. I'm gonna undo thousands of years of hard work and sacrifices my family has made.'"
- duchessisboss
The characters that we related to as kids often come to seem silly or irresponsible as we get older, and those that we thought of as stuffy or overbearing can seem much more reasonable when we understand what handling real adult responsibilities is really like.
Keep reading...
Show less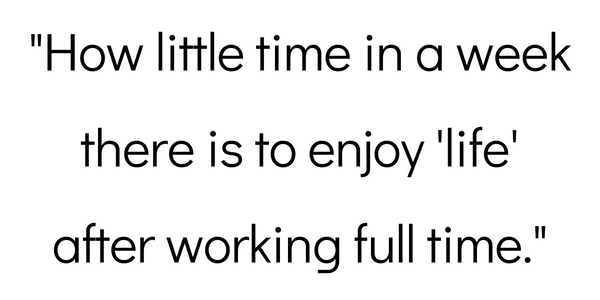 When we move into our first apartment, get our first job, and begin living independently for the first time, it's equal parts intimidating and exciting.
There's always the realization that you are now an adult.
But there are very few early to mid-twenty-somethings who don't stop and have a moment where they question if they are, in fact, an adult.
Many responsibilities that come with being an adult will take us by surprise, as there was no college course to teach us how to deal with them or prepare ourselves for them.
Redditor Palarity was curious to hear some of the rude awakenings people had as they entered adulthood, leading them to ask:
"What were you grossly unprepared for as an adult?"
Who's the boss here? Wait, me?!
"The slow realization that I am the adult in the room who's supposed to help out everyone else."- lapsangsouchogn
Not relying on your parents anymore

"Trivial in comparison to many things, but keeping up familial social obligations."
"Like, it's now on me to check in with aunt M and how she's recovering after her recent surgery, send a gift to cousin K's new baby, congratulate 2nd cousin T on his graduation, etc."
"Gone are the days when my mom did all of that and I just had to sign my name on the card or whatever."- InannasPocket
"Realizing there is no safety net."- brutustyberius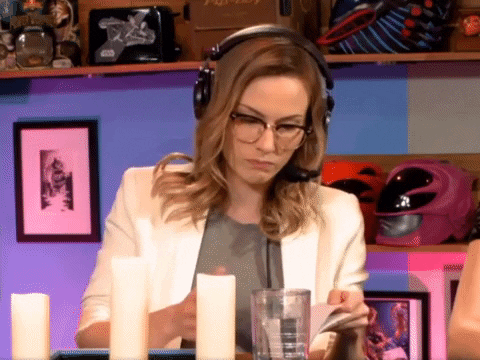 Role Playing Reaction GIF by Hyper RPG
Giphy
No more chilling on the quad...

"Going from having tons of friends to really having no one."- ZachariahCasey
Wondering if you have, in fact, "grown up".
"How much I still feel like a kid on the inside."- RosesSpins
Life is precious and unpredictable.

"Loss."
"As time passes and you become an adult, there are two guarantees:"
"1: the adults that shaped you, whom you love and adore, also get older."
"Older and sicker and will die, hopefully later but sometimes so much sooner than you would ever imagine."
"And 2: Peers and folks younger than you will die too, often with little to no rhyme or reason."
"My parents would say growing up that 'death is a part of life'."
"But I'm not sure there is any way to prepare for really UNDERSTANDING that fact until you experience it yourself as you grow up."- Mbathrowaway202two
Taking care of yourself

"Dealing with a chronic health issue."- Square_Tangelo_7542
It's not all fun and games
"How little time in a week there is to enjoy 'life' after working full time."- Ser0t0n1n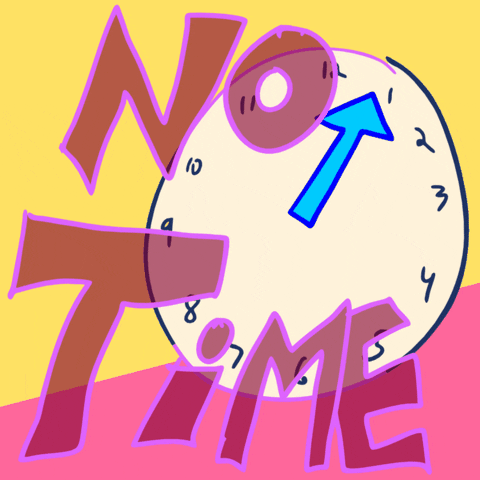 Too Much Deadline GIF by Jeremy Speed Schwartz
Giphy
That some people don't grow up.
'How insecure and incompetent other adults are."- ducvette
Bullies aren't only found in high schools.
"Bullying at the workplace by other 'adults'."- MathematicianOld1117
The truth is, nothing can prepare anyone for adulthood.
Primarily owing to the fact that no one follows the same path, so there is just no telling what life has in store for you.
But maybe the best part of being an adult, is that you are always learning, only now you don't have to show up to class or hand in homework to prove the lesson has sunk in.
Keep reading...
Show less