It's amazing how quickly someone's life can change. If you mess up big enough, you might see your life flash before your eyes. You may not be dead, but your reputation sure is. This is why you need to keep your wits about you--you truly never know when everything can come crashing down.
Here are some of the most extreme examples of people ruining their lives in an instant. Try not to cringe too hard.
Givemesomeluck asked: Have you ever seen someone ruin their life in just a few seconds? How did they do it?

Stop doing dumb sh*t, people! Most of these things would've been easily preventable. It's so easy to get yourself hurt.
Be safe, friends. And think before you steal a cop car
Back in sixth grade, I was trying to impress my friends. Actually, they weren't my friends but classmates whom I wanted to like me.
We've all been there.
So I tried to make them laugh by performing a little stunt where I pretended to walk into the classroom with a door that had been shut.
I kicked the door and meant to mimic my face bouncing off from the impact. Excpet my estimation between the door and my face was way off.
Over Confident
Usually, whenever someone says, "I've got this," they don't.
Screwed
"Drilled half an inch into my arm because I thought .... and I quote 'I got this, ain't no way its gonna slip.'"
Wasn't A One-Man-Job
"Tried to move one of those old, massive tv sets by myself and dropped it on my foot. Shattered all my toe bones and broke a few in my foot. Super stupid."
Touching Concrete
"My little brother and I were helping my mom move. There was some furniture that was easier to unload from the bedroom balcony then carry down the thin stairs with a turn, so my brother passed those to me while on the balcony and I on the ground. Once finished he decided to jump from the balcony rather than take the stairs because...I have no idea. He broke his foot on the concrete path under the balcony."
– dring157

Play Time
You know what they say: "It's all fun and games until someone gets hurt."
Getting A Mouthfull
"I cant really remember if I was actually legitamtely injured, but i remember my mom taking me to the hospital. When i was like 7 years old, my parents bought my brothers and I some toy lightsabers. They were the types that lit up when you pressed a button and could be extended a bit. It was summer and my mother took us to her sister's bbq where we played outside with our cousins and the adults could all go and chat together. My oldest brother and I took our lightsabers so we could show everyone and fight with them. Our parents had wanted to see us so they kept glancing back every few minutes to check that nobody got hurt. My older brother and I started to duel with our lightsabers, and then it got interesting. We both backed away and charged at eachother, ready to stab the other with our toy saber. For some weird f'king reason, I opened my mouth and let out a sort of battle cry. Then my brother's lightsaber went in my mouth and a little bit into my throat (I assume accidently.) My mom was mortified and rushed me to the hospital because she said she didnt want to take any chances. And that is the story of how I accidently deepthroated a lightsaber."
Sticking That Landing
"Steak knife through the ankle, while backflipping onto a couch."
"I was 14, or so. Aristocrats was on at the Everybody Wants to Be a Cat bit. It was my jam, so I was dancing. Halfway through the song, I flipped on the couch. I had forgotten about a steak knife I had left from lunch. Shock set in and I started screaming. Mom came in, and had to drive me to the ER."
Reminder To Tie Your Shoelaces
"When I was a kid I broke my arm in three places while playing hide & seek. I was running to the home base while being chased by my friend. I was looking back & full-on sprinting foward. I tripped on my shoelaces & landed on my arm with my wrist on the asphalt & my elbow on my chest."
When The Ball Dropped
"I was riding my bike, then I suddenly hit something and I'm launched forward and fall down, I was bleeding a bit but it was ok."
"10 minutes later I noticed that my right testicle skin was sliced and it was bleeding, had to go to the hospital."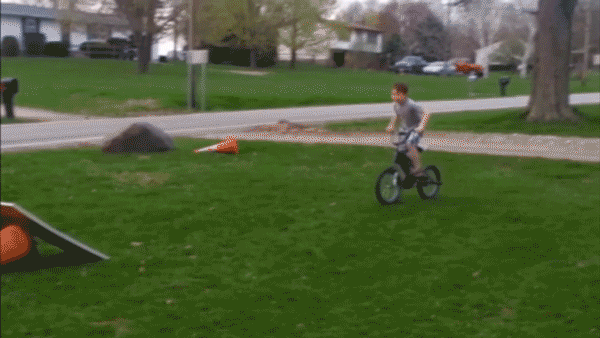 kids lol GIF by America's Funniest Home Videos
Giphy
During A Task
These Redditors wound up hurting themselves while trying to achieve a goal.
Spoiler alert: they did not reach their intended goals, straightaway.
When Bracing Failed
"Was squatting down to grab something at work, stepped on an air hose which made my foot slip, and I fell a total of maybe five inches. I put my arm out to catch myself, ended up tearing my shoulder, and I strained a muscle in my lower back."
"I fell about as hard as the Life Alert grandma from the commercial, and was put out of the gym for 6 months."
Reach For Protection
"Jumped out of bed to grab a condom, my toe got stuck and snapped, I broke the toe and ligaments in my foot got damaged. I started walking crooked to compensate Even though my lower back started hurting. and that went on while i fell pregnant a month later. Continued to walk crooked whilst carrying a baby and now 7 years later my lower back right above the tailbone still hurts one 1 side."
No, injuries are not fun, but we all have at one point put ourselves in harm's way for very foolish reasons.

Clearly some of the injuries mentioned above were far more serious than the "injury" I suffered as a result of my grade school shenanigans.
The upside to all of this is, we get to live long enough after the fact to talk about it.
We're not dumb. We is survivors!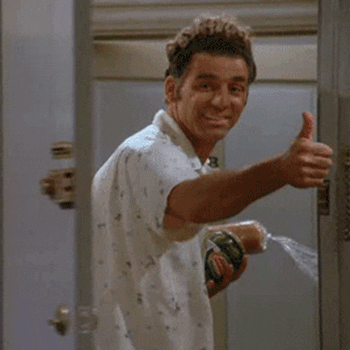 Michael Richards Ok GIF
Giphy
Keep reading...
Show less
Sometimes you just gotta laugh. Laughter is truly the best medicine. A laugh can save you in the darkest of times. Hell I've been a bawling hysteric through 2020 and I'm still here. Ah... the power of a needed chuckle. Some people laugh at moments that may seem uncouth to others, like at deaths and the delivery of bad news but that is often a defense mechanism because it is all too much to bear. Then it gets out of control and you swing back to crying. Laughing is emotional therapy, enjoy it.
Redditor
u/marker_speaks
wanted to know who else has had those moments when the laugh just has to be heard no matter the moment by asking....
What's that "can't stop laughing" moment where you're in a situation you shouldn't be laughing?
When one must toot....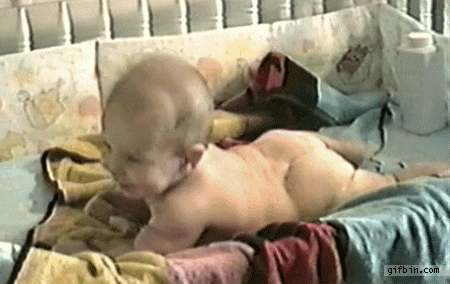 Baby Fart GIF
Giphy
My father's funeral... my daughter was 3 months old and have a lot of belly pain... she farted so loudly that the priest needed to stop talking for us to stop laughing...
He even told us that the church was a serious place, and if we couldn't behave to get out.. I told him the deceased was my father, and I couldn't control my daughter's farts.
Into the Casket
My mother and father went to a funeral of one of mother's aunts that she was not close too, in fact my father had never met her. As they stood at the open casket my father said to my mother " she just doesn't look like herself" again my father had never seen the aunt before. For whatever reason this struck my mother as very funny and she started laughing, she held her hands to her face and ran from the casket. Her sisters saw this and thought she distraught and followed her out to console her. Where my mother had to explain that she was laughing and not crying and why. She was so pissed at my father it was hilarious.
Oh Wanda
Visiting my Grandmothers grave with my grandfather for the first time a few years ago. Expected tears and a solemn day. Instead we passed a grave marked "Wanda" and my grandfather said "Well I wanda what killed her?" none of us could stop laughing, my grandmother would have loved it.
God is Warmth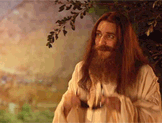 jesus deal with it GIF
Giphy
At a funeral, the pastor kept referring to God as "The Great Comforter" and all I could think of was a tacky bedspread glowing with holy light. Every time he said it my giggles got worse to the point I had to pretend I was crying really hard and left to hide in the bathroom.
Hey Dot
When I was in my early twenties my great aunt, who we weren't close with, passed away. At the wake, my mom and I went up to pay our respects and I said "I haven't seen Aunt Dot in thirty years" which made my mom start laughing which in turn made me start laughing uncontrollably. Thankfully it was a packed funeral parlor and no one seemed to notice.
The Kebab Stand
In High school there was three religion courses you could pick: catholic, evangelic (edit: I'm told it's protestant in English) or neutral. You would have different topics in class and different destinations on the yearly trip. I picked catholic and on the yearly trip we went to a monastery. On the third day one of the exercises was to talk about death, so there's 20 kids in a circle of chairs and everyone's crying because everyone lost a loved one at some point and death is a hard topic.
The teacher starts talking about how she imagines death to be like and begins to tell: "I imagine after dying there to be a long long spiral staircase. And you go down and down until there's a door and behind that door..." The rest I didn't hear because my friend next to me whispers: "A damn kebab-stand" We both sat there giggling for like 20 more minutes until the meeting was over. To this day I feel really bad.
Let me clear my throat....
I had this really nice but really awkward physics teacher in high school. He was a large nerdy man but spoke with a lisp and a very soft voice. Imagine the guy from office space asking for his stapler, that's how he sounded. One day he is giving his lesson and mid sentence he goes from this voice to what sounded like satan himself. "Ok class please (deep hell voice) TAKE OUT YOUR BOOKS, cough cough erm... excuse me must have something in my throat."
Then continued like nothing happened. I could not, for the life of me stop freaking laughing and I was the only freaking one. It was the most bizarre and freaking hilarious thing I had ever seen. I had to walk out of the class to catch my composure. This was at least 15 years ago now and I'll never forget it.
Relish?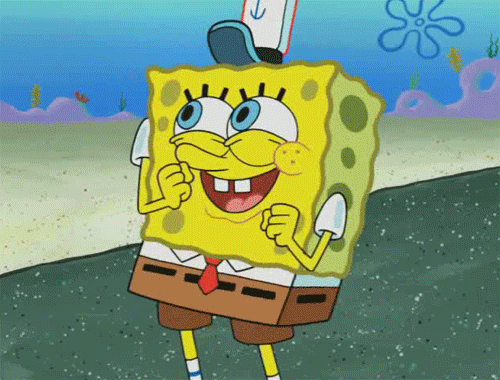 happy dance GIF by SpongeBob SquarePants
Giphy
Not me, but my friend. She was getting fired from her job, and all she could think about was "What'll it be fellas? Mustard, or ketchup?" from the Spongebob Squarepants movie.
God's Curse
In school we did a course on mythology and had a project where we had to write our own mythological stories for the creation of creatures/places/etc.
One kid wrote a story about how a man was abusing his horse, so the Gods cursed him. One day his horse threw him onto spear which went through the back of his head and out of his forehead, and he transformed into the first unicorn.
I couldn't freaking stop laughing for a solid 5 minutes. The teacher berated me for laughing at violence but the kid and I both thought that was funny as hell.
Peace Out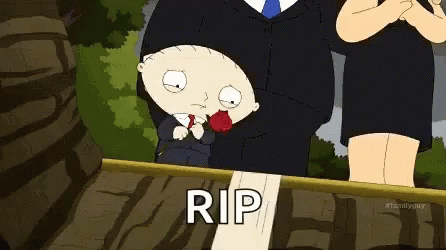 Funeral GIF by memecandy
Giphy
My Grandad had "If you don't know me by now" played as the curtains closed at his funeral.
Shouldn't have laughed. Couldn't help it. Legend.
Want to "know" more? Never miss another big, odd, funny, or heartbreaking moment again. Sign up for the Knowable newsletter here.

Keep reading...
Show less
Narrowly escaping death after being at the wrong place and time is something nobody takes for granted.

I still shudder when thinking about the time I drove home after rehearsing for a show in Los Angeles.
It was 9 p.m., and I was exhausted. My focus was not as keen as it should have been while driving on a busy street.
However, it's a good thing I had quick reflexes when I saw an 18 wheeler on the opposite side of the road swerving onto the wrong side of traffic and hurtling towards me at roughly 50 m.p.h.
Keep reading...
Show less
We all did some stupid things when we were kids.
Sometimes, the ridiculous, uncalled for behavior was on purpose in the moment, but immediately regretted.
Other times, the horrifying deed occurred before we knew it. Once it happened, we were left to merely look at the rubble, powerless and ashamed.
However it went down, it sucked, and we will never forget it ever.

Some Redditors gathered to share the most messed up thing they've ever done.
A warning: lots of bathroom humor coming.

vaish34rana asked, "What's the most f***ed up thing that you have ever done?"
Want to "know" more? Never miss another big, odd, funny, or heartbreaking moment again. Sign up for the Knowable newsletter here.
Keep reading...
Show less