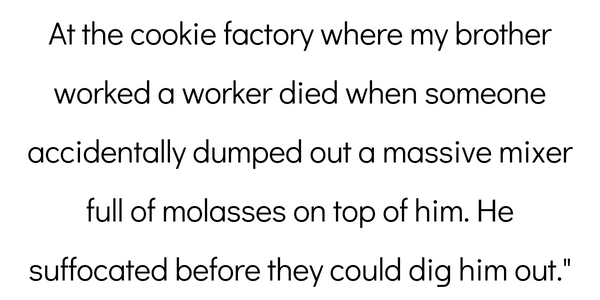 Depending on the job, non-office employees work tirelessly to push through with their physically-demanding tasks despite their fatigue to earn that paycheck.
But in their exhaustion, judgments can be impaired and exhausted workers can be vulnerable to workplace hazards.

And when an accident occurs while on company property, it's a devastating predicament that can have long-term effects.

Curious to hear job horror stories, Redditor Bwrice asked:

"What's a work related accident that still haunts you to this day?"
"Beware of falling objects" was the last thing on these workers' minds.
Do Pets Miss Their Owners?
"While building Levi Stadium, a trucker was unloading rebar when the entire pile fell on him, impaling him multiple times and also crushing him."
"I never met the man, but his cat and elderly dog ended up a a local shelter. We planned to adopt the dog and ended up taking home the cat too because we didn't want to split them."
"Nena (the dog) passed away in her sleep in 2017 about 2 years after we brought her home. Seal (the cat) is around 7 years old now and doing just fine."
"I've always wondered if they ever thought of him."
– ryneaeiel
I Scream
"Worked for Edy's Ice Cream. My truck was loaded wrong so at a stop had to shimmy between pallets to get to the back pallet."
"Was unloading the top pallet and the pallet below collapsed. The top pallet slid on to me. But since I was between 2 waist high pallets about 1200lbs of ice cream bent me at the waist the wrong way."
"Sort of like bending over normally, backwards."
"Ended up with 2 broken vertebrae, nerve damage and was not fun."
"Eventually got a six disc fusion and was able to walk again."
"But now I have arthritis in my back and it really hurts most of the time. I also have numb areas in my right thigh and my whole lower back."
"Would not recommend."
– Im_too_old

Fatal Collapse
"Trench collapse. Guy was pinned mid chest. Not good but not immediately fatal. Guy's coworkers freak out and use the backhoe to dig him out. Ended up catching him with the teeth on the bucket. Essentially cut him in half."
"The guy on the backhoe was his brother."
"Dude would have probably been alright had they rescued him the right way."
– Flame5135
Drowning in Molasses
"Not me, but at the cookie factory where my brother worked a worker died when someone accidentally dumped out a massive mixer full of molasses on top of him. He suffocated before they could dig him out."
– brainbarker
No one ever expected these jabs to happen.
Implementation Of A Rule
"Engineer decided to open a parcel with a Stanley knife, not sure if he slipped or what angle he was cutting at but BAM! Stanley knife in the eye. Never saw him again but h&s quickly introduced a policy that safety goggles needed to be worn when opening boxes"
– Quizzical_Chimp

Ruined Wedding Gown
"Used to be a wedding caterer. While the bride and groom were going to cut the cake it started to fall off the table as they were both trying to catch this ridiculously huge thing the bride slipped, fell into a pyramid of wine glasses on a foldout table behind her... The table collapsed and a wine glass stem pierced her neck."
"She survived, but she was not gonna be able to take that gown back to the rental place... I've never seen so much blood in my life."
– DanteWolfe0125

These accidents were uniquely different from the common examples above, but horrific, nonetheless.
Mad At The Machine
"I dunno if you can call this an accident but I was working with this guy and outta nowhere he says 'I'm sick of working here, check this out' and jammed his foot into the gears on the machine. Completely mangled his foot. Saw him 20 years later and his foot was still f'ked."
"He was looking for a couple weeks of workers comp, got a lifetime disability instead. It was pretty horrific."
– KingGuy420

Bashed In The Face
"Work in a dealership and once a tech was using a tool that broke free bashing him in the face, knocking out multiple teeth, splitting his lip and breaking his nose…it was a bloody mess. Young kid, with balls of steel appearantly. While waiting for an ambulance he was sitting there talking and smiled to show the damage. That smile was horrifying. He recovered and got a ton of dental work and still works there."
– smallboxofcrayons
Dedicated Employee
"I was a cashier in a grocery store. One of my fellow cashiers was a senior, just killing time in retirement. One day, she had a dizzy spell, collapsed, and cracked her head open on the floor. Paramedics were called, and as they were loading her into the ambulance, she was crying out that she could still finish her shift."
– originalchaosinabox
Aviation Disasters
"I used to fly small airplanes in north west Alaska. In the two years I worked there I knew three pilots that died in crashes."
"Don't miss how those days felt."
– SweatyMooseKnuckler

Severed Digits
"Coworker, who was fresh out of trade school was using a table saw to cut 1" thick sheets of plastic into strips. It was cold so he put on some leather work gloves."
"A glove got caught and pulled his hand into the saw, nearly severing his right index and middle fingers."
"He came to me and said, 'uh, I think I cut my hand'. It literally looked like a package of pork ribs - all mangled bone and tissue."
"They were able to save the fingers, but they're non functional and don't bend."
– funtobedone
Sad Sacrifice
"I worked as a maintenance tech for a fiberglass facility and one of the operators crawled out on a crane over 1500 degree Celsius molten glass to clear a jam. He fell in and there was nothing to recover."
"Dude gave his life instead of shutting the line down for an hour. The worst part is our management was cool about unplanned shutdowns since we were always hitting above our target production anyway."
– wildwildwaste

Fatal Accident
"Worked at an industrial setting, had a contractor come in and use a hydraulic ram to pull a bearing about the size of your head. They didn't hook up the lines correctly and 40,000 psi of fluid hit him in the neck and almost decapitated him. It took out part of his brain stem, I got there for the death rattle. Blood everywhere, we couldn't help him. He was in his early 20s and his wife just gave birth a few months prior."
– FrenchiestFry234

Why We Remove Rings
"Not really haunted, but we had a guy in the Army violate one of the cardinal rules of working in the motor pool; remove watches, rings and dog tags."
"He had kept his wedding ring on and was working in the turret of an Avenger (surface to air missile launching system mounted on a HMMWV). When he climbed down the tiny ladder at the back he decided to jump down the last few feet to the ground. His ring caught on the ladder and degloved his finger."
"He held up his hand and just looked at it and said, 'Oh f'k.' We grabbed him, wrapped his hand (not much blood honestly) and took him to the hospital. All the while another soldier was carrying the fleshy remnants in his hands and dry heaving. Once he was taken in at the hospital they just removed the finger. He became a cautionary tale for all my future soldiers."
– Detritus_AMCW

Zapped
"Electrician here. walked into a house on a Monday morning. A dishwasher had a ground fault that didn't trip out. Plumber became part of the circuit Friday afternoon and was still part of the circuit Monday morning. This is partly why they must be gfci protected now."
– fooshsnickens

Beware The Forklift
"Locally a forklift driver ran over a worker and the workers skull was crushed blood and brains everywhere."
"Made me more cautioned to forklifts in my factory."
– Annghellic

Working in theater, I've seen my share of fellow performers getting injured.
From theme parks to Broadway, the things actors do for the sake of entertaining audiences are nothing short of risky.
Anything can go wrong when actors rush backstage for a quick costume change or when they rely solely on the mechanics of set pieces to move efficiently.
A good friend of mine was the victim of the latter, when he expected the bottom of the trap door would be clear of a moveable stair case when jumped in as he always did at a particular moment during a theme park show.
He landed on a staircase that hadn't been switched out for the airbag because of a crew member's incompetence.
My friend sustained several non life-threatening injuries but survived.
The things we do for art...

Keep reading...
Show less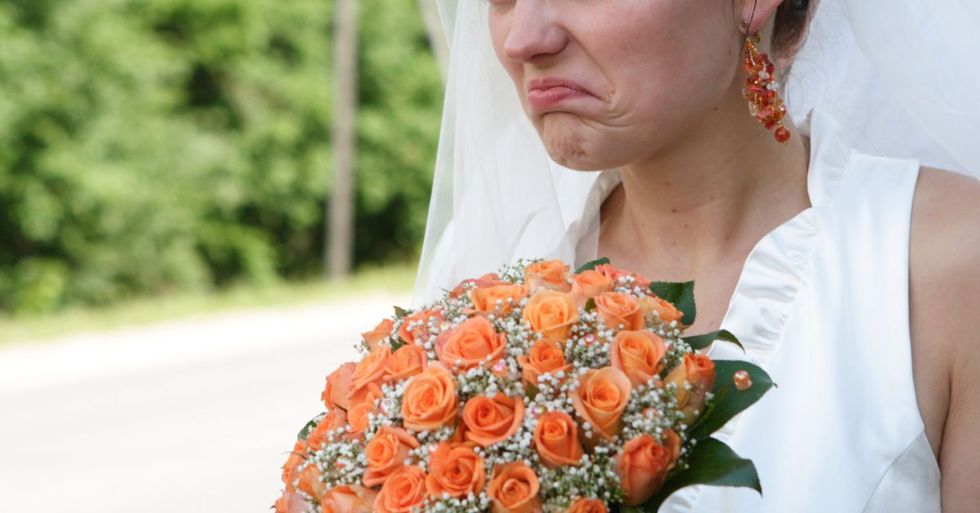 A wedding dress is an intimate, sometimes sacred piece of clothing to brides. They often spend a lifetime dreaming about the perfect gown to accentuate what will hopefully be their perfect day. So when you find that dress and it's ruined through the acts of others… it can cause some turmoil. Case in point… Redditor […]
More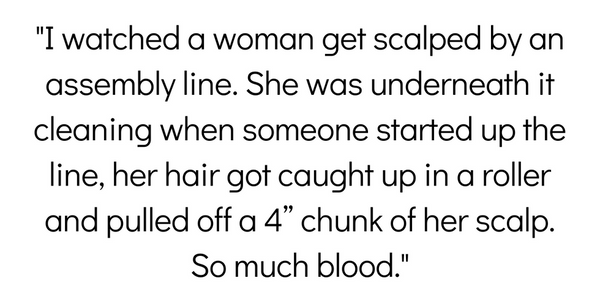 Workplace craziness is an everyday occurrence.
And it doesn't have to be in an office.
The workplace can be lethal.
Firefighters, police, and EMTs aren't the only ones not coming home sometimes.
The easiest job in the world can be the deadliest.
That's because life is fragile and you never know.
Redditor Adventurous-Pea-4925 wanted to hear about all the drama and trauma everyone's jobs have caused. They asked:
"What is your workplace horror story?"
Working in restaurants was a daily minefield. People slip, fall and fight all of the time. It's hazardous.
4 Inches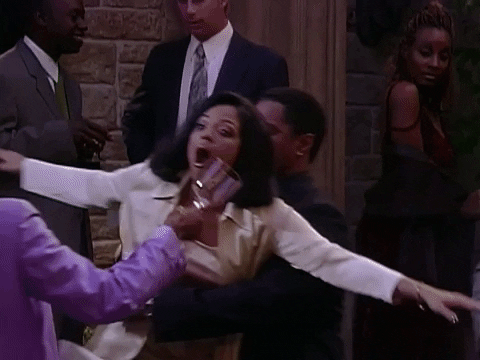 Season 5 Fainting GIF by Living Single
Giphy
"I watched a woman get scalped by an assembly line. She was underneath it cleaning when someone started up the line, her hair got caught up in a roller and pulled off a 4" chunk of her scalp. So much blood."
GibberBabble
Ducked Up
"I wasn't there that day when it happened, but heard some of the details. I may be off but here goes. 2 maintenance guys were up in a scissor lift working on an overhead indoor crane. Someone on the floor grabbed the remote for the other crane and started to move it. One maintenance guy yelled 'duck' and ducked, the other turned to see what was happening and apparently was crushed between the 2 cranes and then fell out of the lift."
"I don't know how true this is, but apparently his insides were out and still alive for a short time. I got a call from my idiot team lead telling me work was shut down for at least the day, probably longer. He didn't mention the guy dying, just mentioned it was awesome to have a long weekend."
mat-tar
Severed
"I was the boss and some guy wasn't paying attention and had his arm on the bar behind him on the forklift he was backing up. He backed up right into a container and all but severed his arm. Just a small flap of skin was holding it on. He ran in the building spurting blood all over and I ran over and stopped him, sat him down and got one of the guys to get me some stuff for an improvised tourniquet."
"I held his severed arm under mine and I squeezed the upper arm to slow the flow until I could get the tourniquet on and tight. All the while I was getting covered in his blood from head to toe. I finally got it stopped and sat there trying to keep him calm while the paramedics were on the way. After they took over, I asked the firemen that accompanied them if they could blast me off with the firehose."
"They blasted all the blood off but my clothes were ruined. I sat outside until I dried and then went home and showered well and threw the stained clothes away. I got dressed and went back to work to help the crew clean up the blood and toss the chair he was in in the trash."
"I could taste his blood the rest of the day. It even got up my nose! I didn't notice until I went home again but my mustache and goatee were stained from the blood too. I had to shave clean. They were able to reattach his arm but it never worked right again. He went on permanent disability afterwards."
mrsmith2929
#NeverForget
"I worked in a manufacturing facility as a buyer. I was in my office one day when I saw two of the product line supervisors sprint by and head toward the production floor. Seems a mechanic had tried to get a machine unjammed and had failed to turn the machine off. He reached in and the machine indexed and caught his arm, then it indexed again and partially ripped it off."
"I was on the safety committee and trained in first aid so I was called on to assist the plant nurse and safety director. I thought I was going to pass out - the guy was lying on his back and what was left of his arm was shards of bone and tissue. I'll never forget it."
GreatMaria
Strap In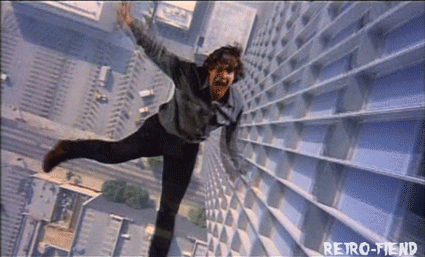 dennis quaid falling GIF by RETRO-FIEND
Giphy
"Superintendent of a construction project refused to tie himself in whenever he was on top of the building. On the very last day of the project, as the crew is cleaning up, he slips and falls 100 feet. The only fatality at our company and it sucks because it was really preventable too."
Old_Snow3086
Going to work does not seem safe. We should all be independently wealthy.
Crap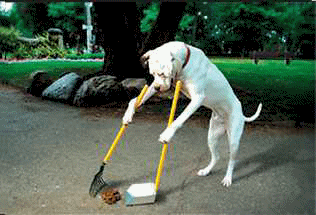 dog poo GIF
Giphy
"Not me but my office had a bring your dog to work day and I saw an intern slip right in dog poop. Half the office had to leave for the day the smell was so bad. Guess what day didn't happen the next year. LOL."
Jasper_Beardly_
Death
"This was years ago, I worked at a small college. One day a woman in Financial Aid's estranged boyfriend came in and stabbed her to death in front of her co-workers and several students. Campus police were able to arrest him, but didn't get there in time to help her. We also had a healthy 40 year old professor drop dead of a heart attack while in a meeting with a student. Not as bad as the first one, but it shook the student up pretty badly."
Coconut-bird
click it click it....
"Was working a graveyard shift at a Comcast (May have been AT&T at the time) call center. There were TVs everywhere with movies on, as there weren't many calls at midnight. Suddenly all of the TVs shift to a channel change, down to one of the paid porn channels. My coworkers and I spot this, and start chanting 'click it click it.'"
"The click goes through, then the 'do you accept the charges' comes up. We chant again and wonder of wonders it goes through. Suddenly there's a full spread on every television in the call center. We spot two managers running full tilt across the cubicles, and shortly after it got shut off. Apparently the security guard thought the TV at his station was just for him."
FoomFries
"reasons"
"We had someone electrocute themselves during their shift. Poor guy was only 18, went to plug in a floor buffer to an extension cord on the wall. The cord was faulty but due to 'reasons' was never replaced. When he plugged the buffer in the shock dropped him and away he passed, due to insurance and potential lawsuits from the family over the faulty equipment the security footage of that night is sealed and the company went crazy afterwords removing every single extension cord they used."
SleepingGunner3282
Inked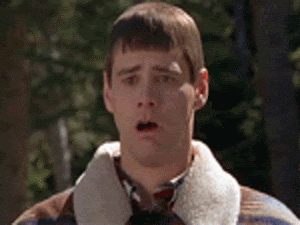 gross dumb and dumber GIF
Giphy
"One of the printers briefly stopped thinking for like 30 seconds, went to clean a roller while the machine was operating at a high speed, and half of his finger got tore off. After he went to hospital, my brother went over to run the machine through to get the blood out and the other half of the finger came out and fell in ink tray."
Soul_of_Miyazaki
Aisle 8
"A man was murdered on aisle 8 in the freezer section of the grocery store I worked at. Happened 2 minutes after I left my shift for the day. One guy made inappropriate comments about the other guys 14yo daughter, and he didn't like that. He stewed for a bit, took his groceries and family out to his car, went back inside, confronted the man, it turned physical."
"Guy knocked him to the ground and stomped his head into the ground. Afterwards he went outside after someone called the police, went outside and said goodbye to his family, that he was going away for a long time, and waited for the police to arrive."
nryporter25
On the pavement...
"Don't work there anymore this was an internship I had in construction management. Asphalt paving contractor. Several years ago, an inspector who was hard of hearing was out on the job site. He did not realize he was in the way of an asphalt compactor."
"The compactors move really slowly and their brakes are not built to abruptly stop (at least the old ones) seeing as you could see these things coming with more than enough time to move. Several guys on the equipment tried yelling at him to get out of the way thinking he would right away but he didn't hear them. The guy on the compactor obviously applied the brakes but the others realized too late that he wasn't getting out of the way."
"You could imagine what happened next. They said the sounds were unimaginable, he didn't make a noise but his body being crushed did. They had to scrape him off the pavement. The guy on the compactor took an office job after this and now has severe PTSD."
achavira13
Dry Heaves
"Ugh. Ok. I had this guy who was around 650lbs come in to the hospital via EHS. It took twelve people to move him onto a stretcher. He was coated in rotting flesh from his behind, groin and thighs from sitting in a recliner for so long, and there were flies buzzing everywhere. There were so many maggots and flies covering him that we had to shower him outside of the department while he lay in the stretcher."
"We wheeled him into the trauma bay, leaving a trail of brown rot-water behind him. Lucky me, I got assigned the job of placing a Foley catheter in him. I had two masks, a gown, and as much other PPE as I could find. The smell was not masked in the slightest. As I tried to fight back my dry heaving, I pulled the blanket back that was covering him in an attempt to grab his penis for cleaning prior catheter insertion."
"There were still maggots literally alllll over his groin and legs, and some were legitimately falling out of his penis hole. I damn near threw up in my mask. I remember thinking to myself 'omg, I'm going to be pushing maggots up into his bladder, but I gotta do what I gotta do.' End result for all you wondering, he passed away later that evening."
Nurse_malibu87
The Creep
"Dude got fired for being useless and a huge creep towards anyone he was even remotely attracted to. He'd always been quite inappropriate with his jokes and about what kind of stuff you're supposed to talk about in the workplace (hint: not your puppy play fetish or nazi sympathies)."
"But it had gotten out of control by that point. During his one month period of notice he wore the same clothes every day and never showered. On his very last day he went into one of the bathrooms, masturbated and finished over everything."
Jealous_Hospital
Head First
"I used to be a lift operator for a ski resort. A guest at the resort asked at closing if I new where to get marijuana. I did and I help the guy out by taking him with me to go get some. The next day he crashed head first into a tree. I happened to ski past the scene minutes after it happened and before ski patrol responded, dudes head was in several pieces. I could tell from his jacket that it was the same guy."
off_the_cuff_mandate
Salad Guy
"I work in a restaurant, one evening one of the salad tenders cut off the tip of his finger and it was bad enough that he had to go to the hospital for it. Unfortunately, the salad he was making somehow made it out of the kitchen and onto a table. Shortly after, a guest complained about something chewy in their salad that they thought was a piece of bacon, and they didn't want bacon in their salad. The salad guy couldn't find the tip of his finger before he left."
Sz3to
Miserable
"A long-term employee who started at the lowest rung was promoted repeatedly over time to his level of incompetence as a manager. It only because the CEO was closed personal friends with him, not because the guy was in any way qualified for the job."
Turns out this guy's main objective was to make everyone's lives as miserable as possible - to subject employees to the vagaries of his temperamental whims and make workers feel afraid of his potential reprimands for the least little thing. It turned what once was a pleasant, productive environment into an oppressive, fear-dominated workplace."
Back2Bach
The Filth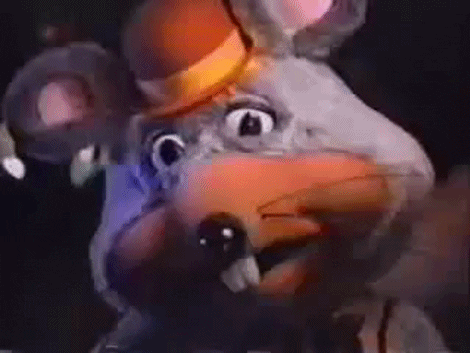 Chuck E Cheese Wink GIF
Giphy
"Chuck 'e cheeses was literally the most unsanitary place I have ever been in, the kitchen was crawling with roaches, the balls in the ball pit actually had mold on them even after they where clean, which by the way they used a pickup truck and a drive through car wash to do that, and the rat costume reeked to such a degree that the only people who could be inside it where the 2 people who had no sense of smell. The boss was also just the biggest a**hole and would regularly harass his own employees."
froopty1
This is why I work from home. Although that isn't the safest either.
Keep reading...
Show less
People who aren't necessarily daredevils like to say they like to live life by throwing caution to the wind.

While their fortitude is admirable on a conceptual level, being overly confident and physically engaging in something perceived as bold can make them vulnerable to the one time something goes horribly wrong.
Curious to hear examples of potentially dangerous scenarios, Redditor The_Lollygagger1 asked:
"What is a very easy mistake that can get you injured or killed?"
Not only are your endangering your life by doing, or not doing these things, you're putting others you at risk.
Dangerous Distraction
"Messing/texting on your phone while driving."
– azakd
Gauging Fatigue
"Underestimating how tired you are and then getting behind the wheel."
– ---Spitfire----
Beware Of A Delayed Response
"The risk here isn't just that you might fall asleep at the wheel, by the way. When you're drowsy, your reaction time is impaired, very much as it is if you've had a few drinks. Drowsy driving is bad for the very same reasons drunk driving is bad; while one of these is that you might become unconscious and completely unresponsive, another is that your reactions are impaired even while you're still awake."
– fubo

Assess The Situation
"There would have to be certain extreme circumstances, but I've heard that after a serious car accident, people have died by turning their heads too quickly. When the adrenaline takes over and you can't really feel the pain, some people don't realize that they have serious injuries in their necks and they break them quite easily after trauma like that."
– domoronnoc1

Even the most innocent circumstances can be subject to great harm.
Remove Loose Articles And Accessories

"Wearing jewelry while working with heavy machinery. My Dad saw a guy get his arm ripped off because he wore a wedding ring that cause his hand to get caught in the machine."
– Nacho_eating_Zombie

Don't Underestimate Slipping
"Especially elderly people. My grandmother's legs are paralyzed and she has to use an electric scooter to get around. She fell one day and broke her wrist, doing much better now though."
– gabesnightmare
Slippery When Wet
"Slipping in the shower."
– AndresDickFingers

Taking time for inspection can potentially save your life.
Final Checks Before Operating Heavy Machinery
"Long hair or loose clothes around rotating tools or machinery. Second, not making sure you have the breakers turned off before doing electrical work."
– ShortPlains

Rinse For Your Life

"Not washing food properly."
"Food poisoning is really dangerous."
– Rule34ofAntartica

Before Shooting
"Handling a firearm without checking to see if it's empty."
– CorollaBeachBum

Food Prep
"Not washing food properly."
"Food poisoning is really dangerous."
– Rule34ofAntartica
Having common sense is extremely beneficial.
Exercise Awareness
"It's a bit of a general thing, but not being mindful of your physical limitations. A few particular variants that come to mind is people who get stuck in narrow spaces, or who fuck around at water parks. Just... don't. Especially if alone. If you're going to have to maneuver yourself to grab something from a tight, enclosed space, go get a broom or something. Etc."
"It's a complicated and general thing, but young people especially tend to overestimate their immortality and dexterity. Stop and think."
– xatrue

There's No Competition
"Trying to beat a train."
– lightonahill

Bad Chemistry
"Trying to put out a grease fire with water."
– lovelynutz

If You're Stabbed
"Pulling out the object thats impaled you."
– WillowIsKindaFruity

When theme park operators tell you to keep your hands and arms inside the moving vehicle at all times, it's for a reason, and probably because a tragic incident in the past led to the warning.
I don't have to be reminded to keep my arms and legs inside my rocket whenever I ride Space Mountain at Disneyland.
With all those metal beams seemingly inches from my head as I whizz by, I dare not even think about raising my hands in the air as most people on roller coasters do.
If you don't want your hands severed, I strongly advise you heed the warning.

Keep reading...
Show less
Being an emergency responder is a high-stress job.
It's a career with long, laborious hours.
There is always a hint of danger. And death is always around the corner.
So we as a society could try to help these people out and not put ourselves in unnecessary danger.
Redditor Diligent-Log6805 wanted the rescue workers out there to tell us about the times they rescued people. They asked:

"Emergency responders of reddit, what are some dumb things that have lead to an emergency situation?"
These workers and the world already has enough trouble without my stupid.
"So... was she impressed?"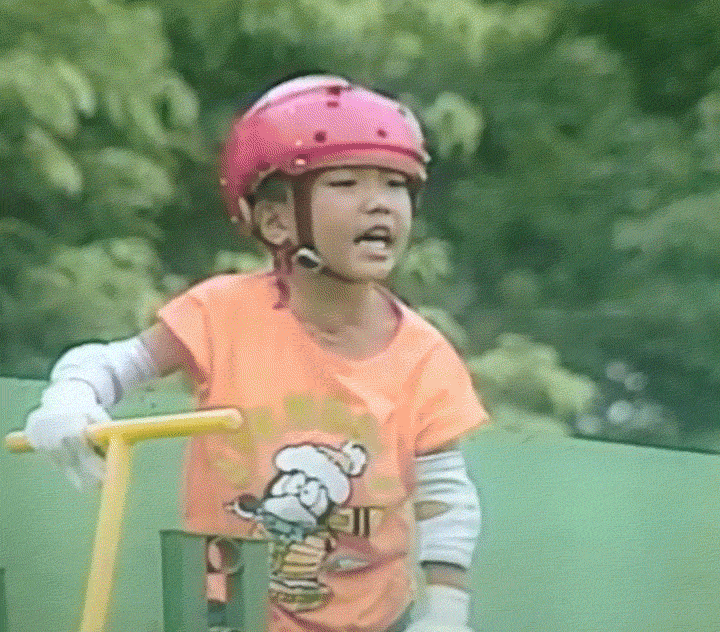 Idiot Reaction GIF
Giphy
"Kid driving his new truck down a residential street, wet from a recent rain, lost control and hit a parked car, overcorrected and rolled it once back onto its wheels up onto a lawn. He told the fire chief he had gunned it to impress his girlfriend and the chief just looked at him and asked 'So... was she impressed?'"
AntiMacro
Ricky
"I had a client once who was basically Ricky from Trailer Park Boys, loud, obnoxious, hilarious and every second word was some Maritime slang or a derivative of 'f**k.' He has been on daily eye drops for decades for dry eyes, sure ok cool. I hear screaming down the hall and run in and he's wedged against the wall and the bed just screaming 'I f**ked up boys, I dunno what the f**k is f**king happening but It's f**ked."
"Turns out he mistakenly put Jublia which is an antifungal ointment for toenails in his eye thinking it was his eye drops. The strangest part was the bottle has this miniature sponge at the end so you soak the sponge then paint it on like a gel...he painted this antifungal ointment onto his eye which immediately went red and angry then proceeded to do the other one."
"So he's at the eyewash station and I'm talking to poison control and they are pretty stunned because they have zero data on what happens to a human eyeball when it's painted in antifungal. I can hear the staff at the other end kind of snickering under her breath and she asks can you compare and contrast the eyes? Well... he put it in both eyes. The line goes silent because I can tell she is howling. Guy was totally fine but it was a standout for sure."
krzysztoflee
Will they show?
"Responded to a call of two minors being kidnapped and their parents being beaten in front of them and then taken someplace else. One was around three years and the other one was six. They were held captive in an apartment out of hundreds of residential apartments which not easy to locate, upon reaching there we found out that the boy six was just playin' with us to see if we would actually respond. Their parents were so embarrassed by all of that and vowed to not give them mobile until they are adults."
erectilereptilelol
Bowled Over
"When I was an EMT in NYC years ago we had a call for a man 'unresponsive.' We entered an upscale apartment that was a hoard: floor to ceiling newspapers and magazines, just a mess. The woman who called said her brother was in his bedroom sick."
"We entered his room and it was pretty obvious that he had already passed away. She had placed a bowl under his mouth because he had hemorrhaged which had coagulated the day before it was crazy. We asked her why she hadn't called sooner and she said thought he'd get better?!"
"The joke around the house was 'if you have to put a bowl under a relative who is bleeding from the mouth, call 911. Don't wait.' Never thought we'd have to advise anyone to do that. But there ya go. Also, it was Thanksgiving. Didn't eat any cranberry sauce that year."
Sufficient-Swim-9843
God Only Knows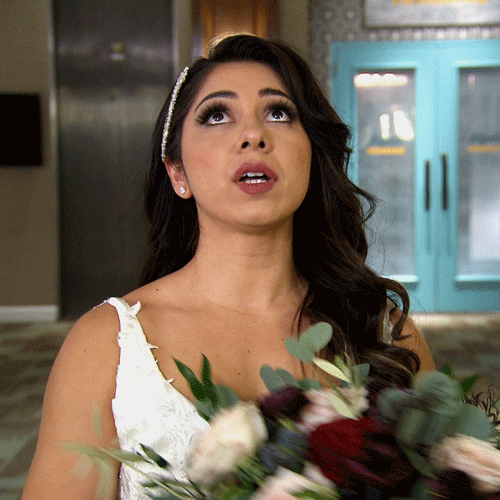 Married At First Sight Lol GIF by Lifetime
Giphy
"Had a guy call because he had the cure to Covid and needed a ride to the local education hospital so he could share it. Dude was so high on meth He ended up having 4 or 5 binders worth of scientific looking notes. God only knows what was actually in them."
Flame5135
Wow, people really need to get a grip. Of their minds.
"Sparky"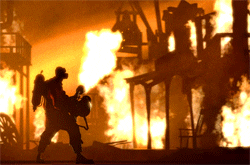 on fire GIF
Giphy
"One of my old bosses once built a new shed in his back yard, to replace his old, worn-out one. He moved everything from the old one to the new one, then decided that the best way to remove the old one was by burning it down. He ended up with no sheds and the nickname 'Sparky.'"
Wadsworth_McStumpy
Dead in the living room...
"Paramedic here. We responded to this 54 year old having chest pain. Man was having a heart attack. Dude didn't want to go to the hospital because it too early in the day. That's it. We tried to convince him to go. Got the ER doc to talk to him and he wouldn't budge. He signed a Refusal. Later that same night, his family found him. Dead in the living room. We got to him and started CPR, meds, everything. Dude didn't make it. When we advise you to go to the hospital, go."
Chaprito
Bad Ideas
"Got called to a shooting. A guy says he received a text message from an anonymous number saying his brother has been shot. He checks all the hospitals with no luck. He goes to his brother's apartment but gets no response at his door but sees his car and can hear the TV on. We get there, attempt to get an answer at the door."
"Eventually we kick the door in to make sure he wasn't dying in his apartment. We boot the door, announce police, and find him asleep in his bed. The guy tells us that he got a new phone number and decided to mess with his brother by texting him he had been shot. He then fell asleep and forgot about the text and was woken up by us. So many wasted resources on his idiotic prank."
TheDOC816
The Swimmer
"Got called to a priority job. The caller was kayaking in a lake and said that there was an unresponsive male in the water. So off we went, lights and sirens. We requested paramedics and fire to attend as well for the rescue operation. There were about 6 emergency vehicles attending including a rescue boat. We got there within minutes and met the caller who showed us where the guy was."
"He was just swimming, minding his own business. The caller said he was unresponsive, but really he was just ignoring her. Had a chat with the guy, he seemed alright, said he swims here every day and likes the quiet. No issues. Would have been nice if the caller told the operator that he was still conscious and swimming rather than 'unresponsive.'"
amazingbecauseitis
Chew Slowly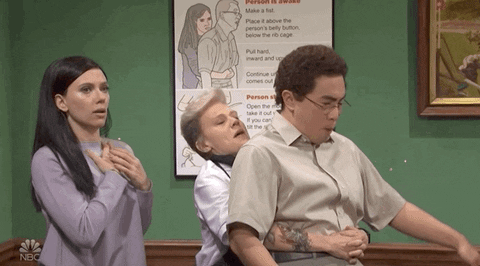 Snl GIF by Saturday Night Live
Giphy
"Well, I was taking a lady home from dialysis and she decided to eat a snickers in the back of the ambulance, and she started choking. Had to do the heimlich, and tell her to finish her food at home."
HotSoupInYourA**
If it's not a true emergency dial 311. Please.
Keep reading...
Show less