If you've never seen the comedy classic, "Monty Python and the Holy Grail," there is a scene where Arthur, King of the Britons, encounters a black knight guarding a bridge. Arthur quickly figures out the stalwart knight will not let him pass, so the two do battle, with the king severely injuring his enemy in the process.
He cuts off all his arms and legs.
Yet the black knight persists, insisting his injuries are, "but a scratch."
Turns out this happens to people in real life, not so much with swords and knights, but with can openers and ice skates.

Reddit user, SingleFunction223, wanted to know what injury really wasn't as bad as it appeared to be when they asked:
"What was your "'Tis but a scratch!" moment?"
It comes out of nowhere, and that could be the leading cause to why you might not notice right away. You want to get back to work, or your shopping, unaware you're missing your kneecap.

It's Just Really Good Makeup
"Worked at a haunted house that took place an in an old soap factory. During rehearsal one night, I tried to go down a narrow staircase in the dark, tripped down the stairs and fell into a conveniently-placed shopping cart."
"My shins were bleeding all over but I didn't notice until like fifteen minutes into rehearsal and that's only because somebody said something."
slaughterteddy
No, I Only Want You To Look At This Injury, Not That Injury
"I once dropped a piece of ducting at lowes (home improvement chain in USA) and tried to catch it, slicing my thumb and palm. Not too bad, but bleeding a bit. Clenched a tight fist to stop the blood and found an employee to ask for a bandaid, he looked at me and ran off to grab some and he came back with a handful. I was confused, only took two because it wasn't THAT bad and went to the bathroom to clean my hand and put on the bandaids."
"4 hours later I was scratching my leg at home and felt something weird. Looked down and there was a 4in long very bloody gash down my left shin that I had no idea about. Wasn't that deep but was rather long."
"That poor employee probably thought I was crazy, and I felt silly."
"Another time I was using an axe to chop up a branch and the head bounced funny off a knot and took a glancing blow at my shin. The only part of that I felt was the bruising from the impact. I couldn't even tell where the cut was without looking"
"Point is I am now convinced that shins feel no pain from cuts."
Nice_or_Sarcastic
So Bad You Need A Shot Out Of It
"I'm a very clumsy person, especially when it comes to the kitchen. However, every time I've cut myself with a knife or a can, or burnt myself, it has been something I'm able to fix at home, with a bandage or over the counter medicine."
"A couple years ago I was opening a can of beans, and had my middle finger extended when I was opening it. Unfortunately, I pulled the ring too fast, and the lid sliced my middle finger. I thought it was just another cut, so I went to my first aid kit, grabbed bandages, and went to the bathroom to clean the wound and apply pressure. I made a mess of the floor and my bathroom with the blood dripping."
"Nonetheless, no matter how long I kept pressure on it, the wound kept bleeding, and I was unable to put the bandage on it. I lived with my parents, so I asked them for help. They tried to cover the wound, but blood kept coming out. We gave up, decided it was time for the ER, and had to get stitches and a tetanus shot. I got a scar out of it, and lost my now bloodied beans, but fortunately the lid managed to miss the tendon, so I didn't lose mobility."
penguinsreddittoo
Injuries are somehow worse when no one is around to help. That makes the situations when someone is there to tell you you're bleeding out the side of your head a little easier to stomach.
A Boss Keeping An Eye Out For You
"Sliced my hand during work from finger to elbow and tore the skin nearly clean off."
"At first I went, this is fine I just gotta get a bandage."
"Boss yelled at me and took me to the hospital."
AlleywayGum
No Help To Be Found
"Had a grinding wheel disintegrate, and a piece of it slammed into my thigh. Felt like a strong slap at the time, so I just hissed, rubbed it a little like a bruise, and went on back to what I was doing. About 10 minutes later noticed my sneaker was wet inside and saw the whole leg was covered in blood and the shoe was soaked."
"It wasn't a bruise lol, that piece split the skin and muscle pretty deep. And since it was in a remote location, there was no immediate opportunity to get it sutured, so now I have a mouth-sized and shaped scar there."
TheOnlyXBK
Don't Tell Mom
"When I was a kid we had this old go kart thing that I sat on while my older brother pulled a rope tied to it. We went around in circles then after landing from a small bump, my right leg got stuck between the front wheel & frame or so, next thing I know almost my entire right leg was drenched in blood."
"My brother took some cotton balls & bandages and started cleaning the blood, as we swear not to tell mom. Somehow turns out the cut wasn't even that big or deep, only got a small band aid, not even needed at that. So in conclusion my skin is made of rubber and my blood flows like pulp."
companysOkay
If there's anything this entire discussion has taught us is that the human body going into shock can lead to some truly terrifying moments.
Makes You Wonder How Someone Doesn't Need Their Knee
"Took a spill at night while inline skating. Got up, felt some blood on my knee but kept doing some more runs."
"Got home and every other step I left a bloody footprint. My mum started screaming and I discovered I'd basically torn my knee cap off."
SalemScout
"Oof that escalated quickly"
Horror-Rock6276
Can You Hear This?
"Kind of a same thing happened to me when I was making our yard look cleaner with my 1960 Fordson Major tractor. Left-side axle snapped in half and I fell down a deep ditch."
"I just climbed the ditch like "Well that was something" I walked inside to ask my dad to help me with my tractor but my mom came screaming at me in panic as my right ear was torn in half."
"I was so confused but she took me to the mirror. We went to hospital and I got stiches. Only started to feel pain in the morning."
"The tractor had mine modified cockpit from a valmet or something. It was only made of iron so it wasn't that soft. That cockpit was totaled and so could have me if it didn't land on its wheels. It could of been deadly."
Me_ofc_ourse
Listening To Doctors. What A Unique Concept.
"i walked around for over a week with a broken shoulder because i thought it was just a sprain. when i finally saw the doctor, i was like "i'm pretty sure it's just a sprain." doc was like "judging by the bruising, it is very much broken." x-rays later confirmed."
skater_dude_717
Don't try to tough it out. Get out the antibiotic ointment, grab the bandages, and just take it easy for the rest of the day. No need to be a Black Knight about the whole thing.
Want to "know" more?
Sign up for the Knowable newsletter here.
Never miss another big, odd, funny, or heartbreaking moment again.
Keep reading...
Show less
***WARNING - THE FOLLOWING ISN'T FOR THE FAINT OF HEART!***

Medical mishap stories are like trainwrecks—you can't look away, or not read up.
Something about trauma and drama is too fascinating to let pass by.
We just have to hear more, even if it makes us queazy and then faint.
One of the worst body pain topics—at least for people who have one—involves the destruction of the penis. Even thinking about violent pain "down there" can cause tears.
Redditor PM_for_life_secrets wanted to know who was willing to share some, unique, male crotch tales, so they asked:
"What is your penis 'horror story?'"
I'm not a fan of these kinds of stories, of course that doesn't stop me from reading.
Let me sit first.

The Farter
"Two parts. I was in hospital waiting for a cystoscopy. 15 years old. Sat in the bed, the consultant comes around. He's doing teaching rounds."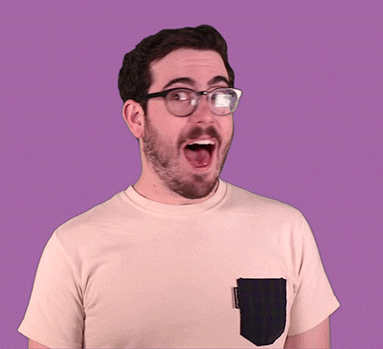 Giphy
"He flips the sheet down, and reveals to all the students the glory that is my penis. After the cystoscopy, they've (I assume) vacuumed out the urine so they can see clearly with the camera. I go to pee. I get pfft pfft pffttt pffffttt. My penis was farting. It was both horrifying and impressive." ~ shemmie
Inflation
"When I was 8 I tried to inflate my penis with a soccer ball pump. I'd heard of penis pumps but looking back I didn't quite understand the concept. I stuck the needle into my urethra and inflated a few pushes."
"It gave me A half chub and a strong urge to urinate. I tried to go pee but I just kinda farted out of my penis hole and the pee splattered everywhere like a sprinkler. 20 years later I get sharp pains randomly when I urinate. I'm almost positive I have a urethral structure." ~ Imafish12
A Flayed Penis...
"I had a patient who had really bad edema and would not quit trying to masturbate. He fell asleep or something with his foreskin retracted and his penis swelled up from the fluid but his foreskin didn't stretch and basically turned into a tourniquet."
"Went in to give him his bath and his penis was turning blue from the lack of blood flow. Called the urologist for help and he told me I had to go in there and squeeze the living hell out of his penis so the fluid would be pushed back into his body and his foreskin could be slid back down."
"I spent about 45 minutes with my hands clamped around his penis while my coworkers restrained him because he kept trying to punch me. Also gangrene of the penis and scrotum is real. Nothing like changing a wound vac on someone's flayed penis and scrotum." ~ seventhirtytwoam
Don't Grab!
"I was 4 years old and uncircumsized. While in a changing room at a swimming pool with my mother and her aunt. The aunt said 'his foreskin does not look right. it looks too tight is that ok?' "
"She reached out and grabbed it and pulled it tearing it open. I had to be taken to the hospital and was circumcised the next day as she had torn it too bad to be repaired." ~ stinkload
Case Closed
"When I was a toddler, two of my favorite things were accidentally mixed: being naked, and snapping books shut when I was done reading/looking at them." ~ StagDT93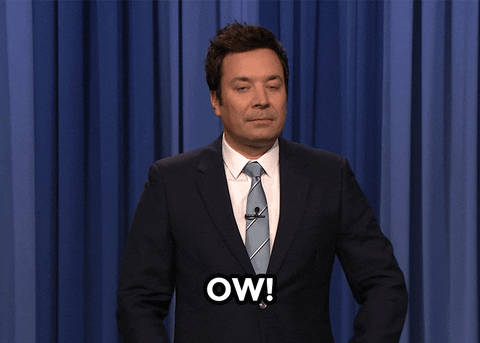 Giphy
I need a minute before we continue.
Why is there always so much blood?
Not THERE!!!
"Came home from camp and it turned out I had a tic on the head of my penis. I totally freaked out." ~ addisonaddisonii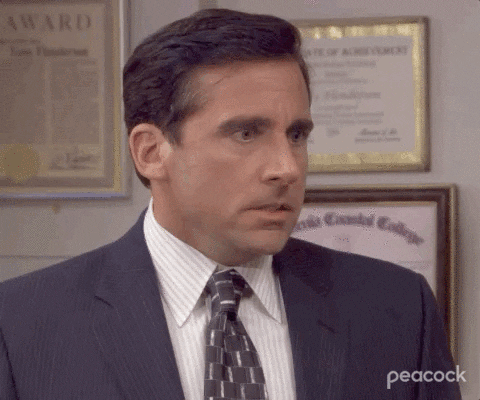 Giphy
Bad Idea...
"Around the time I met my (now) wife, I was whoring around a bit. Well, I stopped seeing the other girls and started dating just my current wife. A couple weeks after we met, I started getting that painful, drip-d*ck. Had to call everyone to tell them someone had an STD."
"I go get checked out and a couple days later they call me back and said I didn't have any STD but they found what looked like a fungal infection similar to athlete's foot. It dawned on me that a few weeks before, I was at the gym and decided to hit the tanning bed before I left, had nothing to put on my d*ck because I didn't want it to burn. Decided to put my sock on it… bad idea." ~ Gluten_maximus
Lost Penis
"So, I am a nurse and work in a nursing home. This one time we got a patient for a short stay that had just had a partial penectomy (they removed about 2 inches of penis including the whole head). He had a catheter in with stitches around what penis he had left. Well, the man pulled the catheter out."
"(A catheter has a 10-30ml balloon that gets blown up inside of your bladder to keep the catheter from just sliding out.) He pulled the catheter out with the balloon intact and completely ripped open all of the stitches and essentially flowered what little penis he had left. I walk in the room to see the catheter bag laying on the floor and his bed covered in blood. He lost even more of his penis because of this." ~ PrincessShelbyy
Rashed...
"Early 20's, a lovely young lady was astride me for car sex outside of a bar. She had on a dress and thought it a good idea to move her panties to the side while she got on top me. The material rubbed my shaft raw and the next day my penis looked like a Tijuana hotdog."
"Had to go to base medical as it was extremely uncomfortable and wouldn't heal. Navy corpsmen are a sadistic but humorous bunch, so I had multiple nicknames after they saw my roadrash." ~ DefinitelyNotRyanH
Bad Jump
"When I was like 10 I tried to jump an aluminum fence, I slipped and cut the tip of my penis on the edge... thank God I didn't lose it." ~ Yurrrr__Brooklyn347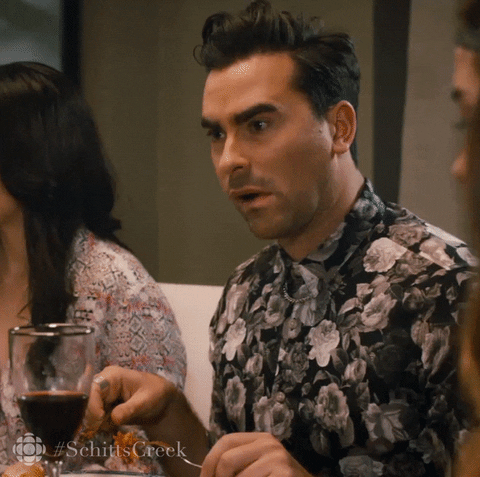 Giphy
I need to lay down.
Anyone else feeling faint?
How do you survive all that?
Want to "know" more?
Sign up for the Knowable newsletter here.

Never miss another big, odd, funny or heartbreaking moment again.
Keep reading...
Show less
A date gone bad isn't always because of a personality clash. Sometimes, bad things happen. But the prospect of a future with a new love interest depends on how they deal with the aftermath. Redditor Ok_Material_Girl is a 19-year-old woman who thought she kept her cool when her Tinder date–whom she happened to know from […]
More
People who want to be in a committed relationship and get along with the family may realize that it's hard to have both. Some families aren't really open to receiving new family members, admitted the "Am I the A**hole?" (AITA) subReddit. Redditor Sarah-Justin3534 wasn't sure what else she could do when she went to the […]
More
It can't be easy finding a dead body.

Attending a funeral or a wake, that's one thing. You've had time, loved ones, and a knowing of the coming encounter to ready yourself. Discovering someone who has unfortunately passed on? That's an entirely different challenge, and happening to people far more often than it seems.

Reddit user, Xerxesthemerciful, wanted to know what it was like to see someone no longer with us when they asked:
"Have you ever seen a dead body? What's the story?"
Stumbling onto someone who has passed away can be difficult, even if you didn't know the individual personally.
Missing Him During The Nights
"Old security guard guy named John used to rent out our upstairs. Nice guy, kept a lot of soda around and would always keep a few around for us kids"
"John usually worked nights so it was not unusual for us to not cross paths or see him a lot as he slept during the day."
"One day a cop shows up at the house and I answer the door not knowing what I did, turns out he was there because John hadn't come in or contacted the security company he worked for in a week."
"Asked if he could go upstairs and check to see if John was there, so my mom, the cop, and I go up to his room, open the door and all I remember was seeing a blue arm hanging off the bed before I bolted."
"Guess he had died in his sleep. He was old and a widower and was kind of at the point where he just "wanted to see his wife again", so it was sad, but he died naturally."
"Thanks for all the soda, John!" ~ Gday613
Trick. An Awful Trick.
"I was trick or treating as a child. Person didn't answer doorbell so I peeped through his window. He was lying face down on the kitchen floor. Called the police and they busted the door down right in front of me. He was dead for a few days before I found him." ~ sicknisco
An Unfortunate Work Day
"I'm sure a bunch of redditors have been to a viewing/wake, but I watched a coworker die in front of me of a massive coronary. We got back on the job site after lunch and about an hour later he was complaining of a stomachache and we were all giving him sh-t because he'd eaten a bunch of shellfish from a buffet."

"He left to get some antacid or pepto bismol or something and came back, then about 30 minutes later his body locked up and he hit the floor. Another coworker started chest compressions but we found out later he was pretty much dead before he hit the floor. He was barely 50." ~ RearEchelon
Maybe you didn't see the individual up close. It wouldn't matter, because you know what's already happened when you've seen it, even from afar.
No One Cared
"I have seen a few but the one that stuck with me was when i was in the US Air Force in Bosnia. I was in a caravan of black chevy suburbans and i see this body in a river caught on some tree branch. The body was just moving with the current but tugging at the branch with the head underwater. It made me panic and i told everyone in the vehicle "there's a body in the river!" and no one cared." ~ ActionQuinn
Last Act Is To Save Lives
"Watched a man have a heart attack at 45 mph, while driving his truck down a crowded city street, just past some jr high school kids. His last act in this life was to turn across three lanes of traffic, jump an empty sidewalk and plant his truck head on into a concrete barrier. By doing so he probably insured his own death in the accident, but undoubtedly save lives. I was to far away to assist, but I watched while strangers pulled him out and tried CPR, then the medics arrived, took over and got him outta there."
"The damage from the accident, plus the heart attack meant he was dead before they got him outta the truck, so this barely counts."
"Also, had his truck gone the other way, he would have hit me instead of the barrier." ~ PaganMastery
These are the truly harsh ones, the situations which never leave and could never possibly leave. How could they?
Objective Now, Terrifying At The Time
"My dad fell off the roof and broke his neck. By the time I got to the hospital he was clearly braindead. We had to pull the plug. I'd never seen someone die before. It's crazy to see the near instantaneous change in color and texture of the skin when someone's heart stops. It was traumatic at the time but enough time has passed that I can look back on it objectively now." ~ arthur2-shedsjackson
People Explain Activities They've Added To Their Post-Pandemic Bucket List | George Takei's Oh Myyy
While we've all been cooped up for the better part of two years, many of us have been dreaming up exciting plans for the future. Maybe it's finally time to s...
Going Back To Sleep
"Whenever I was 13 i stayed with my grandmother(who lived alone and was only 51)during spring break. I woke up in the middle of the night to her sitting in the living room, where I was sleeping on the couch. She was sitting there awake with her Pekingese. I asked her why she was up. She responded: " I can't sleep and hearing you and Ginger (the dog) sleep relaxes me, go back to sleep."
"I ended up going back to sleep."
"Woke up the next morning and found her passed away on her bedroom floor." ~ SalisburySteakSauce
When They Don't Catch The Pillow
"When I was 11 I lived alone with my dad because him and my mom had gotten a divorce about 6 years back. He had diabetes and was seizure prone. One day I was riding my bike home from school, opened the front door and saw him sitting on the couch with his head back. Being a kid, I didn't think too much of it and I thought he was asleep."

"I picked up a pillow and tossed it to him and said "Hey I'm home" but he didn't say anything or react. That's when I froze. I looked closer and saw blood running down his chin from his mouth. I guess he had a seizure while I was at school, bit off his tongue and drowned in his own blood. Only dead body I've seen outside of a funeral." ~ xKourth
You Don't Forget How They Don't Quite Look The Same
"I rolled my roommate over, he was laying face down on his floor half naked. I knew instantly that he was gone. There was just such an unnatural look to his face."
"It's been 3 years and I won't forget it." ~ Upeeru
"You can always tell when you look at their face. They never look like themselves, whatever it is that made them them is just completely gone. It's kind of like looking at a familiar stranger. Even during open casket events, even as a kid, I always hated hearing people say how they looked at peace or like they were sleeping. They all looked like familiar strangers to me, not the person I knew and loved." ~ ChampChains
Just Because It's Their Job Doesn't Mean It Doesn't Hurt
"More than I can count. EMS and fire service before working as an ED tech, Med school, residency, and a couple years of practice."
"I've seen homicides, suicides, ODs, fire deaths, blunt traumas, penetrating traumas, decompositions and decompensations. Kids and adults. I've intubated and pulled breathing tubes. I've been directly and indirectly responsible for deaths. I've broken that news to families. I take on that risk and responsibility daily."
"Some stay with me. Others do not."
"The one that I remember most vividly was my first year of residency. We had this biker lady in ICU who had no family, visitors, or next of kin. She had a state appointed guardian. We'd run out of things we could do and were beyond the point where she'd have any chance at a meaningful recovery. So it fell to me to get the state guardian to approve withdrawal of care."
"Once all the calls were made and approval was done, I went in with the nurse who helped me shut down the vent. I saw She had a band name tattoo, so I pulled up Spotify and played their top songs, pulled the tube, and held her hand the next 18 minutes til she ran out of steam and stopped breathing. It's been f-cking with me lately because I remember how sad it was that she had nobody she knew nearby when she died. It was the only withdrawal of care I had to do like that… til COVID" ~ squirrleyh**ker
Be safe out there, hug a loved one, and never let the fear of death stop you from accomplishing what you want. After all, you could have less time than you realize.
Want to "know" more?

Sign up for the Knowable newsletter here.
Never miss another big, odd, funny, or heartbreaking moment again.
Keep reading...
Show less