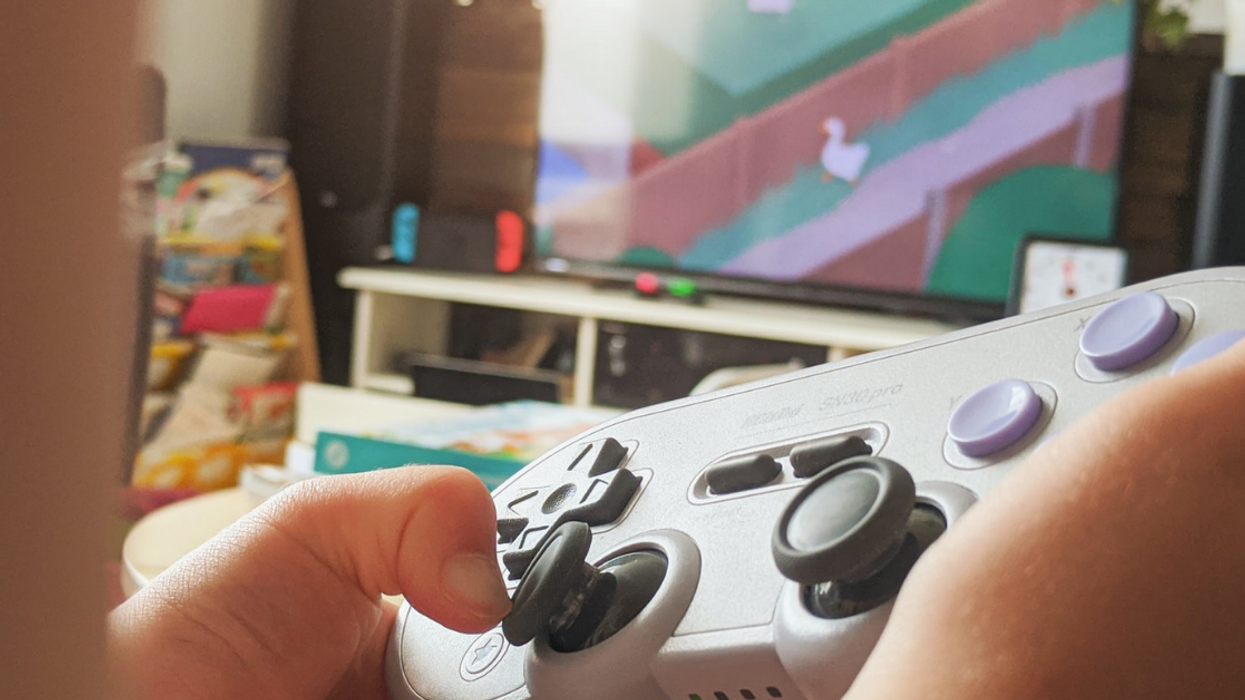 If you, like millions of others, had your little 90s heart held in an unyielding vice grip by Jonathan Taylor Thomas, I'm gonna need you to sit down and take a few deep breaths because I'm about to say something so controversial, yet so freeing for you.
Jonathan Taylor Thomas was not all that and your passionate love for him was classic Disney manipulation. It's not your fault.
You weren't in 90s love - you were traumatized, and it's gonna be okay.
Reddit user Endowedx7 asked:

"90s babies.. who was your first television crush?!"
​First of all, nobody followed directions and we jumped from TV to movies to cartoons super fast.
Secondly, the sheer number of people who say Jonathan Taylor Thomas when this question is asked just hurts my soul. He, honestly, was a B-rate heartthrob at best.

His hair wasn't perfectly parted and platinum-like Jonathan Brandis (RIP)
Thomas Ian Nicholas had stronger "3 first names" power.
JTT lacked the shy smile Devon Sawa served with ease.
Even Andrew Keegan started a cult.
What did Jonathan Taylor Thomas do to earn so much adoration?
I theorize that the answer, quite simply, boils down to trauma bonding. We fell in love with Simba, and his little cries over Mufasa, and that was it; JTT was now our forever favorite because of the Circle of Life.
Dang Disney is good - but also kind of evil. Now that you know, you can heal. Go forth in peace.
Bask in Reddits favorite Non-JTT 90's crushes.
Devon. Duh.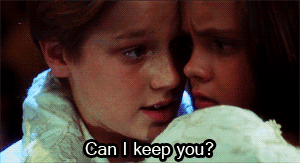 christina ricci dancing GIF
Giphy
"Casper, Devon Sawa"
- ramblinator
"Hard yes at Devon. Casper 'Can I keep you?' wrecked me 😭"
"Also in Now and Then, Idle Hands, Final Destination. They were my faces. Oof, the 90s were a time."
- coma-toaste
"My sister actually just met him at some sort of convention in Dallas. She sent me a pic, because she knew how much I loved Devon."
- ShataraBankhead
"Devon Sawa was my first crush. My friends could keep JTT, I only had eyes for Devon."
- bassgirl_07
"This was the answer I was looking for. He looked beautiful to me at a kid watching that movie."
- Noppo_and_Gonta
A Science Lady
"Scully. I love me a science lady."
- silverblaze92
"Lort yes Scully with that fire red hair and those soft eyes!!!!"
"Underrated crush. She was beautiful!"

- Drops_USMiC
"I still have the biggest crush on her. Literal schoolgirl crush, blush and all."
"It took me like 10 years to realize that straight girls don't like other girls the way I adored Scully."
"Aaaaaand that's how I realized I was definitely bi."

- juniper-mint
"Scully and Velma were my biggest fictional crushes growing up, I just like nerdy ladies. 🤷🏻♂️
- Foofsies
Daddy Shang
"Captain-turned-General Li Shang from Mulan."
"The first time he took his shirt off made a lasting impact that I was not prepared for."
- g_lay
"Lol it did for Mulan, too."
"It occurred to me recently that she'd likely never seen a shirtless man who wasn't her dad, so that specimen was her first..."
- kdbartleby
"Daddy Shang"
- supholmess
"BRUUUHHHH Shang yes"
- TheObservationalist
"Sign me up for the next war!"
- ElderBrute
Brendan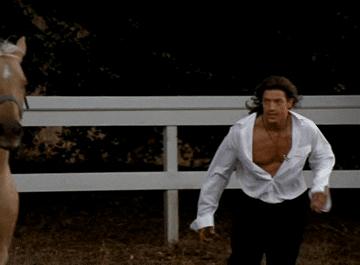 brendan fraser horses GIF
Giphy
"BRENDAN FRASER"
- purplehairedcatdaddy
"Came here to say this! For me it was George of the Jungle, the bowls scene changed me."
- sheehosellstheshells
"God he was sexy, especially with long hair."
"He was done so dirty. Glad he's getting more work now but he deserves more."
- Viiibrations
"Omg, I was so in love with him. I even watched that stupid Dudley Do-Right movie."
"Everybody loved him for his body, but I'd still give it to him today though. Chubby guys ftw."
- Iced_Jade
...And Everyone's Bisexual Awakening
"I came here to say Brendan too. George of the Jungle and The Mummy… 🤤"
- Tough_Raspberry1983
"As a bisexual, The Mummy and The Mummy Returns had me feeling so many ways. Poor young me didn't know who to focus on more lmao"
- starkrocket
"Lets be honest here, practically the entire main cast of the Mummy qualifies."
- Skylis
"The Mummy was a glorious bisexual awakening for so many people."
- shallowbasketcase
Its Morphin Time
"Kimberly, the pink ranger. She can still get it, wherever she is."
- END0WEDx
"You are the man, OP, for responding to your own question with the best answer. "
"This too was my first tv crush. She was all that back then."
- Mikernoce
"The episode where the Tigerzord and Thunder Megazord get destroyed... She had no right wearing that outfit for us kids but I'm so glad she did."
- [Reddit]
"This is the one."
"I was like 4 watching power rangers in my underwear, and I thought she could see through the TV and I got embarrassed and put pants on."
- TheOfficialTheory
Starfleet Standards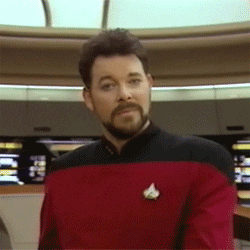 Happy Star Trek GIF
Giphy
"Jonathan Frakes. That beard fetish has followed me around for the last 25 years."
- Cutegun
"Omg, yes. Daddy Riker has me feeling all kinds of ways that are surely not up to Starfleet standards."
- hardly_trying
"Ohh yeah. There's a reason why he was always written as the one seducing (or being seduced by) hot alien women."
"And yes, I too grew up to love men with beards. 😆"

- tourmaline82
"It's unsettling to re-watch the first season before his beard was a cast member. Deeply unsettling."
- lunaleather
Flintstones
"Halle Berry from the 1994 Flintstones movie."
"Oh. My. God. I was obsessed."
- ImLikeLicorice
"I remember thinking 'wtf is that cleavage doing in a PG Steven Spielberg movie?' But at the same time, I was perfectly ok with it."
- Ooze3d
Shakira Shakira
"I remember watching Shakira in a music video on MTV when I was 9 and being completely mesmerized 😂"
- MoAdibbb
"Yes, same for me. I was 8 and Whenever Wherever was everywhere on TV and radio."
- lucitribal
"Me too! She just did it for me and I was like 4... It's literally one of the earliest memories I still have."
- Dazius06
Merry Christmas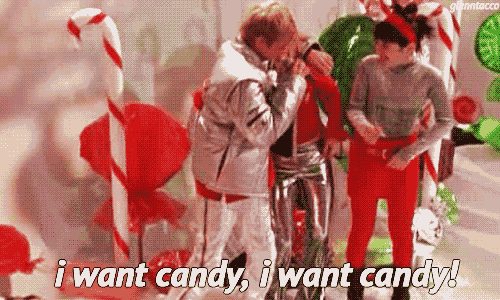 aaron carter GIF
Giphy
"Aaron Carter on the Christmas episode of Lizzie McGuire…. Lol what a time!"
- illbeokayeventually
"I met him when I worked at the airport. Came in wearing a beanie and a bathrobe."
"He was super friendly though 😅"
- evergreenxsage
"I was scrolling for this answer! I can picture the Christmas episode in my head!"
- Helpful_Cat0808
"I swore I was the only one who saw this and just never said it out loud."
- sheisvoid
The Static
"I hope video games count!"
"I remember walking up to the TV to kiss Link."
"The static made it more fun lol"
- mommasoggydoggyup
Hexes And Homos
"The Hex Girls from Scooby-Doo! and The Witch's Ghost"
- TheMissingChapstick
"Oh the Hex Girls are required crushes for every young gays development."
- [Reddit]
"Honestly I should've realized I wasn't straight sooner, those hex girls were FINE"
- Azusanga
"I'm convinced the Hex Girls singer Thorn was the reason so many guys my age were into scene girls when they were younger."
- What----------------
"The hex girls definitely awakened something inside of me when I was younger."
- abloobudoo009
Something Awesome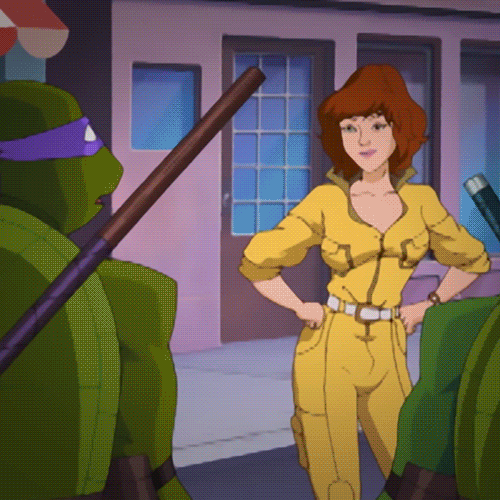 Channel 3 90S GIF by Teenage Mutant Ninja Turtles
Giphy
"April O'Neil from Teenage Mutant Ninja Turtles"
- N_Tracer
"I just remember thinking there was something really awesome about that yellow jumpsuit"
- Crazyjaw
"My God, that Yellow jump suit."
- AdamBombTV
"If my mom would walk in the room while April was on the screen I would get so nervous and awkward like she walked in on me watching porn."
- Japhysiva
Peter
"Jeremy Sumpter in Peter Pan"
- Obvious-Olive8241
"OHHHHHH weee you just took me down nostalgia lane. That boy had me dead for a solid week straight."
"Kept rewatching Peter Pan again and again to pretend I was Wendy 🥺😭"
- a_sunny_disposition
"Same, even convinced my parents to take me to L.A. to a Ronald Mc Donald race in Griffith park to meet him, and the day of the race we got lost and didn't get to meet him."
"I almost cried when i saw everyones picture with him on this forum called Jeremy's angels."
- Aggravating_Row2179
Gargoyles Need Love Too
"The female gargoyle in the Gargoyles cartoon."
"My siblings made fun of me for this for like 10 years until they forgot about it. I hope they never remember lol."
- Spirit860
See?
TONS of non-JTT options for all tastes!

We can finally be free, my friends. Free!
Want to "know" more?

Sign up for the Knowable newsletter here.

Never miss another big, odd, funny or heartbreaking moment again.
Keep reading...
Show less
Back in Ye Olde 90's we had totally tubular stuff like grunge music, boy bands, jelly shoes, and the commonly held delusion that it was the 1960's.
So ... pretty much exactly like now but with thinner eyebrows, crappy dial-up internet, and we still had Betty White.
The 90's may be gone and back again as far as fashion is concerned, but language hasn't exactly ridden that same wave.
Reddit user Enexprime asked:
"What are some 90s terms that are no longer used today?"
So let's talk about it. What don't you hear anymore? Have you found yourself comfort-watching Living Single and realizing Khadija sounds like an alien?

No? Just me?
Multiple Deaths Happening Here
"... NOT!!!!"
- chichi_benson
"I only ever hear Borats voice now when reading the word NOT"
- stephen_spielgirth
"Someone on here pointed out to me that the modern version of 'NOT!!!' is 'said no one ever.' "
"Which is fascinating since it shows how humor has evolved over the last 20-30 years."
- BW_Bird
"I mean… 'said no one ever' died out years ago too. It feels like memes had that phrase everywhere just yesterday."
- Anon419420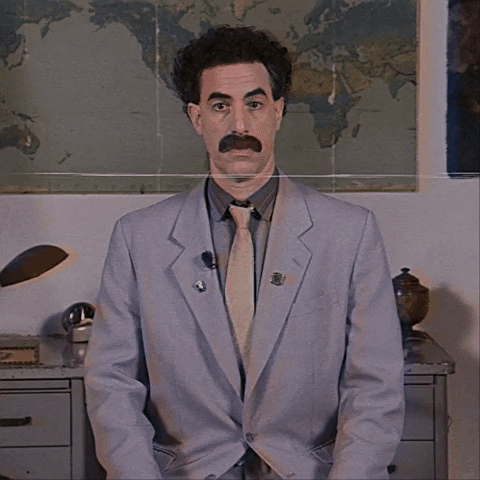 Giphy
How We Discuss The Highway
"Information superhighway."
- gingerbreadporter
"Surf the web"
- nevercontribute1
"Even the word "web" in reference to the internet has almost completely disappeared."
- thomthehipposlayer
"The bomb dot com."
- kramerica_intern
"When I was doing back end development for corporate websites back in the early 2000's, lots of enterprise developers were saying 'www' as 'dub dub dub.' lol"
- cardcomm
Okay Which Part Are We Talking To And Why?
"Talk to the hand."
- llcucf80
"Talk to the elbow because the hand ain't worth the extension."
- allanmonroe
"I always did 'Talk to the booty, cause the hand's off duty.' "
- Lwmons
"Talk to the hand cuz the face ain't listening!"
- Ri-chanRenne
"Talk to the hand talk to the butt talk to the man from Pizza Hut."
- SirRemington159
"Radical" Used To Be A Good Thing
"I still say things are 'rad,' but I haven't said 'radical' or heard the term 'radical' used in a 'that's cool' context since like '95 or '96."
- ghosts-go-boo
"I use 'rad' frequently but I've found Northern California is hella welcome to all kinds of slang, man."
- beard_lover
"I only use 'radical' to describe political radicalism, but every time I do I always think of the group I'm talking about busting some phat moves at the skate park."
- MarvinLazer
"Yeah I only hear 'radical' brought up in history or math classes right now."
- KoopaTrooper5011
Posing As A Hater? Cringe.
"Being a 'poser' was THE worst insult where I grew up, people were often criticized for being too big for their boots and dressing like rock stars."
"Nowadays, with social media etc, everyone is invested in their own brand management and if you think it's cringe, you're a 'hater.' "
- AGuerillaGorilla
"20 years from now when someone asks this same question on this sub, I'm sure 'cringe' is gonna be one of the answers."
- dbigya00
"I still feel like poser is a pretty solid insult. It's all about the delivery, you gotta dress it up a bit."
- thedoomdevice
We're Deeply Uninformed
"My wife got made fun of by our friends kid for using the term 'word on the street.' "
"It really blew his mind when we told him we needed the '4-1-1' on why it's not cool anymore."
- Treibemj
"People still say 'word on the street.' It Still shows up in new rap songs."
"That's as close as I'm getting to the streets, but those young men seem like they know what they're talking about."
- MrBurnz99
Guac Is Still Extra
"All that and a bag of chips!"
- Wishyouamerry
"I use that at Chipotle. Sometimes I get the "did you really just say that?" look."
- BitPoet
"My mom says a version of that to my cat because my cat gets so excited when I walk into a room."
"My mom's like, 'she's not all that and a bag of catnip!' "
- StarWars_Girl_
Timing Troubles
"Call me after 7 when it's free."
- False-Boysenberry673
"Alright yo man, you're wasting my minutes! I'll call you at night."
- temp7412369
"Oh man this one really takes me back."
"When I was a kid and I wanted to play telephone with my friends and my mom always reminded me to call after 7."
- batyoung1
To Doy? Or Not To Doy?
"No Doy"
- XxBoognishxX
"I always loved that yelling DOY meant the same thing as yelling NO DOY."
"It is truly one of the great mysteries of the universe."
- JohnSnowsPump
"I had to say it to remember it. Lol"
- ironh19
"I discovered there's a whole segment of the population that use 'Duh Doy' — which is an inferior usage of the term, in my opinion."
- kula_shakur
"I say doy but I spell it doi. wasn't alive in the 90s though"
- bebedumpling
Suffix Situations
"-meister"
- papachon
"I work with a guy who's last name is Burmeister, I always call him 'The Burr-meister' like a 90s surfer, it annoys him."
- careater
"Wait are we not saying that any more? Douchemeister."
- alexrt87
"Is there anything more 90s than the Stiffmeister?"
- Zal_17
"My best friend from high school in the early 2000s is still 'Bakermeister' in my phone lol"
- weissingaround1
Aight, fly honies and homies - yall heard Reddit. Now it's on you to tell us what's up.
Want to "know" more?

Sign up for the Knowable newsletter here.

Never miss another big, odd, funny or heartbreaking moment again.
Keep reading...
Show less
If you were around in the 90s, you probably remember the Y2k Bug. Everyone thought that the end of the world was coming because many of our computer programs were set to read the year date with only the last two digits.
People really believe that there would be huge system failures if our software and hardware read the date 00 as 1900 instead of 2000.
Kids born after the year 2000 can't even imagine what the world was like before smart phones became computers in our pockets.
Since there's a whole generation who doesn't remember much of the early 2000s, we thought we might take a trip down memory lane and school these kids on what it was really like. Some aesthetics from the 90s were carried over, some technology never made it past 2003.
Redditor BtownBrelooms asked:
"What is something that was used heavily in the year 2000, but it's almost never used today?"
Here's a great dose of Y2k nostalgia for you.
Devices just for music.
"Any sort of dedicated music-playing device, before that just became a part of your phone."
- Confusionator5000
"RIP my mini disk player."
- Mikebot3000
"RIP Zune."
- Redditor
"RIP Creative Zen Touch. You were a wonderful green brick."
- HELLOhappyshop
"I kinda miss my iPod shuffle. The small thin brick one that literally had no buttons."
- Peng_win
"For me, that was portable CD players which replaced portable cassette players (mainly, the Sony Walkman). MP3 players came almost immediately afterward."
- CriminalSpiritX
The file sharing, social networking software.
"LimeWire."
- FRB2992
"Giving me flashbacks of desperately trying to hear the preview of the song while it downloaded to make sure it was the actual song and not 'my fellow Americans.'"
- Legitimate-mistak3
"Or the Dj yelling in the background."
- Vapirate04
Re-writable CDs.
"Re-writable CDs. I used to burn so many mix CDs after downloading from Napster, BearShare, LimeWire, FrostWire. Then my mother would call, disconnecting the internet and I would have to start the download all over again. Except one file wasn't an mp3, but a virus. I would just reinstall windows before my mom got home as we saved every picture and document on a zip drive.....then those fancy Jaz drives."
"Also Adobe without a subscription."
- Sh*ttinwithmykitten
"And the praying to the 'buffer overrun' gods during every burn..."
- iguana-pr
"I would borrow CDs from my Library and then burn a copy to keep."
- tootsie404
Long processing times for downloads.
"Download Managers."
"Start the download right after Mom goes to bed, wake up before her to pause the download and disconnect the dial-up connection, resume tomorrow night. Repeat..."
"A week later, you're playing Counter-Strike."
- Laserwulf
"And now you can download the torrent in like 2 min."
- ZarafFaraz
"The perspective is staggering. A 1080p 30fps video using old 2000 codecs like MPEG-1 at high quality is like 40mbps instead of modern h.264/265 being like 8."
"A YouTube video of that quality takes like 2 minutes today at that quality. In 2000 on dial up using contemporary codecs would have require 165 hours."
- Shandlar
Spiker Colorz.
"Colored spikey hair gel."
- AdamoclesYT
"Bro, I am still waiting for the day frosted tips make a comeback."
- ShowMeYourTorts
"Honestly man the kids these days look straight outta the 90's, though most of them seem to think it's original. Wouldn't surprise me if frosted tips are next."
- thricetheory
AIM messenger.
"AIM and msn messenger."
"Bringing back even more memories of the late 90's early 2000's rushing home to fire up the dial up and start chatting with the same friends I'd already spent hours talking to that day."
- Boodagga
"'Wanna Cyber?' God. We were awful."
- icanbeafrick
"A/s/l."
- levi_verzyden
And ICQ.
"ICQ."
- DamnedMonkey
"Couple of years ago, I had a number come into my head. Recognized it but didn't know where from. For over a year it kept bugging me. Was it my college enrolment/password? Number for someone I worked with when I worked overseas? Not a clue for the longest time."
"Random convo with a friend about old memes and things we miss about the early internet days, and I just blurted out "its my f*cking ICQ number!" with no context…"
- Squallypie
Giant, rear projection TV.
"If you had a big screen TV it was probably a ridiculously thick rear projection TV."
- ParoxysmAttack
"My parents can't get it out of the house."
- CristyTango
"My Dad Busted it apart to get it out of the house."
- And1mistaketour
The sound of Dial-Up.
"Dial-Up."
"weeeeeeeee WOOOOOO_OOOOOO_"
E E E E E E E EEEEEeeeeee
"eee"
"eee URRRRRRRRR"
"BEDULUDOLEDULUDOLEEPEEPEEP"
"R R R R R R R R R R R R RUMMMMMMMMMMMM"
- Martini_Man_
"Is it sad that I miss this sound? Reminds me of logging on age 15. Midnight till 6am was my ISPs off-peak and was the only time I could get my internet fix."
- trev2600
Websites had a specific aesthetic.
"Spinning under construction gifs on websites."
- starkiller_bass
"Remember when most websites had a hit counter on them?"
- starkiller_bass
- emtag
These Low Effort Jobs Have Surprisingly High Salaries | George Takei's Oh Myyy
Have you ever worked one of those jobs that paid you to kinda sit there? If you have, you know the joy that comes with watching the entirety of Breaking Bad ...
Computer mice with a ball.
"Computer mice with a ball:"
"My friend had one of the first Microsoft IntelliMouse , which did not use a ball."
"As I recall, it was the first laser mouse without a ball that was commercialized in a popular way. It was released in October 1999. So in 2000, most mice were with a ball, and slowly faded away."
- fmaz008
"Remember having to clean the ball? Who even knows how that much gunk got in there in a relatively short time."
- FloydEGag
Oh, Blockbuster. How we miss you.
"Blockbuster card."
- larrythetarry
"I live a half-hour away from one. Granted, it's the last one, but still..."
- zippyslug31
"It's surreal walking around that store. Closest thing to time traveling I'll ever get to do."
- pegleg_1979
"Damn. I miss blockbuster."
- NOTZawp
Geocities.
"Geocities, neopets, livejournal, kazaa."
- papaweir
"Geocities was so powerful for the time. I used to build my website there, steal the html and use it for my own domain. This was pre-social media. If you wanted to share your weird goth poetry and fuzzy webcam selfies, you had to have your own website. Using the steeling html method for years eventually taught me how to write it."
"Also, for a cross over episode, I stole the html from the pet 'painting' page from Neopets, uploaded it on my geocities, tinkered with the code and was able to log in and paint all my pets for free. Baby h4x0r. Those were the days."
- j-u-n-i
"For those of you who miss the old days, neocities is a free hosting service where you can put up simple websites. Nothing fancy, but still very awesome."
- MarqueeSmyth
And Neopets.
"Neopets don't die though, I logged in after a long time and my Neopet was starving, so I fed it a piece of the omelette and he said 'yuck I don't like omelettes' so I logged off and let the sassy little bat starve for another 10 years."
- goblinsexologist
"Neopets was the reason my dad buckled and got us DSL internet... because I once spent the entire Saturday on Neopets and he wasn't happy with the phone bill that month."
- GingerBeardicus86
Blue eye shadow was in.
"Blue eyeshadow. You could always tell when a junior high school aged girl finally got the okay from her parents to start wearing makeup. She'd show up at school everyday for the next month looking like a blue panda."
- blickyjayy
"Butterfly hair clips and I believe the white eyeliner were huge then too."
- HotIronCakes
"Kids today with thousands of YouTube make up tutorials at their disposal don't know how we suffered."
- 44morejumperspls
Smoking inside.
"Indoor smoking. My young-ish kids marvel at the fact that people used to sit in restaurants and smoke."
- TurdFergDSF
"I remember gold foil disposable ashtrays at burger king."
- J_Hitler_Christ
"I remember going to friendly's as a kid for breakfast or dinner and they asked if we wanted smoking or non-smoking with ceiling fans blowing everything everywhere."
- soline
VHS tapes.
"VCRs."
- Murtamatt
"Tape rewinders!!"
"BE KIND, REWIND!"
"I liked the ones that had the form of a sports car."
- xtracto
There was no GPS.
"Maps or Mapquest."
- Ocean927
"My wife calls Google maps MapQuest if we need directions she'll tell me to MapQuest it on my phone."
- deadlymoogle
"Printed Mapquest instructions!"
- surlycanon
"World Wide Web."
"The term 'World Wide Web.'"
- No-Sheepherder-2896
"'Visit us at h t t p colon slash slash w w w dot p b s dot o r g.'"

- Bilbo_nubbins
"Information Superhighway."
- wagu666
Generation Z will probably never fully understand the struggles and joys of the budding technology and wacky fashion of that time.
Though, before you know it, these kids are going to be saying the same thing about the next generation.
And the cycle continues.
Want to "know" more?
Sign up for the Knowable newsletter here.
Never miss another big, odd, funny, or heartbreaking moment again.
The 90s were a magical time.
We were past the overloaded pop-culture fest of the 80s and weren't quite to the optimistic cynicism of the 00s. The 90s were their own kind of mad, with films and movies embodying the ideas of the time.
Hope. Music. Rebellion. Confronting the idea that one day we're going to have to grow up and how to fight it.
And sometimes, those movies hold up extremely well, giving you the feeling it's 1995 again, you're in the theater with your buddies, and Will Smith is going to turn in a good performance.
Reddit user, noisyturtle, wanted to know how to relive the 90s when they asked:
"What is the most '90s movie ever?"
You could argue there was something magical about that time, something that maybe the 80s and the 00s couldn't quite capture. A cynical-type of hopeful glance at a world coming our way, and how we would ready ourselves for this.
Peter Pan grew up? Oh no!
We Peaked
"Independence Day. Cheesy, semi serious at times, and ends with the main characters smoking cigars."
Batmanlover1
"I stand by my statement that Independence Day represented the absolute peak of American power, hubris and self-confidence on the world stage. It's been all downhill from there."
Begle1
There You Are, Peter
"Hook. Something about that film just makes it feel like the 90's. So magical. Miss you Robin."
ok_chaos42
"my gramma recorded Hook on vhs waay back when, i watched every other weekend for yeaars, along with ninja turtles 2, til the tape wore out and she ended up getting me a real copy. i had a whole bunch of Hook action ficures n everything. watching it now makes me smile still, i get to see robin save the day and brings up some good memories of ol gramma G."
buckut
An Army Of Talking Buttocks Rise
"Ace Ventura, Pet Detective"
Mariska_vanDriel
"Warning: Aholes in mirror are closer than they appear!"
-Jim Carey
blackout-loud
We really thought music was going to play a much larger role in our lives back then. While music is still around, it certainly doesn't hold the same weight as 90s films portrayed it having.
Record Stores Are Forever, Man!
"Empire Records"
pulp-fictional
"I think this one wins. A movie about a cd/record store under threat of being taken over by the chain cd/record monopoly with the full grunge attire to boot. Man I miss the 90s."
Skylineviewz
"Not my favorite movie of the 90s, but definitely the one that captures the feel of the decade best. There's even a post credits bonus music video with the Gin Blossoms if memory serves"
pursuitofleisure
Trick Question...
"Airheads has to rank up there."
"Fraser, Buscemi and Sandler. Radio was still sort of relevant."
"Farley in a guest role?"
The_Soapmakers
"Lemmy is God."
Tobias_Flenders
The 90s Were A Time Of Change
"10 Things I Hate About You"
wildblueheron
"Very late 90s, almost early 2000 for me."
DANCE5WITHWOLVE5
"Yeah...they are almost 2 different eras. Early to mid 90s grunge era was more subdued, cynical, apathetic. Somewhere around 97, things quickly changed to more colorful, upbeat, "poppy"... almost like the 80s were starting again."
Cool_Dark_Place
And then there's these, films that fully embody the outlandish, unrealistic expectations we though the world was going to deliver us in the 90s but never did.
Fortunately, we have the movies to revisit that wonderful period of life.
Just As Shakespeare Intended
"Romeo+Juliet. That soundtrack was everything."
"Kids. It's spooky how much of that movie was accurate to growing up in the city."
ChiAnndego
Pure. 90s. Cringe.
"Reality Bites"
andtheyweresinging
"Reality bites is the most gen x phrase ever"
Echterspieler
"21 year old me seeing that movie in the theater had a very different opinion about the main characters than 46 year old me when I watched it on tv a few years ago."
Everywhere In LA Takes 20 Minutes
"Clueless"
IntoTheMystic1
"I had another thought, but yours is actually the right answer."
dachshundaholic
"LUUUUCCCYYYYYYY!!! Where's my white collarless shirt from Fred SEGAL?!?!?"
therealpanserbjorne
Too Light For You?
"The Craft"
dead-crimson
"YES! For those too ~alternative~ for Clueless and routinely hung out in the occult section of Waldenbooks at the mall."
madame-brastrap
A Movie That Came Out Thirty Years Ago To Remind You What It's Like To Be In Your 20s
"Clerks"
uwroo
"I'm not even supposed to be here today!"
donniedarko955
"I feel that mall rats is far more 90's. Especially since something like that couldn't be realistic long after that point."
"With clerks being black and white it feels more timeless."
shellwe
90s Kids. With. Attitude.
"Home Alone"
llcucf80
"this is embarrassingly too far down the list. come on Reddit. It's even December now!"
Miseryy
We can never go back. However, that's what films are for, aren't they? A way to capture the moment, allowing us to travel to a place in time we're nostalgic for.
And all of that fashion.

Want to "know" more?
Sign up for the Knowable newsletter here.
Never miss another big, odd, funny, or heartbreaking moment again.
Keep reading...
Show less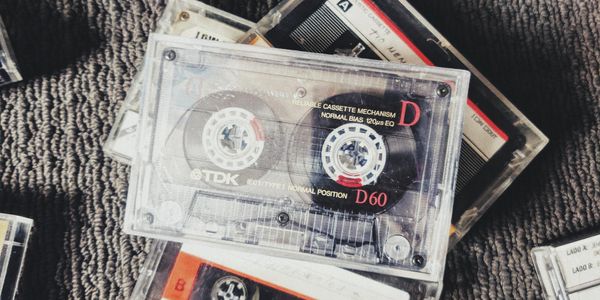 The 80s and the 90s are the ultimate decades of nostalgia for millennials. We were born between 1981 and 1996 and as such grew up in some of the most formative decades for the contemporary American landscape.
The 80s and the 90s also marked the last periods of time before technology would completely take over the world--those of us who were children in the 90s remember a childhood both before and after technology entered it.
As such that creates a lot of nostalgia for a time that truly seems as if it will never come back.
Redditor majorchamp asked:
"80s and 90s redditors, what do you wish would come back even for a limited time?"
Here were some of those answers.
Mall America
"Experiencing my childhood mall in its prime. It seemingly had everything, KB toys, cool RadioShack, a puzzle store, a store that sold chocolate, 2 different book stores, an arcade, etc..."
"Today it's a shell of its former self, there's a few sparks of life, but it's dying a slow and painful death. 3/5 of it's anchor stores are gone and another is on life support."
"Part of the problem is that the owners keep raising the rent to make up for the empty storefronts."-Sandman1031
What Games Used To Be
"Goldeneye 64. For those who didn't grow up with it, there's no way you could convince them that this was a game that people thought was the f**kin pinnacle of FPS games (at the time)."
"Imagine playing a FPS, but with a controller, but with aim/movement speeds calibrated to make you feel like you're moving through water, with the resolution of a flip-phone. That's Goldeneye."
"We had fun with it despite those things."-Antnee83
KentuckyfriedchickenandaPizzaHut
"The quality of of the food at Pizza Hut before all the cost cutting changes."
"Their pizza in the 80's and 90's served in the black deep dish pans was my favorite growing up and was legitimately delicious pizza, but unfortunately the quality of their food has gone down significantly."-spotrevdis
It was most definitely a simpler time than the internet-saturated one we live in now.
Just How It Was
"The post cold war - pre war on terror period was golden. Such progress on tech - everyone getting computers, mobile phones and the internet bringing us to a new peaceful era and new millennium at hand, sure we can solve it all..."
"It has not been like that since. You can see it in the attitudes of the younger gens, there is a difference if you've never lived such optimism."-MindTheFuture
The 90s Were Solid For Music
"Nights with your best friend or two riding around literally all night listening to the radio and talking. Maybe you stop at the park and swing awhile under the stars."
"Then get back in the car and drive so more till the sun starts coming up. Just feeling invincible and secure cause even if you're feeling sad that song is gonna come on the radio that you live to belt out together."
"And by the last note you're feeling better cause things as complicated as they seemed then were really not that bad for most of us. I'd give anything to have a night like that again. Just one."-Psychological_Tap187
Hopscotch Also Gave You Social Skills
"Children spending more time with each other socially. You developed social skills and confidence in ways that you just can't when you are communicating in text, or spending so much time isolated."
"Socialising on the internet or gaming is not the same thing at all. We used to spend the majority of time outside of school with friends, or bonding by playing games in the street."

"It's no wonder anxiety and lack of social confidence is so widespread amongst young people in the modern era."-Scallywagstv2
A Rare Gen X View
"Not be a walking advertisement for clothing brands. It is hard to explain to millennials and Gen Z just what an explosive culture shift Nirvana was."
"Imagine a relatively unknown artist coming out with a music video that was so counter culture, everyone was walking around with question marks over their heads."
"A month later, everyone tore any brand markers off their clothes. Jean patches ripped off, you were adorned with buttons and patches that matched your ideology, not some anime you like."
"And the point it, whether you paid $100 for a pair of jeans or got them at a thrift store, you didn't know, and that was the point."
"We had a rock revolution, which Mins and Gen Z seriously need. If you watch the famous Nirvana MTV live show, you will notice Cobain is wearing clothes with holes in them, despite being worth millions."
"Great video on what a huge societal and monumental shift Nirvana was for all kinds of reasons including talking about mental health, feminism, and topics previously avoided"
"People also didn't go out in public looking like slobs. I would never dream of going to school or the grocery store in pajamas."-beckoning_cat
But then, to everyone, their generation was, of COURSE, the best generation. There is no beating it.
Groupie Life
"Going on tour with your favorite band. You used to be able to do it, easily. Sling beer or t-shirts in the parking lot before a show, camp in the lot overnight before leaving for the next one, repeat until the end of summer."
"Nowadays... I don't think bands even go on tours that are followable, much less affordable just by selling spare beer and t-shirts in the lot."
"Furthermore, you can count the number of venues that allow you to camp for free in the parking lot (or nearby) on one hand."-Chubby-Tumbles
Razzles
"Candy use to taste better, like there was some called tuti-fruity, came in small squares in wax paper, like tiny, of a 20p piece, they use to taste amazing and i would buy them all the time as a kid."
"Then the company that made them changed out the recipe and said 'Nah, its all in your head, its fine, havent changed a thing...' but they now taste like small bits of plastic with minimal flavourings..."
"I wish we had the candy we had from the 80's and 90's."-Empty-Refrigerator
Old Timey Serving
"I remember drive in dining at A&W and it was nice! I was a kid during the 80's and the last A&W closed it's outdoor car side dining back in '89 and had a blow out event with classic cars from the 40's and 50's with waitresses wearing period clothes on rollerblades."
"I lived close by to this event and sat there for hours wondering around looking at the cars and talking to adults dressed up in 40's and 50's clothes driving cars that were in mint condition all getting food. There was a huge crowd of people. It was very memorable!"-ne0rmatrix
Nostalgia has it out for all of us. No matter what comforts are available to us in our given day, the past will come up and bring a fond tear to our eyes just because we can.
Want to "know" more?
Sign up for the Knowable newsletter here.
Never miss another big, odd, funny or heartbreaking moment again.
Keep reading...
Show less