Age is just a number.
We all hope to stay sexy until the end.
And even when we don't feel sexy, maybe there will be people who still think we are.
Redditor Debonair-Redditor21 wanted to hear about famous crushes that enter into the "Harold & Maude" territory. They asked:
"Who is the oldest celebrity that you still find attractive?"
All Hail Dame Helen Mirren. Is there anything else to say?
How Old?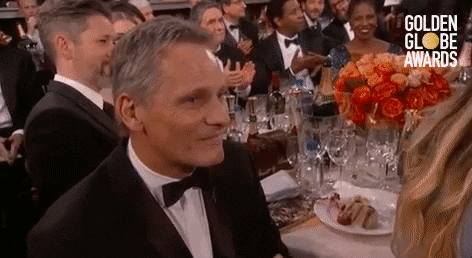 Viggo Mortensen Peace GIF by Golden Globes
Giphy
"Viggo Mortensen. Very handsome at 63."
Sidewalk_Tomato
"Damn, he is 63? Time flies."
2020UsernamesBeLike
Personas
"Elvira. Cassandra Peterson. Just turned 70 and still breaks out that amazing personality at every appearance."'
darkoath
"Omg. I saw the BEST suggestion for a movie ever. Elvira & Dolly Parton playing their stage personas as estranged sisters who must team up to fight evil."
ClothDiaperAddicts
Fatale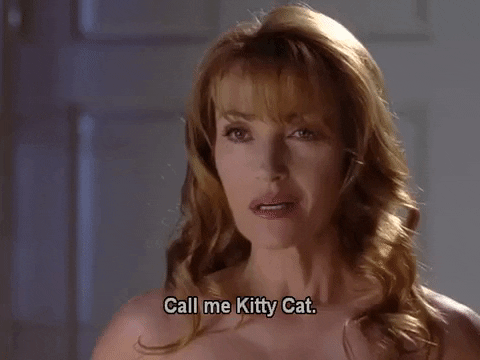 jane seymour call me kitty cat GIF
Giphy
"Jane Seymour. 71 and still stunning."
MrWiggy89
"Live and Let Die. Incredible, and she'll always be in my mind as Elise McKenna, the woman so beautiful that Christopher Reeve's character went back to be with her in Somewhere in Time. I totally get the desire."
pcserenity
Hey Su...
"Susanna Hoffs (63)."
analogtapes
"Plot twist: She sang 'Walk Like an Egyptian' because she's immortal and actually lived in Ancient Egypt."
RealisticDelusions77
"She was my first crush. As a child, I used to watch MTV for hours just for that moment when she cut her eyes in the 'Walk Like an Egyptian' video."
3lon_Mu5k
I am loving this list. I didn't think I would.
Maddy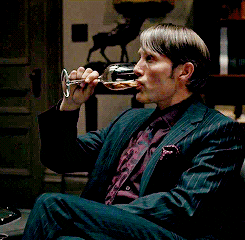 mads mikkelsen hannibal GIF
Giphy
"Mads Mikkelsen."
Valuable-Mango368
"You mean my daddy issues? Damn I love that guy. Death Stranding really nailed how he can come through a medium without much hassle."
This_User_Said
My Biological Clock
"Marisa Tomei."
LiveShowOneNightOnly
"Jesus, I was so confused watching the new Spider-Man movies with Marisa as Aunt May. Marisa Tomei is perpetually the hot 80s chick in my head, also Jennifer Connelly. I was watching Morbius and seeing Requiem for a Dream and Career Opportunities. I AM OLD, I GUESS."
Forge64
Oh Captain
"Christopher Plummer, right up until the day he died at 92."
amodernjunecleaver
"I first saw 'The Sound of Music' as a child, watched in many times, know if off by heart etc. I didn't watch for many years."
"Then as an adult I wanted to introduce a friend's kid to it, put it on, and spent the next couple of hours absolutely dumbstruck by how hot Christopher Plummer was. It had never struck me before that time but go**amn have I never forgotten. No wonder Maria chose the Captain, if I had to choose between him and God I know who my pick would be."
niconiconeko
Hey Tim!
"Timothy Olyphant. Idk what it is about him. He's so funny, charming, and handsome that I don't care how much older than me he is."
throwaway-getaway122
"I do NOT get tired of watching him; he is so expressive. In Catch and Release there's a scene where he and Jennifer Garner are having a conversation that consists entirely of gestures and facial expressions. Hilarious!"
BugsRatty
"He is amazing in Justified and Deadwood... hell, pretty much everything. I think I just found out I may have a man-crush on the dude lol."
Captain-Hornblower
Yeoh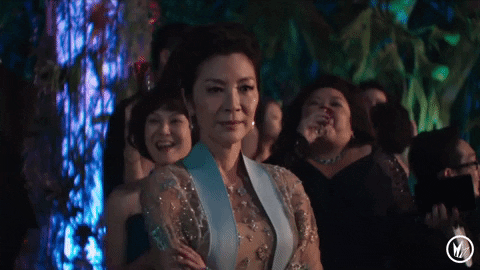 Michelle Yeoh No GIF by Regal
Giphy
"Michelle Yeoh."
ThinkIGotHacked
"Ugh she was a vision in Everything Everywhere All at Once. And if she doesn't win all the awards then there is something really wrong with the voting system."
HoaryPuffleg
YUM YUM
"Oof that's kind of a hard one. Without looking up a bunch of older actors I think I'd have to go with Ken Watanabe. I think he's in his early 60s now and the last time I saw a recent pic of him he was still looking fine AF. And an honorable mention is Steve Carell... I don't know what it is but he keeps getting hotter with age. I was never attracted to him until he did that silver fox photo shoot with the paint brush 'n shi*t."
total class act...
"Stanley Tucci. As my mom says about handsome men, he just looks like he smells good."
vonye25
"He visited our hotel a few weeks ago. As the Restaurant Manager I was specifically told that my team and I were not to treat him any different to other guests, which we don't."
"The guy was a total class act polite, courteous, and always keen for a chat. Never mentioned his movies, his career, but was there to enjoy time with his family, and they themselves were also a joy to be around. Can confirm he always had a slight aroma of warm cinnamon."
valdezverdun
Let me Think
"Oof that's kind of a hard one. Without looking up a bunch of older actors I think I'd have to go with Ken Watanabe. I think he's in his early 60s now and the last time I saw a recent pic of him he was still looking fine af. An honorable mention is Steve Carell... I don't know what it is but he keeps getting hotter with age. I was never attracted to him until he did that silver fox photo shoot with the paint brush and stuff."
duckfruits
Old Guy
"Jeff Bridges is still a hottie."
heyshugitsme
"I can't believe I had to scroll so far to see this. He's so damn handsome, and I unbelievably beautiful in King Kong. (1976). Just wow."
airbagfailure
"The Old Man made me agree with you."
junedear
So Hot!
"Monica Bellucci. I may just be a bit pickier than most though."
MrEpicface12
"I can't think of a hotter character than her as Persephone in the Matrix Reloaded."
"I literally had to rewatch those scenes to absorb the plot because every scene she was in was too distracting. https://pbs.twimg.com/media/E_V56qDUcAEoeZL.jpg:large PS. Totally off topic, but I always shipped her and Keanu in the movie and real life. Imagine how blindingly beautiful their offspring would be!"
chronoboy1985
Hey Mary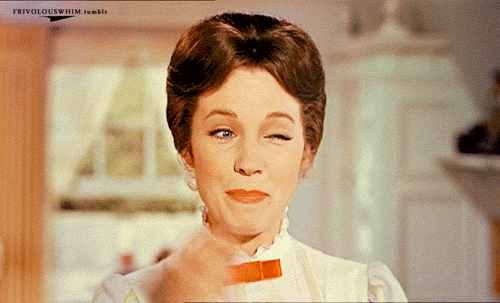 julie andrews snap GIF
Giphy
"Julie Andrews. That is one classy lady."
RoutineSheepherder93
Bond Boys
"Pierce Brosnan."
megannealiceD14
"Alternatively, Timothy Dalton, and in the same way. Both Bond men that I found meh during their tenure, but the older they got, the hotter they became. Pierce is at his peak now and I haven't seen Dalton since Penny Dreadful but he was such a daddy on that show."
Segamaike
Hey J
"Jeremy Irons (73)."
zzzephyrus
"Been crushing on him since my late teens, he just finer and finer. Love men with those stony faves."
Misseskat
"Holy heck yes. Gorgeous man."
Trabawn
1000x Hotter
"Just watched Jurassic World Dominion last week, Sam Neil is still really handsome at his age."
schnookums13
"Honestly Sam Neil, Laura Dern AND Jeff Goldbloom could all still get it."
QueerMainCharacter
"Sam Neill is 1000 times hotter right now at 74 than he was in the original Jurassic Park at 45. I saw Jurassic World Dominion and was like... Lol what is happening??"
Lunafeather
All the Ways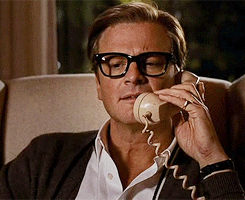 colin firth glasses GIF
Giphy
"Colin Firth, All Day Everyday and Sideways Twice on Tuesday."
CurrentlyNobody
Well that is a long list of sexy. Cheers to growing sexy with age.
Keep reading...
Show less
Not long ago, I rented a vacation rental for my dad's birthday.
It was a really cool apartment downtown near restaurants, and the building even had a rooftop pool! Unfortunately for him, this is summer in Florida, which means we got slammed with a tropical storm and that rooftop pool was closed.
The arcade was open, though... and that's where the entire family proceeded to get our butts handed to us because, evidently, my father is the Galaga master.
Reddit user _Mr_Cheeks asked:
"What is an old video game that still holds up so well today?"
Honestly, had it not been pouring we may have skipped the arcade entirely. And had we not been with my father we would have picked something newer than Galaga.
But the game still slaps!
Here are the games Reddit still swears by.
Worms!
"Worms Armageddon. It looks nice enough and the fun is still there."
- the_amateon
"Our whole floor played this in the dorms 20+ years ago. We had our own network, but the lag times were so bad you could obliterate someone on your machine and then run to stand behind them in their room to get their real time reaction. One was always concerned when a crowd showed up behind you...."
- DocLof
"Many moons have passed since the worms went to war"
- thprk
"Yeah, this should be the top answer. This game is far superior to any of it's sequels, even the celebrated W.M.D"
- lurker12346
"When we got our second computer (which I still think of as the new computer) in 2000 it came with worms and my dad and I would spend hours playing it."
- cherry_armoir
A.O.E.2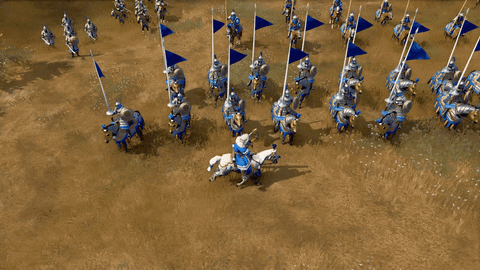 Khan Ageofempires GIF by Age Of Empires Community
Giphy
"Age of empires 2"
- kr4kenz
"The devs are still working on the game and have recently released new DLC with new campaigns and civilizations."
- NativeMasshole
"Honestly, I think AOE 2 is in the top 5 games of all time."
- superfast_jellyfish_
"That's because it is."
- PadishahEmperor
"One of those timeless classics that will just never die. 20year and counting, how many games are out there with a similar track record? Maybe a few MMOs, CS and crew."
- Executioneer
Chrono Trigger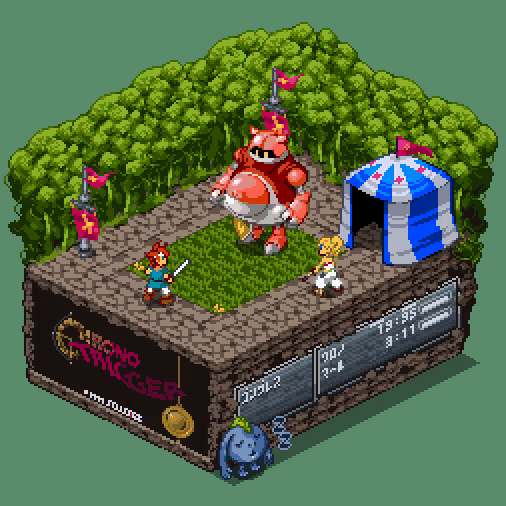 trigger ktwfc GIF
Giphy
"Chrono Trigger"
- WoodcockJohnson_
"One of the greatest games ever made"
- _Mr_Cheeks
"Was literally my gateway drug into RPGs. I still judge pretty much every game's story against the standard Chrono Trigger set. It's also the reason I'm always expecting karmic effects down the line for early game decisions (looking at you 'old man's lunch' at the Millenial Fair)."
- Dr_Beardface_MD
"One of the best soundtracks in gaming, fantastic spritework, pioneered multiple endings in video games, ABSOLUTELY holds up."
- MeniteTom
Best Of The Tycoons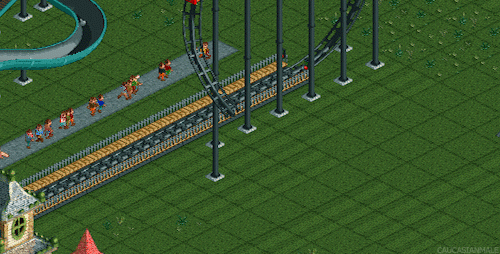 video game physics jet GIF
Giphy
"Rollercoaster Tycoon"
- 123Fake_St
"For anyone who has an itch to play: open rct2 has resurrected this game and added some qol improvements"
- IAlwaysL0se
"I used to hire new park workers at the first of every month, then on the last day I'd drown them because then you didn't have to pay them..."
"I'm actually a union member today, not Jeff Bezos. Turns out violent video games aren't a precursor to our society's problems after all!"
- markmargles
"Made by a single person (Chris Sawyer) over the span of two years. Absolutely insane feat."
- Goodk4t_
Street Fighter II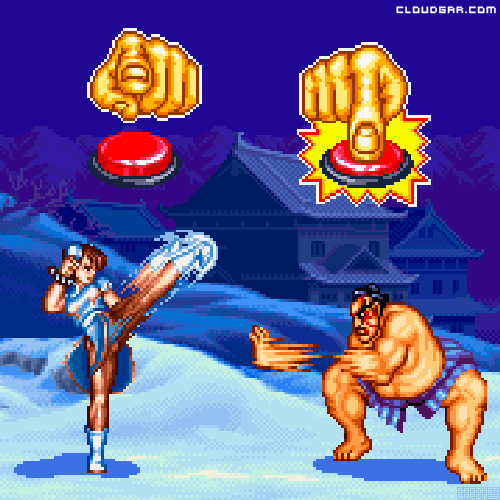 street fighter vs GIF
Giphy
"I swear Street fighter 2 still has relatively nice graphics. It came out in 1991"
- FantasticSweet5902
"It changed everything. Play any fighting game prior to Street Fighter II and it feels almost unplayable. Yie Ar Kung Fu, Karate Champ, hell Street Fighter 1 is so awful compared to it that no one remembers it."
"Street Fighter II is so well thought out and fully realized. It's hard to emphasize how amazing that game is given how ubiquitous it is now."
- Boon3hams
"Sprites tend to age much better than polygons!"
- ChunLi808
"I think most 16 and 32-bit games still hold up really well graphically. Just something about that spritework, particularly when done well, is timeless"
- Stuff2511
"I remember playing minigolf and seeing streetfighter II on an arcade across the way, it looked so cool compared to anything else at the time i had to play it."
- jeffryu
"haduken"
- SupremoZanne
Tetris
"Tetris"
- Amberskin
"True. They say playing Tetris after experiencing trauma decreases the likelihood of developing PTSD."
- overthinkingagainlol
"Tetris is my one example of a literally perfect video game."
- JoakimSpinglefarb
"This was my very first thought."
- NoodleDoodleGirl
"Ah, Tetris, the game that teaches us that success doesn't last and mistakes pile up quickly"
- Micaiah9
"And now I have Tetris music in my head all night."
- nigelofthornton
"I still keep an OG GameBoy in my bathroom so i can play Tetris when I sh*t."
- Serenity650
"The game so addictive it has its own psychosomatic effect named after it."
"The Tetris effect: researchers had participants in a study play tetras for extended periods of time. Afterward the participants experienced weird psychosomatic effects where they could see the blocks spinning outside of the game in their thoughts and even their dreams for up to days."
- Whybotherr
Final Fantasy Tactics
"Final Fantasy Tactics. Amazing story, great music, fun battle mechanics. The only issue is the difficulty (once you understand the game or grind levels) becomes trivial... but with mods - boom bam."
- NateProject
"Yes, everytime I try to play a Japanese SRPG, I keep getting disappointed because its NOT FINAL FANTASY TACTICS, which is of course the pinnacle of the genre. Or maybe I'm just old and don't have as much fun as an old person."
- DryEyes4096
"No, FFT is absolutely the pinnacle of the genre and it's not even close. Tactics Ogre: Let Us Cling Together gets honorable mention though."
- TragicHero84
"God this game is such a masterpiece. I played War of the Lions as a kid and I loved this game. Recently I picked it back up, and this game is still great. Even better than I remembered as I really got sucked into the story and just love how vile the villains are in this game."
- Jalina2224
"My favorite game ever. The difficulty is no joke though if you don't use guides or have much patience to grind. I knew two people back in the day that gave up on the game because they got stuck on a battle but also couldn't back up and grind. Honestly the only reason I avoided this is because it almost happened to me at the Gafgarion fight, so I always maintained a save file where I could grind if necessary."
- Qurdlo
Mario 3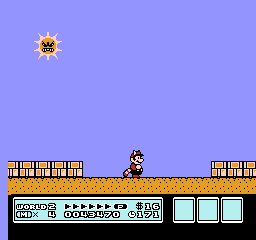 Super Mario Bros 3 Sun GIF
Giphy
"Mario 3"
- Keksis_theBetrayed
"A kid brought Mario 3 into school the day it came out to show off, yes I'm that old. We were all in awe. Everybody had already seen gameplay footage from that movie the wizard, which was pretty rare at the time. I got it a short time later and it 100% lived up to all the hype. Still love playing it today on emulators."
- littlegreenb18
"I still play Mario 3. My original NES still works perfectly and is set-up in my living room. I remember the 'secrets' published in Nintendo Power magazine on how to get hidden 1-ups, an extra whistle, the coin ships, etc."
- SubAtomicSpaceCadet
"Came to say it. Now I'm gonna go play it."
- staggere
"The angry sun is one obstacle to deal with!"
- SupremoZanne
"My teen saw me playing Mario 3 and said, "What, did somebody take a modern game and make it look like the 90s?" This is why Nintendo is Japan's most profitable company - their creators have always focused on creative, engaging gameplay, and they've done it so well that 30-year-old games still feel contemporary."
- schlockabsorber
"When I was younger and still got emotional over stuff, I would always play Mario 3 when depressed or upset. It was just a soothing way to just turn off my brain for awhile."
- Ashitaka1013
Doom
"Doom"
-mike_markerson
"Most old games feel clunky. Doom 1 and 2 are still as smooth as butter."
- Matt463789
"Yes, the OG. I replayed classic Doom, as well as 2 and 3 recently. Then I replayed the original Wolfenstein."
- smoffatt34920
"this reply is way underrated. love classic doom game with its literally tens of thousands of fan-made maps."
- ritaremton
"I'm upset I had scroll down this far to see Doom."
- YuShtink
"Why is this so far down? 30 year old game, and I was playing it this morning"
- ogGarySe7en
"People complain about all the rereleases of Skyrim over the past decade. Meanwhile I've bought DOOM on Win 95, Win 98 (Collector's Edition), SNES, PlayStation, SEGA 32x, Jaguar, Xbox Live Arcade, GBA, Steam, Mobile, Switch... And I'm sure I'm still missing one or two. And I don't regret a single one, even if some of the older console ports are rough."
- LandauTST
Now for my personal little interjection here - Elder Scrolls:Oblivion.
It kind of crushes my soul to think of a 2006 game as "old school" so let's just focus on the reasons it's amazing, kay?
Oblivion gave us options on options on options. The programming was a masterpiece, so much so that even the glitches become glorious works of art.
And Sheogorath??? Perfection.
You know what the gamers of Reddit feel, and you know my vote - though my regular readers are probably tired of me ranting about Oblivion by now.
But what about you?
What classic game still gets you going?
Keep reading...
Show less
They say life goes downhill after reaching the age of 40.
While I'm not sure who first made that assumption, it's not necessarily true.

Many people started new careers–even started a family–after they've gone "over the hill" and continue to thrive.
Sure, people in their 40s may not be as agile as they used to be when they were in their 20s, but it doesn't mean they can't maintain a healthy and active lifestyle well into the next decade or two.

In pursuit of looking for affirmation that life isn't over after hitting 40, Redditor Drakken11577 asked:

"What is better about life at age 40 than at age 20?"
There's a different mindset that shifts once you hit 40.
Forget What People Think
"Your 'give a damn' slowly breaks down and you care more about what makes you happy instead of what people think of you. It's a freeing experience."
– OfficeChairHero

Earning The Phrase
"'IDGAF' as a catch all just makes you an a**hole. Any kid can be an a**hole. It takes maturity to know when to give a f'k and when not to."
– ppardee

​Embarrassment Is A Time-Waster
"That's the point that I'm at now. I care deeply and passionately about issues and people, but what they think of me is not one of them."
"It's simply a learned behavior after years of worrying about people's opinions of you and staying up late replaying conversations in your head. At some point, you realize all of that time was wasted and you probably never even see any of those people now anyway. Nothing was accomplished by being embarrassed or having worry."
"When people say, 'dance like nobody's watching,' That's sound advice. Very few people's opinions will actually matter in your life. Listen to the opinions of the special few that know you best and discard everything else."
– OfficeChairHero

Seeing What's Most Important
"More disposable income."
"The absolute best part though, is really not giving a flying F. Someone is mad at you, what's gonna happen... they aren't going to pay your mortgage?"
"Really, at that age, you realize what's important. You've seen/experienced a decent amount so not much phases you anymore."
– bonemonkey12

Impossible Expectations
"In my 20s, I used to feel like I had to do something amazing with my life and change the world, or I was wasting my potential. It was probably the reason I got depressed so much. At a certain point, I have come to accept the fact that I am among the 99.9% of people who are just kinda living our lives and not doing anything exceptional, and that's ok. Disclaimer: I'm not over 40, I'm 35, but close enough."
– ElToberino

Best things come to those who wait.
More Confidence
"I know myself far better, still learning obviously but it's nice feeling happier in my own skin."
– Itsamemario3007

Wisdom
"Knowledge, life experience."
– MyDadBod_2021

Kid At Heart
"I still feel like a kid at 48, and still feel like I have no idea what I'm doing, but I am making much more sensible choices in life. In my 20's I had tons of credit card debt, these days I don't buy it if I can't afford it. I don't feel mature, and my sense of humor is downright sophomoric, but looking objectively at the way I approach life, and make decisions, I have matured a great deal."
"According to my 80-year-old parents the whole 'I still feel like a kid' thing never goes away."
– mike_e_mcgee
"Won't Ever Want To Go Back"
"You have your sh*t together. You are comfortable in your skin, you don't give a sh*t what others think of you, and in my case…kids were older and easier. I love my 40's and wouldn't want to ever go back."
– Capricornyogi

And people had plenty to say about what goes on in the bedroom.
Here's The Difference
"Sex."
"In your 20s, it's about having sex."
"In your 40s, it's about having memorable sex."
– ksozay

No More Insecurities
"Practice makes (more) perfect."
"It's a combination of being more experienced and less self-conscious. Sex at 20 is often times much more fraught with insecurities and just lack of experience. Also, look up the difference between adrenaline sex vs oxytocin sex. You can still have both at either age of course but age and time usually make the latter more common."
Older = Hotter
"100%. I'm 37 and my girlfriend is 42 and the sex is the best I've ever had."
– Justaguywholikeswine

People who complain about getting older are just wasting their breath.
That train has already left the station.
So what do you do with the time you have left on this planet? Live. Thrive. Have the best sex ever.
Because hitting 40 is only the beginning of good adventures to come–made possible by your acquired wisdom and life experience–as long as you allow the space for them to happen.
Keep reading...
Show less
Dear parents born in the 80s/90s :
Your child is probably (we never really know for sure) not a weed dealer.
Probably.
So if you hear them talking about "mids" - they're not talking about average grade or potency cannabis. They are, in fact, probably talking about your lame old self and/or something you own or tried to give them.
Reddit user Kengriffinspimp asked:

"What slang word did you hear that let you know you are no longer young?"

Now, the reason I can give you this lesson is that my 15-year-old looked me dead in the face and told me I needed to stop buying mids because it was bumming her out.
So I'm all:
"First of all, how did you get into my lockbox? Secondly, my cannabis is medical grade, prescription, and grown on a small batch boutique farm and probably blessed by the rains down in Africa or whatever, thank you very much. And third of all, when did you become a budtender???"
​... You know those moments where you're blankly staring and the other person is blankly staring and then you suddenly realize you two are absolutely not talking about the same thing?
Yeah.
Turns out my teenager was bummed that we had purchased some non-Eggo waffles and, while they were chocolate chip so not TOTALLY unacceptable, the quality was "meh" and she wanted her high-grade waffles back.
Waffles. Not Weed. Just waffles.
"Mid" is just what the young people now call anything of mediocre/average quality now.
Turns out I'm old, and also that my children are bougie and need name-brand waffles.
Oof
" 'Oof.' All the Roblox players thought they invented it."
- theoptionexplicit
"Oh. My. God. My partner and I can't work out why her 11 year old niece says oof all the time. But she is a Roblox player - we know that. Is that where it's from?!?"

- J321J
"This whole time I thought 'oof' as a Reddit thing."

- 8B3B383B
Is There A Fire?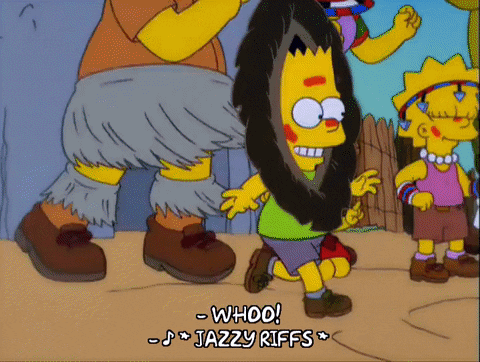 bart simpson dancing GIF
Giphy
"Lit has changed meaning from when I was young. Couldn't understand the context when I started hearing it again."
- pmpmd
"Is something on fire??"

- merelycheerful
"Lit af bro"

- SleepyBear3366911
"We used to use it a lot in Counter Strike to indicate the amount of damage someone took."
"An example would be , 'he's lit 90'."
- SmokeSatan_HailMeth
"Bonfire lit?"

-Navasxdxd
Negative Visor
"For me it was 'no cap'."
- Kengriffinspimp
"you bussin'."
"...actually I have no idea wtf that means either..."
- future_sport_pilot
"Was going to say this exact thing. What does it mean?"

- letsmoseyagain
"Even knowing what it means immediately based on the context, the phrase just irrationally irritates me."
"Idk what it is. I just have a small urge to smack whoever says it."

- User Deleted
"I went to ask a coworker if he had left some product in my designated loading area (forklift certified). "
"He told me 'that's cap'. I had to look over to a buddy and asked if that meant it was true or not true. I'm only 28 and this happened last year to me..."

- galax667
Pogs Are Back?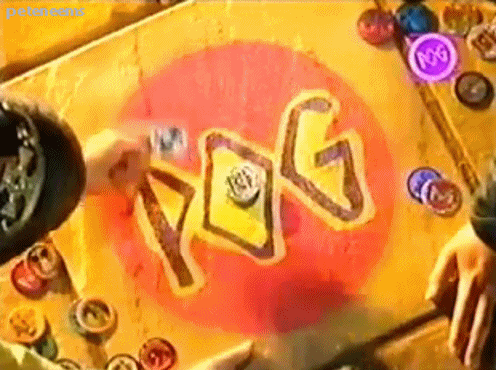 90s pogs GIF
Giphy
"When my son is impressed by something, he says it is 'poggers' which I guess means "pinnacle of gaming' according to him."
"This is true and gets used even if the impressive thing has nothing at all to do with video games."
- HawaiianShirtsOR
"It's not actually an acronym (people always think it's 'play of the game' as well)."
"There was this twitch streamer who was actually playing pogs - like that chip game thing from the 90s? He got excited and made a goofy face, which got turned into a meme/twitch emote. So like, a zoomer meme that is built off a millennial game? I dunno."
"But yeah you basically got the actual meaning down."
- awfulrunner43434
"Omg I thought poggers was a joke? They actually say it? Lol well here's my answer!"

- TreClaire
"It's like proclaiming "f*ck yes", being very impressed, whatever they saw is awesome."

- Kirkonvaki
Who Has A Mop?
" 'Drip.' "
"My kids explained it is akin to the 'bling ' or 'swag' of my youth."
- solipsisticfantasy
"Drip is swag"

- yesbutlikeno
"I first encountered 'Drip' watching WWE wrestling a year or two ago."
"One of the characters was calling himself the 'Drip King' and the announcers kept going on about it, and I was wondering if they were talking about his long, wet hair or if I was now too old. "
"It was the latter, of course. Not a surprise, though - I've been a regular Internet user for 25 years and have been made to feel old on pretty much a weekly basis for 15-20 of them."

- Chris_Buttcrouch
When Did Public Transport Get Cool?
"Listening to my 10 year old son talk: 'Mom, this food is BUSSIN GOD ON GOD'."
".. What?"
- Halloween_Barbie
"Did you learn what the hell bussin means?"
- Kaiser93
"Watched Joshua Weisman on YouTube for a bit, he uses this term now. First time I heard it was a year ago from an ex inmate cooking prison food on Facebook."
- coolcrushkilla
"I work in the industry."
"Bussin' is something you do to tables."
- jayemadd
"I'm broke. Bussin' is something you do when you don't have a car."
"Why is it popular? When did public transportation get cool?"
- [Reddit]
Yeet Stays
" 'Yeet' - meaning to throw something hard/far."
"I like the word, but I still feel weird whenever I use it. My 6 year old plays lacrosse and I instantly regretted when I yelled 'Yeet it'" at a game ... cringe moment for me, honestly."
- MiaMae
"My five year old has never known a world without "yeet." When talking to old people he uses the formal word throw.

- DarrenEdwards
"I'm team 'yeet' for sure!! In my mid 30s and as a coach I love it. I'm young enough to impress with my skills (experience) yet old enough to make them cringe when I say it. It's a dad's perfect storm."

- BigTurnin
"As a 30-year-old, yeet is the perfect word I didn't know I needed until I found it. There wasn't anything nearly as snappy to shout that meant "I'm throwing something" before. We had "think fast" back in my day, but yeet is so much better."

- kore_nametooshort
"I'm 43, but I'm all in on yeet. It's a great word. Past tense is yote."
- Crunchycarrots79
"Of all these, I kind of like yeet. It's almost onomatopoeia. When something gets thrown unexpectedly or absurdly far, describing it as "getting yeeted" cracks me up."

- DMala
Context Clues
"Fam. I understood what it meant by context, but that's when I realized I'm no longer part of the youngsters."
"Went directly to the mall and bought me a tweed jacket."
- ImInJeopardy
"Did you tell the shopkeeper that tweed apparel was sick?"
- Strain128
"I feel like this word will get integrated into the middle class lexicon in about a decade, my Dad is as white as they come but now says 'Where you at?'."
- LochBodminMothFoot
It's A Fight?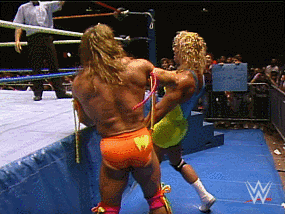 Ultimate Warrior Wrestling GIF by WWE
Giphy
" 'Slaps'. Took me so long to figure out if it meant good or bad so I had to look on urban dictionary"
- ClassyJacket
"Back in my day, and in my country/city, 'slaps' used to mean someone was about to get a beating"

- dnc_1981
"This is so far down. First time I really truly felt my age, also the urge to become the one who slaps."

- TarryBuckwell
Meh
"Mid"
"I still don't get what it means"
- Luna_17134
"Yah saw that somewhere recently in that Pam meme and inspired this post haha"

- Kengriffinspimp
"To say something is mid, is just like saying it's mediocre."

- yoiliketopramen
"It's an insult, it's saying its medium, middle, or medicore, but mainly used to describe things/people that people dislike. I think it got popular after everyone hated jellybean"

- AIex-Shaw
What's The Wager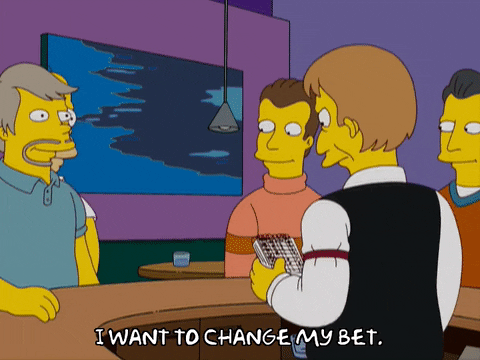 betting season 20 GIF
Giphy
"First time someone said bet, I waited for their wager.."
- DCJustSomeone
"For some reason bet really irks me"
- DirtMeat_Supreme
"But what DOES it mean?? I hear it and cannot figure it out!"
- [Reddit]
"It means wholeheartedly affirmative."
- Kirkonvaki
"I thought it was more like 'you bet!' also some people say 'you betcha' which is short for 'you bet your _____'."
"You want some fries? You bet your a** I want some fries."
"Want some fries? Bet."
- DesignerGrocery6540
Based, Not Basic.
" 'Based.' Whenever I fucking hear that I fucking yell to the person 'Based on WHAT!?.'
- wkrhireh
"What is based…."
- Kengriffinspimp
"F*ck if I know. I have yet for somebody to actually tell me what it's based on."
- wkrhireh
"I looked it up and google told me it meant something like 'being yourself without caring what others think'."
"I have to look up slang on google... I AM old."
- letsmoseyagain
Glizzies Bears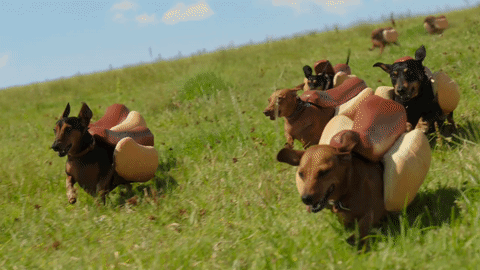 hot dogs GIF
Giphy
"Calling hot dogs glizzies"
- iuytrefdgh436yujhe2
"Wtf!?!?!? Lol"
- Kengriffinspimp
"Hmm a glizzy typically refers to a Glock."
"Some peoples kids.."
- darealJimTom
"Calling anything a glizzy"
"Whether it's a hot dog"
"Or a gun"
"Or your genitals"
"That term is just ugh"
- yoiliketopramen
"It sounds like a poor man's jaunt"
- Kengriffinspimp
Brrrt Or Brrrr
"I don't really get the "[something] go brrrrr" thing."
"I used to get memes but now I'm like "huh" with some of the latest ones."
- rainbow_bro_bot
"Blank go brrr comes from awesome abilities of the A10 warthog in combat. Watch a vid. Then you'll understand."
- Vast_Advantage_7913
"I used to live basically right next to an A10 fighter wing. Those things are so understated and absolutely insane. Hearing them train was impressive."
- [Reddit]
"Yeah, you are correct, except. It's supposed to be BRRRRRT the sound of the Warthog's God Mode cannon. I only know because I'm an aviation nerd & have seen about a thousand Warthog BRRRRRT memes"
- MysticalEmpiricist
"Just know most memes don't take themselves seriously"
- GEMO224
Wait, GigaChad?
"Chad. Like when did it change to be a good term? It's been around since the 80s, and the term has changed, but it was always derogatory."
- RagingAnemone
"It's not good though. It's used mostly ironically. Like self-deprecatingly or jokingly"
- DelightfullyUnusual7
"Not really. Chad is generally used for anyone respectable. For example, Zelensky is often referred to as a gigachad; I've heard it used no other way than positive, including unironic use."
- DelightfullyUnusual7
"Chad and gigachad are different though."
"A Chad is some one who tries to portray himself as an ubermasculine specimen of maleness, but is generally viewed by others as a self absorbed douche."
"A gigachad succeeds in the same attempt without even trying."
- Bud_the_Spud
"This wasn't the case in 2016 when I first joined Reddit. Chad was code for the biggest douchebag ever back then."
- Just-Call-Me-J
Pop Off
"Popping off."
"Apparently it doesn't mean talking sh*t anymore. It's like, when you are showing off, or something .... I'm not even that old yet."
- Orionishi
" 'Popping off at the mouth' is talking sh*t, but when shit is about to 'pop off', it means the event in question will soon start in earnest."
- joombaga
"The only meaning I know is from videogames. When someone is suddenly doing very well, you say the person is 'popping/popped off'."
"All these other words.. no idea."
- ColaDeTigre
Fixing to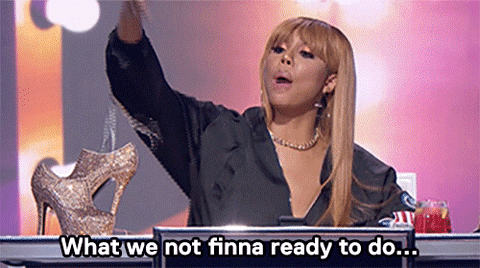 what we not finna ready to do tamar braxton GIF by VH1
Giphy
"For me it's finna"
" 'Gonna' is the same amount of letters and sounds more appropriate with basic sentence structure."
" 'I'm gonna go to the mall' 'I'm finna go to the mall'."
"The f*ck?"
- aboxofGoldfish
"AAVE for 'i'm fixing to' which is a variation of 'i'm going to'."
- nutshells1
"No clue where it comes from but after I heard it the first time it just fell into place. I don't even think about it"
- POKECHU020
"Fixing too (finna) is a very southern saying. I think...now I'm starting to doubt myself."
- onedemtwodem
Welp, now that I'm nearly 40, it's very probable that I will never again understand the majority of what gets talked about when this question comes up.
I need to go sit with that and feel my e-mortality now.
Keep reading...
Show less
We're always told to "respect our elders." In truth, many of our elders are wonderful and understanding people. Others are definitely not.
Many young people are very frustrated by older generations. Technology has taken its toll. The job market does not resemble anything that it used to be. The realities of the climate crisis continue to compound. Geopolitical events are raising tensions. Global inequality is at an all-time high.
Given all this, how can young people be expected to bridge the gap between their philosophies and those of people much older than them? People shared their frustrations with us after Redditor baker109123 asked the online community,
"Younger people are Reddit, what are you tired of hearing from older generations?"
"As a 29-year-old..."
"As a 29 year old, tired of older people telling me I'll understand joint pain, tiredness when I'm older. I'm disabled and chronically ill. I have had bad joints since birth. Like it's great that all your health problems are a result of your age but mine have been around and will worsen because of that."
supermeg77
It's true. Some of the older people don't understand that those younger are just as capable of being in the same (or worse) chronic pain then them.
"My mom and I got into a fight over housing affordability. " Your father (55)and I (53) worked very hard to afford this house (175k) and you make more than we did at the time we bought (1992)."
"The house now is worth about 1.5m, my mom didn't work and my dad made 100k/year. I make 150k and houses in my price range are 600k 1hr+ away from where i want to be and less than half size with less than half the lot."
x-Sleepy
Your parents bought their house at the best possible time. The income to house price ratio hadn't been that low for like a century and now is exponentially worse.
"I have more life experience than you…" then proceeds to go on an emotionally stunted rant based on their own personal bias due to trauma they refuse to process because "they know best."
[deleted]
Oh, don't remind me. How many times have I heard that one?
"A little bit late to the party, but as someone (30) identifying as LGBTQ, literally pretty much anything they have to say about queer/trans issues. Probably the most annoying thing is being CONSTANTLY reminded how hard it is to remember my name and pronouns despite being out for years now."
iamth3walrus
They didn't have all this trans stuff cause it was hidden
It's so invalidating when people react this way.
"I am 44 but I still feel like I am young. I am tired of hearing pretty much everything my generation says. I don't understand when everybody else just suddenly morphed into their parents."
Hattkake
I am younger than that and am still wondering when some of the people around me morphed. Did this happen overnight and I just happened to miss it?
"Literally any and all job advice."
"Literally any and all job advice. Sorry, Deborah, but you've worked the same unionized position for 30+ years. The number of valuable insights you can give me about the modern labor landscape numbers somewhere between diddly and squat."
spenhizle
Been there. This is so frustrating. The job market is nothing like it was before!
"I'm a restaurant worker..."
"They're so judgemental and rude. I'm a restaurant worker and I swear young people are way more polite and easy going while older people have zero patience (even though they're the ones who are already retired), oftentimes make racist, sexist, homophobic and bodyshaming comments and still act like they're above the younger generation simply because they've been alive for longer."
dreamingofhogwarts
The respect they demand after such behavior is wild as well.
"I'm tired of people complaining about how younger people are terrible as though they weren't the ones that raised those younger people to be what they are."
photoguy423
Ah, logic! A rarity in this world, it seems.
"Then promptly ask us..."
"How we can't fix anything ourselves. Then promptly ask us to fix their WiFi, set up their new phone and figure out why their computer is running slow. We can do plenty, we just have a different skill set!"
[deleted]
This is an excellent point. Everyone brings different skills to the table. Why is this so hard to understand?
"I hate how we've gone..."
"I hate how we've gone from me getting facebook as a teenager and my parents being like "DON'T BELIEVE EVERYTHING YOU SEE ON THE INTERNET" to them sending me "medical research" from unverified/unreputable sources."
ydmat3
And then they get very angry once they're fact checked. Who'd have thought?
"Buddy, I've been working..."
"Pull yourself up by your boot straps and work harder."
"Buddy, I've been working 60+ hours a week and prices keep going up and my pay is not and I actually cannot afford to change jobs, change my living situation, buy a more fuel efficient car, or go to college. There actually is no out."
"There is no work harder and I'll make it. I'm literally in the poverty trap. I'm slowly making my way out of it but it's going to be a long time unless some other opportunity magically appears. College isn't the price of a McDouble anymore old man."
[deleted]
Ain't this the truth. Sadly, many people are in this people and far too few people understand that.
It's very clear that there is an enormous generational divide. The difference between those who grew up with the internet and those who did not is massive. We could all strive to have a little more empathy.
Have some stories of your own? Feel free to tell us more in the comments below!
Want to "know" more?
Sign up for the Knowable newsletter here.
Never miss another big, odd, funny, or heartbreaking moment again.
Keep reading...
Show less