There are certain moments in life that are inexplicable. Somehow the Universe lined up your life with that of something else's, and by pure luck, you just happen to be in the right place at the right time to change your's, or someone else's, life. And the stories you're about to read are from just a few of the lucky ones.
Here are some of the best accounts of being in the right place at the right time. M1racle asked:
What was your best "right place at the right time" moment?
​Pure luck can truly save a life. It just depends on who is around to help.
It was fate.
"A buddy and I were driving down a remote highway in rural Alberta, two hours from anything. We were passing the only other vehicle we had seen in a while, when there is a huge shudder. The guy in the vehicle we are passing is pointing frantically at our front right tire, and his eyes are huge. The tire explodes. My buddy who is driving barely gets the vehicle under control in order to eventually get it slowed down and stopped in the shoulder.
That vehicle we just passed? A AAA tow truck, and I'm a member. He pulls over, checks my card, and changes the tire while we take a smoke break. We were back on the road in 10 minutes."
Rip currents are no joke.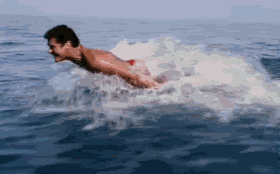 Ocean Surf GIF
Giphy
"Outer Banks North Carolina. I went down to the beach kind of early and I noticed a group of people right at the water's edge looking concerned, pointing etc. As I get close to them I realize there's a person perhaps 50 yards offshore floating on a little raft you'd see in a pool. I know there are nasty rip currents there, but I slowly start walking out in the water thinking as long as I don't get too deep I'll see how far I can get. I end up getting within arms reach of the girl on the little raft, when I realized her boyfriend and a guy probably in his seventies are holding onto the far side of the raft, as well. I ended up pulling them in and probably saving the old guy's life because he was really struggling to keep his head above water. Once we got the shore, he collapsed and was vomiting sea water until the ambulance showed up.
It was pretty stupid on my part, and I was probably right next to the rip current, not in it or I would have been screwed too. Anyway, none of my friends saw this, but the next day as we're down there, one of the group came over, handed me a beer and told them the story like I was some incredible superhero. So that was cool."
​Thank goodness for that nurse.
"It was actually my father.
He had received a double bypass about 12 years before and was now semi-retired.
My parents had a spot at the "First Monday Trade Days" in Canton, Tx. where they sold various things he restored/built. (It's like a very large swap meet). They generally set up on Wednesday and were open through Sunday. He had an awning he set up over his spot so he stayed in the cool shade. Normally, either my mother or sister were with him to set up and help run things. For whatever reason this time he was on his own.
According to the bystanders, he was reaching up attaching some rope to the awning when he had a heart attack. Technically dead before he hit the ground. It just so happened that the lady who had a booth a few spots away saw it happen and was a registered nurse.
She immediately started CPR while others called 911. When the ambulance arrived, they used a defibrillator and were able to bring him back.
He coded again in the ambulance on the ride over and they were able to bring him back again.
At the hospital, we were told that he would probably never recover as he only had about 15-20% heart functionality. (Spoilers - he recovered).
It turns out that despite his sticking to a heart healthy diet, his heart was deteriorating after the bypass (they only last around 10-15 years or so) and when he had his heart attack, the doctor reckons he had about 30% functionality. The heart surgeon said the only reason he survived is that his heart was so used to functioning on such a low level, that it wasn't as much of a "shock to the system" as if a person with normal function had that kind of event.
They gave him a pacemaker with a built in defibrillator, and he is still plugging along over 5 years later.
But if it hadn't been for that particular nurse being right there and seeing it happen....
They still stop by every year and give her a basket of goodies by way of thanks. (mailed it due to the CoViD last year)."
​Being in the right place at the right time can also mean massive career changes in just a split second.
​Knowing Excel pays off.
"I showed up to the temp agency for my first job on the day they were about to call a business back to tell them they didn't have anyone who knew Excel. I knew Excel very well, and after temping at the business for two months, got hired on permanently. I've been here for 30 years now."
People Break Down The Creepiest Research Holes They've Ever Fallen Down | George Takei's Oh Myyy
​Now THAT'S cool.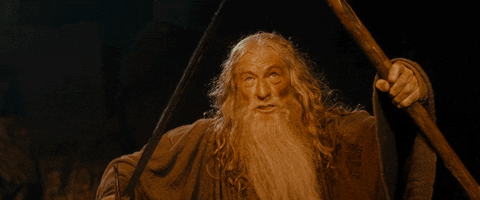 You Shall Not Pass Lord Of The Rings GIF
Giphy
"Got called up as an extra on Lord of the Rings, sent to the Minas Tirith set. Immediately greeted by "Hi Dingo!", make up artist was a friend from high school who had me set up in hero (close camera) Gondorian armour.
Got paid to hangout on a cool movie set, chatted to Sir Ian, can see myself in RoTK doing some stuff. And the ice cream truck came too!"
Dodged a bullet there.
"I went to a job fair, nearly two decades ago. Handed my resume around. Had a brief stairwell interview with a the PI of a small cancer research lab. Got called back, and part of the interview was with the tech I would be replacing. They did everything they could to signal to me all of the red flags that she was a terrible boss. Body language, odd statements, the PI was nuts and they almost said it outright. But I needed the job.
She called me back saying that while I was a great fit for her, actually her husband needed me more, would I work for him even though the position wasn't yet posted? In a much larger more prestigious lab because he was the Dept Chair, doing things better suited to my skill set (small animal surgery). And as it turned out, he wasn't nuts, he was a great boss. (His wife was really nuts, this was a close call). Two years later his recommendation got me in to medical school. I learned a lot and had a great experience.
Always interview like it's a great job, you don't know who's watching."
Most of all, cool happenstances like these always make for a cool story.
Score.
"I bought a single ticket to Kanye's performance of 808s And Heartbreak at the Hollywood Bowl. I was in the center nosebleed section. Pretty crappy seats but I was cool with it. I went for a walk around the venue before the show started. When I got back to my seat someone was sitting there. After I got the courage to confront him we talked and he was super apologetic he said his friends were there and he just wanted to talk to them. Since I was alone I just said "hey man if you want to switch seats that's fine, my seats can't get much worse".
He just smirked and made a comment about it being my lucky day then he gave me a paper that gave me a near front row box seat. The crazy thing is mid way through the show I saw him in a different box seat. I can only assume he was someone important."
​A very cool find.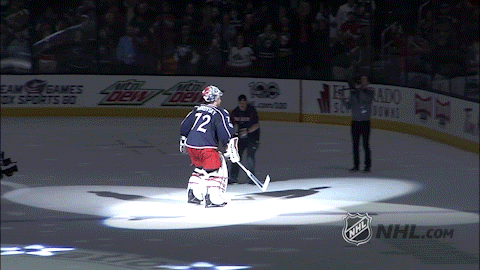 hockey stick GIF by NHL
Giphy
"Not necessarily the best, but today I was in a thrift store looking for a laptop bag strap, and found a really nice hockey stick. I picked it up, and it was a CCM composite, long enough for me, and a lefty curve. I carried it around for a while before I noticed the nametag on it.
After a Google search, I paid $4 for a game-issued but unused 2008-09 season stick belonging to Pittsburgh Penguin Maxime Talbot. (It has the NHL logos, inventory barcode with serial number, and player's stamp.)
The thrift store is within sight of the Pens practice facility, and there have been 2 sticks identical to this one at auction in the past few years. He's holding an identical stick on his trading card."
​Living the dream.
"I was doing an event for NASCAR in Las Vegas. We were at the end of the event, and had to get the cars from the display area to the trucks they use to transport them. This was something that we had planned on doing at 4 am when the crowds were low, but no one wanted to do that.
So, while we were having a meeting with the Las Vegas PD and the drivers, the LVPD captain said, "Why don't we just do this right now(9 PM)? I'll just shut down Las Vegas BLVD and we can drive the cars right down the street." Everyone agreed that was the best option, but one problem was, there were only 11 drivers for 12 cars. The question then went out to the group, "Does anyone know how to drive a stick?" Everyone kinda stared blankly at one another until I said, "yeah, I can."
And with that everyone went to hop into their cars, I got an incredibly brief tutorial on how to flip the right switches in the right order to start the car, then I was just left to my own devices. And that's how I ended up being able to drive a NASCAR car down the Las Vegas Strip. And, I only stalled it 4 times!"
​I lied- THIS is living the dream.
"I was at a fancy waffle place with some friends. The manager came out of the back and said they were testing new flavors of whipped cream for future waffles and asked if we'd like to participate since they didn't have many staff.
We all got to try lots of fun infused whipped creams. It was a good time."
Dumb luck can really pay off. My best advice is to follow your gut- you never know where it's going to lead you.
Keep reading...
Show less
Miraculous recoveries aren't just for the movies!
Keep reading...
Show less
Sometimes we just fall into a big pool of luck. And once we're in it we are stunned by the turn of events. But never question it. Just go with it. If that luck spills into finding a job that reaps treasure, treasure you know you're fully earning, just say thank you Universe. There are plenty of people in jobs they loathe and are being underpaid. Remember them.
Redditor u/TheLegendH1mself wanted to know who lucked out employment wise by asking.... What were some "I can't believe i'm getting paid for this" moments at your job?
Red Stickered....

Giphy
Worked retail and had to sticker hundreds of items of clothing with little black sale stickers. Just as I'm finishing up, I was told they changed their mind and wanted me to use red stickers instead. So I went back over every item with red stickers. It was also a public holiday in Australia so I was paid 2.5x my average pay, and spent six hours of my shift doing just that.
dyingonmyhill
"downtime" 
My old job deliberately gave us "downtime" when work was slow and wouldn't give us more to do till like 3. So me and my co-workers downloaded left4dead and played co-op lol
But then the bosses were mad we had so much free time like wtf you're the ones who decided to make it like this.
sadgal12
Smut. 
I write smut for a living. Every now and then, I write a line or get an idea for a story that's so ridiculously over-the-top that I genuinely have to take a step away from my laptop for a second and question exactly how it is this became my life.
My personal favorite is the very nice email I got from someone who wanted me to commission me to write a story about him being sounded by a Hot Wheels car. He wanted the first half of the story to be about the car stretching out his business as it went in, in great detail... and the second half to be about the damage the car's wing mirrors did.
I politely declined.
(I also love my job, don't get me wrong. I wouldn't want to do anything else. It's just really odd sometimes.)
Portarossa
Raise a baby....
In a past job (albeit a low-paid one), I got to help raise a baby sea otter and one day I had the task of combing and fluffing up her fur to keep her waterproof and help her float. I was literally being paid to groom an adorable baby otter.
sentimentalaqua
I want a job sitting at home petting my bunnies. Thank you for inspiring me to reach for my dreams!
shfiven
The Rough Edit.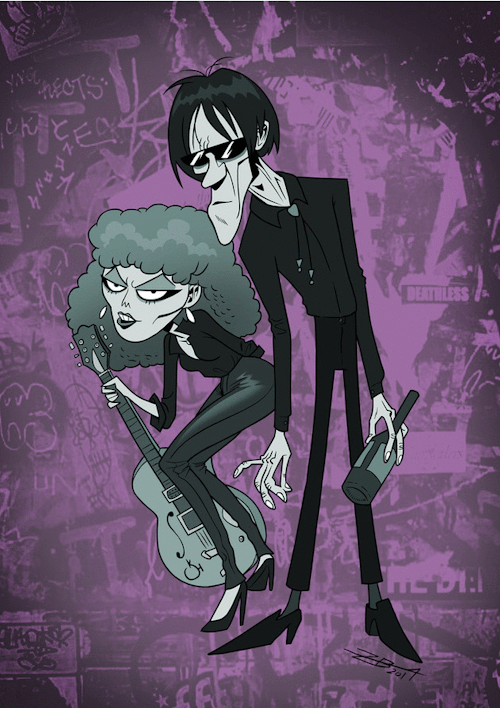 Giphy
I once worked as a graphic designer for a well known website/Facebook page about movies/series/video games/music, and sometimes I had to do very poor photo edits, like pasting a famous actor's head on the body of a cartoon character to illustrate the fact that this character will have this famous actor's voice in this movie... Or things like that. I was asked to do the crappiest edit possible to make the post funny.
Swimm_
Backstage Pass....
I used to make video content for social media to drive ticket sales for a major arts festival. I would go to the tech rehearsal for major operas, plays, ballet etc. There would be the full cast and orchestra performing as if they were playing to a full house but it was just me and my camera. I could move around to get the right shot.
I could go backstage and interview the performers and whoever else was in my brief to talk to. I got to tour around with an opera once. I have no background in this. I'm completely self taught and had only done really pedestrian jobs before this. It was amazing, I never would have wanted to go to an opera or ballet before this came along. If you ever have the chance to see something like this go. It's not as boring as you think it will be.
SavingsNecessary
​I was a photojournalist.
I was a photojournalist.
Getting paid to sit on the sidelines of major sporting matches, at the sound desk or in the pit of bands from ACDC to ZZTop meet all sorts of interesting people and create a photo to help tell their story.
I photographed John Cleese during a sound check - he went on a 20 minute rant about photographers - I had to ask him to stop as I was laughing so hard I couldn't take pictures, met Jackie Stewart and heard him speak about his time as a formula one driver.
It was an amazing job, and one I was very lucky to do for as long as I did - some days I would think "Some people would pay to be able to do this."
There were crap days too - sitting in the hot sun at a murder scene all day, watching police bag evidence sucks, as does attending car crashes in the middle of the night, in the rain. But I remember the good days better than the bad ones. Echo63_
Exposed. 
Expos. They bought my department first class high-speed train tickets to get there, paid all food, rooms, etc. and let us wander around and see all the technology and innovations. every customer or supplier of ours waved us into their booth, gave us beer, food, and free swag.
After the expo, there was a company party on the expo floor in our booth, free food, booze, and seeing probably 90% of senior staff of our company completely hammered.
Aside from that as a recent grad who had previously only had temp and part time jobs, I'm still amazed I have paid vacation (and a lot of it at that).
UltimateAnswer42
Not a bad gig. 
I lifeguarded for 3 years, sooooo much. When it gets rainy and everyone leaves the pool, they normally keep us around just in case it clears up. We watch tv and raid the snack bar. We play in the pool sometimes and blast music on the speakers. Having a party with a bunch of cute girl lifeguards while getting paid by the hour = not a bad gig.
ADecentURL
Fake News.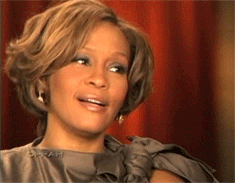 Giphy
Not at my job, but I was once in a documentary of the miners strike.
I got paid to spend a weekend throwing fake rocks at fake cops, shouting at them, it was so much fun.
TomasNavarro
110% Positive. 
I used to get paid to hack into companies networks, for the longest time it was my I can't believe I get to do this legally and get paid stupid amounts of money for it. Then it just started angering me when I realized all the companies network security suck, many were hiring me for a compliance check box and when I'd come back the following year they hadn't done anything, in some cases not even change the damn passwords I used from the year prior.
I now maintain a large list of companies I will never do business with using any type of credit card because I'm 110% positive it will be compromised if it hasn't been already.
emhphx
Dungeons and Dragons.
A positive one! I get to teach kids how to play Dungeons and Dragons for six weeks every summer. Rolling into work dressed in an elf princess costume and getting to play a game for seven hours a day it feels unreal. Am still incredulous every time that direct deposit hits.
puppypuppyl0v3
WOOF!!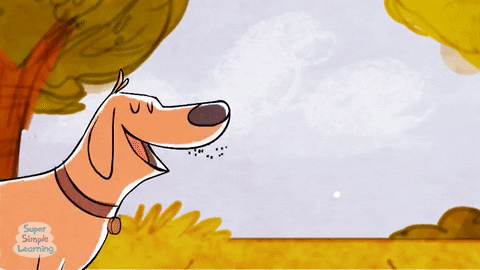 Giphy
Oh hey I can answer this one. I'm a dog trainer and we help dogs that are reactive to other dogs when on leash (i.e., barking/lunge at dogs when on walks) and one of the ways we do this is to drag a stuffed dog around (looks realistic) at a distance. You even talk to the stuffed dog, pet it, and pretend to feed it. All of this is happening while another trainer feeds the real dog any time they see the fake dog.
I've legit been asked if I'm crazy before until people figure out we are training a dog.
scifihounds
PDF Drawings....
Client wanted do a small tenant improvement to their existing office space and had existing PDF drawings of the office building (floor plans, cross sections etc)
I quoted the client $2k for architectural permit plans which would include redrawing the existing PDFs in AutoCAD and then drawing the proposed plans.
Before I started the task of redrawing the PDFs, I had the idea...
I google searched "PDF to DWG converter"
To my surprise there were many softwares that did this type of conversion.
I managed to finish the entire project in about 5 hours.
2ezyo
The Googler....
Working In IT, getting paid to be a professional googler basically.
Fleedizz
I work IT at a university. Professors are very intelligent, but rarely know how a computer works. I go on calls and spend 30 minutes chatting with smart, interesting people while I run malware scans on their machines. I rarely have a difficult issue to fix, but I walk out of their office as a hero everytime.
morningsdaughter
Save and Print. 
I sometimes use Paint to alter screenshots of a technical drawings which I then paste into PowerPoint to add annotations and then print the whole thing into monochrome pdf. And you best believe we're changing big money for all of this. Also, we print every email.
Radioactdave
beep boop beep...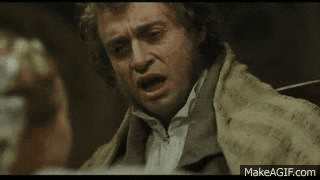 Giphy
I'm doing a project right now that a drunk monkey could do with his hands tied behind his back.
Microsoft Excel copy paste copy paste beep boop beep...
Mattlenc
Thanks Warren. 
Anytime a client takes me out for lunch or invites me to a golf or shooting tourney. but the craziest for me was when I was taken to a 4 hour "lunch" to a high end steak house on Warren Buffet's credit card. That was pretty dope.
Frekkes
"Remove horse genitals."
Probably the opposite end of the spectrum than intended but I work as a professional photo retoucher for a mid sized e-commerce site that focuses on women's clothing. So one day I was going through and editing lookbook images (meaning we outsourced a photographer, got a more expensive model, and shot on location), and in order to know which images we have a spread sheet which gives me an image number, a deadline, and editing notes which is something specific they want done to the image.
This is where things getting interesting. Im working my way through all of my edits when i come to an image number with a single editing note, "Remove horse genitals." Of course i think its odd and kinda funny but only expect to maybe have to remove a couple equine testes. So i open the image, the model in a field sporting a yellow fluffy coat walking a horse by the reins, and a massive, fully unsheathed, red rocket hanging low.
As I spent the next 5 minutes gingerly, and artfully, making sure this penis doesn't make it to the public I couldn't help but keep asking myself how the heck I'm being paid to photoshop away a horse's penis.
nachorykaart
Nice Legs...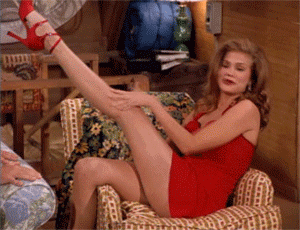 Giphy
I had to rub oil on a model's leg for a photoshoot. It was a positive "I can't believe I'm getting paid for this."
jaylowow
Keep reading...
Show less