Academy Award-winning actress Gwyneth Paltrow has an impressive list of credits ranging from 2001's The Royal Tenenbaums to 1998's Shakespeare in Love for which she won the Oscar for Best Actress.
Paltrow is more recently known for her recurring role as "Pepper Potts" in a number of films from the Marvel Cinematic Universe, beginning with Iron Man in 2008.
The 46-year-old appeared in seven Marvel Studios productions, including all of The Avengers and Iron Man films, but who's counting? Not Gwyneth Paltrow.
A few weeks ago, the actress was being tasked with zesting an orange on Netflix's The Chef Show and legit forgot she was in Spider-Man: Homecoming during a discussion with the show's host and former co-star, Jon Favreau, who played Happy Hogan and directed Iron Man and Iron Man 2. Favreau explained to Paltrow that his cooking travelogue series began development while the two were working on Homecoming together.
But Paltrow, who is the author of several books and owner of lifestyle company Goop, was confused.
She had absolutely no recollection of being in the movie and had to be reminded of her very brief scene with Tom Holland, who played Peter Parker.
Her hilarious reaction can be seen in the clip below.
Gwyneth Paltrow genuinely did not know she was in "Spider-Man: Homecoming" so this adorable interaction from "The C… https://t.co/G8hx5wUrNJ

— Jarett Wieselman (@Jarett Wieselman)1559921093.0
Holland, who stars in his second solo superhero movie, Spider-Man: Far From Home, took Paltrow's memory lapse personally.

The young bloke ribbed Paltrow while answering some Marvel-related trivia questions for Popsugar with his Far From Home co-stars, Zendaya and Jacob Batalon.
When Zendaya asked:
"What is 'Pepper' Potts's first name?"
Holland correctly answered:
"Virginia."
He then joked about being heartbroken over Paltrow forgetting she did Homecoming with him.

Watch the full trivia quiz video from Popsugar in the YouTube clip here.
Tom Holland, Zendaya, and Jacob Batalon Take the Ultimate Spider-Man Trivia Quiz www.youtube.com
Holland joked:
"I mean, I've only worked with Gwyneth one time, on 'Spider-Man: Homecoming,' which she doesn't remember. Which still to this day breaks my heart."
After taking pause the 23-year-old actor realized he and Paltrow were also in Avengers: Endgame, reminding him of yet another time she threw inadvertent shade.
"No, actually no, that's not true. One time when we were shooting 'Endgame,' she was in her blue suit, and I was in my Spider-Man suit."
"She came up and she asked me for a photo with me and Robert. And I think she posted it and she said, 'Robert Downey Jr. and myself and this guy'."
"I was just the guy. It was cute."
Twitter thought it was hilarious that Paltrow couldn't keep track of her work.
@JarettSays @offbeatorbit Imagine being so booked you forget that youre in a movie.

— Tommie Hillnxgga (@Tommie Hillnxgga)1559925836.0
@getFANDOM @marisastio @POPSUGAR She has a lot on her plate.

— Z (@Z)1561742727.0
But fans were still forgiving of the actress.
In her defense, Paltrow's cameo was at the tail end of Homecoming in which she arranged a business meeting to announce Spider-Man as a new addition to the Avengers.
@JustMeSriLankan @JarettSays @offbeatorbit In her defense she had a small role in homecoming and all those movies f… https://t.co/W46AWbNu5u

— Tommie Hillnxgga (@Tommie Hillnxgga)1559931384.0
@_KWONIIE @JustMeSriLankan @JarettSays @offbeatorbit And they all film out of order, dialogue is probably changed o… https://t.co/UaXMW5w1gg

— mg 💖🔮🦋✨🦋🔮💖 (@mg 💖🔮🦋✨🦋🔮💖)1559944029.0
@JarettSays I heart Gwyneth

— brittny pierre (@brittny pierre)1559921262.0
Spider-Man: Far From Home will be the final installment of Phase Three from the Marvel Cinematic Universe in cooperation with Sony Entertainment under their Columbia Pictures label. Sony owns the rights to Spider-Man, but allowed Marvel Studios to borrow the character for The Avengers: Civil War on the condition the favor was returned for Spider-Man: Homecoming.
Spider-Man: Far From Home slings its way into theaters on July 2.
Until then, enjoy the trailer here:
SPIDER-MAN: FAR FROM HOME - Official Trailer youtu.be
If you'd like to see Tom Holland AND Gwyneth Paltrow in Spider-Man: Homecoming, the film is available here.
Keep reading...
Show less
When it comes to making sure you stand out as an awesome coworker, one of the most honored, time-tested, fool-proof methods is to just bring food.
It works for offices, it works for retail jobs, and apparently it works for big budget Hollywood movie sets.
Robert Downey Jr. proved that one with a recent #TBT (Throwback Thursday) post on Instagram that has people kind of swooning.
RDJ "had the pleasure of hosting" a lunch on set for the women of the Marvel universe. He snapped and shared two images of the mini get-together.
If you're one of those people who likes to keep the fantasy pure and doesn't want to see the reality behind the magic, then maybe just skip looking at the pictures.
The group is sitting in a covered tent with a large air conditioning hose at the top and some plants to make it a bit of a more comfortable attractive space.
They're together at a long picnic table which is sitting on a patch of fake grass surrounded by a few bits of outdoor furniture. Essentially, it's a faux picnic!
The cast members are in various states of wardrobe and personal clothing mixed together. It's obvious the lunch was held in between scenes. Gamora (Zoe Saldana), Shuri (Letitia Wright) and Okoye (Danai Gurira) look like they could hit the set again with just a few touch ups.
For example, some of the body paint has rubbed off of Zoe Saldana's arms and the ladies of Black Panther are probably missing an accessory or two.
Mantis (Pom Klementieff) is just sitting around like an adorable bug in casual streetwear hanging out with Captain Marvel (Brie Larson), Scarlet Witch (Elizabeth Olsen) and Pepper Potts (Gwyneth Paltrow.) Evangeline Lilly (Wasp) could literally go for a walk and just look like some super cool person you'd like to meet.
And then there's Nebula (Karen Gillian).
If you're used to seeing her like this...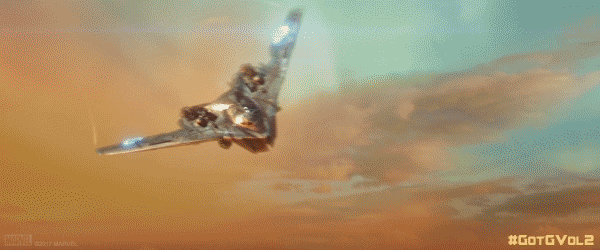 media2.giphy.com
...then seeing her as pretty much just a head sitting on top of a normal body might freak you out a little bit.
#SquadLunch!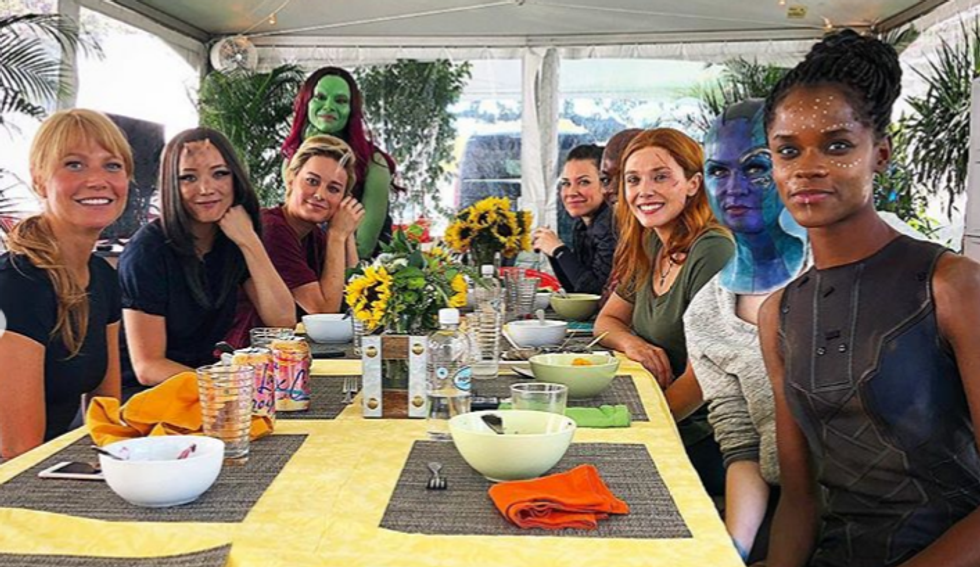 Robert Downey Jr / Instagram Screenshot
Here's RDJ's post:
Of course the comments and interactions came pouring in.
The image has almost 11.5 MILLION likes and well over 85k comments.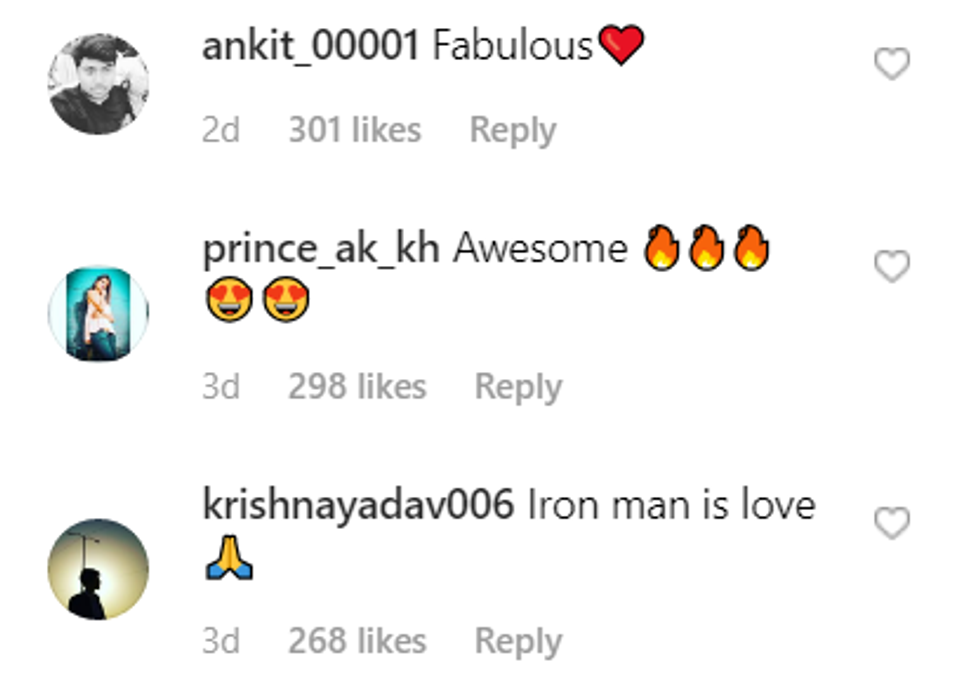 Robert Downey Jr / Instagram Screenshot

Robert Downey Jr / Instagram Screenshot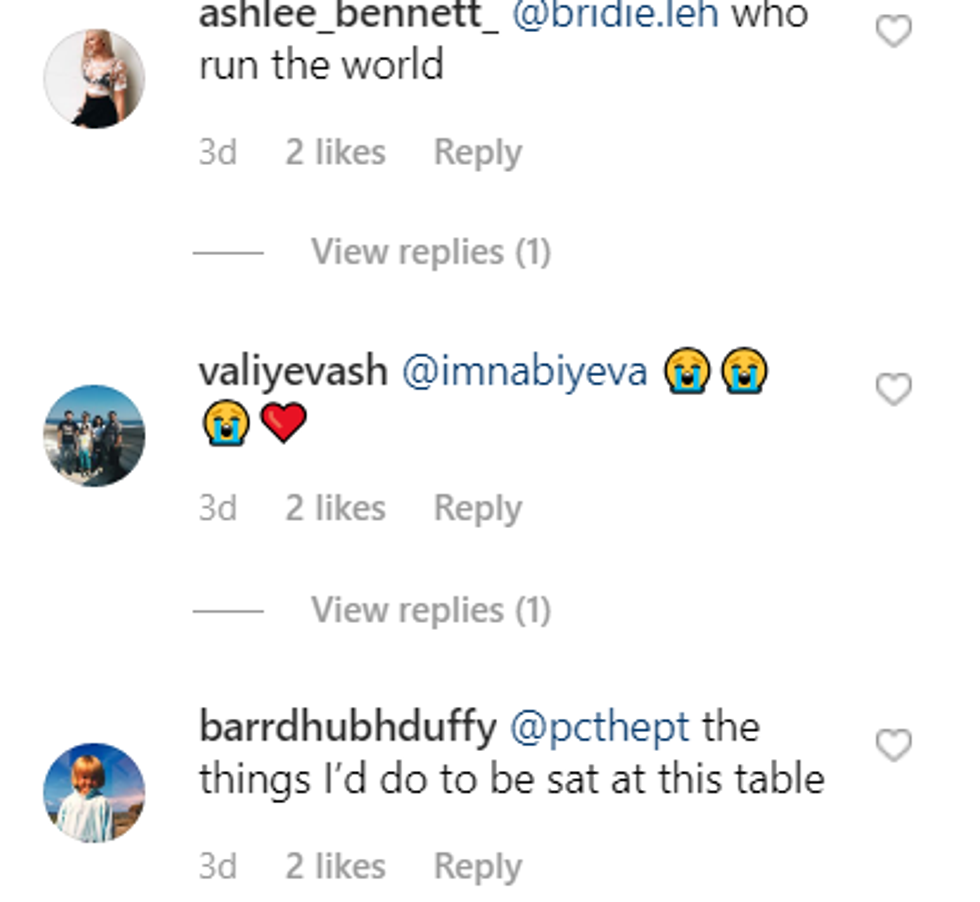 Robert Downey Jr / Instagram Screenshot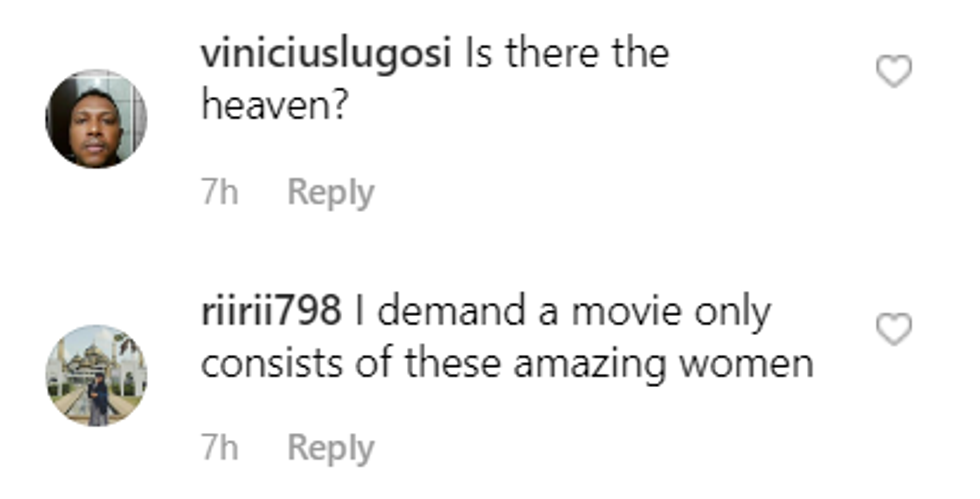 Robert Downey Jr / Instagram Screenshot
Of course, people noticed a few of the notable Marvel women were absent...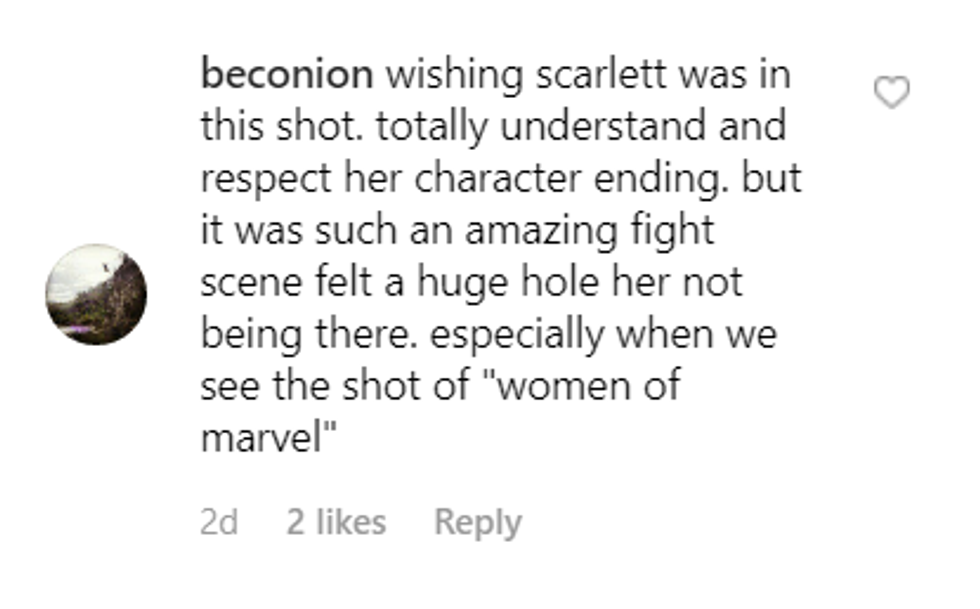 Robert Downey Jr / Instagram Screenshot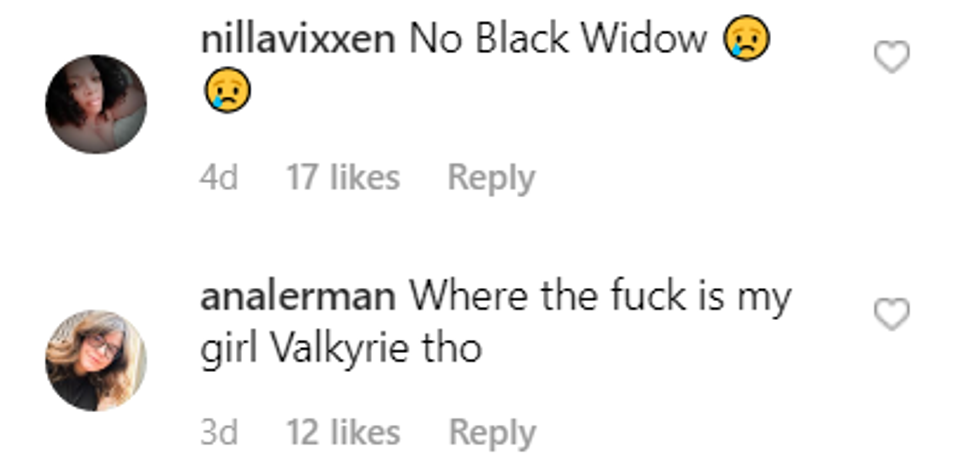 Robert Downey Jr / Instagram Screenshot

Robert Downey Jr / Instagram Screenshot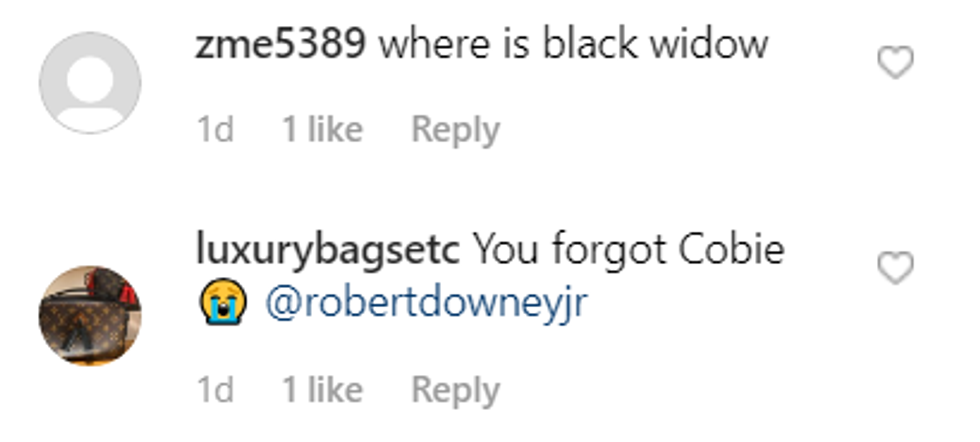 Robert Downey Jr / Instagram Screenshot
Don't stress, though. We are 3,000% positive that neither Robert, nor any of the Marvel fans, could ever actually "forget" any of the powerful women who just weren't there that day.

Keep reading...
Show less