The value of something, like art, is in the eye of the beholder.
An artist can only hope the value of their work skyrockets within their lifetime, and when it happens, it's like catching lightning in a bottle.
But can everyday objects have the potential to increase in value that are not necessarily limited edition, signed works of art?
All you need to do is to go on eBay to find out.
While you're there, you may find plenty of random items you thought were worthless at one time is going for a king's ransom today.

"What is cheap right now but will become expensive in the near future?"
Keep reading...
Show less
Teachers are superheroes. Especially teachers of the youth. Those are the years children (students) can be particularly brutal.
So a big thank you to them. I have always wondered about the truths of a teacher, haven't y'all? Like, what do they really think about the school? Their colleagues? Their students?
Teachers must have an inside track or instinct when it comes to how a pupil will turn out. Or are they more surprised about the finished product later?
Redditor u/hogw33d was hoping teachers out there would have a chat with us by asking them to share:
Long-time elementary school teachers, which of your former students surprised you the most by their adult life outcomes or personality?
I know I've looked at a bunch of my friend's kids and thought... "You're raising a psycho!" "You're raising an idiot!" Sometimes it's just obvious. And then sometimes you're thrown a curveball. I wonder what teachers catch more of...
The Genius?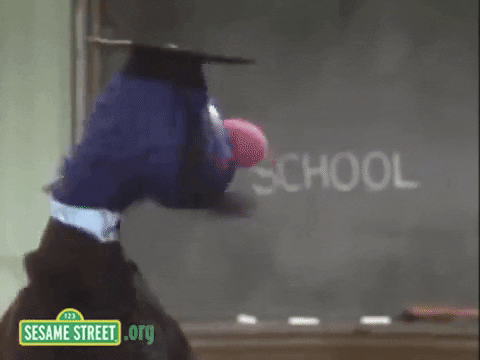 School Teacher GIF by Sesame Street
Giphy
"The student whose social skills were non-existent and whose academics were equally as troubling is in college taking nuclear physics. I swear he was easily like 3 grades behind when I knew him in primary/junior grades (Canada)."
Apologies...
"I had a student that used to get into fights and was extremely aggressive and violent towards others, on the last day of fifth grade his last words to me and his class were "F you!" -- many years later he came back to the school I'd been teaching at and looked for me so he could give me a big hug and apologize. In his words, "I was garbage when I was here, thank you for putting up with me and I'm sorry."
"I cried like a baby - I was so proud of him."
"E: You know, teaching can sometimes be a thankless job and a lot of the things I'm really proud about are usually only shared between me and my students (they don't give out a lot of medals to teachers ya know). Anyway, thanks for your time and attention. Overwhelmed by how many people got to share one of the best moments of my career with me in this friggin' post!"
The Inspiration
"I had a severe speech impediment in elementary school to the point where teachers would foist me off in the reading room (for kids with learning impairments and difficulty reading to get extra assistance) during class despite the fact that I was writing and reading at a very high level."
"The only person who vouched for me was my speech teacher. I met with her 3x a week during elementary school, she allowed me to stay in her classroom during lunch when they forced us to go to the playground and it was 5 degrees out, she gave me work to do over the summer so I could get to a point where I could actually say my name properly which had been my only goal."
"She encouraged me to tell my fifth grade teacher that I was reading at a higher level than he suspected, and, buoyed by her confidence in me, I did it and was moved to the highest reading group. I just told my parents this story earlier this year and they were so angry I had been ashamed to share, but grateful I had an adult vouching for me."
"I ended up 'graduating' speech in fifth grade after years of working with her and she was so proud. She had changed my life and given me the gift of speech. She believed in me when other teaching professionals simply heard me talk and assumed that it was easiest to assume I was a slow learner."
"I am now the communications director for a government official in my country. I messaged her on Facebook when I first got my job to tell her that I wouldn't be where I am without her. She remembered me (of course, she said - I wouldn't let her forget me😅) and she couldn't be more proud. She is one of my biggest online cheerleaders and I couldn't be more grateful for her work... I quite literally would not be where I am without her."
Best Excuses For Late Assignments That Were Actually True | George Takei's Oh Myyy
Still true Today
"I'm not one of these great success stories but I'm back home visiting and actually ran into my 3rd grade teacher at Starbucks. I was working on my laptop (WFH but my parents WiFi is crap so I work at Starbucks when I visit). I saw her sit down and it just kept bugging me why she looked so familiar because I swear when I was in 3rd grade I thought she was at least in her 50s so she would have to be like, in her late 70s now or something like that (chalk it up to a child's memory)."
"Anyway when I noticed she was getting ready to leave I asked if she was Ms. 3rd grade and she said yes with a kind of confused tone and I explained who I was and that she had been my teacher. She was SO EXCITED to see a former student and kept thanking me for taking a chance and saying hi to her and that she wished more students would do that because she loves getting to hear about her former students lives."
"So I guess if you are on the other side of this question and you see a former teacher, don't be afraid to reach out and just say hi, explain who you are and just thank them for their role in your education. She remembered me as the little girl obsessed with acting and reading. Still true today."
The Quiet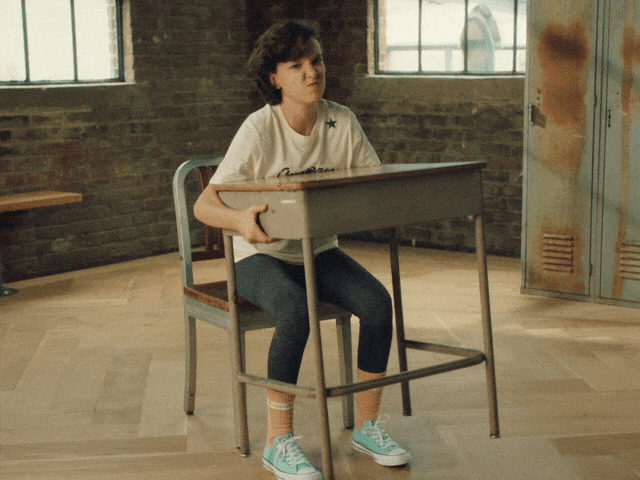 angry millie bobby brown GIF by Converse
Giphy
"Not me, but know a guy, lovely quiet chap who lived to draw. Teacher said his work was no good. Went on to be a senior effects artist and later works for a major computer games company and can of course, draw."
See... I told you. Psycho or Idiot. Easy to pick out. Although, some of these stories turned out a genuine surprise. And thankfully they seem to be good surprises.
breaking bad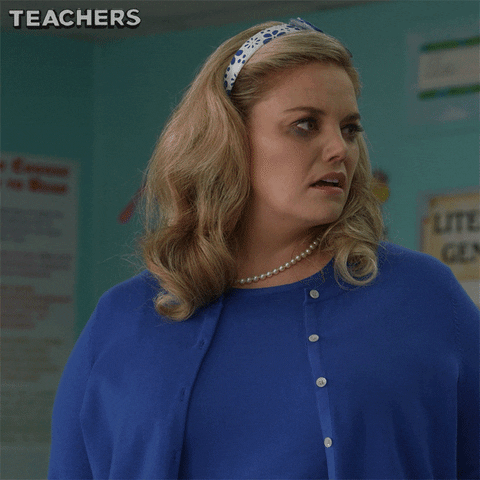 Oh My God Omg GIF by Teachers on TV Land
Giphy
"Was connected on social media with a former grade school teacher who shared a news article about a former student who got arrested for selling meth with an estimated worth of half a million dollars."
"P.s. The teacher is now a High school teacher."
"Smart Kids"
"I guess my mom might count since she's worked at the elementary school I attended since 1993, but she recently told me about one of my elementary school classmates. I was actually pretty good friends with him, but I thought he was a bit slow? And apparently, he had been evaluated for learning disorders several times in early grade school."
"He apparently just started a surgery fellowship at a prestigious hospital in Philadelphia. He definitely worked very hard in grade school and middle school, and now that I look back, he definitely sought out the "smart kids" in class and tried to befriend them and see how they thought."
He Made It!
"My brother was tutored by an elementary school teacher and he was a complete mess of a student as a kid. She was helping him transition from a top prep school to public school because the preP school didn't feel he would ever amount to much in their care. She tried several methods to keep him organized and help his reading skills to no avail. She continuously checked in with his teacher (worked at the same school) to see his progress and constantly had to talk to him on behalf of the teacher. Everyone loved him, he was just an utter mess."
"We ran into her a year ago and got to tell her that he got a full ride to law school at an Ivy League school. Blew her mind, but proof that some kids thrive in different learning environment. Terrible through traditional school but when he got to college, he thrived because of breaks between classes, time to study, picked his classes which were focused then trying to cover a thousand topics in a year, and got to know his teachers. Thank goodness for my parents holding out hope all those years ha ha."
No Reasoning!
"Not me, but a kid who used to be my friend..."
"He was studios. He got good grades. Teachers loved him. He was well behaved. He wasn't bullied. He didn't bully other kids. He had a lot of friends. He wasn't popular, but he wasn't unpopular. He was definitely more popular than me though. No one had a problem with him. Since he got good grades his parents let him do whatever he wanted. They bought him whatever he wanted."
"He had the latest video games and consoles as they came out. We loved sleeping over his house because we could stay up all night, jump on the trampoline at 2 in the morning, and we didn't even have to sneak out for mischief. We could just walk out the door. Anyways, he moved in 8th grade. I was sad. A couple years back someone sends me a facebook message of a local article. This guy stabbed someone 23 times and is awaiting a murder trial. I have no clue where his life took a hard left turn, but it did clearly."
The New Guard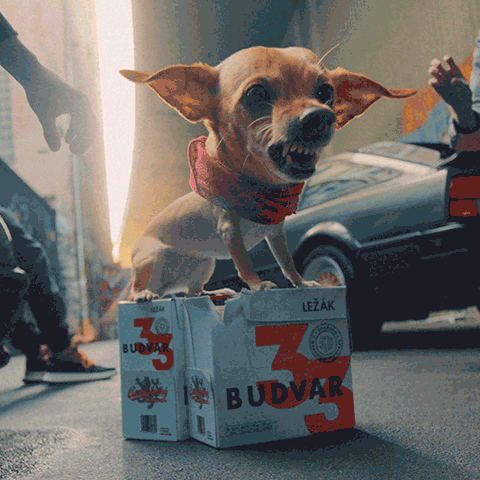 Giphy
"I've been on our PTA for a long time, does that count? There was a very skinny quiet kid who was super smart."
"The other kids picked on him quite a lot but he never stood up for himself. I always thought he would work for NASA or something as he was so smart. I saw his Linkedin a few months ago and he is now a prison officer at a maximum security prison."
Again, thank you teachers. Also, the life saying that seems to constantly resurface, probably because its the truest, fits here best. Never judge a book by its cover. No matter how weathered.
Want to "know" more? Never miss another big, odd, funny, or heartbreaking moment again. Sign up for the Knowable newsletter here.

Keep reading...
Show less
The future is here, people! While we may not have flying cars or the cure for the common cold just yet, we are definitely living in a time where innovations that haven't existed before are now debuting. The 21st century isn't quite what people in previous generations expected it to be, but it's pretty darn cool nonetheless.
Interested in the weird and wonderful things going on in our lifetimes, Reddit user Emeister26 asked:

"What is something that sounds futuristic but is happening now?"
Science has taken us so far in the last few decades. Here are some of the best of the best examples of modern medicine.​
This is revolutionary science.​
"CAR T cell therapy"

"They take the t cells out of a cancer patient. They train the cells to kill the specific type of cancer that the patient has and then they put them back in. This therapy doesn't work 100 % of the time, but when it does, it does miracles."
"(it's also expensive as sh*t for now)"
That's one way to pick up women.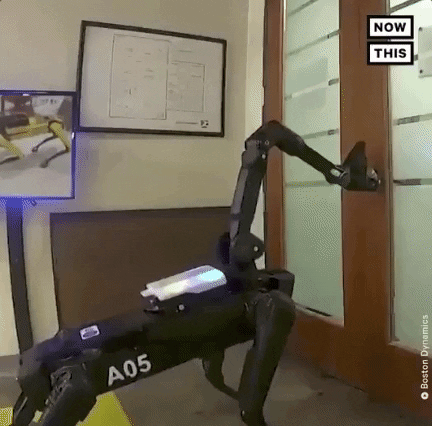 Come In Boston Dynamics GIF by NowThis
Giphy
"Robotic prosthetic limbs. I know a guy who lost his arm from a construction accident. He now has an arm that has a fully articulated hand, and is good enough that he can even write with it, though not very well."
"He said its worth about half a million dollars, and also it has done wonders for his ability to hook up with women. I guess a lot of people are curious and that starts off the conversation."
A fun way to check your blood sugar.
"I've been a type 1 diabetic since 1982. Back when I was first diagnosed I had to pee on a stick and match the color up to colors on the vial to see approximately what my blood sugar was a couple hours ago."
"Now I have an anamatronic fish that tells me what my sugar levels are and I don't even have to prick my finger! We truly are truly living in the future."
​Technology is also working wonders in the modern world. Flying cars will be here soon enough.
​A little spooky, but also neat.
"A program that is able to generate almost any (!!!) photo using short text input. A San Francisco street? Done. Avocado chair? Yes, why not. A photo of buildings of Poland? YES, it can do that.
It can generate almost any stock photo you can imagine, like any any, you can add parameters, lighting, ask to specific picture in the room... It uses 12 billion of pictures and descriptions to do this. There are two downsides of course: the first one is lots of lots of computational power. The second is that the program is losing the track after few parameters. Also it can do only 100x100 pixels at the time but it will change fast.
It's called DALL-E and was premiered this year. It's an AI made by OpenAI. Terrific and amazing at the same time."
Watch out for Carrie.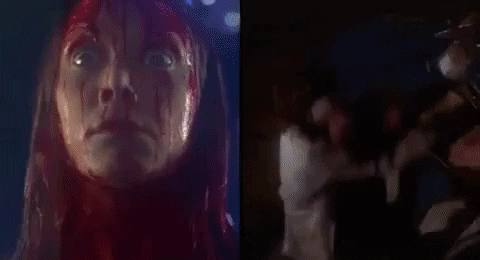 Brian De Palma Horror GIF by filmeditor
Giphy
"Being able to control objects with your brain. I know it's still in its infancy but the fact that we can even attempt do stuff like that is crazy."
The family business.
"I'm fourth generation of an excavating company and some of our surveying techniques now are unbelievable. When we started in the 60's you used a contraption called a theodolite and prism (a fancy level used to measure the distance and elevation change of the prism).
One of the fondest memories I'll ever hold happened two months ago shortly before my Grandpa (the founder) passed away. I showed him how to survey a 30 acre site with a drone in about 45 minutes (all automated), something that would have taken a crew well over a week in his time. I then took the data, had it processed, and showed him the prints of the site right on site with my laptop. He cried."
​Truly incredible.
"There's a drone flying autonomously on Mars."
"Funny how we always hear about the drone, but I was more impressed with the rover splitting carbon dioxide, creating about 10 minutes' worth of breathable oxygen...on Mars."
Some of the new inventions are just plain freaky. Don't let this intelligence become smarter than us. Please.
Beware of the twerking robot dogs.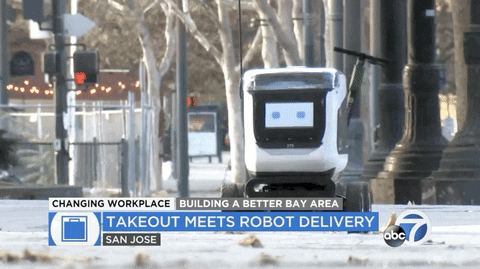 San Francisco Food GIF by Kiwibot
Giphy
"Robots delivering food and packages."
"It's quite phenomenal how much certain industries have developed their robotics. You just don't see it in your everyday life, but places like Amazon and pretty much all mechanical-related businesses are developing robotics at an insane rate.
Also, Boston Dynamics and their twerking robot dogs."
Nanotechnology is the weirdest.
"I was born in the early 80s, so practically everything. I literally own most of the sci-fi gizmos I saw on tv as a kid, or even cooler versions of it.
Virtually all medical news is mind-blowing. CRISPR/Cas9. Research into telomeres and anti-aging, nanotechnology is actually real...
Self driving cars are kinda already around but are getting better all the time.
Edit: swapped alleles for telomeres. One of those genetic words, I tell ya."
It's a great time to be a spy.
"The army's new night vision technology looks like a video game; https://www.independent.co.uk/news/world/americas/army-s-new-night-vision-technology-makes-fighting-in-darkness-look-like-video-game-b1841506.html
Spy technology; spies can listen to conversations from a very long distance using various technologies, such as bouncing a laser off an outside window to pick up on tiny vibrations, or installing a special light bulb that flashes at certain frequencies that only a special receiver can pick up and translate into a conversation.
Credit card sized recording device that can last a whole day, these are used in espionage usually in the form of ID badges given to VIP targets, swapped out for a normal ID badge, they look and function exactly the same as a normal ID badge would work including NFC room access."
I think the craziest technological advance I've seen in my lifetime has been the smartphone. Seriously--as a kid, I always wondered if we'd ever get an MP3 player and a phone in one. Turns out, we got that, and so much more.
Technology and medicine are being revolutionized. It makes you grateful to be living in this time--even if it's still foreign and new.
Keep reading...
Show less
After nearly a decade of Shark Tank, I always wonder what inventions are left to be created? Well apparently, plenty. Everyone out there seems to be brimming with ideas for things that can make life more productive and a tad easier. One of us has something that we know is that billion dollar idea that can revolutionize an industry. Give me a minute...
Redditor u/nala_beans wanted to hear some ideas we should all be trying to be bring to fruition by asking... What doesn't exist yet, but should?

Want to "know" more? Never miss another big, odd, funny, or heartbreaking moment again. Sign up for the Knowable newsletter here.

Keep reading...
Show less
The best way to get through life is to be still. Be still, be silent and listen... often. Even when we least expect it, we're being taught lessons on how to conquer life. It doesn't have to be as arduous as we make it, perhaps we would've heard that sage wisdom if we stopped moving for a moment. Advice comes in all forms and from all people. Even our enemies are teaching us, we just have to be strong enough to accept it.
Redditor
u/Howling-dawn
wanted everyone to share all the things they've been able to learn that changed life for the better by wondering....
What's a "wise" life lesson you have learnt?
Want to "know" more? Never miss another big, odd, funny, or heartbreaking moment again. Sign up for the Knowable newsletter here.
Keep reading...
Show less