Serayah McNeill, who plays Tina Brown on Fox's Empire, recently posted a video to her Instagram story criticizing Dwyane Wade for being supportive of his daughter Zaya's transition.
Wade has been very loving and supportive of his daughter's choice to be honest with herself and everyone else about who she is.
McNeill questioned Wade's support of his daughter's coming out, saying that the decision was "premature."
She also described coming out as a "life-changing decision that can never be undone." McNeill went on to criticize other supportive parents as well.
She claimed her suspicion was coming from:
"the age of the child, and I think it's not only his kid. There are plenty of kids and their parents are letting them do this."
"I think everything is a little bit too much premature. I don't care if you're boy or a girl, for me, there's things we need to be worried about."
McNeill wasn't the only public figure to slam Wade for loving and supporting his daughter. Rapper Young Thug recently tweeted a criticism of Wade and misgendered Zaya.
He excused the offense by saying:
"God don't make mistakes."
Recent research by a group of University of Washington researchers has shown that transgender kids are just as sure of their gender identities as cisgender kids. Making trans kids wait to transition, and putting barriers between them and gender affirming care, isn't doing them any favors.
The video, and McNeill's statements, were widely criticized by Twitter users.

This just made me mad https://t.co/kKerutRVkN

— 🌹XII.VIII.MCMXCIV🌹 (@🌹XII.VIII.MCMXCIV🌹)1582076590.0
She thinks these kids are going through a phase.. why would u want them to grow up unhappy.. LISTEN TO THESE KIDS..… https://t.co/W6hppKLfUV

— 🌹XII.VIII.MCMXCIV🌹 (@🌹XII.VIII.MCMXCIV🌹)1582076902.0
Many people also made the point that Zaya's parents never mentioned that she was medically transitioning.
They said they love her and support her for who she is.
@forevrblushing Why are people automatically assuming that Zaya is undergoing a physical transition right now? Did… https://t.co/jv9jedfiNJ

— Anthony W. (@Anthony W.)1582089460.0
@forevrblushing but people really associate coming out as trans with medically transitioning..... so frustrating omg 😭😭😭😭

— 🤰🏻 (@🤰🏻)1582079491.0
@ut0piaaaa @forevrblushing THANK YOU OMG. This is something everyone completely disregards.

— D R A Y A 👑 (@D R A Y A 👑)1582078464.0
@forevrblushing Or "FOR ME" like yeah? For YOU

— SUB TO YT: JAHEBE (@SUB TO YT: JAHEBE)1582085719.0
McNeill also falsely equated being transgender to being gay, in an apparent attempt to sound more accepting in her rant.
"I'm accepting of my child being gay, that's OK, but there are so many others things around that in society that is pressuring children and parents to be a certain type of way."
Trans kids are who they say they are. One of the best things a parent can do is believe them and love them unconditionally.
The Wades are doing the best they can for Zaya by loving and supporting her.
Keep reading...
Show less
Former professional basketball player Dwyane Wade just opened up about parenting his queer child.

And his powerful message was a slam dunk for the LGBTQ community.
In Wednesday's moving interview on Showtime's All the Smoke podcast, Wade said that his 12-year-old child, Zion Malachi Airamis—who is openly a part of the LGBTQ community and prefers the pronoun she—has "way more strength and courage" than he has.
In November, social media users expressed their objection to Thanksgiving photos that his wife, actress Gabrielle Union, posted on Instagram, which revealed Zion's long finger nails and her sporting a cropped top.
The photo sparked a lot of hate-filled messages, with narrow-minded people being more fixated on Zion's nails and outfit over reasons to be grateful during the holidays.

When asked to comment on the backlash over having a queer child, the former Miami Heat player touched on unconditional love, being transparent and the importance of visibility and allowing kids to be "seen."

"Me and my wife, we talk about making sure our kids understand the power in their voice."

"We want them to be whoever they feel that they can be in this world. That's our goal. Understand you can be whoever and you can be whatever."
You can watch the full All the Smoke interview, here.
Dwyane Wade | Ep 9 | Big 3, Zaire, Retirement | ALL THE SMOKE Full Podcast www.youtube.com
In his conversations, Wade prepared Zion about the reality of growing up and facing negativity, not only as a queer person, but also as someone who is Black.

The 37 year-old is also a father to Kaavia James, 13 months; Xavier Zechariah, 6; Zaire Blessing Dwyane, 17 and is a guardian to nephew Dahveon Morris, 18.

The proud father explained why he chose to respond to the backlash instead of staying silent.
"When I respond to things socially, I'm not responding because you're hurting my feelings. I'm not responding because I care about what you're saying, because as we say in the in the hood it's 'ignant.'"
"Why I'm responding is because I understand my platform. I understand that I'm speaking for a lot of people don't have the same voice that I have.
"As a father, I'm even speaking for my 12-year-old because I haven't allowed them to sit in front of a microphone yet. But I'm speaking for so many others in the LGBTQ+ community. For me it's just my version of supporting."
He admitted he had to educate himself on the LGBTQ community after noticing Zion was on a different "vibe" than his older brother, Zaire.
Wade also used the pronoun she in reference to Zion.

"I had to look myself in the mirror when my son at the time was 3 years old and me and my wife started having conversations about us noticing that he wasn't on the boy vibe that Zaire [Dwyane's older son] was on."
"And I had to look myself in the mirror and say, 'What if your son come home and tells you he's gay? What are you going to do? How are you going to be? How are you going to act? It ain't about him. He knows who he is. It's about you. Who are you?'"
"I've watched my son from day one become into who she now eventually has come into."
Many people were moved by Wade's powerful and inspired speech and praised both him and Union on Twitter for their unconditional love.
Wade did not stay silent when his child was under attack on social media for the Thanksgiving photos.

He fired back on Twitter:

"I've seen some post-thanksgiving hate on social about my family photo. Stupidity is apart of this world we live in—so I get it."
"But here's the thing—I've been chosen to lead my family not y'all. So we will continue to be us and support each other with pride, love & a smile!"
At one point in the interview, Wade commented on the increase in visibility of queer people and queer issues.
"This is the new normal, everybody needs to get used to it."
"If anybody is different, we're looked at as different; the ones who don't understand it. The ones that don't get it and are stuck in a box, you're different. Not the people that are out there living their lives."
He closed out on the subject with:
"For me it's all about, nothing changes with my love. Nothing changes with my responsibilities. Only thing I have to do now is get smarter and educate myself more, and that's my job."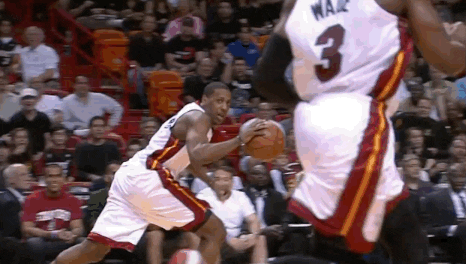 Giphy
Wade is also known for his philanthropy.

In 2013, he founded The Wade's World Foundation—which supports community-based organizations that provide education, health and social skills to children in at-risk situations.
He is also an avid supporter of St. Jude Children's Research Hospital.

Wade may be immortalized as a 13-time NBA All-Star in his professional career, but at home, his kids will always see him as their ultimate MVP.

The book Unconditional: A Guide to Loving and Supporting Your LGBTQ Child is available here.
Keep reading...
Show less