Lady Gaga is riding high, as A Star is Born has brought her new fame and accolades. A song she wrote for the film, "Shallow" has been winning awards left and right, and doing its best to get stuck in your head.
The song is a powerful anthem to the connection the characters in the film feel for each other. The absolutely powerful build up to the chorus seems to explode in your ears. It seems like the perfect song for a movie about rising and falling stars.
Were you aware it's apparently about cell phones?
After the Academy Awards, where the song picked up an Oscar for Best Original Song, and Gaga and Bradley Cooper really did a terrible job convincing the world they totally aren't a thing, Lady Gaga talked to reporters backstage.
She said,
"I really believe in my heart that the unfortunate truth is that our cell phones are becoming reality. It's become reality for the world.


"And in this song, we provide not just a conversation, but also a very poignant statement: I wish not to be in the shallow, but I am. I wish to dive off the deep end, but watch me do it."


Not going to lie, it feels like some of the song's power has been taken away.
Did gaga just say Shallow is about cell phones????? No thank you

— Bonas Jrothers (@Bonas Jrothers)1551150427.0
Okay 🙃https://t.co/DvxlxrwHIo

— Victoria Albanesi (@Victoria Albanesi)1551222068.0
Anybody liked the song "shallow?" Obviously I've never heard of it but the performance "broke the internet!" https://t.co/LTL1ez9sK9

— Matthew Ferreira | MassachusettsWx (@Matthew Ferreira | MassachusettsWx)1551144614.0
@david_rebelato @MassachusettsWx what if shallow was the meaning of life instead of 43🤔

— Nick Holman (@Nick Holman)1551364380.0
Art is an incredibly subjective experience, so I could be wrong here, but the song's lyrics and position in the film speak more to a duet about two people taking a metaphorical dive together.
While it's not impossible to see the interpretation Gaga suggested, it's also less powerful. Trying to convince people this powerful anthem is the embodiment of the "old man yells at cloud" meme, especially when that's not really a point seen in the film, just feels wrong.
That said, it's the more valid interpretation, seeing as it was said by one of the song's writers. And it's not like her comments have hurt it at all.
People still really vibe with what they feel the song means.
This song used to annoy the hell outta me...but after actually watching the movie and listening to the words...I fu… https://t.co/mvsDIXQcE9

— Nick (@Nick)1551107139.0
'Sorry but not sorry I'm over Lady Gaga's song shallow. It's been over played and I'm a little annoyed. Yes the mea… https://t.co/KZ2GWbPS92

— 'Angela♡ (@'Angela♡)1551246880.0
I now know all the lyrics and inner meaning of the song Shallow from a Star is Born

— Fernie (@Fernie)1551346443.0
@rosannna5 We listened to it 47 times

— Fernie (@Fernie)1551381878.0
"Shallow" has won multiple awards. In addition to the Oscar previously mentioned, it won a Golden Globe for Best Original Song, a Critic's Choice Movie Award for Best Song, and a Grammy for Best Song Written for Visual Media, among other wins and nominations.
The song was performed live at the Academy Awards, in a moment that captured the attention of America, who saw it as a powerful, emotional moment, and also one that can be endlessly memed.
The film is now available for on Blu-ray, DVD, and digital download.
Keep reading...
Show less
There's nothing like a power ballad to push yourself through a strenuous workout.
Kate Hudson found hers as she mustered every remaining ounce of willpower to push herself past her limits during a Pilates session.
And that girl can belt!
What better song than Lady Gaga's "Shallow" from A Star is Born to wail her way through the private workout session with personal trainer Nicole Stuart?
The Mother's Day actress posted the video of her a cappella war cry and captioned it with "Gearing up for my in-living room Oscar performance."
She tagged the tune's co-writers — Gaga and Mark Ronson — and apologized for screwing up the lyrics.

While Stuart did her best to coach her way through Hudson's intermittent screlting, she finally admitted defeat as Hudson was determined to reach for that top note.
"This is impossible," laughed Stuart.
"I think I hit the note," Hudson said, hoping for a validation.
But Stuart, ever the professional, laid down the law and set her priorities.
"Why don't you hit the proper form, and then hit the note."
As far as we're concerned, she nailed that workout.
Wow, she can really hit those notes. https://t.co/wvzthd2E6A

— Metro Entertainment (@Metro Entertainment)1551020407.0

@katehudson/Instagram

@katehudson/Instagram

@katehudson/Instagram

@katehudson/Instagram

@katehudson/Instagram

@katehudson/Instagram

Many people were surprised by the actress's capabilities — both at Pilates and at singing "Shallow." Fans suggested she should do musicals or be featured in a movie showcasing her hidden talents.
But they may have forgotten Hudson dazzled audiences with her singing and dancing before in the 2009 movie musical Nine directed by Rob Marshall.

She absolutely slayed it!
Do you ever stop and think about Kate Hudson's flawless NINE performance of Cinema Italiano? Because I do. https://t.co/AnogpAJta4

— Shane Avery (@Shane Avery)1548869603.0
You can watch the full video of Kate Hudson working her groovy moves in "Cinema Italiano" in the YouTube clip, below.
OPERA PLANET Kate Hudson Cinema Italiano 4K Ultra HD www.youtube.com
On October 2, the 39-year-old announced the birth of her first daughter together with boyfriend Danny Fujikawa and named her Rani Rose Hudson Fujikawa.
This is Hudson's third child. She is a mom to 7-year-old son Bingham Hawn, with her ex-fiancé, Muse frontman Matt Bellamy; and to 14-year-old son Ryder Russell with her first husband Chris Robinson from the band, The Black Crowes.
Mom is looking great and she sounds amazing. She definitely sent us off the deep end with that impromptu performance.

Keep reading...
Show less
Any actor knows that auditions either go really well or not well at all. Bradley Cooper is not exempt from that rule, no matter how dreamy his eyes are...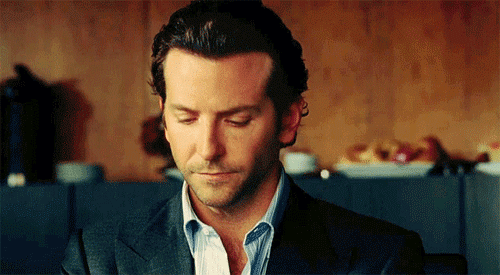 Giphy
And they are QUITE dreamy.
Onstage at the Directors Guild Awards, Cooper (who made his directorial debut with the critically acclaimed re-imagining of A Star Is Born, starring Lady Gaga and Cooper himself) revealed that he'd auditioned for fellow director Spike Lee, and Lee rejected him.
Bradley Cooper just revealed to a shocked Spike Lee that ten years ago, he auditioned for one of Spike's films and… https://t.co/HzKQ1HmDul

— Kyle Buchanan (@Kyle Buchanan)1549136861.0
Lee didn't remember the event, but Cooper clearly did.
"You get a chance to read for Spike Lee, you're never going to forget that," Cooper said. "You said 'Hello, how are you,' you asked me about Philly, you did the thing and you got me out quick. You were going hard. You're a very present human being."
"you got me out quick!" I GUFFAWED https://t.co/LYIvAr1JIh

— jada | RELAX, DON'T DO IT (@jada | RELAX, DON'T DO IT)1549154885.0
Amazing moment at #DGA #MeetTheNominees when Bradley Cooper reveals he once auditioned for Spike Lee... And Lee Tur… https://t.co/YJOjFoMSW2

— Julie Cohen (@Julie Cohen)1549136939.0
Bradley Cooper recalls auditioning for Spike Lee 10 years ago for a small part and says Lee was very kind and very… https://t.co/5nqrhYa4JN

— Dave McNary (@Dave McNary)1549137110.0
@SamCoffey72 So much fun. Love it

— Michael Kamens (@Michael Kamens)1549138241.0
Lee's first directing credit came in 1983 with Joe's Bed-Stuy Barbershop: We Cut Heads,
MORE STUFF . LIKE THIS DURING AWARD SEASON MY GOD https://t.co/HdJqEHJ4sZ

— Sam Coffey (@Sam Coffey)1549137229.0
Spike's reaction is so perfect. https://t.co/oeCtSrbac9

— Matty (@Matty)1549137062.0
his little run man I love the two of them https://t.co/b6Y3avA7of

— alex (@alex)1549137190.0
According to Variety, other panelists included "Adam McKay for Vice, Peter Farrelly for Green Book and Alfonso Cuaron for Roma."
Cuaron commented on the topic as well, saying that great actors exist before a director "discovers" anybody--two great minds just come together in one process.
Best part of this panel, besides Cuaron saying he doesn't "discover" his actors, that they exist before him and the… https://t.co/tFJQB7Vf1C

— Molly McGlynn (@Molly McGlynn)1549146125.0
@therealmollymcg that is really beautiful :)

— Chandler Levack (@Chandler Levack)1549146561.0
@clevack Yeah, I agree. He also reminded the audience that it's like "the same way Columbus did not discover America."

— Molly McGlynn (@Molly McGlynn)1549146663.0
Lee is nominated for his direction of BlackkKlansman.
The film itself is up for six academy awards, including Best Supporting Actor for actor Adam Driver and Best Picture.
A Star Is Born is up for eight academy awards, but Cooper himself is not nominated.

Spike Lee doesn't remember that Bradley Cooper ever auditioned for him https://t.co/OaGszO4yp4 https://t.co/ObUkH7XvNZ

— Variety (@Variety)1549161082.0
Good time to mention that despite the fun directors roundtable memes that went around, Spike is a Star fan and love… https://t.co/TPHvRSmsQo

— Kristopher Tapley (@Kristopher Tapley)1549136949.0
this is so cute https://t.co/1BdzhfObn4

— j*les (@j*les)1549137287.0
Bradley Cooper on auditioning for Spike Lee: 'Never going to forget that.' https://t.co/w9jtybEUHL https://t.co/W9GEdbLlxV

— Complex Pop Culture (@Complex Pop Culture)1549161733.0
The 91st Annual Academy Awards will air on Sunday, February 24th at 8 PM EST.
We can't wait to tune in and see how these amazing directors make out.
Keep reading...
Show less
A Star Is Born is Bradley Cooper's directorial debut. He also stars in the movie alongside pop icon Lady Gaga. The movie currently holds a 91% "Fresh" rating on RottenTomatoes.com, with many critics praising both Gaga and Cooper's star performances as the star-crossed lovers fated to suffer terrible heartbreak. What almost no one was expecting walking into the theater, however, was Cooper's strange demeanor and low, gravely voice. It turns out Cooper's portrayal of his character, Jackson Maine, was partially based upon the look and mannerisms of another famous rocker.
When putting together Jackson Maine's aesthetic, Cooper turned to rock idol Eddie Vedder, the frontman for Pearl Jam.
In fact, prior to filming the movie, the actor told Yahoo he flew to Vedder's home to see the real man in action:
I went up to Seattle and spent four or five days with [Vedder] and I asked him 9,000 questions. And he gave me minor, little things that only musicians know about what to do, just aesthetically and the inner workings. . . . He was wonderful.
Are the only artists on Bradley Cooper's playlist Eddie Vedder and Judy Garland??????

— Kerensa Cadenas (@Kerensa Cadenas)1538704063.0
It sounds like Vedder was a pleasure to work with!
Of course, when Cooper told the singer he planned on doing his own vocals in the movie, Eddie couldn't hide his thoughts:
He was like, 'What? Bro, don't do that.'
Reasons you should go see A Star is Born: Bradley Cooper's character is a perfect combo of Jeff Bridges and Eddie V… https://t.co/jbzsDtjkpH

— Linda Dunnavant (@Linda Dunnavant)1538862232.0
@MattEDuncan Bradley Cooper managed to sustain a note perfect (pun not not intended!) impression of Eddie Vedder fo… https://t.co/hvIfruBBHz

— Hanz Olo (@Hanz Olo)1539034707.0
To truly get inside the head of a career musician, Cooper also spoke to Lukas Nelson, son of Willie Nelson and frontman for Lukas Nelson & Promise of the Real.
Nelson gave Cooper some sage advice for his onstage performances in the movie:
I remember you said to me, 'Look, man, when you get in front of an audience you better have sung this song 1,000 times, and maybe 10,000 times. Because the first thing that is going to happen is you are going to lose your breath.'
I forgot my headphones at home today... today of all days... I need Bradley Cooper and Lukas Nelson

— juvie judy (@juvie judy)1539017590.0
@nandorvila @ariellec When I saw the trailer I thought at first it was going to be a Pearl Jam / Eddie Vedder biopic.

— xBrenton ★★★ (@xBrenton ★★★)1539016176.0
Though many musicians doubted Cooper's musical chops, he immediately impressed his co-star, Lady Gaga, who commented on the first time she heard him sing:
I just stopped playing instantly and I looked at him and said, 'Bradley, your voice is incredible. You have a real voice,'...He sings from his soul. He sings from his gut. There are people who can do many acrobatics with their voice, but to tell a story with his voice is a different animal.
I thought I liked bradley cooper an unhealthy amount before I saw A Star is Born, BUT a singing Bradley Cooper... YOU'RE KIDDING

— Bailey Thatcher (@Bailey Thatcher)1539030479.0
A Star is Born is such an amazing movie! I'm going to buy it and just watch on repeat. Some amazing acting and sing… https://t.co/TVQuHnk2b6

— Danté Miller (@Danté Miller)1539049206.0
nothing in life prepared me to see bradley cooper playing guitar and singing omg

— vanessa⚡️ (@vanessa⚡️)1539035062.0
He got the chance to prove this talent while filming the movie's opening number, "Black Eyes." To capture what it's really like performing for a sell-out crowd at a rock concert, Cooper asked Willie Nelson if he could jump up onstage to film the number in the middle of Nelson's set. Nelson agreed, on one condition: Cooper had eight minutes. That's one take, maybe two, to play the song perfectly and get the footage needed for the movie.
Needless to say, Jackson Maine nailed it.
Hold up, I did NOT give Black Eyes enough love in this review. It makes me want to throw my bra at an imaginary sta… https://t.co/IiV2kR3oNo

— kelly (@kelly)1538716382.0
This badass song started playing...and had to stop it...to see who the hell was singing. https://t.co/k4EmtNsm0M An… https://t.co/9MTEb9ibkS

— Paul (PJ) Rieckhoff (@Paul (PJ) Rieckhoff)1539056836.0
Bradley Cooper is insane. He can act in anything, he can sing and he's a great director. Lady Gaga is also a ridicu… https://t.co/BuFiUpLdyq

— Ryan Cape (@Ryan Cape)1539056553.0
OMG guys black eyes by Bradley Cooper is everything.

— Ronnie (@Ronnie)1538401338.0
Gaga even remembers the moment when she realized Cooper was as much a musician as he was a director, describing an instance when he walked into the recording booth and "immediately criticized what he heard:"
'This is not Jackson's sound.' I thought, 'O.K., now we have a musician on our hands.'
It's pretty easy to see why the movie has so much buzz surrounding it. If you haven't seen it yet, do yourself a favor and get tickets now!
H/T - Vanity Fair, People
Keep reading...
Show less
When two partners finish working on a big job together, it's customary for one of them to buy the other a massive, 15-foot portrait of the other's face.
Oh, wait, it's not? It turns out that's a fairly strange thing to do in most circumstances, but, as is the case with almost all things Gaga, it seems a lot more believable when you know she's involved. At the end of filming A Star is Born, co-star Bradley Cooper gave her the huge rendering of the movie's final shot as a gift.
Gaga showed the picture to a reporter from the New York Times, who wrote:
Earlier in the afternoon, she showed me a room that was empty save for a gigantic photograph of her own face, at least 15 feet across, in a gilded frame. 'It was a gift from Bradley,' [Gaga] said. 'It's the last frame of the movie. Do you know the scene?'
The picture features Gaga singing "I'll Never Love Again" on the stage of the Shrine Auditorium, her final song in the movie.
What a fascinating woman. I'm struck by her strength and unshakeable sense of self which translates into radiant be… https://t.co/MeuPSZmGgA

— robert hughes (@robert hughes)1538679801.0
The hype surrounding Cooper's directorial debut has been almost as massive as Gaga's new portrait. Even before the movie's premiere, the story of the two actor's first meeting where Cooper wiped the make-up off of Lady Gaga's face has become a well-known anecdote. As Gaga tells it:
For most of the film, I have no makeup on my face. I remember very, very well, I walked down the stairs from my house before we filmed the screen test for A Star Is Born, and [Bradley] had a makeup wipe in his hand and he put his hand on my face and he went like this--," she mimicked wiping down her cheek. "And there was makeup. We had put just a little bit and he said, 'I want no makeup on your face.'
Saw "A Star is Born" tonight in Indiana. You were terrific and looked absolutely beautiful without the make-up. Lov… https://t.co/AMabdKcbHm

— Prepster (@Prepster)1538707695.0
She went on:
So, this vulnerability was something that he brought out in me. For someone that doesn't necessarily feel safe [being] that vulnerable all the time, it was such a special experience with him. He made you just feel so free.
Fans online could hardly contain themselves leading up to the movie's release:
Gaga better get an Oscar and that's all I have to say about A Star is Born. Bye!

— Calvin (@Calvin)1538704098.0
Saw "A Star is Born" last night. Just go see it. Holy Goodness Gracious it's quite the production. Cooper and Gaga are just iconic.

— Casey Cott (@Casey Cott)1538693147.0
I JUST WATCHED A STAR IS BORN HELP ME https://t.co/OLvXhkNqEd

— rah (@rah)1538703591.0
so we went to see A Star is Born... https://t.co/Nxbjdr7FWz

— Jade Wilson (@Jade Wilson)1538687734.0
Brb buying season tickets to A Star Is Born...

— Elizabeth Gillies (@Elizabeth Gillies)1538706175.0
I don't mean to spoil the album and I certainly don't mean to spoil the movie but isn't so crazy how a star is born… https://t.co/6qDiWB9rCE

— Aquaria 🕷 (@Aquaria 🕷)1538721273.0
A Star Is Born... what can I say? I just wanna take another look at it https://t.co/wMHI9wXFLX

— Andrew Spena (@Andrew Spena)1538708432.0
On my way to see A Star is Born! https://t.co/uj45ZzsN2J

— jennifer (@jennifer)1538710272.0
When you're in #Venom and everyone else is seeing 'A Star Is Born'... https://t.co/FIjNRp4Aac

— Lights, Camera, Pod (@Lights, Camera, Pod)1538698778.0
A Star is Born is out in theaters now and currently boasts an impressive 93% fresh rating on Rotten Tomatoes! For any and all Gaga fans, it's a must-see.
H/T - Entertainment Weekly, Vulture
Keep reading...
Show less