Reddit user Joker101001 asked: 'Albert Einstein once said "The difference between genius and stupidity is that genius has its limits." What are some examples of this that you have experienced?'
The human race is supposedly touted as a superior species compared to other lifeforms on Earth.
Sadly, the generalization does not apply to everyone.
And while the notion that "nobody is perfect" is perpetually expressed to console those who've made regretful mistakes, that is not entirely true.
We see them in the news all the time.
Dimwits–which may include those with no social graces or lack of basic life skills in order to survive adulting through life–are among us.

Curious to those who've face-palmed in response to an individual's intelligence level, Redditor Joker101001 asked:

"Albert Einstein once said 'The difference between genius and stupidity is that genius has its limits.' What are some examples of this that you have experienced?"
People shared their observations about our intellect..or lack thereof.
Touché
"You shouldn't believe every quote you read on the internet. — Abraham Lincoln."
– _PM_ME_PANGOLINS_
"I think he was re-quoting Julius Caesar who made this comment the morning he was warned not to go out that day."
– Emergency-Ad-7002

Humbling Realization
"I think the more educated we become, the more we know how little we actually know, and it's humbling, but ignorant people really have no idea what they don't know, leading them to be confident about their ignorant stances."
– PuzzleHeadedNinny
Reaching Limitations
"Physics has kind of reached a point where we realized we don't know how anything works at a fundamental level. Every theory breaks down at tiny or gigantic scales. There is a crisis in cosmology, spinning glaxies have either disproven gravity or proven undetected dark matter, and the vast majority of matter and energy is undetectably dark. We don't know why matter exists (as opposed to antimatter, given their symmetries). We don't know how time and space work inside black holes, how many dimensions there really are, or whether space and time are quantized. We've kinda figured out ordinary matter at human scales, but that's it."
– turbotong
The Thing About Doubt
"There are limitations to human knowledge and our understanding of things. Rather than acknowledging these limitations, people fill them in with supernatural explanations. When you express uncertainty or doubt, you are mocked or they ascribe to a lack of self confidence."
"Doubt is the beginning of wisdom, not the end of it."
– RecalcitrantMonk

Knowledge Vs. Intelligence
"Knowledge is knowing a tomato is a fruit."
"Intelligence is combining the tomato with other ingredients to make something better."
"Knowledge is what we learn, intelligence is what we do with what we have learned."
https://pubmed.ncbi.nlm.nih.gov/7183572/
"Charisma is the exact opposite of what I just did - citing an academic paper on reddit."
– egregori3

People shared their most dullest interactions.
Dumbfounding Stupidity
"Oh boy. I once met a guy who was so stupid that he thought the ocean was alive and waves was it breathing. I remember one time in school he was doing homework for another class and asked the teacher "Where were the Canaanites from?" She jokingly said Nova Scotia. He asked how to spell it. This guy thought Beauty and the Beast was based on a true story about a girl and a bear. He would constantly make bets that he lost and never learned his lesson. He didn't know that chicken the food came from chicken the animal. I have met a lot of stupid people in my life but I have never met anyone quite so bafflingly stupid that I had to wonder if they, in high school, could even read."
– Not-sure-wtf-I-am

"A friend of mine once met a young woman who thought that fluttering leaves caused the wind to blow."
– Ancguy
"A former classmate of mine (in college, mind you) once said the sky was blue because it reflected the ocean."
"She thought the sky was blue everywhere, even hundreds or thousands of miles inland, because of the ocean."
– CrypticBalcony
Scam Fail
"I worked at an embassy. One day a guy came to me, completely explained a scam he did. It had failed and he wanted to know how I could help him "as we are countrymen".
"Called my colleagues at home and set them on his a** too."
– Dependent-Cress-948

Expected Expectations
"As a high school math teacher, I cringe when students hand in a test and say 'I think I aced it.' It's almost always an F."
– kasgar77
"One time I left a stats exam in college and texted my friend, "if I knew a test was going to kill me and I went anyway, is that suicide?" She said "I think it's more like when you walk through a bad part of town alone at night and get shot. It's not really your fault."
– FlockofDramaLamas

Kiwi Get A Clarification?
"When I was in middle school I convinced a girl that the kiwi birds laid the kiwi fruit as food for their babies. It wasn't that hard to convince her."
– ChaoticCauldron
Conspiracy Theorists
"Flat eathers. It is difficult to find more dumb."
– DrowningInMyFandoms
"These days, there's quite a bit of overlap there. Flat earthers tend to be very anti-establishment, but because they also tend to be very religious and Trump is supported by many fundies, there's a definite connection there. Plus, his support of conspiracies makes him seem like 'one of them'; some flat earthers thought Trump would be the one to expose NASA and the fake ISS, but that never happened."
– SyntheticGod8
I think COVID pulled back the curtain on the lack of intelligence on display.
Irrational mob mentality prevented US citizens from critical thinking and drawing irrational and false conclusions from sheer panic.
Remember the toilet paper shortage and the anti-vaxxer movement?
I was more terrified of our lack of humanity and compassion than the virus that was being allowed to spread thanks to ignorance.

Reddit user WoF_IceWing asked: 'What's the stupidest thing you've ever done?'
Everyone does stupid things, and it's not limited to when you're young either.
When I was 10, my best friend and I snuck out of her house in the middle of the night and hitchhiked to Tukery Hill for ice cream. I can't even count all the ways that could've gone wrong.
Eight years later, my friend and I drove his new car on the sheets of ice on our college campus, trying to see how fast we could go.
The tires skidded on the ice several times, and back then, we thought it was fun.
The stupidity spurred on by impulsivity doesn't ever truly go away.
Redditors can attest to that, as they are sharing what may be the stupidest things they've ever done.
It all started when Redditor WoF_IceWing asked:
"What's the stupidest thing you've ever done?"
Stranger Danger, Anyone?
"Maybe not the dumbest but I got into a random person's car without thinking. I was trying to catch the bus and the guy offered to give me a ride to the nearest bus stop. Got lucky that he was just trying to be a good Samaritan."
– yeetgodmcnecha**
"I did this once. It was a bright Sunday morning and pedestrian was walking briskly in the direction I was driving. Offered a lift. She got into the car and I realised what was happening when she asked me, "where do you want to go?""
""Umm, I can drop you off somewhere but we aren't going somewhere together.""
"Felt so stupid. But a pedestrian still got a lift to their place of business so I suppose it worked out!"
– NickyDeeM
"Oh god I did something like this. I stayed at the uni campus drinking with friends, and it got late. I live outside the city where public transport only works until certain hours and I missed the last bus. A dude in a car offered to take me closer to my town for the equivalent of 1 f**king dollar, and as soon as I got in the car, I noticed he f**king REEKED of tequila."
"He drove like a... a**hole the whole way, while picking up other people on a similar situation as mine. We were all scared as f**k. Then he dropped me at an intersection where I could walk to my house, and that was it. No idea if they all made it to their houses."
– kourier6
Cheater, Cheater
"Stayed with an ex after she cheated, just leave folks there's no fixing that sh*t."
"Edit: I'm legitimately depressed that so many of you related to this, hope things have gotten better!"
– Masonaut9
"Second this. He just went on to cheat with a different girl a few months later. When a person shows you who they are the first time, believe them."
– MeasurementFluid994
"Yep, same here, bud. Once a cheater, always a cheater. She was my first true love, and I was blinded by that. She told me and I still took a train and a bus in a blizzard 6 hours to see her. One of the most painful decisions I ever made. Then in my next serious relationship, it happened again, but she had the decency to break up with me because she wanted to keep f**king the guy she cheated on me with."
– Sambizzle17
Death Traps
"Drove my motorcycle down the road at 110 MPH while I was drunk because the girl on the back wanted me to go faster. I was much, MUCH younger than I am now, but it still makes me queasy when I think what could have happened that day. Very, very stupid."
– pliving1969
"I was once one of those girls on the back of the bike. Driving drunk through the Colorado mountains at night, drunk and going fast. That was 15 years ago now. One of the most stupid things I've ever done."
– karebear111
Inventors
"As a 10-year-old, tried to make a homemade grenade, added in airsoft bebes for shrapnel. Thing ended up blowing up in my hand, luckily I didn't have any major injuries"
– RED54115
"I was 8, wanted to make a flaming watering can(?), filled it up 50/50 gasoline water mix, went to garden to water some plants… well emergency response was very fast."
– -2fa
"I had a similar experience as a kid, filled up a bottle of gas from a lighter, stupid little me hand my hand at the opening as I was lighting it so burned my hand quite painfully. I just wanted to make a rocket."
– Pedropie420
"I made a bomb from tightly wrapped gunpowder and a waterproof fuse. I gave it to a friend who took it to high school. I have no idea why we thought that was a good idea. Fortunately, only my parents found out so there were no long-term repercussions."
– fsamuels3
Let's Climb
"Friends and I, super drunk (ya, that's a shock) decided to scale a greenhouse... in the middle of thunderstorm then took turns holding the lightning rod (kinda super low probability russian roulette). The most dangerous part wasn't the above though. It was the getting down from the 3 story high building while it was pouring rain and still slick."
"Honestly surprised we escaped with only some scrapes."
– DiscoInfernus
Quite An Expense
"I bought a house in an attempt to save a failing relationship. The relationship still failed and I ended up with a house (by myself) that I could barely afford payments on and could not afford maintenance."
"Ended up short-selling it. Glad it is over...that includes the house as well."
– freezingprocess
What A Surprise
"I put my hand on a stove once to see if it was hot. It was."
– canuckbuck2020
"My dad did that when he was little. He did it again with the other hand when he was a little older."
– Jungleman6
Curiosity Sounded The Alarm
"I pulled a fire alarm in a motel when I was 5 because I wanted to know what would happen. My parents panicked, whole fire department showed up, I got scolded by the fire chief."
– TheGamingMackV
"Curious about a red button. So I pushed it. It was the emergency stop for an escalator. People stumbled. No one hurt. My dad standing next to me saw people stumbling, looked at me, realized what happened, and said "Let's go.""
– King_Ralph1
Ouch!
"I broke my arm playing high school football. I then cut the cast with hedge clippers 2 weeks early to play a pickup football game with friends. I obviously broke it again, much worse. I now have a metal plate and 16 screws in my arm."
– aineperson578
Electrocution Avoided
"A piece of toast broke off inside my toaster and I dug it out with a metal fork. It wasn't until years later I realized how stupid that was."
– Wutchu_fitna_fuc_wit
"I did that. Tripped the circuit breaker for the whole house lol. Very lucky that breaker tripped instead of me, the plastic handle probably helped."
– Quarkly95
"This sounds fake I promise it's true."
"When I was a kid I used to stick a butter knife in the toaster and poke at (what I think was) the coils because I thought it was cool how it sparked. Wasn't until years later that I learned NOT to f**kin do that. I don't know how I never got electrocuted."
– International_Net693
I Did It To Myself
"Gave myself a concussion.I pulled as hard as I could on a bungee cord that I was using to tie down some stuff on my truck,cord broke het my face with metal end and my fist... couldn't see straight for over a week."
– Scrapalicious
Luck Of The Groom
"I got drunk while rafting for my bachelor party and jumped off a cliff. Well, more of a really steep hill of dirt, but it was a good 75 feet tall."
"I survived unscathed, but the guys that tried to stop me apparently thought if my uncoordinated self could do it, anyone could."
"So, one of my guests broke a toe and one of my groomsmen cracked his back. He ended up standing in a back brace, but other than that he was fine."
– graveybrains
Yikes!
Like I said, we all do stupid things!
When we were in our early twenties, most of us felt like we were officially adults, untouchable, and essentially unstoppable.
But looking back, most of us made some pretty cringy decisions when we were that age.
Redditor ALLEYWAYwithanS asked:
"What's the dumbest thing you've done in your twenties?"
Free Money
"Decided against contributing to my company's matching 401k. It cost me hundreds of thousands of dollars."
- orange_cuse
"This can't be stressed enough. If your company is matching 401k contributions, the single best thing you can do is contribute up to their match. That is an instant 100% return on your investment."
"Social Security benefits will not be enough for you to retire comfortably, and when you're over 50 it gets real tough to find work that pays more than minimum wage. Make saving a priority now. The sooner the better, because it is a cruel world for unprepared retirees."
- gishnon
Much-Needed Routines
"Everyone wants to hear about dumb stuff like driving eight hours to get with someone you liked only for it to end up being a booty call."
"However, I personally think it was my general lack of effort to build any good habits like exercise. Your body likes routines, and my routine of gaming for 15 hours a day was not one I should have cultivated."
- stormscape10x
"This is such an important one! I'm 25 and have wasted the last eight years of my life being a typical Asian young adult, focusing solely on education and career instead of doing more to take care of my fitness and mental well-being."
"My culture brainwashed me into thinking of it as a good thing to sit at my desk and study for six hours straight instead of building a good habit of eating a balanced meal and exercising every day. I'm paying for that mistake now."
- ListernerSaraf
Dental Hygiene
"Not looking after my teeth."
- pgraczer
"Second best time is now! Start taking care of them and get into the dentist, a dental school even for free cleaning and check-ups."
- Weazy-N420
"I'm still playing catchup. I let my teeth go in college and didn't get them looked at until after I finished AIT in 2020. I had them in a good spot for a while, deployment in 2022 f**ked them up again though. It's so godd**n hard to fix your teeth once they're on the downward slide."
- MonsieurLinc
"I have weak teeth, too. That's not a reason to give up, it's just a reason to absolutely lock down your routine. You'll save yourself a lot of time, money, and pain!"
"Here's what I do:"
"I only eat two times per day (intermittent fasting is not for everyone but it's great for limiting acid exposure on your teeth). And don't drink anything sugary. If you have to, do it while you're eating and not between meals."
"Swish with water and/or mouthwash immediately after meals/drinks."
"Wait 30 minutes before brushing. Your enamel is softest directly after eating so brushing too soon can be harmful."
"Get really good toothpaste with fluoride or hydroxyapatite for remineralization. Your dentist can give you a prescription high-fluoride toothpaste."
"Do your brushing routine in this order: floss, then mouthwash, then brush. Use a soft-bristled toothbrush and don't scrub too hard. Don't rinse after brushing so the fluoride can stay on your teeth and do its work."
"Get a tongue scraper and do that once in a while too."
"If you're away from home (work, friend's house, driving, etc) and don't have a toothbrush, xylitol gum is great for a quick cleaning and breath freshening. Xylitol helps kill plaque-causing bacteria because they think it's sugar."
"Might seem like a lot but it's worth it! My mouth always feels clean and I get compliments from hygienists."
- pmvegetables
Deep Burnout
"I worked way too hard and burnt out. Sacrificed family time. Sacrificed health. Need to pace yourself at the age of 20-30."
- big-bad-bird
"This is me right now. 29 and totally burned out. I refused to pace myself even with my chronic illness, I refused to address my traumas because 'I am a functional member of society so why would I seek a therapist,' and I refused to say no to things because I was afraid people would dislike me."
"Last year, I slowly started collapsing under all that. Things I repressed wouldn't stay repressed and because of nightmares, I had constant panic attacks when I got home from work and eventually bordered on agoraphobia where I would try and flee the grocery store because 'everyone can see you are feeling unwell and is judging you' and started making excuses to work from home because the office would overwhelm me."
"I really wish I started addressing stuff sooner. I tire so easily now and am constantly anxious about not being productive enough now that I'm at home. Which is super counterproductive when your body is saying, 'Yo, slow down. Please go find a nice hobby and relax.'"
- Melvarkie
Chasing Love
"Begged to be loved."
- SystemNovel7112
"I'm still in my early twenties and I feel like this is what I've been doing. The worst part is that other people are good at detecting desperation so they move away from you, which just hurts more."
- Jakov_Salinsky
Roommate Status
"I moved in with a girlfriend before finding out more about her preferences. We had been dating for a year but I didn't realize how much of a problem she had sharing until we lived together."
"We lived together for five years and never shared a bedroom, had everything split down the middle, including the pantry and fridge. Even when it came to spices, she insisted on me getting my own. She hated it when I would be in the same room as her unless it was on 'her terms.'"
"Whenever I asked to make our relationship more of a shared experience, I was gaslit into believing I was wrong for not allowing boundaries. She moved out a month ago, and I couldn't believe how quickly my mental health improved simply by not having that toxic influence around anymore."
- Char10
Sobering Up
"Fell into a debilitating drug addiction. I have 26 months sober on the fifth!"
- pumpe88
Motorcycle Insurance
"I took a $12k loan to buy a motorcycle. I didn't want to pay for comprehensive insurance, and the bike got stolen four months later."
- toyotasquad
Mental Health Assistance
"Not getting help for my depression sooner. Spent the entire first half of my 20s in the darkest place I can imagine, and all I needed to feel better was some meds once a day."
- badgirlkayy
Lackluster Love
"I got into a half-hearted relationship and wasted three years of my life."
- plutorollsvanillaice
Receiving an Education
"Not studying properly."
"At the time, studying for two to seven years seemed like a lifetime, but now at 30, I wish I had done it. Don't have the money or flexibility to do it now."
- MarmateW
Early Alcoholism
"I drank my way through my entire 20s. After 25, it wasn't really fun anymore, but that didn't stop me. I drank for another five years."
"My 20s are a total blur splattered with some fun times here and there. But mostly it was just me running away from things with alcohol."
"Almost 17 years later and not one drop. My 30s and 40s are exceptionally better."
- Blackbeltchicken
#GolfCartLife
"I crashed a golf cart at 29. I was so f**ked up with road rash, both ankles were rolled and f**ked up, and one Achilles was messed up pretty bad."
"It took two years for one ankle to feel normal again. I still have a bunch of scarring. I have never f**ked myself up so badly before. The road rash and treating it all over my body was one of the most painful things I've ever dealt with."
"I am so careful in those things now and honestly just everything in general. I'm lucky I didn't hit my head."
- ochief19
...But How?
"I went to Italy and forgot to eat pizza."
"I still can't believe that happened. I had pasta there, gelato, took some amazing photos, explored a lot, and when I came back, I was like, I missed something?"
"Then I was like, 'F**K! I forgot to eat pizza, IN ITALY!' LOL (laughing out loud)."
- TheStraightishGuy
An Unexpected Life
"I remember when I was that age and desperately wanting the kind of job you work for the same place your whole life. Instead, I was in a dead-end job, working the third shift, going to school, and worrying constantly about what I was going to do with my life. I was lost and without any real direction."
"20-some years later, I still don't have many traditional accomplishments. I'm a stay-at-home dad, and I was diagnosed with Crohn's at 21/22, so that ended school."
"All the things I thought I'd need to get through life, I don't have."
"What I DO have is a wide array of experiences. I've worked in retail for decades, childcare/teaching/mentoring/etc., had kids for almost as long, worked on a shrimp boat, and tree farms, I've seen and been around every state except for Alaska."
" I know a ton of people and I'm generally on good terms with them, I'm healthy enough to exercise every day, I have a loving family, and all our basic needs are met. I'm still directionless but I'm no longer lost."
"Anyone else out there feeing like I did, just do the best you can with what you've got. Never stop trying to be better, and if you need to, just point in a direction and go that way."
"If you need a degree but you don't know what you want, just pick something you think you'll like. Some jobs that need a college degree mean they need someone with a Bachelor's degree."
- altxatu
When we think of mistakes made in our twenties, we might think of dating mishaps and drinking or partying too much.
But the reality is that the mistakes made in our twenties are far more serious, like creating routines that help us take care of ourselves or completing tasks that will help us reach our dreams.
Fortunately, we're young in our twenties, and we have a lot of time to come back from those mistakes.
It's also never too late to commit to doing better right now.
Even if you weren't alive, chances are, you know about Neil Armstrong and Buzz Aldrin being the first two people to ever walk on the moon. In fact, you may know someone who was alive when it happened and watched it on TV.
The fact is, an estimated 530 million people watched the moon landing on TV, and yet, some people still think its fake.
There is a conspiracy theory out there that says we faked the moon landing to convince the Russians that the United States had won the space race! It's crazy, strange, and most of all, stupid. The proof is in the pudding (or in the American flag Armstrong planted on the moon).
Redditors know of lots of stupid conspiracy theories, and they are only too eager to share!
It all started when Redditor willywonkerbonker asked:
"What is the stupidest conspiracy theory?"
Flat, Flatter, Flattest
"That the earth is flat"
"Edit: I have come to the conclusion that the earth is in fact the shape of a doughnut."
"Second edit: I have come to my second conclusion to the fact that mars is indeed a chocolate bar"
– CivilVolume
Tracker
"Microchip in vaccines. If the government wanted to spy on you, they could do it a thousand times easier by tapping your phone."
– Nikola_Turing
"Anybody with a smart phone voluntarily agreed to be tracked and followed 24/7 the moment they turned it on haha"
"lol people are so silly.."
– BeginningCap2333
It's A Bird, It's A Plane!
"That planes can't actually fly because the claimed weight of fuel cannot fit into the size of the tanks and even if it did, it would make the plane too heavy to fly."
– teefau
"If planes aren't flying... How do people fly in planes and get out the other side....."
– ftmtxyz
They've Already Won
"I'm from the UK and the theories about this alarm system the government are putting on the phones is wild."
– _Rare_Smoke_
""They're doing it to control us!!!" They're the government. They govern you. They are the law makers. They already control you. They don't need to make a big conspiracy to do that."
– Mushroomc0wz
6 Continents
"That Australia does not exist"
– germany_science_1
"They say that everyone in Australia are payed actors. If that's true then where is my bloody check?!"
– Drunky_the_Snowman
"Still waiting on mine"
– willywonkerbonker
My Cat, My Choice
"A former friend and mentor called me up one day and said that she read somewhere that pets in America consume more meat than the entire country of France. And since raising livestock is bad for the environment, the article said liberals want all pets destroyed. That's why she lives in a red state and has so many guns, to protect her cats from the liberals. I asked her to send me that article but she never did."
– Squatchopotamus
"Pretty sure pets are loved by liberals and conservatives alike lol. At least, all the ppl I know in both sides have at least a goldfish."
– Jessiefrance89
Famous Clones
"That Avril Lavigne was replaced with a look alike, as if aging and plastic surgery aren't things."
– babythrottlepop
"This has been going on since Paul McCartney was accused of being cloned. Look up the Paul Is Dead theory"
"After that it was Eminem"
"Now Avril"

"Soon will probably be Justin Beiber or Kid Laroi or something."
– Fun-Adhesiveness9219
True Freedom
"The idea that "walkable cities" is some NWO/WEF plot to "control" people and keep them confined to small areas."
"Walkable cities is how most cities, and even many suburbs and small towns, used to be. My mother grew up in South Boston in the 60s and 70s, and she points out how she had almost everything her family needed within a 5-10 walk of her house: grocery stores, delis, banks, pharmacies, corner stores, schools (two on her block and one across the street), liquor store, boutique, shoe store, toy store, post office, candy and ice cream, barbers and hairstylists, playgrounds and parks, bars and restaurants, repair shop, hardware store, a family doctor, a dentist, laundromat, coffee and donuts, and pizza."
"More was reachable by bike, the rest of Boston by public transportation, and her father and friends had cars to go elsewhere...they just didn't need to use their cars to go everywhere, because the basics were readily accessible to them. But sure, being wholly reliant on cars and having to shell over tens of thousands of dollars to auto makers and oil CEOs to spend time idling in traffic just for the basic necessities and daily services of life, that's Freedom™."
– Dahhhkness
"I lived for a year in the city centre of Munich, I had every type of shop and restaurant within walking distance, everything else was connected by a super cheap and reliable tram, bus and subway system. Parking was a premium and people with cars tended to only really use them to go out to the countryside or if they worked in a space outside the city slightly too far from a train station."
"It was expensive but nowhere near London levels for example. And not needing a car frees up a lot of income."
–Wind_Yer_Neck_In
Gone But Not Forgotten
"All the "dead celebrity is secretly alive" crap."
"2Pac and Biggie were both peppered with bullets with multiple witnesses and you think they faked it?"
"Michael Jackson, the biggest singles artist in modern music and arguably the most famous person alive at the time, is still going somewhere and left his family in mourning?"
"Don't even get me started on the Elvis gang…"
– International_Ant217
Truly Real
"Thinking that "global warming" was just invented to raise taxes, or whatever. It is so massively stupid to think that all governments and serious scientists, scientific institutions, etc - worldwide - is in on some conspiracy, to what.. raise your taxes? They could do that anyway..."
"The flat earth, no moon landings, etc - that's all for people who simply aren't all that bright to begin with - but the fake global warming conspiracy is widely believed, and accepted in mainstream politics even. Doesn't get much more stupid than that."
– normalguy_AMA
"I love how global warming deniers think that climate scientists are all swimming in piles of research grant money like Scrooge McDuck, but fossil fuel CEOs are honest, salt-of-the-earth people whose only passion in life is making sure people have jobs."
– Dahhhkness
We Are Needed
"That vaccines are an intentional plot to kill people. This isn't a Marvel movie. We don't need to get rid of large segments of the population. The 1% need us alive, buying things, and providing the services they depend on, like cheeseburgers and trash removal and truck driving."
– notreallylucy
All Aboout Lizards
"The "meteor" that hit earth was actually a spaceship that the dinosaurs left on so they could avoid the ice age. They sent back lizard people to purposely control industries and warm up the earth back to the dinosaur's ideal temperature. The lizard people are purposely trying to invoke nuclear wars to clear the landscape again for dinosaurs."
– Element202
Uh...Where Did This One Even Come From?
"Birds aren't real. The US government systematically eradicated and replaced all birds with surveillance drones in the FIFTIES."
– w0lfn0ise
People don't actually believe that...do they?
We've all made clumsy mistakes that we know could have been avoided had we used a little bit more good judgment and common sense.
Thankfully, these silly mistakes don't usually harm others or ourselves.
This is why it's hard to see people knowingly perform reckless or dangerous activities which they know might have serious consequences.
While we don't usually wish these people ill, we also have a hard time feeling bad for them, as they knew what they were getting themselves in for.
As some people might say, they "f*cked around and found out" or "play stupid games, win stupid prizes."
Redditor dannyboyyboy was curious to hear the worst examples of people making stupid decisions and facing the consequences, leading him to ask:
What is a great example of 'f*ck around and find out'"?
Never Be Afraid To Seek Help
"Hey remember how they said drugs can ruin your f*cking life?"
"Turns out that was true."- WowAPenguin
They Put Up Those Walls For A Reason
"People who die after going over the safety fence at zoo, or basically any safety fence."- Solid_Refrigerator16
They Can't Say They Weren't Warned...

"Those who go deep cave diving and ignore the warning signs."- somekindofmiracle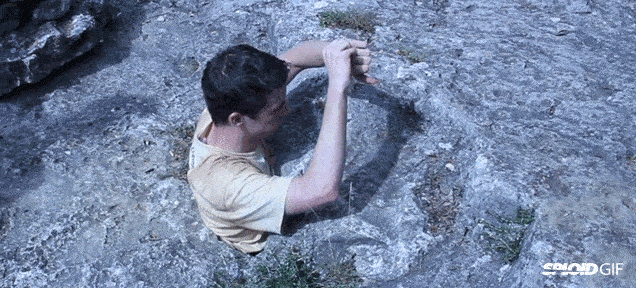 cave GIFGiphy
Never Stand Behind Them...

"Jacka**es who come to the stables I ride at and act weird around horses."
"Those animals play no games."- clem82
Is It Really Worth It?
"Running of the Bulls in Spain."
"The videos each year of the people getting completely annihilated by the bulls is a great example."- getagrooving
Never Get Too Big For Your Britches...

"When I was young I boxed and eventually got into golden gloves."
"I got a few wins under my belt and said I wanted to fight someone legit, someone who would be a real challenge."
"An opportunity came up to fight someone very good, a guy who'd eventually win regional and state and later go pro."
"At this point I'd not lost or even been knocked down, so my confidence was high, that is until he knocked me the hell out very early in the fight and taught me that there are BIG differences in the different talent levels of fighting."-Reddit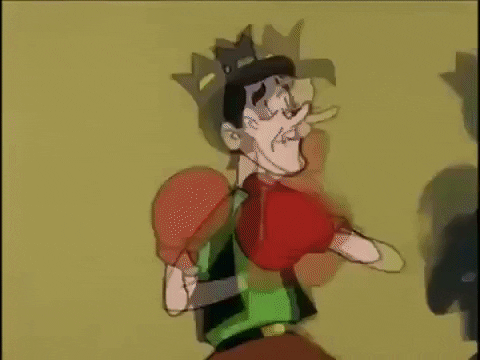 episode 2 boxing GIF by Archie Comics
Giphy
Sharks might be the least of your problems...

"Go swimming outside the flags in Australia."- d*ckflip1980
Clown Behavior

"When people were dressing up like clowns to scare people."
"It kinda stopped after one got shot."- BigMaraJeff2
Or With Anything Dangerous...
"Playing with electricity."- tlmega124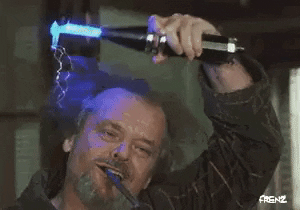 Jack Nicholson Hair GIF by MOODMAN
Giphy
They Won't Harm You If You Won't Harm Them...
"People that approach wildlife in state parks."- Rider-of-Rohaan42
Best To Keep Hands And Feet Out Of Moving Vehicles...
"Your boss at the warehouse is constantly telling you to keep your feet within the confines of your vehicle, and not to hang them, and to stay clear when walking, because if you don't, a 6,000 pound+ vehicle impacting a fixed surface will turn your foot into spaghetti sauce."
"Do not f*ck around, ever, with industrial vehicles."
"Follow all guidelines, always."
"A powered ride-on pallet jack weighs as much as 2-3 small cars, when fully loaded."
"It will absolutely ruin you if you don't operate safely."- SpaceCorpse
Still Probably Best Not To Do It At All!
"My uncle was a high-profile defense attorney specializing in folks who were arrested for drug trafficking."
"The greatest advice he ever gave to me was, if you want to smuggle ANYTHING, you can do it one time."
"Just once."
"After that, you will be caught and you will be f*cked."- redoctober2021
Confusing On So Many Levels...

"Trying to armed rob a gun store."- VagabondTexan
You'd Think People Would Have Learned By Now...
"Taking Julius Caesar hostage."- EgoSenatus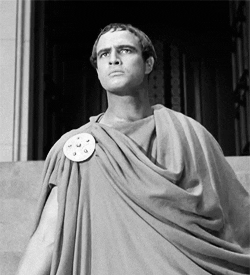 caesar GIF
Giphy
No One Is Invincible...
"Ye saying he can't be dropped by Adidas, then immediately getting dropped by Adidas."- Admin_Untold
It's one thing to make a mistake after being a bit too hasty, and not giving something enough thought.
But if you end up in the ER after being urged not to do something, and well aware of what might happen, don't expect too many flowers...