Reddit user sludge_factory_777 asked: 'Who is the scariest person you have ever met?'
Content Warning: True Crime Topics
It's hard to know what's going on in someone's head without having their mind ourselves, but we can make assumptions based on how they behave.
Some people have a serious vibe about them that other people know better than to mess with, with some of those vibes downright terrifying.
Redditor sludge_factory_777 asked:
"Who is the scariest person you have ever met?"
Jail Besties
"I got a DUI back in 2009 and was taken to the Placer County drunk tank. A guy with tattoos all over his face approached me..."
"He wanted to offer me his roll of toilet paper for a pillow. He introduced himself as the 'Sac City Psycho,' and he told me he would watch over me to make sure nobody f**ked with me, because he could tell I did not have much experience in jail."
"Now looking back on it, I guess for a few hours there, I was his b***h."
"Super nice guy, though. I 10 out of 10 would be his b***h again."
- NagoGmo
Innocent Until Feeling the Vibes
"I did an internship at a jail and met a dude awaiting trial on a triple homicide."
"The guy just had that vibe around him that just made you feel uncomfortable. Just being in his presence, you could feel the air change around you."
"Everyone in that room felt and respected it."
- throughthequad
The Magnetic Personality Type
"I once did one of those corporate mock jury panels. The little scientist analytics guy came out halfway through to shoot the breeze and holy h**l, I never understood what people meant by having a magnetic personality until then."
"We were clamoring over this dude. It was completely involuntary. He asked me a question and it was an out-of-body experience watching myself act like a golden retriever."
"I was so freaked out that I avoided him like the plague the rest of the panel. Nice dude. Seemed chill, but he could have started a cult with a snap of his fingers. Absolutely terrifying."
- Bridge-etti
Top-Notch Security
"I once as a medical student was doing a rotation in the state mental prison. We had to do a basic physical on this guy."
"There was a chair in the middle of the room, bolted to the floor. He had cuffs on his wrists and feet secured to the chair. Nine guards were in the room surrounding us, not more than five feet from the chair in a circle."
"He was off, just not there, and didn't want to cooperate. He looked at me, saw my coat, and said, 'That guy is from the university. I want to talk to him.'"
"I still don't know what he had done, but after a few months of the rotation, no one else had that degree of security for medical visits. No one else was even close."
- rykh7
Biker Aesthetic
"My cousin. He's a high-ranking member of a pretty well-known one-percent motorcycle club. The dude stands maybe five feet, seven inches tall, and he is of average build. He has no visible tattoos and is super soft-spoken."
"Everything about him says he should be a banker, not a biker. I have never seen him even raise his voice once but that dude scares the absolute s**t out of me. He gives off strong psycho energy."
- SignificantFix8218
Scary Dude with a Big Heart
"I live in New Mexico and met 'Big Dragon' from 'Beyond Scared Straight.' He does outreach like that with troubled kids."
"I was working as a teacher at YDDC, and they brought him down. The dude is no joke."
"I shook his hand, and you could just tell, the only reason he was not killing people was he didn't want to, because if he did, the guards would have not been able to do anything about it."
- Soundwave-1976
Murderous Besties
"I got arrested for public intoxication in the mid-to-late 90's and was put in a normal cell because the drunk tank was full. About ten minutes later, I was woken up and hastily moved to an adjoining cell."
"I visited with the guy in the first cell I was in for a few hours. When I was bailed out, I bumped knuckles with Gary, the guy in the second cell, and left."
"I later found out he was Gary Kleypas, and he was being held on first-degree murder... of a college student."
- TheJonnieP
Completely Out of Place
​"I was working at a bar in a pretty small town when we had a drifter come in on a random midweek night. The second he walked through the door, everyone I worked with and was at the bar said they felt cold."
"The dude had incredibly sunken eyes, pale white skin, dingy dirty hair, and visibly sharp-looking teeth. If I were to explain what a mako shark as a human would be, that's this guy."
"He said he was passing through and was looking for 'stuff ordinary people can't find' and then proceeded to show photos on his phone of odd areas he had been to previously. Nothing was off about the photos, but everyone I saw gave me more chills."
"Nothing was happening, no one was there, but everything had this feeling of 'I'm not supposed to be here.'"
" The dude left and asked me to follow him on Instagram, which I did. He posted last a few years ago up in Jackson Hole and said he'd be staying off for a while. Odd dude. We all were quite relieved when his cab showed up."
- Expensive_Change_893
The Doll Whisperer
"My grandpa's second wife, Angie. She was a hateful woman. I don't believe in people being 100% anything, but she was pure evil."
"She had a collection of porcelain dolls in a corner of their house when I was very young, and she would always try to talk to me through them, giving each of them their own creepy voices. One time, I touched a Pillsbury dough boy figure on her shelf, and she swatted my hand with a metal ruler."
"She was in her 70s when I was a young kid, and I'm 30 now. I heard from my aunt that she's still alive somewhere near where she lived with my grandpa (which makes me believe she is some kind of hag witch) and that she's committed insurance fraud, like, a lot."
- LepreConArtist
Constant High-Alert
​"I was at a bar and this guy walked in and immediately it felt like I was on alert. My spine turned to ice when I saw his eyes look at me, they were almost sunken into his face as if he was peeking out from behind a portrait. He moved like a cat stalking prey."
"Over time, he made his way over to me and made polite conversation, but his words felt disjointed, almost like he was translating them before speaking them. There was nothing aggressive or insulting about anything he was doing."
"In fact, he was quite polite. but everything about this guy was setting off every nerve I had. He was even smiling through most of it, but it felt as if his lips were stapled back."
- Cyanora
Reverse 'Breaking Bad'
"When I was pretty young, I was hanging out with an older friend, and I found out one of her close friends from school became a high-ranking member of a cartel. He got cancer and was allowed to sort of 'retire' from the cartel to spend the last few years with his family."
"I met him at a party of hers...He was very polite, but I had no intention of spending more time around him!"
- xain_the_id**t
Soldier Vibes
"A dude who hung out with a friend of mine back in the 1980s was a Vietnam vet, one of the advance forces guys or whatever they called them."
"He looked like he could bite the top off of a fire hydrant."
- Earthling1a
A Good Egg. Or Rock.
​"A p**sed off Dwayne 'The Rock' Johnson."
"Let me explain A few years ago, I was part of a charity event with Power of Pain (a family friend who I call my aunt, Barby, owns the charity for neuropathy and other immune disorders), and funnily enough, we somehow got Dwayne Johnson as a guest (we had contacted him but didn't expect him to actually come)."
"He was a f**king great guy. Honestly, best f**king dude in the world."
"Anyway, after the event, a lot of us went to a Denny's down the road to celebrate, not expecting him to be there, though he was invited. He showed up like 20 minutes after we all got there and he was having a blast hanging out eating Pancakes."
"Unbeknownst to the rest of us, there was a domestic dispute across the Dennys, a couple who seemed like they were about to break up, but more like the guy was just an abusive a**hole screaming at his girlfriend the whole time and her just in tears."
"Dwayne caught wind of what was going on, stood up, put on his 'Rock' persona, and had a f**king screaming match with this guy. The guy was just receding further and further into his shell and eventually he just f**king left."
"Dwayne paid the girl's bill, helped her stop crying, and walked her out to her car. He then came back in with a smile and continued having a good night and finished his Pancakes."
"He's a beautiful, kind-hearted man, but if you p**s him off, he WILL make you s**t yourself. Remember, they call him 'The Rock' for a reason."
"Best night of my life. Moral of the story: Be nice to people, because if you're not, you may find yourself in a situation you just can't win."
- Ok_Experience_6877
It's easy to see how these are the people that Redditors viewed as the scariest and most intimidating people that they had met. Even if a person hasn't done terrible things, sometimes people just have a vibe about them that makes you think they have the potential, or at least the power.
I feel like all humans are frightening in general.
We have been for quite some time.
I have a hard time even trusting six-month-olds.
There really is no way to avoid a scary person.
But we can be on the look out for major red flags.
Redditor dxadr0sx wanted to talk about the people who freak us out.
So they asked:
"Who are the scariest types of people?"
Any "type" of person is capable of crazy. That's just fact.
So Easy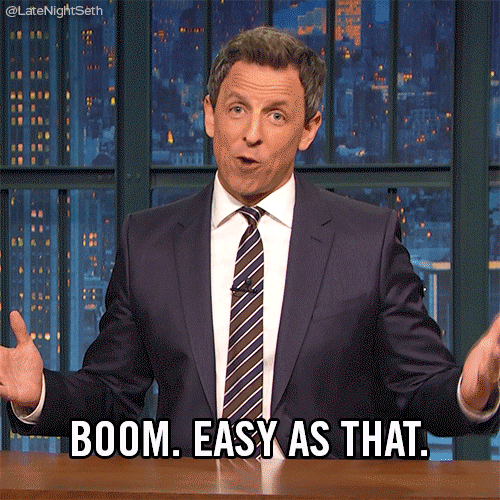 GIF by Late Night with Seth Meyers
Giphy
"The scariest kind of person would be someone who manipulates, and lies like it were normal because they'll easily get you to do things and make you think it was your idea."
noley23056
Tattletales
'"Friends' at work who are the first to go and tell everyone your personal business along with running their mouth to the bosses about everything behind your back. Act like best friends in person but really try and use the friendship to gain an upper hand at work."
ciahawkeye
"Happened to me, and I just cannot fathom why. We were interns who had absolutely no chance of being hired--as per the laws in our country as related to our job--, so I have no idea as to why that person tried to bully me and gossip behind my back."
DiligentBloke
Fabrications
"True gaslighters. Not someone who made a mistake in remembering something but someone who literally reconstructs reality and tells you that's the way it's always been. Tells you you said things you didn't say, changes around what they said, so many changes that it ends up being a complete fabrication that they believe it the truth."
"Then they tell you you're gaslighting them because you don't agree with the fabrication. You have to go no contact or you will go fully insane being led on this merry dance and trying to get them back to reality."
ChillWisdom
YOU
"Those obsessed with another person to an extreme point, be it a celebrity or an ordinary person."
swxttie
"I know someone who got stalked. I almost never saw the said person without the stalker. The stalker just appeared everywhere and every time, always tried to appear friendly and never went away no matter what. It was an insanely scary thing to witness."
Bocote
No Limits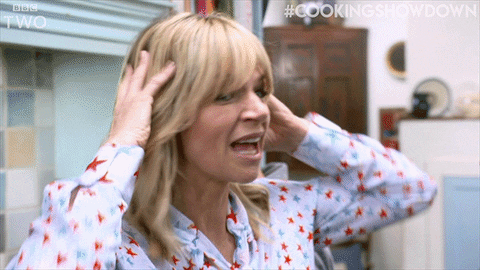 Angry Bbc Two GIF by BBC
Giphy
"People who have nothing to lose."
GummyZerg
"It sounds like a movie cliche but these people are legit dangerous if you make them mad. They just don't care what happens to them, that's what makes them so dangerous."
Noggin-a-Floggin
Oh those nothing to lose types freak me out.
Hands Down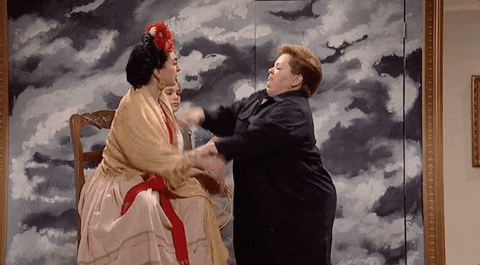 Melissa Mccarthy Fight GIF by Saturday Night Live
Giphy
"People who feel justified in using violence every time they get the least bit annoyed."
EspressoBooksCats
"Especially during clubbing. It's like some people go there to find the tiniest excuse just to start a fight."
KenzoAtreides
Too Soon
"In my experience someone who calls you their best friend after just meeting them. Happened to me twice. They are usually manipulative and abusive."
lesita6865
"You know what scares me the most about your post? I'm mostly without friends these days and struggle to make/maintain friendships in general, so if I did meet someone who instantly declared me their best friend I'd probably be excited instead of raising an eyebrow."
"On the bright side I'm extremely introverted and have ADHD so that tends to weed out highly demanding friendships quite a bit haha."
Crankylosaurus
That Age
"Teenagers are scary at every stage of your life. When you are a child you are scared of them because they are bigger than you, when you are a teenager you are scared because you are constantly surrounded by them, and when you are an adult you are scared of them because you know from experience how reckless and stupid they are."
zirittusit
So Enticing
"A charming sociopath. I have a hunch that I know one, and I call their behavior 'turning on the charm' to get things to go their way. I can tell when they are going to ask me for something because I see their behavior switch."
gecalab740
"A lot of the time though, a psychopath's charm is obviously superficial - but throw high intelligence into the mix and you have a truly terrifying combination."
undeadermonkey
"Some of the best advice I ever got was to think of charm as a verb. When someone is charming you, they are taking an action."
kifferella
THEM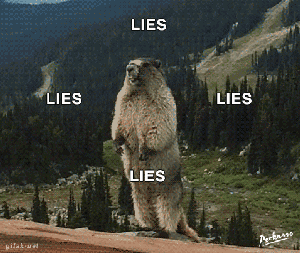 Politics Lies GIF by PEEKASSO
Giphy
"Lie with straight face and have no empathy."
Trick-Pair1680
"People who feel no empathy or guilt are the scariest. Who knows what they'll do next."
Themanwhofarts
Just like I said earlier. All humans basically.
Do you have anything to add? Let us know in the comments below.
The world is full of crazy people.
It feels like that more and more as I meander in my local shopping center.
But a little crazy I can deal with.
I want to discuss the people who leave an imprint of fear.
The people who lack empathy, remorse... and a soul.
You met many of those?
Redditor playmesomethinnice wanted to see who would fess up and discuss the person or persons that leave us shook.They asked:
"What type of people are you scared of?"
No Sense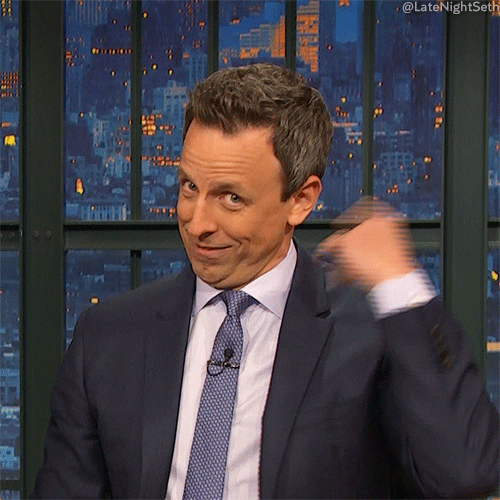 Seth Meyers Lol GIF by Late Night with Seth Meyers
Giphy
"It's a bit hard to categorize, but for me it's people who can't be reasoned with."
Existent-Being42
"Like flat earthers. I met one in the wild last summer and it was the weirdest experience. My friend slept with him anyway and I'm still mad at her for it, like don't reward him????"
Sapphire_Bombay
True Psycho
"People who are manipulative liars. Who get you to care about them and then play the victim just to watch you suffer."
ExcellentSnake
"This. It scarred me so much I lost faith and trust in humanity. I was not the target but I've seen it with my eyes on a dear friend of mine."
Jona_cc
"Had an ex who lied about having cancer and a twin sister who died in a car wreck, makes no sense to me we were in high school at the time lol."
DirtySquirties
Anything
"There is an odd category of people who seem to be able to get away with anything they do. May it be with their looks, skills, wits, power and everything in between. Them. I'm afraid of them."
ily-bc-yes
"My ex husband is this type. I witnessed him get away with crimes, and not just get away like not get caught... like he got caught, went to court, and somehow convinced the prosecution and judge to drop all charges. It was at that moment I knew real fear from that man."
jokersmile27
Lacking in Brain
"The dangerously stupid. F**king up and hurting others but come out unharmed to sheer luck."
KingZaneTheStrange
"Oh like my father in law who was torching weeds right by his shed that then caught fire and spread to an electrical box, deck, tree, and outdoor bar and then laughed about it cause 'I did something just like this at our old house too.'"
dawgthebountyhunter4
Certain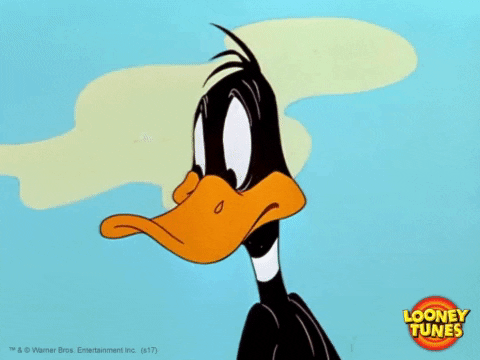 Happy Daffy Duck GIF by Looney Tunes
Giphy
"I don't remember who said it but, 'It's not the people that are unsure that bother me, it's the people that are so certain that scare the hell out of me.'"
Mo_Jack
It's all about sanity levels. Or lack thereof.
HIM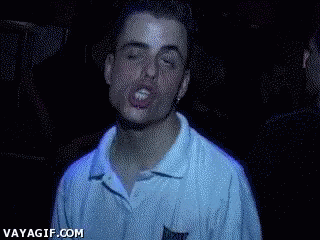 Drunk On One GIF
Giphy
"The drunk guys at bars that always have that stare."
sam_hallaway
Fuses
"People with a short temper."
SuvenPan
"I would add people with a short and unpredictable temper. Those kinds of people who can be totally fine one second, then you do something that doesn't even cross your mind could be 'wrong' and suddenly they're yelling at you. People who explode at seemingly random stuff, no consistency, and particularly at moments you wouldn't expect."
"That's the worst. I'm not particularly used to being yelled at and I'm also rather non-confrontational, so I just don't know what to do when someone does yell at me when I'm absolutely not expecting it. Those people scare the sh*t out of me. I'm constantly on edge when I'm around them and I always feel like I have to walk on eggshells."
ElsaKit
Refusal
"People who refuse to take responsibility for their mistakes."
Silly-Goose-is-Loose
"They think it keeps them out of trouble, failing to recognize it causes so much more trouble for them in long run. A former friend of mine seems to have their brain constantly working on writing excuses for everything (to the point they can't keep their owns tory straight much of the time)."
"With the idea that any decision they make has to be the fault of others. They convince themselves that their every move was beyond their control and they were forced into it by others and then if they still suffer consequences they think it just means they are the victim of injustice. Tragically failing to realize they effectively deprive themselves of any control over the decisions."
QueenElsaArrendelle
Unacceptable...
"People who who are unwilling to accept the limits of their knowledge."
adrunktherapist
"I hate that my limits are there. I want to know more. And I wake up in the middle of the night wondering about James Joyce books and the NASCAR jeopardy questions I don't know."
"My boss hates me but said I'm the only person who is the best on all the machines. I suck at people, but I'm the machine whisperer. I'm the skinny *itch who can tell an autoclave to behave. A DSD to suck it up Sally. I'll even help the front desk with Bob Marley printer."
"Because he be jamming, not my job, but I have a personal vendetta against that machine. I fixed a Gameboy that was sitting in water for 2 weeks. Nintendo does make them good. Yet, I cannot for the life of me can't use an automatic car. Stick or nothing."
hyperfat
Be Scared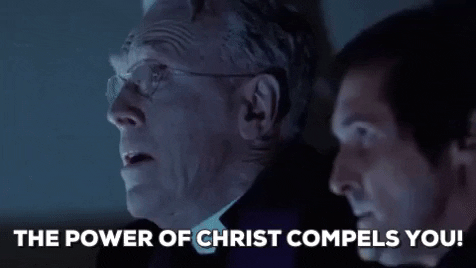 the exorcist father merrin GIF
Giphy
"Be scared of the man who has nothing to lose. Be very scared."
sourceshrek
"With money diminishing more people are feeling trapped and in a corner."
novA69Chevy
I believe I've met all of those people. God help me.