On Friday, February 14, Supreme Court Justice Ruth Bader Ginsburg visited the Library of Congress to present the inaugural Ruth Bader Ginsburg Woman of Leadership Award.
Though the award went to Agnes Gund, a philanthropist in Washington D.C., RBG herself also earned some well-deserved praise.
The Notorious RBG rocked a pair of sparkly heels that got a nod for her fashion savvy from Martha Stewart!
Stewart was photographed standing behind the diminutive SCOTUS Justice...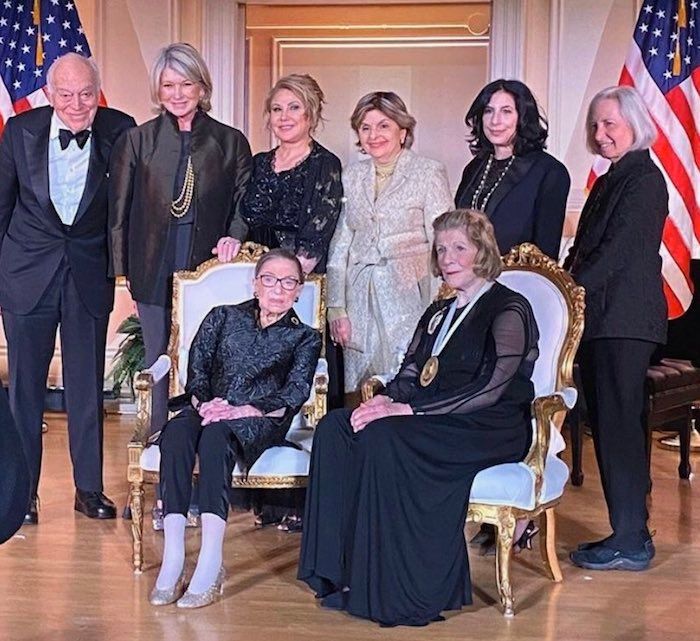 @KateBennett_DC/Twitter
...and had a close up view of the shoes.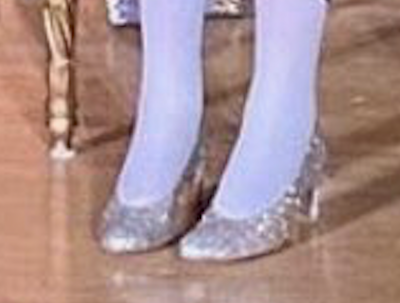 @KateBennett_DC/Twitter
Images of RBG's sparkly shoes quickly went viral on Twitter, where people couldn't get enough of the judge's flashy style.

Yes. All the yes. https://t.co/Etk646om0D

— Kate Bennett (@Kate Bennett)1581950771.0
They reminded many of Dorothy's magical slippers from The Wizard of Oz.
RBG needs to click her glittery heels together three times and take us all back home. https://t.co/9rV9uFQi7t

— Mike Sington (@Mike Sington)1581982941.0
Justice RBG rocking some amazing sparkling shoes. Click those heels three times! https://t.co/LOK1qHNdMN

— Pam Vaught (@Pam Vaught)1581996420.0
RBG's white socks + sparkly heels combo deserves a write up in @ManRepeller https://t.co/drjDIR0nTD

— rach against the machine (@rach against the machine)1582122621.0
RBG wears what she wants, whenever she wants.
@MikeSington She's adorable

— valentina (@valentina)1581986814.0
It's #WCW and our crush today is Justice Ruth Bader Ginsburg and the silver sparkly heels she wore to the Woman of… https://t.co/HJpR9qnkB7

— We've Got Issues, Girl (@We've Got Issues, Girl)1582126760.0
@MikeSington lovin' RBG!

— Jacqueline (@Jacqueline)1581990076.0
If only we could all channel some of Ruth Bader Ginsburg's unstoppable energy.
RBG wearing sparkle heels is my kind of energy https://t.co/ognN5y7qfW

— Carrie A. Mitchell (@Carrie A. Mitchell)1582124651.0
@KateBennett_DC Stay safe, stay cool, stay long, Justice Ginsberg.

— eastoftheborder (@eastoftheborder)1581957204.0
Is it common for a Supreme Court Justice to have an online fan club?
@KateBennett_DC Just when I think I can't possibly love her more.

— Ella S. (@Ella S.)1582045550.0
@RBG...u go girl, rocking those sparkly heels...👍🤩😘 https://t.co/qIdT6geNPh

— An Win (@An Win)1582083533.0
RBG has always been a force for equality, and that doesn't show any sign of stopping.
Love, love, love her. A woman's, woman. She doesn't just talk doing the right thing for women, she DOES IT! Plus he… https://t.co/plSEYISYeK

— Joanna Bunten (@Joanna Bunten)1582079506.0
#RBG absolutely needs to be an Honorary Muse!!! @KreweOfMuses #MusesParade #ThoseShoes #Heels #Glitter… https://t.co/0emIdskM6i

— ... (@...)1582047811.0
Keep up that undeniable style, RBG. We love you!
The book Notorious RBG: The Life and Times of Ruth Bader Ginsburg is available here. The book is also available in a young readers edition, available here.
Keep reading...
Show less
There's nothing better than funny Halloween costumes.
Sure, that character from the obscure anime show you love might be your favorite, and the princess costume you rented may be quick and easy, but it's the funny costumes everyone's going to be talking about at work the next day while trying not to barf on their desk because Halloween was on a weeknight. Those are just the laws of the universe.
And if you really wanna rule Funny Halloween 2018™, you gotta go punny. Given the ridiculous pun costumes currently ruling Twitter, competition this year is steep! Consider this your first training exercise for 2019. Take notes, because this is how it's done!
First up: Plant Parenthood!
Happy Halloween! Support Plant Parenthood! https://t.co/SQDmbQftZn https://t.co/H9qtu7pK36

— Madison Malone Kircher But Watching Hocus Pocus (@Madison Malone Kircher But Watching Hocus Pocus)1540685112.0
I must admit this stumped me until I read the tweet. But five stars! Another key to a memorable pun costume: Make it a thinker. Also, as an inveterate lazy cheapskate, this combo of dollar store fake plants and what looks like an old backpack simply worn backwards takes first prize in the costume competition that exists solely in my mind.
Then there's this, which combines two of everyone's favorite things: Ruth Bader Ginsburg and gay stuff (like disco).
Judge's ruling: flawless execution, expert punnery! *bangs gavel*
My "R Bee-Gee" mashup #Halloween2018 costume. #dissent #notoriousrbg #rbg #dissentcollar https://t.co/eBabUPTSge

— 🌊 Dr. Jennifer Glass 🌊 (@🌊 Dr. Jennifer Glass 🌊)1540695576.0
And then there's this, which is fully next-level and snatches any and all pun trophies forever:
Thotnos ready to make the hard decisions and look good doin it https://t.co/dBhBXhDFVK

— 40yo white man from Ft Lauderdale (@40yo white man from Ft Lauderdale)1540615770.0
Respect.
An Honorable Mention goes to this, which has gone directly over my head, and I really respect that!
Lara Jean Croft: To All The Tombs I've Raided Before https://t.co/6rLBuzQGTf

— Nicole He (@Nicole He)1540678273.0
(Seriously, what does this mean? I have no idea but I bet it's ingenious. Good job NIcole!)
There were tons of other pun costumes that TOOK TWITTER BY STORM:
This year I went for a Halloween costume that is pop culture at its finest. Introducing: Stormy/Stormi! I was a mas… https://t.co/EZ7MedwjeG

— Eliza Orlins (@Eliza Orlins)1540679011.0
Some were BOWLED OVER by this one:

I'm not saying my ability to DIY a Halloween costume (and a punny one at that) is my best trait, but I'm not NOT sa… https://t.co/lWSJYGvrBs

— Zombie Jami 🧟‍♀️ (@Zombie Jami 🧟‍♀️)1540513067.0
But the REALITY was, this was many people's favorite (wink):

Happy Halloween from the CWE!!! 🎃🧛🏻‍♂️ #RealityBites You gotta love a good photo of reality stars eating!… https://t.co/maoNCBvkFH

— Nathan Gemayel (@Nathan Gemayel)1540695206.0
The puns even got sort of sexy...

My sister just sent me this and said her costume is "reverse cowgirl" 😂❤️🤠 https://t.co/KjsT8rQ7jC

— Shelby Sells (@Shelby Sells)1540608809.0
As well as just downright genius:
Pretty proud of my #Halloween2018 custom-built pun costume, "David Buoy"! It even won "Best Costume" at… https://t.co/uoJhiT5qla

— 𝕊𝕡𝕖𝕟𝕔𝕖𝕣 🦇 𝔹𝕒𝕥𝕫 (@𝕊𝕡𝕖𝕟𝕔𝕖𝕣 🦇 𝔹𝕒𝕥𝕫)1540760480.0
While others had a certain je ne sais quoi:
How's this for a great pun/hallowe'en costume? https://t.co/GULnSxDCFv

— Matt Leib (@Matt Leib)1540841040.0
And when a figure is as versatile and multi-faceted as Ruth Bader Ginsburg, there's no end to the puntastic possibilities:
Ok everyone. You may as well stay home on Wednesday. We have a winner for the best Halloween costume of the year.… https://t.co/hF0CMswSHx

— Andrei Cherny (@Andrei Cherny)1540765020.0
This is even better than the best bad pun Halloween costume I've ever seen, which was someone I saw on the subway w… https://t.co/2QfWI8a5iO

— 🎃💀 Caroline McCarthy 👻🦇 (@🎃💀 Caroline McCarthy 👻🦇)1540770682.0
So there you have it! Now get out there and turn a look that'll make 'em say, "Wait, what? Oh... 🙄"

Happy Halloween!
H/T Daily Mail, Twitter
Keep reading...
Show less