Sometimes everyone needs to hush up.
Wouldn't that be nice?
If people could catch onto social queues and actually engage in conversation with another human, maybe then we'd be able to triumph at the basic art of communication.
But humans seem to be failing in this department.
So who among us hasn't been trapped in a nonsensical splattering of words we'd give limbs to escape from?
Redditor Isingsongstomycats wanted to hear about what can completely make us regret speaking to another person, so they asked:
"What instantly ruins a conversation for you?"
I'm ornery. Anything and everything can turn me off.
Blocked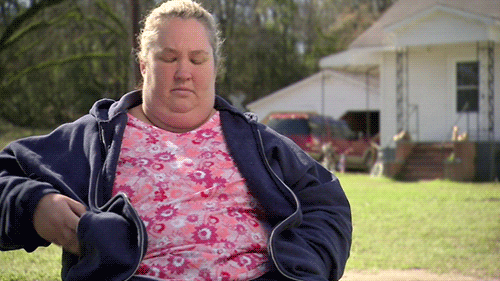 honey boo boo phone GIF by RealityTVGIFs
Giphy
"Getting their phone out for no reason mid conversation."
Expensive_Pie_6943
"Sometimes I want to look up something pertinent to the conversation but I don't want to interrupt them to say that. Now when someone checks their notification mid conversation, that really burns me."
cutelyaware
Up & Up
"When someone feels the need to one up you on everything you say."
Apprehensive_Gap_368
"Had a coworker like this once, his one upping was so bad we would test it. Best one was a guy talking about catching a shark on a pole at the beach. He interrupted with the time he swam out a mile and got attacked by a shark and beat it and swam back with it."
Mess_Bubbly
Rude
"When they start saying nasty things about people they barely know."
WeirdShyKitten
"I have family like this. I once heard them go on on this rant about how the new waitress at their local coffee shop is fat and ugly. They made a thousands assumptions about this woman that included criticism to her service."
18062022
"Or start sh*t talking someone the second they leave the room. My dad's sisters do that, I was stuck in my parents house alone with them and I would get so paranoid every time I left the room. If they do that to each other, I can't image the crap they talk about me."
vicki_chicki
War of Words
"When they ask for your opinion or talking about something fully subjective and then tell you how you are objectively wrong or get offended by you nor agreeing."
Prize_Interaction931
"Similar, but not quite the same: my old roommate would correct me on things that were objective, and not like facts."
"Like I mentioned it was hard for my folks to get a mortgage because they were self employed and he correct me that it wasn't. He wouldn't believe the story i was telling and told me what he thought might have happened with no knowledge on the subject."
"Needless to say I moved out."
SFXBTPD
Blah Blah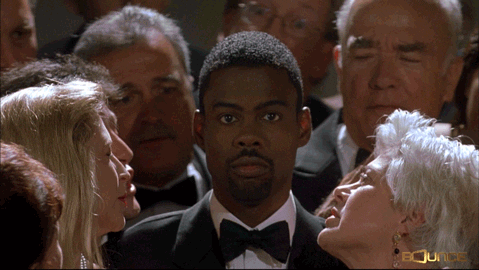 Bored Chris Rock GIF by Bounce
Giphy
"When it feels like you're engaging a combination lock just to get responses to simple innocent pieces of a conversation. People who small talk you to death."
REDDIT
I swear small talk people should be arrested for attempted murder.
Useless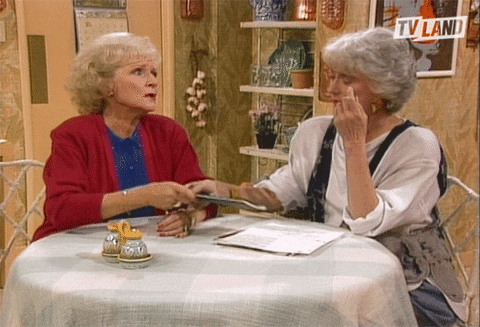 Golden Girls Rose GIF by TV Land
Giphy
"When someone drags a story out with useless details. Like something that happened on the drive to work but they start the story at the point when they first woke up and what they had for breakfast. Just get to the point!"
ticklemebits
Paused
"When they interrupt me mid sentence."
HelpMeSweetJesus
"If it sometimes happens on accident whenever they think of something and get over-excited it's whatevs. Now when they constantly step over you it's like your opinion merely feels like filler at best and they ain't even listening. Not even worth the energy to continue at that point."
BAKED_TATER_
"One of my coworkers only listens long enough to figure out what she's going to say next, and then she interrupts. I guess we're only there to feed her lines."
Witty_Commentator
Do Better
"When someone gives you completely useless advice you didn't ask for. A couple weeks ago I mentioned to a coworker that I was glad to be going home because I didn't get more than a couple hours of sleep."
"Dude first of all had the audacity to say 'Well, you need to do better.' When I said I have medication resistant insomnia he looks at me like I'm an idiot and asks if I've tried melatonin."
errant_night
Duh
"Think of how stupid the average person is, and then realize half of them are stupider than that. And it doesn't take you very long to spot one of them, does it. Take you about eight seconds. You'll be listening to some guy, and say, this guy is f**king stupid. Then, then there are some people, they're not stupid. They're full of crap."
"Huh, that doesn't take very long to spot, either, does it. Take you about the same amount of time. You'll be listening to some guy, saying, well, he's fairly intelligent. Ah, he's full of s**t. Then there are some people, they're not stupid, they're not full of s**t, they're freaking nuts."
teaching-man
Gross...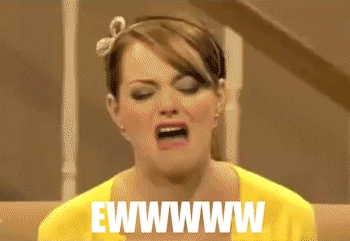 Disgusted Emma Stone GIF
Giphy
"Sexualization. We're talking about a new video game and suddenly I get asked if I play naked, or if I'm turned on by a game mechanic or some such nonsense. Yuck."
GreenAppleLady
Good conversation is hard to keep these days.
Do you have any conversational red flags to add? Let us know in the comments below.