Talk about making the best of a bad situation.
With over $1.3 billion reported in damages due to the floods that are currently ravaging midwest plains, people are losing homes, cars and places of business.
But following a particularly bad flood by the Platte river which runs both near Omaha and Lincoln, two friends found something that lightened the mood, if even only a little.
Gayland Stouffer and Kyle Simpson were checking out the damages to Simpson's property in Schuyler when they saw an abandoned refrigerator.
Tanner Podraza posted the story to Facebook.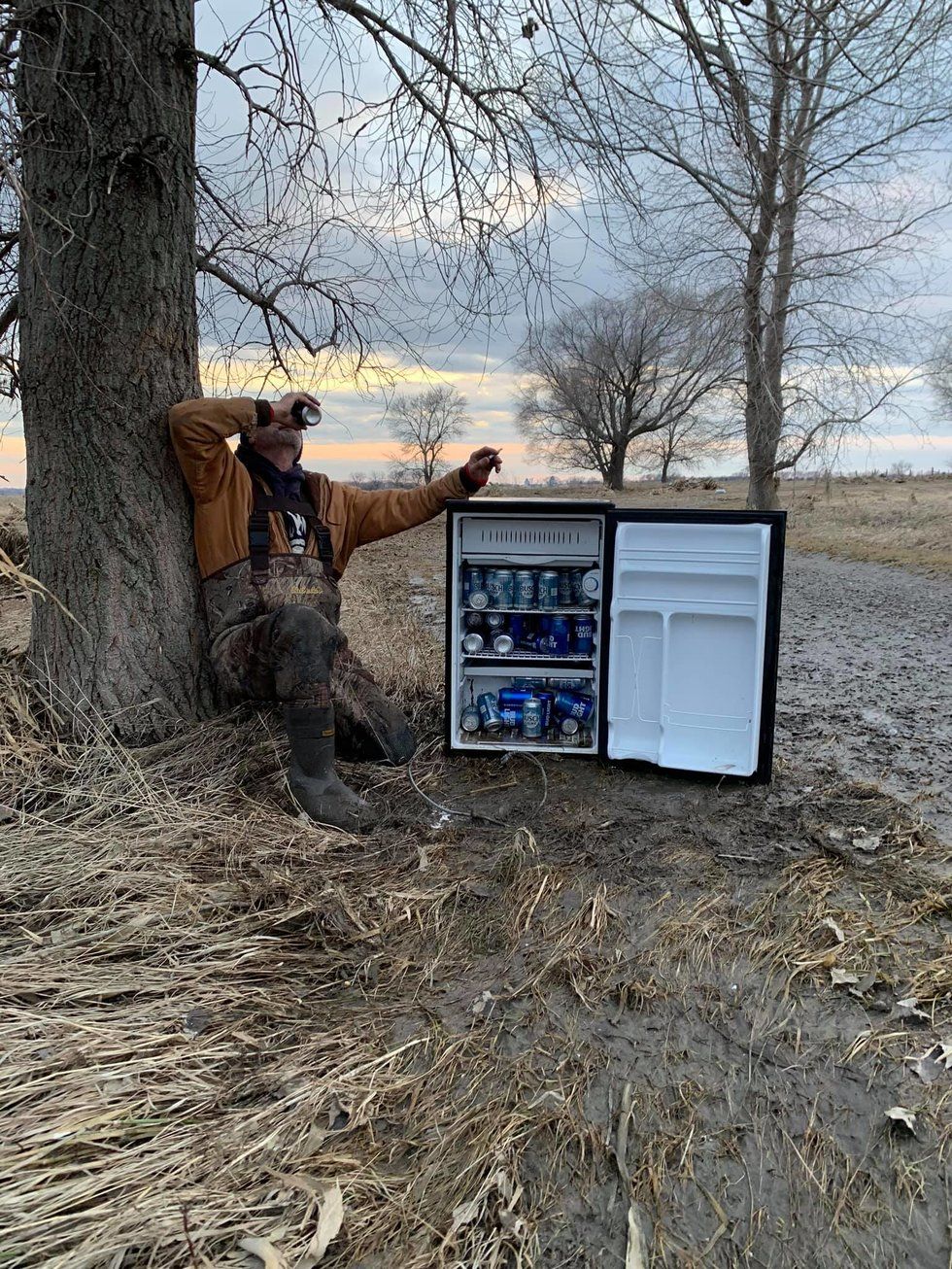 Tanner Podraza www.facebook.com
"Got a text message from the boys back at Duck Camp [ Lost Island ] The flood left plenty of damage but also left a surprise.... #NEBRASKASTRONG"
They found it completely stocked with ice cold Bud and Busch light.
The fridge itself was later identified as belonging to the Healy family, who own a seed company in Schuyler and a cabin nearby.
They noticed the fridge had scorch marks around the edges, just as theirs did, when it survived a house fire in 2007, according to the Omaha World-Herald.
Brian Healy was shocked that the fridge managed to survive the flood.
"I couldn't hardly believe they found it all intact," said Healy.
"The pictures really made me laugh."
'It's full of beer!' Men find 'magic fridge' in flooded Nebraska field https://t.co/eqGi1pi7h1 https://t.co/nhSdMMtBUv

— WFAA (@WFAA) 1553204730.0
@wfaa @mikedairyguy And it is the good kind! #potogold @BuschBeer

— Ben Sanders (@Ben Sanders) 1553230106.0
@wfaa @sPORTs_grass Guess Nebraska IS the land of opportunity... 👀

— [Clever Name] (@[Clever Name]) 1553204905.0
@wfaa @lstn2urmama Hey! I've been looking for that!

— Kimmy ✨💫✨ (@Kimmy ✨💫✨) 1553248057.0
@Phaedra62 @wfaa I think it may be all gone by now . . Ooops

— Lstn2urmama (@Lstn2urmama) 1553248423.0
@lstn2urmama @wfaa HEY! I was thirsty too! 😁

— Kimmy ✨💫✨ (@Kimmy ✨💫✨) 1553248644.0
So that fridge has apparently been through the ringer, but its survival has brought so many laughs.
@wfaa Supreme Court Justice Kavanaugh ruled this was a miracle and a new holiday is in the works.

— Շђє D✭LL✭S D✭PiFɆɌ (@Շђє D✭LL✭S D✭PiFɆɌ) 1553204811.0
@nypost All part of God's plan

— Izengabe (@Izengabe) 1553225053.0
@nypost Bush light!! 👍🏻

— Manuel Pagan Jr (@Manuel Pagan Jr) 1553223934.0
@nypost Some guy is recognizing his fridge and beer right now and gassing up his truck to go on a mission.

— Kim Taylor (@Kim Taylor) 1553224994.0
@nypost The Lord works in mysterious ways.

— Paul Holcombe (@Paul Holcombe) 1553234128.0
@ActualOccasion @nypost Sorry about the flood, here have a beer!

— CaptOutrage (@CaptOutrage) 1553235227.0
@nypost And there was joy and much jubilation!

— Russian Troll Farm (@Russian Troll Farm) 1553224133.0
Every now and then the universe gives us one https://t.co/ZlrXNwClvK

— Andy Mannix (@Andy Mannix) 1553268720.0
The flooding in the midwest is ongoing.
Nothing spared in parts of Iowa as flooding submerges homes, businesses www.youtube.com
At least three people have died after waters from snow-melt and the rain from the "bomb cyclone" that hit last week have raged through the flood plains.
This silver lining is nice, but the midwest could use your thoughts right now.
Keep reading...
Show less