President Trump, who's been on a spree of pardons and brash acts after being acquitted by the Republican-controlled Senate, recently described himself as the "chief law enforcement officer of the country" while defending rumors he plans to pardon confidant Roger Stone.
Actor Mark Hamill, who frequently criticizes the President online, poked fun at Trump's unstable, borderline authoritarian behavior, by asking him for an even bigger pardon.
The Star Wars Holiday Special, produced quickly on the coattails of the first film's success, is famously bad and features some of the worst acting of the entire Star Wars saga.
Sadly, most people agreed the special was a crime, though not one worthy of a pardon.
Of course, if Roger Stone, who was recently sentenced to 40 months in prison after Trump asked the Department of Justice to go easy on his old friend, deserves special treatment, perhaps the special does as well!
Perhaps the special would have a better chance of getting pardoned if it donated a bunch of money to the Trump campaign—a common theme that connects each of Trump's recent acts of clemency.
Unfortunately for Hamill, many people online felt that even the President didn't have the power to let that special off the hook.
There were a few who tried to stand up for the cult-classic...
...but not many.
Perhaps the true answer is actually to produce a sequel?
President Trump, if you actually believe in democracy, pardon this holiday special!
Keep reading...
Show less
Just when we thought the character of Jar Jar Binks was far behind us, the famously annoying character who made his debut in 1999's Star Wars: Episode I – The Phantom Menace is making a comeback.
There seems to be no other explanation for this other than Mark Hamill playing some Jedi mind tricks on fans.
Jar Jar Binks was initially conceived as a role for comedic relief loosely based off of Disney's classic character, Goofy.
Unfortunately, Jar Jar wound up being a wildly unpopular character, and diehard fans are still holding a grudge against George Lucas for conjuring up the wacky alien.

But not everyone is anti-Jar Jar.
Turns out the random resurgence of his character revealed those who think of him fondly.
Twenty years later, Jar Jar is finding his viral place in social media.
ESPN writer Ryan McGee commented on the random phenomenon and gave the trending topic a further boost.

Some are having a change of heart.
So what's with the comeback?
Rest assured, Ahmed Best – the actor on which the CGI rendering of Jar Jar was modeled – is alive and well.
The wacky character also remains with us and has not been killed off in any of the various storylines in the galactic franchise.
In fact, according to author Chuck Wendig's canon trilogy of novels, Jar Jar has returned to Naboo and is entertaining children as a street clown.
Here is an excerpt describing the antics of a certain character mentioned in Wendig's novel, Star Wars Aftermath: Empire's End.
"Since children started coming in by the shipload as refugees, the Gungan has served them, performing for the kids once or twice a day. He does tricks. He juggles. He falls over and shakes his head as his eyes roll around inside their fleshy stalks. He makes goofy sounds and does strange little dances."
"Sometimes it's the same performance, repeated. Sometimes the Gungan does different things, things you've never seen, thing's you'll never see again. Just a few days ago, he splashed into the fountain's center, then pretended to have the streams shoot him way up in the air."
"He leapt straight up, then back down with a splash. And he leapt from compass point to compass point, back and forth, before finally conking his head on the edge and plopping down on his butt. Shaking his head. Tongue wagging. All the kids laughed. Then the Gungan laughed, too."
Star Wars fans have a hunch as to who might ultimately be responsible for bringing back the scorned Gungan from the planet of Naboo.

Mark Hamill, who will forever be known as Luke Skywalker, tweeted a game chart that determined fans' Star Wars fates.
On Monday, Hamill wrote:
"I refuse to be distracted by such meaningless, moronic time-wasters (especially since my home planet was blown up by an unnamed stormtrooper)."
Based on the chart, your birth month corresponding with the first letter of your name will reveal your destiny.
In Hamill's case, the 67-year-old actor was born on September 25, which would indicate that his home planet was blown up by "an unnamed Stormtrooper."
It may be a stretch, but the letter "J" representing Jar Jar could have been the culprit for his name being brought back into everyone's consciousness.
The hate towards Jar Jar is real.
Even actor Jon Cryer was weeping over his Star Wars fate, tweeting:
"My father turns out to be Jar Jar Binks?!? Noooooooooooooooo."
People continuing to look for a logical explanation are contributing to the momentum of Jar Jar's popularity.

With the final installment of the sequel trilogy The Rise of Skywalker, poised to hit theaters on December 20, 2019, the ridiculous theory of Jar Jar's true identity as a Sith Lord is taking the trending topic further as a possible plot point.
Best struggled after his infamous portrayal of Jar Jar Binks incited a backlash among fans.
George Lucas picked Best after spotting him in a production of Stomp, a theatrical percussion group, for the role Michael Jackson initially wanted to portray in prosthetics.
But what should have been an exciting career highlight for the athletic actor, Best's portrayal of Jar Jar Binks wasn't exactly a star-making turn. In 2018, after facing perpetual criticism, he contemplated suicide.

Since Best made his internal struggle public, the Star Wars community responded warmly with a huge amount of support for the actor, and the hatred towards Jar Jar diminished. At least a little.
Maybe the new generation has more of an open mind to embrace Jar Jar with open arms and not with a lightsaber.
Anything is possible, especially if Hamill's chart says that I'm married to C-3PO.

Most importantly, what is YOUR Star Wars fate?

Keep reading...
Show less
Galaxies collided when Star Wars' Mark Hamill and Star Trek's William Shatner went head to head online.
Shatner claimed his franchise's superiority over the beloved Star Wars franchise when NASA's Mars Reconnaissance Orbiter captured a familiar image of a surface formation on Mars.
The Orbiter discovered a chevron-shaped symbol evocative of "Star Trek's" Starfleet–the fictional service maintained by the United Federation of Planets that organizes space exploration, diplomacy, research, defense and peacekeeping–insignia.
Shatner, who is known for playing Captain James T. Kirk on the Star Trek TV series and in films, seized an opportunity.

"Hey @starwars! Will you hurry up your Rebel Scums? We beat you!"
It didn't take long for the Jedi master to detect a petulant disturbance in the force.
Hamill, the 67-year-old actor who is known for his iconic role as Luke Skywalker in Star Wars, saw something else in the captured image.

Shatner, 88, continued poking and prodding his newest nemesis.

Fans of both geeked out over the galactic clash, with one user declaring the "Mars race" victory going to Shatner.

Hamill commented on the presumptuous fan's unsolicited remark.

"Who made you Judge Judy & executioner?"
The rivalry between the two universes goes way back to when George Lucas bestowed Star Wars onto moviegoers in 1977 to global success.

But Star Wars wasn't the first Sci-Fi phenomenon with a strong foothold on pop culture. That distinction belonged to Gene Roddenberry's Star Trek, which aired as a television series from 1966 to 1969 on CBS.
The supernova scuffle was not over.
Shatner fired back:
"Looks like someone touched a #RawNerve. Too bad you never came on my talk show we could have talked about your Daddy issues both onscreen and off!"
But Hamill came in for the perfect landing when he implied that the measure of success was based on a certain expansion at a popular theme park.

The Trekkers (or Trekkies) made their final decision.
The Star Wars contingent boasted they were far, far away from an incidental planet.

Star Wars fans would do best to remember they will always have the moon.
It appears we've found the dark side of the moon.

Can peace be restored?
According to CNN, the mark found on the southeast Hellas Planitia region of Mars was created by an eruption of lava at some point in Martian history and flowed around the crescent-shaped dunes instead of covering them.

Winds left behind these "dune casts" in the lava field, and there is no indication the mark was created by the United Federation of Planets.
That we know of.

In 2018, William Shatner released the memoir Live Long And . . .: What I Learned Along the Way, available here. And while Hamill has yet to pen his own memoir, actress and close friend Carrie Fisher's memoir The Princess Diarist, available here, features stories from behind the scenes of the Star Wars franchise.
You can also show your Team Hamill or Team Shatner allegiance with either a Luke Skywalker shirt...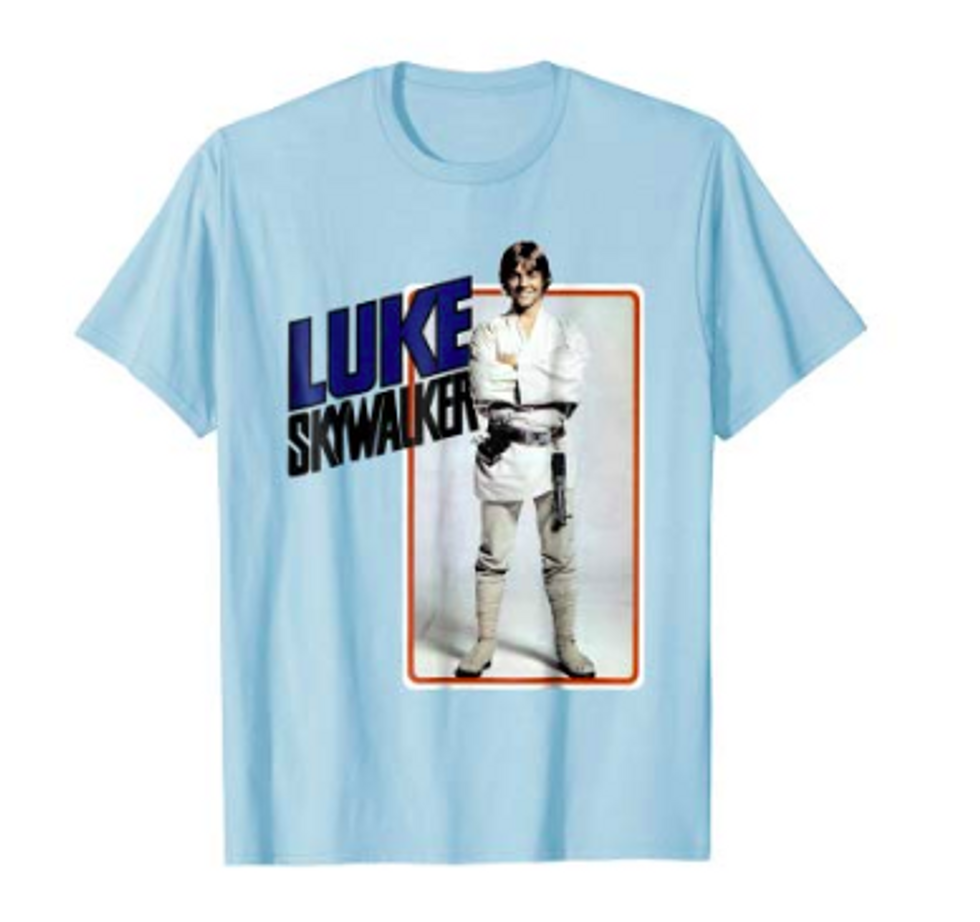 Amazon
...available here, or a Captan Kirk shirt...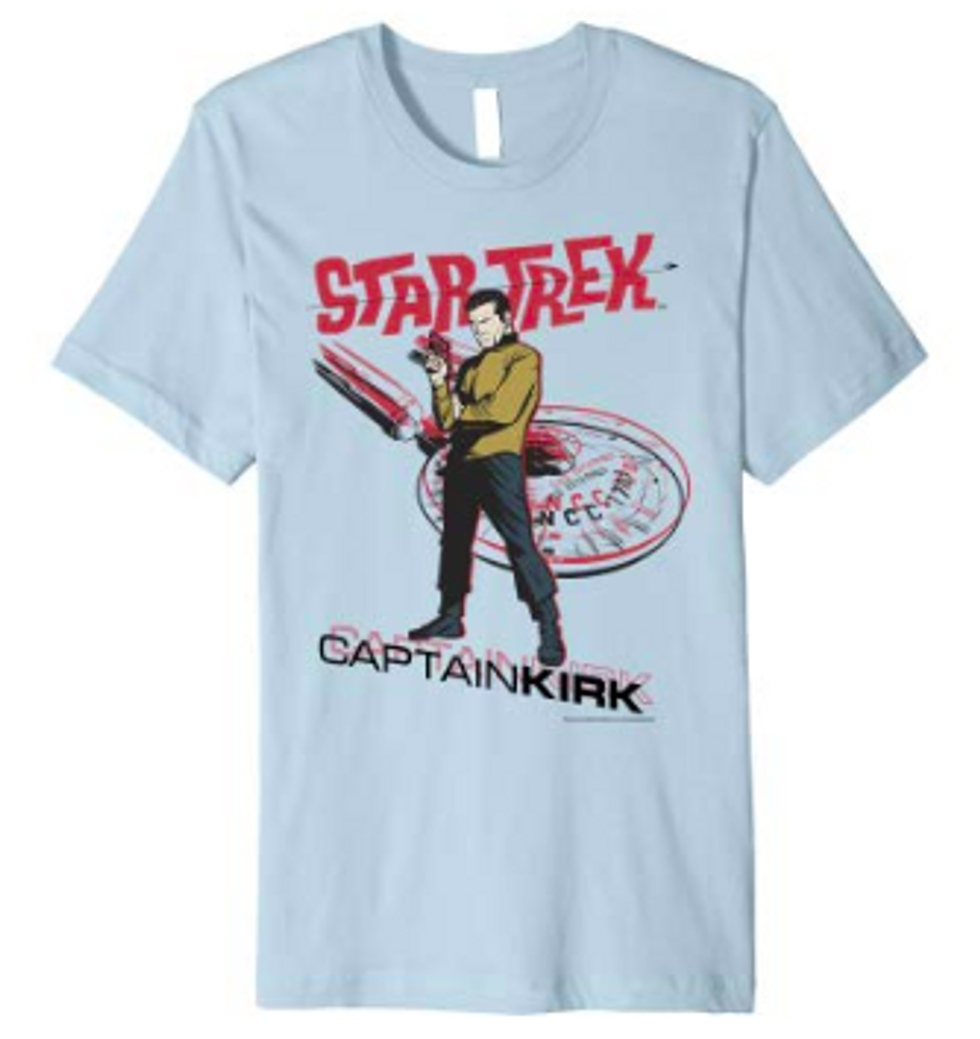 Amazon
...available here.
Keep reading...
Show less
We've all experienced stage fright at some point in our lives.
Remember your first school play or talent show and feeling that paralysis after staring out into a sea of people with all eyes focused on you?

As kids, we demanded attention. But when we got it without asking — it was awkward, maybe even terrifying.
For one young boy who was performing "Twinkle Twinkle Little Star" with his two cousins, the force was with him. In this case, however, he channeled his dark side.
During a family reunion talent show in Buffalo, Wyoming, the boy went rogue and sang "The Imperial March" from the Star Wars movies. The iconic earworm was the sinister theme composed by the great John Williams and is associated with the arrival of Darth Vader.
And while the kid remained true to the song's theme, the Death Star was not the kind of star his singing companions were thinking of.


Sometimes when I need to laugh, I think about the time my cousin's son took over a group rendition of Twinkle Twink… https://t.co/eyHoMcNXYc

— erin, duchess of whales (@erin, duchess of whales)1558886958.0
Family member Erin Gibson posted the hilarious moment that took place a year ago.
"Sometimes when I need to laugh, I think about the time my cousin's son took over a group rendition of 'Twinkle Twinkle Little Star' to sing the 'Imperial March.'"
The tweet went viral and received over 600k likes and was eventually noticed by one famous Jedi.
It was none other than Luke Skywalker, himself, Mark Hamill, who playfully warned his followers about this disturbance in the force.

The Dark Side is strong in him! 🤣 #AnotherRoyaltyForJohnWilliams. https://t.co/NwM6c5Xzz1

— Mark Hamill (@Mark Hamill)1558980768.0
@HamillHimself https://t.co/c5f5VM68rU

— Sexy Jebus (@Sexy Jebus)1558981033.0
@HamillHimself https://t.co/bfneE0CvBG

— SHEEV P. (@SHEEV P.)1558980888.0
@HamillHimself Twinkle Twinkle Little Death Star.

— Alex Cashman (@Alex Cashman)1558982488.0
@HamillHimself The Dark Side has never been more adorable! 😊❤️

— EmeraldStardust 🧁🐹 * No DMs * (@EmeraldStardust 🧁🐹 * No DMs *)1558980819.0
Members of the Resistance let their guard down and praised the youngling.
@actuallyerin This is amazing

— Father Sonn 👶🏼 (@Father Sonn 👶🏼)1558889947.0
@actuallyerin The bit where he gently nudged the girl away killed me 😂 "I've got this don't worry"

— Nocturnalme (@Nocturnalme)1558901479.0
People could hardly contain themselves over his endearing dark innocence.
@actuallyerin This was probably the hardest I've ever laughed. Even better in person!

— Maggie ✌🏼 (@Maggie ✌🏼)1558914962.0
@actuallyerin Also my 14yo and I watched this 5x and laughed til we cried

— Kristina Halvorson (@Kristina Halvorson)1558925329.0
@HamillHimself Little Darth Vader in action, so so cute , aww 😆❤️

— Claudia_Rose (@Claudia_Rose)1558980870.0
@HamillHimself this child makes me have faith in humanity again

— Maggie (@Maggie)1558980968.0
Gibson regretted not having shared the clip sooner.

"I've been sitting on this gem for almost a year," she wrote.
"I really should've put it out there with more gusto much sooner!"
@halvorson I've been sitting on this gem for almost a year... I really should've put it out there with more gusto much sooner!

— erin, duchess of whales (@erin, duchess of whales)1558925358.0
Better late than never!

Keep reading...
Show less
Over 1 million people have signed a Change.org petition to completely remake season 8 of Game of Thrones.
HBO spending the ludicrous sums of money it would take to do that is highly unlikely.
And this has led to a pretty amusing trend of posting other re-write ideas.

Mark Hamill got in on the action with his own idea:
"Petitioning the makers of the original KING KONG to reshoot the ending so that instead of being shot down from the Empire State Building, Kong becomes the star of a big Broadway musical. 🦍🎶🌟"
Petitioning the makers of the original KING KONG to reshoot the ending so that instead of being shot down from the… https://t.co/l9K6v0Fouj

— Mark Hamill (@Mark Hamill)1558123544.0
Hamill is likely referencing the King Kong show on Broadway, which he saw in March.
Hamill's post currently has almost 9000 likes and over 1.3 thousand retweets. Many commenting on the post agreed with him.
Others quickly jumped into the thread with their own rewrites.
Star Wars made several appearances.
@HamillHimself Petitioning the makers of Episodes 7 & 8 to reshoot the ending so that Luke, Han, Leia, Chewie, and… https://t.co/XWUetmzv5B

— Paul DK (@Paul DK)1558124319.0
@HamillHimself Aunt Beru and Uncle Owen don't get killed by Stormtroopers so we get six films on the finer points of moisture farming.

— Stuart Taylor (@Stuart Taylor)1558123741.0
@HamillHimself Petitioning the makers of Star Wars to reshoot the Last Jedi so that instead of Luke vanishing out o… https://t.co/jJcJlOgBzI

— Natalie 🐱 (@Natalie 🐱)1558124602.0
@HamillHimself Petitioning Kevin Costner to remake Water World to take place on Hoth the ice planet.

— Dangling Left (@Dangling Left)1558123845.0
Several people had their own King Kong ideas.

@HamillHimself Petition the makers to have Kong fall off Trump Tower + splat the orange one. The people, in undyin… https://t.co/idrNldoKKJ

— Erica B. (@Erica B.)1558126082.0
@HamillHimself Casablanca ending you say? The Simpsons. https://t.co/gR7CDeQXH4

— aLe (@aLe)1558123958.0
@HamillHimself I believe the original ending of Peter Jackson's KING KONG has the ape surviving to become the 3rd m… https://t.co/aWGdVCAOGb

— Gus Scharr (@Gus Scharr)1558192376.0
Some tied things in with Hamill's idea.

@HamillHimself Petitioning James Cameron to re-shoot Titanic so that the ship doesn't hit an iceberg, but, instead… https://t.co/10BXIZ6ZvX

— David (@David)1558133405.0
Some defended their desire for the re-write of Game of Thrones.
@HamillHimself We're petitioning it because we didn't like it, and it sucked. Let's be honest. We didn't petition K… https://t.co/onm9q2U64S

— Froobs (@Froobs)1558260735.0
With the final books yet to be published, it is easy to see why people might be anxious for a show that follows George R. R. Martin's story instead of how the writers chose to end the show.
It's not really practical to expect HBO to re-shoot the entire season, especially considering that Martin hasn't even finished the source material yet.
Unfortunately for disappointed fans, it looks like tonight's episode is going to be it.
Keep reading...
Show less