So people were ready to jump all over Lizzo when Page Six posted a pic of her minding her own dang business in a red bikini.
Lizzo looks like she's having a great time in Brazil.
So of course, some folks NEEDED to try and ruin it for her.
Simply put, you cannot determine a person's health by their visible weight. In fact, depending on the person, genetics can have a 70%-80% impact on how quickly a person puts on and retains weight.
since Lizzo has the lung capacity and the stamina to do an entire concert and then bust out the flute, it seems like a pretty poor thing to get on her case about.
Of course, not everybody was a troll.
Several people rushed right to Lizzo's defense.
The body positivity movement is very clear that the goal is to "end the harmful consequences of negative body image: eating disorders, depression, anxiety, cutting, suicide, substance abuse, and relationship violence."
Therefore, those claiming to be concerned about Lizzo's "health" may actually be pushing her and others who digest that information to making vastly more unhealthy choices.
And when presented with a body shamer in December, Lizzo already had the perfect response ready.
"The only person who needs to do better is you."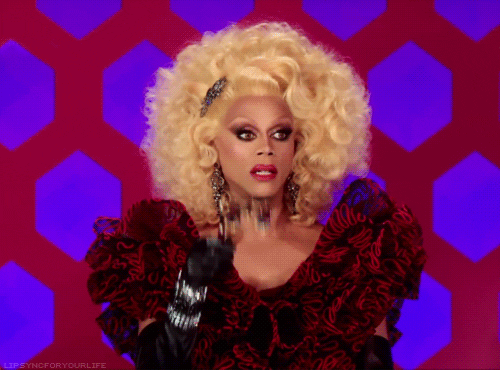 Giphy
**
Keep reading...
Show less
Just days after announcing that she was quitting Twitter indefinitely, Lizzo was hit with more body-shaming, this time from "Biggest Loser" physical trainer, Jillian Michaels.
But yesterday, whether it was meant as a reaction to Michaels' comments or not, Lizzo wrote on Instagram a post about self-love that was so perfectly timed, it could have only been planned out by Lizzo herself.
Michaels faced serious backlash after her comments about Lizzo's body earlier this week. Comments are still pouring in on the AM to DM post.
Michaels has come under fire before for her abusive style of personal training and the lack of long-term success of those she bullied to drastic weight loss on shows like The Biggest Loser.
In the midst of the ongoing conversation, Lizzo has not returned to Twitter and did not directly comment in the conversation or on Michaels' thoughts about celebrating her body. Instead, she shared a video on Instagram about self-love.
In the incredibly timely video, Lizzo says nothing. She shares a video from her perspective, starting with a shot of her legs while she's on her bed, followed by a quick tour of the luxurious suite she's staying in.
Finally, she goes out to the balcony, where viewers can see the tremendous view she has, with water and a beautiful sky in the distance. Just faintly over the sound of the highway, birds can be heard chirping.
Lizzo wrote in the caption:
"At the 25 second mark, I want you to take 5 deep breaths... In through the nose... out through the mouth..."
"Today's mantra is: This is my life. I have done nothing wrong. I forgive myself for thinking I was wrong in the first place. I deserve to be happy."
You can see Lizzo's Instagram post here:
The comments have been overwhelmingly positive, reacting to Lizzo's message, the beautiful scenery and the deep-breathing exercise.

@lizzobeeating / Instagram

@lizzobeeating / Instagram

@lizzobeeating / Instagram

@lizzobeeating / Instagram

@lizzobeeating / Instagram

@lizzobeeating / Instagram

@lizzobeeating / Instagram

@lizzobeeating / Instagram

@lizzobeeating / Instagram
Though it seems Twitter brings with it a lot of trolls for Lizzo, it seems Instagram is a much safer, calmer space for the artist to practice self-love while continuing to do what she does best: creating music and spreading joy to many.

No matter what's been discussed this week, Lizzo is on a tremendous path to success, with fans who celebrate her music, her persistence, her positivity and her self-acceptance.
Keep reading...
Show less
Celebrity fitness trainer Jillian Michaels is not buying into Lizzo's body positivity.
The Los Angeles television personality, who used to weigh 175 pounds as an eighth-grader, incurred the wrath of Lizzo fans after being accused of body-shaming the plus-size "Good As Hell" singer on Wednesday.
The former Biggest Loser trainer asked why Lizzo fans were "celebrating her body" instead of her songs during a controversial interview on BuzzFeed News' AM2DM.
"Why are we celebrating her body? Why does it matter? Why aren't we celebrating her music?"
"It isn't going to be awesome if she gets diabetes."
She tried to dial it back a notch by praising Lizzo's music but came back with sarcasm.

"I love her music. My kid loves her music. But there's never a moment where I'm like, 'And I'm so glad that she's overweight.'"
Trolls have been known to fat-shame the singer, and consequently, Lizzo announced she was quitting Twitter on Sunday.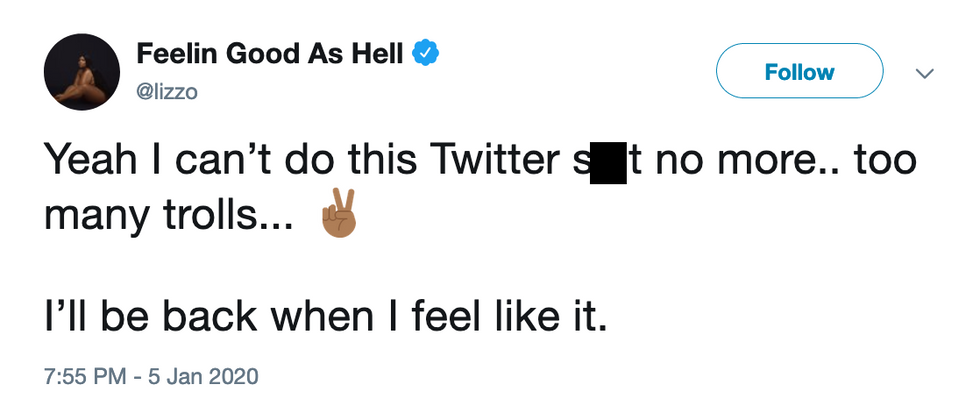 @lizzo/Twitter
Celebrities like The Good Place's Jameela Jamil came to Lizzo's defense and berated Michaels.
Others went after the personal trainer for her misguided criticism.
Fans reminded Michaels of Lizzo's fierce athleticism on stage singing and dancing in heels night after night in addition to playing the flute.

Facebook user Stefan Brundage shared a quote from Melissa Florer-Bixler – a pastor from Raleigh Mennonite Church – who defended Lizzo and said:
"...the next time you hear someone opine that Lizzo is normalizing obesity, know that this is simply more fat-phobia disguised as health concerns."
People continued to school Michaels with some facts.
Michaels responded to the backlash on Instagram and wrote:
"As I've stated repeatedly, we are all beautiful, worthy, and equally deserving."
"I also feel strongly that we love ourselves enough to acknowledge there are serious health consequences that come with obesity -- heart disease, diabetes, cancer to name only a few."
"I would never wish these for ANYONE and I would hope we prioritize our health because we LOVE ourselves and our bodies."
Last month, Lizzo faced criticism from author Boyce Watkins, who said her fame was due to the fact that "there is an obesity epidemic in America."
Watkins tweeted:
"Rather than encouraging people to do better, we are simply lying to them and telling them that they are just fine the way they are."
"Unfortunately, many of these people are dying from diabetes and heart disease."
In response to Watkins' unwelcome insight, Lizzo disagreed and credited her popularity for reasons unrelated to her body image.

"I'm popular because I write good songs and I'm talented and perform high energy hour and a half shows filled with love."
"The only person who needs to do better is you."
"Keep my name out ya mouth & look in the mirror before you come for me."
We love you, Lizzo!

Keep reading...
Show less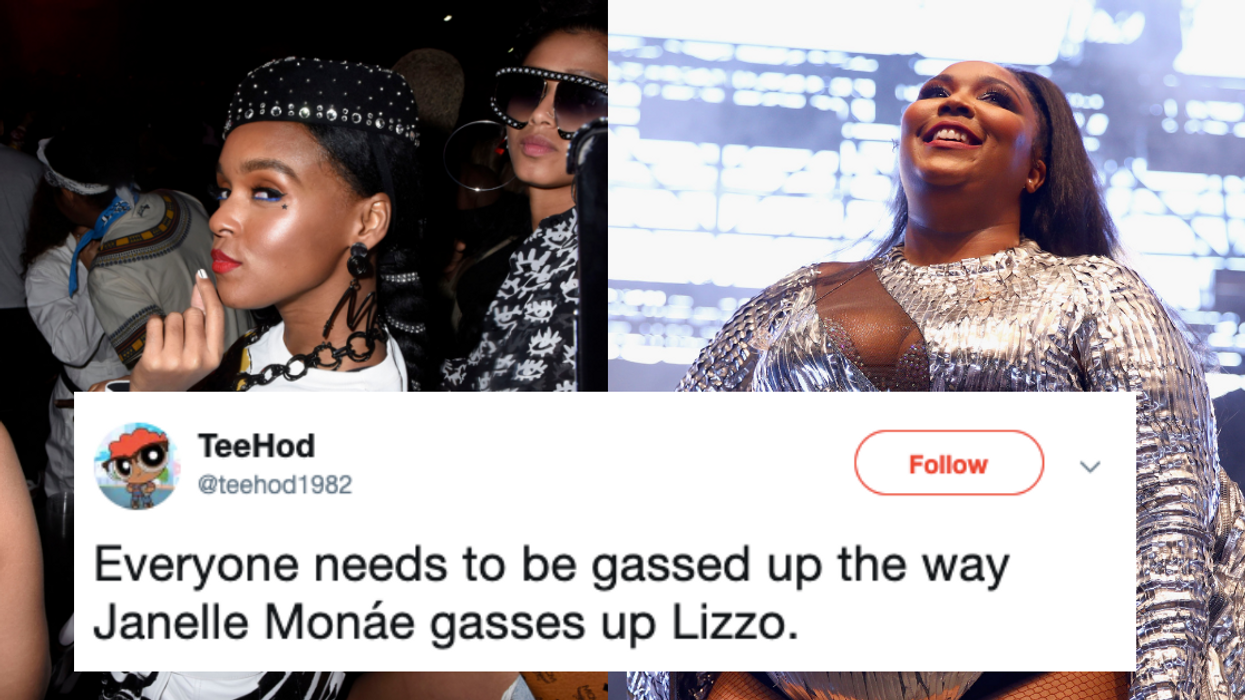 L-Photo by Vivien Killilea/Getty Images for Neon CarnivalR-Photo by Rich Fury/Getty Images for Coachella@teehod1982/Twitter
Janelle Monáe is a queen. No question, end of dicussion.
On Friday, she performed at the opening night of the ever-popular Coachella music festival and brought on a surprise guest.
When Lizzo came up on stage, Monáe asked, "Do you got the juice?" referring to Lizzo's single "Juice,"
Lizzo - Juice (Official Video) www.youtube.com
The two began to dance (read: twerk) and then Lizzo performed her own set at a later time.
Monáe's set was amazing. Like we said, Janelle Monáe is queen.
Janelle Monaé - Django Jane - Live at Coachella 2019 Friday April 12, 2019 www.youtube.com
When Lizzo performed her own set, Monáe could be seen in the audience straight up cheering her collaborator on.
We haven't seen a solid stan like this since Amy Poehler in Mean Girls:
Monáe reposted the video on Twitter and reiterated her love for Lizzo:
People stan this stan.
Lizzo and Monáe came together not long ago in an interview with them. where Monáe talked with Lizzo about working as a queer artist of color.
"The beauty of art is that it reveals itself over time, even to the artists who create it," Monáe said.
"In my projects, I always challenge myself to grow and learn my voice and how to stretch beyond what I can comfortably do...

So as I grow and as I'm taking in information and growing at this exponential rate, I try my best to create music and albums that support that, that allow me to completely be all of me."

Coachella runs through Sunday, April 21st.
Keep reading...
Show less