Lil Nas X has no time for your homophobic nonsense in 2020.
Lil Nas X, who came out last summer, showed up to the Grammy Awards ceremony in a pink cowboy outfit, containing elements of the leather scene.
His country crossover hit "Old Town Road" was one of the nights live performances.
The artist was also nominated for several awards.
Lil Nas X is a stand user, change my mind https://t.co/yBL5h4M3JD

— Heavenly 🍑 @Katsucon (@Heavenly 🍑 @Katsucon)1580369310.0
every time lil nas x effortlessly pulls off an objectively complex outfit like this it's revenge for the 3 weeks of… https://t.co/I94tYm1Mgk

— worm (@worm)1580125387.0
I really really like when people draw Mao Mao as a Rootin Tootin Cowboy Sheriff,,, but I'm just saying some Lil Nas… https://t.co/nXsbpHMuWr

— oof 300 (@oof 300)1580134819.0
This outfit unfortunately caught the attention of Pastor Troy, a fellow Atlanta rapper, who took it upon himself to share Nas' outfit on Instagram in a post that has since been deleted.
Pastor Troy went on a long, homophobic rant & somehow convinced himself that it's the reason why he doesn't have a… https://t.co/PWjKNWdhC8

— Ronald Isley (@Ronald Isley)1580315861.0
The rant, laced with homophobia, goes into detail that Pastor Troy thinks Nas doesn't deserve a Grammy award because he's gay.
Pastor Troy also described an encounter at an Applebees where he and his son were openly homophobic to a gay couple who were "kissing" and "eating mozzarella sticks."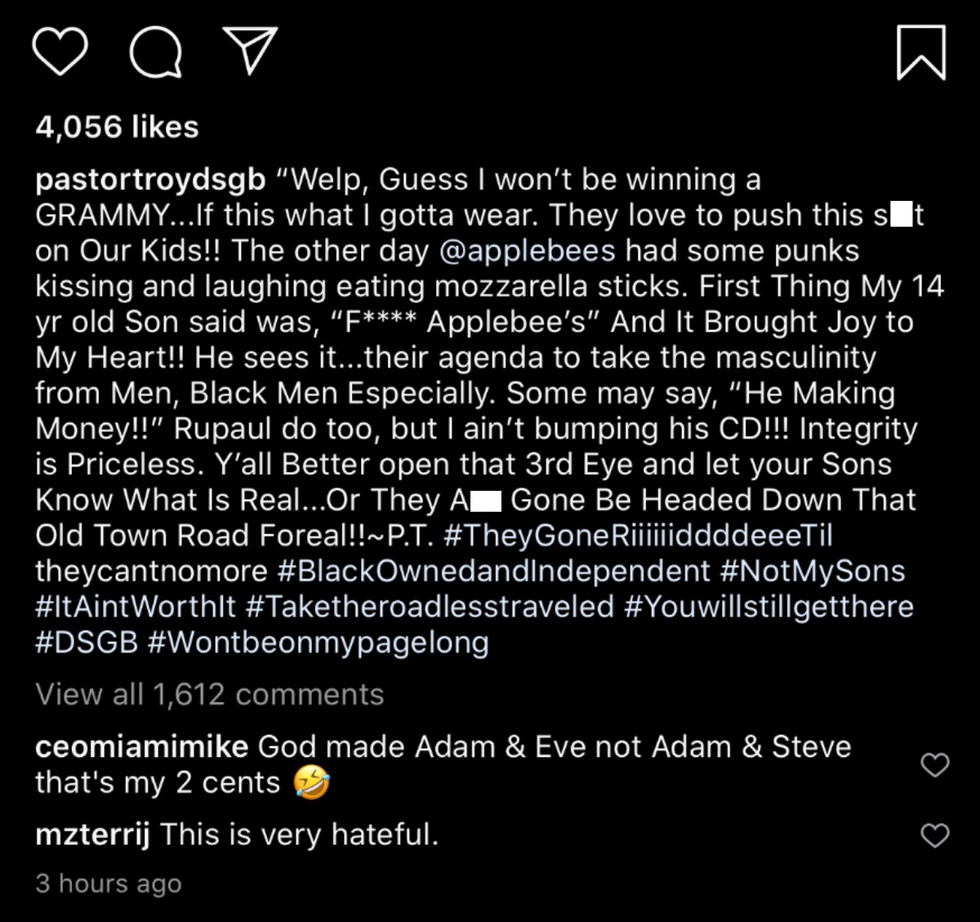 @pastortroydsgb/Instagram
Nas caught wind of the hateful rant.
The 20 year-old star had the most simple, perfect response.

damn i look good in that pic on god https://t.co/dIIKzTFa6X

— nope (@nope)1580318828.0
But Nas' fans didn't let Pastor Troy get away so easily.
@LilNasX No worries I let him know what was up! https://t.co/BwbJVYyeFt

— Jada (@Jada)1580319881.0
@LilNasX The 1st sentence is already insane. Lol, as if he could pull it off 🙄

— Garrett Watts (@Garrett Watts)1580324593.0
@LilNasX So... according to pastor troy being a man means *squints at text* being scared of winning a Grammy and *s… https://t.co/ZURCiTip4W

— Kristin 'Tilly' Bender (@Kristin 'Tilly' Bender)1580322653.0
@LilNasX bruh who tf is Pastor Troy

— sparklesparkle (@sparklesparkle)1580344377.0
And Pastor Troy continues to get roasted across the internet.

this should get a grammy before pastor troy https://t.co/kNLS5s2Fnx

— sage 🤝 (@sage 🤝)1580408199.0
Pastor Troy attempting to come for lil Nas and falling flat on his face in the process is gold. Bruh, none of thes… https://t.co/B78lrNTNOZ

— Doreen 🌴✨ (@Doreen 🌴✨)1580395803.0
nobody: pastor troy when he sees men eating mozerella sticks: https://t.co/3touJESGcI

— sailorstevie (@sailorstevie)1580403768.0
What @PastorTroyDSGB looked like later that night thinking about those gay dudes eating cheese sticks at Applebee's… https://t.co/iKsRbHGFh3

— Justin Trout (@Justin Trout)1580406515.0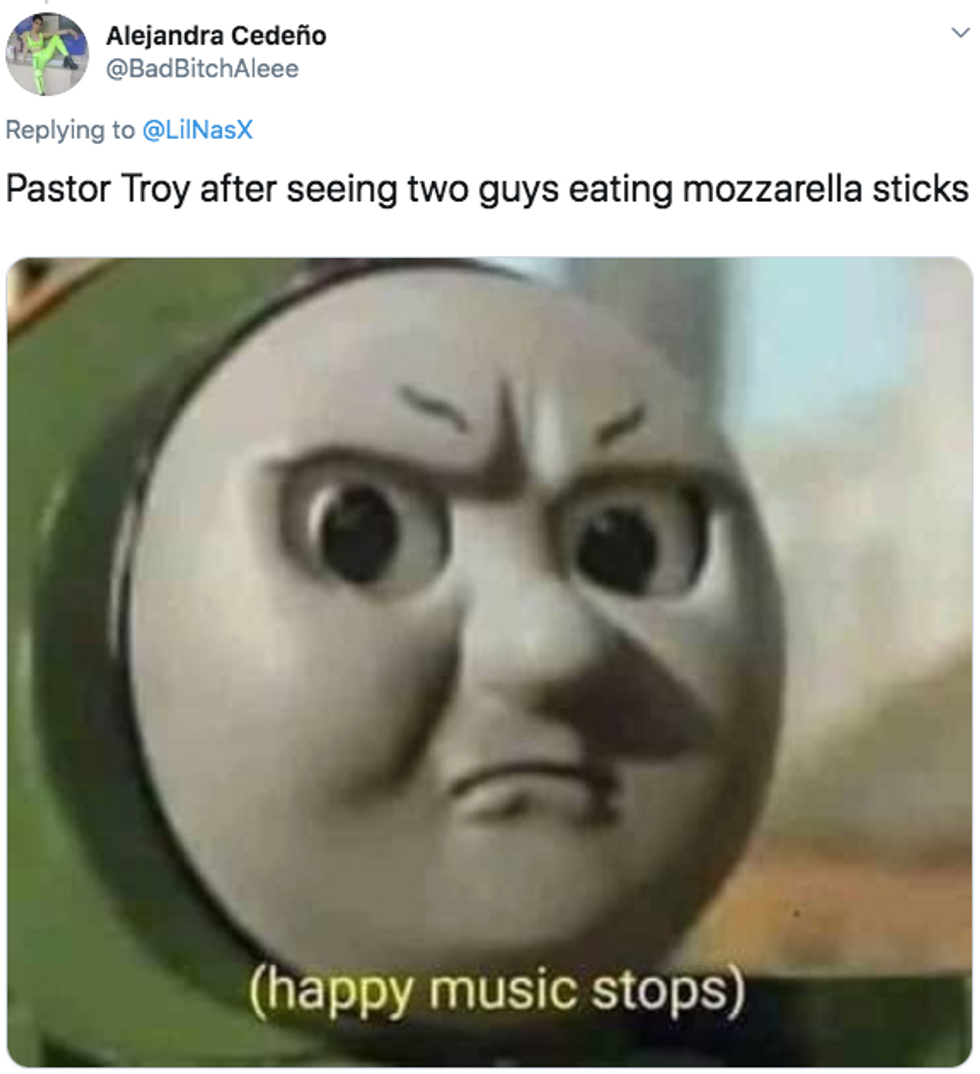 @BadBitchAlee/Twitter
Meanwhile, Nas has more important things to worry about.

Two, in fact.
@LilNasX You have a call from God Sir⬇️🏆🏆💗💕💗💕💗💕💗💕💗💕💗💕💗 https://t.co/F5qh3ArETi

— FoxyLoxyRedHead (@FoxyLoxyRedHead)1580319484.0
And Pastor Troy, 42, is gonna continue getting worked up over mozzarella sticks and his zero Grammys.
Keep reading...
Show less
Rapper Lil Nas X came out to fans through a Twitter post as LGBTQ Pride drew to a close.
The 20-year-old artist, whose real name is Montero Lamar Hill, asked followers to pay close attention to the lyrics in his song, "c7osure."

The Atlanta rapper tweeted, followed by a rainbow emoji:
"Some of y'all already know, some of y'all don't care, some of y'all not gone fwm [f**k with me] no more."
"But before this month ends I want y'all to listen closely to 'C7osure.'
We were all ears.

Lil Nas X does not announce his sexuality blatantly in the song, but it is implied in the lyrics.
The song "c7osure" touches on themes of coming clean and living authentically without regret.
"Embracing this news I behold unfolding. I know, I know, I know it don't feel like it's time..."
"But I look back at this moment, I'll see that I'm fine."
In the chorus, he tells the listener his intentions of embracing his identity.

"True say, I want and I need/To let go, use my time to be free."
Twitter expressed their support for the young rapper and cheered him on with encouraging comments.
Ain't nobody gonna come for Lil Nas X.

One fan explained multiple reasons for protecting the rapper.
Quite simply haters are threatened by the following:
Others stated that sexual identity or preference doesn't take away from the enjoyment of an artist's music.
One fan had a glimmer of hope restored.
After celebrating a month of pride, the LGBTQ community felt all the love from supporters.
His producer, Boi-1da, was the first to express his support.

Lil Nas X came to prominence with "Old Town Road," a song that was independently released on December 3, 2018 and went viral via the "Yeehaw Challenge" meme through the social media app, TikTok.
After 12 weeks, the smash hit continues to dominate the Top 100 Billboard charts.
If you are struggling with coming out of the closet or are feeling isolated, know there is a community of people who are ready to embrace you for who you are.

One way of finding support is through reaching out to LGBT National Help Center, a non-profit organization who provides a safe space for those dealing with a variety of issues, regardless of age, gender, or background.
Help is out there.
Love is out there.
If "Old Town Road" is your jam, this shirt is available here in a variety of colors.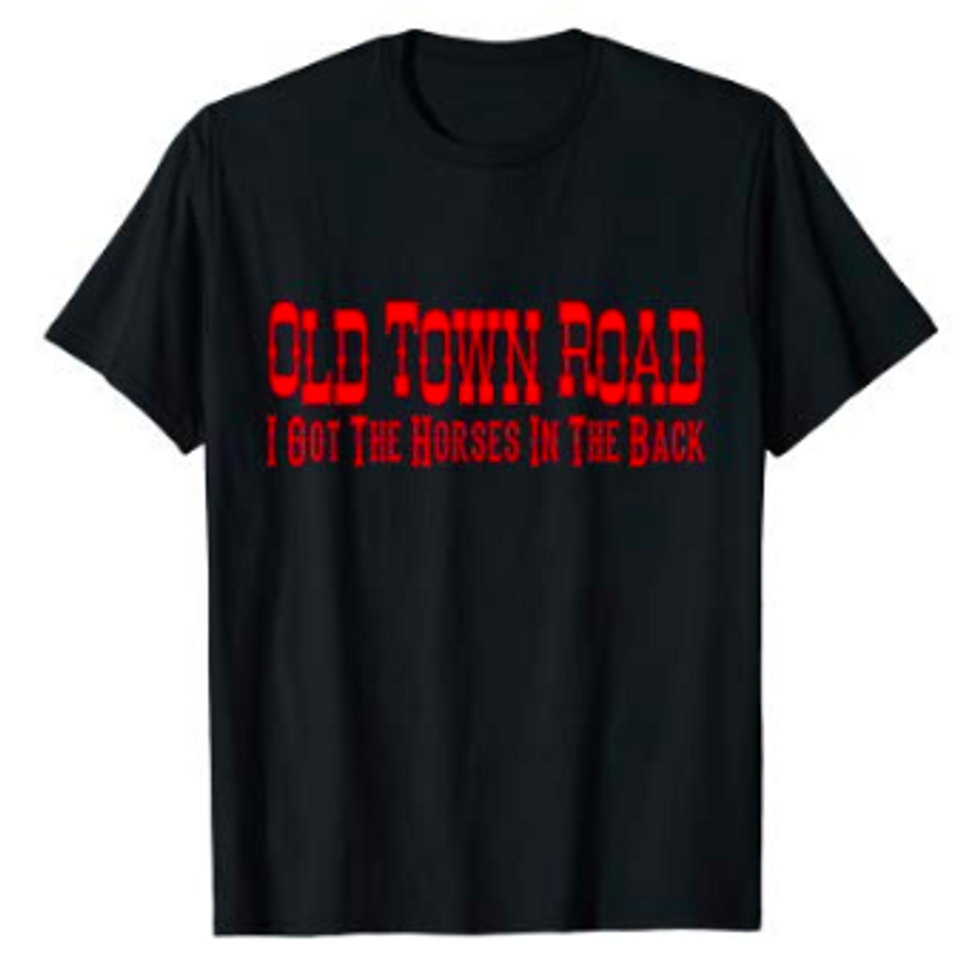 Amazon
Or you can totes tote it, available here.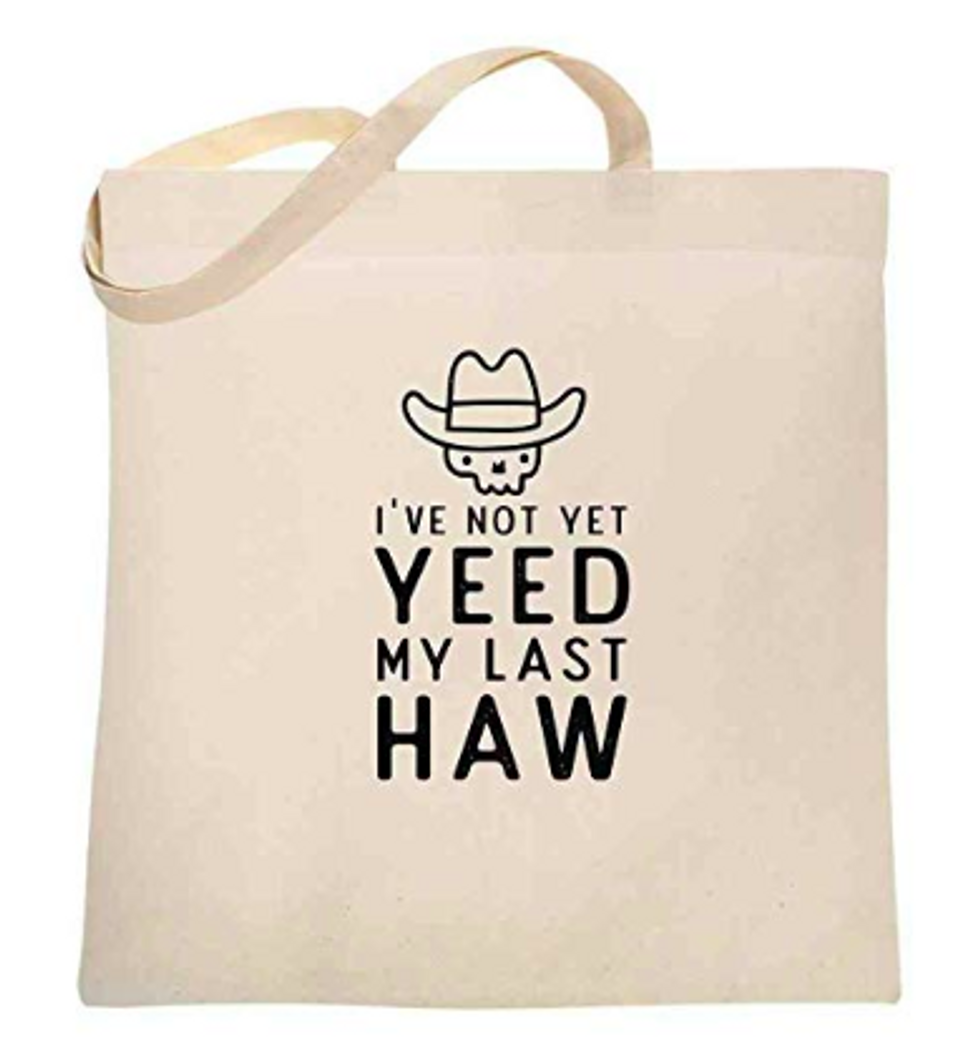 Amazon
Keep reading...
Show less