A new viral internet video featuring some a capella singing strangers proves that, apparently, the underground metro station is the place to find the real show stoppers.
For one amateur singer and songwriter, the video's explosion brought her the 15 seconds of fame that everyone's chasing.
As for the others in the video, they were either uncommitted or downright hostile.
Facebook user Kevin Freshwater spent a Sunday afternoon running around Liverpool, England with a smartphone camera and an unplugged microphone. With deceiving speed and zero regard for personal boundaries, he approached strangers in public and encouraged them to sing all sorts of popular music, from Queen to The Fresh Prince of Bel-Air theme song.
Freshwater would suddenly appear inches from a stranger's face, shout "FINISH THE LYRICS" in an unconvincing game show host style voice and sing the first line or two from the song, stopping to let the person finish.
People in Liverpool were WILD.
At the 2:15 mark of the video, Freshwater approaches a woman in the metro station. She was more receptive than most and accepted the call-and-response with a shy vibrato.
An impressed Freshwater egged her on.
Two lines later she was full on belting the song, "Shallow," popularized by Lady Gaga and Bradley Cooper in the 2018 A Star is Born remake. Who knew the Liverpool metro station had such acoustics?
Listen to that echo.
When Freshwater posted the video to Facebook and Instagram it gained quite a bit of traction.

solar_moon13/Instagram

aidan_ingham92/Instagram

ruanjansevan.r/Instagram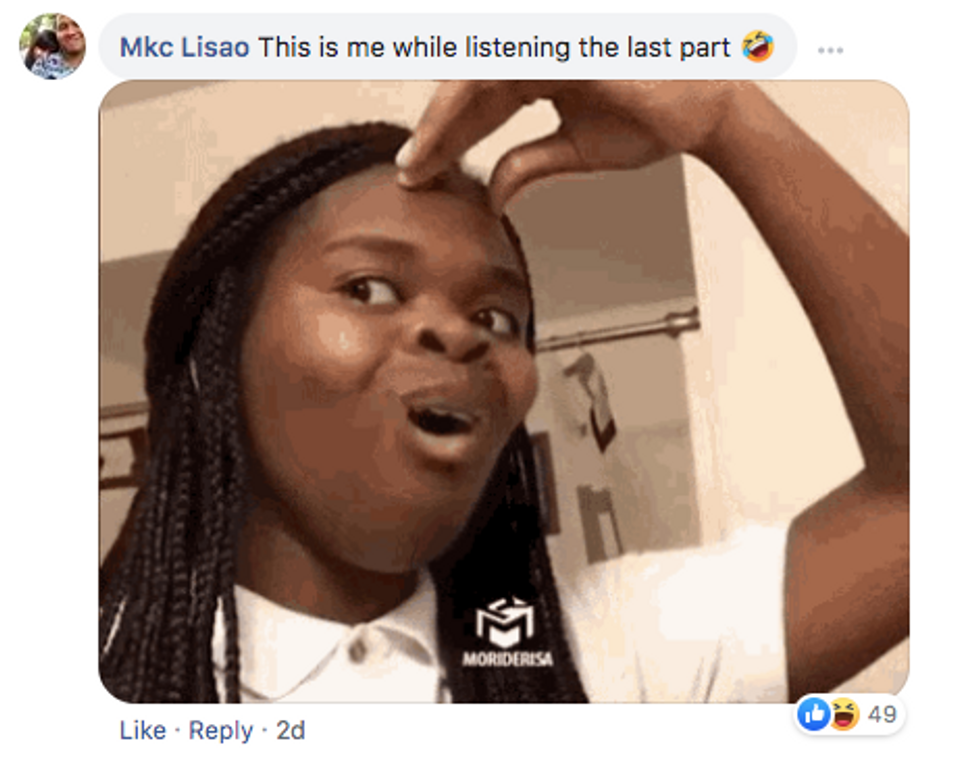 Mkc Lisao/Facebook
When the video was reposted on Twitter, it really began to make the rounds.
@AMENARTPOP ASK HER TO RELEASE THE ALBUM!

— Syndication Studios (@Syndication Studios) 1582067192.0
@AMENARTPOP @ericmorley09 https://t.co/oD0wyxRo9x

— JC (@JC) 1582054040.0
@AMENARTPOP https://t.co/nLMOqJWbzY

— Goonies Goodies (@Goonies Goodies) 1582057479.0
When some internet sleuths found Charlotte Awbery's Instagram, people were quick to check out what else she's been up to.
She now has 70k followers and over 17k likes on her most recent post, which became a forum for heaping praise after the subway "Shallow" performance.

matheusbarroz/Instagram

fortitu/Instagram

johnwayneholland/Instagram

dbaz93/Instagram
One other singer, at the 0:43 mark in Kevin Freshwater's video also garnered a good amount of positive buzz, though not quite to the degree as Ms. Awbery.

He's a singer in his own right as well, with an Instagram full of his performances, one even on Britain's Got Talent.
It goes to show that you never know what kind of talent is walking around you on the sidewalk or in the subway.

Keep reading...
Show less
Lady Gaga's Las Vegas residency opened at the end of 2018 with rave reviews causing her shows to quickly sell out.
This left Twitter user @boybehindbricks, AKA Whit, in a bind when she attempted to purchase tickets for herself and her grandparents for her 21st birthday in September.
Recently, however, a new block of tickets went on sale and Whit's grandma snatched up 3 tickets for May 7, 2020.
Whit was undoubtedly thrilled, but she knew that someone special might be even more excited about the concert.
That special person is Whit's grandpa and she had the foresight to film his reaction when she told him about the tickets.
Whit first asks her grandpa what he's doing May 7, 2020. He proceeds to look at his calendar on his phone and jokes that he's busy all day.
She asks if he's busy at night, around 8:00 p.m. When he finally admits that he "think[s he's] open" that night, Whit asks if he'd like to go to a concert.
Grandpa must have had Gaga on his mind, because his face is already stunned even before Whit shares whose concert they're going to.
He proceeds to cautiously (and hopefully) ask:
"Gaga?"
Then he adorably adds:
"Oh my gosh. I just got goosebumps!"
The video ends with heart melting laughter of joy from both Whit and her grandpa.
Twitter's heart is bursting at grandpa's adorable reaction.
A campaign for Lady Gaga to meet her big fan has also already begun.

Hopefully @boybehindbricks updates the internet with fresh videos of grandpa's reaction on May 8, 2020.
Lady Gaga's critically acclaimed big screen acting debut in A Star Is Born is available here.
Keep reading...
Show less
Lady Gaga is riding high, as A Star is Born has brought her new fame and accolades. A song she wrote for the film, "Shallow" has been winning awards left and right, and doing its best to get stuck in your head.
The song is a powerful anthem to the connection the characters in the film feel for each other. The absolutely powerful build up to the chorus seems to explode in your ears. It seems like the perfect song for a movie about rising and falling stars.
Were you aware it's apparently about cell phones?
After the Academy Awards, where the song picked up an Oscar for Best Original Song, and Gaga and Bradley Cooper really did a terrible job convincing the world they totally aren't a thing, Lady Gaga talked to reporters backstage.
She said,
"I really believe in my heart that the unfortunate truth is that our cell phones are becoming reality. It's become reality for the world.


"And in this song, we provide not just a conversation, but also a very poignant statement: I wish not to be in the shallow, but I am. I wish to dive off the deep end, but watch me do it."


Not going to lie, it feels like some of the song's power has been taken away.
Did gaga just say Shallow is about cell phones????? No thank you

— Bonas Jrothers (@Bonas Jrothers) 1551150427.0
Okay 🙃https://t.co/DvxlxrwHIo

— Victoria Albanesi (@Victoria Albanesi) 1551222068.0
Anybody liked the song "shallow?" Obviously I've never heard of it but the performance "broke the internet!" https://t.co/LTL1ez9sK9

— Matthew Ferreira | MassachusettsWx (@Matthew Ferreira | MassachusettsWx) 1551144614.0
@david_rebelato @MassachusettsWx what if shallow was the meaning of life instead of 43🤔

— Nick Holman (@Nick Holman) 1551364380.0
Art is an incredibly subjective experience, so I could be wrong here, but the song's lyrics and position in the film speak more to a duet about two people taking a metaphorical dive together.
While it's not impossible to see the interpretation Gaga suggested, it's also less powerful. Trying to convince people this powerful anthem is the embodiment of the "old man yells at cloud" meme, especially when that's not really a point seen in the film, just feels wrong.
That said, it's the more valid interpretation, seeing as it was said by one of the song's writers. And it's not like her comments have hurt it at all.
People still really vibe with what they feel the song means.
This song used to annoy the hell outta me...but after actually watching the movie and listening to the words...I fu… https://t.co/mvsDIXQcE9

— Nick (@Nick) 1551107139.0
'Sorry but not sorry I'm over Lady Gaga's song shallow. It's been over played and I'm a little annoyed. Yes the mea… https://t.co/KZ2GWbPS92

— 'Angela♡ (@'Angela♡) 1551246880.0
I now know all the lyrics and inner meaning of the song Shallow from a Star is Born

— Fernie (@Fernie) 1551346443.0
@rosannna5 We listened to it 47 times

— Fernie (@Fernie) 1551381878.0
"Shallow" has won multiple awards. In addition to the Oscar previously mentioned, it won a Golden Globe for Best Original Song, a Critic's Choice Movie Award for Best Song, and a Grammy for Best Song Written for Visual Media, among other wins and nominations.
The song was performed live at the Academy Awards, in a moment that captured the attention of America, who saw it as a powerful, emotional moment, and also one that can be endlessly memed.
The film is now available for on Blu-ray, DVD, and digital download.
Keep reading...
Show less
Trailblazing pop music icon Madonna and Oscar-winning singer/songwriter Lady Gaga are unbeatable forces in the entertainment industry. When they unite for a photo, their luminescence cannot be contained within a single frame.
Fans lost their minds over the duo posing for a picture at an Oscars after -party that exuded female empowerment and unity.
Entertainment mogul Guy Oseary and Madonna hosted "The Party," an exclusive high-brow affair boasting a guest list of only the biggest names in Hollywood and enforces a strict policy banning social media posts.
Photographer JR was once almost thrown out for taking a stealth shot of Michael Jordan and Pharrell and has since learned his lesson, securing his position as the sole photographer for the event.

Since 2007, the 2008 TIME 100 honoree has been capturing stunning portraits from the post-ceremonial festivities where stars can let their hair down. This year, his on-location photo studio was a lime-green backdrop with an oversized sheet of detached white paper for partygoers to pose with as they please.
"Cinema has always had a huge influence on me," JR told TIME, who teamed up with the photographer and Madonna for the event.
"Last year I was nominated for an Academy Award, and I still spent most of that night creating new images at the very party I was almost kicked out of."
Reality imitated art.
This is a temporary panacea for our current social and political maladies.

Like any art, this masterpiece offered many interpretations.
Anything resembling strength in sisterhood gets a YASS.

There 's been much speculation of animosity between the two pop queens concerning plagiarism and jealousy, especially after Madonna said in a 2012 interview with ABC News that Gaga's song "Born This Way" felt "reductive."
She added:

"I certainly think she references me a lot in her work. And sometimes I think it's amusing and flattering and well done."
"There's a lot of ways to look at it. I can't really be annoyed by it...because, obviously, I've influenced her."
Gaga had her own interpretation over the hyped competitiveness and told Attitude magazine:

"I truthfully believe that there was nothing about those records sounding alike, and everything about this gay icon versus gay icon nonsense."
"I don't need to take anybody's torch. I have no interest in taking anybody's torch. I am over here and they are over there and if you feel connected to it, the door is open for you to come in and enjoy this with us."
"But this need for competition was everything that 'Born This Way' isn't about!"
But the spirited rivalry is all water under the bridge now. Guys, this is an official truce. It's time to bury the hatchet and move on.
Need more proof of their sisterly camaraderie? Here's a video from a fan site that managed to catch them cozying up together for the same photo op.

Other celebrities who posed for the night included Ashton Kutcher, Mila Kunis, Ibeyi and Swae Lee, and another photo of Gaga with her "Shallow" co-writer Mark Ronson.

But it's the photo of Gaga and Madge that will have people gushing for years to come.

Keep reading...
Show less
There's nothing like a power ballad to push yourself through a strenuous workout.
Kate Hudson found hers as she mustered every remaining ounce of willpower to push herself past her limits during a Pilates session.
And that girl can belt!
What better song than Lady Gaga's "Shallow" from A Star is Born to wail her way through the private workout session with personal trainer Nicole Stuart?
The Mother's Day actress posted the video of her a cappella war cry and captioned it with "Gearing up for my in-living room Oscar performance."
She tagged the tune's co-writers — Gaga and Mark Ronson — and apologized for screwing up the lyrics.

While Stuart did her best to coach her way through Hudson's intermittent screlting, she finally admitted defeat as Hudson was determined to reach for that top note.
"This is impossible," laughed Stuart.
"I think I hit the note," Hudson said, hoping for a validation.
But Stuart, ever the professional, laid down the law and set her priorities.
"Why don't you hit the proper form, and then hit the note."
As far as we're concerned, she nailed that workout.
Wow, she can really hit those notes. https://t.co/wvzthd2E6A

— Metro Entertainment (@Metro Entertainment) 1551020407.0

@katehudson/Instagram

@katehudson/Instagram

@katehudson/Instagram

@katehudson/Instagram

@katehudson/Instagram

@katehudson/Instagram

Many people were surprised by the actress's capabilities — both at Pilates and at singing "Shallow." Fans suggested she should do musicals or be featured in a movie showcasing her hidden talents.
But they may have forgotten Hudson dazzled audiences with her singing and dancing before in the 2009 movie musical Nine directed by Rob Marshall.

She absolutely slayed it!
Do you ever stop and think about Kate Hudson's flawless NINE performance of Cinema Italiano? Because I do. https://t.co/AnogpAJta4

— Shane Avery (@Shane Avery) 1548869603.0
You can watch the full video of Kate Hudson working her groovy moves in "Cinema Italiano" in the YouTube clip, below.
OPERA PLANET Kate Hudson Cinema Italiano 4K Ultra HD www.youtube.com
On October 2, the 39-year-old announced the birth of her first daughter together with boyfriend Danny Fujikawa and named her Rani Rose Hudson Fujikawa.
This is Hudson's third child. She is a mom to 7-year-old son Bingham Hawn, with her ex-fiancé, Muse frontman Matt Bellamy; and to 14-year-old son Ryder Russell with her first husband Chris Robinson from the band, The Black Crowes.
Mom is looking great and she sounds amazing. She definitely sent us off the deep end with that impromptu performance.

Keep reading...
Show less