The internet has recently realized what we've all known inside all along: that Keanu Reeves is too good for this world and one of the greatest stars Hollywood has to offer.
But as Keanu draws some extra internet attention, a surprising trend has come to people's attention! Keanu is always more than happy to take pictures with fans, but all of his pictures have something in common.
It turns out Keanu Reeves is a master practitioner of the "hoverhand."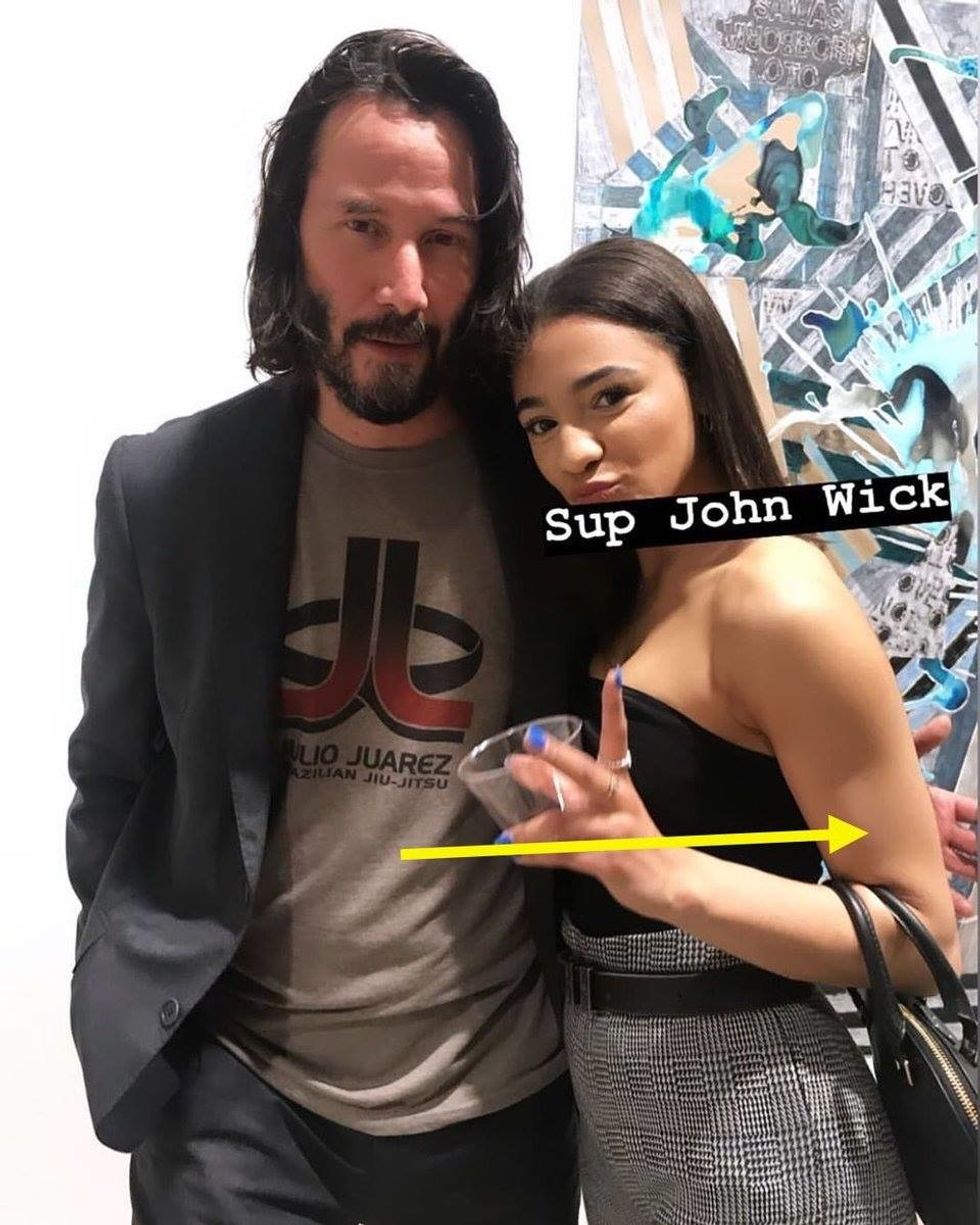 Unprofessional Madman/Facebook
Whenever he poses for pictures with women, Reeves hand can be clearly seen "hovering" behind them.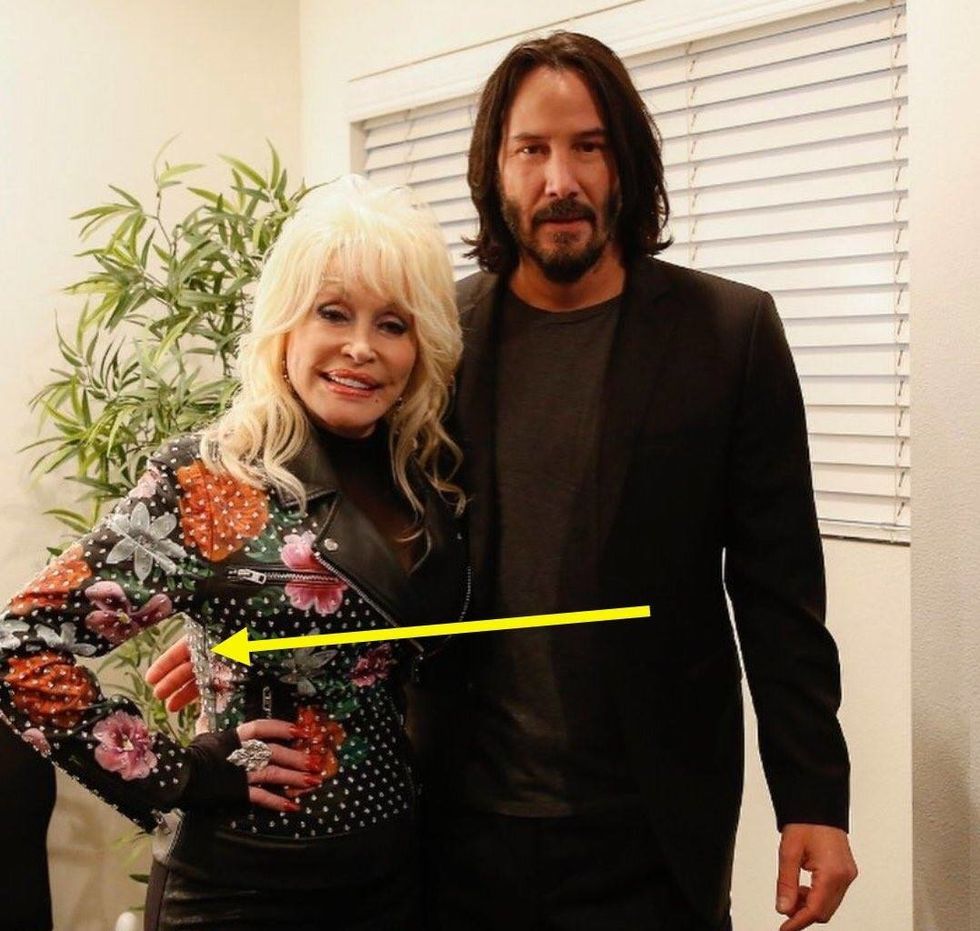 Unprofessional Madman/Facebook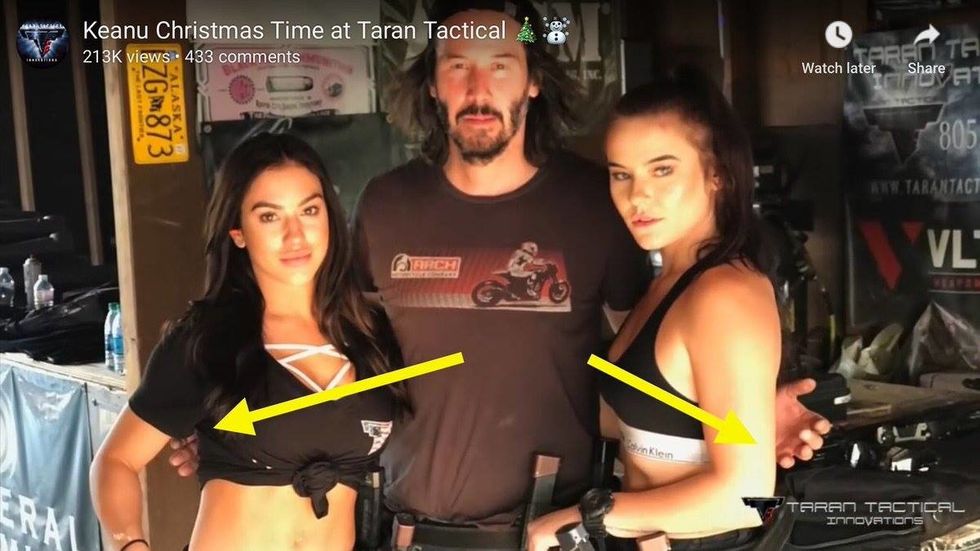 Unprofessional Madman/Facebook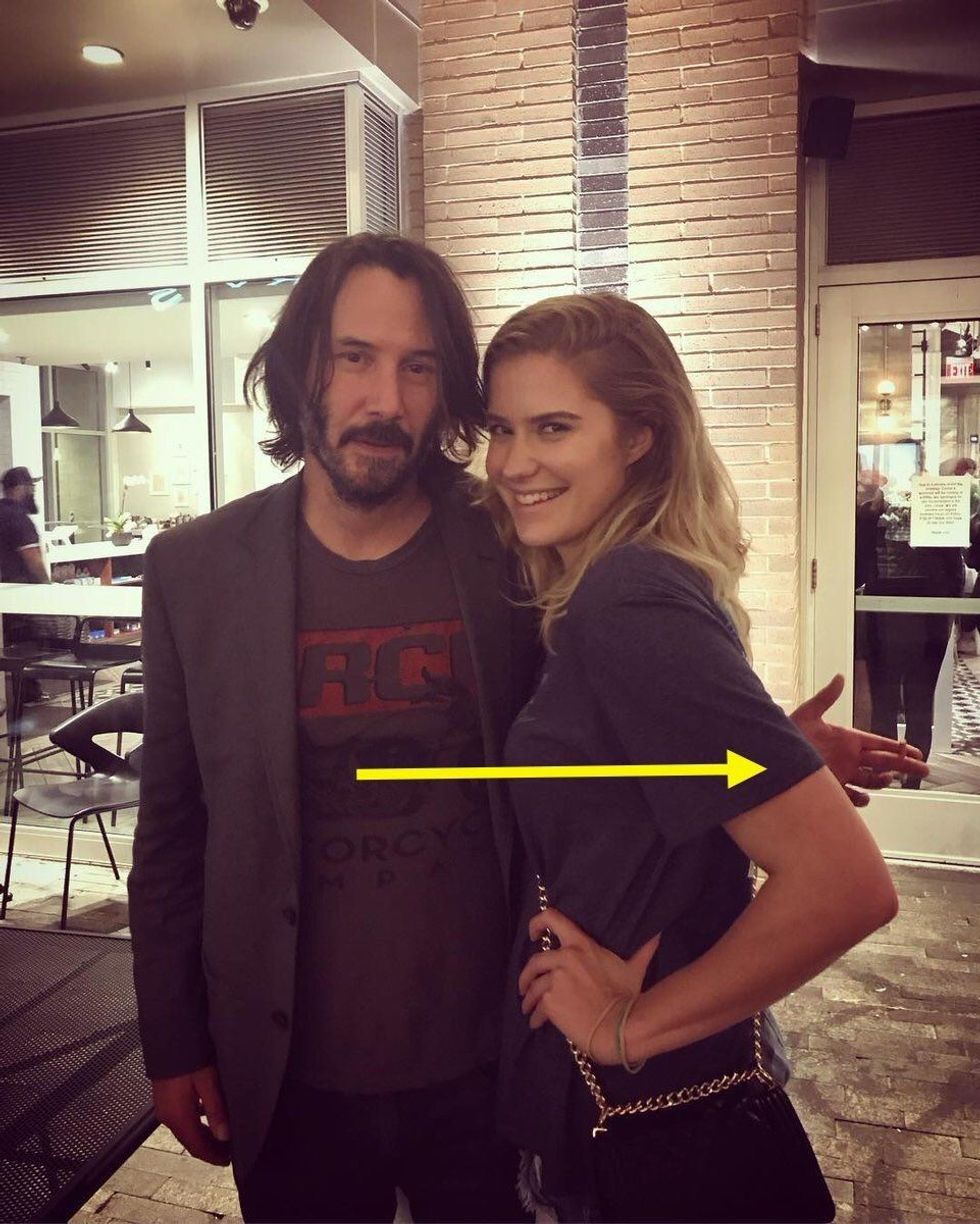 Unprofessional Madman/Facebook
The pictures are far too common to be a coincidence.
Though the hoverhand used to be considered awkward, Facebook users couldn't help but love Keanu all the more for his reluctance to place his hand on the strangers he was posing with.

Unprofessional Madman/Facebook

Unprofessional Madman/Facebook

Unprofessional Madman/Facebook

Unprofessional Madman/Facebook
Even Twitter couldn't help but admire Keanu's respectful ways.
Lol Keanu ain't taking no chances. 😂😂 https://t.co/nnfIOZKbT1

— Kemoy Lindsay (@Kemoy Lindsay)1560051914.0
Keanu Reeves hoverhand (patent pending) https://t.co/ZdcIkX33mn

— Lauren (@Lauren)1560177239.0
Keanu, lord of the Hoverhand https://t.co/9iMufGfNNG

— Shyves 🌈 (@Shyves 🌈)1560170880.0
When Keanu uses a hoverhand...he somehow makes it look good!
Only Keanu can hoverhand and make it look slick https://t.co/Xe9Pp0fsaS

— RetroFutureRonin (@RetroFutureRonin)1560115183.0
Keanu the only guy who can make a hoverhand look like a sign of respect. https://t.co/PjzakVuoNb

— Irish Hatter (@Irish Hatter)1560106835.0
@KemziLinzi Keanu actually manages to make #hoverhand look less dorky…

— Daniel Touchet (@Daniel Touchet)1560157318.0
The hoverhand has officially become cool again, thanks to America's finest living actor!
The Keanu Reeves hoverhand BOMBSHELL vindicates every gawky weeb afraid to touch a woman. The time to heal has finally come, boys.

— Sans Sheriffs (@Sans Sheriffs)1560164261.0
@KemziLinzi in 2019 the historical faux pas "hoverhand" becomes transformed into epic display of woman respect by the god keanu

— crack a cold one with Du Bois (@crack a cold one with Du Bois)1560134809.0
There is, however, one kind of lady Keanu will never keep his hands off of: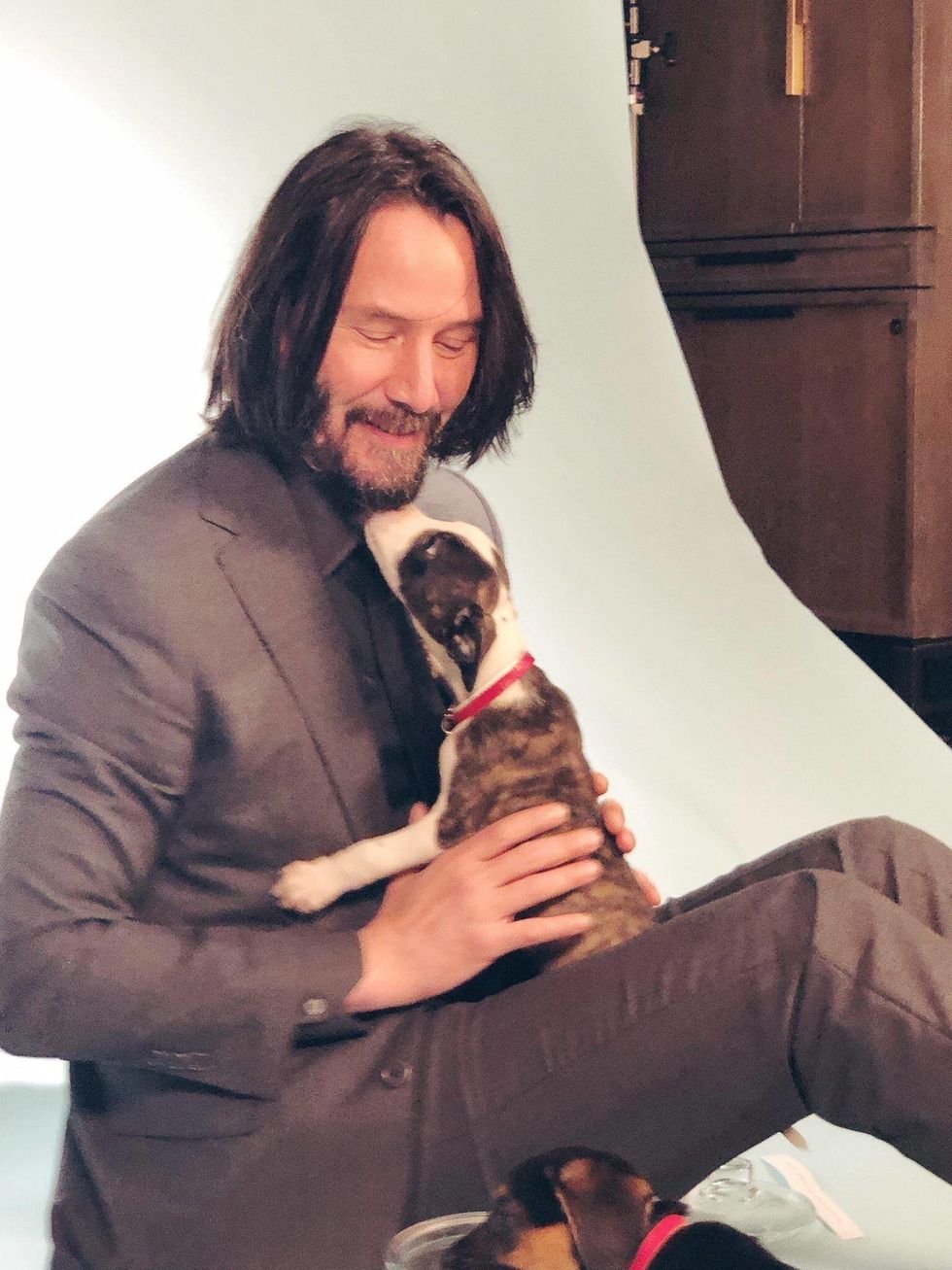 Unprofessional Madman/Facebook

Unprofessional Madman/Facebook
You keep doing what you're doing, Keanu, and we'll love you for it every step of the way.
Keep reading...
Show less
Stranded 100 miles from where they needed to be, passengers on a United Airlines flight might have anticipated an aggravating journey home.
But the unexpected company of actor Keanu Reeves turned their road trip into a most excellent adventure.
Keanu Reeves might be the greatest argument in favor of human cloning. This man needs to be preserved for future generations.
On screen, Reeves might be your average international superstar, but off-screen he seems to be anything but. While most know the 54-year-old actor for his body of work, the legends surrounding real life encounters with the John Wick star are slowly outgrowing his Hollywood fame.
The latest involves a group of stranded airline passengers traveling from San Francisco to Burbank, California. When their United Airlines flight was diverted to Bakersfield for an emergency landing passengers were left stranded 100 miles from their destination.
Amidst the group of grounded travelers was Reeves, who, like everyone else, was now stuck in an empty Bakersfield airport looking for a way to get home.
But instead of being bothered by the delay or arranging private transport home, Reeves decided to make the most out of the situation and lead his fellow passengers on an epic road trip.
Even though it was Keanu, the story might have been too incredible to believe on it's own.
Fortunately fans were there to document the entire adventure.
THIS ENTIRE IG STORY ABOUT KEANU IS *italian chef's kiss* PERFECTION ⭐️ https://t.co/3rgPTkc3GV

— Ari Saperstein (@Ari Saperstein)1553447107.0
When the plane was grounded, passengers found themselves in an empty Bakersfield airport 100 miles from Burbank.
So Reeves stepped up, talking with the airline and letting others now what was going on with their luggage and travel arrangements.

Many opted for a courtesy bus offered by the airline to take them on the last leg of the trip.
As everyone waited for the bus Keanu offered to take pictures with fans.
That time when your flight out from #GDC almost crashes and you have to emergency land in a remote airport but at l… https://t.co/u95WgKnJdO

— Amir Blum [Unboxed] (@Amir Blum [Unboxed])1553391237.0
I mean, near death experience followed by fans annoying you for pictures. Doesn't get much worse.

— Amir Blum [Unboxed] (@Amir Blum [Unboxed])1553391346.0
No joke #KeanuReeves https://t.co/Dcm3AsEyfS

— Alexa (@Alexa)1553577909.0
Btw did I mention that HE asked ME if I'd like to take a picture. I took the pic for someone else, and when I hande… https://t.co/KEffRTwzOT

— Alexa (@Alexa)1553705774.0
During the bus ride back to Burbank, Keanu entertained his travel companions with facts about Bakersfield.
He then played music from local artists through Youtube on his phone.
At the end of their journey, Keanu said goodbye to his travel partners, saying it was a "pleasure to meet you."
Then this hero walked off alone to get some food at a Carl's Jr (insert sunset here).
@keanusgf celebrities, they're just like us! https://t.co/RCzeQkACyi

— crysta timmerman (@crysta timmerman)1553527001.0
The moral of the story?

If you are going to get stuck on a bus with anyone, make damn sure sure it's Keanu Reeves.

@keanusgf He should feel right at home on a bus https://t.co/Xb1uuRkjdi

— 𝙴𝚍𝚠𝚊𝚛𝚍 𝚅𝚊𝚕𝚎𝚗𝚝𝚒𝚗𝚘 (@𝙴𝚍𝚠𝚊𝚛𝚍 𝚅𝚊𝚕𝚎𝚗𝚝𝚒𝚗𝚘)1553525756.0
@keanusgf Stranded on a bus with Keanu Reeves? God I wish that were me.

— jessica✨ (@jessica✨)1553497224.0
@keanusgf Now he just needs to make sure the bus never goes slower than 50 mph.

— Richard Feren (@Richard Feren)1553554427.0
Had it been any other celebrity the implausible adventure might have been too wild to believe.
But the legends of Keanu's down-to-earth kindness and approachability seem to get bigger every year.

@keanusgf https://t.co/5zuT5Yk5I0

— blue jean (@blue jean)1553442662.0
@keanusgf He donates most of his salary and rides the subway while in New York. One of a kind really. He's excellen… https://t.co/t1T73hl7Zh

— Paulina Plazas (@Paulina Plazas)1553522887.0
@keanusgf HOW does this man get better every year. HOWWW?!!!

— Knot Normani Unfortunately (@Knot Normani Unfortunately)1553553106.0
@keanusgf Man what a nice dude. https://t.co/zaw92dmYiW

— Trying my best (@Trying my best)1553514163.0
Forget about action heroes!
For his next movie, Keanu should be starring as himself!
And if you're in the mood for another excellent adventure with Keanu Reeves, you're in luck. Reeves and his co-star Alex Winters announced a sequel to the film that made Reeves a household name is in the works. The next Bill and Ted installment is set to debut in 2020!
If you can't wait that long, you can get Bill and Ted's Excellent Adventure and Bill and Ted's Bogus Journey in multiple formats here.
@aPaulineR @CalamiKitty @keanusgf https://t.co/bLo8gibwm0

— Kanek Boy (@Kanek Boy)1553683087.0
Keep reading...
Show less
One wouldn't think country music legend Dolly Parton and John Wick star Keanu Reeves have a lot in common, but it turns out they once wore the same outfit, years ago. For Halloween 1983, Reeves had a certain iconic look in mind: Parton's famous Playboy cover shoot.
Hanging out backstage before CBS' The Talk, Parton got a preview as to what the audience was about to hear.
She wrote in her post:
"A few weeks ago backstage at @thetalkcbs I got to reconnect with Keanu Reeves. I think he said something about wearing a pair of bunny ears that used to be mine? 😉 🐰"
Cooper Hefner sounded off on Twitter, confirming that Reeve's mother was working onset the day of Dolly's shoot, and that she had ended up with the outfit after everything was over. So it's true: Reeves wasn't just wearing an imitation, he was wearing the exact same set of clothes.
Reeves told the story as well:
"I was in performing arts high school and Dolly Parton had done the cover of Playboy, and so she had the bunny outfit. I wore that for Halloween. Thank you Dolly! So I was on a streetcar in Toronto in 1983 wearing that, oh, and in stockings."
Unfortunately, Reeves claims there's "no evidence" from his time dressed as Dolly, but Twitter wished that wasn't the case:
With Parton and Reeves being two of the internet's favorite stars, this story was almost too much for many to handle:
The only way to improve the John Wick series is probably to have Keanu dressed in Dolly's Playboy outfit the whole time.
Fans never expected to see Dolly and Keanu spending so much time together, but they were beyond glad it happened.
Reeves also continues to mystify with his apparently ageless body.
Though he sadly won't be wearing his bunny ears, you catch Keanu Reeves in the upcoming John Wick Chapter 3: Parabellum.
John Wick: Chapter 3 - Parabellum (2019 Movie) Official Trailer – Keanu Reeves, Halle Berry youtu.be
Don't miss it!
Keep reading...
Show less
My man's got this friend named Chad. Chad isn't his real name, but that's what we're going with for this article. Chad is in a relationship that is ... well ... there's a reason Facebook had to come up with the "it's complicated" status. Nobody is happy, they often go out of their way to avoid one another or are forcing performative affection for the 'gram. One night, Chad decided he was going to hide from LadyChad and told her he couldn't see her because he was spending time with us. He then made up a whole elaborate story about drinking wine (which he doesn't normally do) and overdoing it because he really liked it.
Thing is, Chad never told US that he used us as a ridiculously specific cover story.
So imagine my surprise when I get a message from LadyChad on Instagram (not an app I'm terribly active on as far as messaging and I have literally never spoken a single word to LadyChad at this point) asking what kind of wine I had given Chad because she wanted to go out and purchase several bottles.
Um ... what? So there I am awkwardly staring at my phone already having responded to her "hi" so I can't just ghost the girl. She knows I've read her messages and am actively on my phone. Chad doesn't really talk to me, so I have no idea how I got roped into this, and I'm looking around like "WHAT DO I DO!?!?!"
Babe later assured me this is the sort of thing Chad did to him all the time and LadyChad was probably well aware that he was lying. Still, I didn't appreciate getting sucked into some elaborate Chad-scheme. If you're going to do that to people, you have to give them a heads up! One Reddit user asked:
What's the most awkward position someone's ever put you in?
... apparently the world is FULL of Chads. Get it together, guys. Stop being Chads. Here are some of my favorite responses - edited for clarity when needed. Enjoy the cringefest!
H/T: Reddit
Keep reading...
Show less
Planning a wedding can be a nightmare for some people. It's amazing how quickly an event that is supposed to be about the couple can turn into a whole big production about literally everybody else. I know from experience, I actually cancelled my wedding and surprised people with a beach BBQ/wedding because planning it got to be so stressful. So when one heartbroken man asked Reddit what to do about his fiance's struggles with planning their wedding, I felt for the bride-to-be way down deep in my bones.
He explained that she had no female family members and no friends, so she had gotten fixated on the idea that she would have no bridesmaids. She's an elementary school teacher and writer who is pretty uncomfortable in social settings, so she didn't have a whole lot of chance for connecting with people. The groom has a large group of friends, but she's not so social. She was so upset that she was considering cancelling the wedding entirely! He was genuinely heartbroken that he couldn't help her feel better.
Reddit offered a few bits of advice for him. Some have been edited for clarity.
H/T: Reddit
Keep reading...
Show less