Like all award shows, the 62nd Annual Grammy Music Awards seem to be as much about the outfits worn as the awards given out.
Chrissy Teigen and John Legend did not disappoint in the clothing department.
But taking risks with the wardrobe, for all the heads it turns, provokes savage trolling. Even if you're John Legend.
Teigen and Legend, married since 2013, appeared at Grammys 2020 wearing a couple asymmetrical spectacles.
Unsurprisingly, Chrissy Teigen stole the show.
Her bright orange dress dazzled with wispy layers and plenty of skin exposed.
Subtler Legend, who began the night with 10 Grammy wins and 30 nominations under his belt, didn't totally blend in himself.
His sleek, unbalanced Alexander McQueen-designed getup was all shine and textures.
But despite the warm reception of camera flashes and interviews along the red carpet, the internet has its own views about fashion.
Especially John Legend's fashion, apparently.
One Twitter user unleashed some tactful criticisms of Legend's look.
my boyfriend said "tweet chrissy teigen and ask her why the hell she let john walk out the house looking like a foo… https://t.co/CoBXxGqmOE

— Anna Mitchell (@Anna Mitchell) 1580099438.0
Note a couple things about that tweet.
First, she doesn't take full responsibility for the trolling. She insulates herself by quoting her boyfriend's judgment, opting to play the mere messenger.
The troll is hesitating, she's exposing a weakness that Chrissy Teigen will absolutely pounce on.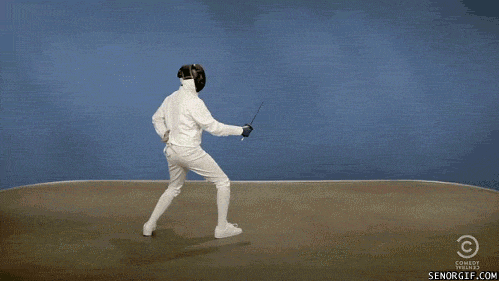 Giphy
But make no mistake—this is absolutely a troll move, as much about garnering a response as sharing a legitimate critique.

That's clear when she tags Chrissy Teigen, inviting a clap back from the clap back whiz herself.
That glowing orange dress apparently left full mobility and access to her phone, as Ms. Teigen was quick with a counter punch.
@annamitchell328 tell your boyfriend to button up his track pants

— christine teigen (@christine teigen) 1580099996.0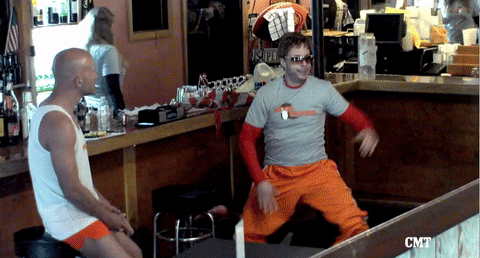 Giphy
Chrissy Teigen, fending off trolls even in the middle of the Grammys.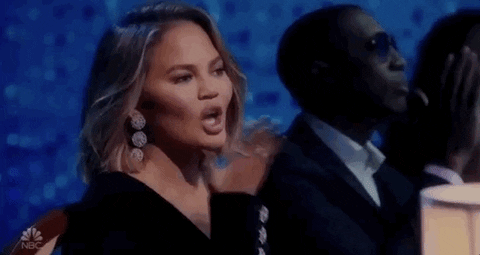 Giphy
Twitter loved the back and forth.
@chrissyteigen @annamitchell328 yasssssss queen

— sʜɑɴɛzɑ🌸 (@sʜɑɴɛzɑ🌸) 1580141933.0
@annamitchell328 @chrissyteigen The clapback queen is BACK! #youtriedher #sheneverleft

— erica addison (@erica addison) 1580189379.0
The original troll had absolutely no problem being taken to task either.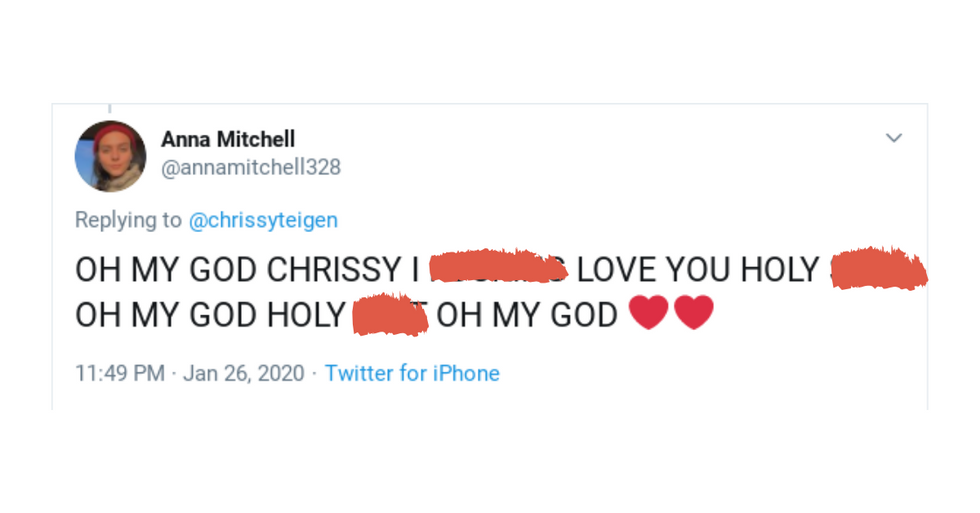 @annamitchell328/Twitter
But Legend, in fact, gets the last laugh here.
While this whole spat was going on, he was busy raking in his 11th Grammy, this one for Best Rap/Sung Performance, which he shared with DJ Khaled and Nipsey Hussle.
(Quick sidebar that this wasn't the only trolling that went down around Grammys 2020. Tyler, the Creator had to swat away some insults himself.)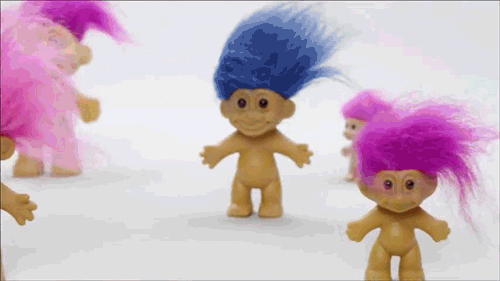 Giphy
After the quick defensive maneuver, Teigen quickly moved on from track pants-based insults, opting to spend her time doing some celebratory grooving with her boo after the big night.

11rh Grammy. Congrats my love, let's have a drank https://t.co/CcQdYTVNcJ

— christine teigen (@christine teigen) 1580107289.0
Par for the course for Teigen, she kept us all filled in right up until the end, reflecting on a night when everything seemed to be in the right place.
home. kissed my family hard tonight. love you guys.

— christine teigen (@christine teigen) 1580117342.0
Alas, for all Teigen's clap backs, she appears to have plenty going on outside the virtual world to cushion any blow that might be sent her way.
Keep reading...
Show less
Though the biggest night in music was preceded by somber and shocking news, artists still took the time to celebrate their well deserved wins.

On Sunday night, rapper Tyler, the Creator won his first ever Grammy, and his celebratory Tweet was completely on brand.
Born Tyler Gregory Okonma, he was nominated alongside Meek Mill, 21 Savage, Dreamville and YBN Cordae.

Tyler first garnered attention as leader of the hip hop group Odd Future. His first solo album, Goblin debuted in 2011, and was received positively by both fans and critics.
Despite criticism for its violent and vulgar lyrics, Goblin's lead single, "Yonkers" was an instant hit.
In addition to being a talented musician and song writer, Tyler is also known for his comedic acting.
Tyler and his Odd Future crew starred in Adult Swim's Loiter Squad, and he's also had guest roles on shows like Workaholics and Black Dynamite.
Adult Swim/Youtube
He keeps busy.
And Tyler was finally recognized for all of his work by the Recording Academy on Sunday night.
Tyler took home the Best Rap Album for his fifth album, Igor.
Tyler, the Creator is joined by his mom on the #GRAMMYs stage after 'Igor' takes home Best Rap Album https://t.co/gzaOW7HkXP

— MTV NEWS (@MTV NEWS) 1580093697
He brought his mother along to accept the award.
She couldn't have been more proud.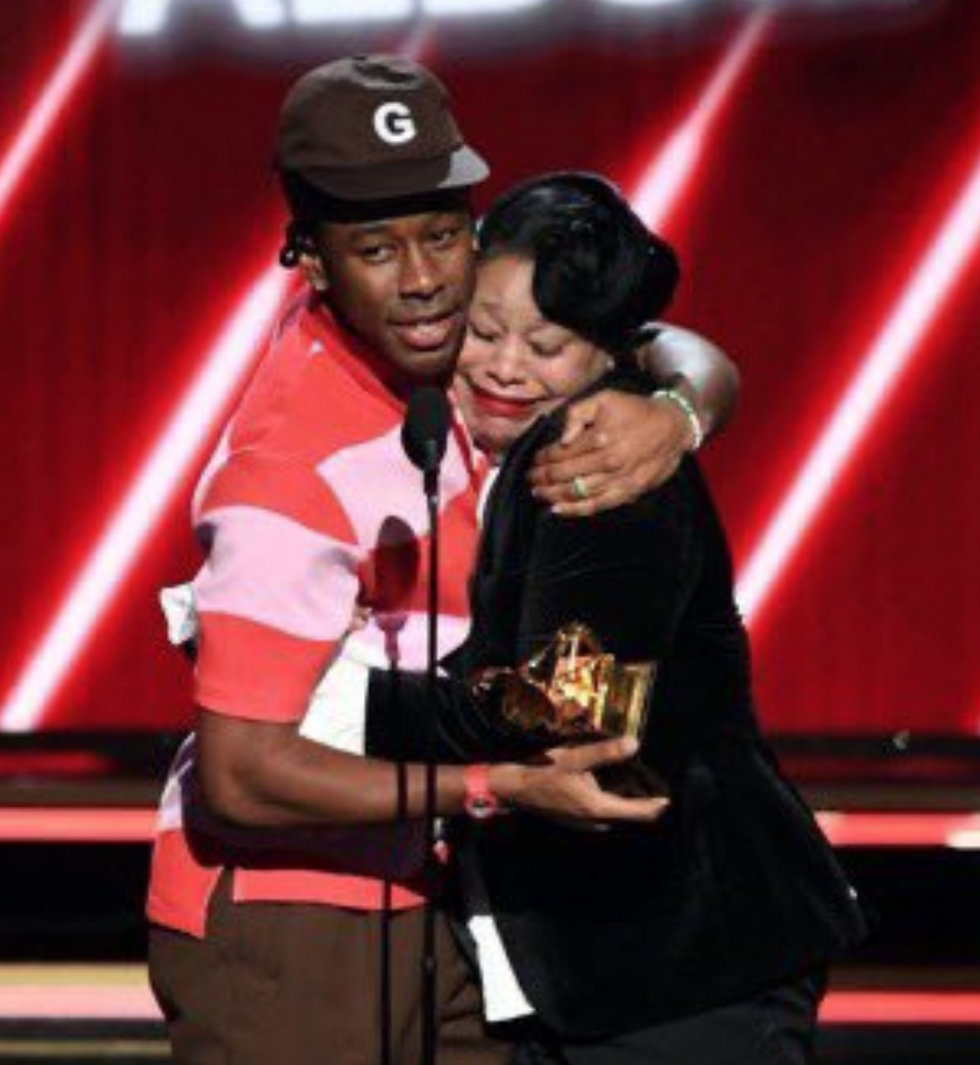 @BronteAberle/Twitter
Tyler's Grammy aspirations started nearly a decade ago.

Back in 2010, Tyler tweeted his hopes of winning a Grammy some day...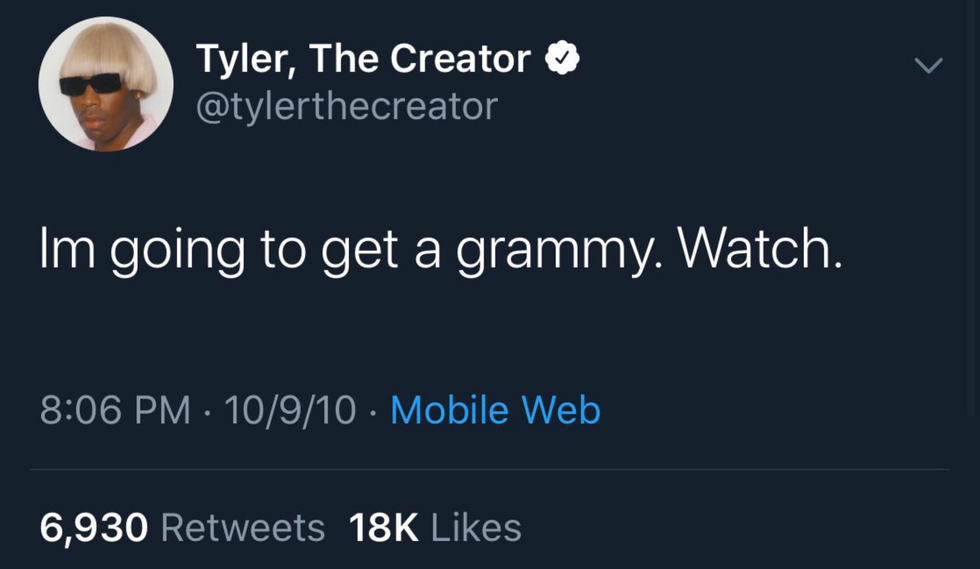 @brandon_lamas/Twitter
But one hater was not having it.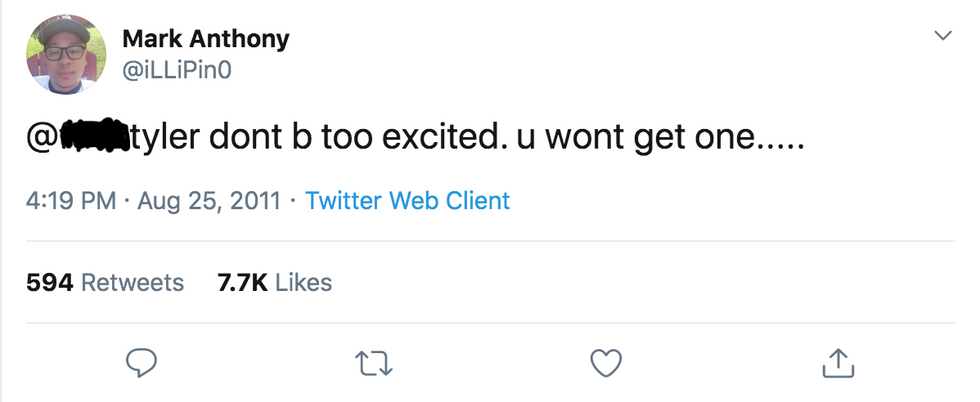 @iLLiPin0/Twitter
Rude and unnecessary.
Thanks to social media, celebrities get a constant stream of both loving and hurtful comments, and most famous people learn that it's part of the job and either ignore it or avoid social media completely.
But Tyler never forgot @iLLiPin0's diss.
Many years later, Tyler finally had the perfect comeback.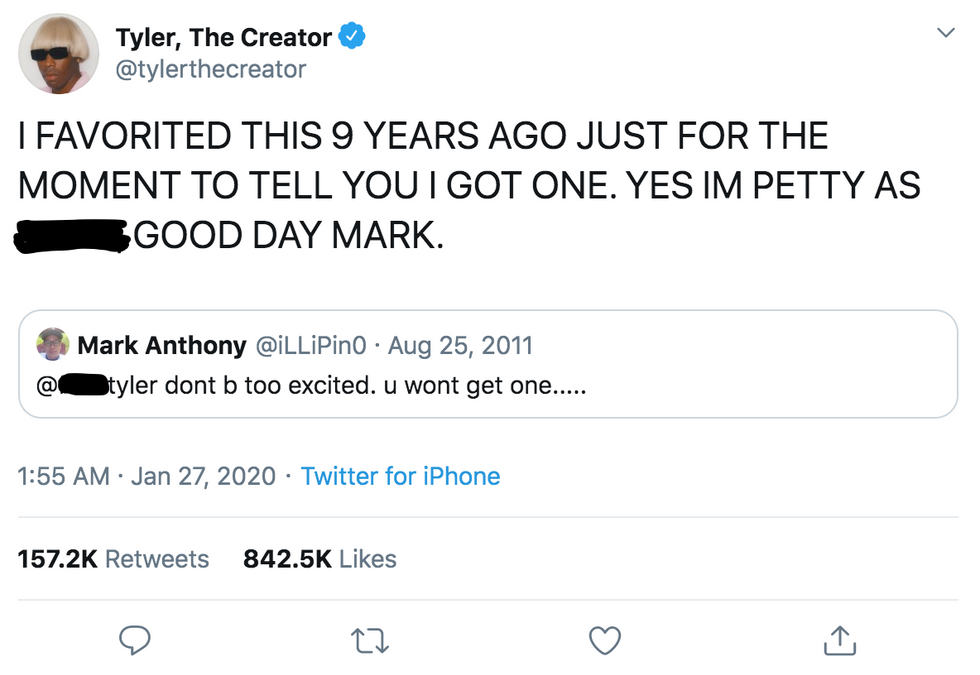 @tylerthecreator/Twitter
Petty, maybe.
Inspirational, definitely.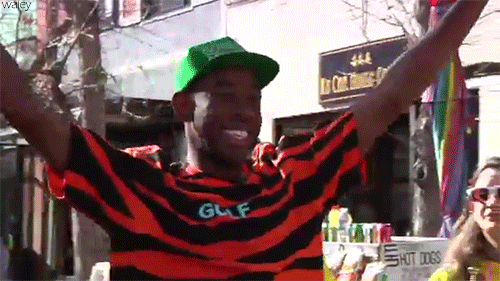 Giphy
People were here for the pettiness of it all.

@ashleighaedan/Twitter

@stillgray/Twitter

@pharrelloholic/Twitter


o
No one expected this this mini-feud to come full circle.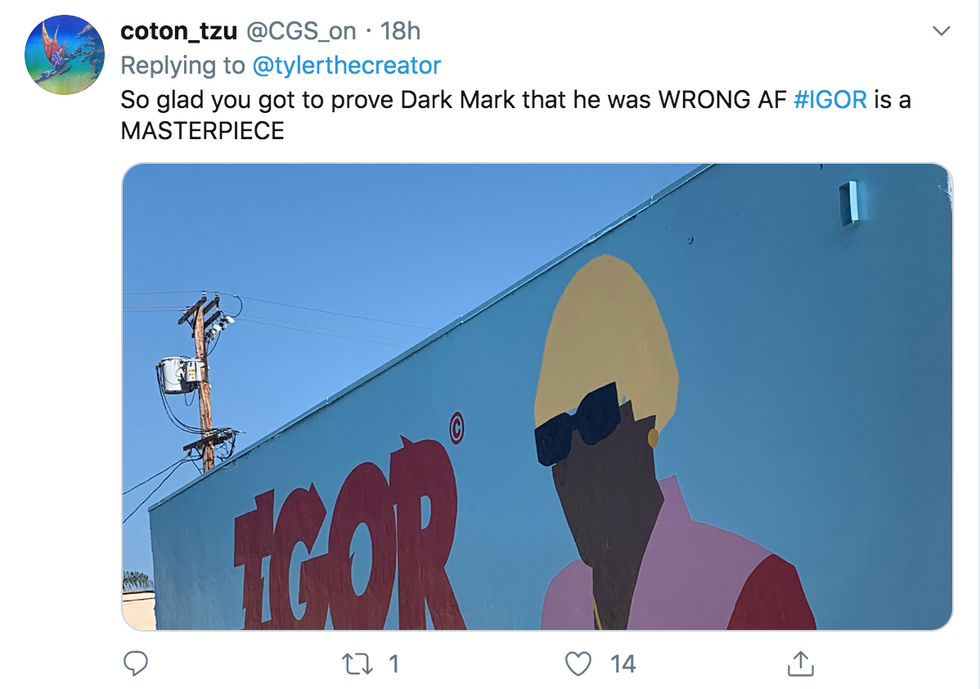 coton_tzu/Twitter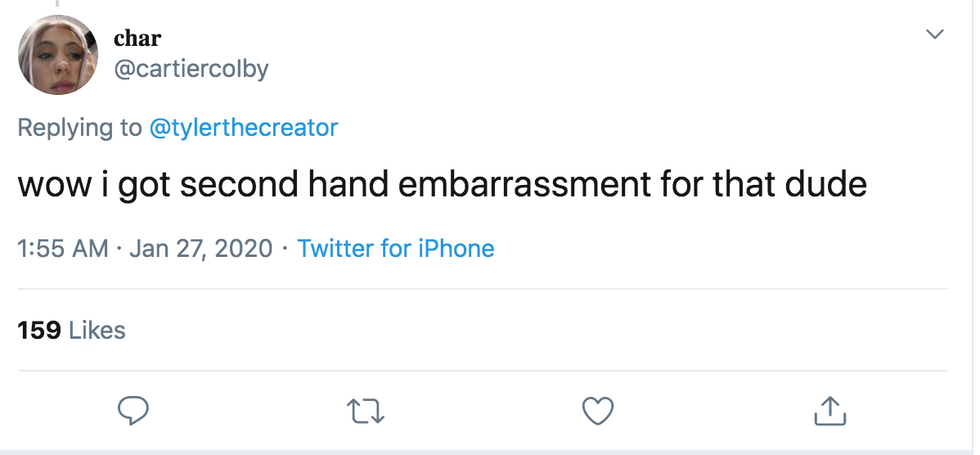 @cartiercolby/Twitter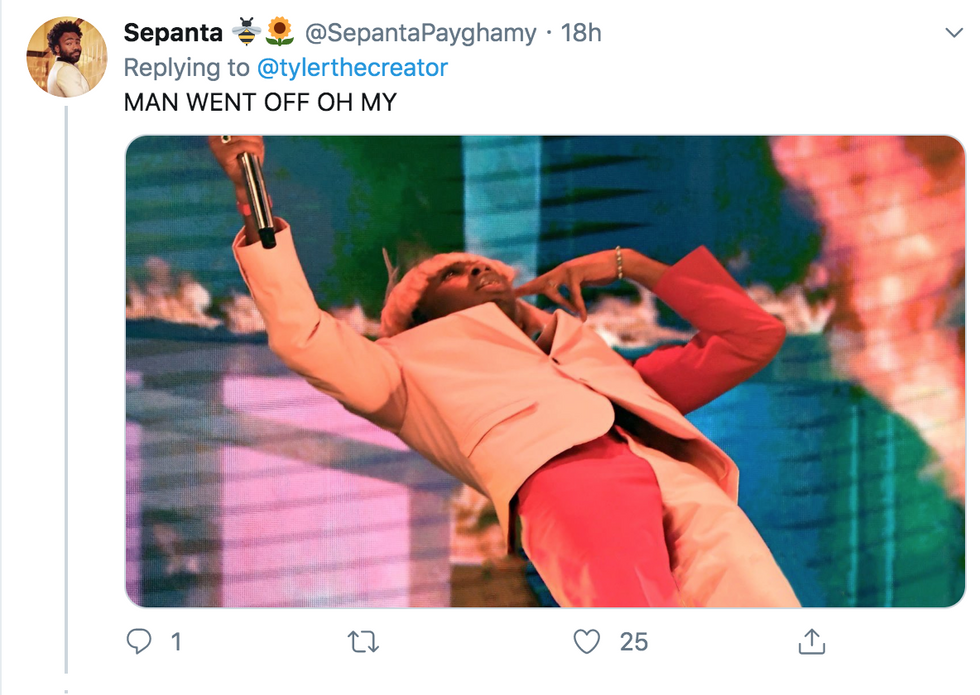 @SepantaPayghamy/Twitter

@MillieMa99/Twitter
But most importantly, everyone was proud of his win.


@itsOddFuture/Twitter

@2drnk2***/Twitter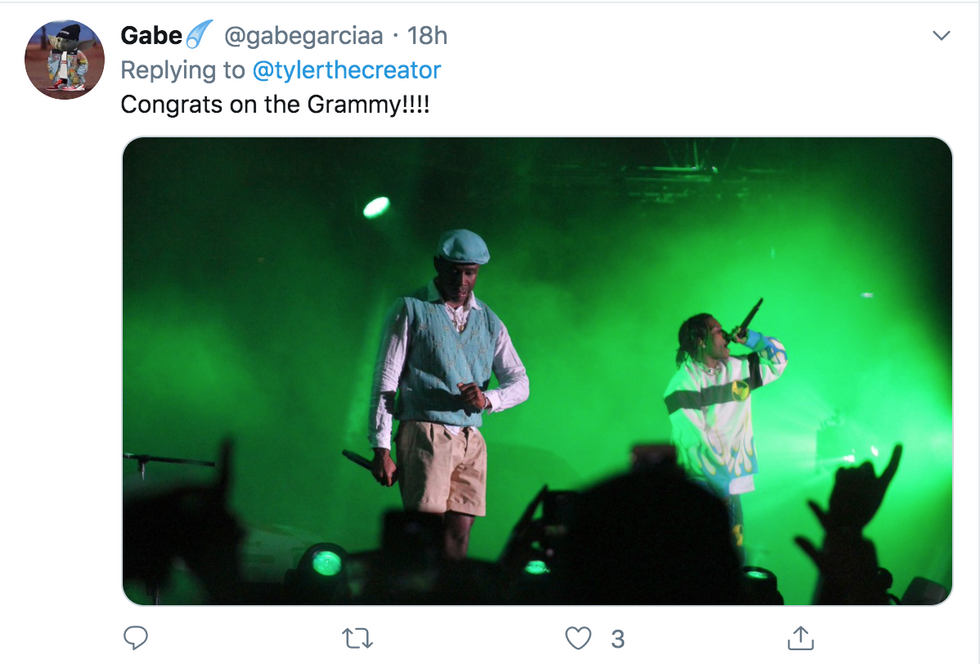 @gabegarciaa/Twitter
As for Tyler's hater, @iLLiPin0 a.k.a Mark has offered an olive branch.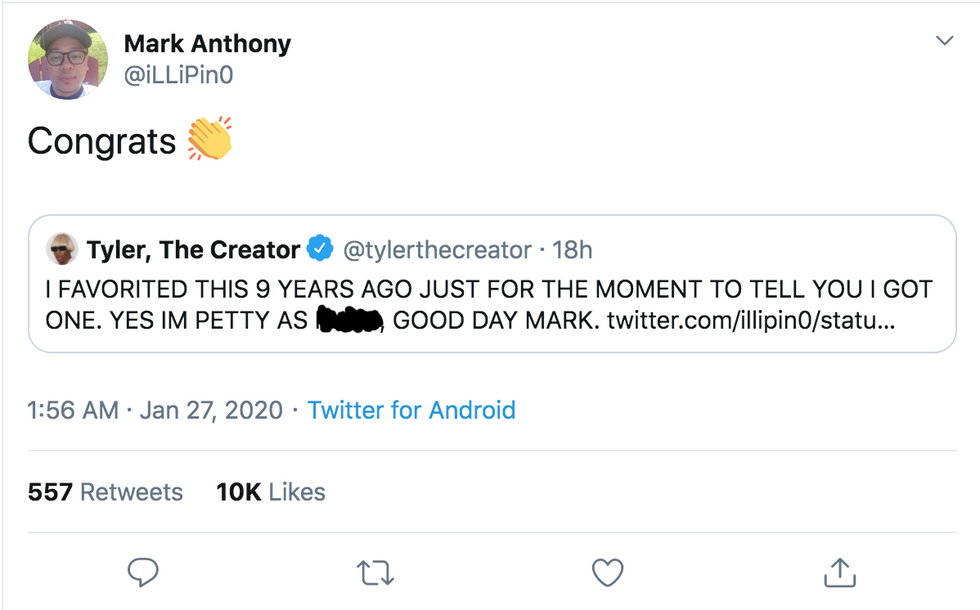 @iLLiPin0/Twitter
Congratulations to Tyler, and all of this year's nominees and winners!
Keep reading...
Show less
The youngest Jonas brother has gone viral for his performance at the Grammys, but not for the reasons you think.
Stars....they're just like us.
Even they do silly things, like get food stuck in their teeth. Except that kind of stuff gets broadcasted to millions of people.
This is what happened to Nick Jonas at the Grammys this past week.
And fans were pretty quick to notice.
The Jonas Brothers' youngest member was onstage performing the band's latest single, "What a Man Gotta Do", alongside his brothers, Joe and Kevin Jonas. But something seemed a little off about Nick.

Turns out, there was a piece of what looked like spinach stuck in his teeth. And thanks to modern technology, it was pretty noticeable to those who were watching.
Of course, the viewers took to Twitter to share their discovery, not holding back on their teasing.
Jo Bros fans jumped to Nick's defense, saying that he is indeed, only human.
Whether or not people found this unconventional critique funny, Nick made sure to respond with a sense of humor.
Hey, it happens to the best of us.
Keep reading...
Show less