A new GilletteGillette ad depicts a father teaching his transgender son to shave, and it's gone viral.
The heartwarming clip shows Samson, a transgender man, learning how to shave with the help of his father.
The video has blown up on Facebook, with over 6,000 shares. The caption reads:
"Whenever, wherever, however it happens — your first shave is special."
The clip opens with Samson discussing the start of his transition.
"Growing up, I was always trying to figure out what kind of man I wanted to become."
"And I'm still trying to figure out what kind of man I want to become."
"I always knew I was different. I didn't know that there was a term for the type of person that I was."
As the video continues, Samson is shown shaving for the first time, saying that he is happy he is at the point in his transition where he can shave.
His father shows him which direction to use the razor, offering encouragement as Samson goes.
"Don't be scared," his father says.
"Shaving is about being confident. You are doing fine- you are doing fine."
The clip has garnered over 787,000 views since it was posted on Thursday, and has received over a thousand comments, including one from Samson himself.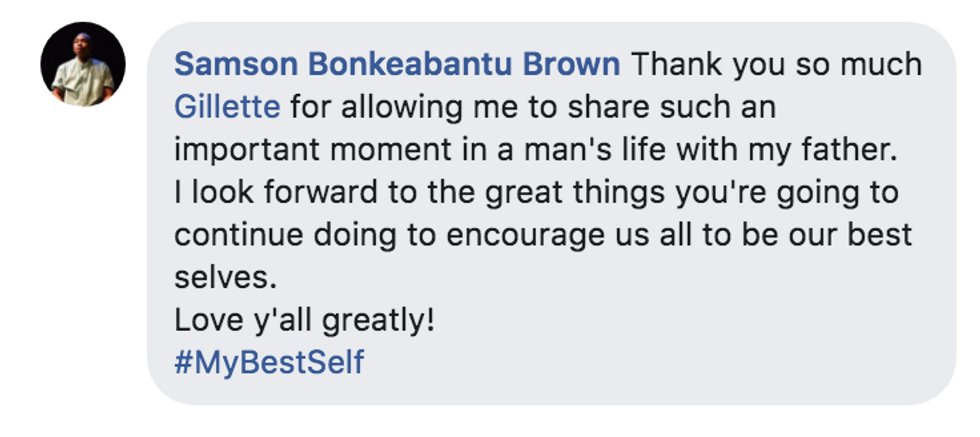 Gillette/Facebook
More have showed their support for the ad, and praised its depiction of a transgender man's relationship with his father.

Gillette/Facebook

Gillette/Facebook

Gillette/Facebook
The amount of positivity that the video has received is astounding. Several spoke of how they felt the ad was relatable, and a story that needed to be told. Gillette also had some kind words in return.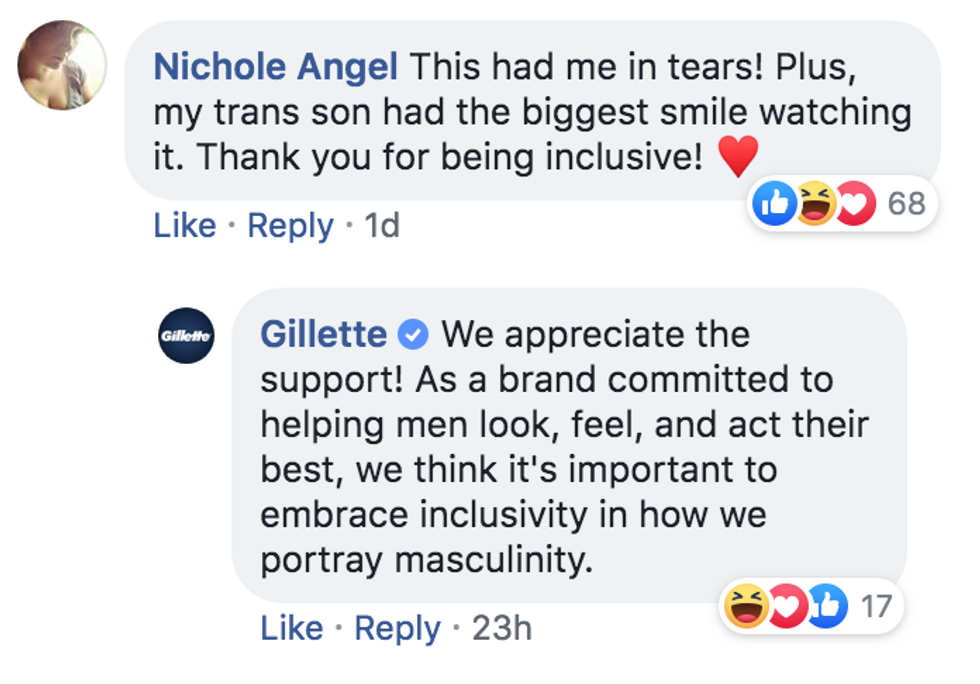 Gillette/Facebook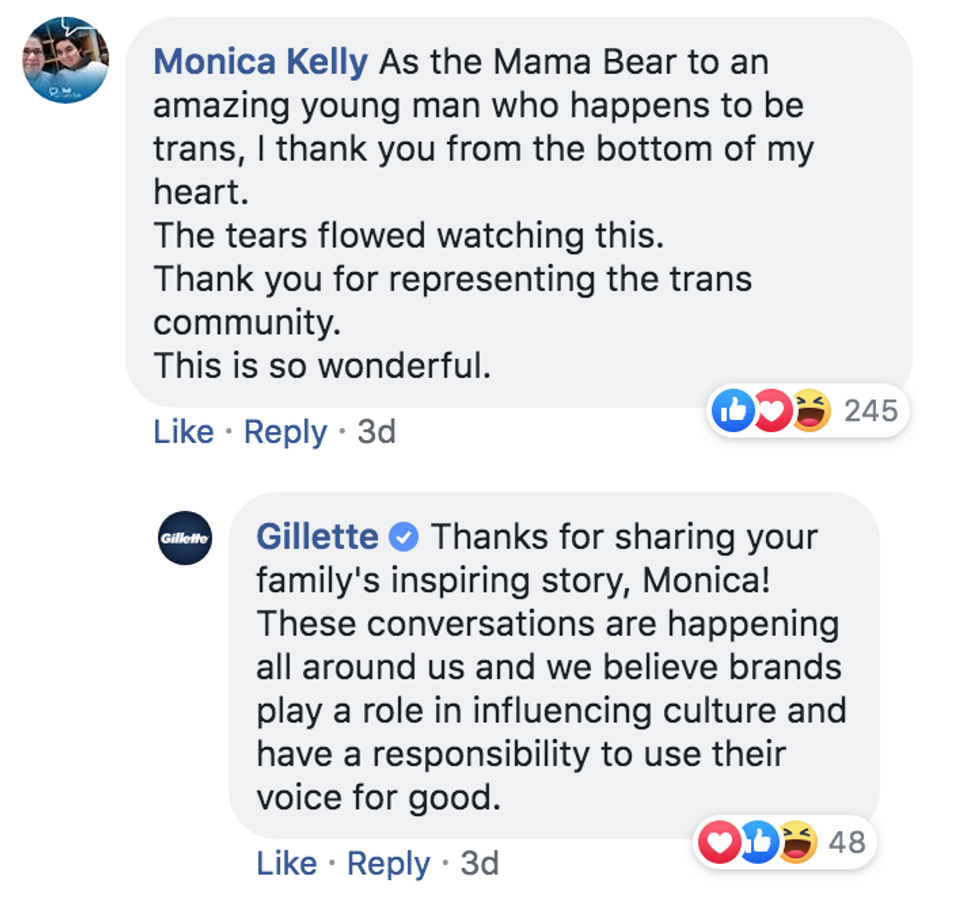 Gillette/Facebook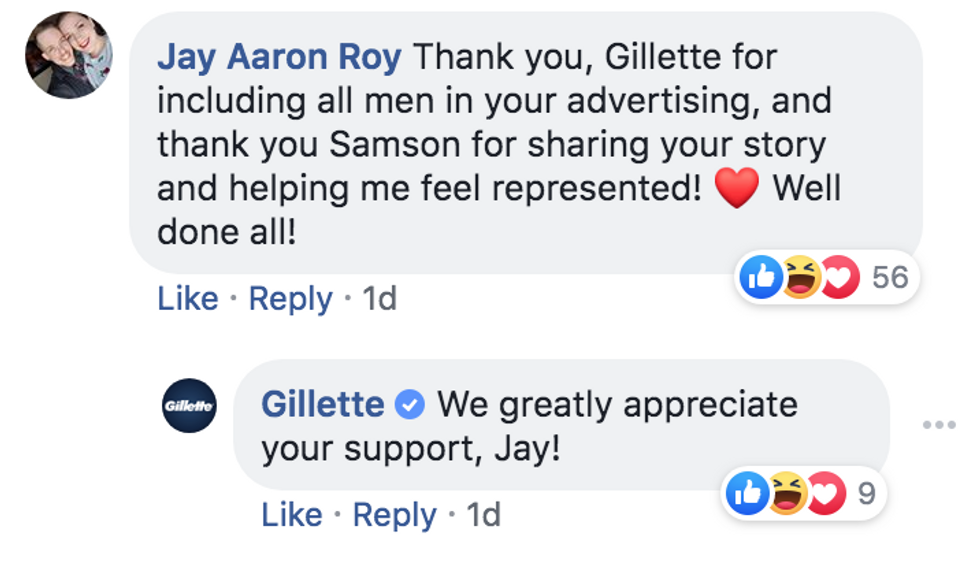 Gillette/Facebook
Many more have posted kind words on Twitter.
As a black trans man who works in advertising, this is... Everything. This is the kind of work I dream of creating… https://t.co/xbWsy1itU6

— trans dad bod (@trans dad bod)1558804451.0
.@Gillette's new ad shows a father teaching his trans son how to shave. We're not crying, you're crying. 😭 Bravo t… https://t.co/hNdCjXGSjb

— The Mask You Live In (@The Mask You Live In)1558811236.0
This week, the Trump Admin. legalized discrimination against transgender patients and homeless people Meanwhile, G… https://t.co/Cl9jvwO7rf

— Chris Lu (@Chris Lu)1558838973.0
This is the kind of representation transgender people need and deserve. Also, a great example of positive masculi… https://t.co/R7yAGHVhXu

— bendelacreme (@bendelacreme)1558823167.0
okay but can we for REAL get some love for @Gillette for these two frames alone #TransIsBeautiful https://t.co/1VFQy4E90Y

— Les Espookys (@Les Espookys)1558912890.0
Inclusivity in the media is something we need to see more of.
Gillette has once again provided this, and many are grateful for the representation.
Their tag line is the best a man can get. This is the best an ad can get.
Keep reading...
Show less