Y'all I love Scooby-Doo so much that I watched a marathon while in labor with my first kid.
It's THAT serious.
Reddit user Fearless_Link_3464 asked:

"Who is your favorite fictional dog?"
So of course the memory of me pain-singing the theme song to What's New Scooby-Doo? immediately came to mind. That theme song might be my favorite thing Simple Plan has ever done - and that's me speaking as a fan. I never moved beyond my emo phase and there's nothing wrong with that.
Just like there's nothing wrong with loving a sort-of-talking cartoon dog.
Or loving any of these dope doggos; and yes, Scooby shows up on this list - as well he should.
Wishbone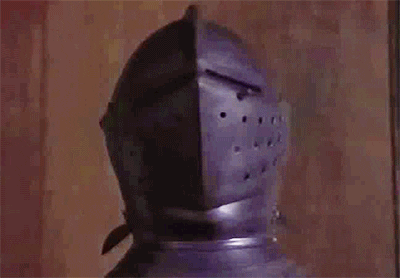 dog 90s GIF
Giphy
"I'm going to put my vote for Wishbone."
"That lovable little literature-savvy terrier. He was a star in a lot of my book reports as a kid."
- galacticretriever
"I remember doing a report on Don Quixote in sixth grade and no one knew anything about it until one girl said 'Oh, like on Wishbone.' "
"And literally the whole class went 'OH!' "
- inadequatepockets
"That show was my childhood!"
"I remember when we got a Jack Russell in the doggy day care I used to work at. His name was Wishbone. I just about cried."
- robo-dragon
Courage
"As a kid I wanted to hug courage so bad, he's a good boy."
- Myu_The_Weirdo
"Poor guy deals with supernatural gets nothing but hate from his dad and mum is oblivious."
- ChrisPebbletoe
"As an adult watching the show with my kid I wanted to give him a big hug."
- CarlatheDestructor
Scooby-Doo
"Scooby Doo!"
- Chief_Dumvass
"Scooby Doo made me want a great dane so bad - until I met one in person."
"Had no clue they were so huge. The dog was looking in the kitchen window when I met him."
"He was a gigantic goof, emphasis on gigantic."
- agreeingstorm9
"This is the correct answer."

- 2hands_bowler
Dug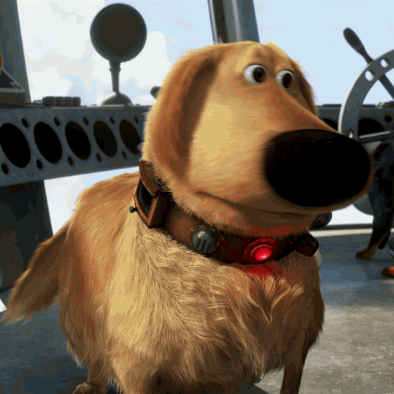 golden retriever dog GIF by Disney
Giphy
"Dug from Up."
- EerieArizona
" 'I have just met you and I LOVE you!' "
- StuckInDreams
"Yes. Dug is just pure joy."
- ILoveBabyBats
"Definitely my favorite too !!!"
- RoseThorn82
Snoopy
"Snoopy."
"Super underrated. Pilot, friend, dreamer."
- justaspoonthanks
"Athlete, DIY'er, chef. Pride of the daisy hill puppy farm!"
- Ctanner25
"War hero."
- BadBoyJH
"Snoopy would totally be helping Ukraine."
- Myfourcats1
"Snoopy is the only answer.. For anyone over 50. Red barron met his match that faithful day. COWABUNGA!"
- danxmanly
Clifford
"Clifford the big red dog because he could trample my enemies."
- Vivoatwork
"This is the most logical answer."
- Separate-Dealer4565
"I'm honestly upset at how small they portrayed him in the movies. In the books, that motherf*cker was as big as a two story house."
- DaTree3
"Clifford, who doesn't love a giant red dog that could kill you whenever just by stepping on you? lol"
- lunagm14
Cheddar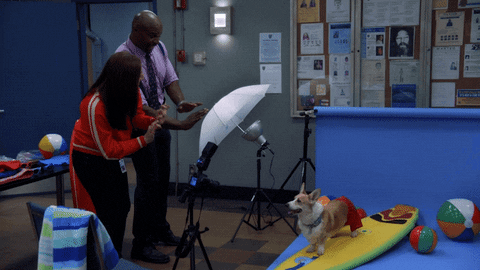 nbc brooklyn 99 GIF by Brooklyn Nine-Nine
Giphy
"Captain Holt's fluffy boy, Cheddar!"
- qrvjhb
" 'When it comes to clothes, Cheddar wears little booties in the snow, or Cheddar…wears nothing.' "
- NerfRepellingBoobs
"Oh, Cheddar you furry little pig."
- MonkeySherm
"That slippery bastard."
- Tastelessguava
Mr. Peanutbutter
"Mr. Peanutbutter."
- MusicIsLife003
" 'All bark, no bite. Oh, sorry! That's a Labrador expression. I guess in human terms it would be: he's all talk, no shooting you with an assault rifle.' "
- NSFAnythingAtAll
" 'The universe is a cruel, uncaring void. The key to being happy isn't a search for meaning. It's to just keep yourself busy with unimportant nonsense, and eventually, you'll be dead.' "
"What a mantra to live by."
- EpicNagger
"First time I heard that quote I had an existential crisis for a month. Thanks, Mr. Peanutbutter!"
- toriiiiiiiiiiiiiiiii
Bolt
"Bolt."
- BaconGamer1176
"I didn't think I'd find someone else saying Bolt!"
"It feels like everyone forgot the movie even exists. I absolutely loved Bolt as a kid and I watched the movie a ridiculous number of times."
- Jane_Wolf
"Bolt was def my favorite movie as a kid, I even got Bolt-themed cake toppers for a birthday once and I'm pretty sure I still have them."
- Academic_Sand3118
Little Ann & Old Dan
"Little Ann and Old Dan from Where the Red Fern Grows."
- caryatidcorp
"Take your upvote and f*ck off for reminding us about that book!"
- cyberjar88
"Literally sacrificed their lives for Billy 😭😭😭"
- farawyn86
"Lie down. Try not to cry. Cry a lot."
- altair__vega
"😭😭😭"
- hamsammyorbust
Reddit could talk about fictional dogs all day long, but we want to hear about your favorites now.
Tell us which fictional dog is your imaginary bestie.
Want to "know" more?

Sign up for the Knowable newsletter here.

Never miss another big, odd, funny or heartbreaking moment again.
Keep reading...
Show less