A teen experienced an allergic reaction that was not only uncomfortable, but made her look unflattering through no fault of her own.
But that didn't stop her from facing the world and laughing about it.
Amiyah Evans from Clinton, Mississippi, woke up one morning and found that her lips were slightly swollen. She didn't think anything of it at first and passed it off as a minor nuisance that would eventually subside.
Unfortunately, it was only the beginning.
She told Buzzfeed News:
"I had small swelling on my lip, on the right side of my bottom lip. I thought that maybe I had gotten bit by something, or something like that, because it was really small."
This is a GIF of the 18-year-old before the reaction.

Her condition worsened.

"It got bigger every hour. It just kept growing and then I went to a clinic around 4:00 when I thought it was getting out of my hand."
Instead of hiding under the covers, Evans was a good sport about it and shared a photo of her lips looking at its absolute worst.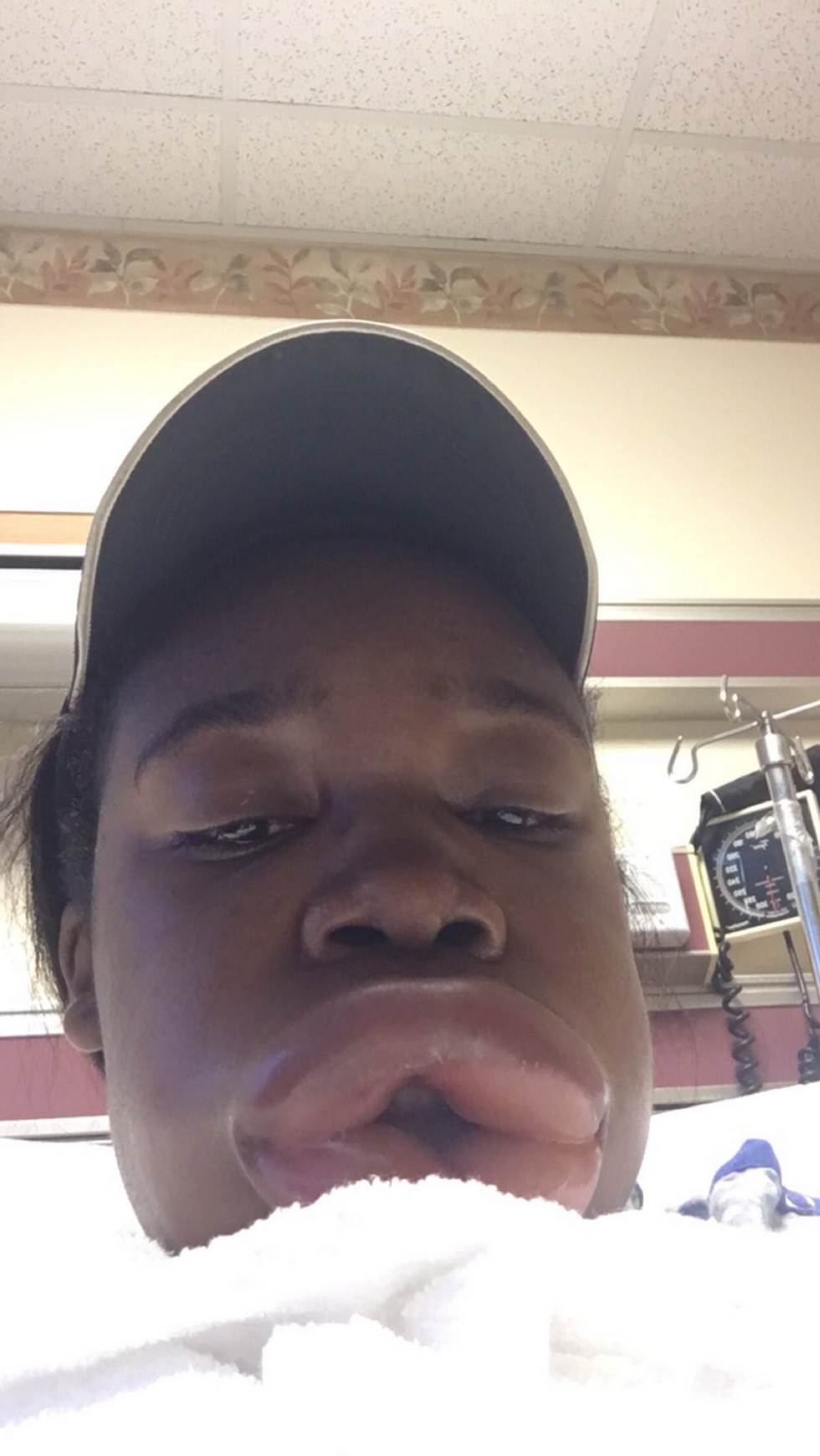 @deelishhh_/Twitter
She even changed her handle name to "miyah w/da phat lips."

The doctor at the clinic prescribed her Benadryl and a steroid pack, but it did little to prevent the swelling. In fact, her lips ballooned to twice the size.
"I could talk but you could barely understand some things that I was saying," she said.
By 7 p.m. that night, her mother took her to the hospital. And they laughed their way there.
When your family is laughing at you, Evans thought it was pointless to wallow. Besides, it would be more concerning if her siblings had a look of alarm, right?
"I didn't really panic about it at first because my siblings were making fun of me anyway, so I just made a big joke out of it."
Thanks for the support, sisters.
The culprit was supposedly hamburger meat. But not just any hamburger meat. The patty was from Sam's Club, a detour from her usual go-to, which is Walmart.
Followers were genuinely worried for her.
She gave her consent for jokes to keep her occupied at the hospital.

Once her friends realized she wasn't suffering from any pain, the ribbing followed and Evans cackled right along with them.
Evans is now back at home and recovering with normal-sized lips.
We're glad she recovered. However, allergic reactions are no joke, and you never know how serious they can be. When in doubt, just go and get it checked, asap.

Keep reading...
Show less