Reddit user Sweetlo123 asked: 'What did you get fired for?'
Being let go from your job is never a pleasant experience.
Particularly if it comes out of nowhere, without any possible warning that this was a possibility.
Even if it isn't any more pleasant, generally speaking, most people have at least an inkling of why they were let go.
Budgetary reasons, dissolved departments, being told you weren't meeting company standards, or bad blood with the boss.
As well as some less common, highly unusual reasons which at least might make a good story down the line.
Redditor Sweetlo123 was curious to hear from people who were let go from their jobs, and why they were met with this fate, leaving them to ask:

"What did you get fired for?"
For Standing Up For What's Right.

"We were told we get OT for night work."
"The new 'company manager' let it slip that we don't actually get OT for night work, so when I was scheduled for five nights in a row working on a transmission line cell site I mentioned that I expect everyone working from our company on site get OT."
"Once it was said that we won't get OT and that it wasn't an actual policy (was written in employee handbook), I forwarded the email chain to the entire company and leadership at Verizon."
"I was canned, but now everyone gets OT for night work."
"My life is better now anyway and got my people what the deserve."- drklunk
This Was Never Going To End Well...
"Aggressively squeezing breakfast muffins lol."
"I was a few days into working at Mcds and someone complained I gave them a muffin that was too hard-they bake them at like 3 am and sit in a warmer all day."
"This was before they had the full bakery menu, I think muffins was the only thing baked and maybe cookies."
"So my manager told me to squeeze them before I hand them out."
"Me being a dumb teenager squeezed the s*it out of these muffins and got another complaint."
"They stopped scheduling me, haha."- eatmyknuts
You Have To Do The Work To Get Paid...
"I just stopped working and began only attending meetings."
"Lasted almost 9 months that way before they let me go."- frantictossing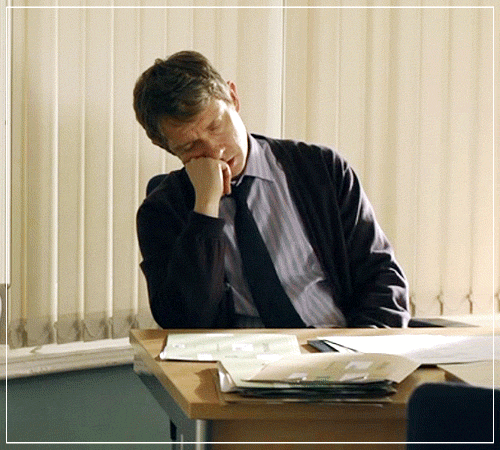 martin freeman sleeping GIF
Giphy
Wrong Time, Wrong Place
"I was fired after a month into my first job at a local pizza joint when I was 16."
"They called me during the Super Bowl and said I had to come in."
"I told them I was out of state without a car so no way I could make it."
"They said I should've known this was one of the busiest days of the year and I should've stayed in the area."
"I came in to work my next shift and they just gave me my paycheck and said they had to let me go for not being a team player."
"10 years later I was fired from a job in tech because I refused to move out of state."
"This one hurt a lot more."- seventyfive1989
Hard Not To Say They Had It Coming...
"The company's timeclock software ran off of the computers time, so when I was late I would just close the software, change the time back to before shift start and then clock in and change it back."
"The supervisor who showed me the trick fired me."
"A day or two later he saw me pulling in late, and when he went over the time info that day, it showed me clocked in on time."
"He knew why."- Grief-Inc
Nepotism Always Screws Someone Over...
"Worked at a gas station and was a sucker for the free soda."
"I would drink a few 24 oz glasses of Dr. Pepper (don't judge) per shift and had to piss relatively frequently."
"I usually worked with the same lady every shift and every shift my drawer came up short even like $10-20 bucks."
"One day my usual co-worker was off and I worked with another lady who warned me to watch my drawer around the other and hers had been short when she was around."
"That got me to thinking."
"The next shift with the usual lady I stuck some receipt paper into the lip of the bottom of my drawer and hit the bead."
"When I came back the paper was on the floor."
"My drawer was short $20 at shift change and my boss fired me."
"I told her of my findings and asked her to review the security tape."
"She told me to f*ck right off the other lady had been there years."
"I left heart broken and rented some VHS tapes to indulge in and recover."
"One of the movies was Casino and man is that a good movie."
"Come to find out the usual lady was the boss lady's cousin and they f*ckin told people I knew I got fired for stealing money."
"I though about calling a lawyer but also, I was in high school and was delusional I suppose."
"I got out of that town after high school and rarely return, especially considering all my family moved off."- woohhaa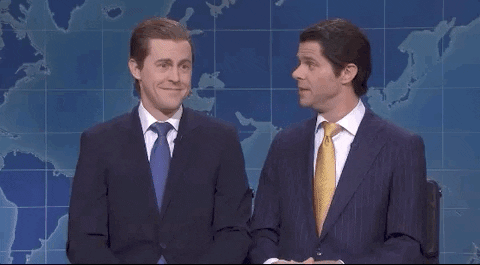 Snl Smiling GIF by Saturday Night Live
Giphy
The Age Old Story Of Men In Power
"Caught the boss stealing."
"So he fired me."
"His word vs. mine and it didn't go my way."- freezingprocess
People Tend To Get What They Deserve
"Embezzled almost $500,000 from the doctor's office I worked at."
"Oh no, wait."
"That was my former supervisor who did that...26 years after she fired me for taking home a left over slice of pizza after a drug rep hosted a pizza party for the office staff."
"Karma can take a long time, but it always comes through."- YourFront
Late To The Game...
"Being the last hired when they instituted layoffs."- BubbhaJebus
Some Plans Can't Be Cancelled
"1970s YES 'Close to the Edge' tour."
"I had my tickets and had the request approved for time off, they changed their mind at the last minute and would not let me off."
"Pfft."
"Left anyways and was genuinely surprised when I got back on Monday and they informed me that I was fired."-AmandaBRecondwith
Treat Others Like You Want To Be Treated

"My boss was talking sh*t about me to employees, and I confronted her with 'how would you expect the people below me to respect me when you show them that you don't?'"
"She didn't like it and literally went crying to the owners, who then fired me for 'causing problems'."- Successful-Snow-562
For Literally Doing What They Were Supposed To
"I got fired for slacking off and underperforming at work by taking my legally required lunch."- 10leej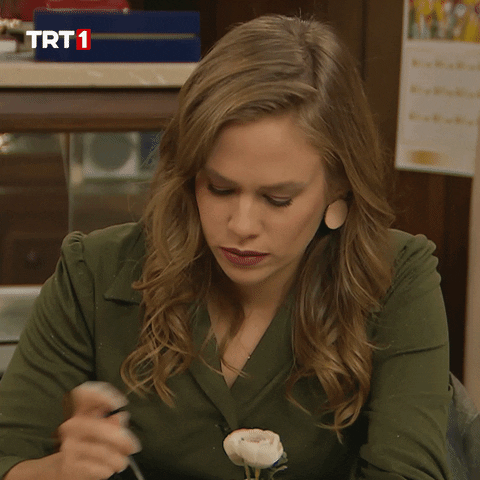 Hungry Lets Eat GIF by TRT
Giphy
They Couldn't Have Waited One Day?
"Worked as a QA tester for an online game company."
"Found bug while on my personal account at home."
"Came in the next day and reported the bug."
"I was VERY clear I found the bug while playing at home on my personal account."
"It was a nasty bug that let you duplicate very expensive items."
"A few weeks later someone in customer service was checking the logs for people exploiting the bug."
"They found mine and the company decided to fire me on my birthday."
"That was around 15 years ago but it still upsets me every year, on my birthday."- PedanticCyborg
While most believe "ignorance is bliss", anyone handed a pink slip deserves to know why.
Even if sometimes the reason gives no closure whatsoever, and instead only results in even more questions.
Reddit user stockstandardly asked: 'What DIDNT your teacher get fired for?'
There are certain things that are bound to get you fired in just about every profession.
Being nasty to colleagues and clients/customers, misusing company money, and first and foremost, not showing up to work.
When it comes to teachers, however, there are even more rules that others might not think of that are guaranteed grounds for dismissal.
Or so we think.
As some teachers manage to get away with shocking, if not downright apalling behavior and still manage to stay in the classroom, and out of the rubber room.
Redditor stockstandardly was curious to hear some of the most outrageous things ever done by teachers who managed to hold on to their jobs, leading them to ask:
"What DIDNT your teacher get fired for?"
You Thought There Was Only One...
"Y4 teacher put gaffer tape over the mouth of talkative students."
"Regularly."
"History Teacher invited me (16yo) over for beers and smokes."- stockstandardly
It Is Possible To Be TOO Close...
"Y5-7 gym teacher showered with us (the boys) because apparently there was chewing gum in the drain in the teacher's shower." - Runkepapir
Nobody Knew, Or Nobody Did Anything?
"I knew of two girls in my grade (age 16-17) that had inappropriate relationships with two separate teachers."
"Nobody was punished because nobody knew."
"Which makes me think this kind of thing probably happens all the time."- Green0livesAndHam
No Harm, No Foul?

"We had this little old lady for our all-male music class(16 years old) and she loved us and we all loved her."
"When we left the class she would slap our bottoms and we'd joke around trying to not get hit and dodging it and just goof off."
"We knew it was absurd and inappropriate and so did she but we all thought it was hilarious."
"I was always worried someone would narc or another teacher would see it and say something."
"She was the best. Hilarious woman and a good teacher."- SkinkaLei
How Much Proof Do They Need?
"Purposely slamming a student's hand with the door."
"Hard."
"Happened a year after I graduated hs but there's video footage of it out there somewhere."- lecstasy
Schools Should Be A Safe Haven...
"Telling the whole class to beat me up after school and defending them when I defended myself."- QuiescisMagna
'Spare The Rod And Spoil The Child"?... ABSOLUTELY NOT!
"I remember when I was in elementary school and my sister as well."
"My sister would always come home complaining of her bottom hurting and having trouble sitting."
"Back in school days during the 80s, they would give wooden paddle licks to kids for misbehaving, etc."
"My mother confronted my sister one day for all the complaining."
"She made my sister pull her pants down and saw multiple bruises on her bottom."
"My sister confessed that her teacher was giving paddles to her for however many multiplication problems she missed on her tests."
"Apparently, she was getting licks quite frequently."

"The next morning, when dropping us off at school, my mother was infuriated and stormed into the office and gave them a piece of her mind."
"Showed them the bruises on my sisters bottom."
"My mom fought hard to get the teacher fired, but they never did."
"The only thing they did was move my sister to another room, and the teacher stopped paddling kids."
"My sister never told my mom she got licks."
"I never did either.'

'Because you were scared of getting in trouble at home."
"Because getting licks at school meant you got in trouble at school."
"You didn't want your parents to find out."
"Can you imagine what would happen to the teacher in today's world?"- Safe-Block-7993
TEMPORARY LEAVE?!?!
"8th grade science teacher was asked if putting hair in dry ice as an experiment would create a reaction."
"Teacher said 'let's see'."
"And proceeds to grab scissors, walk to said student, and cut off a two inch chunk of hair, close to her face, halfway down her waist length hair."
"You could hear a pen drop as he wordlessly walks over and tosses the chunk of hair into the box of dry ice."
"No reaction but he was put on temporary leave a week later."- InternalDreadIncomin
Learning By Anything But Example
"11th grade, teacher was clearly not heard by even a single student to say during a bomb threat that she hopes they blow the whole place up."
"This is after her husband got fired for knocking up a student."
"Not a single person heard her loudly proclaim she wanted the school to go boom, so she wasn't fired."
"Lol."
"Loved by all is an understatement."
"Another teacher 9th grade year wasn't fired for backing my friend into a corner and looming over her with his hand on the wall above her head."
"F*ck you, Mr Hanks."- GreenOnionCrusader
Far too many students feel unsafe at school for a variety of reasons.
Their teachers should never, EVER, be one of them.
And one bad teacher has the ability to ruin it for all the extraordinary teachers out there.
More often than not, when men try to do something "sexy" in an effort to impress a woman, it tends to backfire on them.
Perhaps it is the visible amount of effort behind what they're doing or the fact that they don't do it as well as the movie star they took inspiration from.
Either way, despite their best efforts, women tend to find this sort of behavior anything but sexy.
In fact, more often than not, men have a way of turning people on without them even realizing it.
As it's often the little things that can make someone blush, anything from opening a door or slicing into a ripe tomato.
Redditor finnjakefionnacake was eager to hear all the sexy things men do without their even realizing it, leading them to ask:

"What things do men do that are sexy that they don't realize are sexy?"
When They Don't Even Know Their Own Strength

"Was getting busy with a girl one time and her head was too close to the headboard, trying to save her a potential concussion, I moved backwards and grabbed her under her hips and pulled / lifted her about two feet down the bed towards me."
"The sound she made and the look she gave me is still in my head lol."
"Afterwards she brought it up and said it was incredibly sexy how I could just handle and move her around so easily with so little effort."- Mage2177

So, So, Hot...
"I once changed a radiator in my house and that, without doubt, got me more attention and flattery from the women in my life than anything else I've ever done."- Jasper-Packlemerton
It's The NOT Knowing...

"It's a trap fellas, just live in ignorant bliss."
"Once you realize something is sexy, you will become a self-conscious dork about it and it will no longer be sexy."- PMMeUrHopesNDreams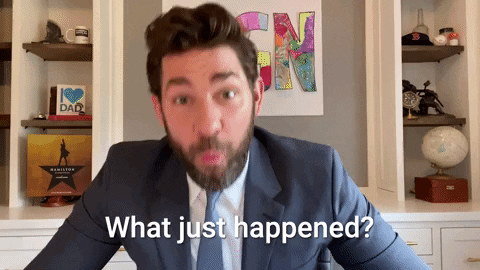 What Just Happened Wtf GIF by SomeGoodNews
Giphy
Magic Fingers

"My bf and I went to eat at this restaurant before we knew we had feelings for each other."
"While I would talk he would either laugh or smile and once while doing so he circled the rim of his glass with his finger."
"I later found out that he did it unconditionally but I short-circuited while he did it."- AsasLowkey
To Each Their Own...
"An ex of mine once got turned on when I told her I put a hand on the wall when I pee."
"I'm not sure I fully understand that one."- PaleAleDale
One Hand, One Heart...
"My wife has told me taking my shirt off with one hand is a thing."
"That kind of blew my mind."- trugrav
"One- handed steering wheel grip, reverse parking with their arm resting behind the passenger seat."- getupandstudy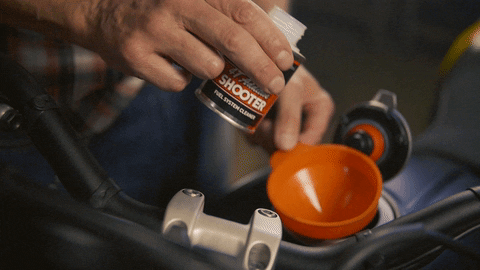 motor oil shot GIF
Giphy
Doing It For The Thrills... And Then Some...
"My girlfriend was locked out of her apartment and I picked her lock."
"I picked the hell out of that lock."- paulo39Atati
Hits The Spot...
"My heart does a little flip each time my significant other, ever so slightly puts his hand on my back when we're walking (to guide me), or if he's trying to squeeze by behind me."
" I don't know why that gets me fired up lol."- princess19977
Knowledge Is Power!
"Being booksmart."
"If I ask my boyfriend a history question and he randomly knows the answer to it or if I ask about a math problem and watching him figure it out is the hottest thing, like yea you divide those numbers baby."- maneaterlex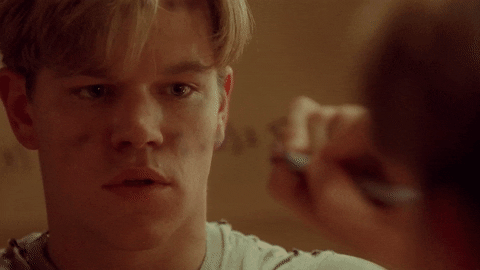 Matt Damon Math GIF by MIRAMAX
Giphy
Nice And Oily...

"An ex said it was hot watching me change her car's oil."- SafeAndSane04
Compassion Is Always The Answer
"Caring for helpless things."- Maleficent_Scale_296
Speed Can Be A Turn On...
"There was a study done in Japan to see what school-aged ladies saw as attractive in their male counterparts and 'running fast' was like number one or two for elementary and middle schoolers."- Embershot89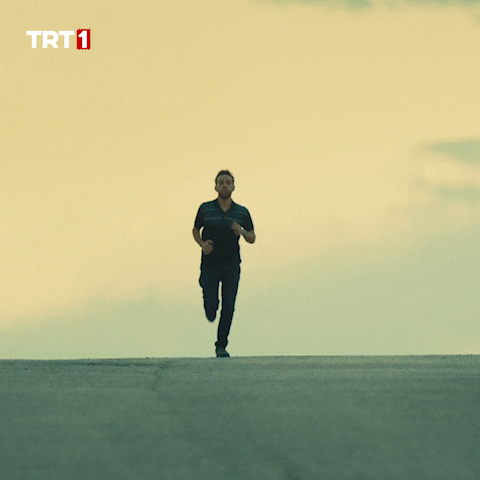 Run Fast Running Man GIF by TRT
Giphy
There's Someone Out There For Everyone
"I heard one million power in 'Rise of Kingdoms' gets you any girl you want."- Key_Vermicelli_3138
Strong And Efficient...
"Carrying as many folding chairs as you can at once."- KbossDPT2019
Most of the time, the sexiest things are also the most unexpected.
That being said, any good boyfriend knows that a wet t-shirt now and then can't hurt...
Memory can be a funny thing.
There are some memories in which every moment will remain completely vivid in our minds for the rest of our lives.
Others we might remember the context and moments from, but find ourselves a bit hazy on some specifics and details.
Some people have memories like that from their childhood, where they weren't exactly sure what they were remembering.
With a little time, as well as some context from others, discovering what these memories were is sometimes a very rude awakening indeed.
As the only way to describe these particular memories could be "F*cked up."
Redditor Specific_Dimension77 was curious to hear from people with memories from childhood which they learned in adulthood were a bit more unsettling than they realized, leading them to ask:
"What's something f*cked up you witnessed during your childhood, but didn't realize the severity of until you were older?"
Unknowingly Complicit...
"My dad and I used to play 'Spaceship"'and to get the spaceship started, I'd have to blow into a tube to hear the electronic beep."
"It was his DUI test to start the car before they started putting cameras in the cars."
"Glad he's sober these days."- Expensive_Change_893
"Pretty sure when I was 7 I was an accomplice to robbery."
"I was supposed to stay the night at my friend's house."
"Her parents said we're stopping to look at a house real quick."
"I didn't think anything of the adults all black outfits."
"They were still professional."
"I did think it was odd that they had me go through the bathroom window to unlock the door, but they said the realtor forgot to give them the key."
"This was such a beautiful, wealthy home."
"They didn't take anything large, but I did notice the mom leaving with a lot more jewelry on the she came in with."
"She said she left it last time they were there."- prettylittlepastry
Sometimes Its A Blessing When A Memory Gets Foggy

"I was sitting on the couch at 5 yo when my parents started arguing and my mom threw a red book at my dad."
"Just thought it was a fight."
"Turns out it was their pre-divorce fight after my dad caught her cheating."
"Didn't learn about the cheating until I was 16 and only recently learned it was a brick that she threw at him."- missybeputtinitdown
"To Err Is Human, To forgive Is Divine."

"One of the times my dad left he would send me beautiful letters with the envelope decorated in different cartoons and cute drawings."
"I was maybe 9 at the time and clueless."
"A few years later I realized he would decorate the envelopes to take attention away from the red 'inmate mail' stamp on it."- Smolbeanis
Sense Memory

"When I was about 12, me and dad were walking the dog, when we saw a huge fire at a house at the end of our street."
"My dad was a fireman at the time, so his first reaction was to sprint towards it."
"Naturally, I followed him."
"A crowd of people had gathered around a bus shelter nearby, so I went to see what was happening."
"On the ground was a kid from my school, I think he was 2 or 3 years below me."
"I'll never forget how badly his face and hands were burnt."
"The skin was a strange mixture of charred flesh and fresh blood."
"I just froze for what felt like an eternity before my dad found me and sent me home whilst he stayed to help."
"The kid survived, but it was years before I saw him again."
"He was horribly disfigured as a result."
"I don't think about it much, but every summer we have a barbeque, and the smell of the coals takes me right back to that evening."- Full-Cardiologist233
Privilege Check
"When I was a kid, we took a family trip to Las Vegas and stayed at Circus Circus."
"My mom wanted to get a magnet or souvenir from Caesar's Palace, so we parked somewhere and went inside."
"I wanna say we might have parked in an area reserved for staff?"
"Or it could've been for guests/visitors."
"That part is very fuzzy."
"My parents didn't care regardless and had never been there."
"When we were walking back to the car and over a sewer grate (the kind with slots) I sneezed."
"A gruff, male voice from below in the sewer said 'bless you!'"
"Being an innocent kid, I said thanks as my parents hurried my brother and I into the rental car."
"Years later as an adult, I watched a documentary about homeless people who live in the Las Vegas sewers."
"In it when they're inside one of the sewer tunnels, their guide pointed up at a sewer grate above them and said 'you see this?'"
"'This is the parking lot of Caesar's Palace'."
"That whole realization that I was there as a kid gave me whiplash."- snickerdoodle_bandit
The Truth Can Really Hurt
'My seventh grade English teacher accidentally gave me a document he had written."
"It was on an old floppy disc he assumed was blank."
"It described how he volunteered with an humanitarian group in the 70's that traveled through impoverished countries and provided free vasectomies."
"They eventually trained him how to do it, and he would do them, even though he had no real medical training."
"This is not even the messed up part."
"He goes on to explain that he decides that he wanted a vasectomy and to do it himself. He then described in very graphic detail how he did it to himself."
"He even said the date, like March 1st, 1981, or something like that."
"He described in detail cutting through things, and how rubbery it felt."

"Again, not the f*cked up part."
"I thought the story was hilarious because he wrote scrotum so many times, and I was a seventh grader."
"Well, I spread the story around to my friends."
"It eventually spread to a parent, that shared it with the school."
"His wife who was also a teacher there, promptly quit."
"Their son who was younger than me, born in the 90's, also left the school."
"He kept his job."

"What I figured out much later was that his wife had cheated on him and had gotten pregnant, but pretended like it was his."
"The f*cked up part is that he obviously knew she cheated, but never told her."
"He had raised the boy as his own son."
"Once she realized he was sterile, and he's known the entire time, she left him and took the kid."
"Had I not shared that story, that kid could have lived his entire life without knowing, and that family could have stayed together."- fredsam25
The Things People Do For Money
"I was sledding with a friend and saw smoke on the horizon."
'His mom came and picked us up."
"It was my 3rd-floor apartment on fire with my mom and grandma (and others) outside in the cold."
"Everyone got out safely, but we couldn't find our cat (until later)."
"My computer and Star Wars collection among so many other things were destroyed."
"We still have the photos."
"Found out later, unknown to her, my mom's BF owned the building and had the dumb a$ manager wack a pipe so he could get the insurance $$."
"My mother has been somewhat of a hoarder since."- determinedforce
Not Trusting Others Cause No One Could Trust Him...
"My parents divorced when I was 3 because my father got another woman pregnant."
"When I was 6, my father took me and my two older sisters (10 and 15 at the time) to 'donate blood'."
"Decades later I'm talking to my mom about it and she reveals it was a paternity test, as my father didn't believe I was his daughter."
"Test proved I was in fact his."

"Probably should have realized sooner that a 6 is a bit young to be donating blood."- miss-quiche-lorraine·
Some might say these poor people would be better off if they didn't know the truth.
But facing the truth and confronting our demons is sometimes the only way we can move on with our lives.
Even if the memories will never stop haunting us.
There's no denying that men have it easier than women do in just about everything.
With this in mind, it's hard not to join in with those who judge men who display stereotypical, chauvinistic behavior.
However, some would argue, or more specifically some MEN would argue, that they are judged for too many things.
And indeed, everyone would agree that far too many men are judged for displaying behavior that doesn't exactly scream "masculinity."
Redditor Few-Strength5065 reached out to the men of Reddit, asking them what they think men should be able to partake in or enjoy without judgment from others, leading them to ask:
Happiness Is In The Eye Of The Beholder
"Being content with enough."- Zenshin26
The Definition Of Antiquated
"Being the one who takes care of kids in a relationship or making less money than their partner."- HartoCD
Everyone Has The Right To Decompress
"Playing."
"I bust my a** at work and save money so I can then play."
"That might be video games, might be a sport, might be building random shit in a workshop, but whatever it is, let a bro have his hobbies/playtime."
"See a 30 year old playing Pokémon?"
"Good, leave him alone and let him have his fun."- Link9454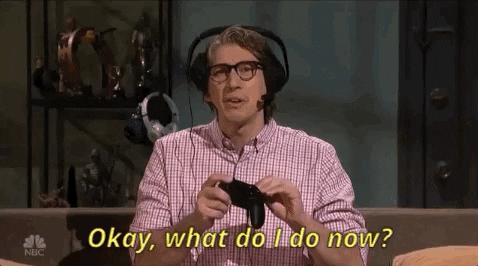 Adam Driver Snl GIF by Saturday Night Live
Giphy
Head Out Of Gutters People...
"Eating bananas."
"Just tryna get the potassium bro."- MightyKing19
Father's Spending Time With Their Children? The Very Thought!
"Taking kids to the park/walmart/etc."
"Too many horror stories of some Karen taking issue with this as if it's wrong for men to be fathers."

"Also, just being a dad in general."
"There was that phase in the media where the father was played off as some idiot that couldn't even without the help of the wife.'
"Our culture seemed to buy this idea wholesale, and we're still reeling from the effects."- ridicalis
"Being a parent."
"Any time a dad is out alone with his kids other people always ask if he's on babysitting duty."
"It's not called babysitting it's called being a parent."- Elementus94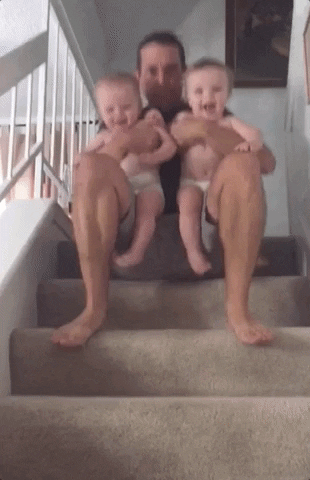 Fathers Day Dad GIF by America's Funniest Home Videos
Giphy
Peace And Quiet Can Be Hard To Come By
"Wanting to be left the hell alone."

"It's not that we don't want to spend time with our partners, but for f*ck sake alone time is valuable."
"Sometimes your man just wants a little time to himself and there's nothing wrong with that or anything to read into about it."-Jollybritishchap
Smart, Smart Boy...
"Maybe a minor one, not talked about a lot but: watching certain movies."
"Growing up I was always taught that certain things were just for girls."
"I'm 29, just watched Charlie's Angels for the first time a month ago and I'm honestly mad at what could've been a pretty formative movie."

'When I was 14 or so, my uncle was trying to ask me and my cousin which movie we wanted to rent for the evening."
"It came down to Catwoman or Scorpion King, and my cousin chose Catwoman only for my uncle to say 'that's gay' to which my cousin replied: 'how is you wanting to watch The Rock all shirtless and oiled up not gay, but me wanting to watch Halle Berry in a skintight leather cat suit is?'"- CinnaSol
All That Matters Is How They Taste

"Liking 'girly' cocktails."
"Let me have a margarita."
"Generally, anything deemed 'girly'."- Panal-Lleno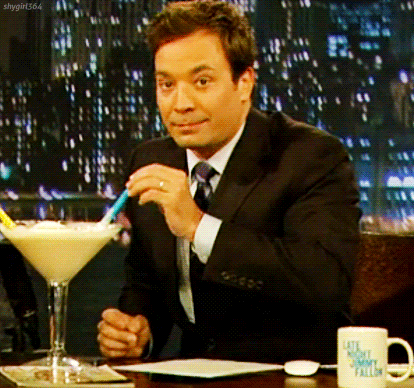 Jimmy Fallon Drinking GIF
Giphy
NO MEANS NO!!!
"Telling a woman no."- AFLYINGDINGUS
Minimalism Is Popular
"Having empty apartments."
"As much as it's nice to have decorations in a house, I don't give a sh*t about it."
"As long as my house is clean and I am comfortable in it then I have the essentials."
"My girlfriend is the only reason our house is decorated."- Grundle_Gripper_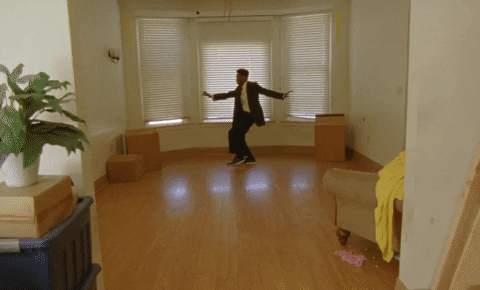 Dancing Alone GIF by Aaron Aye
Giphy
Emotions Are A Sign Of Strength

"Opening up their emotions."
"Being a man can be so lonely."
"if your struggling don't be afraid."- JillHardenerOfficial
Interest Can't Be Forced

"Not being interested in sports."- Klutzy_Growth1945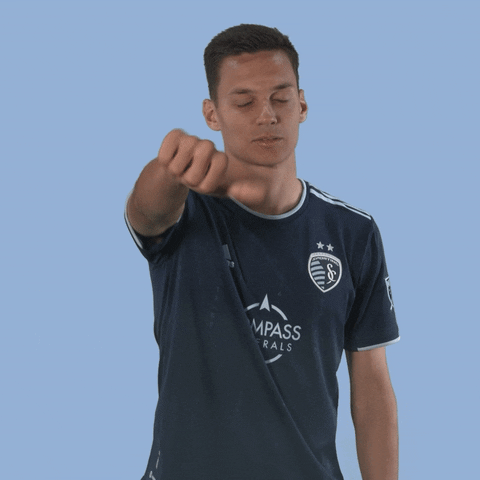 Major League Soccer No GIF by Sporting KC
Giphy
Many people have their opinions of what a "real man" should do and be.
Without any justification for that opinion whatsoever.
After all, it seems safe to agree that a "real man" couldn't care less what others think about their interests and hobbies, as long as they aren't bringing any harm to others.
Ideally, they might even be bringing others joy.