We're always told to "respect our elders." In truth, many of our elders are wonderful and understanding people. Others are definitely not.
Many young people are very frustrated by older generations. Technology has taken its toll. The job market does not resemble anything that it used to be. The realities of the climate crisis continue to compound. Geopolitical events are raising tensions. Global inequality is at an all-time high.
Given all this, how can young people be expected to bridge the gap between their philosophies and those of people much older than them? People shared their frustrations with us after Redditor baker109123 asked the online community,
"Younger people are Reddit, what are you tired of hearing from older generations?"
"As a 29-year-old..."
"As a 29 year old, tired of older people telling me I'll understand joint pain, tiredness when I'm older. I'm disabled and chronically ill. I have had bad joints since birth. Like it's great that all your health problems are a result of your age but mine have been around and will worsen because of that."
supermeg77
It's true. Some of the older people don't understand that those younger are just as capable of being in the same (or worse) chronic pain then them.
"My mom and I got into a fight over housing affordability. " Your father (55)and I (53) worked very hard to afford this house (175k) and you make more than we did at the time we bought (1992)."
"The house now is worth about 1.5m, my mom didn't work and my dad made 100k/year. I make 150k and houses in my price range are 600k 1hr+ away from where i want to be and less than half size with less than half the lot."
x-Sleepy
Your parents bought their house at the best possible time. The income to house price ratio hadn't been that low for like a century and now is exponentially worse.
"I have more life experience than you…" then proceeds to go on an emotionally stunted rant based on their own personal bias due to trauma they refuse to process because "they know best."
[deleted]
Oh, don't remind me. How many times have I heard that one?
"A little bit late to the party, but as someone (30) identifying as LGBTQ, literally pretty much anything they have to say about queer/trans issues. Probably the most annoying thing is being CONSTANTLY reminded how hard it is to remember my name and pronouns despite being out for years now."
iamth3walrus
They didn't have all this trans stuff cause it was hidden
It's so invalidating when people react this way.
"I am 44 but I still feel like I am young. I am tired of hearing pretty much everything my generation says. I don't understand when everybody else just suddenly morphed into their parents."
Hattkake
I am younger than that and am still wondering when some of the people around me morphed. Did this happen overnight and I just happened to miss it?
"Literally any and all job advice."
"Literally any and all job advice. Sorry, Deborah, but you've worked the same unionized position for 30+ years. The number of valuable insights you can give me about the modern labor landscape numbers somewhere between diddly and squat."
spenhizle
Been there. This is so frustrating. The job market is nothing like it was before!
"I'm a restaurant worker..."
"They're so judgemental and rude. I'm a restaurant worker and I swear young people are way more polite and easy going while older people have zero patience (even though they're the ones who are already retired), oftentimes make racist, sexist, homophobic and bodyshaming comments and still act like they're above the younger generation simply because they've been alive for longer."
dreamingofhogwarts
The respect they demand after such behavior is wild as well.
"I'm tired of people complaining about how younger people are terrible as though they weren't the ones that raised those younger people to be what they are."
photoguy423
Ah, logic! A rarity in this world, it seems.
"Then promptly ask us..."
"How we can't fix anything ourselves. Then promptly ask us to fix their WiFi, set up their new phone and figure out why their computer is running slow. We can do plenty, we just have a different skill set!"
[deleted]
This is an excellent point. Everyone brings different skills to the table. Why is this so hard to understand?
"I hate how we've gone..."
"I hate how we've gone from me getting facebook as a teenager and my parents being like "DON'T BELIEVE EVERYTHING YOU SEE ON THE INTERNET" to them sending me "medical research" from unverified/unreputable sources."
ydmat3
And then they get very angry once they're fact checked. Who'd have thought?
"Buddy, I've been working..."
"Pull yourself up by your boot straps and work harder."
"Buddy, I've been working 60+ hours a week and prices keep going up and my pay is not and I actually cannot afford to change jobs, change my living situation, buy a more fuel efficient car, or go to college. There actually is no out."
"There is no work harder and I'll make it. I'm literally in the poverty trap. I'm slowly making my way out of it but it's going to be a long time unless some other opportunity magically appears. College isn't the price of a McDouble anymore old man."
[deleted]
Ain't this the truth. Sadly, many people are in this people and far too few people understand that.
It's very clear that there is an enormous generational divide. The difference between those who grew up with the internet and those who did not is massive. We could all strive to have a little more empathy.
Have some stories of your own? Feel free to tell us more in the comments below!
Want to "know" more?
Sign up for the Knowable newsletter here.
Never miss another big, odd, funny, or heartbreaking moment again.
Keep reading...
Show less
As adults, especially those who work with or have kids of their own, we have a responsibility to mold the young minds that will go on to be the adults of tomorrow. They are our future, and we owe it to them to raise adults that will be respectful and kind community members.
There are plenty of things we were taught as kids that we thought were harmless at the time. But years later those same things have become an issue.

We went to ask Reddit to learn about those issues that we should change for the next generation.
Redditor Ok-Department5749 asked:
"What should we stop teaching young children?"
Let's see how many of these things you heard when you were growing up.
Want to "know" more? Never miss another big, odd, funny, or heartbreaking moment again. Sign up for the Knowable newsletter here.
Keep reading...
Show less
Life is sneaky sometimes.

You go about with your day-to-day routine, expecting you will generally feel the same way you felt a day, month, or even a year ago.
We are often occupied with working, meeting deadlines, and keeping all our ducks in a row. Then suddenly, BOOM, the realization that we are physically or mentally not the same as when we were in our 20s cruelly slaps us in the face.
These reality checks can come in the form of random comments about our looks, or how our bodies feel the moment we get up out of bed.
Curious to hear about these rude awakenings from strangers on the internet, Redditor spp25 asked:
"When did you realise that you are officially "not young" anymore?"
Age is just a number. Sure, but let's not talk about that.

Mutually Offended
"I was in my late 20s, at work talking with one of our new interns. I can't remember why but she asked how old someone was and I was like, 'I dunno, about our age?' She gasped and asked 'How old do you think I am??' Then I gasped and asked, 'HOW OLD DO YOU THINK I AM?!'"
"Anyway, that's when I realized I was 'not young' anymore."
The Fear Is Real
"I'm scared of teenagers now."
– -thegay-

"Just don't look them directly in the eyes."
– spp25

Nightclubbing is a thing of the past for these "old folk."
Club Patrons
"When I went to a nightclub last weekend and everyone looks like children..."
– smegly87

Checking IDs
"We went to a bar recently and the bouncer didn't check our IDs -- just us out of everyone going in. Fine. Then as we were leaving, the place was totally packed and I was outside waiting for my husband to come out and thought, 'We're the oldest people here by ten years at least.'"
"Then, to my relief, I saw an old guy in the crowd."
"Then, to my horror, I realized the old guy was my husband."
Scolded By Teens
"Was told over 40s shouldn't be allowed by a few 19 year Olds"
– smegly87

Reactions to pop culture references can give away your age.

The Not-So-Familiar Tune
"When a song I loved as a teenager appeared as an oldie on the radio."
Listenin' To The Oldies
"My 17-year old nephew has a girlfriend who's into 'the oldies' - you know, like Pearl Jam and Smashing Pumpkins. That made me feel old, lol."
– Tauber10

Hey, Mr. DJ
"I DJ'd a wedding a year ago and the groom asked me if I could play that one oldie…'Get Low' from Lil Jon."
Random injuries are a clear indicator our bodies are headed six feet under sooner than we think.
Getting Unhinged
"When I dislocated my jaw lying in bed yawning. Didn't even think it was even possible."
Sleeping Injury
"Similar, except I woke up with a sprained ankle. No sleepwalking, no weird sleep Olympics, just held it or twisted it weird while sleeping and sprained it."
"I have done this 3 times after turning 40."
"Don't turn 40, kids, stay in your 20's and 30's."
– DrEnter

No More Yawning
"It was free day, Sunday, bad weather outside, I was in bed lying on the side, chilling, reading a book when mid yawn I heard weird noise. I was never out of the bed so fast. By the time I got to the mirror I heard another snap and jaw went on it's proper place, but I had swollen left lower side of the face for another 3 days. Talked to my doctor next day and he said, I should not eat hard or any food that needs a lot of chewing for a week or 2 and not to open mouth too much. I am reminded of this every single time I yawn."
As a Broadway dancer, I still frequented auditions to get me to the next gig.
That was pretty routine for me. Lining up in the hall, waiting for my group to be called in to learn the choreography and be judged on the spot to determine if I was good enough to make it to the next round.
I was so used to being focused on making a good impression while in the audition. But one day, I had a moment and noticed I was the only dancer among a group of college-aged kids.
That was when I realized I was being aged out from the business, at least as a dancer.
If my weak joints and lower back pain weren't clear indications, seeing all those spring chickens kicking their legs for Jesus was the biggest clue that my time was up.
Well, I had a good run. Speaking of which, I should go ice that knee after tripping on the treadmill the other day. Oops.
Keep reading...
Show less
Finance and financial management really needs to be a part of all school curriculums. Seriously, who needs PE every single year?
And what in the world is the point of a free period? Also, trigonometry... just no. Learning about how to make and properly handle money would change the outlook for everyone.
Learning that it doesn't grow on trees or that one day we'll have to make our own and turn on into survival... that seems like a more dire and useful life lesson.
Too many people make far too many stupid mistakes that keep them in debt and unhappy, and that can be avoided.
Redditor u/viKiKing0 wanted everyone to own to some mistakes involving money by asking:
What was the stupidest financial decision you ever made?
Talk about hindsight, I cry when I think about my past financial mistakes. And it all started with those damn CD deals... I hate you Columbia House!! Also, I believe several libraries have me on a watchlist, should I ever dare to rent another book without settling my debts.
No Thanks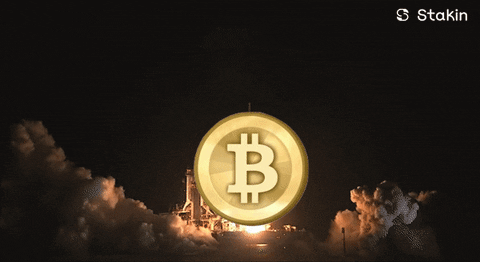 Lift Off Moon GIF by Stakin
Giphy
"My friend: hey you should buy these bitcoin things, they're only 20 cents each and it's sort of an interesting idea."
"Me: oh, yeah, sounds interesting... I'll look into it."
"Never looked into it."
- dedokta
Tasmania
"My now wife and I were renting a terrace house for $50 a week. The landlord who was a very strange cat offered to sell us the house if we paid the weekly rent for 10 years. Rent per year was about $2600 so for $26000 we would have owned a house. We were 20 years old and ten years was forever so we said no. That was my BIG mistake."
"To people who have asked: The house was in Tasmania. About 40 years ago. At that stage I was earning about $250 per week. It was double story, 2 bedroom terrace house. We bought a house about 6 years later for about $75000. We knew the landlord, he was divesting a lot of properties he owned."
Peanuts
"Was a 10-99 day trader out of college. Didn't pay taxes for a year or two. Making peanuts, IRS won't notice, right? The penalties were more than the original amount owed. Had to put $6,500 on a credit card (bad choice #2). Sent me on a 20 year whirlwind of credit card crappiness. Should have paid my taxes. Should have set up a payment plan with the IRS."
"Turning down the only 6-figure salary I've ever been offered because the job required travel for 6 months of the year. I could've spent a year or two there and then gone on to bigger and better things, seems like a reasonable sacrifice in retrospect."
- libra00
Be Smarter at 22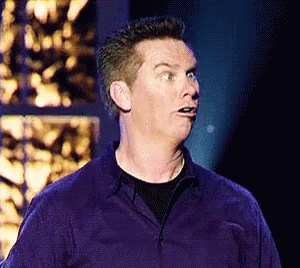 Dummy Feeling Dumb GIF
Giphy
"Getting a payday loan when I was 22. It was small and I got out of it, but I can get definitely understand how someone can get caught up it it and not get out."
These Are The Worst Job Interviews Ever | George Takei's Oh Myyy
I'm so confused about this Bitcoin. Yay or Nay? Someone let me know. And lesson one for the youth, read all the fine print when signing off on loans. You'll never escape them.
Kim K Coin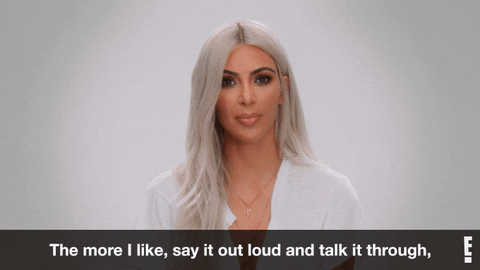 Kim Kardashian GIF by KUWTK
Giphy
"Gotta be the Kim Kardashian app. I quickly established the need to delete it. As I was spending actual money. For fake clothes."
Years Later
"My ex and I moved in together. Paid half each for deposits and all the bills etc. I took out a 4k loan in my name and bought furniture with it, I also bought us a 1.5k bed on finance. My mistake was not getting it in writing that as I was paying the loans anything purchased with that would be mine. I walked away with an £800 telly and nothing else and was still paying the loan off for 1.5 years after I moved out. In the future, I will be keeping receipts and written agreements!"
Mismanagement
"Taking the advice of a financial advisor in 1996 to invest $5000 into a labor-sponsored mutual fund rather than buying Apple stocks like I wanted. Current value of mutual fund: $200 and in litigation for mismanagement Calculated value of Apple: $5,800,000."
- milesmac
Maxed Out
"I took out the max on my grad school loans because it was important that my ex was able to stay home to take care of our 2 year old daughter. It was a great decision for my kid, don't get me wrong, but I now have a mountain of loans that I thought we would use both our incomes to pay off. Instead she left me for a dude with more money."
- timp_t
Bad Baby
"A friend convinced me that Beanie Babies will continue to rise in value. I've lost over 25 thousand dollars I had "invested". Plus, I still pay every month for a storage unit to keep these toys."
Deep Cuts
"Joining Cutco. I only ever sold a few of the damn knives. However, I will admit that I like their products. I still use one on a regular basis and it's held up well."
Life lesson? Be smart. Enjoy your money but don't outspend your means. You're not a Kardashian. And be thankful for that. Also, money is never free. There is always a catch. Be aware!
Want to "know" more? Never miss another big, odd, funny, or heartbreaking moment again. Sign up for the Knowable newsletter here.

Keep reading...
Show less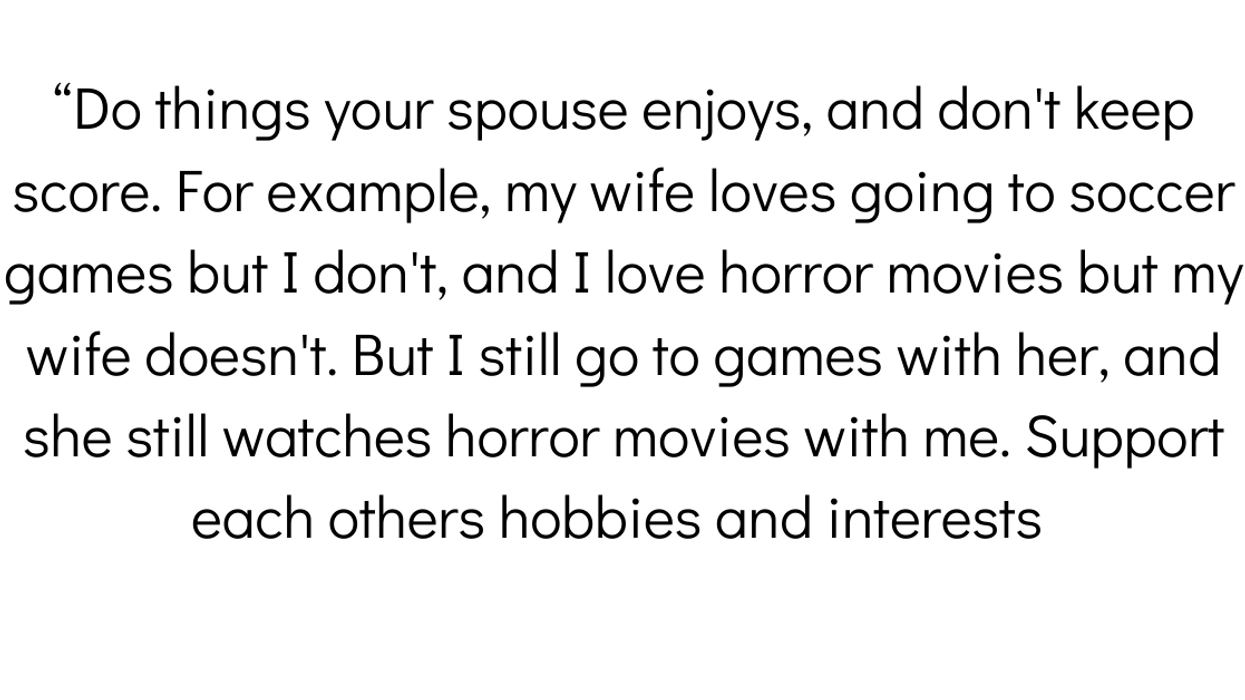 Marriage is often one of the most difficult forms of relationships for young couples.
The fun of dating becomes mixed with the hefty responsibilities that come with truly building a life with another person and integrating your lives together.
It is not easy, often it will fail, there are times that will be painful however, if two people truly want to grow together they will find ways to overcome challenges in ways that strengthen their bond.
Redditor DurableRestriction17 wanted to hear the serious marriage advice people had to offer.
They asked:
"Married couples, what advice would you give to young couples?"
Basing your relationship off of mutual respect, similar values, and practicing spiritually together (whatever that may look like or if applicable) are all ways to make sure you have deeper connections.
The best advice overall though is do not lose yourself in joining your partner.
They love you and giving up things you enjoy to please them often fosters a seed of resentment over time.
Schedule time for yourself to enjoy hobbies, and time for them too.
"If you don't spend time together you are GOING to drift apart."
"We have been married for 13 years, together for 15. Spend quality time together. Shut off your phones and go for a walk, cook a meal together, find a hobby you both enjoy, heck, you can have a lot of fun just doing household chores together."
"If you don't spend time together you are GOING to drift apart. I was severely burned in a brush fire 5 years ago, and was diagnosed with brain cancer a year later. My burn broke me, I fell into a terrible pit of depression."
"I spent most of the next year lying on the couch pissed off at the world. All of my relationships deteriorated in that time just because I separate myself from everything. But our marriage suffered the most. Unfortunately, my diagnosis made things even worse. My prognosis was quite grim, people in my position live for an average of 37 weeks."
"I have seen other people go through similar things. One of two things usually happens. It will draw them closer together, or one or both people will use destructive coping mechanisms to help cope with the fear and pain. Once we realized what was happening we started coming closer together again."
"When we were newly married, we spend a lot of time fishing. Just the two of us on a riverbank sitting on buckets trying to catch fish. The beauty of time like that is there is nothing to distract you from each other. It gives you a lot of time to just talk and get to know each other better."

"I've had 2 cancer recurrences that looked like it was the beginning of my end. I just started a new treatment that is working very well. We've been able to get back fishing a lot this summer, sometimes just the two of us, and sometimes we take the kids along too." thelemonx
Well noted! Sounds like a healthy relationship.
You are on the same team!
"Fight the issue, not each other." ​BlackSwann0316
"Yes! My husband and I have a rule to always treat each other like we're on the same team. Having an explicit rule comes in handy for giving us the language to use when it doesn't feel like one of us is doing that. A gentle "it doesn't feel like we're on the same team right now" does wonders for reorienting the other away from anger and toward the problem at hand." wantonyak
I concur! Your partner is not–and should not–be your enemy.
"Always remember to work on yourself, as your insecurities can easily form into blame towards your partner. 'They're not doing enough', 'they're not making me feel special enough' when you're insecure and not doing anything to fix it, it won't matter what your partner does."
"So Always work on yourself, invite your partner to join you in your goals and the positivity from your efforts will strengthen your relationship with your partner and how you see yourself." Ello_Owu
Insecurity can kill a relationship. Working on yourself is important!
Dont sweat the small stuff.
"Don't stress over the little sh*t. You'll get annoyed at things you didn't think possible, like how they organize themselves, how they load the dishwasher, difference in opinions for trivial things. Let that sh*t go."
"Think about what truly matters to you before you start an argument over your misplaced toothbrush, the color of paint to use in the living room or what's going on in the garage at 10pm with all the swearing. This will differ a bit, but this is coming from a man that's been married for 14 years with two kids." Beholder84
Exactly! Besides, stress kills. Don't do that to yourself.
"don't keep score..."
"Do things your spouse enjoys, and don't keep score. For example, my wife loves going to soccer games but I don't, and I love horror movies but my wife doesn't. But I still go to games with her, and she still watches horror movies with me. Support each others hobbies and interests.​" LagerLounge
Relationships are all about balance! Support each other – that builds good relationships.
Kindness is best practice...
"Kindness. Don't be short, rude, and proud. You have to live with this person the rest of your life. Always be kind. Forgive. You aren't immune to making any of the same mistakes. You're not as perfect as you think you are. Don't dwell on the negative in one another. This is a bad mental path to get on."
"You are both imperfect. Compliment one another on your strengths. And help one another with weaknesses. Be committed. Life will change. You both will change. There is security in commitment. There is trust when you feel secure. Just a few things. 12 years, three kids, still learning." Manbeard1000
If you're going to ride the waves of life together, you'll have to learn how to be compassionate and forgive.
Remember later on you may forgive but your friends or family may not...
"Don't talk sh*t about each other to your friends or family members. You're a team. If you have a complaint and need to tell someone, be honest with your partner about it rather than telling a third party." ruthlessbaderginz
Absolutely! You are a team so you should act like it.
So important!
"Make sure you have the same life vision as your partner. You need to be in alignment on the big things." ​SeaTie
Compatibility definitely matters!
"If you want to survive more than a decade in a marriage, be prepared to listen to your spouse. Not just to let them speak, but listen (engage). You want to be heard, so hear the other."
"If/when negative emotions get too intense, don't jump to blame the spouse... It's hard. Try to find ways to interrupt the feeding-of-negativity-from-each-other cycle. Take a 5 minute break (claim you need a biobreak if nothing else).. The physical and temporal distancing will help folk calm down."
"Also, as soon as you calm down, hug the other person and provide some sort of positive physical contact. Goes without saying, keep reinforcing positives and make positive statements frequently. Everybody wants to be loved - and you have to be there for each other."
"Oh, one last thing: don't ever take someone else's side against your spouse in public. If they are in the wrong (can happen often), you must find ways to correct that behavior discreetly... if that really doesn't work (because people are obstinate), try to create a distraction (find an excuse) then talk to your spouse in private." milagr05o5
Some great advice from people with marriage experience. Best of luck to the young couples, it's wild out there.
Want to "know" more?
Sign up for the Knowable newsletter here.
Never miss another big, odd, funny, or heartbreaking moment again.