It should not take much for a consumer to be satisfied with the products they purchase.
Yet, too often, manufacturers who oversell their products fail to deliver what is promised and are inevitably left with angry customers who want their money back.
Whether the merchandise was defective or ridiculously overpriced, strangers online shared some of their worst purchases when Redditor BooksMcGee asked:

"What is the worst product you ever paid money for?"
Short Life Span
"This NERF gun that's supposed to shoot tennis balls for your dog. I bought it cause I thought you could load 3 at a time and shoot them far, but it's just one and it's super loud and the gun broke after like 4 shots (reading reviews later, this was a common issue)."
Lame Pets
"There were these toys called squiggles when I was a kid and the commercials made it seem like the toy was alive. It looked like you would get this crazy little fuzzy worms as pets that would follow you around an so sick tricks and listen to your every command. It was really just a piece of fluffy string tied to another piece of string with googly eyes on it. People may say that it was supposed to be a magic trick but they should also explain that to a 5 year old who really wanted a pet."
Card Value
"Not their fault, but I paid $70 for a Yugioh card hours before it was limited to one copy. Probably dropped to $20 by the end of the day."
These purchases were bad for your bum.
"A bicycle that literally fell apart before I made it out of the parking lot."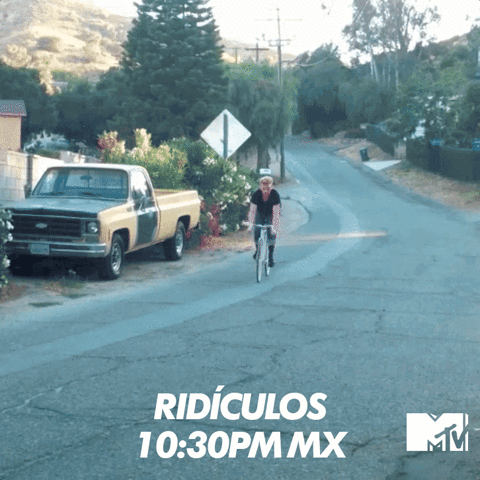 Giphy
Not Worth Sitting On
"Joybird brand couch. Was so terrible, we returned it. Still hard to believe, we returned a freaking couch."
Going Nowhere Fast
"A 2000 VW Beetle (used)."
"Biggest piece of sh*t that literally had to have just about everything replaced before 100k miles and would still break down every time you left the driveway to the point where the tow-truck driver knew us on a first-name basis."
Expensive Lemon
"An Oldsmobile Achieva from one of those buy here pay here places. I should have known better, but I was young and thought I was getting a good deal. I had the thing for about 5 months, I drove it for maybe 3 weeks. The rest of the time it was either in the shop, or in my driveway waiting until pay day so I could afford to fix whatever broke on it this week. Eventually told the dealer just take it, I'm not paying for it any more. He said nope, and I will make sure your credit is ruined. I said well you sold me a lemon, do you really want to go this route? He came and took it. Never reported anything to credit. I heard he got sued by several other people who sold sh**ty cars too and eventually went out of business."
"Always amazes me when I see them driving around still, I can only assume there's enthusiasts who just love repairing horribly designed cars."
– zerbey

These Redditors were not convinced what they ingested was edible.

Bad Cereal
"A box of plain Cheerios. Thought they were honey nut, poured a bowl, was very disappointed."
"If I wanted to taste cardboard, I'd just eat the box."
– gor8884

Space Pizza
"A burnt frozen pizza at the air and space museum cafe in DC. I Don't wish that experience on anyone. There are some amazing restaurants in DC, don't settle."
– Alseids

The following electronics just gave off a bad charge.
"Asus Transformer Pad TF700"
"This was one of those early 'high end' Android tablets that was grossly underpowered, and it showed. Thing was slow as sh!t in no time flat. Rookie mistake investing into shiny new tech while they were still working all the bugs out. Think I paid somewhere in the neighborhood of $350-400 for it..."
– Luke5119

Bad Apple
"macbook pro 2018 13" touchbar. 2 years old and dead (battery). they're asking $300-$400 to change the battery. malfunctioning keyboard with double presses and missing presses. that's a lot of money for bad design."
Chilly Reception
"Past winter my old room heater broke down and I had to buy a new one. Went to a store nearby and somehow got convinced to buy a very costly heating device.. It's also my fault, since there were some sligthly cheaper options around, but nope. I wanted the expensive one thinking it will make my small room a volcano with little to no effort/cost (that's also what the seller told me). Long story short the device wasn't doing ANYTHING. No significant temperature changes, too much space, a weird noise, and was doubling my previous device in utility cost. I still gloom over those 80 euros.."
Some of my disappointing purchases was clothing, but only because I purchased them online. Unless they are a brand I'm familiar with, I'm usually fine with buying new jeans off of their websites.
But when it comes to graphic tees only available on specialty shops, an M-size shirt is not necessarily the same size as those found in other reputable stores.
I bought a medium sized T-shirt from a boutique store online because I loved the look of the design. But when it arrived, the supposed medium fit me like an XL.
At least I gained a fierce cleaning rag from this impulsive purchase.

Keep reading...
Show less
When a movie rakes in a ton of cash at the box office, the studio that made it has only one thing on its mind: "How do we keep shaking this money tree?"
Unfortunately, that means they make sequels, sometimes sequels on sequels on sequels.
At times, the sequels are solid. They tie nicely into the first film, emphasizing the qualities that brought folks out to the first one, while immersing them into that world for another great couple of hours.
But sometimes, it's wildly clear that the longterm planning behind a sequel was minimal at best. These part two's are truly terrible experiences, made even more disappointing by the excitement created by everyone's love for the first.
Some Redditors shared the worst examples.
Sullivans97 asked, "What is the worst movie sequel ever?"
Plenty of contributions to the thread were noteworthy simply because the Redditors' deep hatred for a sequel spurred them to write a very entertaining review.
WORST
"Son of the Mask. Worst sequel. Worst movie. Worst piece of entertainment. Worst experience to sit through as a human being."
-- cityboy1997
Oddly Specific Analogy
"Independence Day: Resurgence."
"What the fu** was that giant heap of steaming camel sh**?"
-- Snowbattt
Two Key Elements
"Mulan 2."
"The plot is mostly driven by Mushu acting like a real piece of sh**, and Shang gets turned into the butt monkey of the movie as a consequence."
"Vastly inferior to the first one."
-- Gneissisnice
Just Horrible Decisions Every Step of the Way
"Where is Speed 2?"
"No Keanu"
"Speeding cruise ship (Zzzzzzz)"
"Horrendous dialogue"
"WTF were they thinking?"
Other people chose to discuss the sequels that, for whatever reason, chose not to include the key attributes that made the first movie so good.
Whether it was the absence of character, actor, or overarching theme, the experience was as puzzling as it was frustrating.
Insert Muscle Here
"Kindergarten Cop 2. Yes it does exist and it is a bad as it sounds. Dolph Lundgren takes over the role of Schwarzenegger." -- TheBassMeister
"Bro, don't be such a jabroni. Imagine, a super ripped, super smart cop-in a mesh tank top-named officer Dolph Lundgren." -- why_not_fandy
"Ugh wtf the movie was great why make another one" -- c_girl_108
Quick Thinking
"American Psycho 2. It wasn't even originally intended to be a sequel, they just shoved the name on it and added loose references to Patrick Bateman. Awful." -- Mountain_Situation89
"Mila kunas who is in it was told it was a different name and was pissed when they ended up making it a 'sequel' " -- Imfrank123
"Yea, that's the thing. The movie would have been a decent film if it was just a serial killer film and not an AP sequel." -- JennyBean2000
​Two Demerits
"Still Waiting."
"It had some okay parts, but what they did to Justin Long's character completely undercuts the meaning of the first movie. And no Ryan Reynolds."
-- NikolaiEgel
Last, some people realized that any film franchise that goes beyond two installments is just asking for things to go downhill in a hurry.
Once you cross three--and even four--your just too far from the source.
What Even Is Home Alone 5?
"Home Alone 3, 4, and 5" -- theWet_Bandits
"I honestly enjoyed 3, sure it made no sense at all, but I can look past that and really enjoyed it. 4 and 5 on the other hand, I barely remember what 4 was about and had completely forgotten that 5 existed until just now." -- botbattler30
End of the Mummy Era
"The third Mummy movie." -- goshawkgirl
"Fun fact: The trailer for Mummy 3 has Brendan Fraser saying "here we go again" and Ben Stiller thought that line was ironically hilarious in terms of cranking out soulless sequels and it inspired the 'here we go again....again' line in the fake trailers at the beginning of Tropic Thunder." -- Call_Me_Koala
Part of the Reboot Frenzy
"Not to repeat others here (hopefully), but the 4th Indiana Jones movie should never have been made."
"For what it is worth, The odd numbers are great, the even numbers are terrible with the last one being one being Steven Segal bad."
So there you have it. A full list of movies to avoid at all costs no matter how bored you are flicking through Netflix lists.
Want to "know" more? Never miss another big, odd, funny, or heartbreaking moment again. Sign up for the Knowable newsletter here.
Keep reading...
Show less
Every once in awhile, somebody comes along, enters your life, and catapults themselves to that awful, unique position at the top of your list of the worst people you have ever met.
Sometimes, the person's blindingly terrible behavior and overall essence is actually impressive. We ask ourselves, "how could a person like this actually exist on purpose?"
Alas, they do. And you have to deal with them. Or, if your lucky, you can carve out some distance.
Redditors shared descriptions of the worst people they've ever had the misfortune to meet. Some have escaped the relationship. Some are are still stuck in the clutches.
LoneStar202 asked, "Who is the worst person you have ever met?"
Some chose to talk about the acquaintances they simply couldn't help but encounter. External circumstances beyond their control made the stars align in the worst way possible.
Keeping the Peace
"There was this guy who used to come into the McDonald's where I did security overnight (yes, that's a job), and he was the biggest ahole I've ever met in my life."
"Ginger, 5'6 or so, named Colby, had a perpetual scowl on his face, looked for any reason to start a fight with anyone. He and his friend would come in when it's super busy, not order, and then yell at the staff that he paid and wasn't given a receipt in the hopes that they'd give him free food rather than deal with him."
"I kicked him out for six months on two separate occasions for coming in drunk and throwing things, drinking beer in the restaurant, starting fights, you name it. Only got in my face once and I never had to fight him, but I'm much bigger than him and the law is on my side."
"Not that I would necessarily have won. I'm big and strong, but I have no idea how to fight and he did. I called his bluffs because I was pretty sure he wouldn't attack me and he didn't."
"Funny, I just realized I've finally forgotten his last name. Not that I'd mention it. He might be less of a @ss now and he's no longer my business."
-- Shippo-chan
You Know 'Em
"I work with a real life, archetypal, Karen. She's two-faced, mean, anti-vax, and just generally the whole nine. The first interaction I ever had with her she had to make fun of me behind my back for being a dude with earrings."
"Recently kicked up a stink by making an 'anonymous' email address and emailing our HR department saying people were discriminating against folks not getting the covid vaccine.
"Luckily she's burned too many bridges for anyone to really take her crazy anymore but man is she frustrating to deal with."
A Black Hole of Bad Energy
"My old manager at a bar I used to work."
"Not only was he a constant one-upper over the most mundane of topics, he was a complete creeper when it came to the ladies that worked there. He also seemed to have a disdain for anyone achieving more than working at a bar for their entire lives."
"One of our gals came in absolutely ecstatic that she was admitted to an Ivy League school and the fat boozer manager took that as an opportunity to tell everyone that higher education is a scam and not worth the price (never mind that she got a full ride, he just wanted to be a prick)."
"So in addition to being a self-centered loser, he insisted on bringing everyone else down as well."
People Break Down The Best Loophole They've Ever Exploited
Others discussed the family members that, for obvious reasons, they were forced to put up with for years and years. But even family isn't enough to keep a person like that around.
Marrying Into It
"It sounds cliche, but my ex-MIL. What made her the worst is that she was a covert POS."
"We always lived about 1k miles from them, so I didn't pick up on it for far, far too long, but goddamn, I've never met anyone with as much unacknowledged hate and cruelty in their heart."
A Thing of the Past
"My father. Cheater, never paid child support, verbally abusive to my mother, sister and I. Just all around bad dude."
"Haven't talked to him in about 15 years and am 100% ok with that."
-- itsdjc
So Many Problems
"My brother. He's like a cross between Kramer (Seinfeld, 'my newest thing' and mannerisms) and Frank from Its Always Sunny (illegal activity and completely illogical 'logic')."
"He's ripped me off for thousands of dollars (getting close to 5 figures). Constantly stealing anything he can, but claims 'borrowed' if caught with it. Been to jail 3 times and is currently on house arrest after over a year of probation violations. "
"The epitome of 'easier to say sorry than ask permission' (but the apologies are hollow) and 'what's yours is mine and what's mine is mine.' No consideration for anyone or anything. Manages to break virtually anything he touches. Hasn't had a job in over 1.5 years, but has been trying to fraudulently collect unemployment."
"Constantly thinks everyone is out to get him and people are stalking the camper he lives in (has security cameras that he watches frequently and often 'patrols' the area). Tries to break into locked doors and safe, and pulls the 'why don't you believe/trust me' line."
"I'm just scratching the surface here. He'd use your clippers/razor to shave his family jewels and not clean up the mess (something he's done multiple times)."
-- ChuckoRuckus
Finally, there were the stories of classmates. Whether it was high school, college, or even graduate school, there were enough people there all in one place that one or two rotten people were never far away.
Crash Landing
"Guy from my high school was a wannabe thug. He ended up going to juvi junior year. After a year of juvi. He became a true criminal. Broke into people's homes. Stole from stores and got heavy into drugs."
"Then he eventually died after robbing the wrong store at gunpoint. The owner came out the back and shot him with a shotgun."
Wait for the Twist
"My gf's college classmate. Narcistic. Thought of himself as very important so he came into the church where we were graduating, on his HORSE. He damaged a 1000 or something-year-old church floor in Leiden. He thinks he didn't do anything wrong."
"And the weird thing is, we were graduating LAW SCHOOL"
Ride Like Lightning, Crash Like Thunder
"I had a classmate who wanted to become a stock broker and a millionaire. He said more than once, with absolute pride, 'When I'm rich I wont donate a single penny to the poor!' I asked him why and he said 'I have my own problems, and the poor being poor is not one of them.' "
"He opened his own business when he was 23 and was pretty successful, but suddenly a fire burned the place down while he was in it and he suffered from third degree burns all over his body."
"He later confessed setting the fire himself and was found guilty on insurance fraud. He's only 24 now and his professional life is basically over."
-- Sadlycoris
A Sudden Shift
"A teacher I once had. Didn't know me. Never spoke to me much."
"One day just randomly snapped at me. Yelling at me telling me that I had no future, that all the awards I got were to go to waste, that I the article I published which I spent hours working on and submitted didn't matter. That even though I was 14 and had many great achievements, I would end up just like that said teacher."
"Worst person I have ever encountered. Did collateral damage to my life as now I am a high school student with no more ambition. Wanna be a journalist? Wanna be a writer? A lawyer? Not anymore buddy."
Wrong Line of Work
"My first class teacher Mrs. Kummer (Translated to Mrs. Sorrow, I live in Germany). She laughed whenever someone cried or was angry. One time she said a name similar to mine and I misunderstood her and started reading."
"As punishment she screamed at me, put me in another class and I had to sit in the teachers office in my break and copy a long text. My parents told me she used to be evil back in the day when they were in her class. She hated children"
-- Kratos10x20
Some people managed to meet famous celebrities or political figures. Needless to say, they didn't leave the encounter very star struck.
Entitled at the Table
"James Woods. Played poker with him a few times. Colossal a**hole; mean to the staff, mean to the dealers, mean to the other players, mean to everyone. Maybe he's not actually the worst person I've ever met, but his behavior combined with his fame makes him the most memorable a**hole for sure."
Hopefully, you don't have too many of these people in your own life. But, let's face it, there's one or two people on your mind right now.
Here's hoping you managed to let go and get away.
Want to "know" more? Never miss another big, odd, funny, or heartbreaking moment again. Sign up for the Knowable newsletter here.
Keep reading...
Show less
We're never that surprised when we encounter people who are lackluster at their jobs. Bad waiters, rude customer service people, dishonest contractors, or inept colleagues abound throughout daily life.
But it's interesting that we expect to encounter that kind of ineptitude far less with certain professionals.
As an example, look no further than the world of mental health. The role of a mental health professional seems to denote such a knack for empathy, patience, and social tact that we're stunned when someone says or does something wildly unprofessional--or downright mean.
Nonetheless, there are problematic people dotting every professional realm, and the mental health sector is no exception.
Some Redditors offered up their finest examples of dreadful mental health care interactions.
Physical_Philosopher asked, "People of Reddit, what is the worst thing a therapist, psychiatrist, or mental health professional has ever said to you?"
Plenty of Redditors came bearing stories that were so bad you may struggle to believe them. These mental health professionals managed to say the most hurtful thing possible at just about the worst time.
The examples were almost cartoonish in how unkind these professionals were.
Salt in the Wound 
"I was dealing with a lot of family issues at the time and my ex had just broken up with me that week so I was taking it fairly hard."
"My therapist said 'it's because they found someone better' and when I said no and tried to explain she just dug in deeper that my ex had dumped me because they found someone better than me."
-- sgrmw
Suddenly, a Brainstorm Session for Insults
"14, telling my shrink about how I was bullied in school."
" 'Do they make fun of your nose?' "
" '...nnnno....?' "
"And that's how I found out I have a big nose."
The Exact Wrong Outlook 
" 'You'll never do an important job like doctor, veterinarian, firefighter, lawyer, conselor...You'll probably end up in a Walmart for your whole life.' "
"I was 8 years old and still remember how mad my parents were lol."
Some mental health professionals were simply too absent to be of any help whatsoever. These people may not have done anything outwardly mean, but their distant, neglectful demeanor hurt just as bad.
Mourning Snooze 
"Nothing. She fell asleep in her chair while writing notes....I was talking about the death of my parents. I was 16. Never went to another therapist" -- Papismurf101
"After reading a few of these I'm convinced some therapists get there education on a milk box. Flipping heck. I'm so sorry that happened to you." -- illthinkofonel8er
When Word and Deed Do Not Align 
"When they say things like 'okay I understand how you are feeling thank you for telling me' but proceeds to ignore most of the things I've said. -- PrestigeZyra
"Ugh I hate that. Sympathy is not Empathy."
"Rephrased: 'Based on what you've shared, I think I'm starting to understand what you have been through. Thank you for telling me. Now you said X, would you like to explain that further so I can better understand?' "
"It's called motivational interviewing and that specific technique is 'reflecting' and 'clarification' to ensure the client is able to fully explain their meaning without the provider 'assuming' anything or ignoring the person's statements." -- jhorry
Proven Wrong Almost Immediately 
"Go back to work, you'll be fine, you don't need different meds."
"3 times being sent home and psych ward visit later" -- BalancedJoker
"let me guess, diagnosed with depression (unipolar). prescribed an SSRI type antidepressant. turns out you have biploar depression and without mood stabilizers the SSRIs sent you into a strong manic episode." -- SecTrono
Finally, some people's therapists had bizarre hot takes that they just couldn't let go of. They introduced theories to explain a patient's situation, and gladly turned a blind eye to any realistic evidence to the contrary.
These mental health professionals treated the session more like a debate than a healing space.
Doubling Down 
"I had a psychiatrist who was convinced I was anorexic even though I wasn't."
"It really sucked because my therapist and my psychiatrist worked at the same company and they had a policy where they don't help people with eating disorders."
"So even though I went to a specialist and they confirmed I didn't have an eating disorder I was still banned from that facility and lost my long term therapist."
-- assainXD1
Throwing Shade on a Healthy Habit 
"I use my creativity with art and craft as both a coping skill and as something that gives me extra purpose in life."
"A psychologist told me that doing so is maladaptive. I didn't go back."
-- BlackCaaaaat
Wut
"Had a therapist tell me that my soul, long before I was born, chose my parents and subsequent childhood abuse so that I could learn from it."
"By this logic, of course, the abused person is always in control and the abuser is helpless. Argue with that logic. Needless to say I never saw her again."
I'm sure there are even more stories out there, and so many egregious comments not included in the list. It's sad but true: some therapists can't help but get in the way of the healing.
Here's hoping you never have any run ins like these.
Want to "know" more? Never miss another big, odd, funny, or heartbreaking moment again. Sign up for the Knowable newsletter here.
Keep reading...
Show less
We all know public restrooms can be a nightmare. You never know if they are constantly being cleaned – if at all – no matter where you have to go do your business.
As much as many of us would choose to relieve ourselves in the comfort and privacy of our own home when duty calls, sometimes we are left with no choice but to brave using public facilities.
So one time, in band camp, I had to do a number one during a lazy river outing. I saw a portapotty on the shore, so I had my comrades paddle over to dry land so I can get out. I should have just peed in the river.
I opened the door to the lone commode – and horror of horrors – I saw a fecal mountain towering majestically above seat level. Needless to say, I had to go so badly, I added to the moat surrounding the colossal muck.
I wish I can flush that memory from existence.

Redditor Reddit807 asked:

"What's the worst thing you've ever seen in a public toilet?"

Let's just say, this thread did not disappoint. Just make sure your food is digested before continuing.

Assault On The Senses
"Diarrhea on the toilet seat and walls- it was horrible. Smelled atrocious."
– slekrons
"But how did it taste?"
Reaching New Heights
"Saw this in the JetBlue terminal at SEA a few years ago. How the hell do you get it that high up the walls and not on yourself!?"
– alinroc

Roofing
"A poop outline on the roof as if a log had be thrown up with force directly after being excreted. Imagine those art handprints kids do with paint but brown and in the shape of a meaty finger."
Swedish Meatball
"Some one had made a sh*t on the floor and put a tiny flag of Sweden on top of it...."
– Shejku

"If it was at a grocery store, my money is on a scenario where they were giving free samples of Swedish meatballs with the flag as a toothpick."
Big Mass
"Sh*t. Lots of shit. Sh*t in places where shit is not supposed to go. In a public toilet there's a specific place for sh*t and people somehow manage to miss it. It's almost like they were aiming anywhere but the toilet."
– BigD1970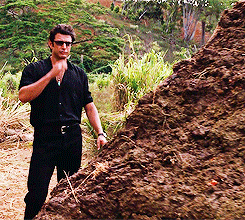 jurassic park deal with it GIF
Giphy
Crime Scene
In some cases, the discovery in a public bathroom were more grim.
Splattered In DNA
"A turd covered in blood about the size of my forearm peaking out of the toilet blood was all over the toilet bowl it was insane. Actually had a safety meeting on it the next day."
Final Destination
"Dead body...OD victim in a bathroom at a nature preserve. Had been deceased at least a few days. In 90+ degree heat in the summer."
At The Bus Stop
"When I was 17, I went to use the bathroom at the Greyhound bus stop and found a homeless guy who had died. That was a pretty crazy experience."
How He Got A Free Bus Ticket
"Well, I went into the bathroom, opened the stall door and saw a dead man with his pants around his ankles, his head propped up against the wall."
"I screamed bloody murder, ran out of the bathroom and into some dude about to go in, yelled, 'DON'T GO IN THERE!', made it to the ticket counter, yelled something like, 'there's a dead man in the bathroom!' and calmed down enough to be able to give a report to the police."
"On the plus side, I got a free round trip ticket from Dallas to Amarillo out of the deal, so I had that going for me, at least."
Nothing To Do With Poop
Aside from the occasional corpse, some people found things that had nothing to do with excrement.

For Love Of The Game
"An earring with part of an ear still attached. It was in San Francisco after a superbowl one year. I was visiting for work, and thought I'd head to a bar. I went to the bathroom, and it was absolutely trashed. Two urinals were broken off the wall, doors were torn off the hinges, trash was all over the floor, and an earring with a big chunk of flesh. People were going insane over that game."
– efluxr

You Better Watch Out
"A freakin Christmas tree standing in the toilet. It was fully decorated. In June."
"Christmas had passed."
– IAmWeary

The next time you are out in public and you MUST use the restroom, know that you may encounter any of the scenarios listed above.
Because even a fancy restaurant is not bereft of irresponsible, careless, and drunk patrons who will excrete whatever from any of their orifices and then flee the crime scene with the expectation that an employee will clean up their mess.
Check, please.

Keep reading...
Show less