With the evolution of humanity also comes the evolution of invention.
From the invention of the wheel to to electric cars, there are countless inventions which have no doubt made the world a better place.
But are there some inventions which we might have been better off without?
Redditor DJWP137 was curious to hear which inventions the Reddit community thought may have done the world a disservice, leading them to ask:
"What, in your opinion, is the worst thing humans ever created?"
I've got nowhere to put anything!

"Fake pockets."- kibalev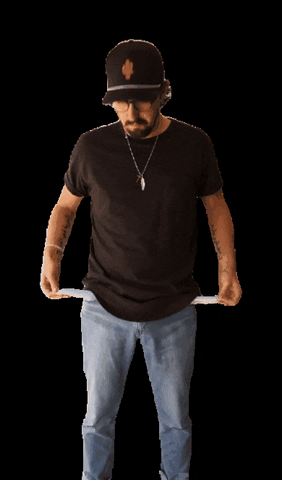 Giphy
My kids couldn't grow up soon enough
"Caillou."- Cerinthus
Benefits absolutely no one
"Torture devices."
"All of them."
"A tool with no other purpose than to inflict misery is about as far from humanity as humanly possible."
"I'm referring to the definition of humanity which means 'humaneness or benevolence'."
"Not 'having to do with human kind'."- Willzyx_on_the_moon
"Chemical and biological weapons."- SuvenPan
Always remember to hold your breath when pumping gas.
"Leaded gasoline."
"It's believed that in the U.S. alone, leaded gasoline caused the loss of about 824,000,000 IQ points."- DeletedImmediately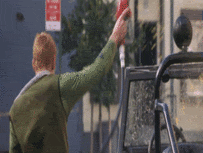 gas gasoline GIF
Giphy
Just round up the measly penny!
"Items that end in .99 cents."

"Pure evil!"- CarloTheGoat
One less step to damage your lungs!
"Pre-rolled and packaged cigarettes."
"In the 1950's, a pack of cigarettes was just 25 cents."
"Cheap, convenient, and easily available, even to children."
"While a responsible store might not sell them to a ten year old, supermarket vending machines didn't care."
"The public didn't know much about their danger back then and ads even told the public about how Doctors loved to smoke, implying that smoking had the blessing of the medical establishment."- Sxzym
Hours wasted in front of a screen
"League of legends."- _Duckling04
​
"Social Media in some ways."
"Social media has had an amazing amount of influence, but for all the good that it does, it also creates a 'toxic mirror' effect."
"This is the concept of making people feel bad about themselves by constantly being exposed to information that would make them create negative opinions about themselves."
"The toxic mirror makes anything that isn't physical, emotional, and mental perfection, ugly and bad for that person."
"Beyond the toxic mirror, many people use social media in ways that hurt the people around them."
"The manifestation of a social persona can often present the opportunity for a user to put out very public misinformation."
"This break from reality further muddies people's ability to properly identify risk, putting them in harmful situations."
"The Internet is filled with trolls, stalkers, and bullies."
"These groups are allowed to run rampant, as people don't have a lot of resources to ward against them."
"These individuals hide behind their Internet persona, making civil action against them extremely difficult."
"Cyberbullying, specifically, can cause great harm to people of all ages."- KnotKarma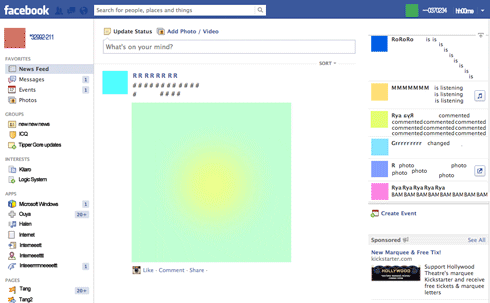 social media facebook GIF by weinventyou
Giphy
They achieve nothing except making me feel bad about myself
"Credit scores and algorithms that value engagement over quality of content so that sh*tty provocative things which get 100s of hate responses and volatile comments are all anyone sees and thinks we're all the worst of humanity."
"It's like that South Park arc about the Danish trolls coming to fruition, a posts something to get a rise out of b who responds which makes c and d respond and so on."
"Only it's like all the internet is."
"A pyramid scheme of rage clicks."- renaaria
Only time will tell what else modern inventors have in store for us.
For better or worse.
Keep reading...
Show less
Being a man has its advantages.
For example, most men have the luxury of standing and peeing.
The embarrassment of being called up by the teacher to solve a math equation on the blackboard during a "peak" time as an adolescent male is very inconvenient.
Or so I've heard...

But as much as a gender has its perks, they also have their share of drawbacks–which was closely examined after Redditor figinjosejospe asked:

"What's the worst thing about being a man?"
Because men are often portrayed as resilient and strong, they are always expected to rise above adversity.

Expectations
"The general lack of empathy or support. You can do it because you're a man. I'm drowning on all fronts here, just looking for anything to help."
– OldHolly

Men Can Be Victims Too
"Sexual harassment and sexual assaults are usually a joke or not taken remotely serious when you're a guy."
"I've been sexually harassed and assaulted at work, and told 'lucky guy!' Or 'they're old enough to be your mother, take it as a compliment' as if that makes the situation better. In the end, honestly, if you're a guy and made sexually uncomfortable, it's too bad so sad, move on. When I approached management about it I'm just told 'Well, let's make it a clean slate and move on'. What? They literally dry humped me? Grabbed my a**? Even when a member does it, it's just completely fine?"
"Men aren't normally seen as victims. We're just expected to not be or to not be effected by it."
"Work for Costco btw, it anyone is curious as to where this happens."
– FanaticDamen

Due to the fact that the majority of predators happen to be male, guys have to be hyper-aware of their conduct–even when their intentions are purely innocent.
Careful The Things You Say
"We cant say kids are cute without being on fbi watch list."
– albertkapla
All Guys Are Not Creeps
"While driving a classmate past a daycare I frequently pass on my runs, i commented that there's a bunch of cute kids that play there, just thinking it's nice there's still something good and pure in this messed up world. He started acting like I said they were sexy or something. I don't stare at anyone's kids, I'm just out for my run and looking ahead. Had to tell the guy 'look, I'm almost 30, everything about my biology is screaming to make babies. So just chill dude. Not everyone is a creep' still made me feel bad the rest of the day."
– Electrofungus

Pegged As A Pedo
"Isn't my baby so cute??"
"He's adorable!"
"Bruh you f'king pedophile get the f'k out."
– FestiveSquid
These male Redditors had damning experiences working with kids.
Forced To Give Up On A Dream
"The stereotype that all men are pedophiles if they like working with children. Volunteered at the daycare that I went to when I was young for a field day event. One of the mothers there expressed her concern for a male being there around her kids and word got back to me. I was pursuing a degree in early childhood edu and dropped out and gave up on that dream because a lot of people thought I was weird or that I must be some sort of pedophile."
– RetroactiveThoughts

Consequences Of A Joke
"A friend of mine (a guy) worked as a daycare worker for a few years. Until one day some 12 yr old girl told one of the workers he had made a comment on her boobs, so he was immediately fired. The next day the girl asked where he was, and then when they explained it to her, she said she was just lying because she thought it would be funny. They offered him his job back but the whole situation was so mortifying for him that he has never worked with children ever again."
– dorkjaden

The Cousin-Sitter

"Im on vacation and yesterday i had to babysit my cousin while my aunt and my mom were trying out clothes. A concerend employee asking what we were doing and she said 'i dont know him, he just sat near me!'. Great. Keep in mind that im 17 and shes 11. And the thing is, we do know each other. If her mom didnt come out when she did, the police probably would have been called."
– RobloxJournalist

Built-In Prejudice
"I feel this. My mum runs a daycare and hired a male POC. Mind you he was the best person ever with kids and all kids at the daycare loved him. Nonetheless, many parents decided to change days when their kids would come. And ofc this meant they wanted to change the date to a day when this man was not working. My mum always believed in him and kept him hired and brushed off concerns of parents since he NEVER did anything wrong. He was her best employee. Just goes to show how fucking prejudiced people can be."
– Tesseru
The list goes on, but another common complaint was hair issues.
Hair, There, Everywhere
"Hair, everywhere, I mean seriously, does it have to come out of my ears?"
– butcherboy76

The Option
"Body - you're getting older now, what would you like to ease the burden?"
"Me - oh I dunno, knee lubricant?"
"Body - hair out of the ears it is!"
– OrdinaryGymRatAbroad

The List
"The lack of respect men receive as parent."
"Not being able to interact with children without fearing being called a Peado."
"It can be desperately lonely, especially for the introverts."
"Extremely weak emotional connection with male friends and peers."
"Hair loss."
– Squiggles87

Hair loss is definitely a bruise to the male ego.
I would sooner shave my head completely than walk around with a partial scalp reveal on the crown of my head.
Besides, there are plenty of people who think being bald is kinda hot. Amirite?

Keep reading...
Show less
Remember when people actually met in public spontaneously and ignited a romantic spark after catching each other's eyes?
Yeah, I don't either.
But there was a time when people did just that. Meet in person. Young romantic hopefuls looking to make a connection would gather at bars or clubs and spend a fair amount of time preparing themselves to look good in the hopes of getting noticed.
Nowadays, people meet online, where how you present yourself in photos and bios is your one-shot deal in getting someone's attention long enough before they swipe left.

Not everyone is good at describing themselves on dating apps.

Redditor Breme_42069 was curious to hear bad but oh-so-good examples of this and asked:

"Online daters, what are some of the most unattractive stuff people put in their bios?"
Arrogance and a higher-than-thou disposition is not for everyone.

​Is That A Threat?
"If you don't speak, I'll unmatch"
"whilst they literally make zero effort to talk to anybody"
"edit: I am ghey and was referring to male + male tinder, but it's news to me that this is a similar thing straight men experience too."
– Jarrrad
Just Cocky
"Don't waste my time"
– SuvenPan

So Demanding

"This long laundry list of requirements in a partner with no mention of what they're going to be bringing to the relationship."
–Astoriana_
Bad Is Still Bad
"When they announce how bad they are and get away with doing bad stuff as if it's meant to impress us."
– 11-06-2022

People can be more amusing than sexy.

Feigning Ignorance
"I don't even know why I'm here"
"Bro you made this account."
– superkads

Everyone Everywhere All At Once
"My personal favourite is when you come across multiple profiles with the same profile pic but they are all in different locations. F'ken wizards."
– Grrrr-Argh

Mystery Date
"Their only photo is a group photo, with no indication of which one they are."
– 02K30C1
When The Hiatus Is Over
"This isn't the worst thing in the world but something I'm always bewildered by some variation of."
"hi, I'm back again, hopefully this time it will work out!"
"This isn't conventional social media with followers."
– DeafeningMilk

Some people just require more effort in getting to know–which indicates, they lack personality.
Trite Phrases
"Don't be boring"
"Just ask"
– RebornHellblade

Instant Nope
"'Just ask' was always an instant no from me. Plenty of other people provide some kind of info to go on, so why would I choose the low effort profile?"
– SkunkyDuck

"What do you do for work?"
"I don't like talking about work."
"Where did you grow up?"
"Are you implying I'm not from here?"
"What's your favorite food?"
"French fries."
"Ok, I'm trying here and you're giving me nothing."
"Edit: talking about 'just ask' profiles here. If someone has more details I will gladly ask them more in depth questions about them."
– Manowaffle
The art of conversation still applies, even with dating online.
Single people seriously looking to meet someone should take the time to creatively express themselves in their bio. That might increase your chances of attracting more interesting users.
Also let your photos speak for themselves. Just make sure it's you in the uploaded pics.
Because no one has time for catfishing.

Keep reading...
Show less
Being overweight comes with numerous challenges.
And not only challenge's to one's health.
Unfortunately, overweight people are far too often a target for judgment and ridicule, often owing to misconceptions.
Even worse, sometimes simply being bigger than other people leads others to assume that they must also be less than or inadequate in general.
Redditor Rude_Guarantee_1479 was curious to hear what people felt is the worst part, or most common misconception about being overweight, leading them to ask:
"What is the worst part about being a fat person?"
Since I'm fat, I must also be stupid.

"For some reason people always assumed I was simple minded/stupid when I was obese."
"Now that I've lost weight people just talk to me like I'm a regular person."- batyablueberry.
No comfort to be had.

"Feeling uncomfortable all the time."- Keithninety.
Not being seen and always being noticed.

"I have a fear that nobody is ever going to fall in love with me because I don't feel visible and I am fat
Also, going to the pool or beach and you have to put on a swimsuit. I feel like a seal stranded on the beach.- mango_0111.
Inadequate clothes.

"My belt trying to stab me in my belly when I sit down."- jimjohn2017.
"Nothing seems to fit nicely or still look nice in your size."- OutlandishnessNo1950.
"The amount of pants you go through."- Cmonredditalready.
"Putting on a shirt, walking into the backroom, seeing how it makes me look, and then never pulling out my favorite shirt ever again."- YeaItsaThrowaway112.
Never feeling good about yourself.

"Feeling guilty while eating your favorite foods, not looking good in photos/clothes."- pissed_at_everything.
Mobility challenges.

"My thighs rubbing and chaffing."
"I'm so raw right now."- HeavyBreathin.
Unwanted nicknames.
"Not the worst part, but the most constantly sh*tty part is constantly being called 'big guy' by every kind of person other than other 'big guys'."- Professor-ish.
As the old saying goes, true beauty comes from within.

And the way someone looks should never be one's first impression.
Nor does anyone need to go through the day facing unwanted judgment when simply walking down the street.
Want to "know" more?
Sign up for the Knowable newsletter here.
Never miss another big, odd, funny, or heartbreaking moment again.
Keep reading...
Show less
We've all committed our share of wrongs in life that we are apologetic for.

And there are just as many grievances for which we are not at all sorry.
Curious to hear about people's track record of their questionable behavior, Redditor NanoPKx asked:
"What is something bad you have done with no regrets?"
Is it petty theft or flat out stealing? You decide.
The Parting Gift
"'Forgetting' to bring back a company ipad after they forgot about me having it. Actually they never asked for it back so I still have it and use it."
– Koetjeka
Furry Companion
"I stole a barn kitten while delivering packages for FedEx. He kept climbing my legs and getting into the van, sitting under the wheel when I tried to back out (it was a steep driveway, no way to swing the van around). I called the number on the package, looked the name up on facebook, called the local non-emergency to get contact info, all failed."
"So I took him. Now, if you're not from a rural environment, you might not understand that barn cats like that are 'no-man's-cats.' For all the owners know, he got sick or got got by a coyote. And he would have died, because when we got him to the vet he had a nasty upper resp infection and some other nasties."
"Now, one deformed nasal passage and the cutest snore later, we have a bonkers little orange cat with the heaviest penchant for snuggling I've ever seen (his name is Monty btw)."
"Edit: I forgot to pay my Cat Tax: https://imgur.com/a/HIXS4us"
"Edit Part 2: Monty loves the attention. Thank you for loving him as much as we do :3"
"MmmmMMMMRrrrrrrrrrrAAAAAAAAAAAAAAAAAAAAW" -Montgomerey Valentine, 2022
– SonOfSkinDealer

The Dirty Treat
"A housemate of mine kept eating mine and my girlfriends food and even though I asked him to stop the only thing he would ever say is 'I thought it was mine' then keep eating it."
"Well I bought my girlfriend some ice cream she really enjoys and she put the half she didn't finish back in the freezer. Well when she want to get the rest it was gone and it made me madder than I think it probably should have."
"The very next time I saw him and somehow keeping a straight apologetic face I told him how he accidentally ate our sex ice cream and that bits of it had been on our parts etc. I told him I felt guilty not to tell him and that I had to apologise for him to eat such a thing."
"I will never forget the face he made when I told him. A face of pure self disgust and shock to which all he had to say was 'I wish you never told me that' and proceeded to move out around a month later."
"Although he didn't actually eat sex ice cream, like why the f'k would you put it back after use anyway? Sometimes I wonder if I went to far but in that moment I just did not care at all. He still doesn't know it isn't true and I'll probably never see him again."
"F'k you Vitas buy your own food."
– SpicyDolphin74

Payback Time
"A drunk driver hit my parked car, left a huge dent in the front driver's side door, and then drove away. I happened to be looking out the window at the time and saw the whole thing, including his plate number. Cops got there not long after and took my statement. After a couple days and a couple phone calls, I found out nothing was going to come of it because he was the son of the sheriff the next county over."
"Fast forward a couple months, I see his car parked behind a local bar within walking distance of my apartment. I got out my hunting knife and sliced all four of his tires, and made a couple trips around it destroying the paint job. Yellow Pontiac Sunfire, and I still remember the goddamn plate number even after almost 20 years."
– IgnoreMe304
For The People
"I was a GM for a retailer that was going out of business. During the liquidation I let my employees that worked until the end store product they wanted to buy in a closet I claimed I didn't have a key to. Oh the final days I sold them all the items they requested for 95% off. 70" tvs, ipads, gaming laptops whatever they requested."
– Midnights606

Surreptitious Swap
"Years ago I worked for a wealthy dude who was married to someone semi-famous. He would waltz in every morning and talk about the fantastic dinner he had the night before, how he hung out with some other famous person or whatever else."
"He paid me peanuts. I had a hard time making ends meet."
"I was the office assistant and IT guy. So it comes time to get a new computer for one of the designers. I spec something out, and show it to him. It was a ripper of a machine for the time (early 2000s). But it wasn't expensive enough for bossman."
"So I added a really high end graphics card. Boss was happy then. The card added nothing for the designer: they only did illustrator and photoshop."
"So I came in that weekend and swapped the graphics card for my aging one from home."
"No one ever knew. Or cared. And I got a new graphics card."
– Dudeinairport

When times are tough, people had to do what it took to survive.
T.P. Crisis
"In college I was so poor I would steal toilet paper from the supply closet in our major building."
– Business_Loquat5658

Hungry College Buddy
"I stood watch for a college friend who was going hungry because he'd been disowned and his roommates had made living with him intolerable after he came out."
"I was loosely affiliated with an off campus program with local churches that gave free student dinners on Thursdays. We would go to church to eat, then bring dishes into the kitchen."
"Anyway, he would go in there and steal stuff like peanut butter, literal bread (not an allegory), granola bars etc. while I watched out for the pastor."
"Eventually we both got caught, the pastor for the college students got a bit mad because he was responsible for us while we were there to eat. And I think it was offensive on some level to steal from church. But then he saw what my friend was taking, and asked him if he had enough to eat. My friend shamefacedly said no, not usually."
"'Okay, fine. Put the food back, and come with me.' Took my friend grocery shopping instead, got him connected with the food pantry and community garden at church instead."
– SchnarchendeSchwein

Based on these examples, people didn't twice about their actions in the heat of the moment.
Within reason, we all gotta somehow get by.
But do you think their actions deserve punishment?

Want to "know" more?
Sign up for the Knowable newsletter here.

Never miss another big, odd, funny or heartbreaking moment again.
Keep reading...
Show less