Although tragic losses are traumatic for everyone involved, news of a closed crime case can still provide a sense of closure.

But what's worse is an unsolved mystery, and all the resulting what-ifs can be worse than the confirmation of someone whose life has come to an untimely end.
Curious to hear examples that keep some people up at night, Redditor shayboy444 asked:
"What do you think is the creepiest/most disturbing unsolved mystery ever?"
The deaths or disappearances of those who are barely adults haunt us the most.

Fear Of Sleeping
"I am an avid unresolved mysteries reader, and I don't know why it has stuck with my, but Karlie Guse. 16 year old girl called her stepmother to pick her up from a party, reportedly was too scared to sleep because she thought someone would kill her, and the next day she disappeared. There was some weird interviews and dynamics between step parents and birth parents and a bunch of theories abound."
– losingmydognity

The Final Shift
"The disappearance of Zebb Quinn."
"He was 18 years old when he went missing in 2000. Was working his shift at a local Walmart and afterwards wanted to look at a new car with a colleague, when he allegedly received a call that made him take off frantically. After that he was never seen again."
"The strangest thing is that a few days later his car was found in a parking lot: with the headlights turned on, a pair of lips and an exclamation mark drawn on the back window in pink lipstick - and a live Labrador puppy sitting inside."
"In 2017 the colleague was arrested for his murder but all the strange details still make no sense at all…"
– KatieAnchalie

Too Young
"Firstly, the murder of JonBenét Ramsey. Just the idea that her own parents might have done it is... disturbing, especially considering the circumstances."
"And also the Keddie Cabin murders. Not only did the 14-year-old daughter of one of the victims find them tied up and stabbed to death, three more kids were still asleep in the bedroom, having no idea what had happened."
– san_sammy

A Gruesome Discovery
"The Ibadan Forest of Horror in Nigeria. A local taxi driver goes missing and his friends create a makeshift search party and investigate a forest."
"Instead of finding their friend, they find an abandoned school (or factory) that have the remnants of a hellish torture/murder, ritual killing and human trafficking."
"8 survivors were rescued. Numerous body parts, rotting corpses and personal artifacts were found. The perpetrators were never found - although local politicians and ritualists were suspects."
"Whilst this discovery is disturbing, the mystery for me is that the original taxi driver - still hasn't been found."
– Abandoned_Cosmonaut

More specific unresolved cases get mentioned by name.
Robert Wone
"The murder of Robert Wone is something I think about often."
"He was with friends, just staying the night and what happened to him sounds brutal. Even more disturbing to me is the fact that everyone who was in that house that evening seemingly have a pact of silence and are walking around free as a bird."
– Benend91

The Attack On A Fitness Instructor
"Missy Bevers."
"A suspect in full SWAT armor breaks into a church and smashes windows and breaks opens doors with a hammer, looking for a local fitness instructor. They then find and beat her to death before getting away. There is high quality surveillance video of both them and their car, but investigators couldn't make out the license plate. There has been a suspect who was cleared because of an alibi, and there's been no recent updates."
– wedoabitoftrolling

Burned To Death
"Jessica Chambers. She was set on fire in her car and had gasoline poured down her throat. Paramedics found her walking down the lane on fire. The only part of her body that wasn't burned was the bottom of her feet. She did not survive. Police found a suspect but did not have enough evidence to charge him. Paramedics were so traumatized by what they saw, they had to go through therapy, and broke down on stage during interviews. She tried to name her attacker, but her throat was so destroyed, she couldn't be understood."
– 1GamingAngel
These historical unsolved mysteries still boggles the mind.
Sabotage Of The Railway
"In my opinion, it's the City of San Francisco train derailment that occurred in Harden, NV on 08/12/1939."
"The train, run by the Southern Pacific Railroad at the time, derailed at a bridge over the Humboldt River at a speed range of 60-90 mph. The accident resulted in 24 fatalities and multiple injuries. Days later, Investigators discovered tools at the bottom of the Humboldt River, determining that the wreck was caused by sabotage of the rails."
https://en.m.wikipedia.org/wiki/1939_City_of_San_Francisco_derailment

The Paperboys Of Des Moines
"In the early 80s, all within 18 months of each other three paperboys in the Des Moines, IA area all went missing during their morning route. The cases have never been solved. There are theories ranging from an ex-employee who was a creeper kidnapping them to a lone wolf type situation."
"It's a bizarre case that has baffled Iowa for years."
– Pfroggy1

An Assassination
"The murder of the Swedish prime minister Olof Palme. He was killed over 30 years ago and no one have found the murder."
Murder On Campus
"In 1969, a student was killed in the stacks of the library at my old college (Penn State) and was found with a singular stab wound on her chest. It wasn't even late or anything, and while there were many suspects, no one was ever arrested for it. It's insane how someone could kill a person in broad daylight at a major university, and get away with it."
"It's not really anything super crazy(in comparison to other stories here), it's just weird to me personally because I would always study there and I didn't find out about it until after I graduated."
– Rickdaquickk

In addition to the bafflement people experience over these cases, knowing that a violent suspect has walked free without suffering the consequences of their nefarious actions is infuriating.
Only the hope that karma has intervened to punish these evildoers could make us rest easy.

Want to "know" more?
Sign up for the Knowable newsletter here.

Never miss another big, odd, funny or heartbreaking moment again.
Keep reading...
Show less
Needless to say, when a crime or mystery is never solved can be both frustrating and devastating.
Those assigned to solve what happened to a missing person, murder, or theft will likely lie awake at night going over the case on and on in their heads.
While the families of the victims and missing persons will never get the closure or answers they were hoping for as to how and why it happened.
But for those of us on the outside, it's easy to be fascinated by an unsolved mystery, or cold case.
Particularly, if the mystery is a case of possible supernatural phenomena which was never explained.
Redditor Lelo-Of-Kah was curious to learn more about the various cases people are still trying to solve to this day, leading them to ask:
"What is the greatest unsolved mystery of all time?"
Asha Degree
"Disappearance of Asha Degree."
"In 2000, 9 year old girl that packed a bag in the middle of a storm and was last seen walking down a highway."
"A driver approached her to help and she ran into the woods and was never seen again."
"Nothing suggest why she would run away."
"Her book bag was found a year later."
"Most likely she was abducted while walking but why did she leave her house in the middle of a 'raging storm'?- palabear
Missy Bevers
"I love unsolved mysteries but one that always gets me is the murder of Missy Bevers."
"She was killed in the early morning at a church that she taught yoga at."
"Security footage from the church showed the murderer roaming the halls of the church all night but that's not what's weird."
"What's weird is that the murderer was dressed head to toe in police riot gear."
"It is the weirdest and eeriest video footage and is just unsettling."
"There's lots of theories but her murder has never been solved and I believe there hasn't even been a real suspect in the case."- norminthedorm
The Springfield Three

"The disappearance of the Springfield Three is a top contender for me."
"Long story short, in the early morning hours of June 7, 1992, these three women, Sherrill Levitt (47), her daughter Suzanne 'Suzie' Streeter (19), and Suzie's friend Stacy McCall (18) all vanished from Sherrill and Suzie's home following a night of fun and partying as it was the girl's high school graduation."
"All their personal belongings, their cars, purses, and even the little dog was left behind."
"There were no signs of a struggle or foul play, however, the front porch light's glass globe was broken and not swept up, and there was a weird message of the answering machine that accidentally got deleted."
"Yet, no trace of the three women has ever been found and the case remains unsolved 30 years later."- Bjnboy
Zodiac Killer
"The identity of the Zodiac Killer hands down."
"It hasn't been solved despite what you read about Gary Post."- 1man2barrels
Zimbabwe Sightings
"The aerial school landings in Zimbabwe."
"60+ school children saw crafts landing and beings coming out of them."
"The kids interacted with the beings."
"They were put under evaluation by a Harvard psychiatrist."
"They all told virtually the same story and drew the same drawings."
"It was concluded that they were telling the truth."- Equivalent-Quail3995
Chicago TV Hijacker
"My favorite is the Chicago Tv hijacking."
"During a Dr. Who rerun in 1987 somebody dressed as Max Headroom hijacked the tv signal for a minute and a half during which got spanked by a woman and mocked coca-cola."
"FCC has been investigating for years and nobody has been charged."- KhaosKake
Disappearance At Ohio State
"One I'm always fascinated with is I believe in the mid 2000's a student at Ohio state mysteriously disappeared and to this day they have no idea what happened to him."
"Basically he went out to a popular bar with friends, the security camera sees him walking into the bar and this is the only entrance/exit as the bar is in a larger building but it never sees him leave the bar at the end of the night."
"His name was Brian Shaffer."
"It's an interesting story/mystery to take a look at."- TrainingRegistration
Escape From Alcatraz
"What the hell happened to the 3 escapees of the 'inescapable' Alcatraz."
"If they did survive or not but if they did that's one hell of a plan to escape undetected till to this day."- Leveolizan
The Yuba County Five
"The Yuba County Five."
"One of the detectives interviewed at some point said not a damn thing about this case makes any sense at all."
'Five guys with minor disabilities go to a basketball game."
"They have their own very anticipated game to play in the next morning: one of the guys even laid out his uniform for the next day."
"They leave the game they were spectators for, on the drive home, they stop to buy snacks--the wrappers were found in the car and the cashier remembered them."
"Then instead of going home, they drive miles and miles out of their way to a national state park, leave their perfectly functioning and fueled car to wander unprepared into the snowy wilderness."
"A witness claims to have seen a second vehicle and perhaps a woman?"
"A convenience store nearby claimed to have seen them the next day?"
"But three of them are found dead in the woods, believed to have died from exposure."
"A fourth one is found in a trailer in the woods that had sufficient food and heat sources to survive for quite awhile, having apparently starved to death and losing 200 pounds before succumbing to that and hypothermia."
"He had approximately 13 weeks of beard growth."
"The last man has never been found."
"So, firstly, why? "
"And then why starve to death in the woods for weeks?"
"If it was foul play, for what purpose?"
"Their car wasn't stolen."
"There was no money to be gained."
"Even if it was some weird cult thing, none of them were apparently harmed, they all just died in the woods from staying in the woods."- Kaysmira
Mr. Cruel
"Mr. Cruel."
"That case is so disgusting to me, and the most commonly used picture/police sketch is even scarier."- piledguts
Mysterious, tragic and gruesome.
The world may never know the truth.
Want to "know" more?
Sign up for the Knowable newsletter here.
Never miss another big, odd, funny, or heartbreaking moment again.
Keep reading...
Show less
One of the first things you learn as a storyteller is that good stories have a resolution.
Bad guys get caught.
Mysteries get solved.
People are found.
But not every story is a "good" one.
Conflict isn't always resolved.
Some questions never get answers.
Reddit user numbnesstolife asked:
"What are some mysteries that should have been SOLVED by now?"
Sometimes, even piles of evidence and loads of data aren't enough to give us answers. Often, it just means more questions.
Trigger warning; a lot of the mysteries people wanted to talk about were disappearances and murders. True crime stories can be upsetting.
Who Was He?
"Who is DB Cooper?"
- llcucf80
"Best conspiracy theory I've heard is that he made the parachute landing successfully but lost the money on the way down. Since he had nothing to show for the crime, he made his way back home and went back to his normal life."
- agreeingstorm9
"I've always had a tinfoil hat theory he did it for the thrills and never planned on keeping the money."
"Like he just dumped the bag when he was parachuting down. Or maybe he knew the bills were numbered so he couldn't spend them."
- retroverted_uterus
"My favorite theory is that DB Cooper wasn't one person, but a member of the flight crew and they were all in on it."
- hectoByte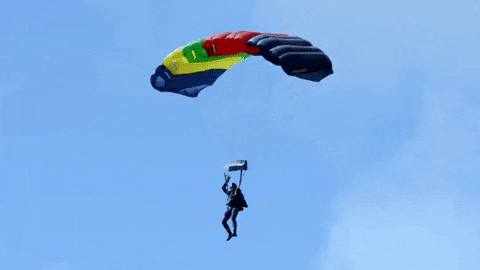 Giphy
The Setagaya Family
"The Setagaya family murders."
"A family of four were murdered in their Tokyo home in late December 2000, after which the killer stayed in the house for several hours leaving behind a ton of evidence; clothes, bag, murder weapon, DNA from blood and stool (he used the toilet and didn't flush.)"
"Sand was found in the bag that the killer left behind, which was analyzed and determined to have come from Edwards AFB."
"Despite all this and literally millions of man-hours spent by Japanese police and investigators, they're still no closer to solving the crime."
- jnhummel
"There's a lot of the things that could narrow down the suspect pool: his DNA suggests he is Eurasian, with Italian on the mother's side and Korean on the father's."
"He left behind a T-shirt that was one of a few hundred sold in some area of LA. The soil on his boots could only have come from an area of Southern CA near or on one of the military facilities, probably at 29 Palms. Yet we still haven't gotten anywhere."
"It's frustrating."
- SniffleBot
"Considering that they found sand in the shoe tracks that was from an Air Force Base in the US, and evidence pointing to the killer wearing designer limited edition clothing from South Korea, as well as the strong US military presence in parts of Japan, I wonder if the killer was some US military high-up's kid and it's been heavily covered up…"
- hotpotatoyo
"The killer used the toilet and didn't flush…? Now that's just disrespectful. And I'm not even joking."
"This dude was legit challenging the investigators."
- Lanky_Accountant_453
"My guess is it was a US military dependent or member."
"Evidence links to Korea and California. Can't find him in Japan because he isn't."
- ikonoqlast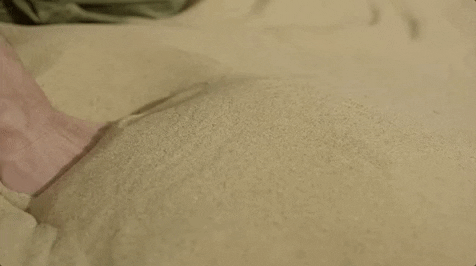 Giphy
Max Headroom
"The Max Headroom signal hijacking occurred on the night of November 22, 1987, when the television broadcasts of two stations in Chicago, Illinois, United States, were hijacked in an act of broadcast piracy by a video of an unidentified person wearing a Max Headroom mask and costume."
"Really wish this was solved."
- Curiousthrowzone
"I saw that real time. SOB interrupted Dr. Who."
- EgberetSouse
"It seems to me that, by now, someone (possibly the girl) should have leaked it out. I think the statute of limitations expired a long time ago."
"It's all so odd."
"At the very least, three people had to be involved - the cameraman, the girl who swats his butt, and the guy. And not one person has told anyone?"
- jeremyxt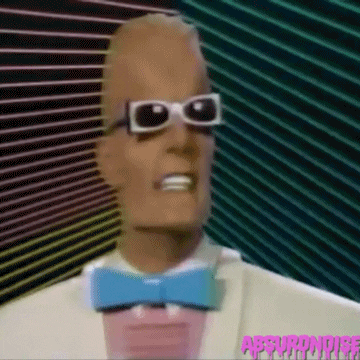 Giphy
Anybody Out There?
"If we're alone in the universe."
"There's an entire argument for it called the Fermi Paradox. Essentially the argument is: with the extremely vast number of stars in the universe, and the number of habitable planets that must orbit them, it seems incredibly unlikely that someone wouldn't have found us already, or at the very least, we would have stumbled upon evidence of them."
"All it would take is 1 civilization in our galaxy to create self-replicating probes (that mine materials to replicate themselves) to fill the galaxy in relatively short time."

- LifeIsOnTheWire
"Another theory suggests that one possible conclusion of the fermi paradox is that no civilization survives long enough to invent long distance space travel, they all go extinct first."
- Ch1ef_Walrus
"I always subscribed to the theory that there IS alien life out there, but they've observed us as a species and decided we aren't worth contacting due to how we treat each other and how we'd essentially try to attack or destroy them if they did make contact."
- Spudzley
"One thing I've been wondering about the past couple years is how likely it is for advanced civilizations to last long enough without killing themselves off to progress to the stage of long-distance space travel and finding other civilizations."
"Considering we could well be wiping ourselves out via climate change in the next couple centuries...it's possible we won't ever make it to a stage where we could discover life on other planets. Is the same true for other advanced civilizations in the universe?"
"That would explain their absence."
- Ilyeana
"My favorite 'theory' on that is it would (require) nuclear power to travel outside of the immediate vicinity of the home planet, but civilizations that reach nuclear capability wipe themselves out with nuclear war before they can explore farther into space."
- YayAdamYay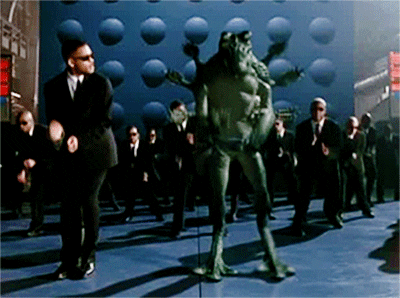 Giphy
The Tylenol Murders
"The Tylenol murders is a good one! That story with no suspect(s) after all these years is nuts."
"Hard to believe Tylenol, as a brand, was able to come back after that."
- m_nels
"Probably the best theory is that one of the seven victims was the intended target."
"The perp was at least smart enough to realize that a single death would point straight to who did it, so they contaminated multiple containers to spread out the investigation."
- Dynasuarez-Wrecks
"I read that the FBI believes Ted Kaczynski, the Unabomber, was the real killer but since he is in Supermax and there have been no other poisonings they haven't investigated further."
- Sam-I-Am56
"James Lewis. He served 13 years in prison for extortion in relation to the murders. Technically it's 'unsolved' much like the Nicole Brown Simpson murder was 'unsolved.' "
- the-samizdat
"That dude flew out with his wife to NYC on 5th September and returned after the murders."
"Nobody could place him in Chicago at the time of the poisonings, which had to be carried out quickly else the potassium cyanide would eat through the pills."
"I agree he was suspicious, but they've never had the correct/enough evidence to convict him of the poisonings."
- FenderForever62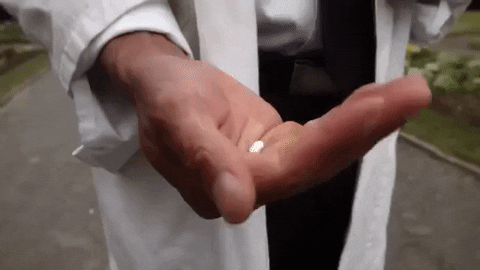 Giphy
Missing In Panama
"The two girls that went missing in the jungle in Panama."
"There are only a few photos from the girls phones, attempts to call for help, and then apparently one of the phones were turned on later and the wrong PIN was entered a few times (not confirmed if it was just random)."
"Some clothes were found later during a search, mainly scattered bones with some skin on them and one of the girls bones were bleached."
"The photos and the bones suggest maybe someone killed them. For some reason there was 90 photos taken, but none of them except for 3 are even remotely clear to see anything, it's chilling as hell..."
"I hope it gets solved one day, those families deserve more closure other than what they have now."
- superfnliminal
"Kris Kremers and Lisanne Froon."
"I'd definitely like to see this one solved too although I do think this is a case which could just as easily be as a result of something other than foul play."
"It's very easy to get disoriented and hopelessly lost in the wilderness, especially in an environment you're not familiar with."
"The random photographs, it's been speculated, were them using the flash as a light to find their way, which seems plausible."
"And there is plenty of scavenging wildlife in that area which would explain the girls' remains being disturbed. Bones get sun-bleached all the time."
- jnhummel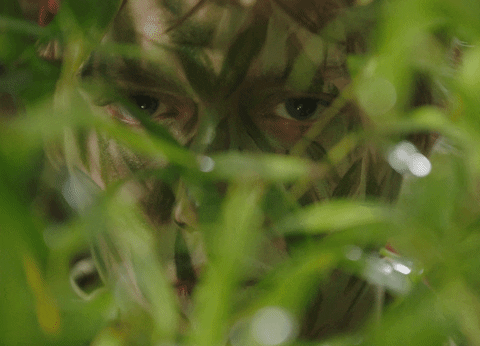 Giphy
What's Lurking
"The mysteries of the deep ocean. We know about the likes of the Deep Sea Angularfish and Colossal Squid, but it's probably just a fraction of what else is lurking down there."
- Quit_social_media
"As out Tech capacity has improved, scientists are 'discovering' weird and wonderful things all the time. I read somewhere they discovered 10 new creatures just in 2021."
- oceanbreze
"I think about this a lot. I have a 75 gallon aquarium. And even in that small contained space, I can rarely see all the fish in there."
- guppy89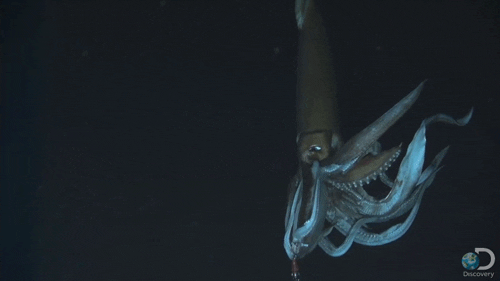 Giphy
Stolen Sisters
"Why are there so many Native American women going missing and why did the US government only start keeping track of this in the last month?"
"I have a theory that some, if not most, are being sold into sex trafficking. I live close to the Keshena reservation here in Northeastern Wisconsin. The reservation is maybe a 30 minute drive from Shawano, Wi."
"Shawano is considered a sex trafficking hub, as well as Green Bay which is only an hour from the Keshena reservation."
"The Keshena reservation is very isolated."
"What I mean by this is you could very easily kill someone and dump a body in the woods out there and no one would find it. No, I do not know this by experience."
"A young lady by the name of Katelyn Kelley went missing on June 18th 2020, her remains weren't found until March 25th 2021. They were found in the woods near the reservation."
"The story of her death is a mess."
"She was loved by so many people, yet none of the people with her that night would open their mouths about who she was with. The Menominee board offered a $5,000 dollar reward for any information leading to the remains of Katelyn Kelley and still no one talked."
"This is weird because the Menominee reservation in Keshena is easily one of the poorest reservations in the US. That money would have gotten people to talk."
"I believe the murder was committed by someone outside the community. Sex traffickers."
"Many of her friends said that she was a fighter, she wouldn't go down without putting up a fight. Secondly, she had a son who was an infant, giving her even more reason to fight."
"Personally, I believe that she was abducted and proved to be more of an issue then what it was worth so they just killed her and dumped her body in the woods on the reservation."
"To this day no arrests have been made and no new information has been presented."
"There are FED Dodge Chargers and SUVs everywhere on the reservation and in Shawano. How is this still happening?"
"Either the FEDs suck at their jobs on accident, or the US government is proving what we've known all along - that the US government doesn't give two sh*ts about the indigenous population."
- Catman873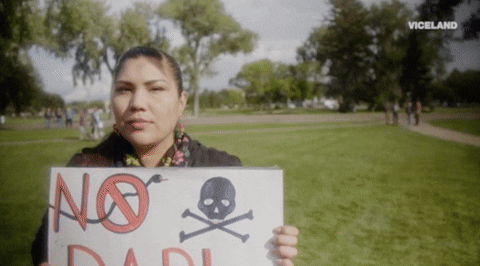 Giphy
Lars
"Lars Mittank"
"He was a dude from Germany who went on vacation to Bulgaria with his friends in 2014. He 'apparently' got involved in a bar fight while drunk."
"I say 'apparently' because this happened when he was separated from his group of friends. All they knew was that he returned later with some injuries. None of his friends witnessed what actually happened."
"Because of this 'fight' he ended up with an injured jaw and a ruptured ear drum. The doctor on site told him that he had to wait a few days before he could safely fly."
"His friends offered to stay with him and take a flight back home later than planned, but Lars said it was ok and they should return to Germany without him. He would take a flight back home some days later."
"There are reports of him acting somewhat strange over the next few days. At one point he made a whispering phone call to his mother where he said that 'four men were coming to kill' him and advised her that she should cancel his credit cards."

"On the day he was supposed to fly back home, the airport CCTV recorded him going into the airport office to consult a doctor. It later shows him SPRINTING OUT OF THERE and running out of the airport altogether."
"We don't know why. He just ran, hopped the fence, and fled into a field of sunflowers (all captured on CCTV). He was never seen again."
"The most popular theory is that he had a reaction to the medicine he was given. In rare instances it can cause hallucinations and paranoia."
- enumaelisz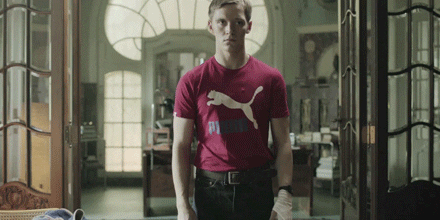 Giphy
The Frog Boys
"Who killed the frog boys in South Korea?"
"5 boys between 9 and 13 go missing in 1991 while playing together looking for salamander eggs. The parents, community, and government searched for the boys."
"The parents blamed one another for years until the boys were found in 2002 buried in the mountainside behind the town - in an area that had been searched in the initial investigation and that the kids knew well."
"Due to police incompetence officers with no forensic experience were digging up the bodies and destroyed evidence."
"The local military took the families of the boys to the mountainside in the middle of the night 'to spiritually guide them' to the bodies."
"To be honest, I think the military personnel shot the boys by accident and covered it up. There was a military range in the mountainside."
"Years later they 'felt bad' so they tried to guide the parents to the bodies found on the mountainside."
- tabbeycatty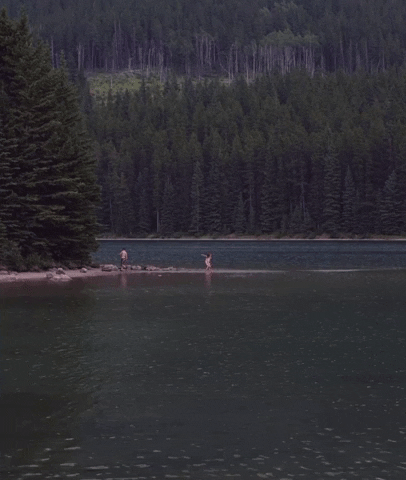 Canada Children Playing GIF by Chris
Giphy
Happy Producers
"What's on oak island?"
- Tremmorz
"Some very happy producers and tv execs"
- the_clash_is_back
"Ancient First Nations artifacts that the film crew and these diggers are completely unequipped to uncover. Why at all would you keep the guy who screwed up the last expedition onboard?"
- FilmGamerOne
"The real mystery is how this is a tv show with multiple seasons. Who watches this?!!"
- Actual_Hat9525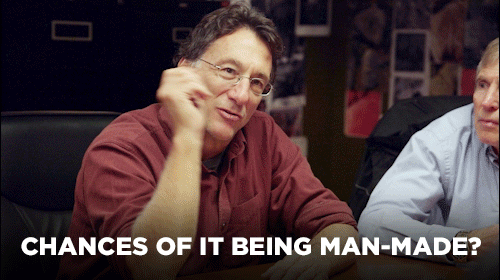 Giphy
Whether these mysteries are on a scale as big as the universe or as small as one person, they still keep us up at night.
People like to tie up loose ends.
We expect it.
We demand stories with conclusions and resolutions—but it's clear that doesn't always happen.
What mysteries keep your brain in overdrive?
Want to "know" more?
Sign up for the Knowable newsletter here.

Never miss another big, odd, funny or heartbreaking moment again.
Keep reading...
Show less
History, as taught in most schools, should be considered a crime against children.
If Hamilton proved anything, it proved that history can ABSOLUTELY be interesting if you serve it with a little spice. Leaving out the juicy interesting bits is a disservice to us all.
So we're adding them back in.
Hamilton covered the romance, the beefs, and the rapping - so we're going to go in a different direction.
How 'bout a side of mystery with your history? (uh-uh. Stopping myself right there. There will be no rapping.)
Reddit user Apart-Scale asked:
"What historical mystery is unlikely to ever be solved?"
True crime lovers, history geeks, awful-sh*t aficionados and wizards of weird - this article is definitely for you.
Heads up, though, we need to add trigger warnings for:
harm/death of a child

murder

war/enslavement
domestic violence
... yeah humans are awful.​
"Hun, Can We Talk?"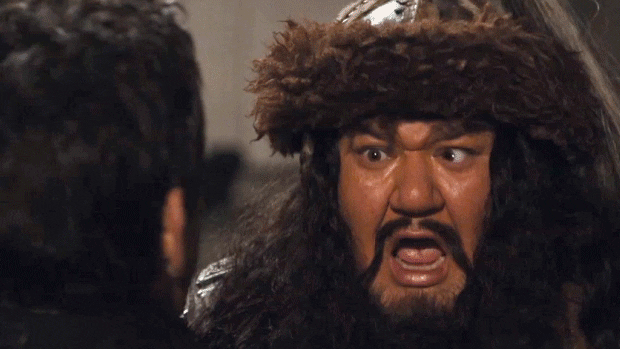 confused night at the museum GIF by 20th Century Fox
Giphy
"What Pope Leo said to Attila the Hun."
"Attila was taking over the world and made it to Rome and the Vatican. Leo rode out alone and spoke to Attila and convinced Attila to not destroy Rome and the Vatican."
"What was said, only the archives of the Vatican has any idea."
- Xikkiwikk
"Unfortunately the answer is probably really mundane and disappointing."
"Like a lot of miraculous historical events, it probably boils down to 'the story is just bullsh*t we made up later cause it sounded good.' "
"They could've just bribed the Huns."
"Italy and Rome weren't particularly rich by that time, so throwing a bunch of gold at the Huns and being like 'here let me spare you the time and energy of sacking it all' could've ACTUALLY worked because there wasn't enough there worth sacking for yet."
"Or no conversation ever happened and it's a story developed later as a way for the Church and the Pope to take credit. The Huns could've left for any reason."
"Maybe the Pope did try to negotiate, it failed, but the Huns left after that anyway. Pope and Church still take credit."

- pyrhus626
After Alcatraz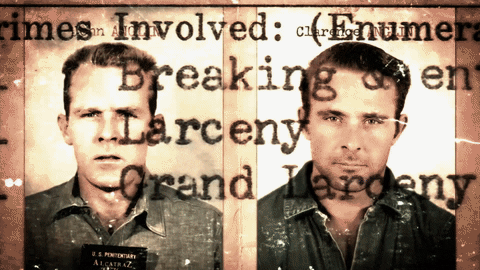 anglin brothers alcatraz search for the truth GIF by History UK
Giphy
"Whether Frank Morris, John Anglin, and his brother Clarence Anglin survived their escape from Alcatraz Federal Prison."
- onefinegander
"The History Channel has a great documentary about this."
"The two brothers families claim they survived by tying a rope onto a boat and holding on, which they used to do for fun as kids. Their friend claims he took them to Mexico and they lived to old age there with families and everything. They even offer evidence; Christmas cards they received and even a photo of them old."
"I'm convinced it's true."
- Crepes_for_days3000
"Freezing waters, rumors of sharks, handmade boat from vests that they probably had to inflate again and again throughout their trip."
"I saw a picture somewhere which was taken in or around 1985 and there were 2 people which pretty much were the Anglin brothers (you can find it if you search)."
"A body was also discovered by the Norwegian Navy, and it matched the description of Frank Morris."
"To me, the Anglin brothers made it and Morris drowned. Maybe they couldn't carry so much weight and the brothers conspired against Morris? Who knows."
"Fascinating nonetheless."
- CookieAdmiral
Where's The Prime Minister?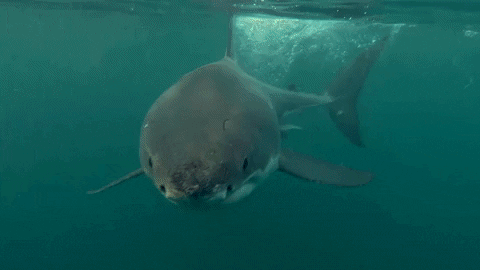 coming discovery channel GIF by Discovery Europe
Giphy
"One of Australias Prime Ministers just disappeared when he went for a swim in the ocean, so probably that."
- hulloiliketrucks
"There were suspicions the CIA had a hand in his disappearance because the US was royally pissed at him over his refusal to allow a US military installation in Australia."
"There were also rumours he was kidnapped by a submarine but those were most likely started by the CIA."
- Spookyrabbit
"Wasn't it assumed he was eaten by a saltwater croc?"
- Pyroclastic_Hammer
"Shark got him."
- SuperTrojan
"Probably just drowned and sunk into the ocean."
"The ocean has a tendency to completely an entirely delete corpses once they sink to the bottom. This is why it's rare to find the bodies of plane crash victims and sunken boats."
"Everything at the bottom is evolved to eat corpses with increasing efficiency. Not even bones last most of the time."
- jerrythecactus
"So the mystery is what Australian sea monster had Prime Minister for lunch?"
- CRANSSBUCLE
Not Too Neighborly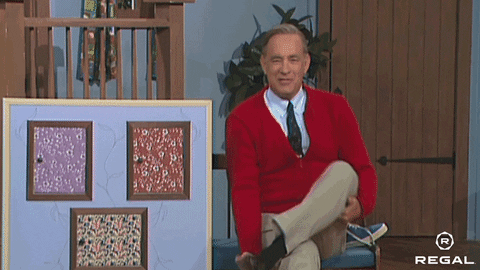 Happy Tom Hanks GIF by Regal
Giphy
"Not a huge historical event, but one that will haunt my local history for a long time to come, I'm sure. My neighbor killed his whole family, buried them in his house, then went for a trip."
"Nobody knows if he's dead or hiding somewhere; and if so, where? The police kind of screwed up the start of the investigation, so he had a good head start on them."
"I went to the same school as the kids but we weren't the same age, so we didn't end up in the same class. He sent increasingly strange letters to family and friends before he disappeared."
"We didn't really knew them beside living nearby and frequenting the same places as a result."
"His name is (or maybe was if he is dead?) Xavier Dupont de Ligonnès. This was about ten years ago and he was since then featured in multiple TV shows and books."
- deadalnix
Before The Ancient Egyptians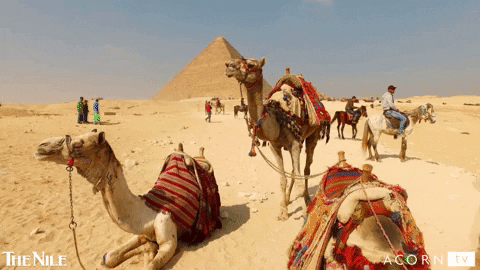 Middle East Egypt GIF by Acorn TV
Giphy
"The disappearance of the Lake Fayum nomadic people that predated the pharaohs."
"They had no writing, no records of any form, and lived solely near the banks of the Nile and an ancient lake. They had a community for a long time that included bakeries, agriculture, weaving, and some precursor to religious or artistic elements."
"One day, the people vanished. But I mean JUST the people."
"They left their fish in the cooking pots, dry food stored under the floorboards of their houses, and pottery still on the wheel. It was like they were picked up and carried away or the people suddenly left in a hurry and left everything behind."
"Then shortly after, the material culture of early Pre-Pharaonic Egyptian kingdoms arose."
"Some believe the fayum people migrated north to become the early Egyptians because of unusually arid conditions - but you don't leave food cooking if you're going to migrate. They were nomads, packing up and moving on was their thing. This wasn't how it was done."
"Others say they were killed or captured, but there were no signs of struggle and they possessed and left no weapons. Also, that doesn't make sense. Why would the invading people leave their entire culture and settlement intact and just poof the people away?"
- Squaragus_Asparagus
"I'd suggest that they may have died suddenly and were then buried by survivors or visitors. Similar to what happened at Lake Nyos?"
"Hypothetical, of course, but not impossible."
- Scottzilla90
"I'd assume some other folks came in to town, highly outnumbered them, and enslaved them all without giving the chance to take anything but the clothes on their backs."
"Egypt was built on the backs of slaves after all."
"This could have been common practice since before the pharaohs, and the people in that village knew it would've just meant their death if they fight back, so they all complied and no one died on site."
- shastaxc
These Low Effort Jobs Have Surprisingly High Salaries | George Takei's Oh Myyy
Have you ever worked one of those jobs that paid you to kinda sit there? If you have, you know the joy that comes with watching the entirety of Breaking Bad ...
Read The Room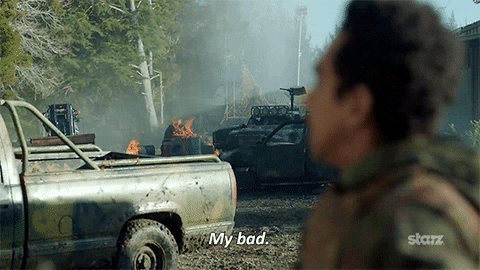 Season 1 Starz GIF by Ash vs Evil Dead
Giphy
"What happened to the Amber Room."
"It was a big room in a Russian Palace that was covered ceiling to floor in sheets of amber and gold. The Amber Room was dismantled by Nazis and then all the pieces 'disappeared.' "
"Supposedly it was in a train carriage, hidden in some abandoned tunnels somewhere in Europe. The search continues even now."
"Germany helped build a replica in 2003, but the original panels and pieces are still missing."
- SweetieLove
"Sadly it was almost certainly destroyed during the burning of Königsberg Castle. It was its last known location, and a few non-flammable bits were found in the ruins."
- TheMightyGoatMan
"I had a Russian history professor at college who said that given the amount of debris from World War II in Russia that haven't been found yet - he said that they continue to find train cars and other artifacts - he wouldn't be surprised if it was just sitting around undiscovered in a lost train somewhere."
"I find it hard to believe, but it's not like I have a PhD in Russian history to back anything up."
- Reasonable_Trash5928
"I think it's just been broken down and scattered to many parts."
"They just found a sunken ship off the coast somewhere in Norway that supposedly has some pieces. On its way to South America with the rest of the Nazis stolen stuff."
- ksnizzo
Rasputin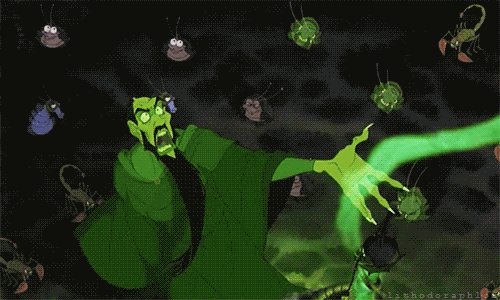 del mal GIF
Giphy
"Rasputin."
"Even if he took the kings son off his asprin to help his hemophilia, how did he know to do that?"
"How did he even get so close with the royal family without anyone raising an eyebrow until it became completely public."
"Did Tsar Nicolas's advisories see nothing wrong with a homeless wizard being associated with the tsar?"
"How did he really die or how did he survive the shot and poison if that story is true? Just so many questions lost to time..."
- alexander_the_ok-
"The answers probably aren't lost to time; they are just ... kinda stupid."
" 'How did he know to do that?' Happy accident."
"Rasputin was a holy man who believed in the power of God over medicine, so he tried to cure the son with prayer. It's what any extremist would do."
"To the uncritical eye, it appeared he had cured him."
"How did he get so close? Alexandra."
"She was so insistent that he had healed her son and he became a confidant to her, even a best friend. She relied on his guidance and wouldn't listen to any bad words about him."
​"When the Duma confronted Nicholas about how influential Rasputin appeared to be to his decision making and how bad it was making him look, he simply replied that he would rather deal with the bad press than feel his wife's wrath."
"Yes, advisors absolutely did see something wrong and speak up - but Nicholas was an autocrat so his decisions were final."
"As for the story of his death; the cyanide that Felix Yusapov had bought for the poisoning was later tested to be an inert powder."
"It's likely that a lot of the myth surrounding Rasputins death was invented by Yusapov himself as a way of making him sound like he had won some heroic battle rather than just shot an unarmed man 3 times and had him carelessly dumped in a river."
"Sadly, a lot of the stories that you hear about Rasputin are like this; tales that have been inflated over time to make him sound more like a mythical creature, rather than just a sexual predator and high powered manipulator hiding behind the fake persona of a man of God."
"There are a lot more Rasputins - manipulative predators hiding behind the persona of a man of God - out there."
- ImSigmundFraud
Mystery Men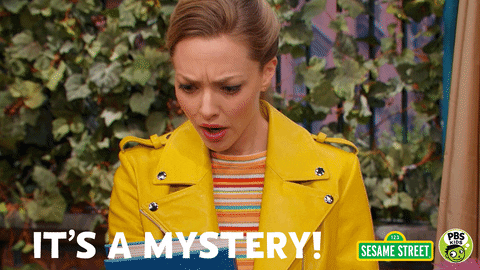 Sesame Street Mystery GIF by PBS KIDS
Giphy
"The missing men of Bermagui, NSW, Australia."
"Five men disappeared in the 19th century. Like completely vanished off the face of the planet, with some very confusing things left behind."
"So few people know this story, yet it's such a baffling one."
"The men, one of which was a geological surveyor, went on a trip to scout new gold mines along the coast. Three days later the boat was spotted sitting stationary with only one man aboard."
"Later that same day along the beach people found the boat and things got weird."
"From what I remember:"
"On the beach now called Mystery Bay (due to this mystery), there was a doused campfire with a meal for one, not quite finished."
"There was a boat nearby, which had been deliberately scuttled with holes made from the inside, rather than from the outside. At least some of the holes were confirmed to be bullet holes."
"The hull was also stuffed with rocks - but also pillows and clothes and everything was dry."
"Inside the boat were some papers belonging to one of the missing men, who was supposed to be taking a boat trip with a local policeman instead."

"Also inside the boat was at least one bullet cartridge and vomit, as though someone had maybe been seasick."

"The bay was right below the hilltop where two of the men had been camping, and the other three men who disappeared were boatmen."
"The problem is that there's no real evidence of a crime, so it's not considered an unsolved murder case. Five men vanished and there's all this confusing stuff, but it's not a crime. It's just... a mystery."
"Honestly, I'd believe alien abduction or sea monster over a crime, because I don't see how anyone could've killed that many men and not left evidence of it behind, even if it was a gang."
"There's a monument at the bay, but I've never been to that part of New South Wales. Would love to go, though."
- CeliaEquus
Baby Beauty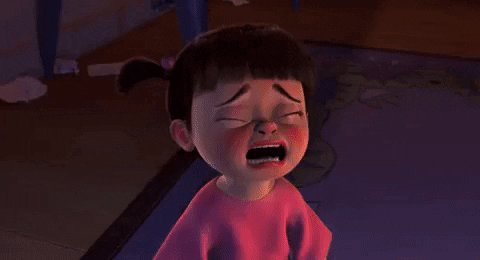 Monsters Inc Reaction GIF by filmeditor
Giphy
"Jon Benet Ramsey."
- lukovdolboy
"I don't remember the channel or program (I want to say PBS) but it was on child pageants and contestants. Jon Benet and another girl were the main ones because of all their wins."
"I swear it was PBS because I caught it at a weird hour and it all played back to back. It followed their circuit for maybe a year or so?"
"I mostly remember how pretty she was and learning words like 'flappers' (for hiding teeth) and just how much they go through to keep such a hectic schedule (the ones that went to lots of them) as far as school and even the practice and makeup and all that."
"It was such a blur."
"And I remember parents that didn't understand, or care, that their 4 year old had simply had enough."
"Not all were bad situations, many enjoyed it so it wasn't like an undercover or shockumentary or anything - but you could tell in some instances that being unhappy may be a norm for some of these babies."
"I remember the parents being especially cruel at times to the kids because of their frothing desire to always have winners. I remember Jon Benet saying she didn't want to do them anymore."
"It was uncomfortable to look at at times and it sure did stick with me. Next I had heard, that poor child was dead.
"I can't stop myself from believing the mom did it or had it done. I stay wondering about that baby."
- bonafidebunnyeyed
"Jon Benet and I were in pageants together."
"I knew her from age 3 til 6 and only a few things stand out from that time. Her whole family was always weird."
"We often stayed in the same hotels and her mom tried to control everything, I remember slipping her pieces of my waffle at breakfast since her mom only let her eat yogurt."
"I distinctly remember seeing her face and the words 'dead' and 'murder' on tabloids in the grocery store and asking my mom what murder meant."
"It was very upsetting and still breaks my heart."
- clarissaswallowsall
"Agreed. Whoever really knows what really happened has been keeping their secret(s) for a very long time and will likely take those secrets to their grave if they haven't already."
"I also think the truth is likely something we could never think of because it's such a unique situation."
"Web sleuths and journalists seem to have a very hard time figuring out what's important and relevant and what's not. I think many people point the finger at someone in the family, while others still think it's an intruder."
"I still have no idea what really happened but I wish someone would just come forward with the truth already."
- Hotlikessauce69
The Vault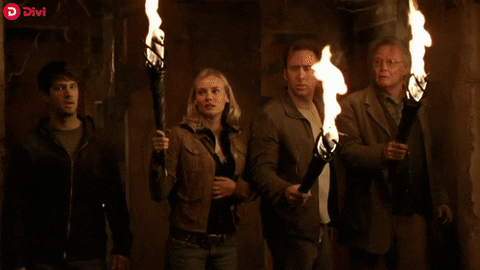 National Treasure Gold GIF by Divi Project
Giphy
"There is a huge ancient temple in south India with vaults full of treasure that have been locked since God knows when."
"Historians tried opening a few and it is said that those who entered the vault were never the same after they came back."
"Some people believe it was cursed. I'm pretty sure it has nothing to do with superstition and everything to do with stuff that may have grown or been trapped inside coz it was undisturbed for many hundreds of years."
"I read on it and it appears they opened 5 small vaults and there is one massive one which holds around 1 trillion dollars worth treasure but it is sealed and they are not able to open it without destroying the 500 year+ old monument."
"The problem is that the temple is covered with gold so any damage would cost a fortune. I would love for someone to solve the mystery but for now government has sealed it away forever."
- Venomally
Reddit has had their turn, now it's yours.
What unsolved-something are you pretty sure we're never going to know the truth about?
Want to "know" more?
Sign up for the Knowable newsletter here.

Never miss another big, odd, funny or heartbreaking moment again.
Keep reading...
Show less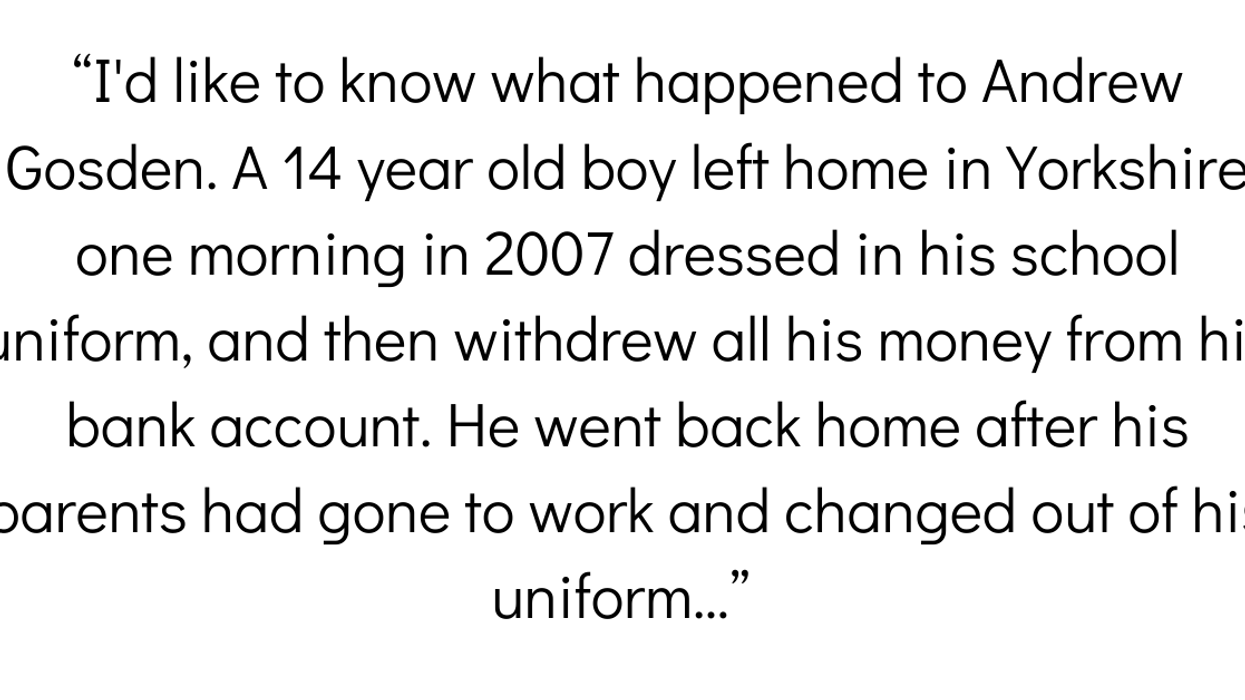 When a tragedy happens it sticks with the community for a long time. However, when such an event goes unsolved then it becomes a point of interest.

One of the most famous disappearances from my childhood was what happened to Jonbenet Ramsey. As a young child, I didn't understand then what horrible things could have happened except that this beautiful girl about my age was missing and her parents missed her.

It is one of those unsolved cases that has always stuck with me and is so sad that her family never received any answers. One Redditor wanted to share which unsolved cases kept them up wondering.
Keep reading...
Show less