Reddit user b-secret asked: 'what is the most embarrassing thing you have ever Googled?'
I freely admit I'm of a certain age where my primary education occurred before the age of the internet—when our questions were answered with conversations with experts, encyclopedias or knowing how to use card catalogs.
My knowledge of the Dewey Decimal System is largely useless today.
Research is drastically different now—sorry Melvil Dewey. Internet search engines quickly became the difference between occasionally finding an outdated version of the information we were looking for and rarely not finding current information on the most obscure of topics.
Unless your Google game is super weak, you're likely to find what you're looking for or something close to it unlike the good old days when our chances were hit or mis—with lots of misses.
So what do we use this amazing, life-changing tool for?
Well...
Reddit user b-secret asked:
"What is the most embarrassing thing you have ever Googled?"
How Much?
"what's the alcohol percentage in 70% rubbing alcohol?"
~ LightsJusticeZ
"55% alcohol, 15% rubbing"
~ FishOfFishyness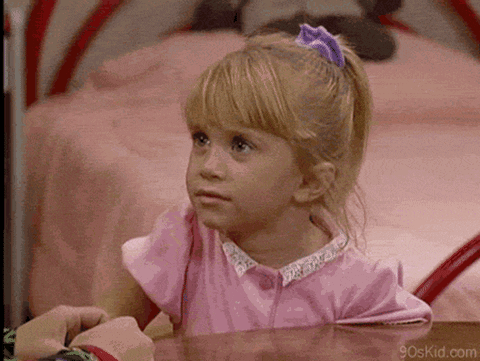 Giphy
Who?
"I Googled my work because I couldn't remember my boss' name after working there for 8 months."
"I just blanked and couldn't think of it."
~ HCxTC
Spellcheck
"I Google how to spell restaurant all the time."
~ ParkOk6450
"I'm like that but with Febuary."
"EDIT: February"
~ NeoNero_x
"I go into incognito mode to check spellings of words I should know how to spell."
~ LordCaptain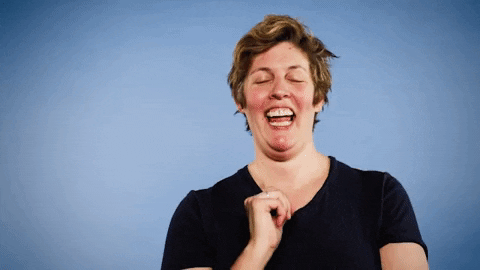 Giphy
Um, No.
"I was trying to find the name of those signs where a word is written down the side and each letter is used for a descriptive word."
"Confusing I know."
"So here's an example: False Evidence Appearing Real"
"I know it has to have a name. So I googled 'Sign where every word starts with a letter' and Goggle responded with 'Did you mean a sentence?'."
~ Team_Lift
Looks Like...
"Googled green beans once, was super high and forgot what they looked like."
~ testies2345
"I did the same thing with beets."
~ Jjetsk1_blows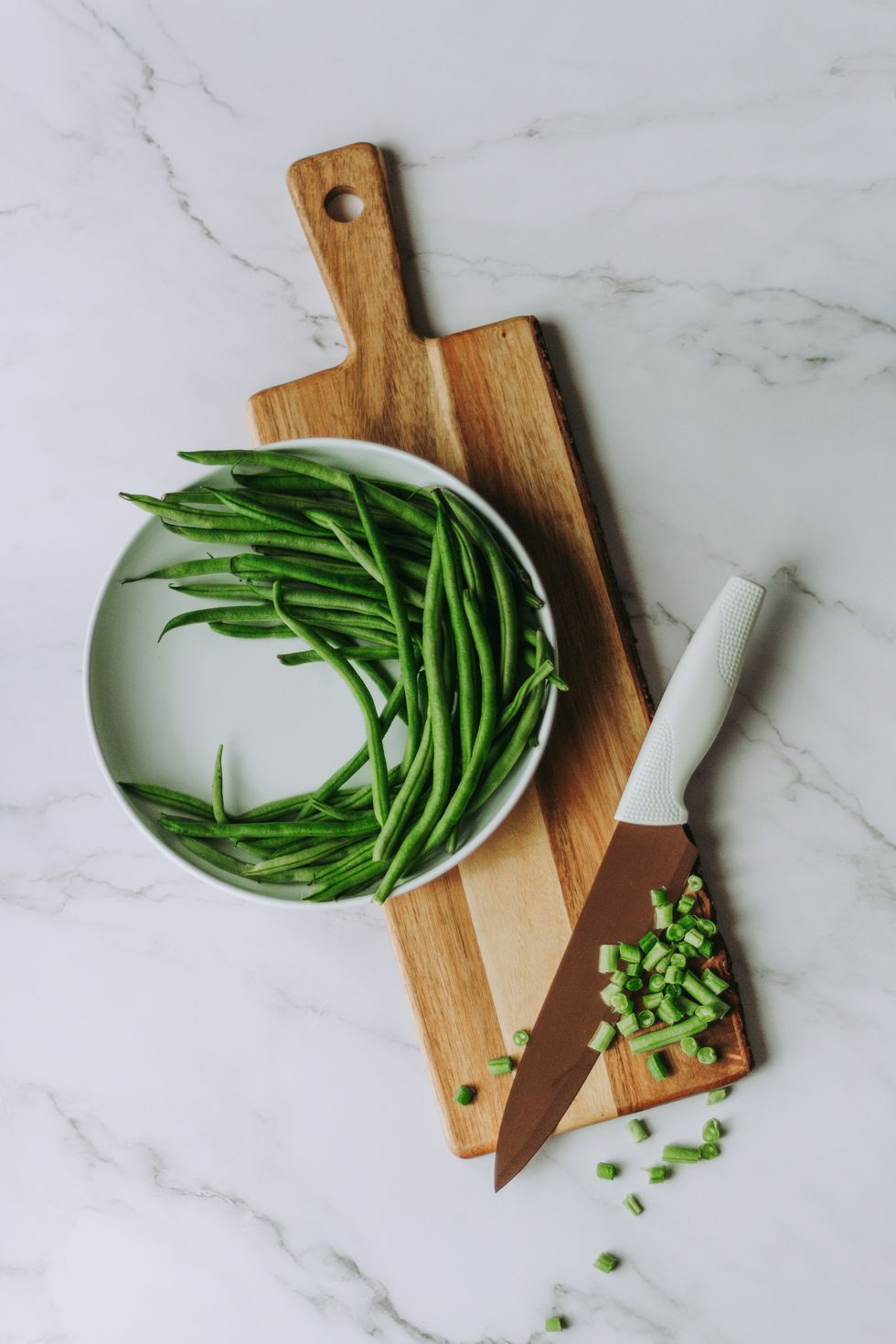 Gaby Yerden on Unsplash
That Movie, With the Guy and the Stuff...
"I'll forget the name of a movie and just type in random sh*t I think I remember. Usually it works."
"Like 'that movie where the kid sleeps and has weird dreams and flies on a bed'."
"Works like a charm."
~ fohsupreme
Did They Have Blue Feet?
"big boobies"
"I was only 10."
"I was surprised to find some."
~ PoopPower99
"I'm 39 and I Google this every day."
~ dekkact
"They're nice birds but are they really worth Googling everyday?"
~ redwolf1219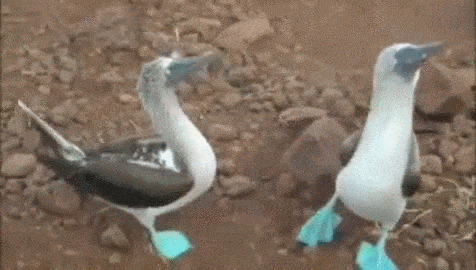 Blue-Footed Boobies
Giphy
Predictive Text
"I used to search something like 'no clothes' or 'without clothes' or something like that when I was a kid."
"Then I learnt the word NAKED because of the TV show Naked and Afraid."
"Then searched it so many times that my autocorrect started to show that word first when I wanted to type something."
~ sniper8207
The Shade...
"I like to Google Bing or Duckduckgo when I need to use them."
~ Reboared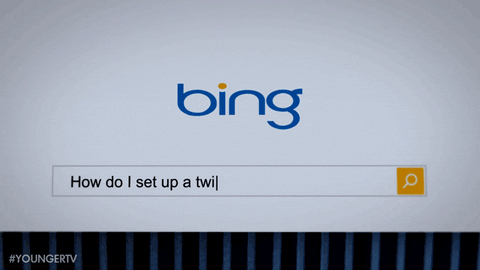 Giphy
NSF...S?
"My favorite band growing up was 'The Barenaked Ladies'."
"When I was at school, I once Googled them and clicked on a link that said 'free shows!'."
~ BW_Bird
Good Description
"I forgot what a 'gondola' was called so I typed in 'Thing that carries you through the mountains in a basket'."
~ TheGreatJaceyGee
"I once forgot the word for 'door' so my brain reached for adjacent concepts, smashed them together and threw them out my mouth: 'house portal'."
~ Tail_Nom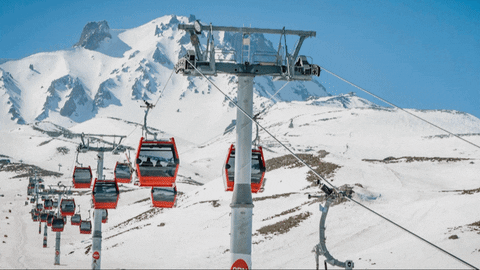 Giphy
It Just Doesn't Translate
"I have to search a random word 'auf Englisch' or a random word 'auf Deutsch'."
"Every damn day."
"It took me a minute to realize that there was no way to translate Schadenfreude into English."
~ grammar_fixer_2
Ah, Memories...
"I found out that as long as you're logged into Google, all your searches are saved to your Google account (I'm not talking about browser history)."
"So I looked back, and the 1st thing I ever googled after getting a Google account was 'Can ducks fly'."
"I've no idea why I googled this. I know ducks can fly."
~ caca__milis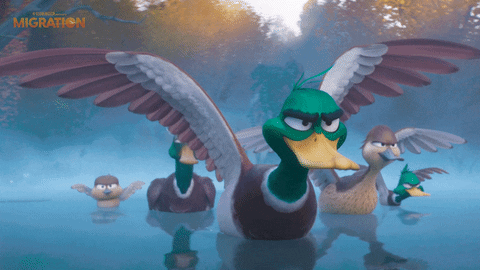 Giphy
You Ate What‽‽
"Once I was with some friends and I was telling them about how when I was a kid we only got to eat nuts as a special treat around Christmas."
"Then I mentioned how much I liked squirrel nuts and no one knew what they were. So I Googled 'squirrel nuts' with image search."
"Not at all what we ate at Christmas time."
"Finally found out what my family called 'squirrel nuts' were actually called hazelnuts."
~ 123fofisix
100% NSFW
"A few years ago my coworker and I were looking at the calendar at work. It had pictures of birds and we were trying to figure out what kind of bird was pictured for that month."
"I can't remember what she thought it was, but I darned sure it was a Great Tit."
"We have a great relationship and have been working together for a long time but we tend to argue like an old married couple. So we went to Mr Google for the answer."
"Let me tell you that Googling Great Tit at work isn't something I will ever do again."
"For the record, I was right. The bird was a Great Tit."
~ pi11bott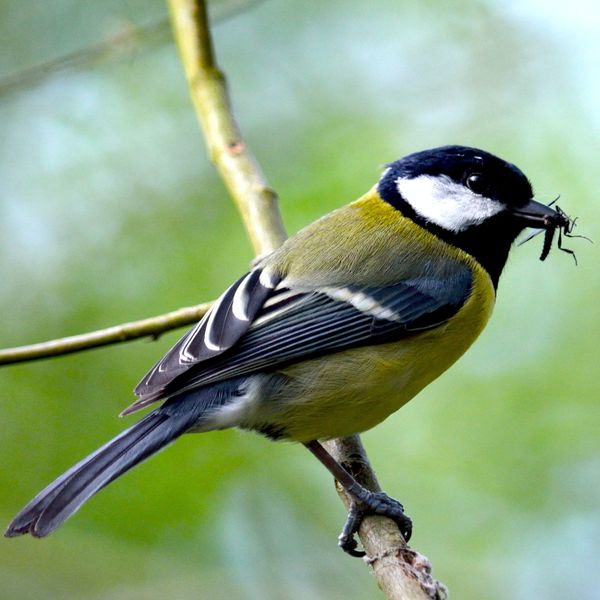 Great Tit holds an insect in its beak
A Perry on Unsplash
Hope some of these folks remembered to clear their browser and search histories.
So, what's your hilarious—or embarrassing—little Google secret search?
Reddit user WaterWalsh asked: 'What product no matter how innovative it is do you refuse to buy?'
With the latest advancements in technology, consumers are faced with the challenge of narrowing their list of products to buy.
The anxiety is only fueled by FOMO–fear of missing out–when they see their friends on social media bragging about the latest gadget that supposedly makes life easier.
But some people can't be bothered with all the fancy gadgets that are at the top of consumer reports as the best product so far in whatever year we're in.
They just prefer sticking to the basics and doing things the old-school way–like clicking on the TV with a remote instead of dictating to it what you want it to do after fumbling around for that elusive mic button to activate the function.

Curious to hear from consumers, Redditor WaterWalsh asked:

"What product no matter how innovative it is do you refuse to buy?"
Some people could do without all the bells and whistles of tried and true basic appliances.
Chilly Reception
"Smart' Refrigerator. I just need something that keeps my food cold. I don't need it to show me advertisements or what foods I might be out of. I can look for myself."
– SomeSamples
"Unless it can remind me of the box of fresh spinach that I stacked the yogurt in front of and, therefore, forgot existed, I wouldn't even consider it."
– FallenEquinox

Things Get Heated
"A stove also shouldn't be connected to the internet and should just be a normal stove."
– Illustrious_Risk3732
"My stove has an app so you can set the oven temperature from your phone, when I got it I thought 'ok this might be useful if I want to preheat the oven on my way home or something,' but alas, it proved itself useless, you have to touch your phone to the oven to give it the command, like wft?? I'm already here I might as well just turn on the damn oven."
– I_dont_know_you_pick

Get The Picture?
"If I could, I wouldn't even buy a smart tv. That's what my Apple TV is for. I just need something to turn on and make a nice picture."
– GlendoraBug
"I intentionally locked out my smart TV because I have a secondary device. It doesn't need to be connected to the mothership. My TCL television probably has zero security, and who knows how many backdoors to circumvent my router."
"All these IoT devices are just great "dumb" tools to use for DDOS attacks by unsavory nation states. Blackberry said this years ago."
– SkivvySkidmarks

Just because products are under a famous person's name doesn't necessarily make them top quality.
Clever Marketing, Poor Product
"I'm Irish and Conor McGregor's whiskey isn't really drank over here. It's very average whiskey with a premium price tag. You could buy far superior whiskey for less. His branding is amazing though."
"It's the same with his stout. No one in Ireland touches it... Again his branding is amazing and people all over the world are buying in to this sh*t."
– geoffraffe

Refusing The Socialite Family Brand
"Anything promoted by any kardashian… my curling iron broke so I stopped at target on the way home (This was years ago)… all they had were curling irons with Kardashians on the box - I refused."
– SammieCat50

These consumers just don't get the hype over these smart devices.

Bendy Phones
"Folding smartphones. They're expensive as all get out, and I've seen a lot of them develop weird screen issues just through normal use, that are prohibitively expensive to repair. I'll stick to my slab phone."
– EvilDarkCow

Personal Home Assistant
"Alexa."
– f'kswagga
"My roommate has one and I f'king hate it."
– VeterinarianFit1309
"My girlfriend has an Alexa in our bedroom and it's the most annoying thing in the world. She uses it to set a morning alarm and it always start spouting the weather and playing sh**ty music that we both hate. She refuses to get rid of it because she comes from a third world country and always dreamed of having 'American-life tech.' Of course, I overlook it because I don't want to be an a**hole, but nevertheless I dread waking up in the morning and hearing the Bezos bot."
– OldLavyGenes1998

Undesirable Communication Partner
"As a general rule, I don't like talking to inanimate objects."
– Interesting_Ad2464
"We got one as a gift, put it in the kitchen."
"1. The little kitchen TV was on and had an Alexa commercial and then our Alexa started talking to the commercial because the woman on TV said "Alexa" and it kinda went back and forth."
"I thought some people broke into the house. Our Alexa (don't ask me how) was playing our neighbors having a fight next door through their Alexa."
"The device lasted about a week before it was donated."
– Mackheath1

People were getting nowhere fast with these cars of the future.
Out Of Touch
"Cars with touch screens."
– Ruminations0
"I could stand a touch-screen, so long as it was supplemented with buttons. A car with only a touch screen? Terrible."
– SuperFLEB
"Have one of those at work. Just changing the heat while driving is a risk of traffic accident."
– Kaikeno

Some Drivers Musk Need This
"Tesla."

– brando9d7d

"I rented a Tesla on my last trip. I have the electric Volvo as a company car, so I was curious what Teslas were like. What a piece of sh*t. Materials are cheap, fit and finish was like my 95 Saturn, and it took forever to figure out how to control everything. Almost every damned thing has to be controlled by the software. Even the wipers, which is really distracting while you're driving. The key card recognizes when you walk up and unlocks the door, however in order to actually drive you have to tap the card on the arm rest. It's so stupid. Oh, and the 'shifter' is where the wipers should be, on the steering column. It's like they went out of their way to make the whole car as different as they could just to do it. I was happy to get back to the Volvo as it's a normal car that happens to have a battery, and a much better product."
– IcedT_NoLemon

Maybe it's because I'm not a gamer, but I personally don't see the need for an iPad.
I love using my iPhone and MacBook Pro to get all my business and social needs in order. Introducing a third option for going about my daily tasks and interacting with social media will only make my head spin.
I've also seen people walking around with their iPads and taking photos with them, which looks ridiculous in my opinion.
I remember thinking to myself after witnessing the bizarre practice, "I will not be that person."
But hey, that's just me.

In this day and age, we all have cell phones, and we know that they are pocket-sized computers that we can control in the palm of our hand.
But there are many incredibly cool features that most of us don't even know are there, but which would make our experience with our phones that much better.
Redditor napjerks asked:
"What do most people not know their phones can do?"
White Noise
"iPhone has a hidden white noise generator. Technically it's an accessibility feature. It can do Balanced noise, Bright noise, Dark noise, Ocean, Rain, and Stream."
"Go to Go to Settings, then Accessibility, then Audio/Visual (under Hearing), and finally Background Sounds."
"It's awesome. I use it all the time! Works great with AirPods with noise cancellation enabled. Really helps me focus in a chaotic environment."
"(Bonus: Your Mac has the same white noise generator too.)"
- trammeloratreasure
Translated Visuals
"You can use the translate app with your camera to translate printed text in real-time."
- ptear
Parked Car Location
"I have my iPhone set so that when it disconnects from my car's Bluetooth, it remembers that location in Apple Maps as 'Parked Location.' When I'm going back to the car, I just search for 'Parked Location' in Maps and it takes me directly to where the car is."
- TotallyNotHank
Easy 9-1-1 Dialing
"You can repeatedly click the side button like eight times or so to dial 911. I didn't know that until I did it by accident."
- lazlobutts
Easy Photo Search
"In the photos app you can search a phrase like 'cat' or 'green car' or certain texts or anything really and it will bring up every photo related. It's not perfect but it's saved me tons of time searching for old photos."
"I've showed this to dozens of people and nobody has ever said I already knew that… Hope I can help someone else!"
- J-Uchila-S
Ability to Eavesdrop
"On iPhone, when you have air pods connected, tap the top right menu like you would to see the regular options, and at the bottom, there is an ear. When you click that, you get to turn off background sounds and live listen."
"If you turn live listen on, it is almost a super hearing aid. You can leave your phone when you leave a room and you will hear everything around your phone."

- DullResolve4348
Metal Detection
"Metal detection."
"About five years ago, a coworker and I knew a hallway in our building had a pipe cleanout that we needed to access, buried under the concrete floor. We didn't know where exactly. He downloaded a metal detector app, it flagged a spot, we dug, and it was right there."
- HatsAreEssential
Text Cursor Accessibility
"Tap and hold the space bar to move your text cursor tool back and forth with precision."
"Every time I do it in front of someone, they've been like, 'Wait, do that again,' and they act like I just made their lives way better."
- GregoryGoose
Print to Save PDF
"'Print' a document to get a pdf! I help people with this so much in my job where people need to send me documents. Often they're expecting to see a 'Save' or 'Save as PDF' option, and that may just not be there."
"They're surprised when you suggest trying to 'print' without access to a printer, and pleased when they see that it works."
- PinkNGreenFluoride
Similar Photo Recognition
"If you take a picture of a flower, you can hold it down and click 'info,' and it will search for what it is."
- Forward-Mirror5621
Zooming In and Out Abilites
"In any app with a map (Apple Maps, Google Maps, Lyft, Yelp, etc.), if you double tap and HOLD on the second tap, you can zoom in AND out of the map by moving your thumb up and down."
"Really great if you're one-handing a phone when your other hand is preoccupied with a watermelon or a baby."
- lord_florbo
Light Intensity Control
"On an iPhone, if you hold the flashlight button, it gives you a dimmer."
- CoffeePorters
Brightness Control
"If you feel like your brightness is still too high, you can actually reduce the white point further in settings."
- chunkylover53aaolcom
Physical Protection
"It can be used as a weapon. I'm serious."
"Once when I was about 15, a guy came over to me and put his arms on each side of me. He was a lot older than me and I remember him saying I needed to be quiet. He then said something I don't feel comfortable sharing online but before he could do anything,I took the corner of my phone and smashed it into his collar bone."
"I was nowhere near 'strong,' but it made him fall back and I had enough time to run and get help."
"Use your phone as a weapon, especially Motorola, those things are sturdy."
- LooseGur7348
Volume Etiquette
"When headphones are not available the speaker does not have to be used and in general the volume can be turned down."
- darybrain
"But then how will the rest of the airplane know what I'm listening to? Or the bus know what I'm arguing about?"
- TheSummonersTail
These are all great examples of how we can take our technological access to the next step and use our devices to their full potential.
With advances in tech replacing jobs previously worked by humans, we're living in advantageous yet very frustrating times.
Cab drivers in major cities bemoaned the shortages of customers who have become more inclined to order rideshare services that are conveniently accessed by phones.
Many public transportation hubs like train stations are also starting to see fewer ticketing agents as vending machines and virtual tickets have become more prevalent.
The transportation industry is just one in which our generation is seeing a diminishing workforce. Will it all be worth it or are we essentially moving too fast?
Well, that depends.
Because there are plenty of industries that are more sinister in nature that shouldn't be around anymore.

Curious to hear examples of the toxic industries that have taken advantage of consumers for far too long, Redditor filetemyoung asked:

"What industry do you hope won't exist in 10 years?"
Good riddance to some of these!
Bye To "Alternative Facts"
"24 hour media outlets masquerading as 'news.'"
– Nati2de
Downright Text Book Thievery
"The F'kers that make college text books $2,000 dollars!"
– Honest_Plant5156

Justice
"Scam call centers."
– whypussyconsumer

No More Monthly Charges
"Everything as a subscription. As a tech worker I understand why this is so popular but god do I hate it."
"Edit: Some subscriptions can genuinely offer amazing value to consumers. My problem is the mass adoption of subscription on products and services that have no business being a subscription. Those that exist solely so companies can make more money off of you. Not everything should be a subscription."
– iHazRice

No More Tricking Students
"Third party student loan 'consultants.' I used to work as a federal student loan collector for a Department of Education contractor. I have horror stories about borrowers who were purposefully deceived by these people, the worst of whom was someone who thought a consolidation she paid for completely eliminated her obligation."
"What these legally grey a**holes do is trick people into paying to have free paperwork done on their behalf. Sure they have the tiny fine print disclosures, but they're extremely predatory and make me sick. Imo getting rid of them could be legislation worthy, given that they interfere with federally owned debts."
– dr3dg3

The following industries led by avarice and greed can be blasted to obsolescence.

Money-Making Schemes
"MLMs/Pyramid schemes"
– Special22one

The Toxic Middlemen
"Pharmacy benefit managers (PBMs). Look them up."
"They're basically bloodsucking middlemen that sit between hospitals and health insurers. Supposedly created to control prescription drug costs and manage formularies, but they actually drive prices up. One of the many terrible causes of high medical costs in the states."
– tc273
"The concert ticket mafia. (TicketMaster / StubHub / LiveNation). F'k them."
"ETA: I know those entities aren't really an entire industry. They basically have the market monopolized, though."
– cerberuss09

And when it comes to the exploitation of children or animals, Redditors hoped the following industries were gone as of yesterday.

It's Abuse
"The Troubled Teen Industry."
"Look up Nexpos video on Elan school and you'll see what I mean. Abusing minors for money shouldn't be an industry."
"Edit: didn't realize this would get so much traction, so if you're interested in helping advocate against TTI, head over to r/troubledteens and join our little crew!"
– Coastal_wolf

Kids On Media
"Child modeling and anything to do with children being publicized on social media."
– AdCharming4503

Puppy/Kitten Farms
"This and even pet stores that actually sell animals from these mills. My home state of Maryland is the second behind California in banning pet stores from selling animals from puppy/kitten mills."
– LoveStoryGaming
I remember hearing about a small-town photographer who had been working for the local paper for years and was let go without warning.
The manager allegedly informed him that the staff were told to snap photos for the paper using their smartphones. It was a cost-cutting measure, but poor guy had no warning and was devastated.
While the photography industry has been adversely affected as well due to the proliferation of smartphone snapshots and Instagram, it's sad to see happen–whereas many of the examples listed above make more sense to see relegated to history.

The world is ever-changing.
One need only look at the evolution of home entertainment.
First, we had to go to the video store to buy or rent video cassettes, then video cassettes were wiped out by DVDs until video stores became obsolete owing to streaming services.
Making the one-season failure of the Netflix series Blockbuster painfully ironic.
However, those of us who grew up rushing to Blockbuster, hoping the last copy of Jurassic Park will still be there, can't help but wish we could relive the experience.
On the other hand, we are glad to see other things from our childhood have become extinct.
Redditor AnalysisFrequent was curious to hear about things that people used to see all the time in their childhood which have all but vanished leading them to ask:

"What was normal when you were a kid, but you never see anymore?"
Honestly... Rude then, Rude Now!
"Showing up to someone's house without a text or call."- lpkrew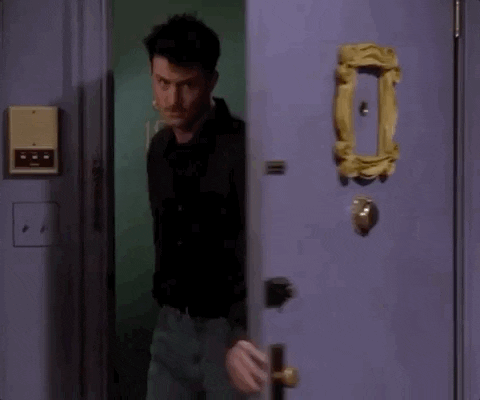 Walking In Season 2 GIF by Friends
Giphy
Before There Was Bluetooth...
"Cassette tape innards strung out along the highway, glimmering in the sunlight."- bigolfurryhead
No More Second Hand Smoke!
"Parents smoking in a car with kids with the windows rolled up."- WonderfulEmergency77
"Everybody smoked everywhere. At restaurants, the office, airports, everywhere."
"There's a picture of my grandma holding me as a baby in one hand and a cigarette in the other."
"Nobody thought that was the least bit strange."- MeghanFI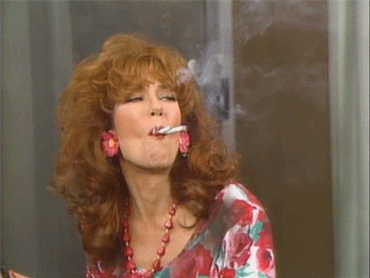 mothers day smoking GIF
Giphy
Now We Have Google!
"Using a set of 20 y/old encyclopedias as reference for my homework."
"JFK is president!"- ResplendentAmore
It Got Them Off Shelves...
"Toys in the cereal box"- NightDreamer73
How Sad...

"Fruit bats."
"There used to be a *ton* of them in my neighborhood as a kid and every evening you could look at the sunset as twilight set in and see flocks of bats flying around."
"Apparently, around the time I was in middle school, a fungal disease ravaged the local bat population and they never recovered."
"You never see them anymore."
"Funnily enough though, at the time, a local high school girl had this huge campaign to set up bat feeders to help bolster the local bat population and help them survive the fungal disease by giving them easy access to food."
"Said local girl has since become a federal Park Ranger as an adult and currently works for a state fish and wildlife service."- DoctorWatchamacallit
Now They'll Just Send Them A Text...
"Moms yelling from the front door to their kids to come home for dinner."- sflogicninja
Depending On Your Circle
"People talking about the Bermuda Triangle."- GarconMeansBoyGeorge
Best Not To Give Them Bad Ideas
"Candy Cigarettes."- Mechhammer
They're a dying breed indeed...

"Pay phones and answering machines."- Mondayslasagna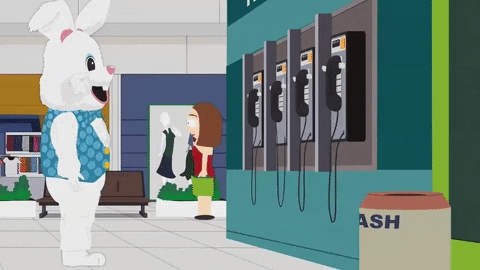 phone call mall GIF by South Park
Giphy
Even Printers Are Uncommon, Thanks to PDFs...
"Computer paper filled with lightly printed numbers and it had tear-off sides."
"My dad used to bring lots of it home for us kids to draw on."- reverendgrebo
...what were you watching?...
"Quicksand in movies and TV shows."- kzab81
Well That's Poignant
"Fireflies."
'I swear I saw them every year, in our back yard or when we went camping etc."
"Now I never see them no matter where I am, except for a few nights in the summer of '21 after I moved to a new house."
"It was so nice to see them again."- ModernCivilWar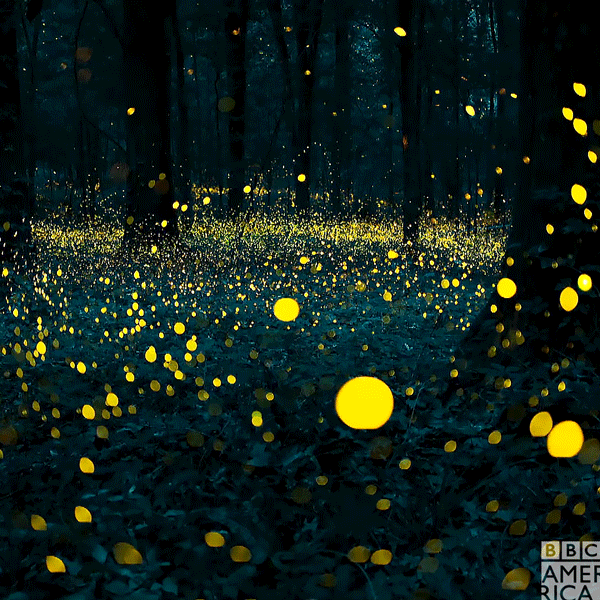 North America Lights GIF by BBC America
Giphy
Sadly, Not Because People Started Reading Maps...

"Printing out directions from Map Quest."- Keone_710
To think there was actually a time when we couldn't say "I'll text again when I'm close" and had to ask a friend to record a movie or tv show we wanted to watch.
Simpler times...