Jake Gyllenhaal's second nonsensical rant in just a few days has fans wondering, what's up, Jake?
After an enthusiastic declaration that the singer of 2005's "Temperature" and "Beautiful Girls," Sean Paul, was a genius:
"Sean Paul is MASSIVELY OVERRATED!": Tom Holland and Jake Gyllenhaal Unpopular Opinion www.youtube.com
Gyllenhaal most recently went on a mysterious rant about Cabbage Patch Kids and Benedict Cumberbatch and we're not really sure where that intense word salad came from:
"Benedict Cabbage Patch, his great grandfather actually started Cabbage Patch and they were a big thing in the 90s and how Benedict got his start in the business was his uncle who obviously became really wealthy through all of the profits."
"His uncle flew him to London and put him in an apartment and then he started his career. The truth of the matter is without Cabbage Patch Kids, Benedict Cabbage Patch wouldn't have a career and you wouldn't have Doctor Strange."
We are guessing this is meant to be a clever play on the name Cumberbatch.
Gyllenhaal and Cumberbatch will, as of Spider-Man: Far From Home, both be key players in the Marvel Cinematic Universe, with Cumberbatch as Dr. Strange and Gyllenhaal as Mysterio.
While going on this nonsensical cabbage patch rant, Gyllenhaal's co-star, Tom Holland, just stared at him looking lost and confused.
This is so out of left field that it should seem surprising, but apparently, Jake Gyllenhaal has been a noted weirdo for quite some time:
"Jake Gyllenhaal is kind of an oddball. Jake Gyllenhaal believes the moon affects human behavior."
"Jake Gyllenhaal refuses to tell people how tall he is. Jake Gyllenhaal can quote South Pacific."
"But Jake Gyllenhaal is the kind of oddball everyone loves — he's handsome, of course, he named his dogs after To Kill a Mockingbird characters, he dated Taylor Swift and he dumped Taylor Swift."
We wonder if the idea for Benedict Cabbagepatch was originally sprung from this fun Benedict Cumberbatch name generator, which also includes fun variations such as "Budapest Cul-de-sac" and "Butawhiteboy Cantbekhan".
Spider-Man: Far From Home comes out July 2, 2019.
In addition to seeing Holland and the lovable cast of teenage characters from the first film making a return, we are really looking forward to seeing how Gyllenhaal's character, Mysterio, will be handled. Mysterio is a famous antagonist of Peter Parker's Spider-Man, but the trailer makes him appear to be a hero.

Perhaps this turn of motivation has something to do with Cabbage Patch Kids, too?
If you want your own Cabbage Patch doll, you can get one here.
Keep reading...
Show less
Academy Award-winning actress Gwyneth Paltrow has an impressive list of credits ranging from 2001's The Royal Tenenbaums to 1998's Shakespeare in Love for which she won the Oscar for Best Actress.
Paltrow is more recently known for her recurring role as "Pepper Potts" in a number of films from the Marvel Cinematic Universe, beginning with Iron Man in 2008.
The 46-year-old appeared in seven Marvel Studios productions, including all of The Avengers and Iron Man films, but who's counting? Not Gwyneth Paltrow.
A few weeks ago, the actress was being tasked with zesting an orange on Netflix's The Chef Show and legit forgot she was in Spider-Man: Homecoming during a discussion with the show's host and former co-star, Jon Favreau, who played Happy Hogan and directed Iron Man and Iron Man 2. Favreau explained to Paltrow that his cooking travelogue series began development while the two were working on Homecoming together.
But Paltrow, who is the author of several books and owner of lifestyle company Goop, was confused.
She had absolutely no recollection of being in the movie and had to be reminded of her very brief scene with Tom Holland, who played Peter Parker.
Her hilarious reaction can be seen in the clip below.
Gwyneth Paltrow genuinely did not know she was in "Spider-Man: Homecoming" so this adorable interaction from "The C… https://t.co/G8hx5wUrNJ

— Jarett Wieselman (@Jarett Wieselman) 1559921093.0
Holland, who stars in his second solo superhero movie, Spider-Man: Far From Home, took Paltrow's memory lapse personally.

The young bloke ribbed Paltrow while answering some Marvel-related trivia questions for Popsugar with his Far From Home co-stars, Zendaya and Jacob Batalon.
When Zendaya asked:
"What is 'Pepper' Potts's first name?"
Holland correctly answered:
"Virginia."
He then joked about being heartbroken over Paltrow forgetting she did Homecoming with him.

Watch the full trivia quiz video from Popsugar in the YouTube clip here.
Tom Holland, Zendaya, and Jacob Batalon Take the Ultimate Spider-Man Trivia Quiz www.youtube.com
Holland joked:
"I mean, I've only worked with Gwyneth one time, on 'Spider-Man: Homecoming,' which she doesn't remember. Which still to this day breaks my heart."
After taking pause the 23-year-old actor realized he and Paltrow were also in Avengers: Endgame, reminding him of yet another time she threw inadvertent shade.
"No, actually no, that's not true. One time when we were shooting 'Endgame,' she was in her blue suit, and I was in my Spider-Man suit."
"She came up and she asked me for a photo with me and Robert. And I think she posted it and she said, 'Robert Downey Jr. and myself and this guy'."
"I was just the guy. It was cute."
Twitter thought it was hilarious that Paltrow couldn't keep track of her work.
@JarettSays @offbeatorbit Imagine being so booked you forget that youre in a movie.

— Tommie Hillnxgga (@Tommie Hillnxgga) 1559925836.0
@getFANDOM @marisastio @POPSUGAR She has a lot on her plate.

— Z (@Z) 1561742727.0
But fans were still forgiving of the actress.
In her defense, Paltrow's cameo was at the tail end of Homecoming in which she arranged a business meeting to announce Spider-Man as a new addition to the Avengers.
@JustMeSriLankan @JarettSays @offbeatorbit In her defense she had a small role in homecoming and all those movies f… https://t.co/W46AWbNu5u

— Tommie Hillnxgga (@Tommie Hillnxgga) 1559931384.0
@_KWONIIE @JustMeSriLankan @JarettSays @offbeatorbit And they all film out of order, dialogue is probably changed o… https://t.co/UaXMW5w1gg

— mg 💖🔮🦋✨🦋🔮💖 (@mg 💖🔮🦋✨🦋🔮💖) 1559944029.0
@JarettSays I heart Gwyneth

— brittny pierre (@brittny pierre) 1559921262.0
Spider-Man: Far From Home will be the final installment of Phase Three from the Marvel Cinematic Universe in cooperation with Sony Entertainment under their Columbia Pictures label. Sony owns the rights to Spider-Man, but allowed Marvel Studios to borrow the character for The Avengers: Civil War on the condition the favor was returned for Spider-Man: Homecoming.
Spider-Man: Far From Home slings its way into theaters on July 2.
Until then, enjoy the trailer here:
SPIDER-MAN: FAR FROM HOME - Official Trailer youtu.be
If you'd like to see Tom Holland AND Gwyneth Paltrow in Spider-Man: Homecoming, the film is available here.
Keep reading...
Show less
Here's a wild fact that might blow your mind: being a superhero isn't quite as glamorous behind the scenes as it is on camera.
For some Avengers, like Tom Holland, even taking a quick swig of water can be an awkward ordeal.
Fans always take a special interest in the behind-the-scenes lives of the Marvel heroes.
But it's not all fun brunches and hang-time!
During a press interview with the stars of the upcoming Spider-Man: Far From Home, Tom Holland (Spidey himself!) revealed the web-slinger's true nemesis: hydration.
'Spider Man Far From Home' Zendaya, Tom Holland and Jacob Batalon Full Interview youtu.be
With his costume obviously blocking his mouth during filming, it turns out that Holland has to get water by removing one of his eye-pieces and sipping through a tube that runs through his mask.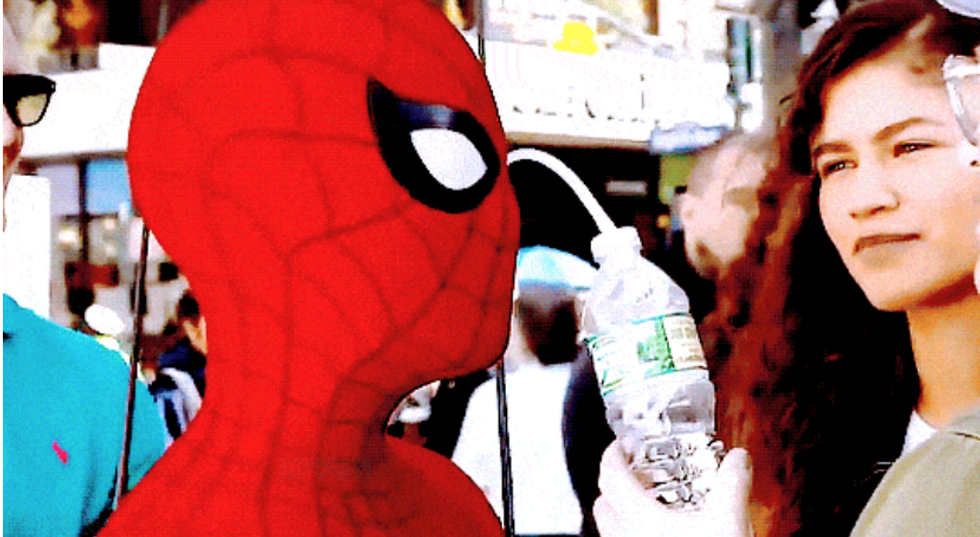 Sony/Entertainment Tonight
There's always a trade-off when you get superpowers...
@ThatEricAlper The spider bite had more side effects than we thought

— JeoMona✍(Commissions Open🔆) (@JeoMona✍(Commissions Open🔆)) 1561590612.0
@ThatEricAlper He has to hang upside down to kiss a girl.

— Craig Hall (@Craig Hall) 1561586955.0
Naturally, Holland's revelation made front page news worldwide.
thanks google, i love staying updated on how tom holland drinks water! https://t.co/5hZccrIZFI

— johnny (@johnny) 1561589193.0
The fact that Holland has to get his water through an elaborate apparatus gave everyone who saw it a case of the giggles.
Everytime they cut to @TomHolland1996. The only man I could watch drink water on a loop 😂 #SpiderManFarFromHome

— Holly (@Holly) 1561601321.0
the content i never knew i needed https://t.co/O8agVAQkjx

— j🦋 (@j🦋) 1561594601.0
BREAKING NEWS: Innovator @TomHolland1996 Learns to Drink Water From His Left Eye https://t.co/C55PTNNqzN

— lauren ✈️ TIME OUT (@lauren ✈️ TIME OUT) 1561571905.0
Perhaps Spider-Man will wrestle with his ability to drink in his movie.
@people The cost of being iconic 🤷‍♀️ https://t.co/Bd2OwBMjoy

— Nakita Dozier (@Nakita Dozier) 1561610658.0
If only Spider-Man's drinking method was the only eye-related headline inspired by the press for Far From Home!
It seems one of the designers for the movie's posters couldn't be bothered to remember which eye Nick Fury's patch is on.
Samuel L. Jackson furious over Nick Fury's eyepatch on right eye https://t.co/KyvwKDA30A #SpiderManFarFromHome https://t.co/vQENB5Tz6f

— Straits Times Life (@Straits Times Life) 1561459495.0
Check out Spider-Man: Far From Home when it hits theaters on July 2!
Hopefully, Tom Holland is looking as quenched as ever thanks to the behind-the-scenes efforts of the entire Marvel team.
SPIDER-MAN: FAR FROM HOME - Official Trailer youtu.be
Keep reading...
Show less
The only hero his age in the popular Marvel Cinematic Universe, Spider-man needs to represent the morals and attitudes of the upcoming generation. With Gen Z proving to be very open with regards to sexual orientation and gender identity and expression, it would make sense their hero supports those ideals.
That is why the new Spider-man film is making waves as the first superhero film to cast out trans actors, according to the Advocate.
The news was first seen in a Twitter post, and confirmed with an Instagram photo from Tom Holland.
Spider-man: Far From Home has cast Zach Barack as a high school friend of Peter Parker. This is Barack's first feature film. The actor shared initial hints about his involvement on social media.
Tyler Luke Cunningham is also in the film as a featured extra. Cunningham is known to British audiences for his work in Boy Meets Girl, a BBC sitcom. The actor had also teased his involvement with the film on social media.
This is some pretty great news!
However, Marvel hasn't had the best record with representation. Both Thor: Ragnarok and Black Panther were going to have characters who were LGBTQ+ but had references to their sexuality cut out of the film.

While there's been talk about including queer characters, it seems at the very least Marvel is now taking a step in the right direction by casting trans actors.
But their past record still worries some people.
While they aren't at the forefront yet, Marvel Comics does have trans and non-binary characters. Ken Shiga AKA. Koi Boi in the Unbeatable Squirrel Girl series has been confirmed to be transgender. Other heroes such as the Skrull Xavin are aliens without a societal attachment to gender.
Which has led some to call for Spider-man to be transgender, if he isn't already.
As the MCU continues on, new actors and roles will be brought on. While we don't know when superhero films will start casting LGBTQ+ actors in bigger roles, or when they will start bringing those characters to audiences, this kind of casting announcement is definitely a positive move.
The outpouring of love from fans for the recently released Spider-Man: Into the Spider-Verse has been overwhelming. The latest trend among fans is designing personalized spider-verse character and sharing them with the hashtag #spidersona.
People are putting a lot of thought into their characters and the art is amazing. The characters reflect each designer, resulting in a colorful and diverse assortment of spider-people.
Here are some of our favorites.

If you want to jump on the spidersona train, make sure to use #spidersona when you share!
Keep reading...
Show less