It's ok to be naughty.
But sometimes... you wanna watch yourself.
Naughty can lead to trouble.
And we're talking adult naughty.
Maybe it's time we discussed it all.

Rule #1... Better safe than sorry.
Redditor Black_Hole_Baken-00 wanted hear from all the people willing to share sexy secrets that might leave plenty of people blushing. They asked:
"What's your most shameful NSFW moment?"
Elevators. Stairwells. Planes. You name it. I've shamed it. No Deets...
don't worry I wasn't naked...
"I was watching adult videos in the middle of the night. After I did my deed I felt a slight pain in my balls, like someone flicked their finger on them. The pain increased to the point that I had to walk it out. After some minutes I began screaming from the pain when my parents came to my room (don't worry I wasn't naked) seeing me in pain on the floor."
"At that moment I thought I did something wrong but was to ashamed to tell them.My dad rushed me to the emergency room where I was rushed in and my pants were removed. Laying there they gave me a nose spray which halted some of the pain. The doctor then started fondling my family jewels while the nurse stood next to me reminding me to breath because the nose spray stopped the automatic breathing if that makes sense."
"All the time my dad is standing there looking and the only thing I could thing at that moment was oh no do they think my unit is small. After that the doctors brought me to another room while my dad was in another room. While going trough the halls I told the doctor I probably know the cause and explained that I was pleasuring myself"
"I don't remember the doctors response but I felt truly ashamed like I was the only person doing such a thing. Later the doctor told me I had testicular Torsion which is caused by the balls not being attached to the sack so I'm living in fear of it happening again to this day."
Sick-Man_NL
"WHAT ARE YOU WATCHING??"
"In the 90's/early 2000's we bought a pub and moved into it. It had a big screen downstairs and we lived above, but Sky Sports was so expensive for the business account we basically hooked the giant screen to our box upstairs so whenever the sport was on it would show on the screen downstairs."
"So we couldn't watch TV upstairs except what was being shown on the big screen when this was happening. Anyway one Sunday evening around 10pm after the sport (bearing in mind the sport finished at 6pm) I was freely browsing through channels because the giant screen has been wound up into the ceiling and my 14 year old self came across some softcore adult videos"
"Curious, I started watching it. Suddenly there was a big buzz from the phone that connected to downstairs, I answer it. It's my mum with laughing in the background. "WHAT ARE YOU WATCHING??" I was like "errr.. I was just flicking through channels.." "Well you've stayed on that one for a while haven't you?"
"I forgot about the small TV in the bar area. It was still on and was showing the entire pub what my horny self was watching. I was mortified. Luckily my mum never brought it up again and neither did any of the customers thankfully."
Parish87
I Gotta Go
"When i was 12 my younger sister walked in on me playing fondle the dongle. I told her I couldn't pee and was trying to force/pump it out. She told my mom out of worry. Said I needed a doctor to help me pee. When Mom confronted me about what my sister was saying i then had to explain it to her."
itisbaileyikilledyou
"My mom walked in on me. The look on her face went from incomprehension to shock to utter disgust over the span of a second or two. She stayed calm and explained how it wasn't appropriate, but I just remember how unsmiling and tense she was, totally unlike I'd ever seen her. Decades ago but still cringe so much recalling it."
A_Dazzling_Method
Oh. My. God. Y'all are animals. And I'm LIIIIVVVING for it!
"underwear"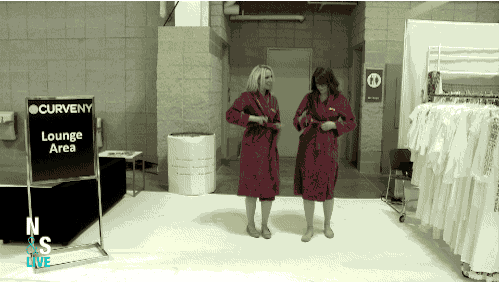 surprise disrobing GIF
Giphy
"My dad caught me editing the game files of The Sims to replace the female underwear textures with 'underwear' that just makes them look nude. Looked up reference material and edited them in photoshop. That a lot of effort to put into something so depraved."
IrrelevantPuppy
Mistakes
"When i was about 10, my parents were out so I looked up some adult videos on the family computer (mistake number 1), then I kept hearing noises and thought someone was in the house so i ran to my room and called my dad, leaving to computer on (mistake number 2)."
"My dad rushed home and went around the house looking for an intruder, no one was there, it was just my next door neighbors (we have a semi-detached house) then obviously saw what i was looking at on the computer and asked me about it… i told him the intruder must of broken in and searched it up :( "
Educational_Top122
Library Time
"In middle school, my friend got her boobs and she wanted me to touch them. We probably spent 30 minutes everyday before school until the librarian caught us and we were suspended."
Shef43
I wonder if she knew...
"My HS gf and I were having sex in the sideways laying down cuddling position. Mom walked in to show me a new Christmas decoration. To her it looked like we were just cuddling but she sat on the bed inches away from me and proceeded to talk about the decoration for like 10 minutes. I wonder if she knew. They never cared much about that stuff so I think she was just oblivious."

MyPupWrigley
I'm Dead
"I was violently ill. In my fiancé's house where we were living. While he was at work, his dad was working from home. I needed my mom to take me to the hospital. I screamed for my father in laws help, who entered the bathroom to my nude body, puking at t in his bathtub. He called my mom for me, and we never spoke about it."
hammybachy
Well I need a cold shower and more vodka.
Keep reading...
Show less