In 2006, Sarah Finn, casting director for newly Oscar winning movie Crash, was about a decade into her casting career when she became an integral part of something huge.

It started with a meeting to cast Iron Man, which is how she ended up holding a list of qualities director Jon Favreau wanted to see in his Tony Stark.
To name a few he wanted Stark to have charisma, quick wit and immense intelligence.
Finn said about the list:
"I still have them on a piece of paper somewhere."
Favreau—at Finn's recommendation—cast then Hollywood bad boy Robert Downey Jr. which raised more than a few eyebrows and objections. Downey's struggles with substance abuse had damaged his mainstream career.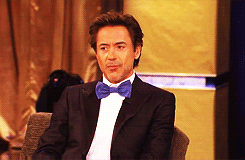 GIPHY
Of course, the character Tony Stark's reputation was pretty tarnished too.

The risk definitely paid off. Downey's morally ambiguous superhero in 2008s Iron Man set up almost all of the 21 movies that make up the Marvel Cinematic Universe.
The exception being the Hulk film without Mark Ruffalo that we don't talk about.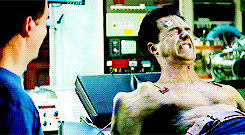 GIPHY
While the original casting was a risk, it is now hard to see anyone else but Robert Downey Jr as Iron Man. The same can be said for any superhero in the MCU.

This is largely thanks to Sarah Finn taking on the gargantuan task of casting these movies, with the exceptiong of Edward Norton's take on The Incredible Hulk which released a month after Iron Man.
This means she cast more than a thousand roles from Chris Evans' Captain America himself right down to those "man with a plan" backup dancers.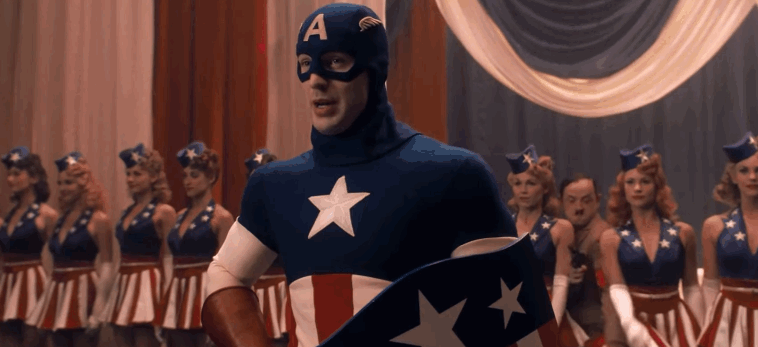 GIPHY
This job meant she had to take into account the traits each character displayed in the current movie, but also the movies planned but unwritten.

Finn said:
"It wasn't until we got into Captain America and Thor that Kevin Feige even mentioned the Avengers films."
Kevin Feige is the president of Marvel Studios. He also consults with casiting directors, fellow executives and directors on each film.
One perfect example of this unpredictability casting the voice of JARVIS. Paul Bettany was cast as Stark's AI, but Finn didn't know J.A.R.V.I.S would eventually be transferred into Vision.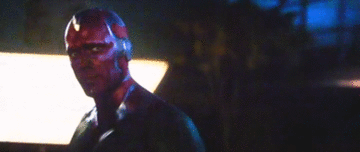 GIPHY
Luckily Bettany was able to take on that role as well.

Another example was the casting of Princess Shuri for Black Panther. When casting, Finn had to look at the chemistry between Letitia Wright and Robert Downey Jr since they'd share screen time later on in the franchise.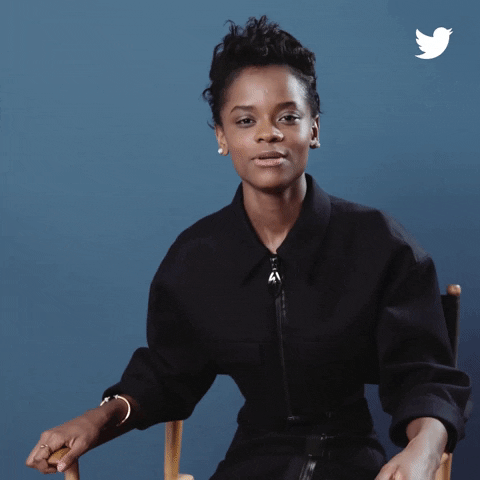 GIPHY
That scene did happen, although it was changed to Letitia Wright and Mark Ruffalo.

And, of course, there is the Mad Titan himself: Thanos.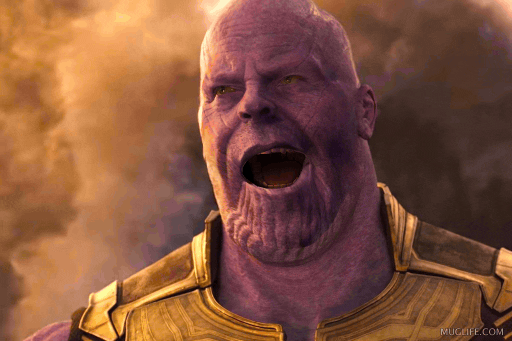 GIPHY
Finn said:

"When Thanos first appeared in the Marvel movies, it was really just a couple lines of dialogue."
"The character was shadowy and not that visible. To see him go from a few lines to being one of the most iconic villains of all time in movie history, I don't think Josh [Brolin] even knew how his character was going to be represented on screen, or the impact he would possibly have."
She also worked around scheduling conflicts and story time lines with huge casts of big stars. There was a year between the releases of Spiderman: Homecoming and Captain America: Civil War but the story lines happen one after the other.
Finn had to find a Spiderman who wasn't going to change dramatically in the year between films so a true teenager was out.
"We had to find a young actor who hopefully wasn't going to grow six inches in the intervening time period. Poor Tom Holland was so antsy and ready to start shooting."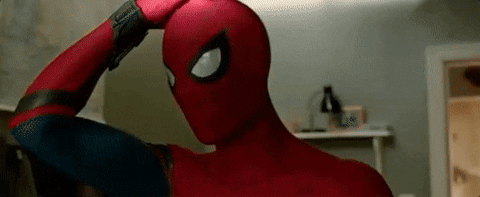 GIPHY
She had similar challenges when casting characters like Thor. They needed someone with Asgardian qualities who could still blend in with Earthlings.

GIPHY
While most casting directors have 12 to 16 weeks to cast roles, Finn often started a year or more in advance to take all these extra needs into consideration.

Now Finn is casting, or has cast, other anticipated movies.
This huge casting undertaking also brought to light the struggles of casting directors and given them their own fan base.
We appreciate all of the chances taken by Sarah Finn and the MCU.
Thank you for the iconic characters!
Keep reading...
Show less
When it comes to making sure you stand out as an awesome coworker, one of the most honored, time-tested, fool-proof methods is to just bring food.
It works for offices, it works for retail jobs, and apparently it works for big budget Hollywood movie sets.
Robert Downey Jr. proved that one with a recent #TBT (Throwback Thursday) post on Instagram that has people kind of swooning.
RDJ "had the pleasure of hosting" a lunch on set for the women of the Marvel universe. He snapped and shared two images of the mini get-together.
If you're one of those people who likes to keep the fantasy pure and doesn't want to see the reality behind the magic, then maybe just skip looking at the pictures.
The group is sitting in a covered tent with a large air conditioning hose at the top and some plants to make it a bit of a more comfortable attractive space.
They're together at a long picnic table which is sitting on a patch of fake grass surrounded by a few bits of outdoor furniture. Essentially, it's a faux picnic!
The cast members are in various states of wardrobe and personal clothing mixed together. It's obvious the lunch was held in between scenes. Gamora (Zoe Saldana), Shuri (Letitia Wright) and Okoye (Danai Gurira) look like they could hit the set again with just a few touch ups.
For example, some of the body paint has rubbed off of Zoe Saldana's arms and the ladies of Black Panther are probably missing an accessory or two.
Mantis (Pom Klementieff) is just sitting around like an adorable bug in casual streetwear hanging out with Captain Marvel (Brie Larson), Scarlet Witch (Elizabeth Olsen) and Pepper Potts (Gwyneth Paltrow.) Evangeline Lilly (Wasp) could literally go for a walk and just look like some super cool person you'd like to meet.
And then there's Nebula (Karen Gillian).
If you're used to seeing her like this...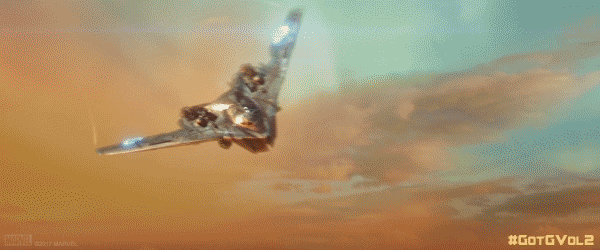 media2.giphy.com
...then seeing her as pretty much just a head sitting on top of a normal body might freak you out a little bit.
#SquadLunch!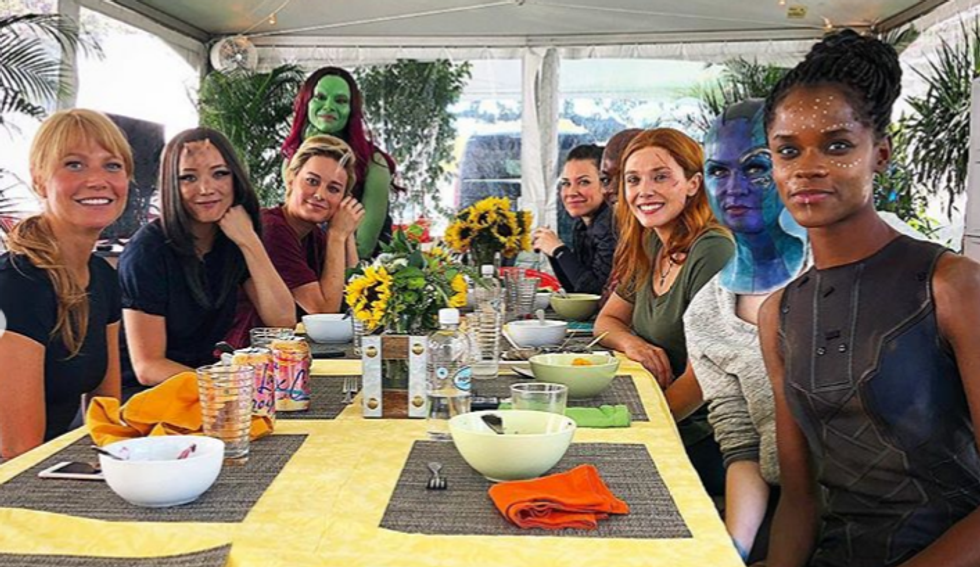 Robert Downey Jr / Instagram Screenshot
Here's RDJ's post:
Of course the comments and interactions came pouring in.
The image has almost 11.5 MILLION likes and well over 85k comments.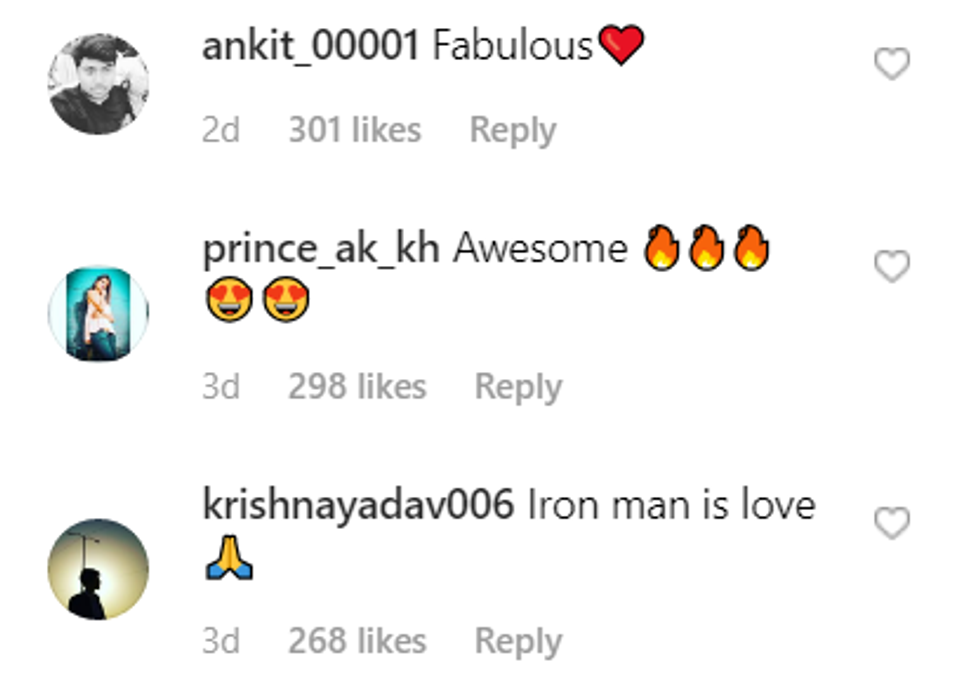 Robert Downey Jr / Instagram Screenshot

Robert Downey Jr / Instagram Screenshot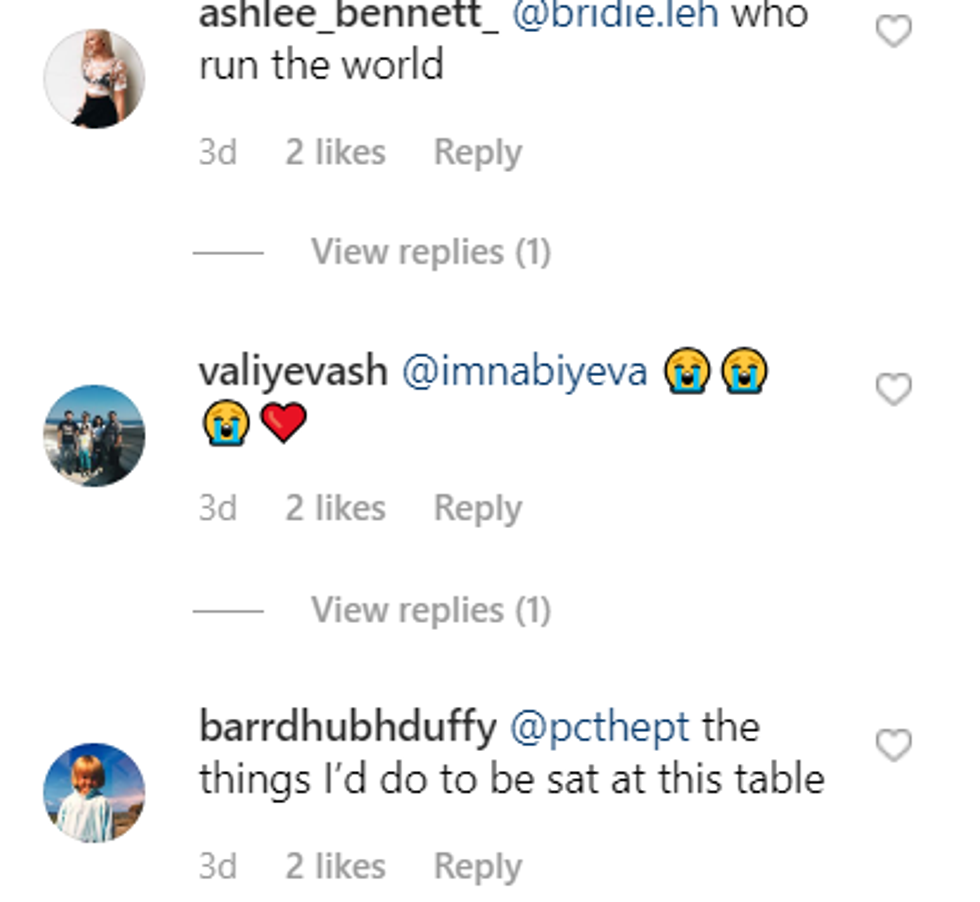 Robert Downey Jr / Instagram Screenshot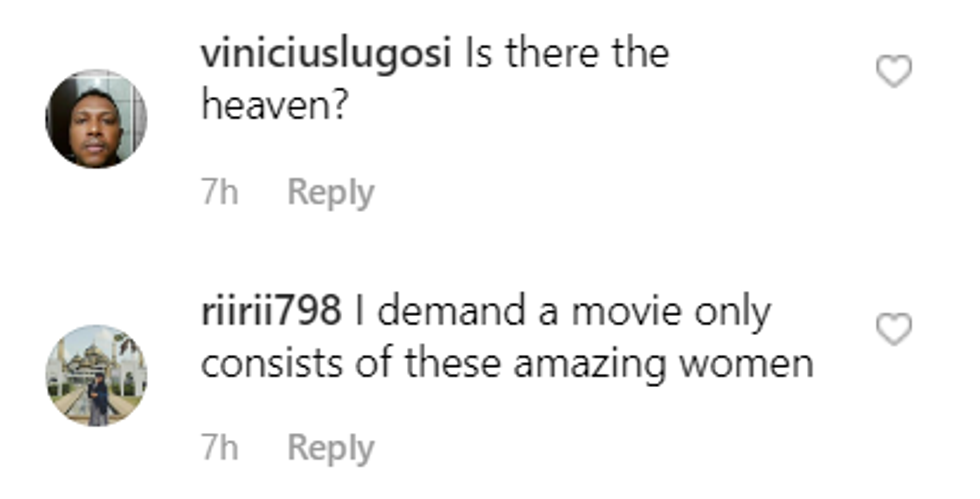 Robert Downey Jr / Instagram Screenshot
Of course, people noticed a few of the notable Marvel women were absent...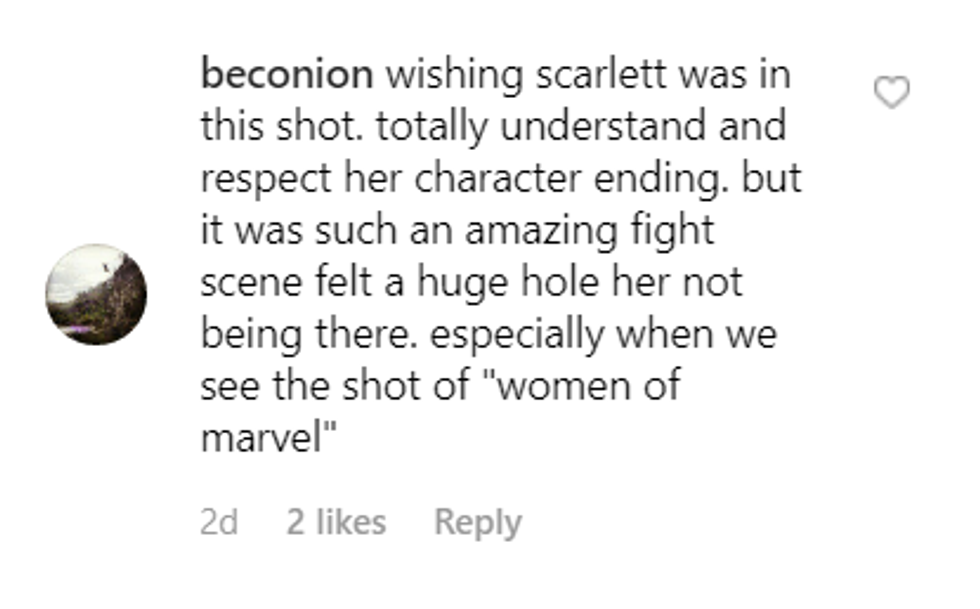 Robert Downey Jr / Instagram Screenshot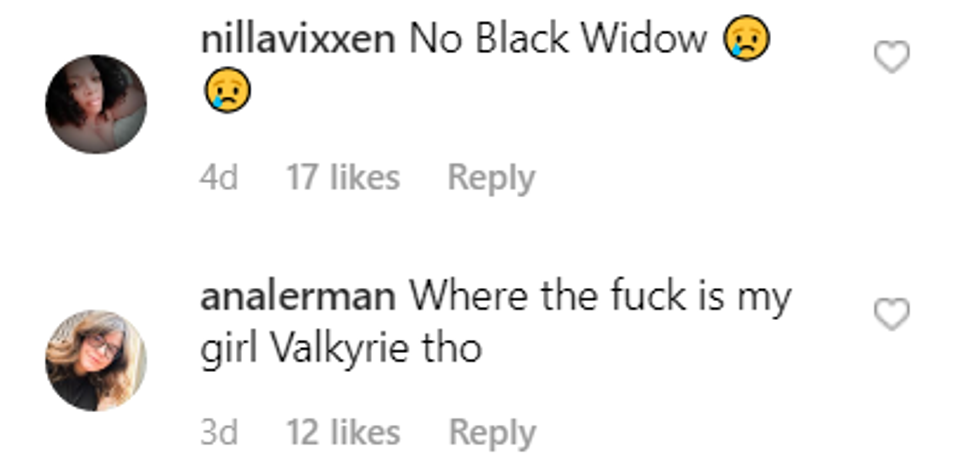 Robert Downey Jr / Instagram Screenshot

Robert Downey Jr / Instagram Screenshot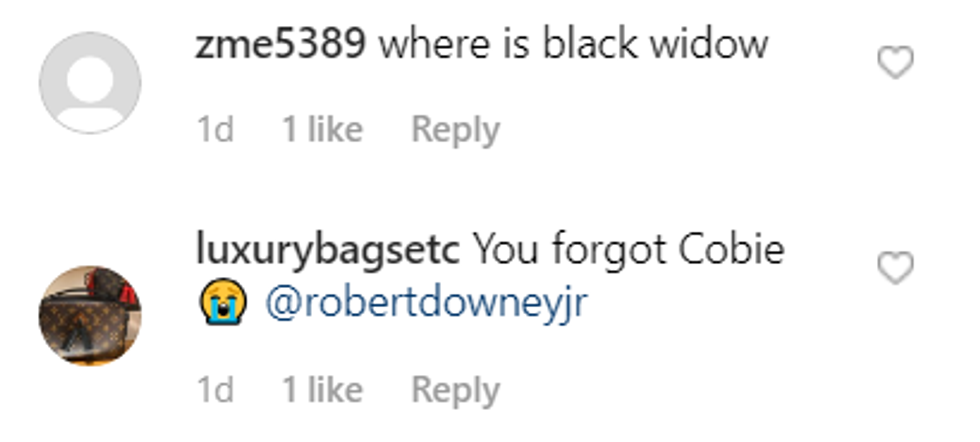 Robert Downey Jr / Instagram Screenshot
Don't stress, though. We are 3,000% positive that neither Robert, nor any of the Marvel fans, could ever actually "forget" any of the powerful women who just weren't there that day.

Keep reading...
Show less
Fans have been wondering and whether there would be an intermission for Avengers: Endgame ever since they found out it would be over three hours long.
In a recent interview on Jimmy Kimmel Live!, Robert Downey Jr., Scarlett Johansson, Chris Hemsworth, and Paul Rudd talked to Kimmel about the length of the film and their experiences as part of the MCU.
Mark Ruffalo previously offered an idea on Good Morning America:
"Bring a box of Kleenex and a diaper."

@heroichollywood I'm going to sell adult diapers outside of movie theaters. What to call them? Infinipee gauntlets?… https://t.co/uvFdkuCXi9

— anthony audy (@anthony audy)1554869235.0
You can see the full, 17 minute, interview below.
Avengers Cast on Premiere, Favorite Lines, Matching Tattoos & Birthday Gifts www.youtube.com
Paul Rudd's suggestion was a bit more crude, but probably just as effective:
"Get one of those giant tubs of popcorn and then just like lower it under the seat, in the middle of the movie and then you won't have to get up."
Twitter had plenty to say about the recommendations, especially Rudd's.
@CBR That's gross, but practical. #AvengersEndgame

— Jack Fisher (@Jack Fisher)1554822248.0
Some had alternate solutions.
Me Before Endgame going to the bathroom for the fifth time even tho I didn't drink any liquids in the past six hours https://t.co/LhfmfzBxbv

— Dakota✨ITS SPOOPY SEASON (@Dakota✨ITS SPOOPY SEASON)1554855766.0
@slashfilm Good I was worried I might've purchased a catheter for no reason.

— Nathan Ross Murphy (@Nathan Ross Murphy)1554852472.0
But anyone wanting tips for endgame: your tears will leave your body dehydrated so you won't need those bathroom breaks in the first place.

— Middle earth (@Middle earth)1554569051.0
@CBR #pissjugs.....problem solved https://t.co/9Kut5wafE1

— Scareythoughts (@Scareythoughts)1554823819.0
Others were less concerned about the length.
Avengers endgame is 3 hours and 2 minutes and you better believe I'm gonna be in there with a full meal with no bathroom breaks

— Bri 🌳 (@Bri 🌳)1554823655.0
Some still weren't sure how they'd manage to make it through.
I hope i can survive endgame. 3 hours w/o bathroom breaks huhu

— Trista Ramos-Pinon (@Trista Ramos-Pinon)1554896509.0
One user suggested a training regimen to prepare your bladder:
@ManaByte If you need to train for Endgame just drink a 2-liter soda and watch this without going to the bathroom 😂 https://t.co/b6EfV1BQXq

— Jeff Mcdickhead (@Jeff Mcdickhead)1554173169.0
There are 16 days until Avengers: Endgame premieres for you to figure out how you want to deal with the lack of an intermission.
Whatever you decide to do, don't buy the giant soda!
Iron Man is an Aries. Is anybody surprised by that?
Robert Downey Jr. turns 54 today, April 4th 2019. And for his birthday, he's given us a gift. Aww, how sweet!
Robert Downey Jr. exploded back into fame in 2008 with the release of Iron Man after a lengthy and tumultuous struggle with sobriety that nearly destroyed his career.
The Marvel Cinematic Universe has been enormously successful and RDJ has become representative of its success, as well as closely linked with his character Tony Stark in real life.
For his birthday, RDJ tweeted a gift for his fans.
But, it turns out the gift he is giving us is a crossword puzzle that is all about himself. Huh.
But since his (and Tony Stark's) entire aesthetic is ridiculous cockiness balanced with a sense of justice and fan-service:
BEST LINES FROM IRON MAN TONY STARK www.youtube.com
Fans were happy to oblige and get to solving.
These overachievers solved it right away:
We were stuck on #3 for awhile ourselves.
But once a Marvel fan sets their mind to something, they seem unstoppable:
Some people (us) really didn't even try, though:
Some people only filled in one clue:
RDJ was also wished happy birthday by his fellow Avengers, some of whom he clearly has a fondness for kissing:
...And who also have an affinity for crossword puzzles:
And, of course, Captain America himself:
Happy birthday, RDJ!
Please don't die in Avengers: Endgame, even though it is heavily hinted you may!
Keep reading...
Show less
It looks like the Avengers are engaged in another civil war. But this, time, it's over facial hair.
Robert Downey Jr. is ready to settle the score in advance of the upcoming Avengers: Endgame, aka the event of the season.
The actor posted a picture of himself at a 2008 Iron Man press tour in Tokyo, with two other photos of his Avengers costars, Mark Ruffalo and Chris Evans, and asked: "who wore it best?"
On Wednesday, the 53-year-old action star tweeted:

"Ok this time it's real – Who wore it best, @ChrisEvans @MarkRuffalo?"
The thread exploded with fans weighing in with additional options from the MCU and beyond.
Some Tom Hiddleston fans wanted to poke fun of his idiosyncratic "invisible" 'stache twirling, but they kept the ribbing, Loki.
The Mark Ruffalo camp voted for their beastly hero. The actor's professional shots featured in the tweet were taken by photographer Jim Wright, according to E Online.
A magazine's poll favored Chris Evans with a mustache.
However, it seems most people prefer their Captain with smoother skin.
Chris Hemsworth was thrown in the mix, and looking damn FINE.
This list is just getting started, folks.

Some stan with Buckey Barnes, played by Sebastian Stan.

It Ant no competition with Paul Rudd.

We have our youngest entry in Tom Holland.

But our spidey sense is telling us he'll grow into his look.
How about Jeremy Renner? Anyone?
Who makes the rules, anyway?

There's nothing strange about Benedict Cumberbatch with facial hair.

The battle is not exclusive to one gender.
I think this really is their endgame.
But we have a winner. The granddaddy of all heroes. We stan with Stan Lee and his iconic mustache.
Get ready for Avengers: Endgame when it hits theaters on April 26.
To the biggest anticipated film – we must dash.

Keep reading...
Show less