The internet is in love with Paul Rudd.
That fact is beyond dispute.
He can do no wrong ever since coming on the scene in 1995's Clueless.
So when footage emerged of the now 50 year-old Ant-Man actor drunk and swaying to the music at a club, people couldn't help but express their admiration.
It seems Rudd has been partying ever since his beloved Chiefs won the Super Bowl.
No one parties like Paul Rudd.
Some were worried about Paul, their one and only.
But most Twitter users just loved Rudd for his little dance.
More and more clips emerged as Rudd's night went on.
Many wished they were there, partying hard with the Rudd man.
Paul Rudd is demonstrating all of our future goals.
Keep partying hard, Paul.
Keep reading...
Show less
Fans have been wondering and whether there would be an intermission for Avengers: Endgame ever since they found out it would be over three hours long.
In a recent interview on Jimmy Kimmel Live!, Robert Downey Jr., Scarlett Johansson, Chris Hemsworth, and Paul Rudd talked to Kimmel about the length of the film and their experiences as part of the MCU.
Mark Ruffalo previously offered an idea on Good Morning America:
"Bring a box of Kleenex and a diaper."

@heroichollywood I'm going to sell adult diapers outside of movie theaters. What to call them? Infinipee gauntlets?… https://t.co/uvFdkuCXi9

— anthony audy (@anthony audy) 1554869235.0
You can see the full, 17 minute, interview below.
Avengers Cast on Premiere, Favorite Lines, Matching Tattoos & Birthday Gifts www.youtube.com
Paul Rudd's suggestion was a bit more crude, but probably just as effective:
"Get one of those giant tubs of popcorn and then just like lower it under the seat, in the middle of the movie and then you won't have to get up."
Twitter had plenty to say about the recommendations, especially Rudd's.
@CBR That's gross, but practical. #AvengersEndgame

— Jack Fisher (@Jack Fisher) 1554822248.0
Some had alternate solutions.
Me Before Endgame going to the bathroom for the fifth time even tho I didn't drink any liquids in the past six hours https://t.co/LhfmfzBxbv

— Dakota✨ITS SPOOPY SEASON (@Dakota✨ITS SPOOPY SEASON) 1554855766.0
@slashfilm Good I was worried I might've purchased a catheter for no reason.

— Nathan Ross Murphy (@Nathan Ross Murphy) 1554852472.0
But anyone wanting tips for endgame: your tears will leave your body dehydrated so you won't need those bathroom breaks in the first place.

— Middle earth (@Middle earth) 1554569051.0
@CBR #pissjugs.....problem solved https://t.co/9Kut5wafE1

— Scareythoughts (@Scareythoughts) 1554823819.0
Others were less concerned about the length.
Avengers endgame is 3 hours and 2 minutes and you better believe I'm gonna be in there with a full meal with no bathroom breaks

— Bri 🌳 (@Bri 🌳) 1554823655.0
Some still weren't sure how they'd manage to make it through.
I hope i can survive endgame. 3 hours w/o bathroom breaks huhu

— Trista Ramos-Pinon (@Trista Ramos-Pinon) 1554896509.0
One user suggested a training regimen to prepare your bladder:
@ManaByte If you need to train for Endgame just drink a 2-liter soda and watch this without going to the bathroom 😂 https://t.co/b6EfV1BQXq

— Jeff Mcdickhead (@Jeff Mcdickhead) 1554173169.0
There are 16 days until Avengers: Endgame premieres for you to figure out how you want to deal with the lack of an intermission.
Whatever you decide to do, don't buy the giant soda!
In 1995, the movie Clueless became a sleeper hit, developing a cult status that continues to this day. It's hard to channel that '90s lingo with that powerful vocal fry and think of any other film.
So when members of the cast reunited over the weekend at C2E2, the Chicago Comic & Entertainment Expo, fans got excited. The group drew a massive crowd to their panel and ignited fans' hopes for a possible sequel.
Alicia Silverstone, who played the main character Cher, posted a photo to her Instagram with herself, Breckin Meyer, Donald Faison and Paul Rudd.
"So much fun hanging out with these boys today #paulrudd @donald_aison and @breckinmeyer! They had me laughing so hard on our panel. Such a great day at #c2E2"


Faison and Meyer, who also have Instagram accounts, posted the same photo saying respectively,
"Rolling with the homies… #clueless #PaulRudd"


and
"We. Have. No. Clue."


And fans could not be more excited.

@aliciasilverstone/Instagram

@aliciasilverstone/Instagram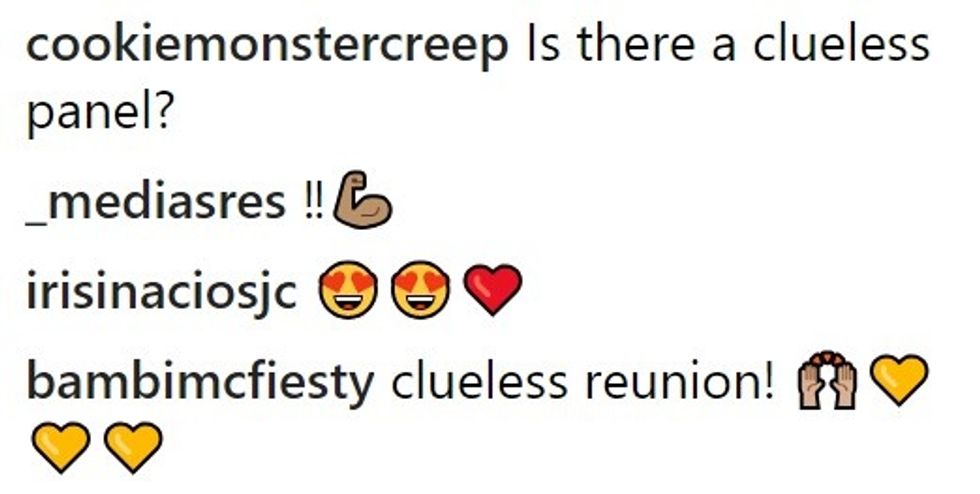 @aliciasilverstone/Instagram

@aliciasilverstone/Instagram
The film earned the love of fans by being a decently faithful, modern retelling of the book Emma by Jane Austen. Cher plays matchmaker with her friends, and through the course of the film comes to understand herself.
The movie was praised for its accuracy in its depiction of '90s teenagers. The characters' lingo is still memorable to this day. And their chemistry was absolutely wonderful.
Which was on full display in the panel.
.@donald_faison: Thank you for including Breckin. @breckinmeyer: Which is also the title of my autobiography. #clueless #c2e2

— Clare Kramer (@Clare Kramer) 1553362747.0
Okay, someone just asked Breckin and Donald about doing a DuJour reunion, all is forgiven, audience.

— Genevieve Koski (@Genevieve Koski) 1553362888.0
.@donald_faison: Do you remember, y'all took me out for my 21st birthday? @AliciaSilv: *I* was there?!? Paul Rudd… https://t.co/4Iy8WVYnAQ

— Clare Kramer (@Clare Kramer) 1553362396.0
Donald: "For some reason my nickname became 'Clueless!' Like 'YO CLUELESS!'" Breckin: "That wasn't because of the m… https://t.co/GwLNv30wTn

— Wendy Fox Weber (@Wendy Fox Weber) 1553363300.0
Q: I wrote my dissertation on how #Clueless is the best Jane Austen adaptation of all time… @breckinmeyer: Yeah! Suck it, Paltrow! #c2e2

— Clare Kramer (@Clare Kramer) 1553364281.0
Silverstone revealed she had some difficulty relating to Cher at first, dismissing the character as too materialistic. However, she eventually found the sweetness in the character, crediting Amy Heckerling's writing.
"Her script was brilliant and I laughed the whole way through."


Faison and Meyer were cracking jokes like old friends.
And everyone agreed that Paul Rudd has not aged in over twenty years.
"They had to knock on Paul's trailer an hour early because he had to finish sucking the lifeblood out of babies."


Meyer jokes.
The only problem with this reunion is that I wasn't there.
Lmaooooo at there being a clueless reunion at c2e2 today and we're going tomorrow https://t.co/Vs8XQmh8PS

— Fanny Dooley (@Fanny Dooley) 1553390030.0
Nothing made me more upset than not being able to get in to the Clueless Reunion panel today, I even wore my Cluele… https://t.co/xi2Rql7HHI

— spooky ghost e 👻 (@spooky ghost e 👻) 1553388781.0
I wish I was at the Clueless reunion just so I could ask someone how the fuck Josh knew where Cher was when she jus… https://t.co/9TsJOXvQTB

— Brandi, #1 Libby the Cat Fan 😾 (@Brandi, #1 Libby the Cat Fan 😾) 1553465022.0
The cast didn't confirm anything about a sequel, letting fans cheer for a "if we were to ever do a sequel…" comment. However the enduring camaraderie of the cast makes us excited if they ever can put it together.
Keep reading...
Show less