I love movies. Who doesn't right? Movies make history. They act as bookmarks for our lives. We'll always remember where we were the first time we saw a particular film. And we carry the characters with us. That's why movie deaths can be so visceral.
Who hasn't openly sobbed amongst strangers when a certain character's life is snuffed out? I believe the earliest movie death people recall being traumatized by is Bambi's mom, and it's downhill from there.
Let's grab some tissues and be traumatized together.
Redditor u/gambit_- wanted to compare notes on which character endings in film we'll never be able to forget, by asking:
What movie death scene is burned into your memory?
I still get choked up when I think about Jack's death in "Titanic." Although part of that death is fury. Why in the world didn't let him on the board with her? She didn't deserve him! We'll never let go Leo.
Heartless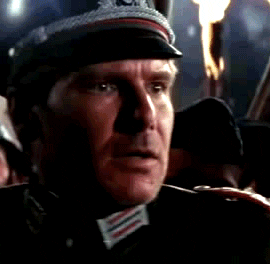 indy jones favourite part ever GIF by hoppip
Giphy
"That poor guy who gets his heart ripped out by Thugees and sent into lava in Temple of Doom always got me as a kid. Still pretty memorable."
Flushed
"The toilet guy in Jurassic Park 1."
"That really messed me up when I saw it at 8 years old. Meanwhile, we decided to show it my 5 year old recently and he laughed and had almost no reaction. My 4 year old brother saw it in the theatre with my family and he also had basically no reaction."
- spaketto
Goo Away
"When the bad guy kills the shoe by dipping it into the goo in Who Framed Roger Rabbit."
"That one is so freaking terrible, man. If you think about it those toons don't even have the notion of what death is. When a toon is shot in the face they just get real dirty or, worst case scenario, turn into a cartoon angel only to come back to normal by next week. Not that shoe, though. The shoe is gone forever. It's the first and only one of their kind to ever meet total oblivion and just die for good. That's gotta be a doozy."
Too Heavy
"The freaking baby in Trainspotting. Jesus freaking Christ."
- CSWoods9
"Something I read on Reddit in a similar thread, that I refuse to fact check because it makes me feel better, is that every single actor on set played with that baby every time the camera cut because it was such a heavy scene. Apparently the baby was just super stoked to get all the attention and it helped the actors and crew deal with it."
"Edit: I took a risk and googled it and it's true! According to the twins who played the baby! "We weren't on the set a lot but, when we were, apparently everyone was a bit more relaxed and all doing baby stuff with us. So it helped to take away a lot of the tension from filming such hard scenes."
Daddy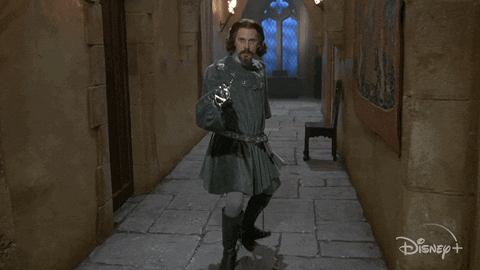 Run Away The Princess Bride GIF by Disney+
Giphy
"The six fingered man in The Princess Bride. "I want my father back you son of a b**ch."
I LOOOOVE Roger Rabbit! Such a classic. That death is funny and haunting. I think it's that psychotic voice. I hear it in nightmares. Ad watching "Trainspotting" once, was more than enough.
Lenny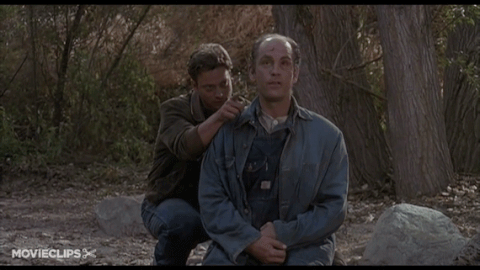 of mice and men GIF
Giphy
"Of Mice and Men when George killed Lenny."
"It was so much worse in the book though! In the movie he pulls the gun and BAM, it's done. In the book he has the gun out and aimed with his finger on the trigger, just agonizing over it for so long before he can bring himself to do it."
Not so Lovely...
"Some times I think about the Lovely Bones, especially when I talk to strangers. That movie upped my paranoia when I was a kid."

- mcdadais
"I'm not even a parent and that movie still got to me. Just seeing how the parents dealt with her death... How they kept her room exactly the same...The book was really good, too."
"I will always thank my dad for raising me the way he did - don't be polite. Don't be afraid to make a scene. Be prepared to be embarrassed later if you're wrong - that's better than being a statistic. He raised me to stand up for myself and not be polite to my own detriment."
VALID!
"The scene from The Brave Little Toaster where the air conditioner goes off the deep end and explodes himself: I'M NOT AN INVALID! I LIKE BEING STUCK IN THIS WALL! IT'S MY FUNCTION! Update: I had no idea this movie was so influential to other people too. I'm glad I'm not alone because I don't know many people who've even heard of it!"
- Aksfsc
Flies
"Grave of the fireflies That scene is "burned" into my memory."
"I think the beginning scene where he's just lying there, waiting to die along with the other forgotten people is really profound alone. Then the movie goes into his life and what a loving and vibrant child he was and ends with the scene of him dying there, and nobody caring at all until his sister comes to get him. Ugh. So heart-wrenching."
Neverending...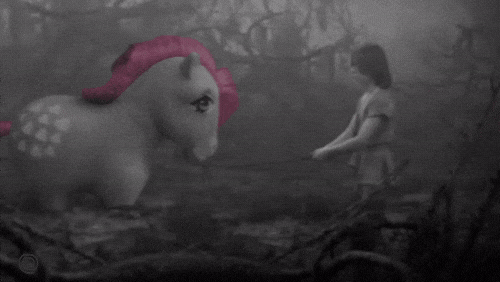 my little pony 3d GIF
Giphy
"Artax, please. You're letting the sadness of the swamps get to you. You have to try. You have to care." 😭
"The Neverending Story" is neverending trauma. I can't with that movie. All this gloom, some deaths can be funny as well. I love every death in Clue. They never get old.
Want to "know" more? Never miss another big, odd, funny, or heartbreaking moment again. Sign up for the Knowable newsletter here.

Keep reading...
Show less