Game of Thrones SPOILERS are here, so if you don't want them, steer clear!

"The Bells," the penultimate episode of Game of Thrones, saw the deliciously devilish Cersei Lannister and her twin brother, Jamie, meet their ends, crushed to death in the collapse of the Red Keep.
Actress Lena Headey played Cersei to enormous acclaim over the last eight years. She took to Instagram to pen a goodbye to the character so many of us loved to hate.
It was a short and sweet message, but Headey managed to say it all:
"There she goes. It's been fun, and bonkers. I loved her. I am grateful for the opportunity. Massively thankful for your encouraging and supportive love along the way. And now her watch is ended (I know she'd never make it, Nights watch wouldn't have her .. but still..)"
A bunch of Headey's celebrity fans, including her costar John Bradley West (Samwell Tarly), praised her and sent her well wishes for playing perhaps the most definitive villainess of the last decade.

Instagram
Her costar Pilou Asbæk (Euron Greyjoy)...


Instagram
Actress Natasha Lyonne...

Comedian Ali Wong...

Instagram
RuPaul's Drag Race contestant Shangela had something to say: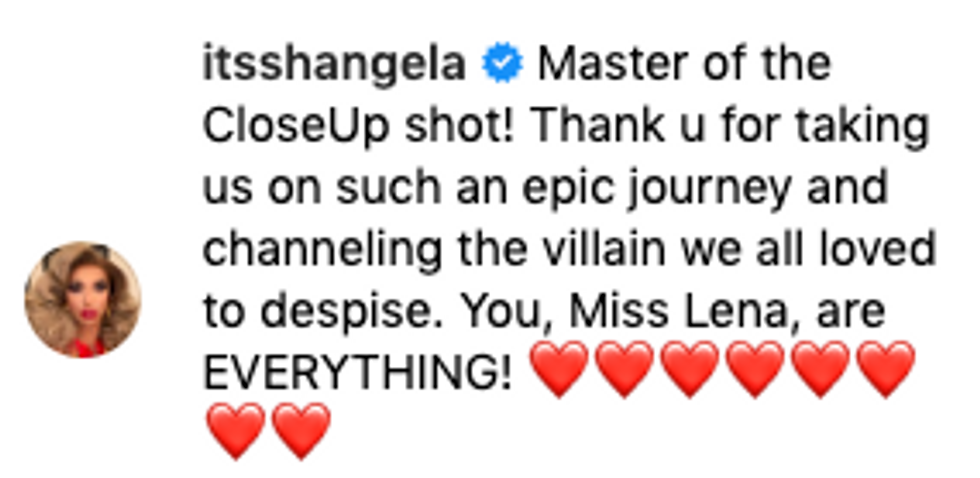 Instagram
As did many others:

Instagram

Instagram

Instagram
Headey also took her fans on a little trip down memory lane, sharing a photo of herself with her costar Nathalie Emmanuel, who played Daenerys Targaryen's aide Missandei.
Cersei had Missandei beheaded in "The Last of the Starks," so it's good to see that Emmanuel and Headey are such good friends off screen!
She also shared a photo of herself and Nikolaj Coster-Waldau (who played Jamie Lannister) on set.
Headey has earned rave reviews from the start of the show.
She described her last day on set as an emotional one in an interview with Entertainment Weekly:
"I told Nikolaj, 'I've never seen you so sweet and sentimental.' And he's all, 'What's happening to me?' We kept cuddling going 'I love you.' It was weird. There's a sense of loss that nothing like this will ever happen again. There was a great sense of grief and an enormous amount of gratitude going on."
Farewell, Cersei. You will always be our Queen.
Keep reading...
Show less