When you open the doors to your home, you would expect the guest would treat your property as if it were their own.
But sometimes, that's not always a good thing if your house guest is a slob.
Growing up, there was always a house rule everyone respected.
Everyone would take their shoes off and wear provided slippers before walking onto the carpet. It was just common courtesy in our culture.
So when I was in college, and I had friends over one night – and well – lets' just say it didn't go well. More on that later.

Curious to hear from strangers about their rude house guests, Redditor xxHEYxx asked:

"What's the most disrespectful thing a guest ever did in your home?"
Some of the things these house guests did were so wretched, they were neither seen nor heard from again.
Stealing Milk Was The Least Of The Problems
"Had my girlfriend, and another now exfriend come over to my house.. My grandmother on my mom's side lived with us at the time. She had advanced alzheimers, and could only communicate with basic phrases. She was so bad, she would pat people on their backs and say 'good, good, good.' She also walked around with a zip lock bag of Q-tips that she would hand out as gifts.. Anyways, on this evening, said friend decided it would be funny to pants her in front of me and my girlfriend... He was promptly punched in the face and told to leave before he got hurt. I was shocked and enraged by the disrespect he showed my family, and my ill grandmother. Been 20 years and still have nothing to do with him. This guy was also the friend that would open our fridge and actually drink directly from our milk..."
– cliffy80

Permanently Banned
"A friend of a friend crashed a party at our house. He proceeded to tell everyone that he was a drug dealer and he could get them the best product. He hit on all of the married women who had not brought their husbands, punched the friend who brought him and drove home, drunk and high. He is the only person I have banned from my house."
– Cowhaus

"Damn Cockroach"
"My sister use to stop over, drink my beer, steal my wife's clothes, make a mess, then leave. We changed the locks so she'd steal my parents key to get in so we stopped giving them one and somehow she'd still get in, like a damn cockroach. We have since moved far out of her visiting range."
These people could not keep their DNA to themselves.
Skid Marks
"Dude came over, apparently sh*t his pants and threw his heavily skid marked underwear in with my dirty laundry pile. I found my dog chewing on his underwear the next morning."
Contaminated Cake
"The couple sat down at a table with a cake (which hadnt been served it) took each a fork and started to eat it, not cutting the cake into a piece for themselves, but going back and forth with forks to mouths and to cake, smacking and slurping. Nobody else wanted any cake."
Snot Very Nice
"Blew his nose on a tissue and then just threw it on the floor. Worst thing is, he expected me to pick it up for him."
When people destroy things – including relationships – after being welcomed into a person's home, they should never expect another invite ever again.
Drug Addiction
"A 'friend' asked to stay with me for a few days because she was having relationship problems. Turns out the relationship problems were all down to the fact she had a massive drug habit and her boyfriend was fed up of her spending all their money on it. The first night she invited 5 people who I didn't know round after I'd gone to bed and I had work the next day. Then she just disappeared for 3 days and went on a bender, I had her boyfriend calling me worried sick and nobody knew where she was. When she finally turned up she called me a sh**ty friend for not covering for her. She didn't even ask me to! Yeah we're not friends anymore."
– dd2487

No More Toys
"Had some friends in middle school come over and smash up all the Lego sets in my room then wondered why I didn't want them to come over again."
Ruined Carpet
"Neighbor's kid came in with dirt all over his feet and then wiped them on the carpet. Never did get the stain out."
– kwaters1

So, back when I was in a college marching band, I tried to fit in as most freshmen did back then.
When our drum major couldn't find a place to have a house party, I happily offered my place – without consulting my parents.
It happened to coincide on the night my parents were out and I had the place to myself. So my buddies came over with cases of beer...and their muddy shoes.
I didn't have it in me to inconvenience them by asking to abide by the no shoes house policy.
Of course, my parents came home early and witnessed the travesty. The place was a mess, and I had to cover for the professional carpet cleaning later.
But you know what? I became the popular freshman in the band. At least for that month. Yeah, I do not miss my college years.

Keep reading...
Show less
If you don't have any experience with construction, it can be pretty interesting to watch those reality HGTV shows (I know I'm addicted at this point). Some of the best episodes can be the one's where they open up the walls to find the builder didn't do anything right, causing a huge blow to the budget. The drama!
As someone who doesn't know much about building, and is dreaming of homeownership, Redditor Vast_Recognition_682 asked a question I wish I had thought of first.
Redditor Vast_Recognition_682 asked:
"Home inspectors of reddit, what are some horrible things that almost went unnoticed?"
Here's some horror stories that shed a little light on the home owner unknowns.
Want to "know" more? Never miss another big, odd, funny, or heartbreaking moment again. Sign up for the Knowable newsletter here.

Keep reading...
Show less
When you are alone at home, your imagination can get the best of you.

Unfortunately, not everything is a figment of your imagination, because you may find you are not alone after all.
Many of them recalled having unexpected visitors. Not all of them were human.
Others shared creepy anecdotes that were total misunderstandings.
Keep reading...
Show less
People treat their homes as their sanctuaries - so having a job that takes you into peoples homes gives you a glimpse into things that the rest of the world may not get to see.
Sometimes you kind of wish you didn't either.
One Reddit user asked:
Redditors whose job requires them to go into other people's homes for a living, what's the most bizarre thing you've seen or found?
We expected stories about adult toys or humiliating family portraits or something - Reddit gave so much more. Proceed with some caution - it's not all fun and games .
There are talks of animals and children in unhealthy conditions, mental health struggles, and some "interesting" anatomical wall art.
I'll Never Forget Him
Realtor here. I was showing a house that was supposed to be empty. I knocked and rang the bell to make sure.
Once inside I walked into a bedroom and found the current tenant butt naked absolutely slamming on an electronic drum kit in what was a mostly sound proof room.
He never noticed I was there, but I'll never forget him.
- nolatime
Counter Hot Dogs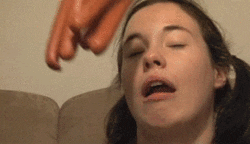 Hot Dog Girl GIF
Giphy
Back in my teenage babysitting days, I regularly watched three kids whose parents kept one of those ENORMOUS packages of hot dogs out on the kitchen counter.
Everyone in that household would just wander by and grab a room-temperature hot dog as a snack whenever they felt like. I babysat for them 2-3 times per week for over a year and never not saw those hot dogs. I wonder about them all the time.
Seriously though, just the idea of this made me nauseous. Fleshy, slimy, overly salty, cold yet somehow suspiciously warm hot dogs... probably the worst combination of things for a food to be. How did the kids never get food poisoning?
A Hallway Toilet
Former babysitter, one house had a toilet in the hallway.
Not a bathroom - just a toilet literally in the middle of a carpeted hallway (against a wall) that totally worked. It was parallel to the wall not perpendicular- there was zero cover around it and it faced the stairway. So if you used it, and somebody came up the stairs, you were going to be making eye contact.
I never understood it. It looked like someone just set a toilet down for a minute.

There was a full bathroom 6' away connected to the hallway.
This was a small 2 story house with a family of 4. The hallway was narrow and if the toilet was perpendicular to the wall I'm not sure you could have walked by down the hallway without bashing your shins on it...unless you turned sideways.
It did work, it was clean, but probably wasn't used by the family since it was covered in child locks after the toddler discovered flushing things.
The Wall Plaque
I noticed a plaque the size of a large clock above someones' mantle. These people were middle aged white folks in the the middle of suburbia.
The plaque had names where numbers would be and a small trinket below the name.
I wished I would have never asked about it, because it turns out it was the preserved circumcision skin from all the men in their family. There is literally no appropriate response here... I literally just left the room and acted like I never heard anything.
She Never Mentioned The Naked Man
Installed sod at this lady's newly built home. She was in her mid 60s maybe. Anyway, she didn't know where the valve to the exterior tap was in the basement and asked if I could go down and turn it on for her. No problem. I go down the stairs to the unfinished basement and it's pitch dark. I find a light switch and then suddenly there is a 400 pound man naked and asleep on a mattress three feet away from me.
She never mentioned this before I went downstairs...
Kinship
A few years ago I was a social worker at a Child Placing Agency. In my state CPS can place children in kinship homes (relative, family friend, a person the child is familiar with) with little to no vetting- just some paperwork and a quick home walkthrough.
This woman was a distant aunt of four kids, making her a kinship home for them. Most kinship homes try to get licensed with a Child Placing Agency after the kids are placed because it will provide them more financial and therapeutic support for their kids. This is what brought me to her home.
She had a jaccuzzi in the center of her carpeted bedroom that she and the four (foster) children bathed in. There was no shower head or curtain. They also all shared a toilet in her bedroom that had no walls/ door around it. Absolutely no privacy.
All of the kids slept in the living room while she slept in the master bedroom.

During my home inspection I found three doors that had been completely plastered over and couldn't be accessed- she informed me that one was a full bathroom and the other two were bedrooms. None were accessible but she insisted that she used them to "store her tools."
I was so creeped the hell out.. there was no possible way for her to get to her "tools" from those rooms. The kids could have had bedrooms and there was no need for anyone to be bathing or using the toilet in front of anyone else.
One of them was a 12 year old girl.. imagine getting your first period in that home. ☹️.
I did everything i could to help the kids move.
I obviously did not license her home and I detailed all of my concerns about the children's living situation via phone and written report to CPS. I, of course, told them I did not think this woman should be caring for children.
One upsetting thing is that once her application was denied and I explained that I didn't believe the kids should be there or ever have been there I was basically removed from the picture. I did not technically work for CPS, so I couldn't tell you what happened after.
I think about it a lot and hope that the children are in a loving and caring home.
Karma And Bugs
I was working in this one hospital where this mother/daughter pair always came in with their two little chihuahuas. The women were always rude and obnoxious no matter how we bent over backwards.
Anyway. They'd been coming in repeatedly complaining their dogs had fleas and no treatments we'd sold them were working and the dogs still "had bugs."
So this one day they come in and demand to see their usual vet, who goes out and is greeted with a bag of "fleas" and shouting about how they were right/we were wrong cause look, they were still battling fleas despite treatment!

If you've ever had, seen, or known anything about fleas, good f*cking luck catching a bunch of them to put into a ziploc bag alive. They were definitely not fleas - but he didn't know what the hell they were, so he brought them into the back and asked if anyone had any ideas.
I'd just seen an episode of Monsters Inside Me about bed bugs. I said they were bed bugs and I was right (later confirmed it with a friend of mine who was a state entomologist who specialized in them!).
Apparently these always-obnoxious women had recently gotten a used couch for their basement from somewhere.
Karma? 🤷♀️
Those Poor Rats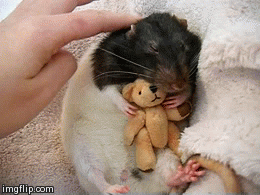 animal s cuteness GIF
Giphy
I volunteer for a breed-specific dog rescue and do home visits/inspections for people who want to adopt dogs. It's usually mostly a formality to make sure the potential adopters know the quirks of this breed and are well prepared to live with them and allow them a chance to ask me questions about living with this breed.
One home visit though.... it was in a rough part of town. A woman and her 17-year-old child living in an elderly and incapacitated man's home. They helped care for him in exchange for a place to live. The home was just generally not in great shape, cluttered, not super clean.
The woman and her daughter lived upstairs, which was 3 small bedrooms, all with the doors shut. They open room 1... it was being used to house foster kittens.
The 2nd room was the girl's bedroom, but they opened the door and it was just crammed with junk. You couldn't even get into the room. So the mom and daughter shared a bedroom.

They open the door to this 3rd room. The smell of ammonia instantly hits me. My eyes are burning. I feel like I can't breathe. There was a mattress on the floor that took up most of the room. Lining the walls were 20 gallon aquarium tanks, all filled with rats.
Dozens and dozens of pet rats in each one. No bedding or toys for the rats, just bare glass, food and water. The glass sides were covered in pee from the rats trying to climb out with their pee soaked paws.

The woman mentioned she had cleaned these aquariums the day before. I felt so so bad for those poor little rats. The way she spoke about them, I could tell she loved them very much. She just clearly couldn't care for them the way she should have.
I only stayed in the room for a couple of minutes before wrapping up the visit. I had a pounding headache from the overwhelming smell. I have no idea how they actually slept in that room. That was the only home I ever visited that I didn't recommend as an adopter.
Wild And Elderly
Was tasked with removing a rattlesnake from an elderly ladies home. What was found was her sex toy lodged between furniture and the wall while on/vibrating.
Poor thing thought it was a snakes rattle lol.
Turned it off (with gloves) and told her the snake had been removed! Makes me laugh, she was a sweet lady.
That Skin Smell
I used to do home health and just go in and help people with everyday things they couldn't do because of their condition.
Had this really sweet older lady with a bad case of psoriasis. Her floors had a layer of dead skin covering nearly every square inch of the apartment. It was even in her dogs water bowl.
I did my best to keep it clean, and visited twice a week. Each time it was just as bad. I can still smell it if I think about it.
Goat Head Stew
Used to live in south Florida and worked an apartment complex.
One day we cleaned out this apartment after tenants moved out, wasn't too bad as it was mostly clean, but the shocking part was finding a severed goat's head in the fridge (on a platter not just stuffed in there), it was skinned and everything. Startled the f*ck out of me and wasn't sure what to do.
Supervisor said it was no big deal, It's common among Haitian/Jamaican/Island populations to use the whole head for a stew.

My partner is Jamaican, as is his family who lives in south Florida. This is a common dish that's made, literally called goat head soup. Just asked them to confirm and the response was "yeah, it's good as hell" haha.
Goat cheek is some of the best meat I've ever had. Bought a head off some Persian guys I knew from the jewelry stand at the mall. Made an epic stew. Scared the sh!t out of my roommate's gf when she got home lmao.
They Come At Night
I worked for 18 years as a cable/phone service tech in a big city. I've seen a lot. A few stick out, but the one that always made me sad was an apartment of someone with extreme schizophrenia living in government housing.
This disease tends to make people think that they are being monitored, so often in a bout of extreme mania, someone with it will tear out all of the phone and cable wiring in their place and then later realize that they need it and call for a service call.

I had to go back to this woman's place a few times for this. She had written on every square inch of her apartment walls - sentence fragments, different thoughts and things that seemed to be written in different voices.
She had cut a 1x1ft hole in her wall around her phone jack and ripped all the wires out. I patched up what I could and assured her we wouldn't bill her.
She also cornered me at one point to tell me that it wasn't her writing on the walls and that people come at night and do it.
Keep reading...
Show less
It's quite common for children to discuss their dream houses. They conjure fantastic images of all-powerful gadgets, rooms dedicated to desserts, and houses high in the clouds or down at ocean's bottom.
And yet, adults seem to equally prone to dreaming. But their imagined palaces illustrate a clear change in priorities since those earlier years.
A recent Reddit thread asked people to describe their ideal household features and designs.
The resulting list was a wide-ranging list of pragmatic solutions to problems as well as plenty of absurd investments in comfort and leisure.
Butterflies_Books asked, "If you had enough money to build your dream house, what's a strange room/feature you'd include?"
Want to "know" more? Never miss another big, odd, funny, or heartbreaking moment again. Sign up for the Knowable newsletter here.
Keep reading...
Show less