Hearing people open up about their near-death experiences is fascinating and it can reignite a sense that life is precious and can be taken away from us at any given moment.
But while a renewed perspective on life after narrowly avoiding accidental death is affirming, nothing is more terrifying when considering those who've managed to avoid death when it was motivated.

Curious to hear from those who were lucky to survive violence at the hands of someone with an intent to kill, an anonymous Redditor asked:

"Murder attempt survivors, what happened?"
These Redditors experienced sharp pains after being sliced. They live to tell their story.
Ultimate Defender
"9 years ago, buddy got jumped at a house party. I jumped in to pull the guy off of him. Attacker ended up pulling out a knife and shanking me in the stomach before fleeing to a getaway vehicle."
"Police were called. Caught the guy. We were supposed to come into court to point at him and be like 'he did it' but the day before he pleaded guilty. No idea what happened to the guy after that or what his punishment was but he probably didn't learn anything from the situation."
"Me? I feel completely fine. Sometimes I forget that I even got stabbed. I feel a little uneasy whenever someone has a knife in their hand and its not dinner time, but that's about it as far as trauma goes."
– TheBadman9001

Disturbed Patient
"I was working as a support worker for people with mental and physical disabilities. My client had schizophrenia and BPD due to childhood and substance abuse."
"She stabbed me three times in the chest (once in the heart, penetrating my right ventricle and severing a major artery) after I advised her against a medication (nicotine gum). I almost died, doctors said that it was a miracle I survived, with a 3% survival rate due to the severity of my injuries."
"That only happened back in August this year, I'm still in recovery and I'm dealing with PTSD. She's completely ruined my life, and I'm now struggling with my identity and what I want to do in life."
– fridaskahlo

Targeting The Paramedic
"A pregnant drunk lady called an ambulance. I was working with a junior colleague but a female one. The patient said she thought she was in labour and was sat on the floor legs open knees bent with a blanket over her lower part. There was a small table next to her, glass top wooden coffee table thing. My colleague asked to examine her and for some reason she got angry and insisted I examine her not my female colleague. After a bit of back and forth I knelt down and went to lift the blanket to have a look when there was a sudden crash. My colleague had put her foot through the glass table and was standing on the patients hand which had a huge knife in it. Turns out she wanted to stab a paramedic and when we turned up she chose me. My colleague saw it just in time and saved my life."
"Patient had already had several children who were in care and had foetal alcohol syndrome. I was asked for a statement when the next one was born and they were also taken in to care."
"She got away with the premeditated attempted murder on grounds of mental health."
– AsleepPipe371

Parents are supposed to raise you, not kill you.
Going For A Spin
"I was 17 at the time. I was wicked sick one weekend and my mother decided I needed to go to the hospital. She had been drinking all day, as she was a terrible alcoholic. It turned out that I had strep throat. So they're typing out my discharge paperwork and my mother approached the desk where the nurse was sitting. Clearly stinking of alcohol, the nurse told my mother that she wouldn't be allowed to drive me home because she was clearly intoxicated. This sent my mother into a drunken rage, swearing and threatening the nurse. Who told her if she left the police would be called. My mother grabbed me and hurries me into the car. I start yelling at her about how irresponsible she is and how she is ruining her life with alcohol. This pisses her off even more. We only live less than a mile away but my mother has taken a different route than normal, when I ask why she just says it's the long way and she doesn't want to get caught. As we're traveling down this dark, Maine back road she begins speeding like crazy. We were doing at least 90 mph when she looks over at me with a blank face and says I'm sorry. She then pulled the E brake and cut the wheel sending us flying off the road."
"The next thing I remember is sitting in the front seat of a pickup truck with an EMT shining a flashlight in my eyes along who the president was. I responded that Bill Clinton was the president (2000). Apparently she had crashed us into a huge rock at the end of someone's property, directly on my side of the car. Apparently I crawled over her and staggered to the door of the property to ask for help. They put us in different ambulance and we headed back to the hospital we just left. Upon arrival, the nurse my mother fought with said 'I knew you'd be back'. My mother in a drunken semi conscious state kept saying I'm sorry I tried to kill you, I love you, over and over. She suffered several broken ribs, a broken collar bone, broken nose and cracked vertebrae. I had a concussion and some cuts on my face from the door window basically exploding on impact with the rock. She was sentenced to some alcohol program through the courts and some community service. She suffered severe depression and six months after this she took her own life in another car accident. She actually asked me if I wanted to go for a ride with her that night and I told her no, I'll see you when you get home. That was the last thing I ever said to her."
– Sentient_DMT_Crystal

Violence At Home
"my mum was incredibly abusive. on one occasion, I was around 12 and she came into my room while I was sleeping and stabbed me in the chest with a kitchen knife, puncturing my lung (I didn't know this at the time). obviously this woke me up and I just rolled out of bed and ran around the house screaming. someone on our road noticed the noise and called the police. just before the police arrived, she started choking me and I lost consciousness. I later woke up in the hospital and (mostly) recovered. she's now in jail. this is not the only time that she tried, but it was the most dramatic and came the closest to actually killing me."
– 1BUK1-M10D4

Don't Do Drugs
"I was 15 and my dad plotted to murder me. My dad had only been back around for a few months after being homeless for a while due to his 20+ year meth addiction. He had never been violent towards me before, but I later found out he had tried to kill my mother just months prior and she brushed it off as him having a PTSD episode."
"I came home from school, he surprise attacked me by suffocating me with a pillow/strangling.
"I ended up being able to get up and run to the bathroom- the only room in our house with a lock. He grabbed the door but I found a sharp object in the bathroom and told him to back up or I'd kill him. I somehow was able to shove the door shut and lock it. He tried to get in the bathroom but couldn't."
"He actually said 'I'm leaving!' and open/closed the front door to try and lure me out. It was quiet for a while but then I heard him breathing outside the door. He eventually left after a few hours, taking my money I had hidden in my bedroom, and called a relative telling them I'd been in a terrible accident and he needed a ride to the hospital. He ended up running when dropped off and was missing for a year. Most terrifying year of my life."
"His body was found by a fisherman at his favorite lake growing up. They found high levels of meth in his system."
"Later, when investigating the home I was attacked in, they found hammers/duct tape/knives under my mom's mattress and looked like he very much so intended to kill me."
"Edit: Thank you everyone for the kind words. Certainly the craziest life experience I ever hope to have and therapy was a long journey. The craziest part of it all was that my dad from childhood was still there simultaneously with the horrid attacker. He cried outside the door for a while telling me he was so sorry and I wouldn't ever see him again, but would switch to trying to lure me out and being aggressive. There were many moments I could hear the duality of who he was. The murderous cracked out crazy person and someone who was regretful and really sad inside. Idk- just thought that was an interesting thing to add for context. It's not always just so cut and dry between a crazy/bad person and a good/normal person I've learned."
– livinlavidaanxious

Gun violence survivors share their harrowing stories.
Obsessed
"Not me but my friend's mom. A coworker of hers was stalking her, obsessed. Convinced he was in love with her and nobody else deserved her, that kind of thing. Eventually he came to their office with a revolver."
"She was bending down to put files away, or something similar. He quickly approached her from behind and shot her in the back before immediately shooting himself in the head. She survived obviously, though the wounds were significant. Incredibly fortunate she wasn't hit in the spine or major organs."
"I often wonder how different it would have played out if she had been standing, or facing him. More than likely she would be dead."
"This was before my friend was born, and his mom made a mostly full recovery. Still has chronic pain and PTSD, but she can walk and has a job. Not reclusive or unfriendly to strangers. Terrified of guns, of course, but that seems fair. Both my friend and her are extremely lucky."
– Cutter9792

Never Welcome Strangers
"At the beginning of October my husband was trying to buy a PS5 on letgo. He wanted to make sure it actually worked so he gave the guy our address. I told him a dozen times that he was going to get robbed. He still had the kid come over."
"As soon as he got there he pulled a gun, grabbed the cash and shot twice. One hit my husband in the abdomen. The second went through the stairs behind him and traveled 30-40 feet to the kitchen."
"I heard the commotion and ran downstairs and chased him away from the house. We got to the front gate and he pulled his gun again and shot at me. He missed my head by less than 2 inches."
"He was caught and is being charged as an adult (16) for 2 counts of attempted murder and a variety of other charges."
– jmrobins00

Fortunately, these examples are of people who were extremely lucky to share their stories after a near-death experience since not everyone is able to escape their fate.
But just because one managed to avoid having their life taken from them, it doesn't mean it gets easier in the aftermath.
The lingering PTSD can be unbearable to live with, and anything can be a trigger that brings survivors back to a scary incident.
We never truly know of the trauma or horrific history of anyone around us.
With that in mind, remember that kindness in general goes a long way.

Some people love to talk.
Often, much to the dismay of whomever they're talking to.
Even when you think they've finally run out of things to say, they swerve the conversation in another direction and just keep on talking and talking.
Most of the time, these people are well-meaning -- and that makes getting out of the conversation all the more challenging.
As we don't want to hurt their feelings or come off as rude.
It is for this reason that others have developed and perfected a perfect escape plan to cut a conversation short when there is no end in sight.
Leaving everyone happy, with no hurt feelings.
Redditor unusual_alien was curious to learn the friendliest ways to end a conversation with a "chatty Cathy", leaving them to ask:
"How does someone politely end a conversation with a person who won't stop talking?"
Slowly But Surely...
"Worst case I've ever had, I basically gave every verbal cue I knew of, eventually stood up, then stood in the doorway, then backed out of the doorway, and this dude was still talking."
'In the end I just said 'I'll be back' and closed the door on him mid-sentence."- delpigeon
Sometimes You Have To Cut In...

"Mental health worker here."
"I see patients every day who will talk forever if you don't stop them."
"You simply have to interrupt and redirect/or end the conversation."
"I always politely tell them, 'let me stop you there' or 'Let me jump in there'."
"Sometimes you have to be abrupt or else you will be held hostage by the one sided conversation."- DeadSharkEyes
Noises In Your Head...

"'Ssshh! Do you hear that??'"
"'No?'"
"'One Sec', and just run off."- i_f*ckin_luv_it_mate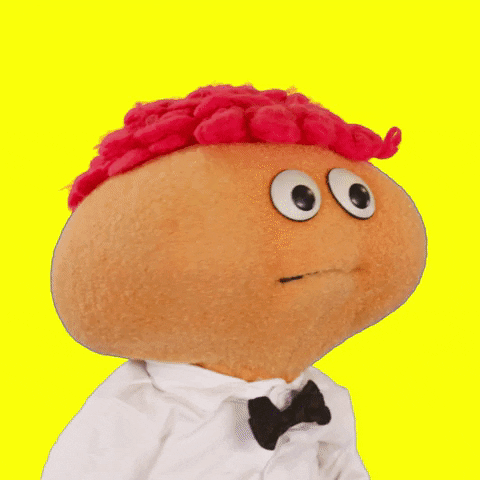 Puppet What GIF by Gerbert!
Giphy
My Ride Is Waiting...
"I'm an Uber driver, I was once summoned to pick up two people for just this reason."
"They had me drive four blocks/.25 miles/1.5 minutes to another bar just to get out of a conversation with someone."
"Minimum fare ($3.75) and $10 tip on the app."- verminiusrex
Slightly Outdated...
"I have to return some video tapes"- LeMarcusKing
You're Really Helping Each Other Out...
"I don't mean to interrupt but-"
"It's got to be done, so just do it."
"They need a break anyway."- p1um5mu991er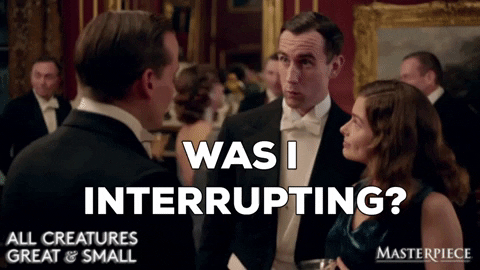 Awkward Cringe GIF by MASTERPIECE | PBS
Giphy
Who Are You Again?
"'Ann was getting a little chummy. When people get too chummy with me, I like to call them by the wrong name to let them know I don't really care.' - Ron Swanson."- Pyre_Aurum
Just Be Straightforward
"I read one of those mildly interesting newspaper features recently with an 'etiquette expert', their advice was rather than make an excuse, you should be more direct that you are ending the conversation and say something like 'I've really enjoyed talking with you, I'm going to circulate around the room now' as it's less likely to create an expectation you might come back."
"It does work too!"- Boyleingbass
Reverse Psychology, The Irish Way!

"We have a great line that we use in Ireland."
"I haven't heard it used abroad but it could well be used all over for all I know."
"The person is rabbiting on and is showing no sign of stopping."
"You clearly and firmly say 'I'll let you go'."
"Then with the confidence of a person doing them a favor, you turn on your heel and stride away."
"This has the effect of making them think you are the one wanting to avoid wasting their time."
"If they figure it out they can't call you out on it because to do so would be to admit, at least to themselves, that they are wasting your time."
"In fact most people never allow themselves to think it might be them who is holding you up so they accept the 'offer' of your leaving in order for them to get on with their important work."
"In general if someone says 'I'll let you go' to me, rare but it has happened, I smile and say bye and end the conversation."
"It is a social convention and I abide by it."
"They want out."
"No ego."
"Let them go and the best of luck to them."
"People appreciate that I imagine."- Nuffsaid98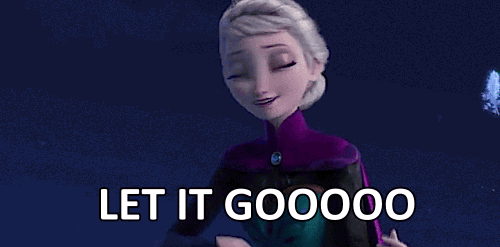 let it go GIF
Giphy
Of course, all of the above are ways of telling people whom you presumably do want to see again, one day, to stop talking
If you never want to be on the receiving end of someone talking, a simple "shut up" should prove quite effective.
I don't see the appeal of these rooms.
Why would one enjoy being trapped in a room?
When you watch people trapped in a movie you cheer for their release.
But this activity has gotten super popular.
And people have gotten real creative in their escapes.
Redditor CaptainCatButtwanted to hear confessions from the great escapes. They asked:
"Escape Room employees, what's the weirdest way you've seen customers try and solve an escape room?"
I haven't tried these rooms yet. Not sure I want to. Highly claustrophobic. Convince me...
No touching...
"I used to work at one. I can't tell you how many people thought that power outlets were a prop and tried to stick keys into them. Guys. There was a lamp plugged into it and a 'do not touch, not a part of the game' sticker on it. It's not a trick, don't do that."
brasscassette
Shackles
"A friend of mine works for an escape room and he told me one about a puzzle where the key to the next door was shackled to a desk by a combination lock. What you are supposed to do is figure out the combination for the lock from the clues around the room to free the key. What one group decided to do instead was get a guy on each corner and pick up the 150 pound desk and carry it across the room, slide the key into the lock, and then rotate the entire desk to unlock the door."
sharrrper
'Yale'
"I am not an escape room employee but I did a lot of em and talked to the employees often. One of them told me there was a simple lock (opened by a key) that had 'Yale' written on it (the name of the lock company) and a lady (not native English speaker) thought it read 'yell' and legit shouted 'OPEN!!' at it, expecting it to open."
Dorza1
searching the fountain...
"Recently went to an escape room with my co-workers. Before we started, we were explicitly warned not to touch or drink the bright blue water coming out of a fountain because it would turn our skin blue - clearly people had tried searching the fountain as part of the escape room previously and now they have to warn everyone."
babers1987
Voice of God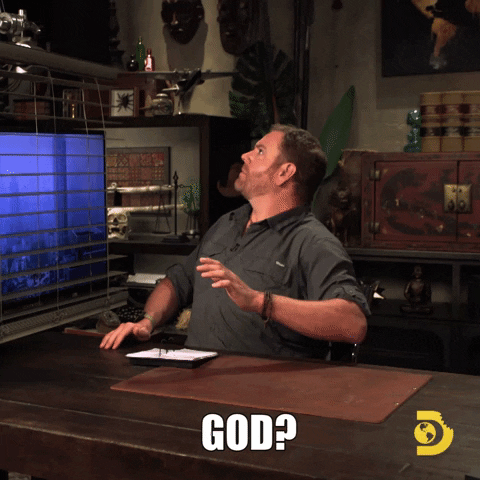 Whos That Voice Of God GIF by Shark Week
Giphy
"I was in an escape room once where one puzzle involved some objects that needed to be manipulated inside a structure that made it very awkward."
"We were all looking at it trying to figure out how to proceed when I said 'Well, the bottom is held on with screws and I have a screwdriver in my purse, but that would probably be cheating.' Instantly the Voice of God came over the intercom 'THAT WOULD BE CHEATING!' So we didn't do that..."
Miss_Speller
Well people really do get creative at this game... don't they?
Reverse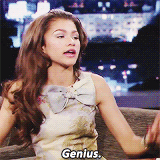 genius GIF
Giphy
"Had a group of engineers who were familiar with the style of the lock effectively reverse engineer the lock. They showed us how they did it afterwards."
Snowf1ake222
Smoked...
"When I was in one they told us several times that the fire extinguisher is NOT part of the puzzle. They said it so many times, I'm 98% sure someone once used it lol."
Zirael_Swallow
"I always wait to see if they say not to disassemble smoke detectors, if they have that warning, I ask about it, and every time they will always have a story about a dumby who ignored the warning labels and disassembled the smoke detector."
cleverplaydoh
Group of 4
"There was a story on here a while ago about a guy in a group of four who took a broom from the first room because 'it had to be for something.' He said it looked too out of place to not be needed. Well he was half right. It was out of place but that's because it was the broom used by employees to clean the room."
"It was simply forgotten when they cleaned last time. The guys giving hints thought it was hilarious that this guy carried a broom through four rooms expecting it to be the key to their escape at some point. I thought that was funny as hell."
PCCoatings
Damages...
"Take in a screwdriver and dismantling furniture or taking doors off hinges... all the while we specifically tell them not to use force and that furniture is just furniture. Though I don't care cause they gotta pay the damages. Also had some groups press our panic button cause that opens all the doors (for emergency cases)."
"So they can skip puzzles and be faster. Makes zero sense to us cause they are paying for an hour of playtime and to solve puzzles, not like the prize is reduced cause you solved less in fewer minutes. Especially since our prices aren't cheap."
karmasabitterpill
Idiots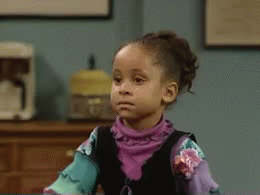 Idiot Facepalm GIF
Giphy
"Breaking EVERYTHING. Trying to eat or drink things they should totally not be trying to eat or drink."
Radiant-Comb9058
Perfect Pitch
"My brother and sister once did an escape room where they fell behind 45 minutes in to their one hour limit. Then my brother sat down at the piano and just played the background music that was on (he has perfect pitch). This happened to be the code to open the final door."
B1ue_zangoose
Are you crazy!?
"I did a spy thriller which had a chalk board. Trouble is, 3 of the 4 of us were scientists. A chalkboard full of equations?! Clearly this meant something. Now. In hindsight. It seems unlikely that any puzzle designer would expect you have the working knowledge to solve quadratic equations. Or that you'd need anything but the most basic of mathematical skills."
"So that was our first error. The second error was when our friend (fiancé of one of the three scientists and only non scientist of the bunch) immediately goes to erase the board with its immaculate display of complicated formulae and equations. She was immediately wrestled to the ground."
"Sheer panic. No dignity. Are you crazy!? You don't just erase someones chalkboard!!! Full blown PTSD of Uni is the play here. Lo and behold. Erasing the board revealed some unerasableble text, spelling out the clue. We felt bad for that one. She was right."
Kenobi_01
Numbers
"We were supposed to find the numbers to a padlock. My boss had guessed the answer within 5 minutes."
Th3_Accountant
"I had to do this once. In a poorly designed room, one of the padlocks needed to be open by a hint that led to a 5 letter word, but the lock only had 4 digits so the designers of the room just took the last letter off of the word and spelt it wrong. We were trying real 4 letter words and couldn't figure it out so I just started guessing and eventually got it."
ObsquatuIate
Digits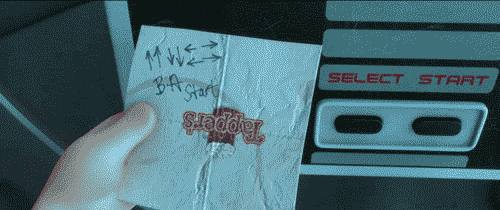 code GIF
Giphy
"Not an employee... but my group once was so bad that we solved the room by fully misunderstanding the concept and we ended up getting the five digit code to the lockbox via some truly failed logic that shouldn't have worked."
xeothought
Water Levels
"One of the puzzles is opened at the start of the room to reveal a large jug of water with a floating key, but the water level is too low for you to reach it. As you progress through the room you get smaller canteens to fill up the jug. Bachelor party comes in already tipsy, orders multiple drinks as they progress through the room, and at some point one of them pees into the jug to raise the water level. This is what made me leave for another job. If you ever go to an escape room, just know we're judging you for every move you make."
Xenomorph_Queen
Your UV
"I was in a room once with a puzzle that required UV light - and you did find a UV torch somewhere. Problem was, the batteries were as good as dead. Luckily I had a UV torch on me because I hadn't yet unpacked my pockets from night geocaching the previous weekend. Came out of the room, telling the employees, 'Your UV badly needs new batteries.' - 'How did you solve it then?' - 'Well, had my own...'
bbgreenie
Hey Jeff...
"Went on a team building escape room and ended up in a room with a colleague we'll call 'Jeff.' Jeff is profoundly deaf and a large part of this particular room involved listening to messages on Dictaphones that could be found in different drawers* etc."
"About ten minutes into the timer an employee burst into the room in a panic and we turned to find Jeff taking the Dictaphone apart piece by piece because he had no idea it was making any sound. He was not supposed to do that, still a top bloke."
ifthen_endif
Letters matter...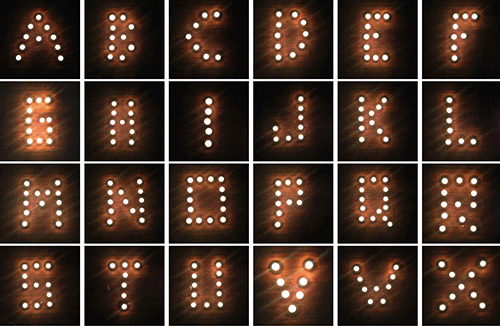 lights alphabet GIF
Giphy
"I don't know if it's the weirdest but we had a puzzle which involved morse code. Usually you had to use an endoscope to find the alphabet in a chest. One person in this group actually knew the whole alphabet and was able to solve it."
MrNighty
She broke the machine...
"Not an employee, but while doing a casino-themed escape room with some colleagues, the worker told us 'please do not pull the lever on the slot machine as it will break something later in the game.' The timer started and my coworker went 'well we're obviously supposed to do that first' and pulled the lever. We were not supposed to do that first. She broke the machine."
ProfessorBeer
Even though there are a million ways to escape, I'm still gonna pass. My claustrophobia won't allow it.
Want to "know" more?
Sign up for the Knowable newsletter here.
Never miss another big, odd, funny or heartbreaking moment again.
It's the spooky time of year where horror and gore are all around us. In movies, shows, and campfire stories, we share the most gruesome tales to scare one another.
But when you're faced with real life horror, that's a different stories.
In a 2019 study from the United Nations Office of Drugs and Crime found chances of falling victim to a homicide worldwide are about 6 in 100,000.
So we went to Reddit to know what it's like to narrowly escape a murder.
Redditor EntertainerWeary7463 asked:
"People who escaped killers in the last second, what is your story?"
Thank goodness they escaped to answer this question.
Want to "know" more? Never miss another big, odd, funny, or heartbreaking moment again. Sign up for the Knowable newsletter here.
With the way things are going with our government these last few years it feels like we're living in a cult. Doesn't it? Now we have this Qanon craziness, and it's followers have infiltrated the House and not just in an insurrection. There are actual Qanon members of Congress. That does not bold well for the sanity of the nation. Cults have been around longer than the dawn of time. I think because everybody is looking for a tribe, no matter how detrimental they can be.
Redditor
u/HeyItsMeLeslie
wanted to hear how we can shine more light on groups that are dangerous to the world by asking...
What are some modern day cults that kinda fly under the radar?
Want to "know" more? Never miss another big, odd, funny, or heartbreaking moment again. Sign up for the Knowable newsletter here.