To say we are living in unsettling times is a vast understatement.

Global, political tensions escalated following the Russia/Ukraine conflict, and if anyone thinks the crisis will not have a rippling effect in other parts of the world, they have another thing coming.
If things continue spiraling into chaos, the worst-case scenario for many of us would be to flee our home planet and colonize Mars.
But we won't jump to conclusions, right? After all, there are other fears that are not an improbability at this point.

Redditor Internet_Prince had a hypothetical question for strangers online.

"If WW3 gets officially declared, what is the first thing you would do?"
For some, it was business as usual.
Punch In
"Go to work I guess."
– Str_
"My job has contingencies for if a nuclear war breaks out. It's comforting to know that even if America turns into an irradiated wasteland my supervisor will call and harass me about not showing up that night."
– BeefInspector

As You Were
"Same thing we do every night pinky."
– ackillesBAC

Go To Reddit
"Read Reddit comments."
– Striking_Cloud9516
"It would be interesting to see the views of Redditors on the other side of the battlefield."
"I'd look forward to seeing their human side, bypassing the 'my team' propaganda."
– MichiganGeezer

The Burning Question
"Just groan and say 'just like every other day, I wonder which country is going to blow up first.'"
– Mikegaming202

The realization would slowly settle for these Redditors.
A Serious Inquiry
"Wonder why all the stores are out of toilet paper."
– IndeSyCiv
Regrets
"Realize I should have taken Doomsday Preppers a lot more seriously."
– AbyssalRedemption

Observe, Then React
"Double check, then sit around and wait until it actually affects me."
– obscureferences
Getting Intellectual
"I would start a debate on whether the number 3 or III is more appropriate."
– anonymouspotatoskins

Let It Play Out
"let's go to the Winchester, have a nice cold pint, and wait for this all to blow over."
– RLDKA

Going Into Combat
"I'm active duty Army, so in all reality I'd probably get deployed, then die a horrible painful death."
– burntkofte

Last Words
"Probably just tell the people I know that I love them."
– insecure_poetry

Bottom's Up
"I'd drink. What else is there to do? It's like when the Titanic is sinking: You can either run around the deck in panic to see there's no lifeboat left or you can spend the remaining time like a gentleman, listening to the orchestra and drinking the last bottle of wine. If i go down anyway, then i go down like the second one."
– Diacetyl-Morphin
People's reactions were varied depending on their geographic location.
The ones who were further removed from origins of political turmoil seemed to have the most sarcastic answers.
But no matter where we are in the world, no one will never be immune from the atrocities of living in war time.

Want to "know" more?
Sign up for the Knowable newsletter here.

Never miss another big, odd, funny or heartbreaking moment again.
Keep reading...
Show less
Arguing and fighting are basic parts of life. Sad isn't it?
We're humans, we are destined to disagree from time to time.
Or if you look at the state of Congress... it's just the natural order to be in constant battle.
The biggest problem about a fight is no one wants to admit they're wrong.
But inevitably, someone has to cave. And 8 times out of 10, there is a "right" party.
And when you're truly wrong, you know it.
But can you say it? Even for peace?
Redditor mharris1405 wanted to know about the times everyone could just feel they had no other option but to throw in the towel.
They asked:
"What are signs you lost the argument?"
I'm undefeated so I can't share in this conversation, but I'll listen . ;)
Origins
"You realize that your argument was based on a misunderstanding of the original point of concern." ~ Highwired1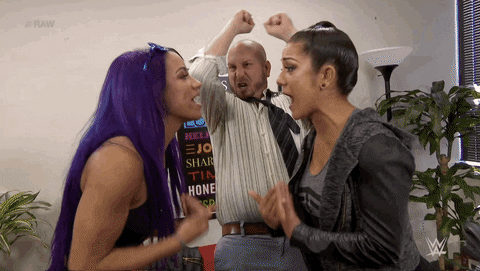 Sasha Banks Reaction GIF by WWE
Giphy
Point of Focus
"You're attacking the person you are arguing with instead of their argument." ~ Weirdguy149
"I was associated with a niche but decently large online gaming group for years and they HATED when people didn't agree with what the general opinion was on anything."
"It always resorted to them trying to destroy the person's image, even when the point of contention was completely non-consequential. It was wild happened to several friends of mine to the point they literally defamed him in a legal sense. Gotta love insecure nerds who can't handle being wrong lmao." ~ RiceKrispieMeat
'How does that make sense?'
"Or when the entire argument stemmed from you not realizing how hostile your tone was. I had an argument like that with my sister a few months ago. I just asked 'How does that make sense?' because I genuinely couldn't understand her thought pattern but because the argument was already a bit heated and my tone made her interpret it as me outright calling everything she was saying bullshit, it just kept going. Had I realized what my voice made things sound like it would've been over pretty damn quickly." ~ ad240pCharlie
The Sky is Green
"Hard to tell. Sometimes people really have lost the argument. Other times it's just the irrationality of internet users that beat you into submission. After all, if 5 people are saying the sky is green. Then it doesn't matter how many times you say its blue, you wont win the argument. Because those people are dumb as f**k. And you cant win against that." ~ JailbaitBarbie
Floored...
"Lying on the floor in a pool of your own liquids." ~ DognamedTurtle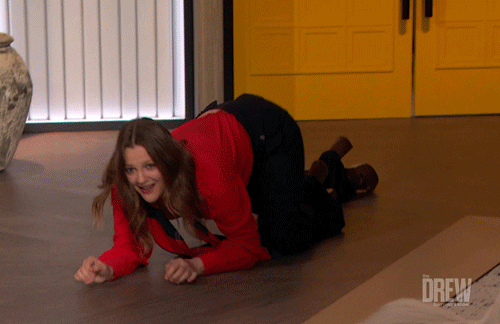 Tired Floor GIF by The Drew Barrymore Show
Giphy
Lying on the floor. Yeah, I've been there. You?
Words matter
"Name throwing." ~ TheRealOgMark
"Ahh reminds me of this one guy that kept on calling me a fatty and replying to me every one of my comments because I said Jojo fans are toxic." ~ Jakeyloransen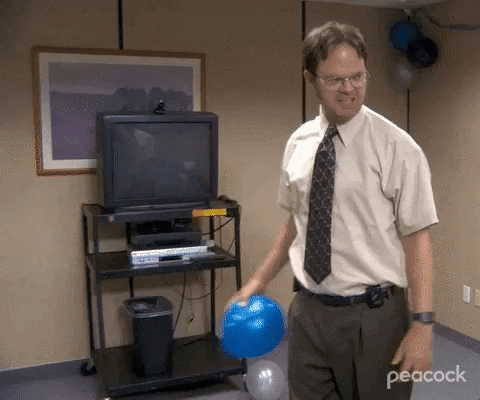 Intimidating Season 4 GIF by The Office
Giphy
Topics
"When they start yelling or trying to include irrelevant things into the conversation. Like no, we were talking about topic A. You trying to bring up topic B, C & D doesn't make me forget about topic A." ~ FlightWolf23949
"It makes it impossible to have an intelligent back and forth with the person. Like no, that's a completely different thing, we're talking about A. Stop changing the subject!" ~ hunybuny9000
GOAL!
"You move the goal posts." ~ spastichabits
"I sometimes do a poor job of describing my point. When I figure that out and make it clearer, that could look like I'm moving the goalposts. But otherwise, sure." ~ twopointsisatrend
"This, and you change the subject slightly. cough insults cough," ~ Fancy_Agent_8542
Life's too Short
"I get involved in the argument in the first place, I'm either just plain wrong but realise it way too late and can't admit because the other guy is being a c**t about it, or I'm right and the other guy won't admit it because he's being a c**t about it. Better to just let c**ts be c**ts life's too short 🤷♂️." ~ Philsredditaccount1
Weak
"You resort to weak comebacks and drag on the original argument rather than actually countering it." ~ VapertoweI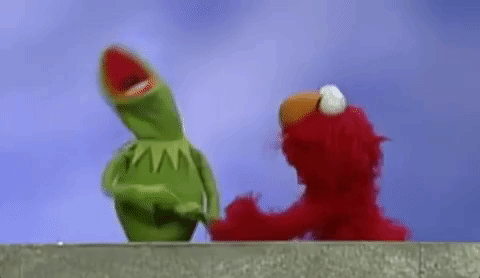 Argue Sesame Street GIF
Giphy
Oh to be mean and witty. Such a gift.
But maybe let's try more truth and kindness going forward.
Want to "know" more?
Sign up for the Knowable newsletter here.
Never miss another big, odd, funny or heartbreaking moment again.

Keep reading...
Show less
We all know that some choices will probably end in regret, but many of us keep making them anyway. Whether it's "Oh, I'll just make coffee in the morning," instead of setting up the coffee maker the night before, or "I'll definitely get to that tomorrow," some choices are almost guaranteed to backfire.
Redditor alaraja asked the folks on AskReddit:
"What decision always backfires?"
No, You Won't
"I'll just get up early and do it"
That one has a famous child decision, the "I'll just get gas in the morning, on my way to work tomorrow."
There are many other subcategories, but that's probably the biggest one.

Enough Chances
Giving abusive people a second/tenth chance.
I came here to say this, specifically cheating spouses.
It's Going To Be Awkward, At Least
Going through someones phone. You will ALWAYS find something you dont want to see.
My ex, when we were dating, went through my phone while I was in the bathroom.
He was so angry that I was going to the movies with a guy named Devon
Devon was a girl. I am a girl. We are both straight. We are both friends.
Pretty sure to this day, he thinks I'm still lying about it and "cheated" on him
You Should Sleep
Staying up late instead of going to bed when you feel tired.
The older I get the truer this is. Can't stay up past 11 or else I'm extremely tired in the morning getting ready for work
Why Test?
"Testing" your SO, or any other playing of games in a relationship.
This is the one . It's a lose-lose scenario that we create
Just Stay Where You Are
Switching over to the 'Shorter' queue.
And it's analogue, changing to the faster moving lane in the traffic jam. Once you change lanes, the lane you just left will start moving much faster than your new lane. It is a tale as old as time. A fundamental law of physics.
It's Never 5 Minutes
closing your eyes for "5 more minutes"
an hour and a half later, "oh sh*t, I'm late!"
Just Stay Out Of It
Getting involved in other people's relationships. Let them work it out
Yeah, and don't ever get in the middle of a fight god forbid.
Give It Time
Any decision made when you're feeling overwhelmed. Feeling angry? Step back, simmer down first before you act. Feeling sad or bitter? Sleep on it, watch a comfort movie, get your mood back up before you do something.
Once you're back on the level, you'll often find that email you typed, or that argument you'd have had, or that phone call you were going to make was affected by how you were feeling and would've been an overreaction, and the whole situation wasn't as bad as you thought.

I have BPD. I've had to learn and practice exactly what you said, in order to control my behaviour. the whole "do not react to how an event makes you feel, stop, consider if my reaction fits the magnitude of the event. If it doesn't, do nothing at all." has been central to my recovery.
This goes double for when you are suffering big grief. Don't make any big decisions for 6 months.
That's partly what made me think of this. I lost someone recently and had to go through their things. A whole lifetime, tossed into a skip, so many things. I got home, looked around my home and all I could see suddenly was things I didn't need. Almost tossed half my home away before I called a friend who talked me out of it. She was right. I'd have regretted it. Marie Kondo yes, grief no.
Later Isn't Better
Procrastinating
I'm sure I'll stop doing that eventually
Maybe tomorrow when I have time
Procrastination usually seems to be a bad idea, so maybe don't decide to do the thing in the morning. The you of tomorrow will thank the you of today.
Keep reading...
Show less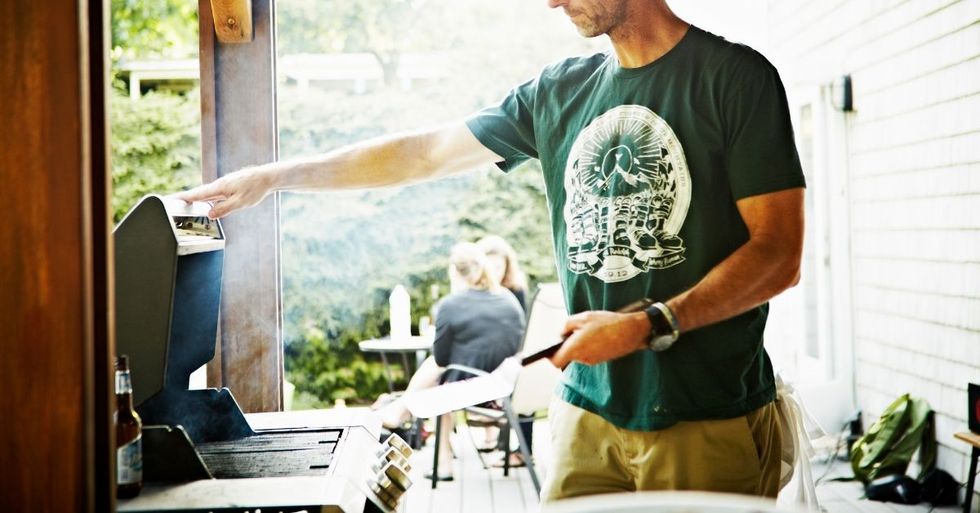 Being a vegan when all of your friends are not can be challenging, as whenever you get together, you have limited food options.  That's why, when the whole crew is together and someone cooks the vegan a meal that is vegan, they really appreciate the gesture. So Redditor erincin thought was happening for her when […]
More
The best-written characters are the ones with complex origins stemming from violent histories and broken families.
Villains are often misunderstood and eventually snap when they reach a breaking point after constant ridicule and mockery.
For them, the only way out of an unfortunate situation or deep despair is to take matters into their own hands – at all costs.
To have a nemesis who is just evil in nature and exists for the sake of providing conflict for the protagonist is just lazy writing.
But to have someone you can actually relate to and understand their motives – regardless of their violent methods – is more compelling to watch.
Curious to hear about the opinion of strangers, Redditor nico346i asked:

"What villain do you actually agree with/get?"
Comic book villains did not always start off with evil intentions.
That Mutant
"I don't agree with Magneto, but I understand why he would feel the way he does."
"I have the most sympathy for this villain."
A Flawed Perfectionist
"Dr. Doom. He saw all possible futures and the only one that didn't end in humankind dying out was him ruling the world iirc."
For Love
"Mr. Freeze, now that Batman: The Animated Series has given him a legitimate backstory. Look, if you're a scientist and your wife is suffering from a rare condition, but you know you can save her if you just have more time, doesn't it make sense to put the love of your life in suspended animation while you do everything imaginable to save her?"
Anyone is capable of giving in to the darkness, especially like these characters who were dealt with unfortunate circumstances.
Sucks Being Widowed

"Dracula in Castlevania. They killed his wife and he said they had a year to get out. It's on them for murder and not believing a murderous vampire."
Cursed Appearance
"Baby Doll from the animated Batman series."
"The way her entire life is ruined based solely on her physical appearance. Her career and relationship with Killer Croc in particular, but the way you can clearly see the mental effects of looking permanently like a child."
Kung-Fu Panda Antagonist
"Tai Lung"
"All he wanted was to impress his adopted father."
": You knew I was the Dragon Warrior! You always knew! But when Oogway said otherwise, what did you do? What did you do? NOTHING!"
"Shifu : You were not meant to be the Dragon Warrior! That was not my fault!"
"Tai Lung : Not your fault? Who filled my head with dreams? Who drove me to train until my bones cracked? Who denied me my destiny?"
The Shapeshifter
"Sandman in Spider-Man 3. There's little I wouldn't do for my kid."
These mean toons have a likeable quality in spite of their nefarious tendencies.
That "Phineas and Ferb" Scientiest
"Dr Doofenshmirtz - come on man, those inventions are awesome!"
"It's his parents who are the real villains."
The Powerpuff Girls' Tetartagonist
"Mojo jojo"
"My man was straight up abandoned"
"There's an episode where he actually wins and when he finally rules the world he... Archive the world peace, reverse the climate change, and things like that. So yeah, totally agree with Mojo."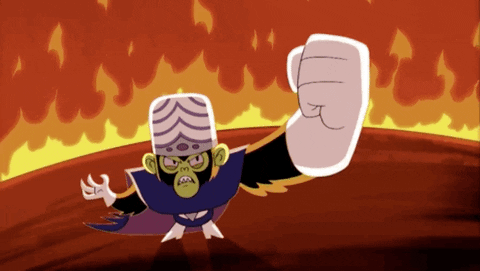 Forte mojo GIF by Cartoon Network EMEA
Giphy
The Mean One
"The Grinch; he just wanted his annoying neighbors to not play their loud holiday music at the crack of dawn."
"The Grinch didn't hate Christmas. He hated people. I think we can all get behind that."
Not So Despicable
"Gru from Despicable Me."
"I too, dream of stealing the moon."
"I might put it back, I might not. Haven't decided yet."
Redditors found a vast number of wicked characters who possess motives they agree with to excuse for their bad deeds.
We all have suffered challenges and obstacles – some we never overcome – but we don't necessarily go on a killing spree because of unresolved issues.
Maybe that's why some of these villains resonate with us on various levels.
Watching these misunderstood or wronged characters wreak havoc on society could be a manifestation of something hopefully most of us aren't inclined to do but feel a sense of satisfaction after watching destruction take place in worlds of fantasy.

Keep reading...
Show less