Raise your hands--who had an emo phase in the 2000s? I know I did, as did a lot of people around me. All of us heard "It's just a phase" from our parents at some point, but when you're a kid, life as we know it seems so permanent.
Of course, most of the time, it was "just a phase". And looking back, those phases are regrettable, to say the least. Here are some prime examples of that.
SirGergoyFriendman asked:
What was your biggest/most regrettable "It's not a phase, mom. It's my life." that, in fact, turned out to be just a phase and not your life?

The enthusiasm of a young person can lead to some unexpected changes that parents are just not ready for.​
Hi, Wheeljack!​
I was VERY into The Transformers when I was a wee lad in the 1980s. One day, I decided to change my name to the name of my favorite Autobot. My name was lame, and I wanted an awesome Transformer name. And I was VERY insistent that my parents only call me by my new name. Calling me by my 'old' name would cause a big fat tantrum on my part.
So for the better part of a week, my poor parents had to call me Wheeljack.
​Very 2008.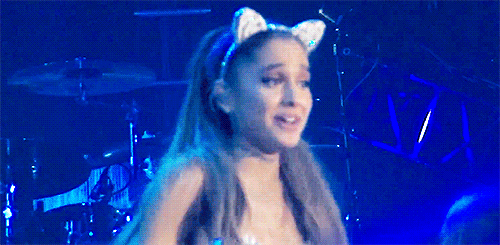 Ariana Grande Shrug GIF
Giphy
My cat-ear phase. I wore cat ears every single day. Everywhere. I had like 20 pairs of them. Now everyone thinks I'm a furry.
I find that very cute and wouldn't have thought you'd be furry. Even if you'd had cat mittens. I think my suspicions would have started if you moved a bit like a cat, displayed catlike grooming habits or got a cat mask.
​Not gonna lie, that car sounds cool.
I went to a car show once as a teen, and the only newer car there was some chick's PT cruiser. It was hot glittery pink, and at the time I was obsessed. I insisted that one day I would have a hot pink car, with pink seats, pink dash, pink carpets, etc. I was pretty heavily goth at the time, so my parents just rolled their eyes.
These phases can often lead to some very strange fashion choices.​
​That's commitment.
When I was a teenager (early 00s), I was waiting for my mother to pick me up and was wearing one of those sh!tty sports wristwatches. It was itching me so I took it off for a second, but then she arrived and because I was struggling to get it back on my wrist, I looped it around the equally sh!tty chain I had around my neck in a rush to get out the door.
My mom asked me about it in the car, and I told her this was my new style and I planned to wear it like that every day. She rolled her eyes.
I wore that watch on a chain around my neck every single day for 3 years or so. There are even professional family photos where I'm wearing it because I refused to take it off.
One day, the chain broke and I lost the watch. I was in high school at that point anyway and it was a major lady repellent, so... phase over.
Not everyone can be Eminem.​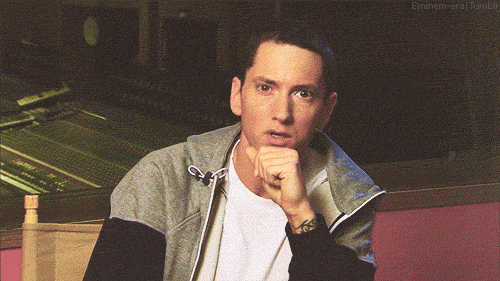 slim shady eminem GIF
Giphy
Baggy pants, being a rapper someday and being a professional skater.
When I was about 14 and Eminem was starting to blow up I bought myself a keyboard with a synthesizer. It cost like $200 which was all the money I had saved up. It finally came (this was way before amazon prime and such) and I tried rapping.
My sister told me "you're effing horrible" and I gave up right then and there.
​This should be a sin.
I used to button the top buttons of polo shirts.
I must say, this is probably the worst one I've read.
Looking back at our regrettable choices, all we can do is cringe.
​An optimistic look at bad tattoos.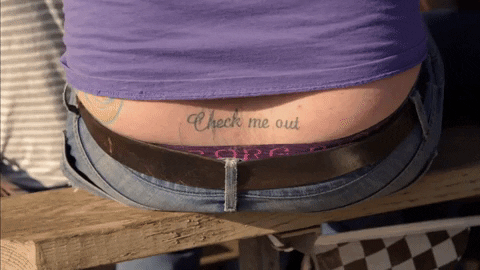 check me out season 3 GIF by Portlandia
Giphy
Being a tattooer. Regrettable because of those poor people who have my awful doodles on their bodies.
Take heart! My favorite tattoo is the one I drunkenly got my buddy to do in his living room one year during March Madness! It's dumb and frankly mediocre? But such a good story and has such good associations I smile every time I see it.
​RIP Fredro's.
​My friend and I decided we were going to open a bar in Jamaica with exotic snakes in glass cages in the walls at each booth. We convinced ourselves it would be amazing for at least two years in college. It was going to be called Fredro's.
My entire family made fun of me for it. Once we got out of college, we realized it was not feasible and joined the office grind. We're also two white guys with no ties to Jamaica.
Talk about cringey.
I wore a top hat with an anime pin on it for around a year. Met one of my current best friends while wearing it, idk how he could bear to speak to me after that.
My weirdest phase was probably when I insisted on wearing knee-high rainbow socks to school every day. But honestly, I don't regret it. I rocked those socks, and I wish I still have a pair.
To all the people out there cringing over their past selves, remember that you were just a kid, and to be easy on yourselves. After all, we've all been there
Keep reading...
Show less
The prevalence of abusive or deeply uncomfortable home environments is a reality that, unfortunately, impacts countless children everywhere.
And alongside that depressing truth is another supplemental tendency that accompanies those hardships: children tend to get used to the horrible environment they've been dealt.
In the moment, that's a coping mechanism that allows a child to press on and grow, as much as possible, despite ruthless surroundings.
But the repressed always returns.
Sometimes months, years, or even decades later, people suddenly realize that their home life was not at all okay.
Curious to find out what that realization looks and feels like, Redditor Shiekhspeare asked:
"At what point did you realise your childhood was messed up?"
Keep reading...
Show less
When you're young and just learning about the world, you'll believe just about anything. Whether it's something someone told you, an over exaggeration, or your mind running wild with imagination, these responses from ask reddit are pretty ridiculous.
u/RandomUser98757932 asked:
"What's the stupidest thing you believed as a kid?"
Here's what people had to say:
Places that aren't actually places
I think this one is pretty common, but I thought the black market was a literal place where you could go buy illegal things.
Similarly I thought the "under ground rail road" was a series of under ground tunnels between houses. I distinctly remember my teacher saying "it's not literally a railroad underground" and I took that to mean it is underground, just not a railroad
Scientifically speaking... just wrong.
Bleach burns a hole through anything it touches.
Traffic lights have to be someone's job, right?
That monkeys with computers sat inside traffic lights to change the colour.
Edit: I think the worst part it that I asked my dad how the lights knew when to change and that was his response.
I was 100% sure that there were people on the inside of the poles, so when the light was taking a while, I would tap my knuckles against the pole to let them know that I was ready to cross. I also was terrified that the person inside would die and no one would ever know, but most importantly, I WOULD NEVER BE ABLE TO CROSS.
Kinder-garden?
Kindergarten was some kind child labor camp where 5 year olds were sent to do gardening. I thought my bookbag was going to be to carry the veggies I picked.
How did no one notice this?
Not sure if this qualifies as stupid but when I was young (age 4 till age 8 or so I guess) I believed that when I went to school my cat would enter the sewer through the toilet. He would walk to a secret tunnel to go to his secret kitty mine to look for gold and cat food. I put the lunch my mom prepared for me in a drain at the school's playground hoping it would reach our cat if he didn't manage to find cat food in his secret mine so he wouldn't starve.
I skipped lunch for years without anybody noticing or knowing about it, I'm pretty sure I haven't told this to most people I'm close with lol.
Parents, be careful what you say!
My dad would tease I'd get hair on my chest from red pepper flakes on my pizza. So for years I thought spicy food made people hairy and women must not eat much spicy food. Except my grandma who did and plucked her mustache. So I was careful not to eat Too much.
High T-reason
That in England tea time was mandatory and if you didn't drink tea at tea time you'd be executed by the queen.
I think these kids need a biology lesson.
I once swallowed two marbles when I was 2 or 3 and until I was like 10 I believed that these marbles were in my nutsack for some reason.
No one explained to me that the vagina had an opening, so when I was a kid I used to think that the man would rub his penis on the outside of it. Made for a lot of funny moments when other kids would mock sex by holding their left hand in a circle shape and putting the right finger in. I was over here looking like I was spreading butter on toast with my left hand flat and my right index finger "spreading the butter".
When my body parts touch each other while I sleep, they grow together forever, so out of fear of my body melting together I slept like a starfish for a few years.
Sometimes we live and learn, sometimes we have to be told we're wrong. Either way, it's fun to hear about how literal kids can be.
Want to "know" more? Never miss another big, odd, funny, or heartbreaking moment again. Sign up for the Knowable newsletter here.
Keep reading...
Show less
When I was a kid, my chore was to do the dishes. I absolutely abhorred it.
But when my grandmother came to live with us, she enlightened me with her wisdom of life hacks.

One of them was to remove tea stains from everyone's teacups. No matter how hard I scrubbed with a sponge, it always flustered me that I couldn't remove the stubborn stains, and I always had tons of teacups to wash because we are a family of Japanese herbal tea drinkers.
My grandma taught me that using salt to scrub the stains would do the trick. And sure enough, it did.
I was simply blown away, and for some reason, I started to enjoy washing dishes after being enchanted by the salt rubbing trick.
To this day, washing dishes is a calming ritual that connects me to the memory of my beloved Obachan.

Redditor Irregaurdless asked:

"What small thing happened in your childhood, that has effected you for the rest of your life?"
The Feels
The positive memories stay with us forever.
Design Inspiration
"i went to my older sister's friend's dad's house once when i was a preteen or young teen and i really liked it. took me years into living on my own to realize i'm subconsciously mimicking the interior decorating of that place lol"
Crayon Lady
"I'm the oldest of many kids, and that meant that all of my stuff was always getting wrecked by my younger siblings throughout my childhood. For some reason, I imagine just the goodness of her heart, when I was around six we had a neighbor lady who was friendly with my mom (we moved all the time when I was a kid so we didn't always have relationships with our neighbors) and she kept a box of unbroken crayons and some unscribbled-in coloring books at her house for me and would let me come over and just sit at her coffee table and color all by myself sometimes. I was too young to thank her adequately or even realize how unusual the kindness of her gesture was, but it has always stuck with me. I have crystal clear memories of the quiet of her living room and the joy of crayons that nobody had broken or torn the wrapping off of, and the crisp pages of the coloring books that nobody but me ever colored in."
"I still think about her sometimes and hope good things are happening for her. I am always trying to live up to the memory I have of her and pay her kindness forward."
Better Score
"When I was moving states, my history teacher took me aside after class and showed me over to the computer where he showed me all my grades. He was like 'Oh, this is a B? Nah, I think it's an A' and upped like all my grades a little bit, just because. I don't even know how I reacted or what I said, and it's not like my grades were bad, but the sheer kindness shown by him to do that for really no reason, it impacted me. I like to at least try and pass on some of that kindness from day to day."
Encouraging Father
"My Dad telling me 'you can do this, I know you can'. For the life of me I can't recall what I was doing, but the memory of him saying it is clear as can be. I call that memory up when stuff's going sideways. Never underestimate a praise."
How To Cross The Street
"When I was a young child, maybe 5 or 6, living in a fairly urban place, my grandfather taught me how to cross the street. We had a park across the street, so we were often crossing it. He held my hand and reiterated over and over that you always have to look both ways. Even when the street is one way, you never know when some crazy person may come barreling down the road the wrong way. Not looking both ways is a mistake that can ruin (or end) your life."
"I don't remember specifically learning to tie my shoes, or how to cook pasta, or how to brush my teeth - all those things I just know how to do without recalling being taught and those activities don't trigger any specific memories. But I have always remembered crossing the street over and over with my grandfather and the life-or-death nature of the lesson he taught me."
"My grandfather is long since passed away now, but every time I cross a street I think about him."
"And I always look both ways."
Getting Physical
These Redditors share the memories relating to their physical experiences.
Body Image
"When I overheard one piece of a conversation when I was 7 years old. My aunt was talking on the phone to her relative, and I heard her say 'and now I have to babysit this fat 7 year old', I don't remember anything else. That led to disordered eating and me counting calories from age 7 to about age 14. I still have body image issues, though I don't think it can all be contributed to that one event. But it was certainly the first thing that ever caused me to think of my body negatively."
"The gag is... I was nowhere near fat, I couldn't even be described as a little chubby. My aunt has issues with food and her health and body image and projected that onto me. She watched me for a good part of my childhood while my parents worked and I was always so scared to ask for a snack when I was starving. I would get terrible migraines from playing outside in the summer that would be fixed by eating but I always felt so judged for doing so. I remember another thing that stuck with me was once I wanted some pretzels before my mom picked me up and she said 'Jesus, do you want your a** to be as big as the house?!' Like wtf... I was in the 3rd or 4th grade then. Its f*ked up now that I'm remembering it."
– sanoanxa

Locked Knee
"Got my knee hurt while playing on the street (my knee bent the oposite way and came back to place). Came home crying, my mom sent me to buy some stuff to the supermarket, no excuses, yelled at me for supossedly faking it, I went (supermarket was about three blocks away) and was crying in pain on the way back, so much that my friends carried the bags for me when they saw me. I was so afraid that I asked them to give me the bags when we reached the door, gave the bags to my mom and went to my room."
"Years later, senior year of highschool, same knee pops. Spent a week in bed, couldn't do any exercise for 3 months."
"Second year of college, same knee pops. Now it is a week in bed and the entire summer with a full leg brace and crutches."
"Now my knee can get 'locked' if I try to bent it the wrong way."
"To this day she says it never happened. That and other similar stuff."
Bad Aroma
"I tried to give myself superpowers."
"When I was 5 I decided I wanted to be a rowdy rough boy. I mixed all the liquids from the fridge with all the spices from the cabinet. I then grabbed every chemical bottle I could find and poured it all into a bucket. Right before drinking it I decided to smell it first and I inhaled as deep as I could. I passed out almost immediately and fell forward onto the bowl. The noise alerted my father who rushed in to find me passed out. I woke up several hours later unable to smell. Most of my ability to taste is gone as well."
Scars
As much as uplifting memories stay with us forever, so do the negative ones.
Traumatic Ribbit
"Cousin threw a frog at me when we were little and it got stuck in my shirt. Have been terrified of frogs ever since."
– Tay_phay

Not The Favorite Child
"My sister was killed in a car accident. The following day I overheard my dad tell somebody on the telephone 'No, unfortunately it wasn't [my name].'"
"I've slowly been disconnecting myself from them. They have no idea I know."
– c419331

The Day Childhood Died
"One day my father took away my toys."
"I know this sounds basic but I was about 5 or 6 and out of nowhere my father and 6 brothers came into my room with tubs and took away everything I owned. They took my toy box, stuffed animals, the posters off my wall, my barbie blanket and of course any coloring books really anything you can think of. It killed me inside but I thought if I was good and stayed quiet I would eventually get them back. I'm sad to say I never did. That day I think my childhood died and I turned into a shell for the next 10 years of my life."
It's amazing how a small detail from the past can have lingering effects in life.
I was traumatized after watching the movie Jaws. Ever since then, I've been afraid of the water and going to the deep end of pools.
As an adult, my cynism took over my fear of being devoured by a giant shark. But my distaste for the beach remains.

I'll go to the woods any day as long as I don't hear any dueling banjos playing in my vicinity.

Keep reading...
Show less
Do you remember those tiny magnetic beads that you could build huge things with? Those were quickly taken off the market, after kids started making fake lip rings with them and accidentally swallowing them. Literally tore about their intestines. Gross.
There are so many toys with similar stories. It's amazing how many things that are obviously dangerous in childrens' hands that companies just sold anyway. Here are a few examples.
U/Breadsticksamurai asked: Older generations of Reddit: What toys did you have as a child that would be considered too dangerous to be given to a child today?

Personally, I remember back when there were those giant spaceship things you could climb up on old playgrounds. I'm pretty a sure several people died on those things.
It seems like a lot of toys are more safe now, but arguably less cool. At least, kids of that time might say so.