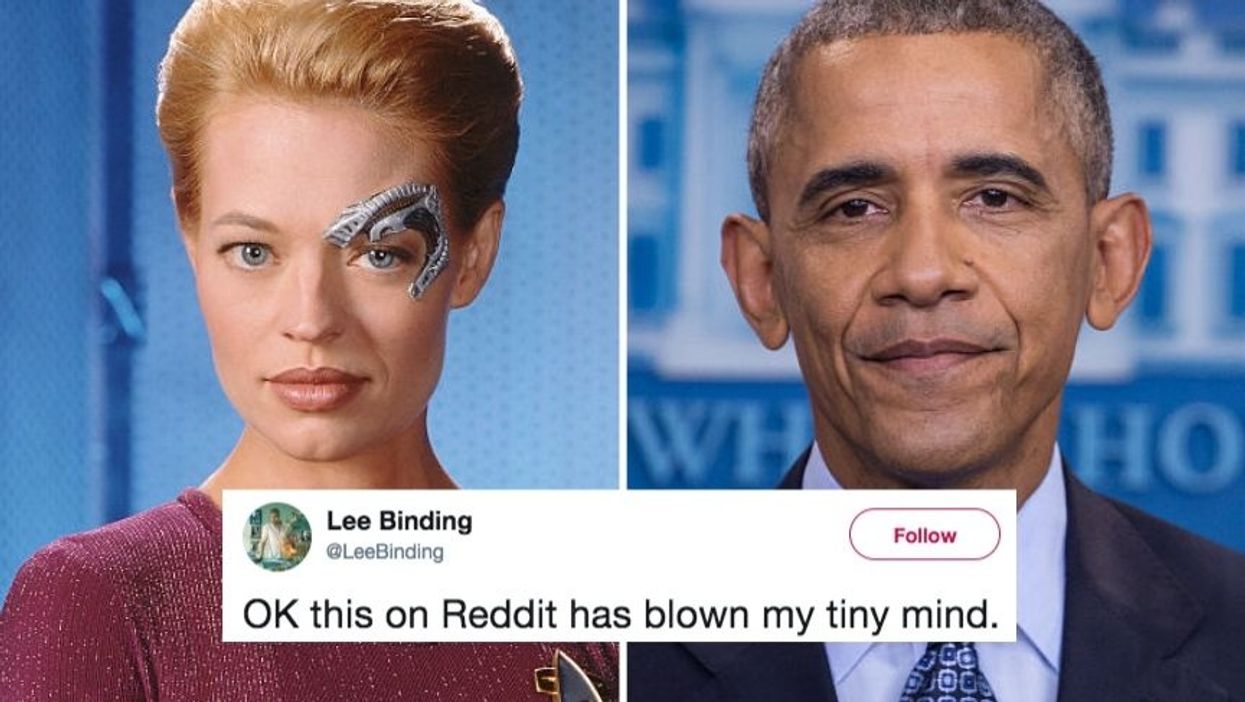 Paramount Network Television/CBS via Getty Images // Cheriss May/NurPhoto via Getty Images // @LeeBinding/Twitter
The Butterfly Effect observes the way in which a seemingly small event can end up impacting the entire world.
A recent Reddit post making the rounds on social media exemplifies this by connecting a casting change on the television show Star Trek: Voyager to the historic election of former President Barack Obama.
Responding to a question about people's favorite "domino effects" in history, Reddit user IAmNotScottBakula introduced a theory on the unlikely connection.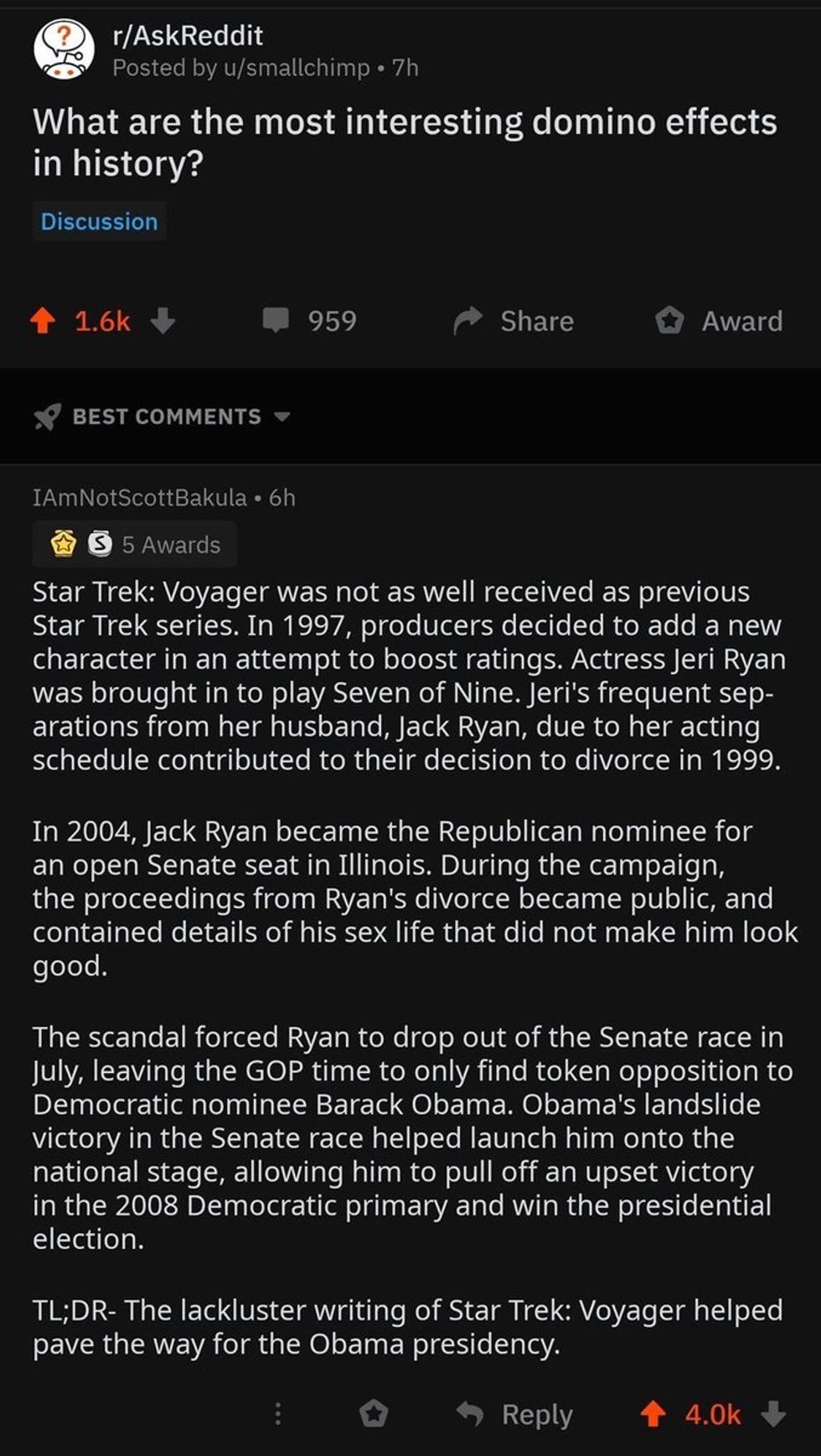 IAmNotScottBakula/Reddit
The theory states that the mediocre reviews of Star Trek: Voyager led to Jeri Ryan's casting which led to the divorce between her and then-husband Jack Ryan.
Jack Ryan's scandalous divorce proceedings were leaked and the details forced him to drop out of the 2004 Senate election in Illinois which helped pave the way for Obama's victory which launched him onto the national stage.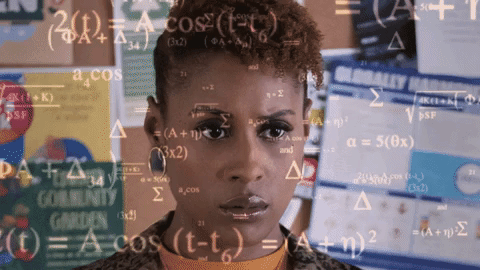 HBO via Giphy
People were astounded by how plausible the theory sounds.
@LeeBinding @KurtBusiek https://t.co/QrWiCdUWDe

— Jerryl Pearson (@Jerryl Pearson) 1561489758.0
@LeeBinding Lol crazy

— DevlinzelWashington™ (@DevlinzelWashington™) 1561489666.0
@LeeBinding Wow! Mind blown! 🤯

— Gaz Crawford-Comley (@Gaz Crawford-Comley) 1561458946.0
@LeeBinding Astonishing.

— Dave Turbitt Design (@Dave Turbitt Design) 1561458871.0
Others were more skeptical.
@LeeBinding @saintknives there's other things that factor into th- nvm... i wont ruin the fun

— yourtranny22 (@yourtranny22) 1561463451.0
@LeeBinding Obama's 2004 DNC speech would've undoubtedly led to his victory in a state as blue as Illinois regardless.

— GrandPaGames (@GrandPaGames) 1561488692.0
@kiss_me_cassie I was actually reading that thread the other day and that was the top voted comment. I mean...I don… https://t.co/Zb66UgZnko

— 🦋 Kel Fitzgerald 💋 (@🦋 Kel Fitzgerald 💋) 1561489735.0
@SababaUSA @trekonomics @felixsalmon @LeeBinding @pocryphal Weakest assumption here IMHO is that Jeri and Jack woul… https://t.co/hVT53Ni48D

— Max Kennerly (@Max Kennerly) 1561489150.0
Whether you're sold or not, the randomness resulting in history is incredibly exciting.
The complete series of Star Trek: Voyager is available here.
Keep reading...
Show less
We. Miss. Obama.
It's been close to three years since we last had President Obama in the White House.
And it seems like we don't see him around much anymore, in these days when we could so desperately use a helping, guiding force.
So imagine the joy that the Washington Nationals Youth Academy kids experienced when they saw the 44th President show up to their program.
"It's Barack Obama!" one kid screamed in joy as he did laps around the crowd gathered around the former President, whom we all miss so terribly.
"I think everybody here—if you guys work hard, work hard in school, listen to your coaches—you guys are gonna do great things. So, I'm gonna be on the lookout for ya because I think you're gonna do something important. You guys are gonna make a real difference and we're gonna be really proud of you," Obama told the kids.
The President later took to Twitter to talk about the fun he had and to promote the work of Nats Youth.
Man, we really miss him.
The President and his family still live in Washington DC and keep busy in visiting nearby programs, including McKinley Tech High School, the Langston Terrace community, the Jelleff Boys & Girls Club, Dog Tag Bakery, and Children's National Hospital.
COME BACK.
We're sorry, we'll stop.
But really.
Please?
Keep reading...
Show less
Actor and filmmaker Tyler Perry said a photo he took with then-President Barack Obama back in 2015 was a "very emotional" day for Obama.
Perry sat down with The View on Thursday and discussed the grief behind the smiles in the photo taken on June 17, 2015 – the same day of the racially motivated Charleston church shooting in South Carolina.
In observance of Black History Month, Perry posted the photo of the two gentlemen taken inside the comedian's Los Angeles home library on Instagram.
He wrote of the elegant furniture:
"I bought these chairs at auction."
"They were once owned by Abraham Lincoln."
"We sat in them and had an incredible conversation."
"This post is to celebrate Black History Month while marking a moment in American history," he said, tagging the former POTUS.
"We both had an opportunity to sit in those chairs and have a conversation."
He went on to describe the powerful moment of being in the presence of:
"A sitting President [Obama]. A President [Lincoln] in the past who freed the slaves. Two African-American men sitting in the chairs having a conversation."
@TheView @tylerperry I Adore Tyler. He is a very Good Man. And, PRESIDENT BARACK OBAMA, I miss you. GOAT https://t.co/2jele0W1oq

— 🌻🇺🇦VictoriaV💙💛4PEACE ☆Biden/Harris☆ #HR1 #HR4 (@🌻🇺🇦VictoriaV💙💛4PEACE ☆Biden/Harris☆ #HR1 #HR4) 1551379405
There was renewed adoration for the nostalgic photograph.

@tylerperry/Instagram

@tylerperry/Instagram

@tylerperry/Instagram

@tylerperry/Instagram

@tylerperry/Instagram

@tylerperry/Instagram
Can we talk about the impressive book collection?

@tylerperry/Instagram

@tylerperry/Instagram

@tylerperry/Instagram
Never one to mince words, The View co-host Joy Behar chimed in with her own timeline of events.

"When I saw this picture when I knew the story, I said 'we had Abraham Lincoln, Barack Obama, and we have a thug in the White House."
Perry had invited Obama over to his house for a fundraiser in Los Angeles and explained:
"this was a very emotional day for him because it was the day that the shooting happened in South Carolina."
Eight people were killed when a gunman opened fire inside the Emanuel African Methodist Episcopal (AME) Church during a prayer service, predominantly attended by black church goers, around 9 p.m.
The church pastor and a South Carolina state senator were identified among those who lost their lives in the church that night. Two other people were rushed to the hospital, one of whom died.
The tragic incident was a hate crime deliberately targeting African-Americans.

The massacre was particularly devastating for Perry, who grew up as a member of the AME Church.
He posted a message on Facebook following the tragedy.
"I grew up in the AME Church. My aunt and uncle are pastors and a bishop in the church. I know these kinds of prayer meetings well and I've been in a lot of them! It could have been any of us!"
"The AME church, so close to home for me, so personal. What do you do when you think prayer is not enough? You pray some more. My heart and soul go out to the families of Emmanuel AME church!!"
You can watch the whole interview of Tyler Perry on The View in the YouTube clip, below.
Tyler Perry On Final Madea Movie And 25 Years In Hollywood I The View www.youtube.com
Keep reading...
Show less
Barack Obama was never a fashionista. His oft-teased tan suit controversy while he resided in the Oval Office confirms this. But nowadays, mired in the kinds of scandals our current administration likes to plunge us into, we look back on that kind of that non-scandal with fondness and nostalgia.
Recently, however, our former POTUS sported a different look, and it's a sartorial win that the media can't stop obsessing over.
On February 20th, Obama showed up for a hyped college basketball game at the Cameron Indoor Stadium in North Carolina to watch the North Carolina Tar Heels play the Duke Blue Devils. But people were commenting on more than his presence.
He was rocking a custom-made Rag & Bone black bomber jacket, and the embroidery on his sleeve in particular tied his look together perfectly, like a boss.
The white stitching on his new swag was the number "44," which refers to his standing as our 44th president. Sigh.
It's safe to say we've moved well past the tan-suit incident.
Yes, his sleek outerwear exuding the coolness of the man himself not only impressed Twitter, but made everyone nostalgic for a different era.
A new nickname was born.
He is sorely missed.

This user suggested a similar wardrobe upgrade for the sitting president, albeit with a different color.
If you've got $595 burning a hole in your wallet, you too could be the proud owner of this Manston Jacket and you can add your own defining digits embroidered on your sleeve.

Rag & Bone founder Marcus Wainwright woke up to a slew of texts, including one from head of marketing, after the internet's explosive glee over the bomber.
"Fun to wake up to that. He looked pretty f****** cool."
The brand customized the jacket for the former president towards the end of his second term, but the fashion CEO didn't expect Obama to be seen in public wearing it.
"I hadn't forgotten about it, but I wasn't necessarily waiting [for it to appear]," Wainwright told GQ.
"I wasn't expecting him to wear it in public. I thought maybe he's wearing it on the weekends or at home. I was hoping that he was wearing it."
He also commented on the personalized embroidery.
"The '44' on the sleeve just felt like a subtle touch. Not many people could have pulled it off that way. He's got style."
We concur and can say with absolute certainty that our former POTUS looked haute.

Keep reading...
Show less
Sometimes we need a reminder of better days. A time when if you wrote a letter to the president and received a response, it would be eloquent, empathetic and supportive.
Back in October 2012, before the Supreme Court made marriage equality the law of the land, a little girl named Sophia Bailey-Klugh was being bullied.
Sophia's classmates teased her because she had two dads in a loving relationship. It was difficult for the child to bear.
So she wrote a letter to her "hero" President Barack Obama.
The letter reads,

"Dear Barack Obama,
It's Sophia Bailey Klugh. Your friend who invited you to dinner. You don't remember okay that's fine.
But I just wanted to tell you that I am so glad you agree that two men can love each other because I have two dads and they love each other. But at school kids think that it's gross and weird but it really hurts my heart and feelings.
So I come to you because you are my hero. If you were me and you had two dads that loved each other, and kids at school teased you about it, what would you do?
Please respond!
I just wanted to say you really inspire me, and I hope you win on being the president. You would totally make the world a better place.
Your friend Sophia
P.S. Please tell your daughters Hi for me!"
It's a heartbreaking letter, and not the kind of thing a child should ever go through.
President Obama, ever the picture of class, responded to the letter, empathy evident in his reply.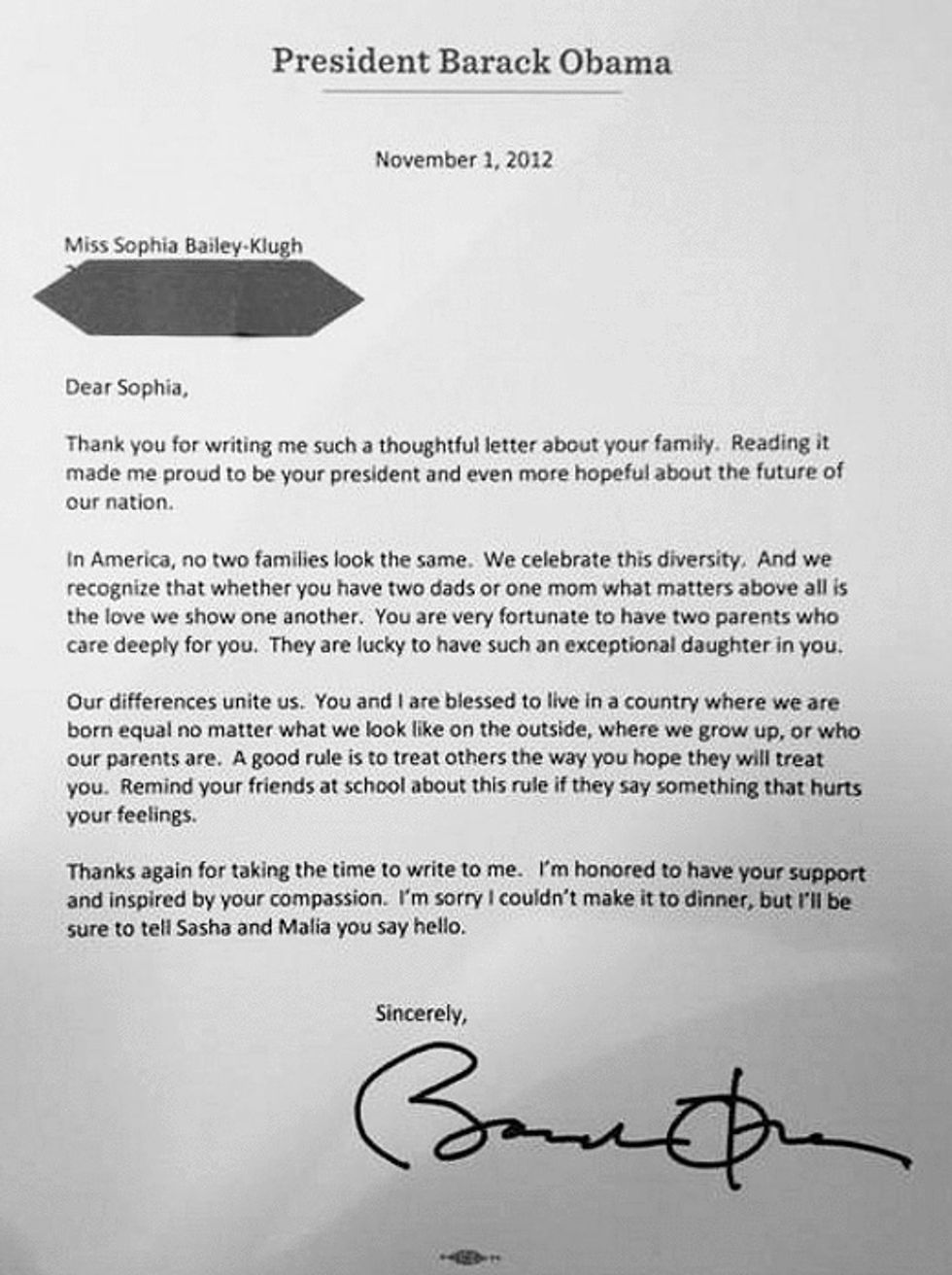 Facebook: Jonathan Bailey
"Dear Sophia,
Thank you for writing me such a thoughtful letter about your family. Reading it made me proud to be your president and even more hopeful about the future of our nation.
In America, no two families look the same. We celebrate this diversity. And we recognize that whether you have two dads or one mom what matters above all is the love we show one another. You are very fortunate to have two parents who care deeply for you. They are lucky to have such an exceptional daughter in you.
Our differences unite us. You and I are blessed to live in a country where we are born equal no matter what we look like on the outside, where we grow up, or who our parents are. A good rule is to treat others the way you hope they will treat you. Remind your friends at school about this rule if they say something that hurts your feelings.
Thanks again for taking the time to write to me. I'm honored to have your support and inspired by your compassion. I'm sorry I couldn't make it to dinner, but I'll be sure to tell Sasha and Malia you say hello.
Sincerely,
Barack Obama"
All these years later and this letter is still a perfect representation of the former president's class and compassion. It gets shared every few years when we need it.
The fathers of the girl have shared it themselves.
We really miss having him as our president.
Sometimes it only takes a few minutes to send a few words of support and kindness to a child with a broken heart. The fact President Obama had that capacity while still running the country is commendable.
Thank you, Mr. President.
Keep reading...
Show less