Despite years of efforts to brand himself as a business genius, former President Donald Trump's business practices paint a different picture under scrutiny.
Whether it's his numerous failed business ventures or the shady claims in his financial documents, Trump's dealings have landed him millions of dollars in debt and there's reason to believe some of them operated outside the law.
Among Trump's properties, his two resorts in Scotland have proven to be the most financially unstable, with neither turning a profit since they opened.
The resorts, Turnberry near Glasgow and Trump Golf Links International in Aberdeenshire, are "dependent on loans from Trump and US-owned entities to stay afloat," according to Business Insider. The UK's Companies House records indicate the properties are £113,425,000 (around $160 million) and £44,400,049 (around $63 million) respectively.
But, according to the Companies House reports, the loans were created in British Pound Sterling and issued interest-free. Compared to the U.S. dollar, the pound's value has plummeted since Trump issued the loans. As a result, when those loans are paid out in dollars, Trump will receive significantly less than what he originally doled out—tens of millions of dollars less in fact.
Business Insider spoke to investment analyst Stephen Clapham, who said Trump's loss results from his failure to hedge his investments:
"Hedging is what every business does unless there's a specific reason you can't do it - for example, you're investing in ... somewhere where the capital markets aren't developed enough to allow you to hedge the currency ... The most likely explanation is that Trump has made this loan and incurred a significant loss."
Trump's purported business acumen once again saw skepticism.
Others speculated the loss was part of a money laundering scheme, though there's no evidence now to support that claim.
Either way, it doesn't look good for Trump.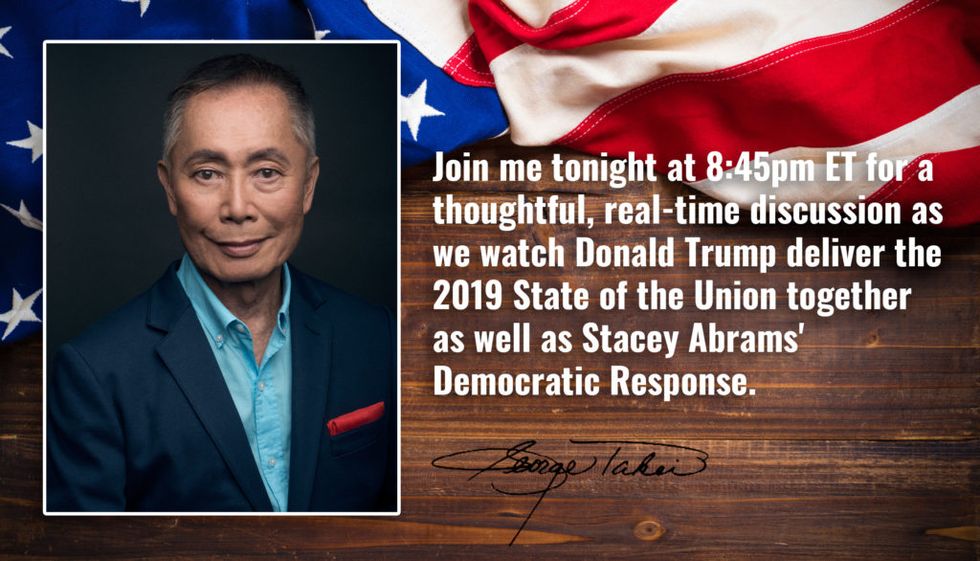 [vc_row][vc_column][vc_single_image image="56309" img_size="full" css_animation="fadeInUp"][vc_empty_space height="30px"][vc_column_text]UPDATE 2/5/19 @ 6:00 p.m. EST: Due to scheduling conflicts, George, unfortunately, has to cancel his participation in the SOTU live blog and discussion tonight. We apologize to all fans who were looking forward to it. 
Original story below.
Join George Takei live as he reacts and responds to President Donald Trump's State of the Union 2019, along with the Democrat Response by former State Representative Stacey Abrams. According to the New York Times, Trump's speech is expected to have a "unifying tone" but will appeal to his evangelical base's anti-abortion stance.
The choice of Abrams as Trump's rebuttal is largely seen as a referendum for the want for change in 2020.
Discuss the entire thing as led by "Uncle George." The event is hosted by Spot.IM and starts at 8:45 p.m. ET. It will continue until just after Abrams' response.
To join, sign-up with Spot.IM by scrolling down to the chat board below.
Click "Log In" at the top of the chat board. You will be prompted to sign-up with either Facebook, Google, Twitter, or your personal email. Whichever you prefer, follow all the prompts. If you're using your personal email, you will have to select "Sign Up" from the first prompt.
Once you're logged, stay right here as George leads a thoughtful discussion on the policies of Trump.
Thanks for joining![/vc_column_text][/vc_column][/vc_row][vc_row][vc_column][vc_raw_html]JTNDc2NyaXB0JTIwc3JjJTNEJTIyaHR0cHMlM0ElMkYlMkZsYXVuY2hlci5zcG90LmltJTJGc3BvdCUyRnNwXzhmdkdsNjkyJTIyJTIwZGF0YS1zcG90aW0tbW9kdWxlJTNEJTIyc3BvdGltLWxhdW5jaGVyJTIyJTIwZGF0YS1saXZlLWJsb2clM0QlMjJ0cnVlJTIyJTIwZGF0YS1saXZlLWV2ZW50LWNvZGUlM0QlMjJGbkFmOVRJcGVBcjF1UmREZkhXRCUyMiUyMGRhdGEtZW5hYmxlLWxpdmUtYmxvZy1yZXBsaWVzJTNEJTIydHJ1ZSUyMiUzRSUzQyUyRnNjcmlwdCUzRQ==[/vc_raw_html][vc_raw_html]JTNDZGl2JTIwZGF0YS1zcG90aW0tbW9kdWxlJTNEJTIycmVjaXJjdWxhdGlvbiUyMiUyMGRhdGEtc3BvdC1pZCUzRCUyMnNwXzhmdkdsNjkyJTIyJTNFJTNDJTJGZGl2JTNFJTBBJTNDc2NyaXB0JTIwYXN5bmMlMjBzcmMlM0QlMjJodHRwcyUzQSUyRiUyRnJlY2lyY3VsYXRpb24uc3BvdC5pbSUyRnNwb3QlMkZzcF84ZnZHbDY5MiUyMiUzRSUzQyUyRnNjcmlwdCUzRQ==[/vc_raw_html][/vc_column][/vc_row]
Keep reading...
Show less