A Redditor asked: 'How would your SO react if you proposed a 3some?'
No two couples have the same feelings towards sex.
For some, it's just a nice possibility, something they know they can always enjoy, but never feel particularly eager to do.
For other couples, saying their sex life is "active" would be the understatement of the century.
Then there are those who like to be a little more adventurous, exploring things to either spice things up, or possibly broaden their horizons.
This might include asking a third to join them.
Sometimes however, while one member of the couple is eager to give this a try, the other might not feel as inclined, and might even find themselves appalled at the very idea.
Redditor F*ckaught was curious to hear how people's partners might react at the suggestion of inviting a third member to join them in the bedroom, leading them to ask:
Asked And Answered
"She said no."- AtrumAequitas
Nice Try
"I asked."
"She said 'alright, go find someone'."
"She called my bluff."
"She knows I won't go out and socialize, let alone as for a threesome."- LuluTheNightshade
A Rock And A Hard Place... (Head Out Of Gutters People!)
"We already had that conversation."
"It got shelved because I wouldn't feel comfortable doing it with a stranger, and she didn't feel comfortable doing it with someone we knew."
"Without any possible middle ground, there was just no way it was going to happen."- Qyro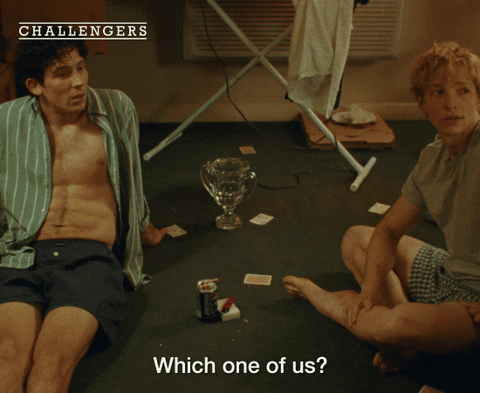 Decide One Of Us GIF by Challengers Movie
Giphy
Just Not Worth The Risk
"I'd find myself in a 1some real fast."- Apprehensive-Care20z
The Bed's Already Too Crowded...
"She dislikes 2 somes so not well."- AccomplishedBat8731
Depends On The Third...
"She would say, 'with another guy?' and that would end the conversation pretty fast."- AC_Lerock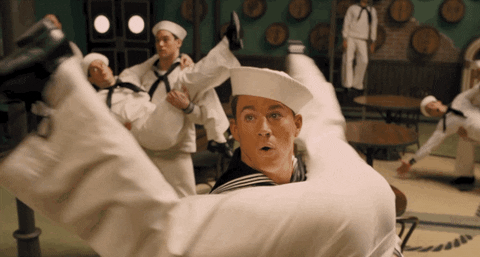 gay GIF
Giphy
Eerily Specific...
"She would ask me if my best friend Thomas can join us."- petitbatte
Ouch!
"'Oh, you wanna disappoint two women at once?'"- driago
When There's A Partner To Ask...
"My right hand would be very offended if I tried to bring my left hand into this."- Tropical_Penis123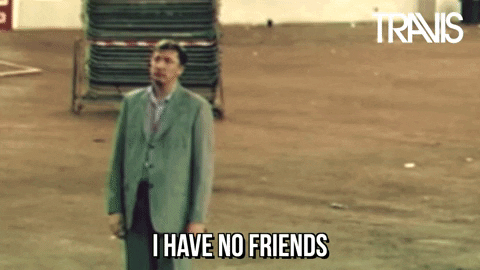 Lonely Loser GIF by Travis
Giphy
A Little Too Excited?
"She'd probably open the door and let her 'just-a-friend' in seconds after I proposed the 3some."- ToastMaster_404
One And Only
"She'd cry at the fact that I'd want to touch another woman."
"Things definitely wouldn't be the same and honestly I'm happy just banging her."- Vivid_Ad1127
"Same thing I would say if she asked me, 'I love you and I can share most things, but not you'."- mmastrocinque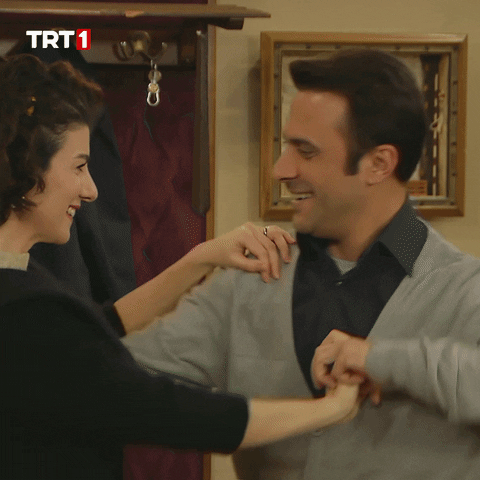 Dance Love GIF by TRT
Giphy
Only Three?

"'We have foursomes at home'."- chubberbrother
Absolutely Not
"I am sure she would be heartbroken and cry nonstop."- Reddit
FOMO?
"She'd tell me she'd ask the fellas if I could be in the next one."- Listening_Heads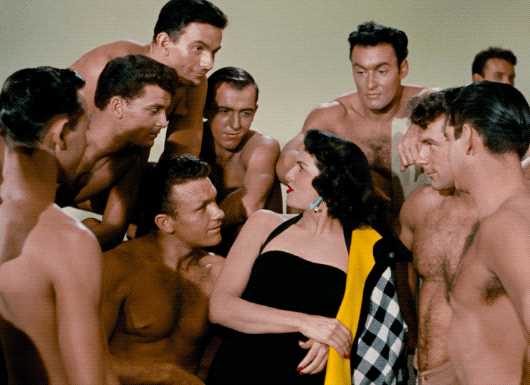 marilyn monroe hollywood GIF by Coolidge Corner Theatre
Giphy
Some might say everything's worth a try, at least once.
Others know not to mess with something that is perfectly fine as it is.
With each passing year of a marriage, couples will often discover that while they don't love each other any less than they once did, that spark their relationship used to carry has faded.
This will often lead these couples to look for ways to spice things up a bit.
Among the more popular experiments is inviting a third member to their bedroom.
Enticing as this prospect is, however, it's also easy to be intimidated by the reality of it, or even the mere suggestion of it.
In an effort to help those who have suggested this proposition, Redditor cindyvanessa took to Reddit to ask:
"Men, what advice do you have for men whose wives want to bring a third into the bedroom?"
Make sure you want to do it.
"You need to be completely honest with yourself, ask if this is something you want and could live with."- Dame87
Proceed with caution
"It's like frolicking in a mine field."
"You both better be SUPER into the idea, you can't have one person who's reluctantly agreed to go along with it."
"And established rules."
"A threesome sounds like fun and games until you're watching your partner make faces and sounds that you only thought were for you in your most intimate moments together, and a burning jealousy comes out of nowhere and breaks your heart."
"I'm not saying it's automatically a bad idea and I know people do polyamory successfully, but dear god be careful."- coleosis1414
Make sure you're an active participant
"I had an ex that was adamant that she wanted to be a swinger or whatever."
"The one time I decided to roll with it, I hit it off immediately with the other dude's girlfriend and had a blast hanging out with her all night."
"The other dude was a total creep, though."
"Also, my ex could not handle the fact that someone else was giving me the slightest bit of attention."
"So, needless to say, that didn't go anywhere."
"Turns out she didn't want to be a swinger, she just wanted to have sex with other people behind my back, which she had no problems whatsoever with."- Ted_Denslow
Look out for ulterior motives
"Just remember that if you bring this up and your husband is against it, that could be the beginning of the end of your marriage."
"For a lot of people their partner saying 'I am seriously considering having sex with other people and I'm checking with you if it is ok', is a deal breaker."- gamerplays
Consider a test run?
"Go to a bar together separately."
"Watch them flirt/interact with someone else."
"If you get jealous, it's probably a bad idea to bring in a third."
"If it turns you on, go for it."- SinSlayer
Query people with experience.

"It's something my wife and I have talked about."
"We both agreed that opening the Pandora's box is not the way we want our relationship to go."
"While it sounds fun, we have seen way to many relationships derailed because of it."- DarthDujo
Consider going whole hog.

"Bring a 4th."- xxemrgmi
Evaluate your relationship first.
"Make sure you and your partner are secure in your own relationship before having another person join."
"Have boundaries, and no secrets."
"From my experience it doesn't usually work out in the end."- Thick-Procedure455
Just don't!
"Don't do it."
"For a long time, my ex harbored a fantasy of watching me have sex with another woman."
"Hey, who knows why any of us are wired the way we are?"
"After contemplating the idea together for a while, we decided to approach one of her more attractive co-workers, who had made a series of flattering comments along the lines of "you're so lucky" and "he's so good-looking'."
"She enthusiastically agreed."
"Our first meet-up was of course awkward, but the second, third and following were pretty good."
"In fact they got progressively hotter, as we all got more comfortable with each other's boundaries, erotic likes and dislikes."
"However, over a few months these occasional kinky weekends transitioned into the co-worker asking more frequently and aggressively to be invited over."
"We tried to explain that we had intended these threesomes to be rare and exotic highlights in our sex life, not regular occurrences, but she didn't take the message to heart and instead became increasingly insistent, bordering on smothering."
"After being turned down one Friday, that night she unexpectedly showed up at our door anyway, carrying a weekend bag and wearing nothing but a raincoat, stay-ups and heels."
"While that was quite a sight, it definitely creeped us out, as it made us finally realize the whole arrangement was descending into 'play Misty for me' territory."
"My ex and I agreed that her unexpected and unwelcome appearance signaled the end of future three-ways, at least until we were able to cool our own selves down, reassess, and perhaps later find a less demanding and insistent third."
"Things subsequently got very sticky at work for my wife, as her co-worker, with whom she had to interact closely, strongly resented being permabanned, and kept demanding to know 'what she'd done that was so awful'."
"Coworker eventually asked to be transferred to another office, but by the time that process was over and done, the discomfort / guilt / pressure / confusion my ex was suffering both at home and at work had begun to take its psychological toll."
"I must confess it didn't help that our own sex life was simultaneously going through a rough patch."
"Long story short, we ended our decade-long relationship less than a year after breaking off the threesomes, chiefly due to trust issues and growing sexual incompatibility, both perhaps triggered by our experimentation."
"Ever since, I've regretted agreeing to that first three-way."
"If I hadn't been so damned eager to take a bite of forbidden fruit, we might have kept our relationship intact."
"But I guess this can also be put down as what sometimes happens when you ignore that old advice, 'don't sh*t where you sleep'."- theartfulcodger
Wanting this might be a telltale sign...

"Divorce."- justamanwithneeds
"Start thinking about the fourth - an attorney."- lt__
"In my opinion it's a slippery slope to a failing marriage."
"But you do you and talk about it."
"It might work out and it might backfire."- Vikinger-CJL1996
Consider it... but REALLY consider it.
"Having been down this road, I really had to think it through."
"There is no right and wrong here, only personal feelings."
"On the one hand, I was honored that my partner felt safe enough sharing with me this fantasy of hers that she had never told a past boyfriend or even her ex-husband out of fear of judgment."
"But on the other hand… It wasn't anything that ever sound appealing to me."
"This is where I drew the line."
"If it was the experience that she fantasized about, I was willing to explore that with her."
"But if it was instead simply about an individual that she wanted to bring into the bedroom, that was something else entirely."
"Essentially this is what I mean:
"'Honey, I have always fantasized about having MFM threesome and it would be amazing if you would consider helping me fulfill that fantasy'."
"I was OK with this one."
"'Honey, I've always had this fantasy about having sex with you and Jeff, that sexy Bartender we are always getting drinks from on the weekends'."
"'What would you think about trying to set that up?'"
"She just wants to f*ck Jeff and is looking for permission."
"Not only did she assured me that it was the first one and not the second one, or after describing some basic parameters/qualities/characteristics, she told me she preferred not having any say in who our special guest star would be."
"It was purely about the experience and not any individual."
"We had a lot of conversations before I even seriously considered it."
"Long story short, I spent two months speaking to you guys and putting it together."
"It was about two years ago now and we just talked about it again the other day. "
"She doesn't remember the guys name, or anything really distinctive about him."
"You know what makes her smile, and quite frankly light up, when that conversation comes up?"
"She always points out that that was the day she knew, without any doubts, that her partner placed her months, needs, and desires on a pedestal above any petty insecurities that he may have had."
"I actually believed her when she told me that it was just a fantasy not any void in our sex life she was trying to fill."
"The experience brought us much closer and we had a great time."
"As soon as the guy left we both cracked up laughing together lol."
"I really knew that we were on the same page and I could see in her eyes how appreciative and grateful she was towards me."
"Also, as soon as he left, she pounced on me like a lion would jump on a limping gazelle across the prairie."
"I've never seen her so turned on."
"It wasn't the other guy that turned her on."
"It was the confidence that she saw in me for doing that for her. I'm not saying you should do it."
"I'm just telling you my story."- disposibleaccount9
Set clear boundaries
"Have a long talk about what you really want and are comfortable with."
"I had a friend with benefits in college."
"She had a bi friend, and had said that girl was the only one she would experiment with."
"We tried, it turned out she both was embarrassed to experiment in front of me, and didn't want to watch me with the friend."
"Ended with my FWB blowing me, and my taking some cum on my finger and offering to the friend, who immediately swallowed it."
"Definitely giving the 'I'll clean the rest off' vibe."
"FWB saw and made sure there wasn't another drop to spare."
"Turns out she has caught the feels."
"I might have considered a guy as the third at that point, but I have a strong feeling who she would have picked."
"A gay friend who would not have wanted to touch her."
"MIGHT have considered at that point in life trying and sharing oral duty with her, and letting both blow me." Never brought up.
My ex wife had one friend that I would have been willing to bring in."
"She was a 35 yr old virgin, who was wanting to change that."
"She probably would have been down to be bi for a night if asked."
"Ex wasn't. Looking back, we didn't have that strong of a marriage."
"Now, not a chance."
"Don't want anyone else in any bed but current wife."- Vast_Professor7399
The decision must be mutual.

"My ex was kinda an asshole, and attempted to illicit a reaction from me by saying he wanted to bring a third person to the relationship, so I asked a question of 'do you think you'll get mad when whoever it is you bring in likes me more than you?'"
" They got pissed and never minded the whole thing."
"That's the only real related thing to this I got."
"In my opinion however, if you and your partner wanna add a third controller, just be sure that's what you want."
"Be sure you're ready for another person to get attention, to be part of decision making, and that you're comfortable with that."
"Aside from that, nothing else really matters."- uwumcuwu·
Good advice no matter the situation
"Bring snacks."- Motor-Berry-6887
When venturing into the unknown, it's always wise to gain some first hand experience, to hear a variety of pros and cons of what you're possibly getting yourself into.
That way, deciding whether or not it's for you will become increasingly clear.
It's also important to remember, that it is always ok to say "no".