This week, another conservative commentator was schooled for their misogynist take on fictional entertainment.
People has had no problem giving him a lesson.

In Netflix's new show, The Witcher, the story is fantasy fiction and focuses on a lone monster hunter and a princess, who find their destinies to be crossed. The season focuses on world-building and how these two distinct characters, as well as many other sub-characters, mature in this environment.
As a guest podcaster on The Daily Wire, crime novelist Andrew Klavan visited and decided to comment on The Witcher after having given it a view. His comments, however, were extremely misogynist, anti-progressive and just historically wrong.
Klavan jumped right into his critique, giving away his position:
"Immediately I was put off by the fact that there's a queen in this who fights like a man. There's a couple of scenes where women fight with swords."
"And I just hate these scenes, because no women can fight with swords. Zero women can fight with a sword."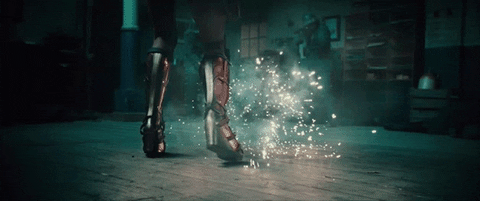 Giphy
Klavan then felt the need to elaborate on what he meant:

"What I mean by that is in a situation where you are fighting men who are used to fighting with swords, you are going to get killed if you are a woman fighting with a sword 100 percent of the time."

"A woman with a sword could kill somebody who doesn't know how to fight with a sword. But in a war situation, where you are swinging this five to ten pound sword again and again and again, against much, much, much stronger men, they are going to kill you."
Klavan then suggested a more realistic take on the fantasy fictional show, since monster-slaying appears to be more realistic than a woman handling a sword.
Klavan suggested:
"They should have made the character a man. She's a man."
"She's gross. She swaggers around and she rips into the meat and tears it with her teeth and curses people."
"It was a feminist statement and I was like 'please, give me a break.' I don't know if that is in the book but this is not the way that any woman behaves."
You can watch his full critique here:
Daily Wire host reviews 'The Witcher': "No woman can fight with a sword. Zero women can fight with a sword" https://t.co/RJuUoujkAG

— Jason Campbell (@Jason Campbell) 1578014228.0
Twitter, of course, felt the need to respond.
They gave Klavan a little history lesson in sword-fighting and common fantasy fiction elements.
@JasonSCampbell Um what

— The Guillotine Shouter (@The Guillotine Shouter) 1578146660.0
Some started off easy on Klavan, pointing out his inaccurate portrayal of the weapon women apparently can't wield effectively.
@_Milo_De_Venus_ @JasonSCampbell Seriously. A zweihander, one of the heaviest swords ever used in warfare, was only about 5-7 pounds.

— Crustaceans🦀 (@Crustaceans🦀) 1578106355.0
Or, ya know, Joan of Arc.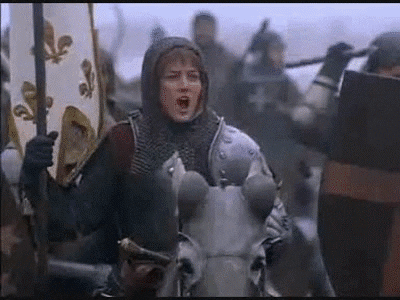 Giphy
Also, while we're talking about wielding, there were multiple comments about how the making of swords is specifically meant for easier handling.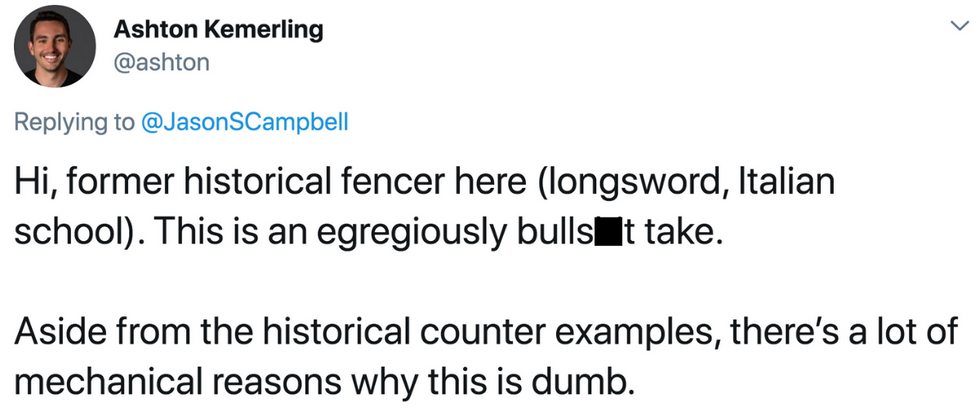 @ashton/Twitter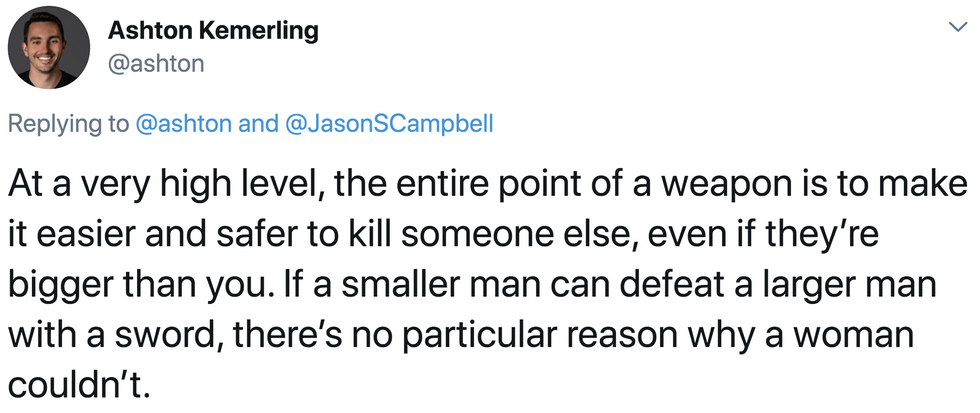 @ashton/Twitter
And never mind the popular female figures who viewed swords as their weapons of choice.

@JasonSCampbell Counterpoint: Julie d'Aubigny, the bisexuals cross dressing opera star and swordsman who famously a… https://t.co/ZWX18Q62HP

— Kim Cavill (@Kim Cavill) 1578015539.0
@JasonSCampbell so glad this guy is speaking the truth, i.e., that in a sword fight Ben Shapiro would win against S… https://t.co/6OWLt4099h

— Max Kennerly (@Max Kennerly) 1578107148.0
@MikeLamentino @JasonSCampbell There's actually quite a few examples of real life women swordfighters, it all depen… https://t.co/7p4eIowph4

— I am Jack's itchy taint (@I am Jack's itchy taint) 1578016039.0
Also, apparently women being proper sword fighters is much less predictable than monsters and monster-slaying.

@JasonSCampbell Guys like this are the ones who need to be ridiculed as snowflakes. He can watch a show with magic,… https://t.co/JBrhbfbTRi

— DarkMatter2525 (@DarkMatter2525) 1578126931.0
@JasonSCampbell Every time a woman does anything on screen other than play a one dimensional, passive love interest… https://t.co/g9h1sS0Zaa

— Claudia B (@Claudia B) 1578076711.0
Clearly, before Klavan comes forward with another film or TV critique, he should be careful to double-check his historical, and patriarchal, facts before speaking out about the "issues" he's seeing.
He may also, where applicable, want to give the books a gander, too.
You can get The Witcher Boxed Set: Blood of Elves, The Time of Contempt, Baptism of Fire to check out the accuracy of Klavan's rant here.
Keep reading...
Show less