When it comes to exploding rats, Russians infiltrating a suburban mall and a psychokinetic girl fending off otherworldly monsters, Stranger Things is never in short supply of unusual phenomena.
But you know what?
There are no stranger things than being on the internet.

Fans of Netflix's Sci-Fi hit that takes place in the 1980s are getting their acid-washed jeans and scrunchies in a bunch over a jaw-dropping phenomenon that is weirder than the Upside-Down.
Twitter user Trevor White uncovered old photos and pointed out that a younger David Harbour – who plays the chief of police Jim Hopper from the show – looks just like Steve, while an adolescent Patton Oswalt looks exactly like Dustin.
Harbour, 44, and Oswalt, 50, are friends in real life.
And based on the juxtaposed photos above, the younger gentlemen perfectly rocked their 80s coifs just like the characters they are being compared to.
So far, Oswalt responded to the viral madness.
Twitter is eating this up like a hot dog on a stick.

Fans have but one request of Harbour and Oswalt.

Eleven has only this to say.
There's only one way to recover from this Stranger Things mania: gorging on the USS Butterscotch from Scoops Ahoy from the Starcourt Mall.
See you there!

You can get season 1 & 2 of Stranger Things in retro packaging designed to look like VHS tapes here.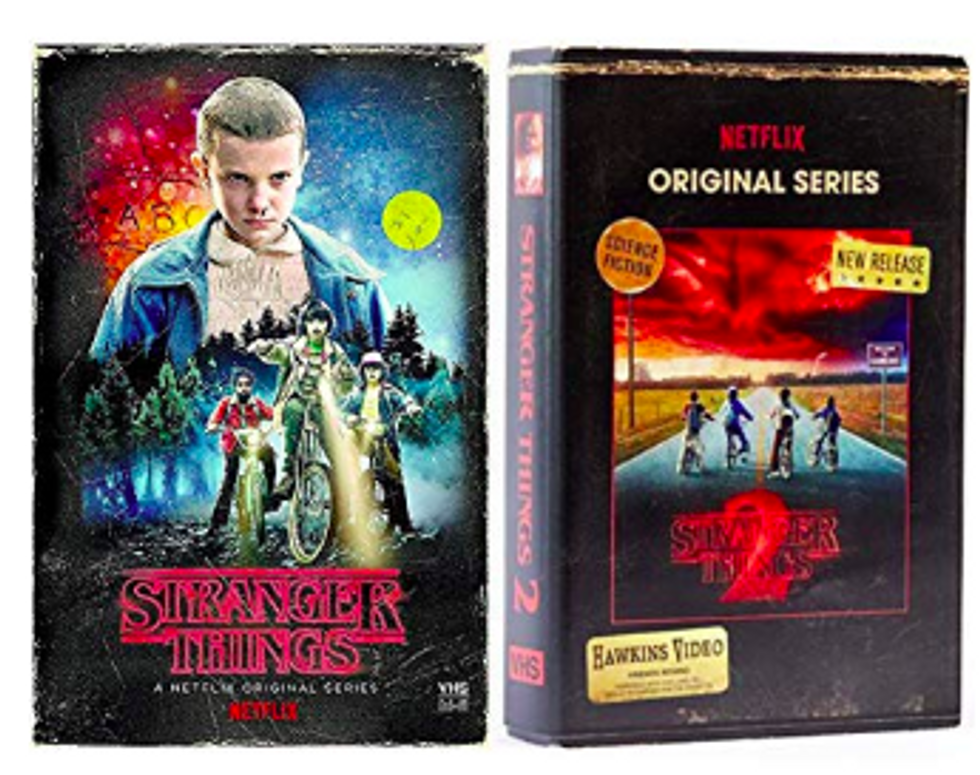 Amazon
Keep reading...
Show less
Do you love the Netflix series Stranger Things?
Do you wish you could enjoy it in interlocking brick form?
If so, Netflix and LEGO have good news for you.
LEGO announced a new set based on the adventures of the kids from Hawkins, Indiana. While past LEGO collaborations with well known properties are easy to imagine, such as Batman and Star Wars, you would think Stranger Things would be a weird show to adapt.
However, it seems like people were more than willing to wait outside the LEGO Store to buy the set.
Looking forward to seeing a few of you tonight at the Midnight Opening Event at the @LEGO_Group Store Leicester Squ… https://t.co/TNd5CI0Pfb

— Justin Ramsden (@Justin Ramsden)1557835174.0
Oh! https://t.co/tLoyWausUP

— Adam Sunman (@Adam Sunman)1557903845.0
Strange Things happening from midnight tonight at the Lego Store, London #lego #Netflix #StrangerThings https://t.co/BPrpZ9HP1X

— Julian Nelson (@Julian Nelson)1557905862.0
The doors are open! #LEGO #StrangerThings #LEGOLeicesterSquare https://t.co/FfDWL6lTXM

— Brickset (@Brickset)1557876878.0
Fans were waiting outside the LEGO Store in Leicester Square for hours. They began lining up Tuesday morning for the release of the set Wednesday night.
The new set wasn't well publicized before the release.
Teaser images posted to the Netflix Instagram gave a clue, but it took until this week for people to be sure this would be a Stranger Things set.
Philip Thorne, a fan who waited more than nine hours, said:
"The joy of Lego is so exciting, my kids are so excited."

Tasha, a fan from London, said:

"I love Lego and I love Stranger Things. This is a merging of two worlds that I love."

All this excited energy can get you pumped!
Who else wants a set?
@LEGO_Group @NXOnNetflix https://t.co/qfna1jBV6P

— Michael East (@Michael East)1557875286.0
@HeartLondonNews Okay Google... find me time-traveling flights to London.

— Brickstar Studios (@Brickstar Studios)1557954833.0
@tomboabs @verge Of course! 😀 I am very, very tempted. But it's quite expensive for the size. Paying for the brandi… https://t.co/hUeBpp8mxY

— G X Todd (@G X Todd)1557925907.0
Slow your roll before you get too excited. The new LEGO set may come with more than 2200 pieces, but it also comes with a hefty price tag.
The set was going for $200 online for LEGO VIPS. That's a lot of money to drop on the plastic bricks.
But it could be argued that what you get for that price is very worth it. The set is one of the more interesting designs LEGO has released in recent years.
The bricks form into a mirrored form of the house of Joyce Meyers. The normal looking house sits on top of the 'upside down' version of the same residence, supported by trees.
The main characters from the show are included, but what else is in there?
Its true: there's a @LEGO_Group #StrangerThings set. Lego Eleven and Dustin look particularly good, and the house… https://t.co/0QbGdoQJ9P

— Ali Plumb (@Ali Plumb)1557904104.0
Stranger Things LEGO hi-res images! 😲 what does everyone think? https://t.co/W86DaBUqN1

— Bob's Vintage Bricks (@Bob's Vintage Bricks)1557749270.0
@SchmittJ67 @verge https://t.co/RKNFXYgi1V

— bluff (@bluff)1557918768.0
You've got well known details such as the light up board that Will uses to communicate with his mother while trapped in the upside down. Sheriff Hopper and his cruiser can try to keep everyone safe, while the kids are chased by the evil Demogorgon.
LEGO VIP members could order the set yesterday, but it will also be available for retail on June 1.
Makes you wonder if it was really worth waiting hours outside the store, if they could have just waited a few weeks.
Keep reading...
Show less