Reddit user yankeevandal asked: 'What statistically improbable thing happened to you?'
We've all heard something that sounded so outrageous or unlikely that we struggled to believe it.
But in some cases, we might be the ones trying to find the words to tell an unbelievably true story.
Redditor yankeevandal asked:
"What statistically improbable thing happened to you?"
Hello Again, Stranger
"When I was a teenager, I picked up a hitchhiker, and then a few years later, the same guy picked me up when I was walking after I ran out of gas."
"I never saw him before or after those two occasions."
- Perrin_Aybara_PL
Countdown Diagnosis
"I first got cancer in 1993."
"In 2003, they told me to get my affairs in order, and that I had six months."
"In 2021, they told me it's spread to my bones and lungs. They gave me five years."
"In 2023, two years down, and I'm feeling about 90%"
- fabyooluss
"Godd**n, you're my hero today. It seemed like a bad thing, you getting cancer. But think about how cancer feels, getting someone tough like you! Keep truckin' you tough fighter!"
- KevinTheSeaPickle
A Bird Magnet
"I got attacked by a robin in the morning and then attacked by a hawk three hours later."
"That was a weird day."
- BlackberryNeon
Beating Foster Care Statistics
"I got a degree after aging out of foster care."
- joylm
"I'm proud of you!"
- emrey220
"Oh, this is amazing! Way to beat the odds, so happy for you!"
- Lizard_CEO
Truly a Series of Unfortunate Events
"Many years ago, I had a terrible day when my then-girlfriend broke up with me, then I did terribly in a final exam for a college class, and then I lost my wallet."
"And finally, as I was doing the Charlie Brown sad walk back home, some random branch broke off a tree as I was walking on the sidewalk underneath it, and the d**n thing fell on top of me, hit me square across the shoulder, and knocked me to the ground."
"I just burst out laughing because it was so ridiculous."
- Tough_Stretch
"This triggered an old memory from my uni days: I woke up one morning and a series of small things went wrong (think spills, broken dishes, burned clothes while ironing, corrupted assignment file on my laptop, that sort of thing, one after the other, all morning)."
"As I was leaving my hall of residence to head to my first class, I tripped and fell on the stairs. That was the last straw."
"I turned around, went back to my room, got back into bed, and stayed there for the rest of that bad luck day."
- mystyz
One with the Squirrels
"I have been hit in the head by live squirrels three times in my life, each on separate occasions."
- AdjunctAngel
A Surgery Gone Wrong
"I underwent a surgical procedure called a Stapedectomy to improve the significant hearing loss in my GOOD ear."
"Instead, I ended up completely deaf. My surgical ENT said this has only happened to five patients IN THE ENTIRE US. (He was doing research to try to help me after.) I don't know how true it is, but hey, lucky me."
- Glittering-Star2662
When Anything Can Be a Bookmark
"My husband and I visited our old hometown and went to a used book store we used to frequent."
"I picked up a familiar title in nostalgia and flipped it open to find a school student's ID card."
"The name and photo on the ID?"
"My husband."
"As it turns out, his mom had donated books to that store many years before we all moved away from that area. He must have been using it as a bookmark and forgotten."
"It's not so surprising considering we used to live in that area, but the ID was nearly 10 years old by the time we found it."
"That book was sitting on the shelf for nearly a decade untouched, waiting for me to come along and pick it up. Bizarre."
- misshepburn15
A Book Finally Returned Home
"A friend of mine, A, had a signed copy of a book from his favorite author."
"While he was at university, his mother asked him if she could donate his books and he said okay. He had forgotten that the book was in his room. He thought he had it with him at school."
"When he realized his mistake, the book was long gone."
"More than twenty years later, another friend, B, was in Japan. He was in a cafe that had a book exchange. He picked up a book that had an inscription. It was dedicated to someone with the same first name as our friend who had lost his inscribed book."
"B decided to buy it for A not knowing that A had lost an inscribed book from the now-dead author."
"B sent the book to A in the US. A was quite surprised to get a package from B who he hadn't heard from in years. He was even more surprised when it was the exact same book his mother had donated. It was still in pretty good condition and even had notes in his handwriting in the margins that he didn't remember making."
- whittlingcanbefatal
Meant to Have It
"After losing an AirPod while skiing, I was able to find it on the next run."
- BrickOutside1740
When One Door Closes
"Not an exciting life or death incident, but something rather sweet:"
"I took care of my late father for the final two years of his life. He had Alzheimer's and pulmonary fibrosis, among other issues, so we had a lot more bad days than good. In the summer of 2019, I took my dad out for a 'date' one day to a historic old drugstore that has phenomenal milkshakes (one of his favorite foods in the world)."
"It was one of Dad's increasingly rare good days, where he chatted merrily with me about all sorts of old memories. I felt like I had my dad's former self back for just a little while. We had such a wonderful time that I intended to take him there again soon."
"However, this ended up being our last 'date.'"
"For most of the remainder of that year, Dad declined too much (mentally and physically) for me to take him out for anything other than very short grocery trips or to appointments. The following year came the pandemic. It was a very, very rough year with Dad."
"In January of 2021, my father died, alone, in a hospital in another state (our state ran out of hospital beds and he had suffered a traumatic fall that required hospitalization). That day in 2019 ended up being the last truly happy day I had with my Dad and the last fun outing he ever got to experience."
"Three months after my dad died, I met a wonderful man online (nine days after signing up for a one-year membership, because 'surely it's going to take time to find someone truly compatible with a shy nerd like me!')"
"A few months later, we decided to try a first date. He lived three hours away but wanted me to be comfortable, so he volunteered to drive to my town for the date. He looked online for an appealing restaurant to suggest and excitedly told me about this really neat historic drugstore we could go to..."
"We went on a very crowded day (local festival; oops) and had to wait quite a while for a table. The waitress sat us at the EXACT same table where I sat with my dad nearly two years earlier! I was even in the same seat."
"Three months later, we got engaged at that drugstore."
"So the beginning of the end of one chapter of my life crossed paths with the beginning of the best (so far) chapters. My husband and I have since decided to make a trip back there at least once a year. Dad really would have loved my husband."
- Used-Toe-6374
Funny Seeing You Here
"Not me, but a friend. He was a merchant mariner. He lived here in Virginia Beach. He was always calling and texting, posting pics from around the world."
"One time he'd been out a while. We knew he was heading to Dubai, but didn't know where he'd be after that. Four months went by and nobody had heard from him."
"His neighbor, who I was friends with, got married and went to Thailand for his honeymoon. He texted me one day and said, 'You aren't gonna believe this s**t.'"
"He said he asked a local where a good local spot to eat was that tourists wouldn't be at. The guy took him 30 minutes from the beach to some dive bar/restaurant with no sign, and no clearly marked entrance. He said it looked so shady, he was afraid he was about to be robbed and killed."
"But he went in, and it was a legitimate restaurant. He ate, drank some beers, and went to the bathroom."
"As he went in, out walked my friend, so he took a pic and sent it to me to confirm he was okay."
"Imagine taking a flight several thousands of miles away, getting away from the tourist areas and going into a local dive bar, and running into your f**king next-door neighbor you haven't seen in months. S**t's wild."
- AngryChefNate
Short Waiting Lists
"I received my heart transplant after being on the list for only seven hours."
- dekion101
"I had a friend of a friend in New York who needed an organ transplant. The doctor evidently told her, 'You'll be waiting for a year here. Go to Florida. They have no helmet laws and year-round sun.'"
"She moved down and had a new liver in a few weeks."
- Rubberbabybuggybum
Monochorionic Twins
​"My friend had two sets of monochorionic-monoamniotic twins (the rarest kind of twins) in back-to-back pregnancies."
"They're identical twins that share the same amniotic sac and same placenta."
"'Mono-Mono' or 'MoMo' twins happen in about one percent of identical twin pregnancies, and less than 0.1 percent of all pregnancies."
- fuawont
Some things are so hard to believe, but it's amazing to hear stories like these being told, especially when what happened leaves the person feeling happier than they were beforehand.
Reddit user Miserable_Papaya1814 asked: 'What dark facts do you know about food industry?'
Many people prefer to know as little about what they're eating as possible, while others will do copious research about their food, namely how safe and hygienic what they just ate was.
Sometimes going down that rabbit hole of research, you might learn something about a product you just purchased or a restaurant that you wish you hadn't.
Then too, some of what you may read is purely urban legend and has absolutely no basis in fact.
Unfortunately, some information is merely the surface of shocking, disgusting secrets.
Redditor Miserable_Papaya1814 was eager to learn some of the most shocking secrets about the food industry from first-hand accounts of employees, leading them to ask:
"What dark facts do you know about food industry?"
Unwanted Extra Ingredients...

"Sometimes the salads aren't bug free."
"There were times where I received crap for taking too long washing lettuce."
"Staff would wash a large container of lettuce like once or twice."
'I did it 3 or 4 times."
"I didn't stop until the water was clear and had no bugs."
"The others had a 'who cares' attitude."
"One time my boss needed my help and said to me frustrated, 'The lettuce is already washed, unpack it in salads quickly'."
"The lettuce looked dirty so I said to myself 'I can't sell this to people'."
"I washed it and guess what the water looked like."
"Dark brown from soil, 50+ dead gnats, a living and swimming spider the size of a penny."- FightStageYouTube
The Contaminants Will Not, Though...
"Worse I participated in as kitchen staff in a rather top-flight restaurant."
"On a slow summer Sunday afternoon, the boss sent us down to the walk-in meat coolers to spray paint the rusted walls."
"We were instructed to not remove the contents of cooler first; rather just shift the meat from one side of cooler to other."
"The coat of silver spray paint will come off during cooking."- Zealousideal_Lie_383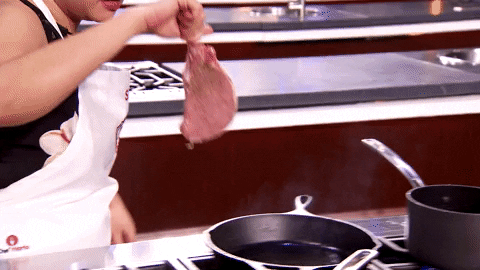 Season 11 Cooking GIF by Masterchef
Giphy
You Have No Idea What's Been In There...

"The deep fryer grease is long overdue for a change; but it's expensive to do so nightly."- Zealousideal_Lie_383
And People Go To Bed Hungry...
"The amount of waste thrown away every single day by grocery stores."
"I worked in the meat department of a decently sized grocery store and the waste their was nauseating."
"I sh*t you not, we would throw away an industrial sized garbage bin worth of meat, fish, and poultry every single day."
"The expiration dates dictated everything which is obviously a sensible policy to have, but they wouldn't do anything about it."
"They wouldn't donate it, let employees take it home, or make adjustments to the orders so we wouldn't have to throw so much away."
"The reasoning was always 'better have to much than not enough' which I guess makes a little sense, but when I am throwing away dozens of pounds of tenderloins, center cut fish and shellfish per night, its to much."
"Mind you, this is one department of one grocery store."
"Sorry for the rant but I feel like it needed to be said."- Zastrow_Studios

Waste Management Food GIF by UC Davis
Giphy
There's A Reason They're "All You Can Eat..."
"In my country, buffets often sell spoiled food, like if the employees see mold on top of the sour cream, they just scrape it down and continue selling it."
"Also, if they sell cooked meat, they often leave them on the counter for days and add some oil to it every morning to look fresh."- Wooden_Potential_699
Don't Believe Everything You Hear... (But Remember, This One Was In Canada...)

"So odd to see all of the comments that chain places are dirty!"
"On the weekends I work as a server in the lounge of Boston Pizza (Canadian chain—not sure if there are any in the states) and when I started working there I was seriously impressed with the cleanliness procedures!"
"For one example, parmesan and chilli containers are emptied and cleaned every night, as well as salt and pepper shakers!"
"Kitchen protocols are very clean and organized as well!"- noobishpineapple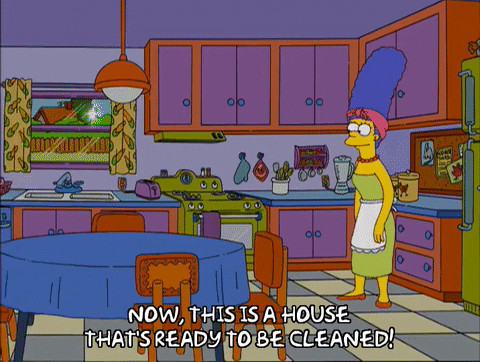 Happy Season 17 GIF by The Simpsons
Giphy
Not Exactly "Haute Cuisine"...
"You'd never want to eat at a restaurant again once you saw how much of your $70 meal for two came frozen and pre-prepared in plastic bags."- PhilipLiptonSchrute
It's Not Just The Greens That Need Washing...
"Grocery distribution warehouses are often extremely filthy and rarely cleaned."
"Wash anything canned, bottled or jarred!"
"They're filthy as hell, covered in microplastics, rotten food, mouse pee, bird sh*t, etc etc."
"I used to do maintenance on conveyor systems for a major US chain and they just send sh*t flying down the conveyors so fast that, its fairly common for glass to shatter because of the vibrations, food to fall off, etc etc."
"I saw Bats, Birds and Mice in that facility, but it was within tolerance of their health policy."
"Also saw people that were sick sneezing and coughing on products."
"Never saw a floor scrubber go through the warehouse the entire 3mo I worked there and I was doing alternating double shifts!"
"The only time I saw a broom was if there was shattered glass."- -Plunder-Bunny-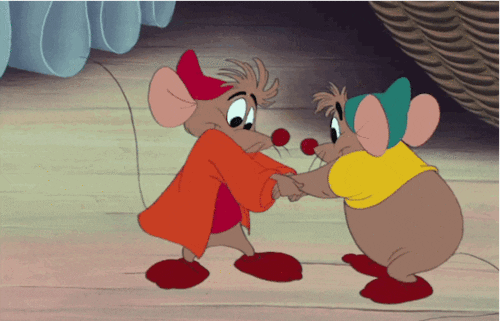 mice GIF
Giphy
Remember, All These Incidents Are Case By Case...

"As a former chef, I've got to say that I've never seen any of the horrible stuff mentioned here over my career (mostly higher end and fine dining establishments)."
"We on ocassion would have things like frozen airline chicken breasts brought in, but other than that we did all prep and cooking by hand with fresh ingredients from mostly local purveyors when possible."
"We also broke down and deep cleaned every night from the ranges to the floors to the wells to the vents."
"Every night."
"Myself and staff have always taken this sh*t very seriously, and it's always disappointing when you hear of this kind of behavior."
"Do better, people."- iamtehryan
They Trick You With The Language

"It's more like misleading labeling."
"No sugar."
"Right?"
"Wrong if you read ingredients on a lot of these packaging it will say things like maltodextrin and dextrose."
"That's actually a sugar."
"Because of regulation they only have to label it no sugar and people think it's healthy, etc."- SavemebabyK
Maybe Just Stick With Sausage...
"Worked in a pepperoni factory 20+ years ago as an accountant."
"Found that the more MSP in the bill of materials, the lower quality and cheaper the product."
"Looking at the stuff, it looked kind of like an old square crumbly eraser if you remember those."
"So I asked what MSP was."
"It's 'mechanically separated pork'."
"When I asked what that means, they told me that after all the good meat is cut off of a pig, a power washer is used to blast the remaining flesh off the carcass."
"That's scooped up, dried out and packaged as MSP."
"Enjoy your next cheap pepperoni pizza."- Lahk74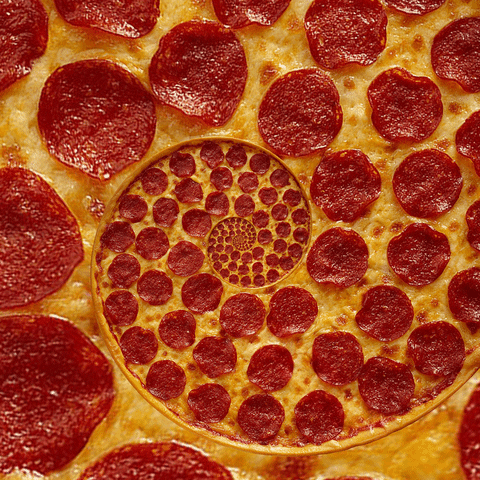 Catering Happy Birthday GIF by Feliks Tomasz Konczakowski
Giphy
It's very easy to decide not to eat at a certain restaurant, or dine at a certain grocery store owing to a less-than-appealing appearance.
That being said, many people might be surprised to discover that conditions at the "higher end" options might be as bad or worse.
Then too... if the food is delicious, and has yet to make you sick, then perhaps ignorance is, in fact, bliss.
As the saying goes, you can't believe everything you read.
But every now and then, you might find yourself reading or hearing a piece of information that you at first think couldn't possibly be real.
Until you are presented with verified, reliable information to back it up... Then you have to eat your words and put your disbelief behind you.
Perhaps the most surprising instances of these are statistics, which at first glance you can't possibly believe are accurate and find yourself proven otherwise.
Redditor Leefiey was eager to hear the most surprising facts and statistics that people still have trouble believing are accurate, leading them to ask
"What is a fact or statistic that seems fake but is real?"
And You Thought Sharks Were Dangerous...
"Horses kill more people every year in Australia than all the other beasties combined."
"Everyone thinks it's the spiders and snakes that'll get you, but it's the horses you've really got to watch."- Gingerbread_Cat·
The Dangers Of Scientific Advancement

"It took us more time to go from bronze swords to iron swords than it did for us to go from iron swords to nuclear weapons."- IMJUSTABRIK
Frightening People For Generations!

"Sharks have existed longer than trees have."- Capital_Indication_4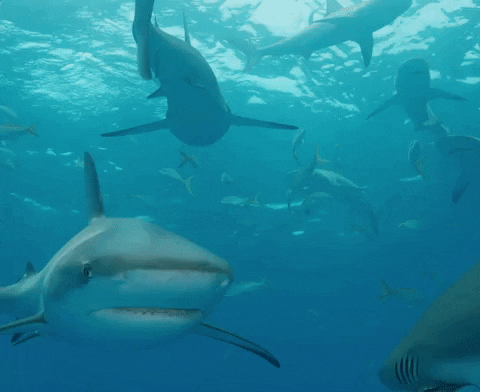 Discovery Sharks GIF by Shark Week
Giphy
The Great Unknown
"I saw a scale model of the earth, moon and sun in a museum."
"The sun was about the size of a basketball, and the earth was on the opposite side of the room, the size of a small marble, I'd guess about 30 metres away."
"The moon was the size of a tiny pinhead, about 10cm away from the earth."
"On this scale, the nearest star to earth, Proxima Centauri, wouldn't be in the same building, or even in the same city."
"It would be 10,000km away."
"And that's just one star, the nearest one to us, in a galaxy containing billions of stars, which is just one of billions of galaxies."
"The scale of the universe really is mind bogglingly big."
"Far bigger than we can begin to comprehend."- Qabbalah
Zero Points To The Lost World For Authenticity...
"We live closer in time to Tyrannosaurus Rex than the T Rex did to the Stegosaurus."- reiveroftheborder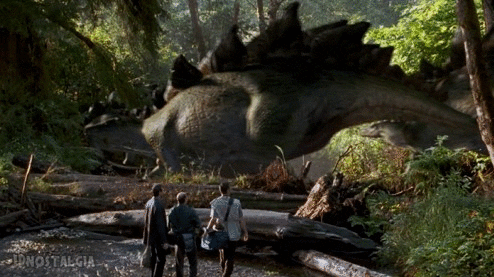 stegosaurus GIF
Giphy
From Bad To Worse?

"After the British made head protection mandatory in WW1, the amount of head wounds increased."
"It's due to they were no longer KIA, but 'only' a head wound."- WouldUKindlyDMBoobs
Sarah Palin Can Confirm...

"USA is only 2.4 miles from Russia."
"2 islands in the Bering Strait, the body of water in the Pacific Ocean that separates Alaska from Russia, are 2.4 miles from each other at the narrowest point; one island is owned by Russia, the other is owned by USA."- Qabbalah
But Where Did "Ginger" Come From?

"In English, the color orange was named after the fruit."
"Before that, orange was just considered a shade of red."
"That's why gingers are called redheads."- I_might_be_weasel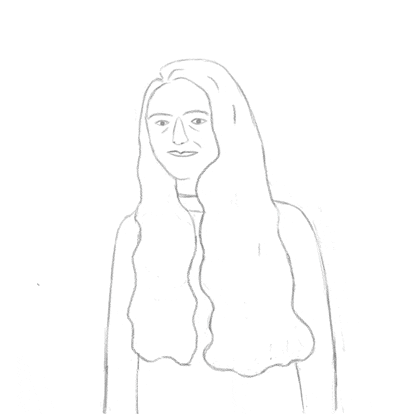 redhead wink GIF by Kobie
Giphy
At Least We Can Be Sure He Didn't Lie About It
"George Washington didn't know dinosaurs existed."- Silver34
But What Did They Want To Do With Those Cobras?
"New Delhi hired people to hunt cobra snakes which led to people having Cobra Farms to earn money, then the government stopped the project which led the Cobra Farmers to release their snakes, causing twice as many snakes than they first started."- cathabit
The Truth Lies Between The Lines...

"Barcode scanners scan the white lines, not the black ones."- the_blast_radius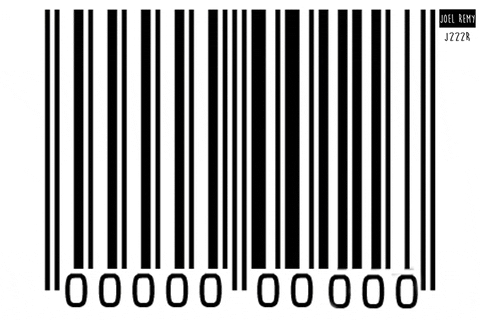 Scream Bar Code GIF by joelremygif
Giphy
But Does It Make It Easier To Avoid?

"Wombat poo is cube shaped, to stop it rolling away."
Perception Can Be Dangerously Misleading
"The Oxford University in England existed centuries before the rise and fall of the Aztec civilization."- RefrigeratorStatus96
"Time Is The Longest Distance Between Two Places..."

"A million seconds is 12 days."
"A billion seconds is 31 years. "
"A trillion seconds is 31,688 years."
"People have a lot of trouble comprehending numbers that big."- sunbearimon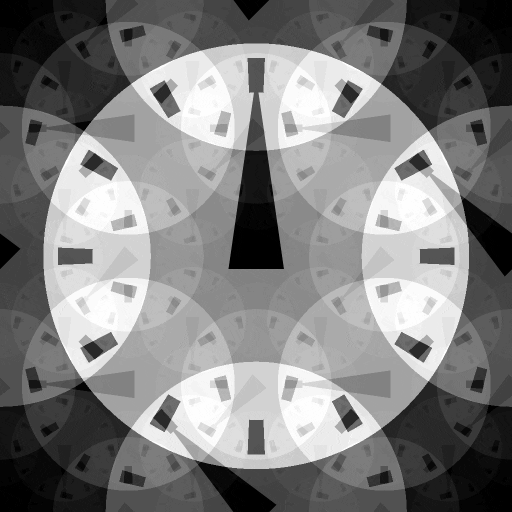 Loop Time GIF by Psyklon
Giphy
One thing that makes science so remarkable is how difficult it can be to believe.
And yet, scientists have been working since the beginning of time to prove that facts are, indeed, facts.
Do you have anything to add? Let us know in the comments below.
More and more people rely on dating apps to meet prospective partners.
Hoping someone else will swipe right on their profile, leading to a mutual match, and possibly a stable relationship.
Indeed, some people find the love of their lives after only a few swipes and a few days of messaging.
Others, however, swipe for months, even years, without getting a single match, growing more and more frustrated by whatever algorithm they are beholden to.
Often leading lovesick individuals to wonder what exactly their chances are at finding love on Tinder, Bumble, Hinge, or Scruff.
Or, for that matter, what the other people who search for love on apps or the internet are actually like, and if the person they've started chatting to are who they claim to be.
Redditor brunetteht3 wanted to get to the bottom of dating apps, and hear some first-hand experiences from the people who work for them, leading them to ask:
"Redditors that worked with a dating company Tinder, Bumble, Hinge, etc., what's the most insane user stat or behind-the-scenes fact you found out about?"
Some Men...
"I have a friend who works for, I wanna say Tinder."
"Anyway, the company isn't important; what is important is that her ENTIRE job is to remove inappropriate images."
"Her JOB is to look at d*ck pics all day."
"Five days a week."
"That's all."
"No stat."
"Just a weird f**king job."- Lettuce-b-lovely
"I used to work at a dating site in the UK."
"I was on the tech side but most of the staff was a group of young women who manually approved images and text changes to profiles."
"There was about 10-15 of them and the turnover rate was about one a week."
"The work was just so mind numbing."
"About 10 times a day they'ed shout that they'd 'got another one'."
"Which basically meant one of the hundreds of thousands of men on the site has differently thought 'I've thought of something nobody else has tried, I'll upload a picture of my member' at which point they'd all laugh at it, cancel the profile upload and go back to reading about people's choice of pets or whatever else they thought was interesting."- mvrander
Catfishing, Much?

"My ex bf worked for the Yahoo Italy dating site back in the earlyish 2000s."
"His job was to pretend to be a woman, and message male customers just as their accounts were going to expire."
"This would encourage them to pay to renew their subscriptions."
"Once they renewed, he would ghost them."
"He only lasted for a few months due to how unethical it was."- visualisewhirledpeas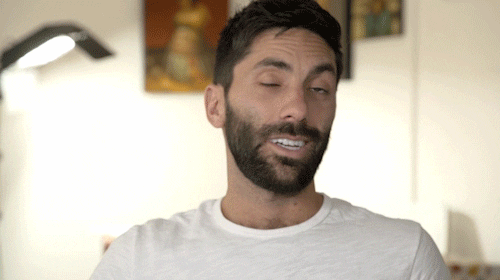 Hands Up Idk GIF by Catfish MTV
Giphy
The Cold Hard Facts
"Guys swipe right on 47% of profiles. Women only swipe right on 12%."
"I knew some guys would swipe right more than women, wasn't prepared for how little women swipe right!"
"Searching for serious or casual relationships for men vs women:"
"61% of men want something serious while 38% want something casual."
"87% of women want something serious while only 13% want something casual."
"It's worth noting on that last one that it's partially because of a difference in how men and women would describe themselves if they're not sure."
"Women would rather say 'something serious' if they're not sure to see how something goes but happy for it to turn casual if they're not feeling it."
"While men would prefer to say 'something casual' and then happy for it to turn serious if they like them."
"This is why we've given in and added a 'not sure' option in our big update next week."
"Feedback on chats/users:"
"we're unique in that we only let you chat to three users at a time, so you have to end a chat to talk to someone new."
"When you end a chat you have to give (private feedback)."
"Here's some of the feedback people choose (you can pick more than one):"
"34% ghosted/didn't say anything."
"12% great chat."
"11% polite and respectful."
"11% not enough in common."
"8% no chemistry."
"8% hard to talk to."
"2% rude/inappropriate."
"Why people ghost."
"We call ourselves the anti-ghosting app because we notify you if someone replaces your chat with someone new, since you can only talk to three at a time."
"Doesn't stop rejection but at least you're not left wondering and waiting!"
"We did some research with users to find out why people ghost on dating apps, "they could choose more than one answer:"
"43% Avoid the awkwardness of saying I wasn't interested."
"37% They said/did something I didn't like."
"36% Was too busy and then it was too late."
"32% Couldn't be bothered to keep replying."
"28% I forgot to reply."
"25% Couldn't think of a reply."
"23% Too many other people to respond to."
"22% I've never ghosted anyone!."
"6% Other."
"I'm the founder of a dating app."- elatedate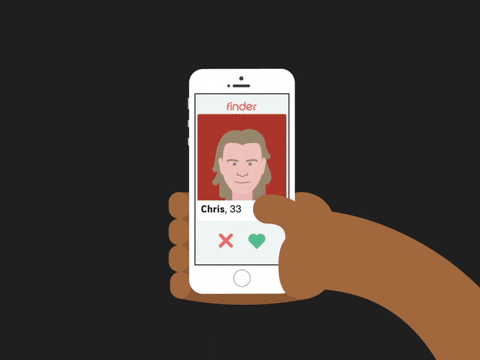 chris hemsworth tinder GIF by lunarpapacy
Giphy
A Picture Is Worth A Thousand Words... Plus More Swipes Right
"I ran operations for an online dating company, notably not affiliated with Match."
"From database analytics, I can tell you a few things."
"Men initiate contact around 80% of the time in straight matchmaking, and if you are a woman looking to date other women and you simply initiate contact with another woman you have a good chance of success simply because it's very very very common for women to match but then neither initiates contact."
"IIRC we were able to determine that it takes on average about 3 dates before sex happens."
'I don't recall how we worked that out, I'm not a data analyst, but presumably it was some keyword based algorithm looking at chat messages."
"We got so many requests for information from the police that we had an informal system with them, to save them from wasting time getting warrants for information about people who we didn't have data on, they would ask about a particular name/email/whatever other identifier and we would just say yes we have data about them or no we don't, and if we did they'd then go get the warrant to get a copy of it."
"The other thing I can tell you from our analytics, that really shouldn't be at all surprising, is to get some decent profile photos."
"Go get your talented friend or just hire a photographer to take some really nicely-lit well-composed photos of yourself and watch your match rate soar."- jamesinc
So Many People At A Loss For Words...
"I used to work at Bumble, although this was about 4-5 years ago."
"Globally, about 90% of the users are men, so there is a huge male to female disparity, although it's not that bad on a per country basis, for some countries."
"The most depressing stat though was the histogram of word count in messages."
"Something like 91% of opening messages were just one word 'hey', and 85% of conversations were just one exchange long.
"'hey' -> no reply ever."
"Looking at human, digital mating habits splayed out in data science form was really depressing."
"When I worked there, we were NOT allowed to read the content of chats, only gather metadata about them, word count, number of exchanges, but we could not build models which analyzed the content of chats."
"This chat was about food, this one was about holidays, this one was sexual."
"This was due to stringent GDPR draft rules/TOS/privacy rules at the time, and Bumble took user privacy very seriously, so chats were never read or analyzed for content, not even by automated models."
"However this was 4-5 years ago, and they may have amended their TOS since then to allow it, or they might be analyzing content for non-GDPR countries USA."
"Therefore, as others have pointed out, we don't know for sure that the word used most often was actually 'hey', it could have been 'hello' or 'howdy'."
"In the office, we always assumed it was 'hey' due to our own experiences on the app."
"But we did know with certainty that 91% of first messages used only a single word, so we guessed it was 'hey'."
"The countries which had better male-female ratios, which I can remember, were the Nordic ones, Sweden and Norway were close to 50/50, and for a time, one of them even had more women on the app than men."- trias10 What Are You Doing Whatever GIF by gifnews
Giphy
Perhaps knowing this information might ease the minds of those dismayed by their lack of luck on dating apps.
Or, at the very least, encourage them to begin chats with more clever than a simple "hey".
Maybe that way, someone will finally respond.
...speaking for a friend....
Getting struck by lighting, winning the lottery, meeting someone else with your exact name who also shares your birthday.
For better or worse, the likelihood of any of these things happening to you is incredibly small.
And yet, there are still a handful of lucky, or unlucky, people who have experienced one, or all, of the above.
Even if the odds are against us by a significant margin, some people will go through an experience which they would never in a million years dream would happen to them.
Leaving them with quite some stories to tell.
Redditor scared4lyf was curious to hear more about the statistically unlikely experiences people have gone through, leading them to ask:
"What statistically rare thing happened to you?"
Miracle Birth
"My birth is in a medical journal and my mom still gives me crap about it almost 40yrs later."
Due to my mom's low rib cage and high uterus, I was stuck in the bottom of her rib cage."
"The doctors were convinced I didn't have a head and told my mom her whole pregnancy that I only had a brain stem and she should abort."
"Lo and behold she goes into labor and they rush her in to do a C-section, only to discover I'm stuck."
"They end up laying her all the way open and cutting 3 ribs to get me out."
"She ended up stapled back together."
"(Yay for 1980s science."
" She gave her doctors so much hell about her being right."- Silaquix
Blessed With Strong Bones!

"I've been hit by a semi truck twice, and both times escaped with minor injuries."- mydogsaysimcool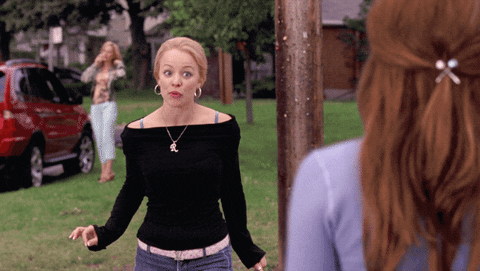 so fetch mean girls GIF by Coolidge Corner Theatre
Giphy
Frequently Chased By Death

"I was pronounced dead at 6 weeks old."
"I found a dead body when I was 10."- Smoochmypie
"Pick Yourself Up, Dust Yourself Off, And Start All Over Again!"
"I've broken my ankles on 5 separate occasions."
"I also have flat feet. "
"Ironically I love running!"- ItsMyCakedayIRL
Lucky Discovery?
"Appendix cancer."
"Accidentally discovered during another surgery."
"No idea there was a tumor the size of an egg on my appendix."- Low_Bus_5395
A Mighty Wind...
"Got hit by a tornado."
"They don't tell you about how it sucks the air out of the room while you're inside it."- FriendlyFiber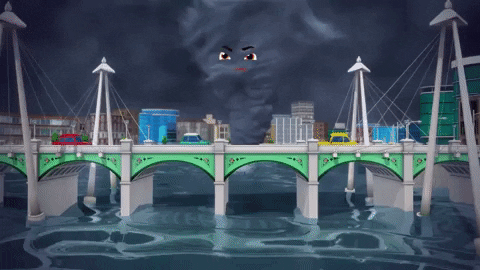 Angry British Summer GIF by moonbug
Giphy
Talk About Victim Of Circumstance
"I was born in jail"- cavallinm
You Can Have Too Much Wisdom...

"I had 5 wisdom teeth."
"4 normal ones and 1 tiny one."- more_merkins
Lucky Day!
"My dad my uncle and me were all born on 8/11 different years."- Kimchiandfries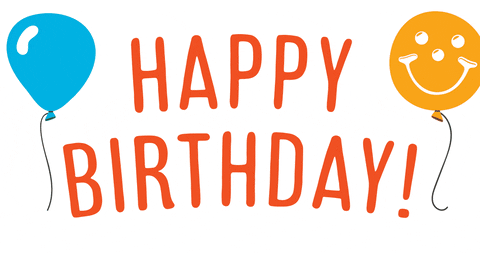 Happy Birthday GIF by Eat'n Park
Giphy
Some people have all the luck, and some apparently have none at all!
All the more reason we should never assume that any unlikely experience will never happen to us...