Now that Game of Thrones is a closed chapter, cast members are free from their bonds of secrecy and revealing behind-the-scenes footage from the production.
Gone are the anxieties from leaking any spoilers.

Let the candid photos with Starbucks cups and water bottles flow freely.
Emilia Clarke, who portrayed Daenerys Targaryen, posted a cast photo and signed off from the show as if writing in a yearbook without wishing everyone a "rad summer."
"Finding the words to write this post has left me overwhelmed with how much I want to say but how small words feel in comparison to what this show and Dany have meant to me."
She added:
"The mother of dragons chapter has taken up the whole of my adult life. This woman has taken up the whole of my heart."
Gwendoline Christie, who played Brienne of Tarth, expressed her gratitude in all caps.
"THANK YOU. There is no other way to start this. @gameofthrones has changed my life beyond anything I could have comprehended. Playing Brienne of Tarth has redefined the way I look at the world, women and particularly myself."
She is seen in the photo giving one of the show's ADs a fond farewell.

"This photograph was taken on my very last day saying goodbye to my friend Ciaran, he worked on the show from the beginning as an AD and was the first person I met on 'Game of Thrones' - he treated me with respect, kindness and great humour every single day."
But one on-set photo taken in between takes really outshines them all.
Sophie Turner, who played Sansa Stark, didn't have much to say in her post, except:
"The pack survived."
That's all she needed to say, because the photo says it all.
Sansa is pictured vaping with Arya (Maisie Williams) being too cool for school and with Bran (Isaac Hempstead Wright) grinning and...baring his legs.
This is rich.

With one brilliant snapshot, it seemed much of the angst about the finale was forgotten.

@sophiet/Instagram

@sophiet/Instagram

@sophiet/Instagram

@sophiet/Instagram
Those legs, though.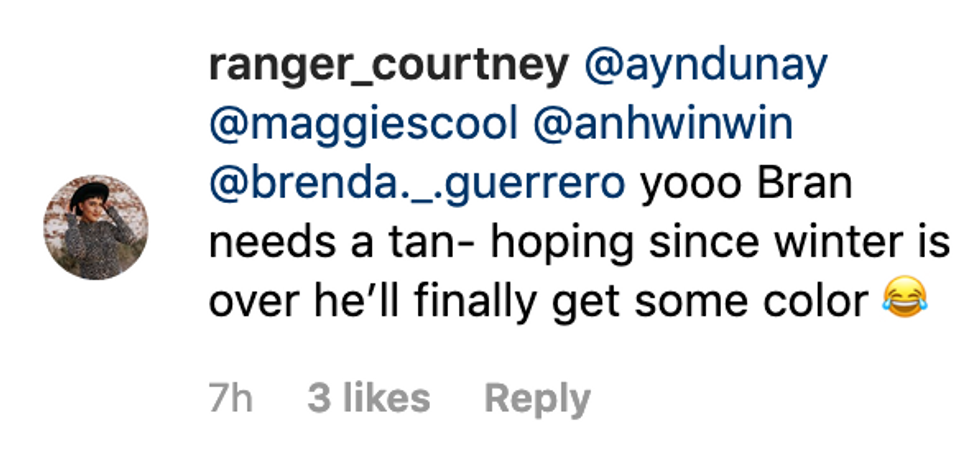 @sophiet/Instagram

@sophiet/Instagram
Final thoughts.


@sophiet/Instagram
We stan with those shades.


@sophiet/Instagram
Turner did post a heartfelt goodbye for her alter ego, Sansa, with whom she grew up.

"Sansa, Thank you for teaching me resilience, bravery and what true strength really is. Thank you teaching me to be kind and patient and to lead with love. I grew up with you. I fell in love with you at 13 and now 10 years on.. at 23 I leave you behind, but I will never leave behind what you've taught me."
The actress, newly married to Joe Jonas at an impromptu Vegas wedding that did not end in blooshed, also shared her takeaways from being a part of the GoT phenomenon.
"To the show and the incredible people who make it, thank you for giving me the best life and drama lessons I could have ever asked for. Without you I wouldn't be the person I am today. Thank you for giving me this chance all those years ago."
She showed her fans some love.

"And finally to the fans. Thank you for falling in love with these characters and supporting this show right through till the end. I'll miss this more than anything."
Whatever your thoughts on the series finale, this is the end of an era. Game of Thrones will forever reign as a defining icon in the annals of pop culture.
Keep reading...
Show less
It's official!
Two worlds collided when a Jonas brother and a Stark sister exchanged their vows in a secret wedding ceremony.
Joe Jonas, 29, and Game of Thrones actress Sophie Turner, 23, said "I do" in Las Vegas at Chapel L'Amour inside A Little White Wedding Chapel on Wednesday night.

A few hours earlier, Jonas reunited with his brothers to perform their first show together in a decade at the 2019 Billboard Music Awards.
From there, select attendees from the awards show were whisked away to witness the couple exchange their vows, as Turner, clad in a white jumpsuit and gold Gucci mules, walked down the aisle towards the altar where her man stood waiting.
And what Vegas wedding is complete without an Elvis impersonator to officiate?
Not this one.
joe jonas really got married at those las vegas wedding chapels after the billboard awards im- https://t.co/E8DoSANLhp

— ♡ (@♡) 1556773879.0
Elvis once said, only fools rush in, but Jonas and Turner had already taken their sweet time after dating since 2016 and announcing their engagement in October 2017.

The $600 ceremony was attended by Brothers Nick and Kevin as groomsmen in matching gray suits and was captured on DJ Diplo's Instagram via livestream.

Turner could be heard repeating the words:
"I thee wed.... and I love you... and I thank God He gave me you."
can we please discuss how joe Jonas got married to Sophie turner in Vegas at an Elvis-themed wedding 2 hours after… https://t.co/5As9dUIq6P

— sara (@sara) 1556777771.0
Elvis then prompted the couple to repeat in unison:
"I promise you, I will never leave you. I will love and trust you all the days of my life."
Turner was instructed to kiss the groom's candy ring, according to the Daily Mail, and gave one long lick before Elvis instructed to Jonas:
"You may kiss the bride."
And that he did, followed by whoopin' and a hollerin' inside the humble chapel.
@AnnaSaraa Who needs to rent a wedding videographer when you've got Diplo and insta live

— ραυℓα ☾ (@ραυℓα ☾) 1556823047.0
Twitter was genuinely surprised by the bargain wedding ceremony and offered their congratulatory responses.

@sonqhwa @MichiKthxx joe jonas is really out here living his life...... first meeting BTS AND fist bumping tae !!!!… https://t.co/oXJ9YL5Pol

— 𝓙𝓪𝓮 ✾ is seeing NCT127 in Houston (@𝓙𝓪𝓮 ✾ is seeing NCT127 in Houston) 1556779401.0
@sonqhwa @ReezyRobyn That is amazing🥺 happy for them 💜

— Vanessa With Luv 💜⭐️🌈 (@Vanessa With Luv 💜⭐️🌈) 1556817970.0
@sonqhwa intimate...all his ppl were there and yeah... keep that 'big wedding' money for a rainy day instead

— Where there is hope, there are trials #Sea (@Where there is hope, there are trials #Sea) 1556776759.0
Jonas is now happily a part of the family.
@sonqhwa @jkooksluv He's a stark boy now

— zuu (@zuu) 1556779545.0
According to PEOPLE, online records show the pair applied for their marriage license in Clark County, Nevada earlier in the day.
ET can confirm @joejonas and @SophieT obtained a marriage license in Las Vegas today. The wedding is legit! Congrats 🎉

— Cassie DiLaura (@Cassie DiLaura) 1556772920.0
Music was provided courtesy of Dan + Shay, who performed an acoustic rendering of "Speechless."
📹 The Jonas Brothers with Dan + Shay at Joe and Sophie's wedding tonight in Las Vegas via Diplo's instagram story. https://t.co/pn3DzMehXC

— Jonas Brothers News (@Jonas Brothers News) 1556771892.0
@jovxnnxx @jbrosnews @dannifred SOBBING

— POOTUS (@POOTUS) 1556789866.0
Jonas's sister-in-law, Priyanka Chopra-Jonas, served as Turner's maid of honor.
@AnnaSaraa I love that they did the exact opposite of Nick & priyanka! It's so not about the wedding

— Kristy_al 🏰 (@Kristy_al 🏰) 1556804695.0
@AnnaSaraa I mean they had to try and out do Nick & Priyanka right???

— AliciaRuiz (@AliciaRuiz) 1556819727.0
The Vegas wedding is a prelude to their wedding in France, something Jonas alluded to prior.
We can expect a second ceremony this summer.

#SophieTurner x #JoeJonas's SURPRISE Vegas wedding was just make it legal for them to tie the knot in France 🇫🇷. Th… https://t.co/WQmNyhytX3

— Homarel (@Homarel) 1556831697.0
Keep reading...
Show less
The cast of Game of Thrones really knows how to get us to bring out the tissues––and that's even after we've somehow survived yet another emotional and gobsmacking episode.
Picture it: The moment Bran Stark, better known as the Three-Eyed Raven, waited for the Night King to approach him in the godswood. Protecting Bran to the bitter end was Theon Greyjoy, whose attempt to spear the iciest bad guy in all of Westeros proved fruitless.
But this doesn't mean Theon died without honor. He went to his death––in fact, he charged right at it––after Bran, a young man of few words, thanked him and called him "a good man."
Theon's death, beautifully acted by actor Alfie Allen, was a profoundly emotional one for fans across the world.
Allen's costar Sophie Turner, who plays Sansa Stark, the Lady of the North herself, soon paid tribute to him on Instagram.
Theon's come a long way from his days as Ned Stark's ward, but his life was an often emotionally and physically torturous one. He lived with the Starks after he was taken captive following the failed Greyjoy rebellion. He remained loyal to the Starks even after the war against the Lannisters began.
But his story took ever darker turns once he was captured, castrated and kept prisoner by Ramsay Snow, the bastard son of Roose Bolton. Along the way, Theon reacquainted himself with the Greyjoys and the remaining Ironborn, but never felt like he truly had a home, and often found himself on the receiving end of backlash amidst increasing political tension.
Yet, he saved many of our favorite characters more than once, and he returned to Winterfell, where he died a hero, a "good man" in the company of people who considered him family in a world of fractured alliances.
Turner's post hit us all right in the feelings.
He definitely did.


Instagram
An epic moment for one of the most well-written characters in the series.


Instagram
Ours too.

Instagram
We raise our glasses to him.


Instagram
You can say that again.


Instagram
No, you're definitely crying.


Instagram
Tributes to Theon––and Allen's stellar performance––have also rolled in on social media.
Also having been saying this every season but Theon aka Alfie Allen deserves an Emmy for his wonderful performances… https://t.co/yAs6penyer

— Swapnil (@Swapnil) 1556508928.0
first theon saved bran from the wildings and then from the white walkers...he really did see bran as his own brothe… https://t.co/R1lijuTA29

— osha (@osha) 1556507505.0
Theon, you're a good man, thank you #BattleOfWinterfell https://t.co/Cd3AzvZhpL

— ALL THE STARS ✨ (@ALL THE STARS ✨) 1556504138.0
theon died protecting his family and home, he died a stark and now he's reunited with his other brother and father… https://t.co/cjETBl8EWJ

— nora (@nora) 1556506930.0
Theon Greyjoy is the epitome of character development. Cocky asshole, to a traitor, to dying a HERO. Talk about red… https://t.co/k5HKpW5wZq

— 🌸Min🌸 (@🌸Min🌸) 1556509775.0
Farewell, Theon. What is dead may never die.

Keep reading...
Show less
Actress Sophie Turner opened up about mental health issues in her family during an interview with Dr. Phil on his podcast, Phil in the Blanks.
The 22-year-old plays Sansa Stark on HBO's Game of Thrones, which she has been a part of since the fantasy series began filming in July 2010, when she was 14.
Comments about her weight and criticism of her acting on social media took a toll on the impressionable then-teenage actress , who said it was a catalyst for her depression.
"I would just believe it. I would say, 'Yeah, I am spotty. I am fat. I am a bad actress.' I would just believe it. I would get [the costume department] to tighten my corset a lot. I just got very, very self-conscious." "I'd be concerned about angles, I'd be concerned about face. I have a big nose, I don't know how to angle myself, and it would just affect me creatively." "I couldn't be true to the character because I would be thinking about Sophie."
Turner's decision to choose her career and live at home with her parents, instead of going to university with friends, exacerbated the feelings of isolation and lack of motivation.

"I had no motivation to do anything or go out. Even with my best friends, I wouldn't want to see them, I wouldn't want to go out and eat with them." "I just would cry and cry and cry over just getting changed and putting on clothes and be like, 'I can't do this. I can't go outside. I have nothing that I want to do.'"
@ABC Kudos to her for helping to break the stigma of talking about mental health!

— That little punk kid running Canada (@That little punk kid running Canada) 1555553646.0
@ABC You are one of the strongest women we know!!!! I believe it though, with any sort of an emotional vice, we a… https://t.co/TfzrFefuqr

— veronica (@veronica) 1555553895.0
Although she admitted she could never hurt herself, Turner admitted to contemplating suicide when her depression took hold at 17 and didn't understand why.
"It's weird. I say I wasn't very depressed when I was younger, but I used to think about suicide a lot when I was younger. I don't know why though." "Maybe it's just a weird fascination I used to have, but yeah, I used to think about it. I don't think I ever would have gone through with it. I don't know."
I just want to hug @SophieT and protect her from everything bad

— jessi (@jessi) 1555554035.0
@enews I've struggled with depression/anxiety all my life. It's just a chemical imbalance in the brain. My happy pi… https://t.co/ScTUUjlPUI

— Monica smith (@Monica smith) 1555515767.0
Turner said she is doing better thanks to sessions with her therapist and being on medication. But she still struggles with depression.

"I've suffered with my depression for five or six years now. The biggest challenge for me is getting out of bed and getting out of the house. Learning to love yourself is the biggest challenge." "I'm on medication and I love myself now, or more than I used to, I think."
@MTVNEWS The world dont deserve her :( An angel.

— Maya Fraser | house of ⭙ | McFly (@Maya Fraser | house of ⭙ | McFly) 1555521219.0
Her engagement to Joe Jonas has been a blessing.

"When someone tells you they love you, it makes you really think about why that is. I think it makes you love yourself a bit more."
@enews As more and more public figures open up about mental health issues, hopefully we can see a societal change i… https://t.co/sekujd4GfK

— Greg Burzynski (@Greg Burzynski) 1555515005.0
Dr. Phil commended the actress on her transparency with mental health issues, saying that she is helping to save thousands of lives in America this year.

"That is absolutely what I hope to be like. To speak about it and be transparent about it. That's the payoff I would like is for people to not feel so alone and feel encouraged to talk to someone about it."
@MTVNEWS Grown ass adults spent their time hurling insults at her when she was still a child. Despite all the bully… https://t.co/uCO1naNK2x

— katheryn winnick nation — (@katheryn winnick nation —) 1555522240.0
If you or someone you know is struggling, please contact the National Suicide Prevention Lifeline at 1-800-273-TALK (8255).

You can watch the full interview of the Phil in the Blanks podcast in the YouTube clip below:
'Game Of Thrones' Star Sophie Turner Reveals Social Media Was 'Catalyst' For Depression On 'Phil … www.youtube.com