The internet is so fascinating.
And messy.
Thanks to YouTube and TikTok, so many hours can be spent lost in the world of video.
You pick a simple topic or name to check, and then it's tomorrow... and you've binged every army family reunion story.
And so much time to waste, depending on your keystroke choices.
Redditor imboredaa wanted to discuss all the ways so many of us get lost watching things on the internet, so they asked:
"What are some of the craziest/strangest rabbit holes you've ever been down?"
I constantly get lost on talent show audition rabbit holes.
And I am proud!
Restored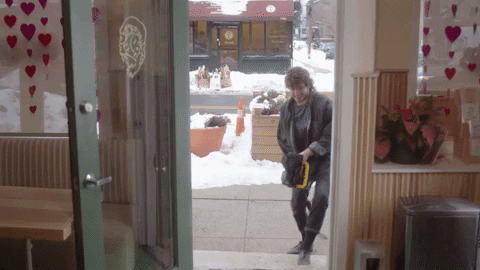 Serial Killer Chainsaw GIF by Rise Records
Giphy
"YouTube videos of old chainsaw restorations. No idea why, but I guess that's why it's a rabbit hole. I don't even own a chainsaw or have a need for one."
aretelio
'rooms/shared'
"I really enjoy going on a city's Craigslist, then to 'rooms/shared' (or whatever it is for finding a room mate) and then typing words like 'warning' or 'beware' in the search to see what kind of horror show nightmare room mate scenarios people have decided to write about... it's usually some juicy headline like 'warning!!!'"
"Do NOT rent from this woman!!!! She is a PSYCHO!!….'"
"And after reading it, it's always a guess to decide who is the actual crazy person, the landlord or tenant. Could be a bitter ex, tenant, or a scam, or whatever. But it's an easy way to dive quick into some weird corners of the internet that are filled with drama."
Reddit
After the Ice
"I spent a bunch of time about 12 years or so ago reading about all the details of the Titanic, how it sunk, what happened as it was sinking, who died, who survived. I got into the life stories of the people who died, and what became of the people who survived. And then I very nearly bought a piece of carpet from the Titanic."
SweetCosmicPope
Expeditions
"Andrée's Arctic balloon expedition"
"Dumb, then numb, a** thought he could fly a balloon to the North Pole. They had cyanide capsules and all, in case they crashed and were about to freeze to death. Or get eaten by a polar bear during a three month night. He and his assistants somehow managed to do both."
"Plot twist: Andree, the worst captain of all time, noticed the balloon was leaking the night before they were about to leave, pumped it up a bit, and said 'f**k it that'll do.' It did not do."
Needydadthrowaway
Thanks John
"An Uncle John's Bathroom Reader. Started with 1 and ended up with a 20+ collection."
originalsanitizer
"Uncle John's Bathroom Readers are so addictive."
evanman69
Toilet time can be knowledge time.
Living Sky High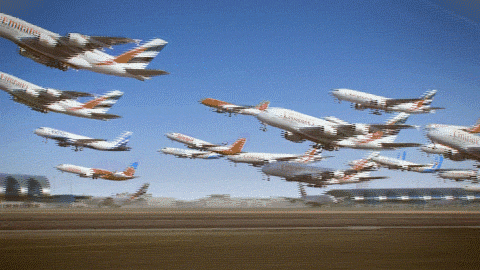 City In The Sky Vfx GIF by PBS
Giphy
"Turning old planes into houses! About 10 years ago I found a company that would do it for you. The wings were decks and the plane was mounted to a pedestal that allowed it to be rotate with the sun!"
BeeEyeAm
Doggerland
"Mega tsunamis. Thousand foot walls of water moving at hundreds of mph? It happens more than you would think. The Azore-Gibraltar fault will cause one one day. There evidence they happened a few times in the Pacific. It doesn't take a meteor to happen, it could be an underwater landslide (Doggerland), or a large section of a volcanic island shearing off and falling into the ocean (Oahu). Doggerland is another rabbit hole that is worth googling."
KD_Burner_Account133
Hitting the Keys
"Mechanical keyboards. I wanted to buy one, so I started researching and watching videos of reviews. I went deeper and deeper, seeing special cables, obscure companies, the tons of switches, etc etc."
"I stopped when a Youtuber I watched made a video asking her viewers and discord users to stop bullying and harassing her for using some kind of switches or keycaps. I bought my keyboard and never went back to that crazy fandom."
NirvanaForce
In the Sky
"I worked in administration at an aviation academy for a few years and decided I'd start listening to aviation podcasts since I didn't know much about it. I came across a plane crash podcast that talks about crashes in history and how it improved the safety of flying."
"I was fascinated by it, and found myself gradually needing to know more and listening to more of the same type of podcasts, watching videos, and listening to black box recordings. It was eerie but interesting at the time. Now, I regret it tremendously because since then I've developed horrible anxiety when flying."
contagiousphrase
The Big Questions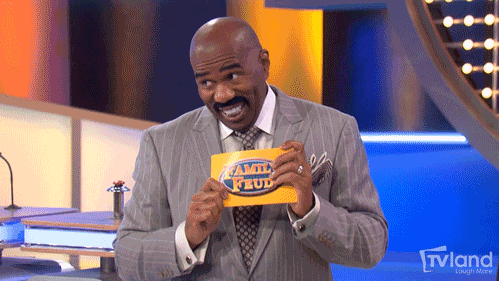 steve harvey lol GIF by TV Land Classic
Giphy
"Spent a lot of time in the 'quantum consciousness' rabbit hole. I had just deconstructed from religion and wanted answers about life, death, and reality. It was long before I made peace with not knowing. I spent around a year obsessed with quantum experiments, psychedelics, and the general philosophy of consciousness."
excusetheblood
Lives (and chores) can be put on serious hold when you find a juicy enough topic to research!

Well, what rabbit holes have you gotten lost in? Let us know in the comments below.
Life is fleeting.
We face the end every second of the day.
We have no idea about the ticking time bombs in our bodies.
We have no clue what's around every corner we turn.
When face to face with death, the mind wonders.
Or maybe it finds peace.
Redditor LaVidaFiesta wanted to hear about the times we've been SHOOK by the aspect of dying, so they asked:
"When did you think you would die, but didn't?"
I've lost track of times I've been near death, mostly all traffic incidents.
I always start praying.
Road Hazard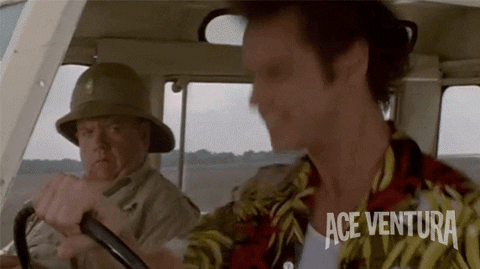 Driving Jim Carrey GIF by Morgan Creek
Giphy
"Dated a dangerous driver. One night he decided, with me in the car, to overtake a lorry on a country road where he couldn't see crap. We were seconds from a head-on collision and I never set foot in his car again. He later had to go to prison for driving offences."
Impressive-Bench9223
So Much Blood
"When I was 17, in 1989, I got shot outside of a party in Detroit. So much blood, s**t hurt like hell, burned hotter than the sun. But twas just a flesh wound, didn't hit any vital organs."
StuckInNov1999
Palpitations
"'Minor' heart attack at 37. Nothing minor about feeling like you're drowning on land."
K1rkl4nd
"Go tell that to my dad who refused to take me to the hospital when the 19 yo me asked him to go cause I felt like something was definitely wrong with my heart when it happened 24 yo now, and my cardiologist been saying that I'm a miracle and if I didn't have an healthy and 'athletic' heart I would probably not be here anymore."
BornDifference1216
Roll With It
"My friends dragged me up to the mountains without my knowledge (i was told we were just going for a drive until we were halfway there). So I'm already at the mountain and I'm like... 'aight i guess ill just roll with it.' They had me build the fire since I'm the only one thats any good at building fires. Long story short the smoke inhalation caused me to have extreme asthma without an inhaler."
"Everyone refused to take me to the hospital the entire day. I ended up coughing so forcefully and so often that I ended up with pneumomediastinum (a hole in the lung causing air to leak into the mediastinum). Needless to say I cut off all ties with them."
Thanks_I_Hate_You
No Air
​"When I woke up with an asthma attack and couldn't breathe."​
​Appropriate_Tea9048
"The most frightening feeling in the world... I moved to a different city with a different climate, and my asthma attacks usually will start with coughs, but now it's just a little uncomfortable and boom, my throat is closed... Very, very scary. Hope your asthma is under control."
pixieface28
ALIVE!!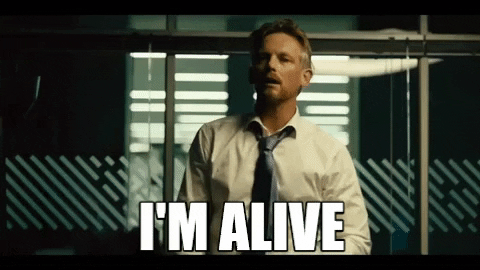 Giphy
"I was diagnosed with stage 4 terminal colon cancer and given 4 months to a year. I thought I would be dead by now but I'm still alive coming up to 8 months since the diagnosis. Starting to feel a bit of pain otherwise I'm fine."
Big-End-9824
Never stop living when you can.

Fast & Furious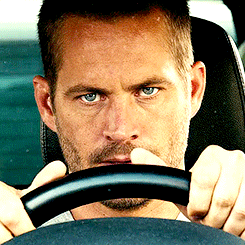 paul walker pw GIF
Giphy
"Car tried passing a truck going maybe 120kmh. I was going 100kmh. Head on. Time did slow down but it was calm just accepting I was going to die. Paramedics went to the scene expecting nobody to survive and I came out with couple minor injuries. Haven't been scared to die since."
beansff
Disconnected
"Almost two years ago, my now ex-wife got really made at me. Way more than normal it was so bad I asked her to stop the car and let me out. She stopped, I opened the door, put my feet on the ground and she floored the car! The rear wheel ran over my arm, neck, and shoulder."
"Cracked skull , small brain bleeding loss of mass in the frontal lobe, disconnected my Brain from my nose. What I can't get over is the headlights coming back at me. She told the police the car door just opened."
lincolnstar
In my mind...
"I met with an accident where a huge bus knocked me riding a cycle. It came from behind, there were no other vehicles to be seen, and I saw what was gonna happen to me. I knew I was gonna die, but luckily, I was thrown to the other side of the road and survived with small injuries. In my mind, I was gonna die and I just could not believe I lived."
Martiallawtheology
In the Water
"I was out swimming with some friends and since I've been swimming my entire life I wasn't worried about swimming far out and diving by myself. So there I was, 150m away from the nearest person, diving in the sea. All of a sudden a sharp pain hits me in the leg and the shock causes me to breathe out. There I am, alone a couple of meters under the surface, thinking 'I'm dead if I don't calm down.'"
"With that in mind I force the pain away and start using the rest of the body to swim up with. I reach the surface and swim to shore. The whole thing lasted just a couple of seconds but it really didn't feel like it at the time. If I hadn't been swimming my whole life I could've easily died that time. Now it wasn't the closest I've been to dying but it felt the closest."
darkcyberleon
The River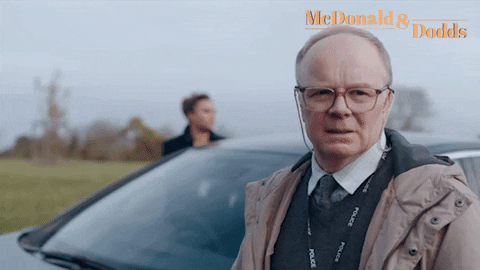 Bless Jason Watkins GIF by Mammoth Screen
Giphy
"I can't swim we were crossing a river I was front passenger seat and and we started taking on water my side quickly filled and my seatbelt wouldn't unbuckle."
laglagoon
Life is precious.
Never take a moment for granted.
Do you have any near-death experiences? Let us know in the comments below.
People are crazy on dates.

The words I have heard uttered could send shivers down a dead person's spine.
Which is so mind-boggling.
Shouldn't we be putting our best foot forward?
Or maybe it's best when they just give you the whole crazy upfront to weed people out.
Is there such a thing as being too comfortable too soon anymore?
Redditor batmanstitty asked:
"What's the worst thing a person has said to you while on a date?"
I once had a guy tell me he owned me.
Because of a Cosmo and a steak.
It wasn't even the temp I wanted.
You Know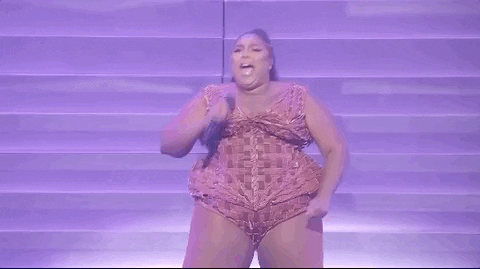 Brits GIF by BRIT Awards
Giphy
"'I don't mind that you're... you know.' Waves hand vaguely at my body."
StrangersWithAndi
Flawed
"'I can tell you are an only child because you have major personality flaws.'"
OliveVizsla
"OH MAN. My parents had just the 1 kid. But to some ppl, I guess that marks me as some kind of socially demented freak. I don't think I'd be wrong in saying that is the very start of the very social problem they're talking about--and those vain pieces of trash are welcome to stay out of my orbit."
myflippinggoodness
Just 2?
"Wistfully after 2 wines... 'God, you are so amazing, such a shame you look like that.'"
bonjelascott
"I don't understand why people go on dates with people they aren't physically attracted to. Hell I don't understand why anyone stays in a relationship with someone they aren't physically attracted to."
juukkkkekr
"Blind dates, tinder dates where they don't look like their pictures, dates where you love the personality so much that you assume over time you won't care about physical attraction anymore."
S7WW3X
Over
"We had a fun night having a personal date and then we pull up to his house for his birthday party, where I'm about to meet his family for the first time. He turns to me and says, 'Oh btw my parents don't like Mexicans.' I am Mexican."
"I was like, What do you want me to do with that information? He was like, just be yourself. I was like, no sh*t. I can't be anyone else?? It was wild. They were polite but patronizing AF. Needless to say, that ended quick."
LosNava
"Been there before. Her dad looked at me like I was gonna rob the place. Didn't last long, turns out it was just a rebound thing."
tuotone75
Maybe after dinner...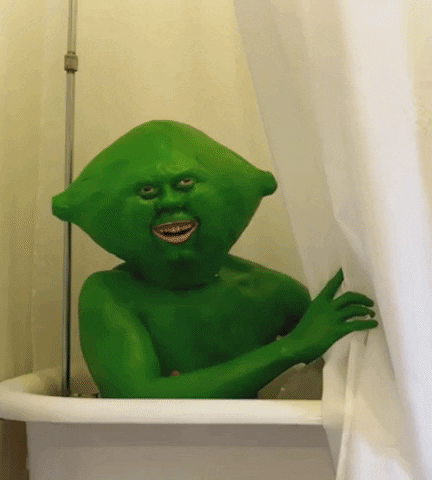 Bye Bye Peace GIF by Cappa Video Productions
Giphy
"'So, aren't you going to invite me to your place? I bought you lunch. You kind of owe me.' from a guy I met ONCE and had breath so bad I am surprised it didn't melt the fork."
randommusicfan
There is no lunch that requires payment after. Bye.
Lies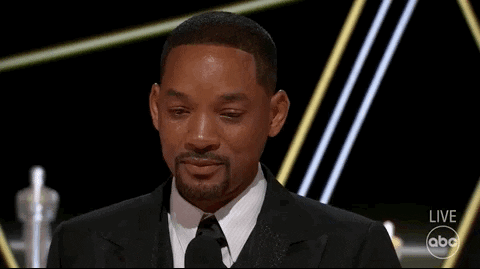 Will Smith Smh GIF by The Academy Awards
Giphy
"You know that cancer is a hoax perpetuated by big pharma and the government preying on the uneducated, right!?!?' He says to me, a cancer survivor who's life was f**king derailed by cancer."
AccomplishedCow9133
No big deal...
"First date from a dating app. I could tell he was maybe a touch too desperate based on the texts we exchanged. However, he was also whip-smart and almost finished with grad school, so I still agreed to go out. We didn't have a spark, which I noticed immediately. On the other hand, he was oblivious to it. No big deal. Then, he suggests a walk after dinner. I agree like an idiot."
"On that walk he proceeds to tell me that his ex girlfriend cheated on him, that he thinks he'll always love her, even though she cheated on him with his best friend, and she gave him an STD. And the worst thing I ever heard on a date was, 'But don't worry- it's one of the ones that clears up on its own.' NOPE."
thedivinemissemm
Trash Talk
"Not exactly a date, but at a dance when I was a teenager, I sat down for a breather after I'd been dancing for a long time. Right then a slow song started, and a couple girls came up, one of them introduced me to her friend and asked me to dance with her because nobody had asked her to dance yet."
"I felt really bad for her and said heck yeah, everybody deserves to dance. She spent the whole time talking about how I'm such a piece of garbage for sitting down when there are girls like her who haven't been asked to dance. I kept trying to change the subject, she just ignored me and kept trash talking me, so I walked away mid-dance."
ParkityParkPark
Wow, romance certainly as easy as they make it look in the movies!
Do you have any stories to share? Let us know in the comments below.
What's most unsettling about people who grow up in cults or strict and conservative religious groups is they are raised with a highly distorted view of the world.
Rather than being taught to have an open mind and heart, they are brainwashed into believing that there is a very firm right and wrong way to live.
Often including sexist, homophobic, racist and other blatantly discriminatory policies.
As a result, when people leave these societies, either being rescued or through their own bravery, they are often shocked to discover just how different the world is than they were led to believe.
Redditor Warrior_White was curious to hear about the most shocking discoveries people who escaped from cults and religious upbringings made when entering the real world, leading them to ask:

"Sheltered people raised by super religions/cults: what was something about the real world that shocked you when you learned about it?"
Comfort Levels Are OK.

"That it's actually healthy to have boundaries."- aphroditespearl
It's Ok To Be Yourself
"The greatest thing to me is what it felt like to be authentic."
'When you grow up in a fundamentalist cult, your life is not your own."
"Everything is planned out for you, every worldview is shaped by your religion."
"Leaving that all behind and being my own, genuine person was the best and least expected blessings of leaving the Mormon cult."
"Yes, sex and drugs (esp psychedelics) were amazing too, but I love being my own person so much."- Bojikthe8th
"Normal People"
"How normal people aren't thinking about you/judging you all the time, and even if they are- you can't do anything about it anyway, some will judge no matter what you do."
"We (women, anyway) were raised to obsess over what we are wearing, how modest it is, and will it make men stumble?"
"My breasts are too small for one man but too large for all men, despite being what God gave me."
"My body is both too thin to bear children but somehow also too fat, and proof that I am a glutton."
"We were taught how to modulate our voices into a soft pleasant pitch, how to serve God with every breath, and how we're living literally every single moment on a precarious cliff of falling into sin."
'The moment I realized that my hair color, my clothes, my makeup was more an expression of myself than a reflection of other's desires was the moment I finally let go."
"I don't dress for men, I don't dress for women- I dress for myself."- Q_Fandango
The World Is More Wholesome Than Expected
"Where is all the sex and drugs?!"
"I was promised wanton lascivious f**king in the streets."- FairUnion275
Words, Words, Words...
"Nothing as major as here but my wife's family is extremely religious, her grandfather was even a cult leader a few books written about him."
"Can't get into details for sake of privacy, but it stands out to me and it blows my mind how ignorant her whole family is."
"And I don't mean to sound like a jerk, but ignorance in the way of the most basic social cues and interactions and even words in conversation."
"I'll be talking to her aunts and uncles in their sixties and they'll have so many things they've never heard of it blows my mind."
'She has two aunts who actually took classes to learn how to have normal conversations because they were so odd."
"It's weird."
"Even my wife is still learning and growing vocabulary and she's 39."- Dorkknight112183
People Actually Can Be Compassionate, Equitable And Kind
"Didn't realize that Christianity wasn't the 'default' for adults."
"Didn't realize it's not normal to treat your family like garbage while being a super nice charismatic human to everyone else."
"More of a narcissistic thing but since I was so sheltered and they were so strict and obsessed with being in control, I had no idea."
"Didn't know that not everyone has an ulterior motive when speaking to you."
"Was raised with the girls inside doing women chores and the boys outside helping with man chores."
"Grew up and realized some men actually cook and clean as well... what a shocker."- free-the-krug
The World Is A Safer Place Than You Think

"Not raised religious, but raised by an incredibly sheltering parent."
"Turns out I *won't* be mugged and murdered for simply existing in a city setting without a male escort."- TheRedMaiden
In All Seriousness, It Has Many Health Benefits
"That I'm not gonna go to hell for jerking it and it's completely normal to feel the urge to self pleasure and release on your own terms."- Nuck_7
Not Always Beholden To Others
"How people can just... Make decisions."
"You don't need to jump through hoops, meditate all night, read the bible, and pray, just because you want to buy a certain dress."
"You can just.. Buy it."
"You can make that decision."
"I can make that decision."
"Freedom was extremely surreal at first."
"It still sort of is."- celaeya
Absolutely Everything

"For me, it was a complete culture shock."
"People could do anything ."
"Women could treat men as equals, not always defer to them."
'People treat other people with more respect-- adults are treated like adults."
"People could talk about sex and bodily functions like periods without being ashamed."
"People weren't afraid of living their lives in a way that made them happy."
"In the first few months of being out of my parents' home, I learned so many new words and things I didn't know existed."
"I watched a lot of movies that would have been considered wickedly sinful in my former home."
"I had to relearn how to talk and act with people."
"Outside of the church, people do everything different, and the people you can and can't trust are different."
"I felt like I had the IQ of a normal 8 year old in the real world."- Fearless-Complaint16
Life Doesn't Need To Be Lived In Fear
"'End is nigh!''."
"Oh I'm waiting!"
"'Christo Viene'."
"'I wish he would'."
"'You've been left behind' … yep."
"To suffer like the rest of us."
"Grew up in a rapture-centric evangelical household."
"Parts of it were loads of fun, some just straight up trauma porn."
"Y2K was a hoot in my house, we definitely believed it could all end, given all of the televangelists hopping on the doom train."
"The part that shocked me the most, or affected me the most is that you don't realize until you are older that you really did believe the world would end, well, soon-ish."
"The idea of getting old, worrying about retirement, whether my aspirations would materialize, most of those things seemed more far fetched than the apocalypse did."- rotissrev
Privacy Is A Right, Not A Privilege
"The complete and total lack of privacy in the church vs actually having privacy."
"Besides being roomed with all my siblings and cousin."
"Daily body inspections, spankings, potty time."
"Also being treated like a toddler pretty much 24/7.'
"God forbid we did something without permission.'
"We didn't address adults as sir or ma'am, calling our parents Mommy and Daddy into our teenage years, having a bedtime, knowing how to do chores but not really knowing why."
"Getting to the real world."
"I knew how wash clothes."
"I didn't know why I was washing clothes."
"I knew how to wash dishes, I didn't know why I was."
"If I wasn't told to do something I would just stand there hopeless."- lighthousek
No matter one's upbringing, the world can be a terrifying place.
Particularly when you set out to face it on your own for the first time.
But the only way to stop being afraid of the world is by exploring all the things it has to offer.
This includes many wonderful things, which should never be hidden by walls and boundaries from anyone.
Why in this day and age are people still taking nudie pics without triple-checking the recipient?
Why take the gamble?
And half of the time we hit send, mistakes get made.
One minute you're feeling sexy, the next minute grandpa is having a stroke.
Be careful.
Redditor Im_A_Freakin_Joke wanted to hear about the times people have sent photos to the family that left everyone SHOOK, so they asked:
"Redditors who accidental sent a family member a nude, what was the aftermath?"
I have done many things, but I never allow a snapshot.
Gross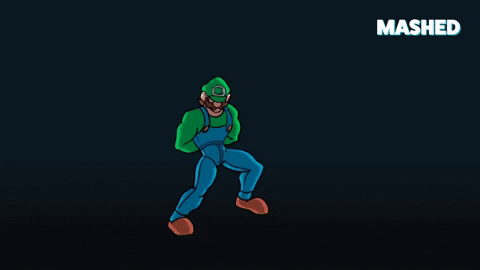 Vacuuming Clean Up GIF by Mashed
Giphy
"'You should clean your room before you take that.'"
Emergency_faceplant
What's What?!
"I meant to send it to someone on WhatsApp that I was dating at the time and didn't realize I accidentally sent it to my brother, their names were next to each other in my chat list and I chose the wrong one. I frantically called my sister in law and told her what happened and begged her to go into his phone and delete the message with the photo."
"This is before WhatsApp added the functionality to delete your own messages. She was so sweet and understanding and deleted the message. I was so embarrassed. To this day she has kept my secret, this happened five years ago."
room_temp_butter
Bad Pics
"For context, my mom had some life-threatening medical issues when I was a kid, so there were a few month+ long periods where we rarely saw her. One night, I got a text from her that says 'send me a pic of u in bed."
"I thought she wanted a picture of me and my dog snuggling, as he slept with me and was the cutest sleeper. I usually sent her one every few days, even when she was home. It also doubled as her way to make sure I was following my bedtime."
"I was taking the picture, and I get a follow-up 'ignore that' text. At the same time, my dad opens my door so hard the hinges break. He says 'you get a text from mama?' I say yeah, and he says, 'it wasn't meant for you.' And leaves. I felt weird about it for days, even though it was years before I figured it out."
bleeding_inkheart
Leave it there...
"I happened to live across the street at the time and a dirty message meant for my now wife was sent to my mother! Luckily for me my mom is notorious for ignoring her phone so I sprinted across the street and said 'hey where is your phone' she told me it was on her desk so I calmly walked over unlocked it and deleted the message. In response to the look of confusion I told her 'deleted a message that was meant for now wife...' And left it at that."
Twandle_D-Vorago
AHHHH!!!! NO!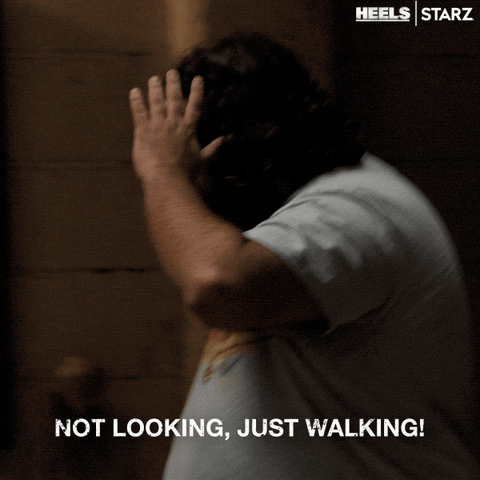 Awkward Episode 1 GIF by Heels
Giphy
"One time my dad accidentally texted me 'sex if the Patriots win' and I still don't believe I have recovered."
ayepeyday
Mom and dad have their own lives.
Disconnect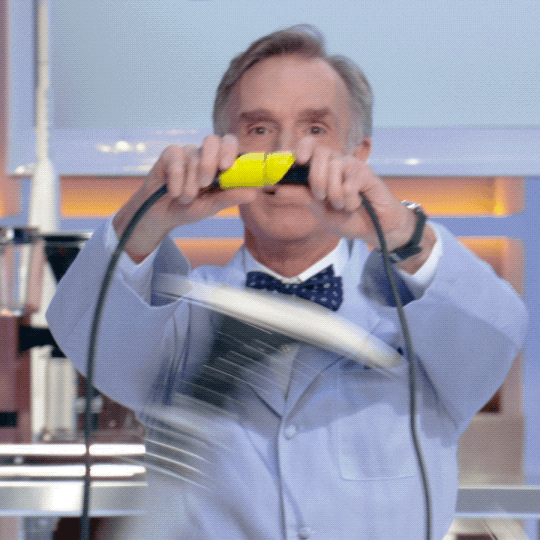 GIF by NETFLIX
Giphy
"I didn't accidentally send a nude, but my phone did auto upload ALL my pictures when I connected it to my mom's computer. I'm no longer allowed to connect hardware to my mom's computer."
teethalarm
Hey Sis...
"I gave my sister my old Iphone (I'm 25, she's 22). She didn't realize that her photos were uploading to my cloud and when I went to send a photo to a coworker, at work mind you, I see her pasty a**. I immediately text her and was like STOP TAKING PHOTOS. She called me and asked if I was okay and I told her what was happening. She responded with 'My a** look good though,' and I died laughing. Love my sis, but Christ."
PushingPepperoni
Shower Scene
"I didn't sent a nude. I was in the shower, about age 15, and I heard the phone ring. My best friend had a habit of calling while I was showering. So, I bolted out naked as the day I was born to grab the phone before she hung up. I didn't realize pretty much my entire dad's side of the family was visiting my terminally ill mother."
"They saw it all. My aunt jokingly said, 'Well, dang, I didn't know there was gonna be a show.' And someone said, 'we were just joking when we said you'd grow up to be a stripper.' I had to do a walk of shame back to the bathroom as well."
"It was laughed off and it hasn't been brought up since."
TheSaltyMelon
Let me see...
"Sent a pic of my boobs to my mom. Managed to convince her I was trying to take a pic of what I thought was a lump but ended up dropping my phone and sent it while fumbling. Which has happened before. But then she made me show her where I thought the lump was so that was very awkward."
3milyBlazze
Recover Mode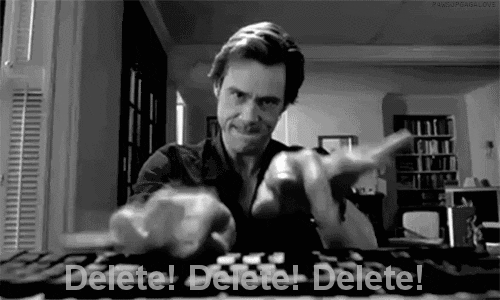 delete black and white GIF
Giphy
"I once sent a pic to a GF in college when we were home for break… only I searched her contact by last name and accidentally sent it to her mom!"
"Thankfully it was late and she was able to sneak into her parents' room and delete it before they saw."
BleekerTheBard
What have we learned?
At the very least, triple-check who you are sending it to one whichever app you use for that sort of thing.