Fans of Beverly Hills 90210 are still in shock over the sudden passing of Luke Perry, who played misunderstood bad boy Dylan McKay.
He was also the subject of a slew of teenage crushes in the 90s.
The actor, whose last role was on the CW's Riverdale, died while under care at Saint Joseph Medical Center Burbank early Monday morning on March 4. He was 52.
While his family is mourning the loss of a loving father, fans and co-workers in the entertainment industry have been sharing their condolences on social media.

Shannen Doherty, who played Dylan's sweetheart, Brenda Walsh, is especially devastated over the news.
The 47-year-old actress shared her grief on Instagram with a recent photo of the two of them along with photos of their time together during 90210.

The beloved teen drama created by Darren Star and produced by Aaron Spelling ran from October 4, 1990 to May 17, 2000. (Perry appeared in the show since the first season but took a three-year hiatus in 1998 and finished the series with the rest of the cast in 2000.)

You can scroll through the photos in the post below by clicking on the arrows appearing in the image. This brief walk down memory lane will be very nostalgic for those who grew up watching 90210.

You've been warned. (Sniffs)

Since 90210 wrapped in 2000, the two co-stars drifted apart, but reconnected after Doherty's cancer diagnosis went public in 2015.
The Charmed actress is currently in remission and last saw Perry for lunch a few weeks ago at a restaurant that allowed his dog "Penny." She described her unforgettable visit with him.

Doherty told PEOPLE:

"A couple of weeks ago in February, Luke and I met up for lunch. He chose the restaurant based on who would allow his dog,"
"I walked in and there he was, smiling, with his dog Penny and her bed under the booth, happy as can be. I will never forget — and will miss — Luke looking at me with that smile of his saying … 'Shan.'"
She reflected fondly on her late friend as someone "with a heart of gold."

"I am in shock. Heartbroken. Devastated by the loss of my friend. I have so many memories with Luke that make me smile and that are forever imprinted on my heart and mind."
"Luke was a smart, quiet, humble and complex man with a heart of gold and never-ending well of integrity and love."
"Luke reached out to me during my cancer journey and we picked right back up, albeit older and wiser, but that connection remained in tact."
Fox announced a six-part mini series reboot of Beverly Hills 90210 with original cast members returning to play heightened versions of themselves; however, Perry and Doherty did not sign on for the project.
Instead, Doherty had ambitions of teaming with her onscreen sweetheart in another capacity for the show's fans.

"There is a special kind of love one has for each other when you are experiencing the journey we did on '90210' and of course life in general. Luke and I were working on show ideas for us."
"We wanted to work with each other again and create something special and meaningful for our fans at this stage in our lives."
"I will miss him everyday. Every minute. Every second."
Gen X-ers will always remember Brenda and Dylan as the quintessential TV couple from the 90s. Fans grieved right along with Doherty and sent her some much needed love and sympathies.

@thesando/Instagram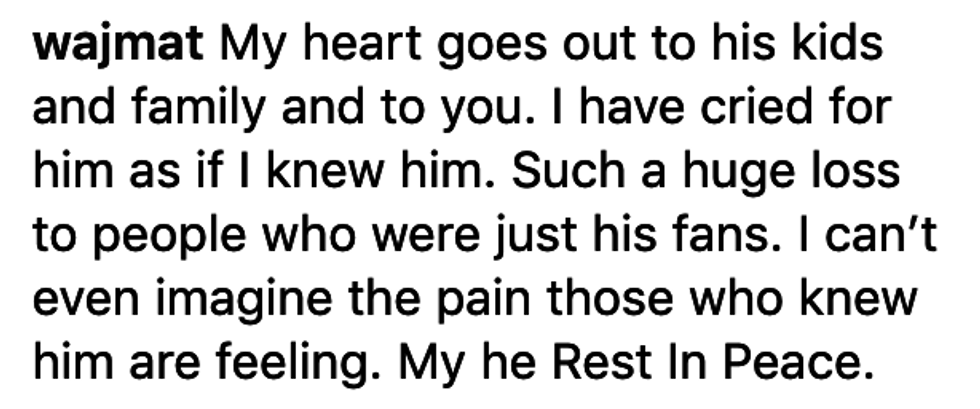 @thesando/Instagram
@DohertyShannen Sorry to hear about Luke passing away Shannen hang in there I know u will get though this u are so… https://t.co/X3mktys2FJ

— Kellie Griffin (@Kellie Griffin)1551808102.0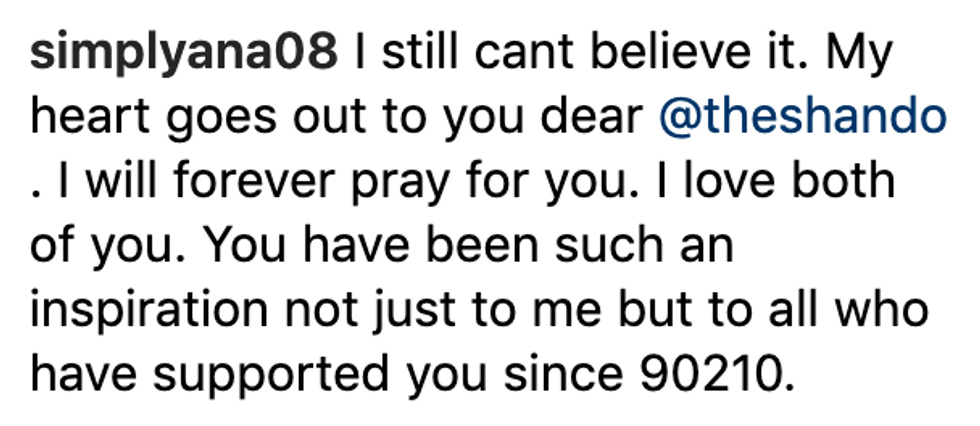 @thesando/Instagram

@thesando/Instagram
These two are my everything. Best Couple on BH90210 Dylan x Brenda Forever ♥️🥰😍 I love you Dylan McKay 💔😢… https://t.co/4NX05tkurh

— 🌸🌟Octavia3125🌟🌸 (@🌸🌟Octavia3125🌟🌸)1551738206.0

@thesando/Instagram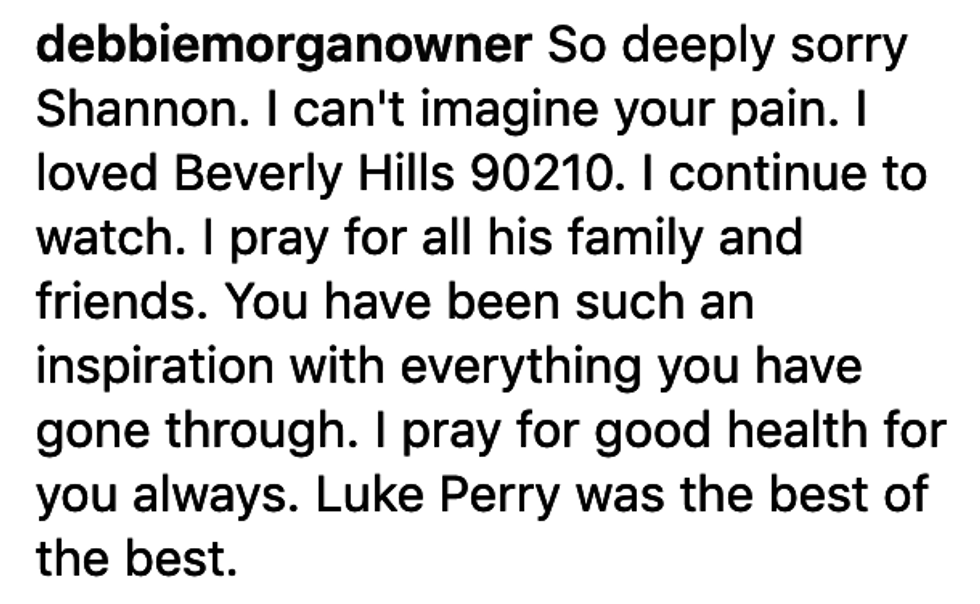 @thesando/Instagram
Dylan and Brenda forever 💔 #LukePerry #RIP https://t.co/NbWaqI25FI

— Christine Estera (@Christine Estera)1551731452.0

@thesando/Instagram

@thesando/Instagram
Dylan and Brenda were my OTP. #RIPLukePerry https://t.co/bfav969z03

— Queen of the Tube (@Queen of the Tube)1551731240.0

@thesando/Instagram
A day before Perry's death, Entertainment Tonight spoke to Doherty on the red carpet at the Animal Hope & Wellness Foundation's Compassion Gala.
When asked to share any well wishes for Perry and his family while he was under care, she remained hopeful for his recovery while trying to maintain her composure.
"I can't talk about it because I'll literally start crying," she said.
"I love him and he knows I love him, and I'm in contact. It's Luke and he's my 'Dylan'"
"Everybody just keep positive, wonderful thoughts. That's all I'm gonna say."
You can watch the YouTube clip of her ET interview below.
Shannen Doherty Emotionally Sends Well Wishes to Luke Perry (Exclusive) www.youtube.com
Doherty fondly remembers how much Perry loved his son Jack, 22, and daughter Sophie, 19, both of whom he had with his ex-wife Minnie Sharp.
She said:

"Luke loved his family. He raved about his kids and how proud he was of them. He showed me videos of them often."
"They were his heart and for him, his biggest accomplishment."
Our hearts go out to Perry's family and friends during this difficult time.
Rest in peace, Luke. You will be missed.

Keep reading...
Show less